The urge to "go somewhere" is a pan-Indian one, not only in summer Whether you're beleaguered by the sun or the monsoon, but also in winter when you want to get some sun and heat. There are two ways to tackle it: hole yourself up in your home or better still, succumb to the urge and really get out embrace and choose the right destination where you can enjoy the sights and summer or winter does not matter like Kerala in India.
Kerala, located in the in the southern area of India is a beautiful paradise called as God's Own Country because of its abundant natural beauty such as long stretches of river, long golden beaches, fantastic wildlife, and the added beauty of green paddy fields and swaying palm and coconut trees and we have already shared 10 unique things that you can do only in Kerala.
Here is a list of unique things you can see only in Kerala
Eating at a Thattukada in night
Eating Yummy Porotta from a Thattukada at night is a unique experience that you wont get anywhere in the world. Thattukada is a street food stall where the food is cooked in front of you and eating the hot and steamy porotta with curries is an experience is something that most Malayalis relish and cherish.From chapathi with kozhi porichadu and thattu dosa to mola puttu and kadala curry, the spicy and tangy whiffs and tastes of rustic Kerala . If you ever visit Kerala and even if you are using one of the popular Kerala Luxury Packages, do go out for a night stroll once to enjoy the Kerala Thattukada experience
The Malayali way of making Tea
Everyone in the world makes tea and malayalis also make tea in their own "Malayalish" way which is an experience to enjoy.the aroma of freshly fried local snacks,the boiling tea pot that constantly spews aromatic steam, the glass shelf with traditional Kerala snacks, the open frying pan, the easy camaraderie of the staff, a cluster of yellow and small bananas that hang by coir ropes and in between a person with a lungi who is trying to reduce the temperature by holding a tea glass high up in the air and pouring tea to another glass through a tangent the angle of which varies from tea shop to tea shop, a sight that you can see only in Kerala. When you are enjoying a trip to Kerala, please ensure that you drop into one of the roadside tea stalls in the evening to taste the tea experience with local flavour.
Colonial Flavor of Fort Kochi
History is a mute witness that testifies with time and the testimonial for this statement are the streets in Fort Kochi which has many moods and where you can see the colonial flavour through the mesh of the Chinese fishing nets whose great wooden frames line the shore of Fort Kochi. Colonial flavour of the old part of Kochi and visit the wooden synagogue, built in 1567, with its floor of Cantonese willow-pattern tiles, the Mattancherry Palace with its teak and grandeur and interesting photographs of the last Kochi royal families, and the old go-downs of Bazaar Road, once stuffed with spices for loading on to ships.Fort Cochin must be explored on foot, and slowly, to study its side streets and alleyways. This way I discover its old-world shops, cafés, stately bungalows and heritage structures, like the Dutch Palace with its fine elements of colonial and Kerala architecture.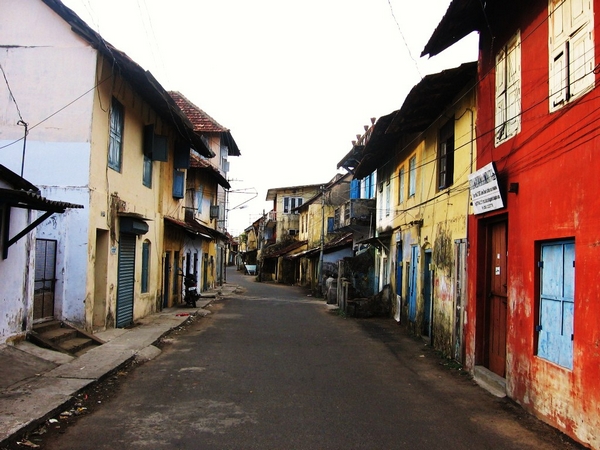 Fort Cochin is still filled with untouched secrets. You find narrow lanes redolent with the scents of herbs, oils and spices—there's even the world's oldest pepper exchange (upstaged by the national commodity exchanges, it does little business today, so you can walk in and talk to anybody during business hours); antique shops piled high with bargains; treasures within the old Paradesi Synagogue, art galleries and churches; freshly caught fish cooked to order in the little stalls along the marina; backwater boat rides. It's a small place, but you can't fit its many facets into a single day.
Varied Hues of Beaches
There are crowded beaches and quiet beaches and there are pristine beaches and and beaches with sundecks and Kerala has all kinds of beached including secluded beaches, laid back beaches or party beaches: there's any type of beach for everybody in Kerala. Famous beaches of Kerala like Kovalam, Varkala, Marari, Cherai etc has their own hues and forms and each is a unique experience that you can enjoy by yourself just by exploring beaches in Kerala. There are beaches ideal for swimming, their are beaches where you can see couples wrapped in love and there are secluded beaches where you will be the only person enjoying the hues of the waves.
Tea Gardens in Munnar
O' peppermint tea —
two delights per sip
as steamy hot as passion
cool as a wintry lake dip
~Terri Guillemets
If you are a Tea lover, you will cherish the visit to Munnar in Kerala. Munnar was the summer destination for Britishers and High Tea originated with the rural and working class British, who would return to their homes at about 6:00 p.m., for a typical meal of potted meats, fish, cheese, salads, sweets, and a pot of strong tea. Visiting a tea estate in Munnar is a unique experience that you can enjoy only in Kerala.A stroll though velvety plantations and a visit to a factory to learn all about tea growing and processing and taste. If interested, you can also purchase pure tea in various forms
Estuaries in Poovar
An estuary is a fantasy location with the backwaters on one side and the beach, with the sea lashing on it, and a river on the other side. Poovar is one of the best kept secrets in Gods Own Country and an explorer's haven where an island and a beach of almost indescribable beauty awaits you.Sunsets are a spectacular sight in Estuarys and a walk on the beautiful, white sands of the beach with the wind in your hair and the sea spray is a relaxing, yet exhilarating feeling and the sights in Estuarys like Poovar is unique to Kerala.

Elephant Festivals
Elephant festivals are unique to Kerala where elephants are decorated in ceremonies and processions with grandiose scale and the best experience to see is the Thrissur Pooram which is held with its large gathering of decorated elephants and the sea of humanity that descends on Thrissur during April – May. Pooram in Thrissur is an opportunity not to be missed if you are planning to visit India or Kerala.
Worlds Richest Temple
Guinness book of world records lists the Sree Padmanabha Swami Temple in Thiruvananthapuram, India,as the world's richest Hindu temple after the chance discovery of secret cellars at the temple uncovered a vast treasure of gold, silver and precious jewels believed to be worth at least £12 billion (then approx. $18 billion) which is almost equivalent to the wealth of the richest Indian in the world, Mukesh Ambani .Sree Padmanabhaswamy Temple is in the heart of Trivandrum, capital city of Kerala, and the the Holy Tank of the temple is called Padmatheertham. Another unique thing to see in the richest temple in the world is Puthenmalika (also called as Kuthira malika), which is an excellent example of the traditional architecture of Kerala.
Green Paddy Fields
The sight of Green Paddy Fields and walking through the green paddy fields in Kerala is a different walking experience that you may not be able to experience anywhere in the world where you will lose completely in the dazzling green around yourself, as you'll have to watch out for the slushy water passages that run through the mud path in the middle between the boundaries of each paddy field.

Life along the Backwaters
Sights along the Backwaters is unique and is a mind-blowing view of canal systems and endless lagoons , Paddy fields, fishing in backwaters, small houses on small stretch of land There are villages in all over these backwater, The view of backwater birds, people working in paddy fields or people using small canoes as mode of transportation, small resorts, heritage homes are specialty that can be seen only in Kerala.
---
Want to book a holiday in Kerala ? Contact us Today for a FREE Holiday Plan