Hill stations in Kerala are a traveler's paradise and are gifted with cooler and comfortable climate, verdant mountains, green valleys, dense and misty woods, frothing rivers, waterfalls, azure lakes and flower-filled meadows and are a part of Western Ghats. Misty, Mystical and serene hill stations of Kerala are a perfect holiday option for any traveler. A hill station is a town located at a higher elevation than the nearby plain or valley which was used by European colonial rules as an escape from the summer heat as temperatures are cooler in high altitudes. Kerala Honeymoon Packages in Places like Munnar, Thekkady, Ponmudi, Wayanad, Ramakalmedu, Nelliyampathy, Vagamon, Thenmala etc are at an altitude of approximately 1,000 to 2,500 meters.
The concept of Hill Station were made popular by the British, around a central mall, who were looking for summer packages in Kerala to get respite from the oppressive summer heat in cooler temperatures. Many have picturesque lakes or dams as their focal point, making them excellent places for boating activities. Hill stations have many tourist attractions and view points and adventure activities , ad it's possible to take a toy train ride up to some of the hill stations like Ooty near Kerala.
Here is a list of some of the famous and popular hill stations in Kerala.
1. Munnar
Height of Munnar from Sea Level
– 1,450 meters (4,760 ft) to 2,695 meters (8,842 ft) above the sea level
Green and surrounded by the serenity of spectacular hills, Munnar is abeautiful hill station redefines nature like never before. Holiday Packages in Munnar is one of the most popular in India, drawing a wide variety of people with the lure to view of her picturesque landscapes nestled on the verdant slopes of tea plantations. Munnar is located at a height of 1600m, and offers breathtaking views of the surrounding hills carpeted with tea plantations. Thus, whether you are a newly wed couple planning a honeymoon in Munnar or just planning a holiday in Munnar with your family, the beautiful tourist places in Munnar promises to charm!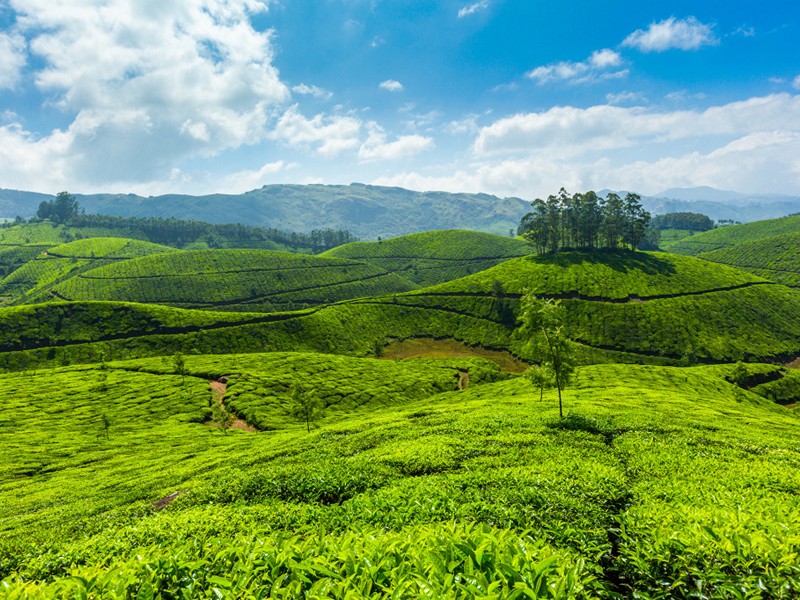 Munnar is characterized by being the confluence of three rives, the Mudrapuzha, Nallathanni and Kundala, which in turn gives the district its name as the word Munnar means "three rivers" in Tamil and Malayalam the local languages. Clean and pure, the district is also home to the famous Neelakurunji plant, which blooms only once in 12 years.
2. Wayanad
Height of Wayanad from Sea Level
– 700 meters (2,296 ft) to 2100 meters (6,890 ft) above the sea level
Wayand is in Northen Kerala and is surrounded by lush green, sloping plains of spice plantations. A trip to Wayanad provides a panorama of undulating mist clad hills and dales and a stay in the summit of the Deccan Plateau on its southern side with the Western Ghats running through it. Blessed by nature with lush, tropical forests, undulating slopes through which a number of smooth flowing rivers run across and a climate that promises to charm, the serene hill station of Wayanad remains even today uncorrupted by modernity and thus, is generally regarded to be one of the most popular tourist destinations of Kerala.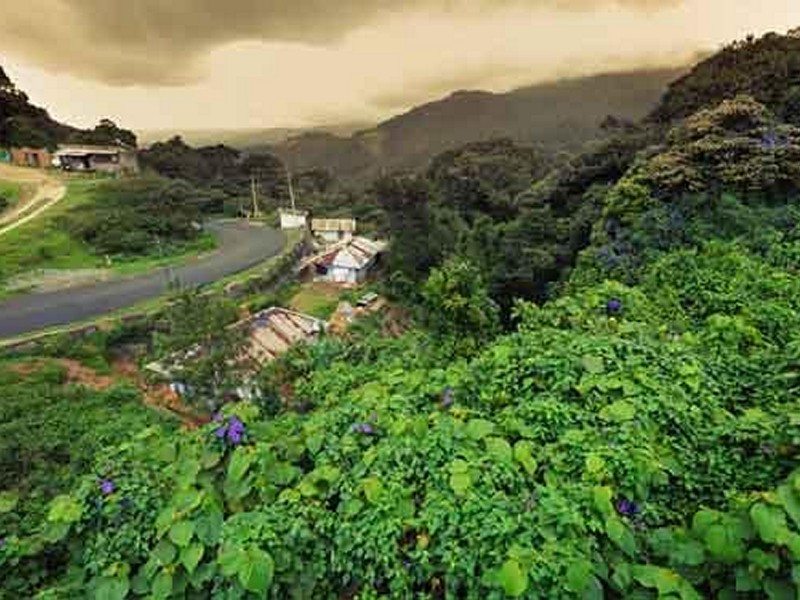 It is bound on the east by the Nilgiris and the Mysore districts of Tamilnadu and Karnataka respectively. It shares the borders with Coorg district of Karnataka on the north, on the south with Malappuram district and on the west with Calicut and Cannanore districts.
3. Vagamon
Height of Vagamon from Sea Level
– 700 meters (2,296 ft) to 1100 meters (3,610 ft) above the sea level
A virgin hill scape in Idukki Dist of Kerala,1100 mts above sea level, Vagamon is one of the most scenic Greenfield hill stations in India with moderate winter, monsoon and salubrious climate round the year. The room temperature does not usually rise above 22 degree C even during the hottest season. Perched high among green tea plantations and gurgling streams, Vagamon or Wagamon ensures an exhilarating and soothing haven for trekkers and hikers. Strolling through he nature walks in Vagamon, you might come across elephants frolicking in pools just like that.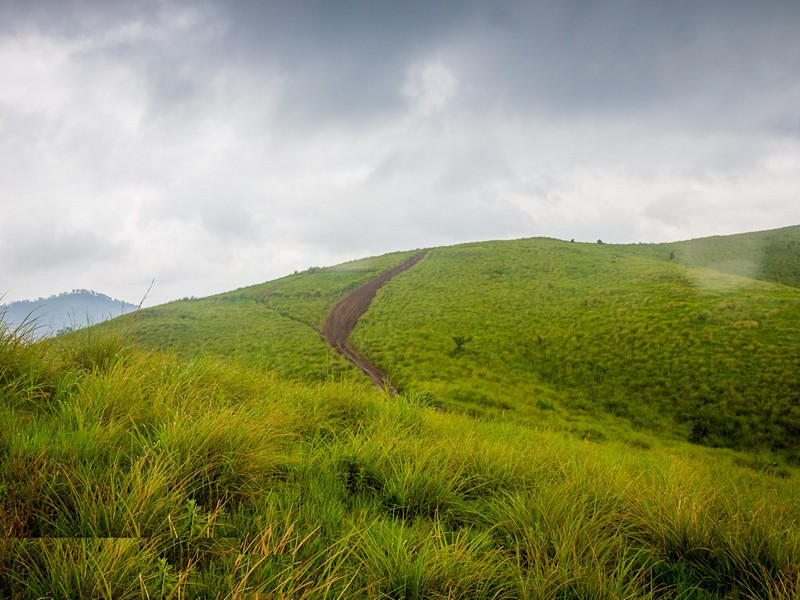 With a rich and varied range of flora and fauna Vagamon is ideal for all those seeking a travel experience with a difference. Tourist attractions in Wagamon include Kurisumala (mountain of holy cross), Vagamon Meadows which is a favorite for movie shootings, Pine Forests and Thangal Hills
4. Vythiri
Height of Vythiri from Sea Level
– 1100 meters (3,610 ft) to 1300 meters (4,265 ft) above the sea level
Vythiri Hill Station is located in Northern kerala near Wayanad in sylvan Northern High Ranges . Since Vythiri is located at the high ranges, at an altitude of 4000 feet above sea level, the climate here is pleasantly cool throughout the year. Spread over an area of 150 sq. km. Vythiri is known for its pleasant climate and unparalleled beauty. Bestowed with natural wonders like hilly terrain, lush green forests, meandering streams and beautiful waterfalls.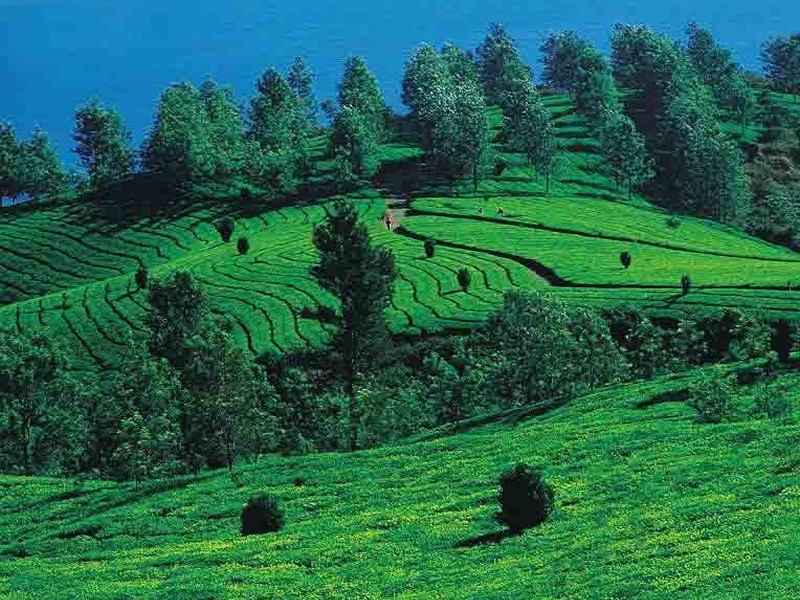 5. Athirappilly
Height of Athirappilly from Sea Level
– 300 meters (984 ft) to 680 meters (2,230 ft) above the sea level
Athirappilly, located to the east of Chalakudy in Thrissur District, is situated on the fringes of Sholayar forests of the Western Ghats, which are the rain forests of Kerala, Athirappilly is famous mostly for its 42 meter high waterfalls. Athirappilly, lying at an average elevation of 300 meters above sea level, consists of 14850 hectares of tropical wet, evergreen, semi-evergreen and moist deciduous riparian forest ranges. Athirappilly forests is one among the five territorial ranges of Vazhachal Forest Division, the others being Charpa, Vazhachal, Kollathirumedu and Sholayar. The forestland of Athirappilly is one among the world's biodiversity hotspots, as it is home to endangered as well as threatened species of flora and fauna.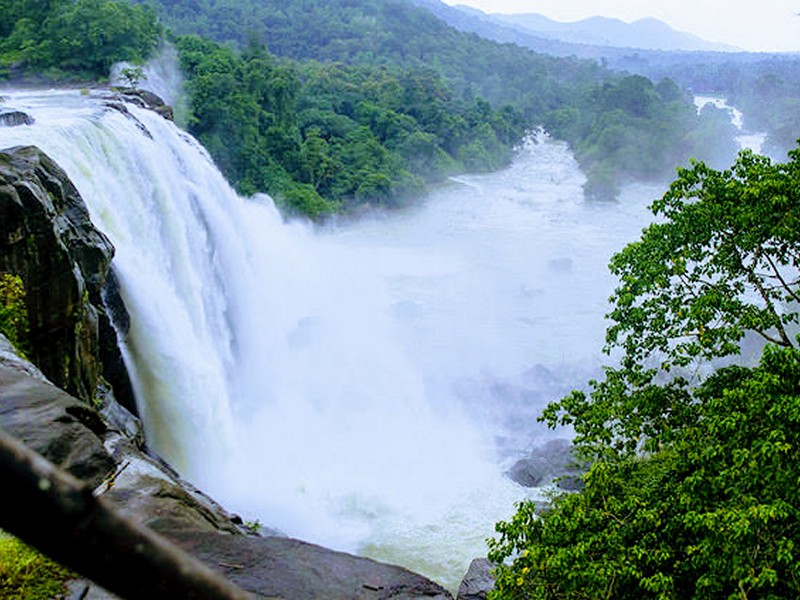 Athirappilly also draws the attention of biologists as its forest ranges are situated at a low altitude (300 meters), which is a unique phenomenon in the whole of Western Ghats. The picturesque waterfalls of Athirappilly are situated in River Chalakudy, which originate in the upper ranges of the Western Ghats called Anamudi Mountains. River Chalakudy flows down through the Vazhachal Forest Division till it reaches Athirappilly. The rocky river-bed at Athirappilly makes the river water turbulent and it gushes forward around big rocks to form segmented water cascades. The Athirappilly waterfalls consist of three waterfalls, the biggest of which is 42 meters high and 220 meters wide.
6. Ponmudi
Height of Ponmudi from Sea Level
– 915 meters (3001 ft) to 1020 meters (3,347 ft) above the sea level
Ponmudi is one of the few hill stations in Northen Kerala and is located within a short driving distance of Thiruvananthapuram. Along with a beautiful array of mountain flowers, exotic butterflies and small rivulets, Ponmudi offers excellent opportunities for trekking. With its tea estates and mist covered valleys Ponmudi is a fast developing hill station. Popularly called Golden Peak, Ponmudi is surrounded by scenic hills, spice plantations, tea estates, natural springs and winding streams.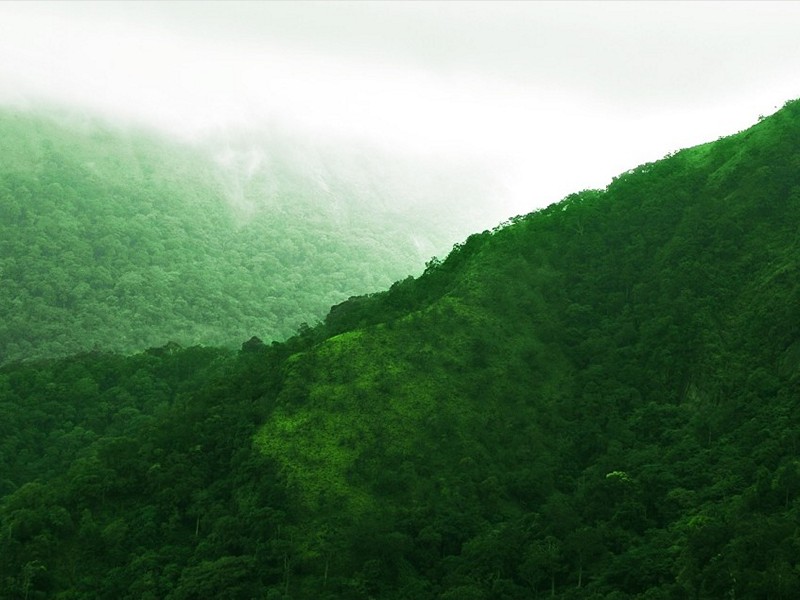 Ponmudi was founded by Rishi Parshuram, a prominent Indian mythological figure.Some notable tourist attractions located in Ponmudi are Peppara Wildlife Sanctuary, Echo Point and various trekking spots. Mist-laden valleys, especially Golden Valley near Kallar River, also draw tourists. Travellers can find a deer park and wood and stone cottages coloured in bright hues while visiting here.
7. Ramakkalmedu
>
Height of Ramakkalmedu from Sea Level
– 1200 meters (3937 ft) to 2019 meters (6625 ft) above the sea level
Ramakkalmedu is a beautiful view spot in Tamil Nadu-Kerala border, giving breathtaking views of Kombai villages in TamilNadu on one side and the villages around Nedumkandom in Kerala on the other side and is located near Thekkady.Kuravan mount which has the Kuravan Kurathi statue is among the most scenic hill stations views in Kerala and the legend is that Rama and Sita came there during their exile and rested on the rock in Ramakkalmedu.Rolling green hills and the fresh mountain air make Ramakalmedu and enchanting retreat. The hilltop also offers a panoramic view of Tamilnadu towns of Kumbum, Theni, Kombe, Thevaram, Uthamapalayam, Bodinaykannor and Vaiga.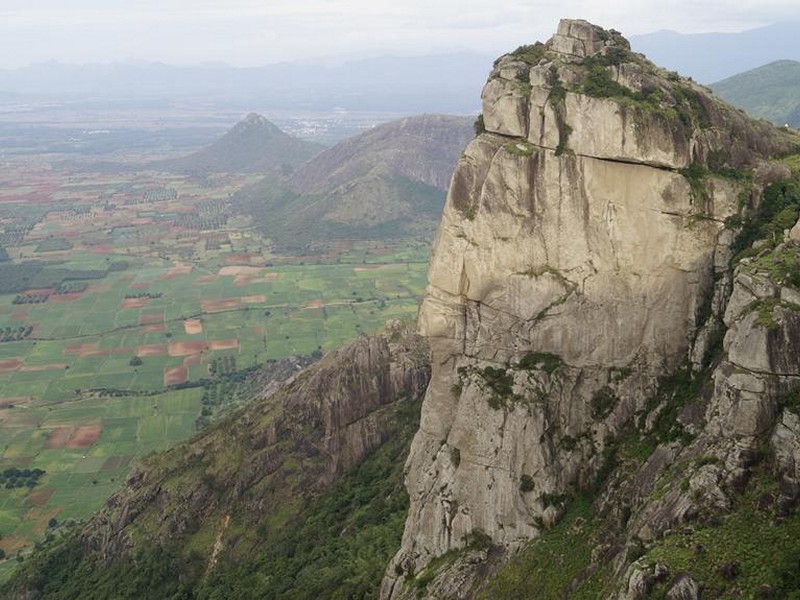 8. Thenmala
Height of Thenmala from Sea Level
– 500 meters (1640 ft) to 650 meters (2165 ft) above the sea level
Thenmala is also in Southern Kerala near Kollam district and is translated into the hill that yields honey in local language and is a small village at the foothills of Western Ghats and predominantly a forest area. The famous Shenduruney Wildlife Sanctuary is the most important ecotourism resource of Thenmala Ecotourism.This Wildlife Sanctuary is of about 100 sq. km. and harbors large varieties of flora and fauna.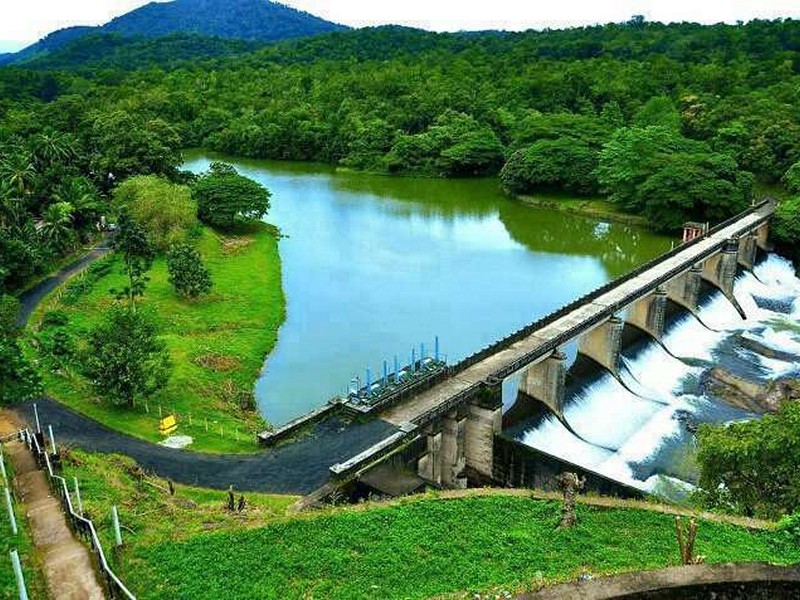 The honey collected from Thenmala forest region is of good quality and of high medicinal value because of the unique floristic composition of the forests in these areas. The hottest months are March to May and the coldest, December and January. The maximum temperature during daytime in the hottest month is about 39oC. The daily temperature varies from 17oC to 35oC.
9. Lakkidi
Height of Lakkidi from Sea Level
– 700 meters (2296 ft) to 1150 meters (3772ft) above the sea level
Lakkidi is referred to as the Gateway of the Wayanad district. Lakkidi is the starting point in exploring the entire Wayanad region which is most notable for containing impressive mountain peaks, dense forests, and beautiful streams and other water features. Lakkidi is one of the highest locations in Wayanad, and registers the second highest degree of rainfall in the world.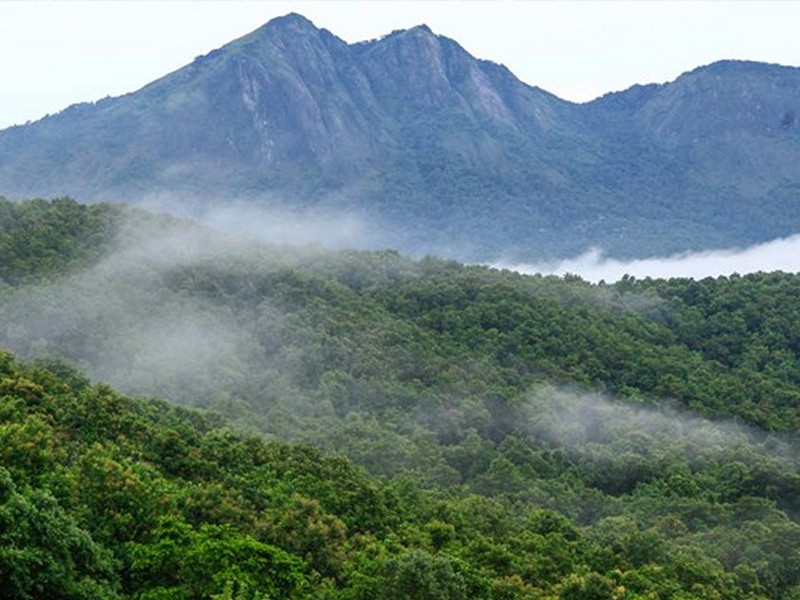 10. Thekkady
Height of Thekkady from Sea Level
– 700 meters (2,296 ft) to 1900 meters (6,240 ft) above the sea level
The Country's sole Tiger reserve, Thekkady, with its bountiful treasures of tropical flora and fauna is the ultimate reservoir of many an endangered species and a rich tribal culture. Thekkady is a pleasant heaven on earth for those who love nature in its wild manifestations.Periyar Tiger sanctuary is spread over an area of 777 Sq.Kms, surrounded by an artificial lake over an area of 25 Sq.Kms.Bamboo Rafting, Border Hiking, Mangla Devi Temple, Periyar lake, Periyar Wildlife Sanctuary, The Sukri Dam, The tribal heritage museum etc are some of the most popular tourist attractions in Thekkady.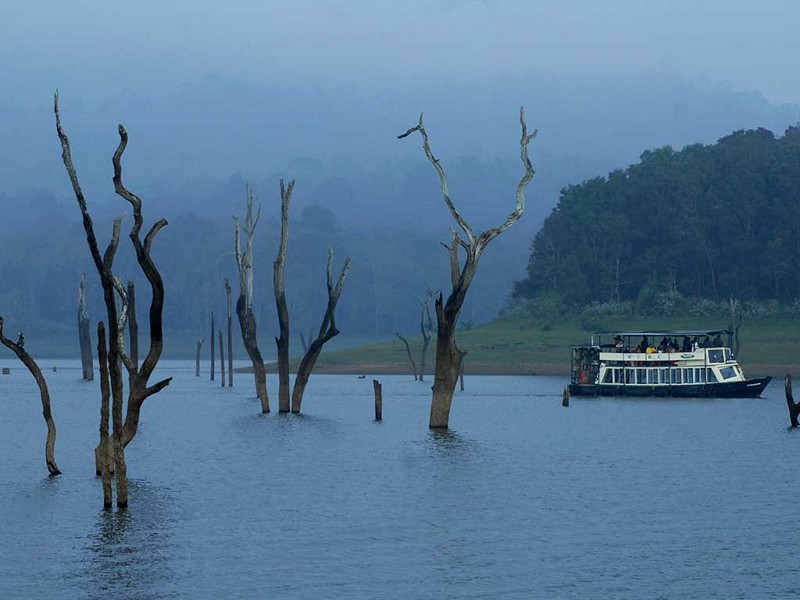 Other famous hill stations in Kerala include Nelliyampathi, Devikulam , Attappady etc. If you are interested in a Kerala Hill Station package, you can check out the Call of the Hills Package offered by us.