While booking a trip to a hill station (especially from Bangalore), the first question that comes to our mind is 'Where should you go first?' Choosing between the vast number of beautiful hill stations to see can get tedious and confusing. Places like Wayanad or Coorg are among the most well-established tourist destinations that you can find in South India. Each destination has its own specialties. Wayanad or Coorg -each tourist destination has breathtakingly stunning scenic beauty. Coorg is surrounded by misty Sahyadri mountains, coffee, and spice plantations while Wayanad is surrounded by beautiful peaks such as Banasura, Chembra, and Brahmagiri.
When it comes to the state itself, Kerala is known as God's own country and has been famous for offering multiple tourist destinations long before the tourism business began. Located in the southern part of India, Kerala is among the places that you should keep on your bucket list if you love to travel.
ALSO SEE – Best Time to Visit Coorg
But the question arises, where should you go first? Though there a lot of places to see in Kerala, we have done some research and come up with two of the best places you can set your camp in; Wayanad & Coorg. You might ask which one is better among those two? Before you final in on one, let's dive deep into what you get for your buck if you choose one of them.
Where Can You Find These Godly Destinations like Wayanad or Coorg?
Wayanad is located on the northeast side of Kerala state, set high on the Western Ghats that are known for their high altitudes ranging from 800 to 2000 meters and above. It's also located right next to the Karnataka border. Standing on the southern tip of the Deccan plateau, its largely covered with deep forest and natural resources.
ALSO SEE- Best time to Visit Wayanad
Coorg, on the other hand, is located amid the mountains in Karnataka and is considered one of the most beautiful places to visit before you get old. A place that's best for people who love nature. Currently known by its modern name Kodagu, lies above the eastern slopes of the Western Ghats. It's bordered by the Wayanad District of Kerala from the southern area. It hosts peaks as high as 1700 meters known as 'Tadiandamol' which is the highest mountain you can find in Kodagu.
Wayanad or Coorg – Each of the destinations has equally cool temperatures, owing to the hilly and mountainous terrains the two hill stations are surrounded by.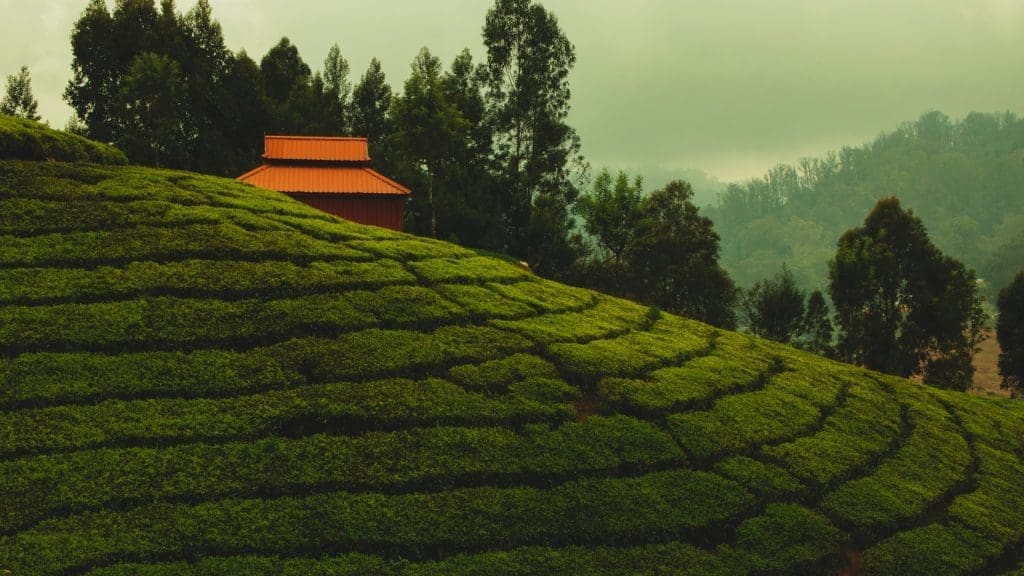 What does Wayanad or Coorg Offer to Tourists?
Wayanad, also known as the green paradise, lies among the mountains of Western Ghats. It's one of the most beautiful places that you can come across. From Pookode Lake to Tea estates and Wildlife sanctuary to Banasura Sagar Dam, there are more places to enjoy than one can comprehend.
ALSO SEE – Top 7 Best Places To Visit In Northern Kerala that No Travel Guide Will Ever Tell You 
Besides these things, the tourists also get to have the opportunity to set night camps with campfires or visit Vythiri village resort known for its Treehouse experience. And if you are among the people who love adventure, Wayanad will not disappoint with its Kuruva islands and Pakshipathalam caves.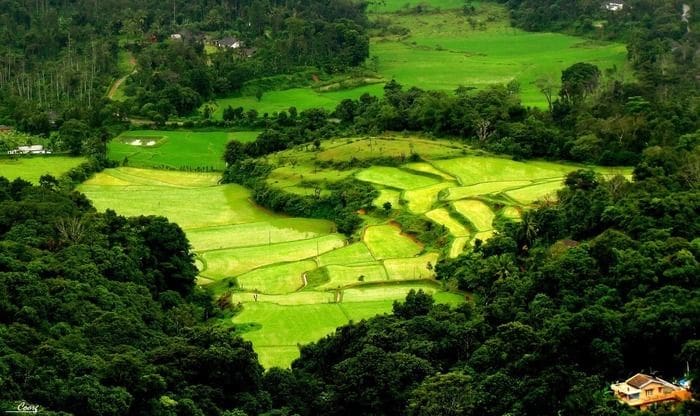 Moving on to Coorg, located in the high hills of the Karnataka region, offer equally great things for people who love travel. From Abbi Falls to Madikeri, known as the Kashmir of South India and holy temples that are built centuries ago, such as Omkareshwara Temple which is known for its mix of gothic and Islamic architecture, Coorg is among the places that are worth the money you'll spend.
Coorg does not disappoint the adventure lovers as well. Tourists will have the opportunity to take on sports such as River rafting in Barapole river and the classic Jeep drives carried out at sunset at Mandalpatti that's at a height of 1600m.
In a nutshell, whether Wayanad or Coorg – each of the destinations has similar attractions of hills, peaks, and mountainous terrain surrounding these beautiful hill stations from all sides.
If all this is starting to sound amazing, wait till we get into the details of each place. These are just the tip of the iceberg, there are a lot more things to enjoy here on forward.
ALSO SEE –  Top 14 Things to do  in Mysore (UPDATED LIST)
How to Get to Wayanad and Coorg?
Wayanad
There are three ways to reach Wayanad, air, rail, and road. You can take a flight from Mumbai, Bangalore, Goa or Chennai to Kozhikode, that's 25 kilometers away from the canter of the city. If you are coming via train, you have the option to take one from Mangalore, Chennai Goa Mumbai and other places to Kozhikode railway station. If you are driving by yourself or taking a tour bus, Highway 17 is well connected to Kerala and nearby states.
Coorg
For people coming via flights, the nearest airport is 135 kilometers away from Coorg at Mangalore. If you plan to take a train ride to the nearest station in Coorg, the best option is to visit Mysore and from there you can take other means of transport for your destination. From there you can book a tourist vehicle or bus that'll take you on the road to Coorg. From Mysore its 120 kilometers by road, which is the nearest to all other places. Though it looks far, it's worth the ride.
ALSO SEE – Airports in Kerala- Helpful Guide for Tourists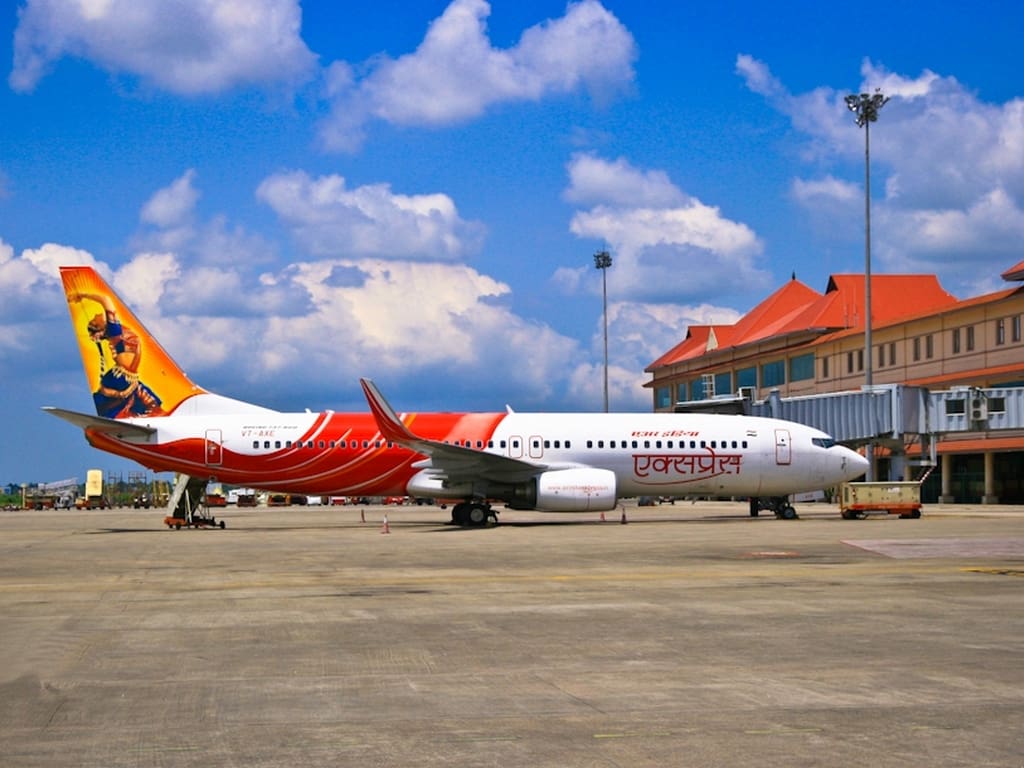 Why Choose Wayanad?
Being amidst the lap of mother nature, Wayanad is known for its calm climate and beautiful hill stations. The place holds home to several shrines such as Valliyoorkavu Temple, Thrissilery Shiva temple and the famous Sulthan Bathey Jain temple. These locations are best if someone wants to understand the culture and history of the place itself. From forest to water springs, a tour to Wayanad offers a complete experience a tourist is always looking for.
Depending on the number of days you will visit the location, here are some places and activities that you can look forward to while you are on a trip to Wayanad:
Things to Do in Wayanad
Mountain Hiking
If you want justice for the money you will spend on this trip, taking a hike to the mountain. You can start your hike from Banasura hill resort to the mountain crossing beautiful deep forests and grasslands. You'll be able to see the stunning beauty of rural Wayanad for about 13 kms. This is one of the best choices if you want to let loose and get away from the technology-filled lifestyle for a while.
Wayanad Wildlife Sanctuary
If you are a wildlife lover, Wayanad offers just the thing for you. Being one of the top attractions of Wayanad, the wildlife sanctuary offers over 340 square kilometers of area for you to enjoy. Also known as Muthanga Wildlife Sanctuary, it connects major parks Karnataka and Tamil Nadu that are Nagarhole and Mudumalai respectively. You'll be able to see wild animals from elephants to panthers on this thrilling safari ride.
Kuruva Island
Right in the middle of the Kabini River in Wayanad lies the famous Kuruva Islands that are spread across 950 acres of land. Tourists can take soothing bamboo rafts amid the beautiful surroundings of the island. For tree nature lovers, this can offer amazing sights such as bird watching, bamboo bridges and rare species of trees.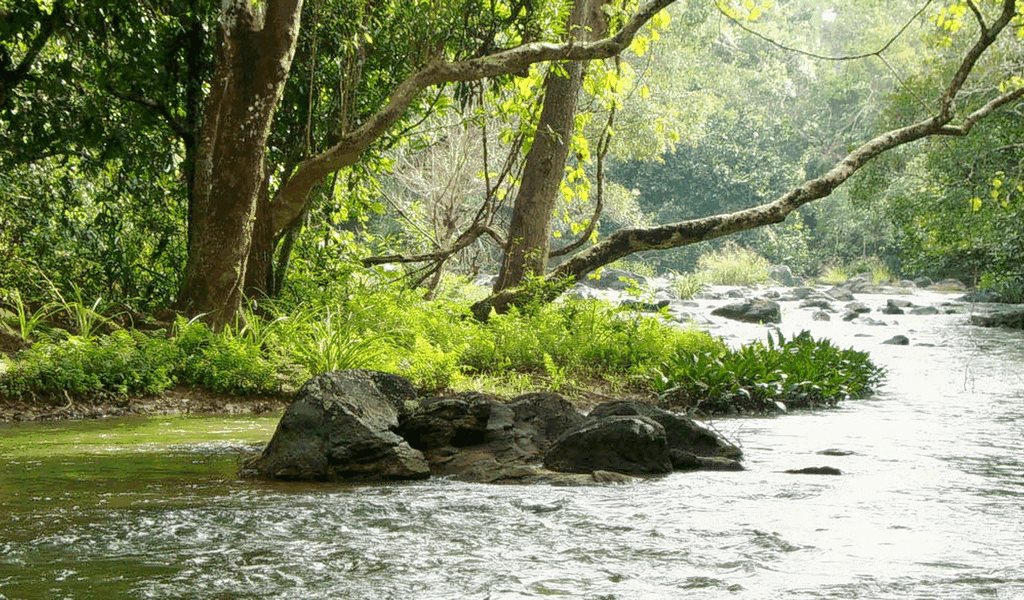 Banasura Sagar Dam
Being one of the largest earthen dams in India, Banasura Sagar Dam comes in the must-visit places in Wayanad. It offers trekking trails and boat rides that you should not miss out on. There are a lot of picnic spots available nearby that will allow you to sit down and enjoy the crystal waters of Banasura. You can also visit the hydel project near Banasura if you are interested.
Edakkal Caves
If you are a lover of caves, be sure to explore the famous Eddakal caves that hold one of the oldest prehistoric inscriptions to date. These are actually huge boulders that are wedged together giving the perfect feel of cave experience. Most of these boulders are almost 22 feet wide and almost 100 feet long. You can enjoy the carvings and ancient inscriptions on these boulders which is a precious memory to take back with you.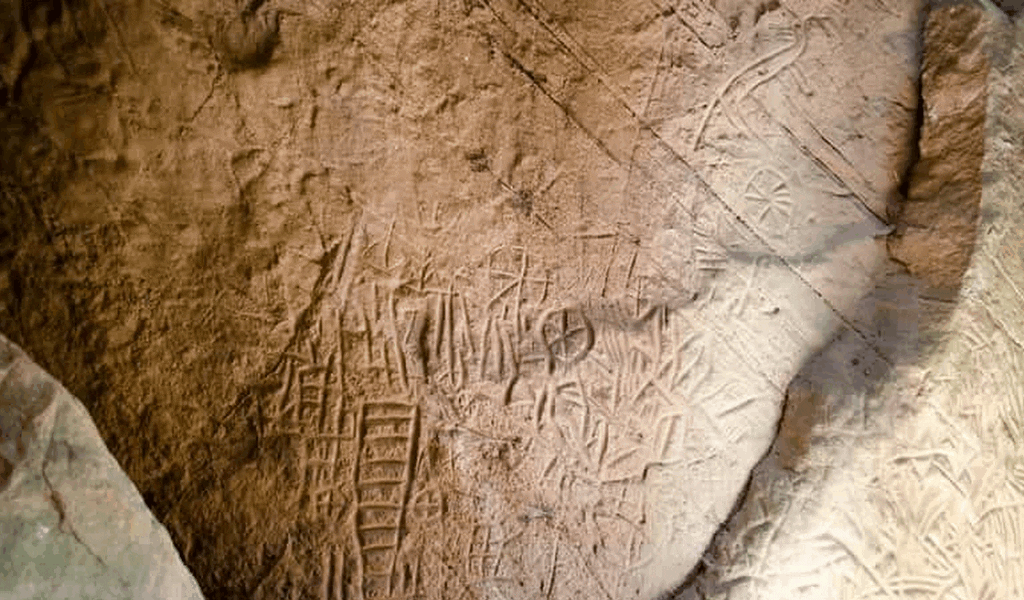 Boat Rides on Pookode Lake
Who doesn't love a boat ride on a sunny day? Enjoy the freshwater lake in Pookode, known for hosting a vast variety of fishes and blue lotuses. And the best thing about Pookode lake is that it's shaped like India's map. You can hire a pedal boat for an amazing boating experience or visit the freshwater aquarium nearby. There's also a children's park right next to it, where children can enjoy the visit while you shop for famous spices and handiwork in nearby shops.
Thirunelli Temple
One of the ancient religious sites, dedicated to Lord Vishnu Thirunelli temple is a stand high above the Brahmagiri Hills in Wayanad. There's a belief that Lord Brahma themselves built this temple 3000 years ago, dedicated to Lord Vishnu, Ganesh, Hanuman, and Nagam. Once you are at the top, you can enjoy the magnificent views around the area as well.
Recommended resort in Wayanad
Among the best 5-star resorts in Wayanad, Vythiri Village resort offers the best natural experience you can find on this trip. Every room of the resort is spacious and offers comforts found only in the best resorts. From delicious food in its three restaurants to ayurvedic massages, it's an experience you don't want to miss out on.
Ziplining
Ever wanted to fly above the hills without any sort of wings? Well, Wayanad offers you that chance with its ziplining activity. Best for adventure lovers; take a zipline tip over the tea estates of Wayanad. This is also among the longest and highest zipline you can find in Wayland. The other option is to take a zipline ride across Karlad Lake, but both of them will offer the thrill you seek.
Cycling
Wayanad is the hotspot for thrill-seekers. Other than zip lining you can also book some cycles and go around the town to enjoy the views the old-fashioned way. Along the way, you can also take breath-taking shots of tea plants and green forests.
TreeHouses
There is nothing better than an experience of living inside a treehouse when you are amid nature. While being there you'll be able to see the tea and coffee plantations. There are multiple options to choose based on the facilities and budget you have in mind. But this is one experience that we suggest not to miss out on.
Tea Estates
After mentioning it for about 900 times in this article, you might be wondering when are we going to suggest visiting tea estates. Well, it goes without saying, if you are in Wayanad, you have to take a stroll amidst beautiful tea gardens. It's the best place for that picture-perfect tour you have been imagining for so long. This district in Kerala is known for producing one of the best blends of tea in the country, which is another reason for not skipping this place.
Soochipara Falls
How can we leave all the waterfall lovers unsatisfied? Soochipara falls also famously known as Sentinel Rock are the best attractions in Wayanad during the summer season. You can go there for sightseeing or taking a dip in the pool next to the waterfall. A refreshing experience that you should definitely have while in Wayanad.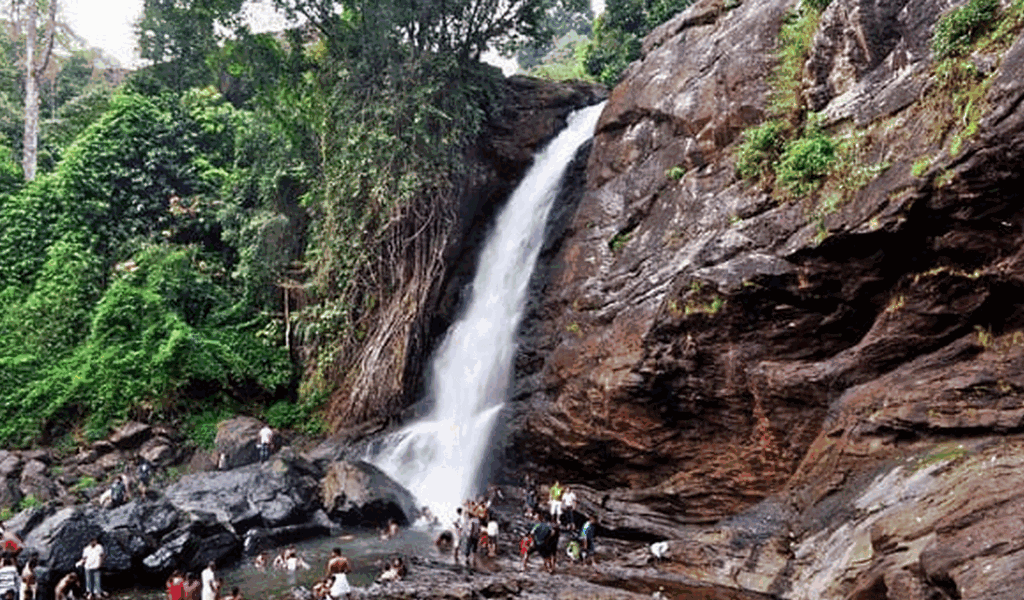 What Else?
Other than these beautiful and thrilling places to visit in Wayanad, there are other activities that you can do while being on this trip. Such as setting up a campfire, shopping for spices and souvenirs.
Why Choose Coorg?
One of the highest-rated hill stations in India, Coorg is considered the Kashmir of South India. Coorg offers some of the best tourist attractions and activities such as Bhagamanfala, Abbey Falls, Nagarahole National Part, and Tibetan Buddhist Golden Temple. Coorg is also famous for its coffee-producing hill stations and green hills. Best for people who like to have a closer look at the culture and natural beauty this place offers.
From wildlife to waterfalls, here are some places and activities that you should definitely take a look at while taking a trip to Coorg.
Things to Do in Coorg
Puthari Festival
If you get a chance to visit Coorg during the winter season around the end of November, you'll be able to attend the Puthari festival which literally means 'New Rice' festival. Here you'll be able to experience the vast culture of Coorg and understand the aspect of the people that is hard to find otherwise. Enjoying the celebrations with native songs and watching people dance, dressed in traditional attire, is a memory to take back with yourself.
Abbey Falls
Another site for waterfall lovers is the Abbi Falls situated in the steep slopes of Western Ghats. It consists of multiple streams of water that combine together to create the Abbi Falls. This is a great location if you are looking for a peaceful yet thrilling place to visit. Take a dip in the cold water of the Cauvery river or sit back and enjoy the sightseeing of the forest nearby. There's a Kali Mata Temple nearby that's also worth the visit.
Madikeri
Also known as the Kashmir of South India, is enough of a reason to visit Madikeri Hill. Best for people looking to get away from their busy lives to a peaceful place hard to find elsewhere. It's also among the best destinations if you are visiting with your spouse.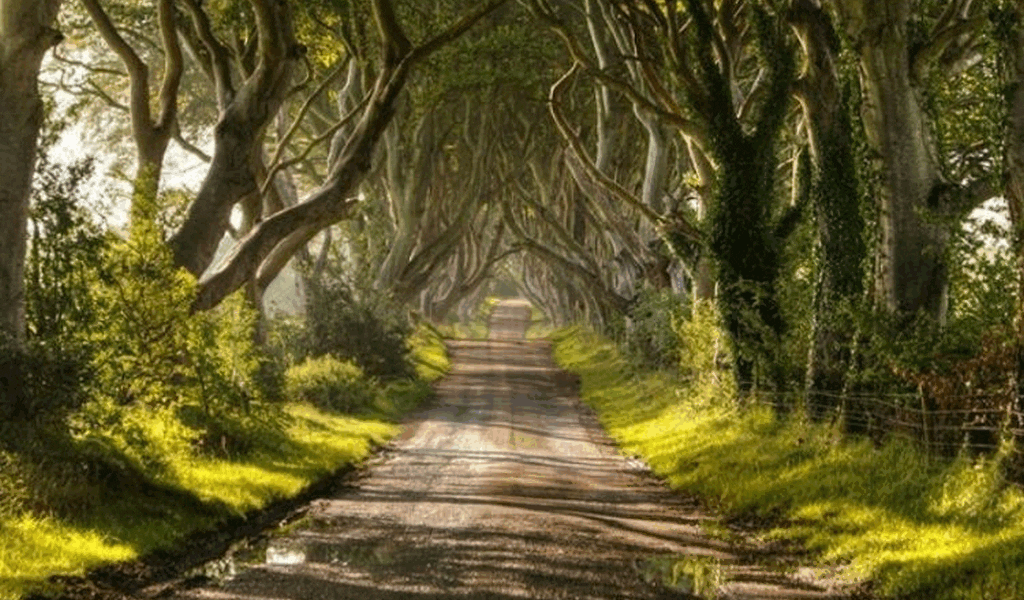 Omkareshwara Temple
Those who love to visit ancient sites, add Omkareshwara temple to your bucket list. Built almost two centuries ago by Lingarajendra II, the temple is dedicated to Lord Shiva that consists of an architectural mix of Gothic and Islamic origins. It is believed that the Shivlinga present in the temple is brought all the depth of Kashi, Varanasi. The best time to visit the temple is between October to March. The most intriguing part of the temple is the looks which almost seem like a Muslim Dargah.
Bylakuppe, Biggest Tibetan Settlement
Being one of the biggest Tibetan settlements in South India, Bylakuppe is a sight to behold. Once you visit this location, you can see the Namdroling monastery, get some hand-crafted souvenirs for your trip back and enjoy some of the best authentic Tibetan delicacies.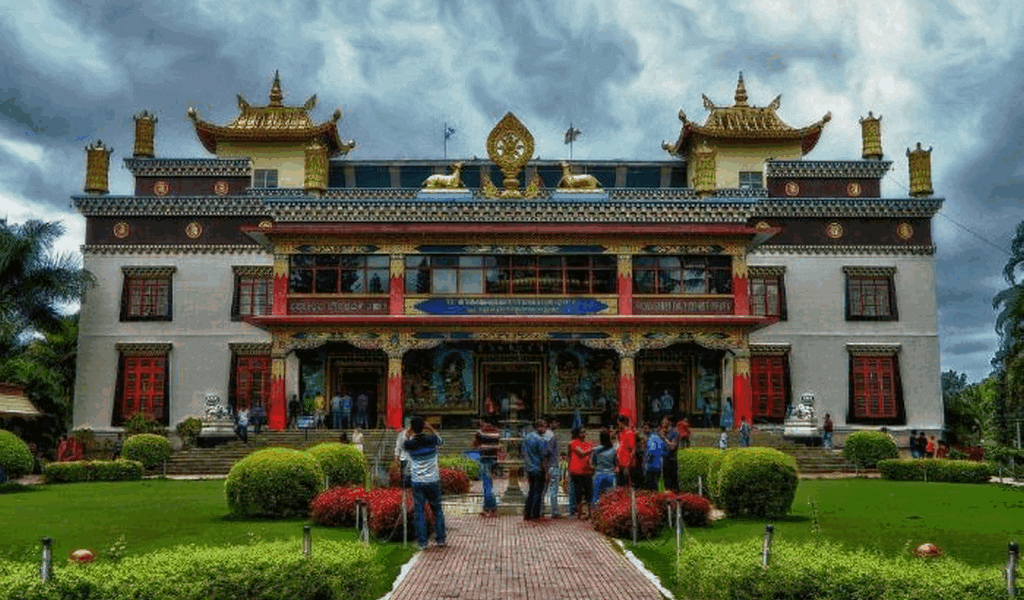 Coffee Plantations
What's a trip to Coorg, if you don't get to see the famous Coffee plantations in the country? It's as old as the British rule in India, Coorg coffee is famous for its clean beans and the fine quality that's loved all over the world. It has a distinctive blue color that isn't found anywhere else. If you get a chance to visit during the season, you can feel the refreshing smell of a coffee shop while being amid the coffee plantation.
Dubare Elephant Camp
For wildlife enthusiasts, this camp is the best attraction to find. Witness how these beautiful elephants behave in their natural habitat. Dubare elephant camp hosts more than 150 elephants, crocodiles, wild dogs, and sloth bears. You might also get a chance to see the beauty of peacocks dancing in the wild. If you are looking for some thrill, hop on the coracle boat ride that takes you through the camp.
Talakaveri Wildlife Sanctuary
Known for being in the midst of nature, it a given that it will offer you more wildlife than you have planned for. Enter Talakaveri Wildlife Sanctuary, which hosts animals such as tigers, jackals, porcupines, cobras, elephants, leopards, and flying squirrels. That's right, there are squirrels that can fly, well they mostly glide, but still. This is also the place where the Cauvery river originated. If you like to trek, this is the place for you. The best time to visit Talakaveri Wildlife sanctuary is between December to April.
Glider Rides at Ponnampet
Moving on to adventurous activities, Ponnampet offers you a chance to take on a single or two-seater gliders to fly high in the sky. Don't worry if you don't know how to operate one, you can get an instructor who will educate you on how to handle the basics. Once in the air, you witness the beauty of Coorg from an eagle's perspective. These gliders are capable of going as high as 5000 feet and are fast enough to reach 100 km per hour speed. The best activity to do for a memorable vacation.
Tadiandamol Peak
Did we mention Coorg is also known as the Scotland of India? If you are a trek lover, don't forget to visit the highest peak in Coorg, Tadiandamol. It's over 5500 feet high and guaranteed to give you the peace you are after. Walk few more kilometers from the peak and you can visit Padi Igguthappa Temple, being one of the holiest temples on Coorg.
Irrupu Falls
Another great addition to waterfall lovers' bucket, Iruupu falls offers 60 feet fall with a mystical aura, that you don't want to miss out on. You have to trek to the falls but it's totally worth the effort.
Raja's Seat
Want to feel like a king watching the sunset? Make sure you visit Raja's Seat at least once before you end your Coorg trip. Raja's Seat is located in Madikeri, is one of the most beautiful locations in the state, you can sit back amid the musical fountains inside a charming garden and enjoy the sunset or sunrise just like a kind would.
River Rafting in Barapole
Last but not the least, Adventure lovers, here comes your next thrill-seeking activity. Visit Barapole river and you can take on the river rafting challenge with 4 rapids that covers almost three kilometers. The best time to visit if you want a ride is between 7 Am to 6 PM.
The choice between Wayanad or Coorg is simple. If you are looking for an offbeat but immensely enlightening experience then Wayanad is the place to head to. If you want to rejoice in the bounty of nature with nothing to worry about in the least bit, Coorg is the perfect destination.
Wayanad or Coorg – each of the hill station is replete with the options of trekking and several trails, together will hilltops and old miniature historical sites, plantation estates. It is hard to arrive at a conclusion for Coorg or Wayanad which is better but one can certainly decide where to be headed based on their travel plans.
Wayanad or Coorg – each of them is an exotic and breathtakingly beautiful hill station in South India and their individual qualities set the two apart.
Plan your trip to Kerala with us and decide for yourself Coorg or Wayanad which is better.