Greenery, Mountains covered with tea plantations, forests, wildlife, valleys, trekking, and mountains are the memories that come in when you hear about the best places to visit in Munnar. With a view that inspires painters and artists who view the lakes and verdant tea gardens, Munnar has a lot of places that are a must-visit when you go for a Munnar Tour Package. A mesmerizing hill station in the Idukki district of Kerala that is a plethora of Munnar tourist places that are worth visiting.
Planning to Visit Munnar? –
Download a Munnar Tourist Map at the end of the Post.
Munnar is a combination of the work Moonnu – Three and Aar – Small River in the local language Malayalam and translates into Three rivers. The name Munnar would have originated from the fact that this hill station which was the erstwhile summer capital of the British was located in the confluence of three rivers – Mudhirapuzha, Nallathanni, and Kundaly rivers.
Refreshing breeze, mountains covered with mist and acres of tea plantations, beautiful valleys and mud roads between tea gardens, and some adventurous ride through the hairpin curves would definitely be enthralling to anyone, and that is exactly why Munnar is one among the most loved hill stations in India and Munnar Tourism is well known. Stretched along the Western Ghats, this 'hill range' as it is widely called, has many breathtaking sights and landscapes perfect for a honeymoon and even for a family vacation.
Best Season to visit Munnar
Munnar has emerged as an all-season destination. The tourist season at Munnar, like all the other popular tourist destinations in Kerala starts from August and runs up to March. However, unlike other destinations, Munnar has a summer season in April to May when crowds come to this cool hill station to escape the heat in the plains. Munnar is less crowded from June to July during the monsoon season.
Top 16 Best Places to Visit in Munnar
Some of the most popular places to visit in Munnar include Tourist spots like Eravikulam National Park, Mattupetty Dam, Anamudi, Devikulam, Nyayamakad, Muniyara Dolmens, Attukal Waterfalls, Photo Point, Echo Point, and Pothemadu and here is a list of Munnar Tourist Places that you should visit when you visit this tourist destination that is also called as "Kashmir of South India"
The beauty of the best places to visit in Munnar cannot be just written or explained, it has to be experienced and Munnar is the most popular spot among the popular tourist places in Kerala.
Here is a list of places to visit near Munnar and things to see when you visit Munnar
1. TATA Tea Museum
Tata Tea Museum is located at the Nallathanni estate and the museum has curios and photographs that trace the growth and evolution of tea plantations in Munnar right from the tea sapling to an automated tea factory where it is processed.
The Museum is a fitting tribute to the efforts put on by the initial planters in transforming one of the most popular hill stations and the epicentre of tea trade in Kerala: The entry fee to the Tata tea museum is Rs. 75 per person and you can enjoy a free cardamom tea along with the demonstration of the history of tea in Munnar. For tea lovers and history buffs, TATA Tea Museum should top the list of Munnar tourist places.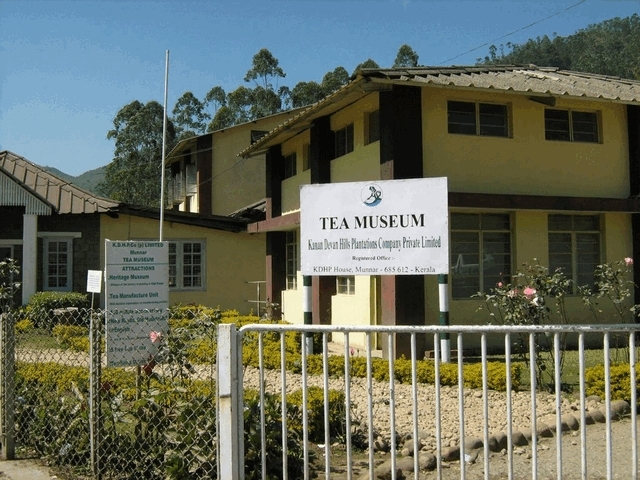 2. Cheeyapara Waterfalls
Known as one of the hottest trekking locations, Cheeyappara Waterfalls are one of the most desirable Munnar places to visit. Cheeyappara Falls is on the way to Munnar after Neriamangalam and before Adimali and flows down in seven steps making a great view from the road near the second step from the bottom. Valara is another waterfall near Cheeyapara that is enclosed by dense natural jungles. Indeed, it is also a good spot to enjoy a break and have a hot tea before reaching Munnar.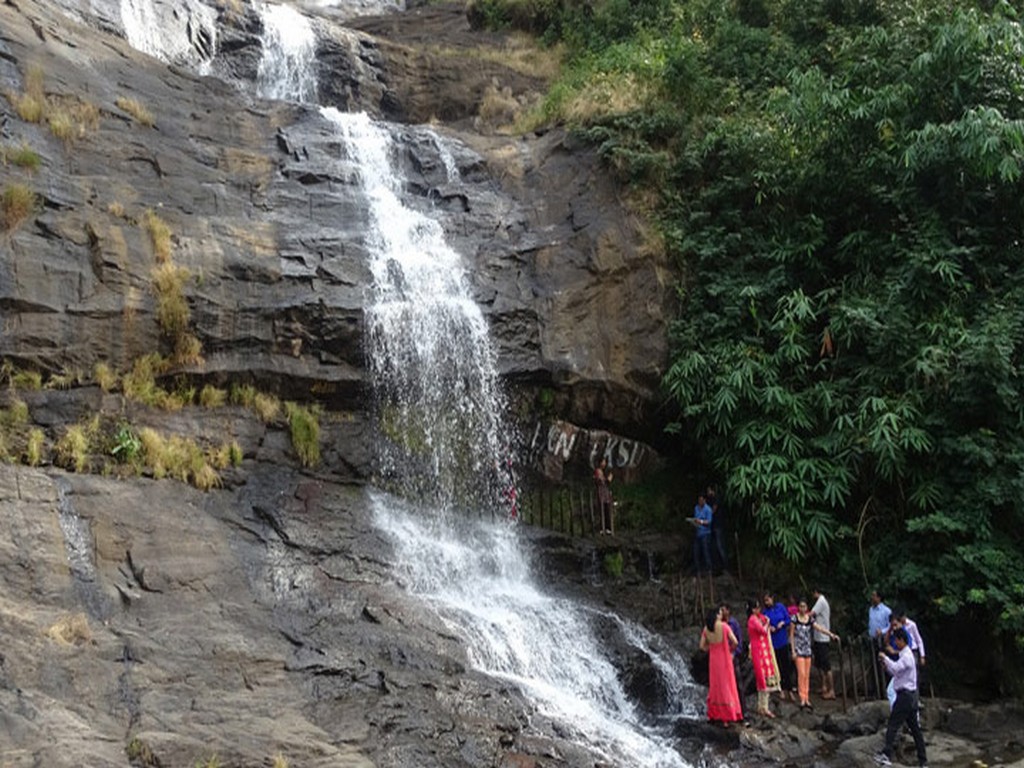 3. Pothamedu ViewPoint
You can watch the beauty of the Munnar mist that is engulfing the green hills from Pothanmedu Viewpoint. The drive to the Pothamedu ViewPoint takes you over an old bridge and narrow roads and the views during the drive are also very scenic. You should try to sip the hot tea from the tea shop near the viewpoint to enjoy the feel of Munnar to the full. One of the most beautiful places to visit in Munnar is Pothamedu View Point where nature can be found at its finest.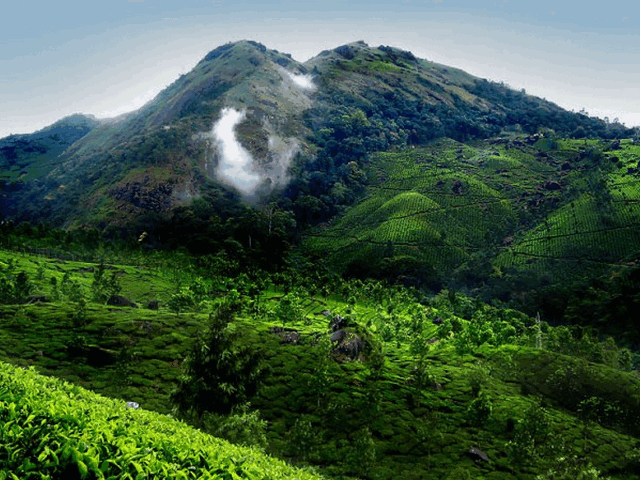 4. Attukad Waterfalls
One of nature's most mesmerizing creations, the Attukal Waterfalls tops the list of Munnar tourist places. Attukad Waterfalls is a must-go tourist spot in Munnar where you can view a waterfall amidst hills and jungles. The waterfalls are at a nice location between Munnar and pallivasal and the road to reach itself is so beautiful. There is a narrow bridge through which you can drive your car and watch the falls but this is slightly risky as there are potholes in the bridge. There's a small tea shop cum viewpoint near the falls from which one can have a close look at the falls and sip a hot cup of cardamom tea.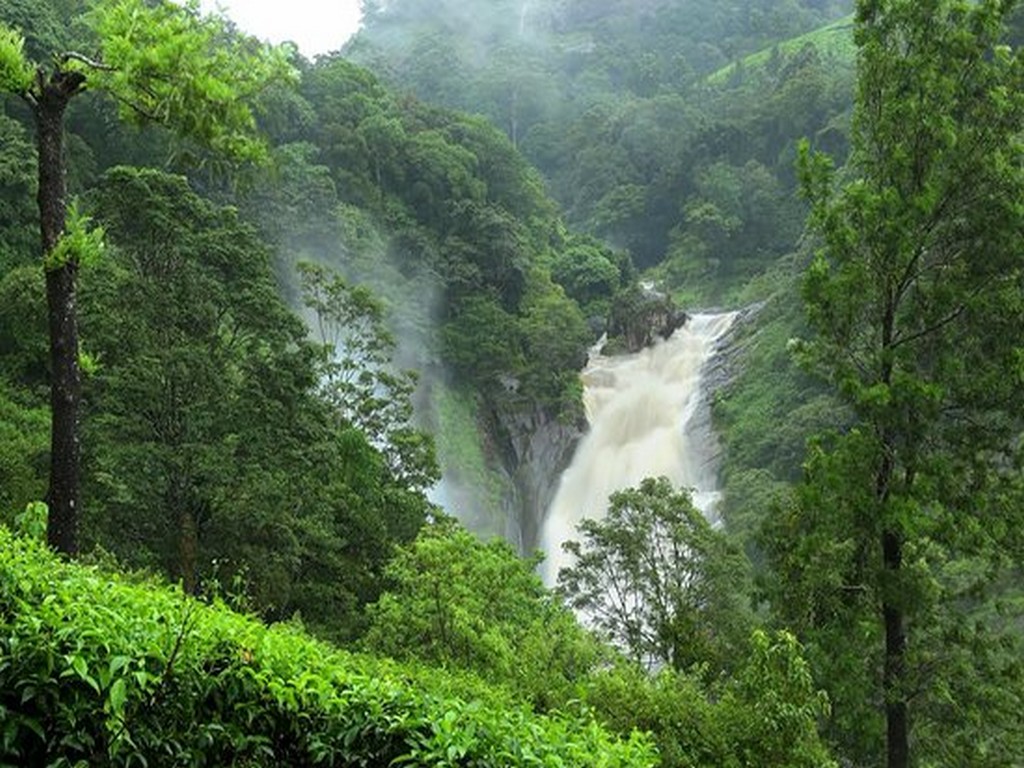 5. Top Station
Overlooking the beautiful panoramic views of the Western Ghats is the Top station in Munnar which is one of the must-visit Munnar tourist places. Top Station is a viewpoint at the highest altitude in Munnar and is located at a distance of almost 40+ KM's from Munnar. If you are visiting Munnar, you need to be very lucky to reach the top station when the sky is clear – without fog.
It rains in Munnar frequently as a result of which fog covers the beautiful views from Munnar. The drive to the top station is pretty long but the drive has beautiful views, tea gardens, and two dams on the way. It is better to visit the Top Station initially and visit the dams etc on the way back if you are planning to start early from Munnar.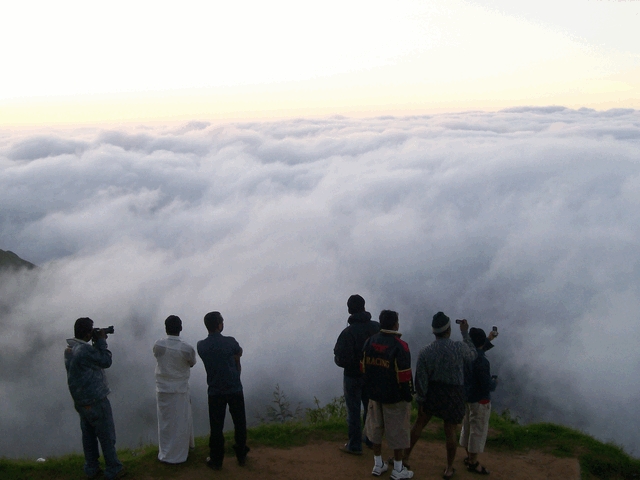 6.Kundala Lake
Pedal Boating Kundala Lake that costs Rs.150 per couple for each hour is a popular activity for Kerala Honeymoon packages. Kundala is Asia's first arch dam and Neela Kurunji flowers which bloom once in twelve years, bloom in the hills and valleys around Kundala lake. Echo Point gets its names from the echo that is generated when you shout and window shopping and sightseeing in the toy shops around this tourist spot is a popular pastime for guests visiting Munnar. The fresh mountain air, the mist-clad hills, and the panoramic view make it worth a visit. Speed Boating is a popular activity in Kundala Lake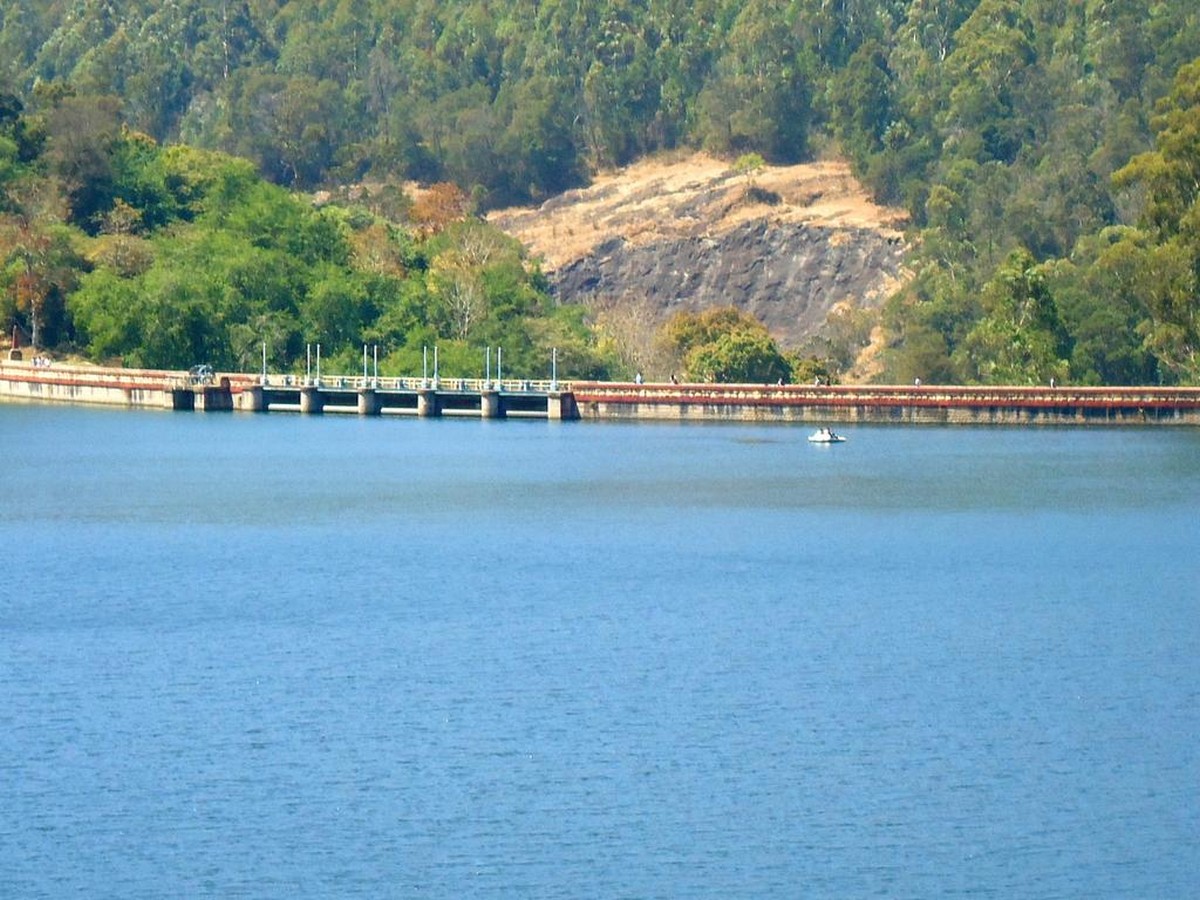 7. Mattupetty Dam
Mattupetty is yet another eye candy in Munnar. Mattupetty Dam is one of the most captivating places to visit in Munnar. The Mattupetty Dam and Lake are celebrated tourist spots with an excellent view of the lake and tea plantations spread out to a wider area. Boating facilities are available to provide the visitors with an amazing experience and elephants are often seen here in Munnar. Mattupetti dam is a storage Concrete Gravity dam built in the mountains of Kerala, India to conserve water for hydroelectricity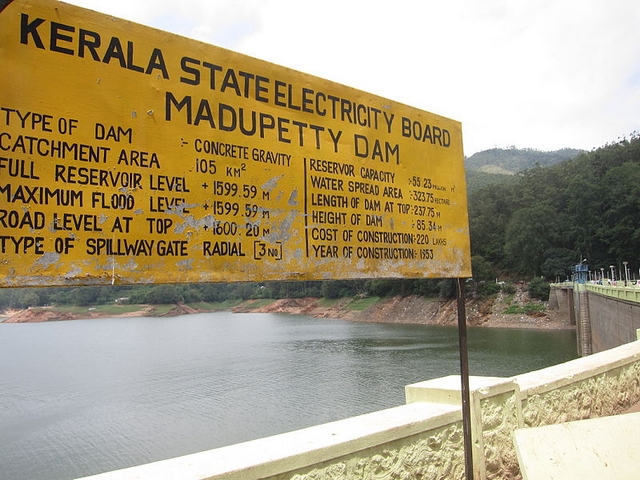 Instructions for Tourists – District Tourism Promotion Council has organized boating in Mattupetty Dam and if you are lucky you may be able to see some elephants as well. The most attractive part of the Mattupetty dam is its still water which reflects the tea gardens in the mountains around.
8. Eravikulam National Park
The Eravikulam National Park is a sanctuary located in Munnar to protect the endangered Nilgiri Tahr. The place is the natural habitat of this rare mountain goat which is facing extinction. The National Park houses a variety of flora and fauna making it one of the best places to visit in Munnar. Rajamala region is the tourism zone of the Eravikulam National Park. Flee to Rajamala if you want to see herds of Nilgiri Tahr roaming around freely. No visitor is allowed beyond the tourist area due to security reasons.
Instructions for Tourists – The park closes during February-March for about 30 to 45 days and tourists won't be allowed inside. The park opens its gates at 07:00 in the morning and closes by 18:00 in the evening. There is no online ticketing facility and please expect long queues on public holidays and weekends.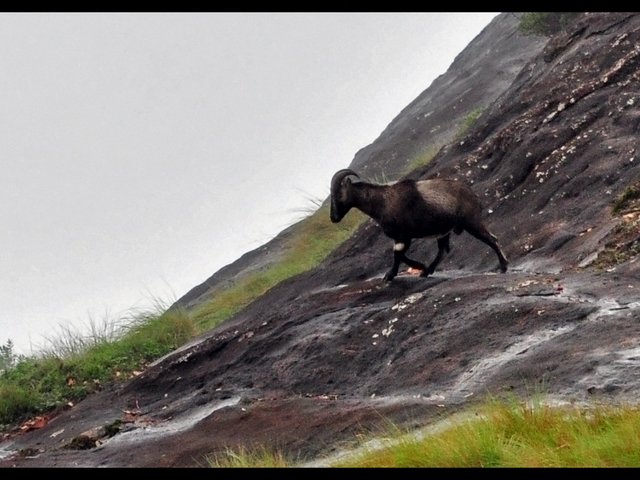 9. Marayoor Dolmens
Pristine, exotic, adventurous, diverse, and beautiful – Marayoor is a land of waterfalls, rivers, rocky hills, bamboo forests, sandalwood trees, cave temples, and paintings. Dolmens in Marayoor dates back to the stone age and in Malayalam, the dolmens are called Muniyaras or dwelling places of the Sadhus. Dolmens were created using slabs of rock, three for the sides and the fourth slab placed on top of these three as a roof. There are dolmens with 5 rock slabs as well where the 5th stone slab acts as a front wall with an opening as an entrance. Neelakurinji flowers that blossom only once every twelve years are yet another spectacular native of Marayoor as well.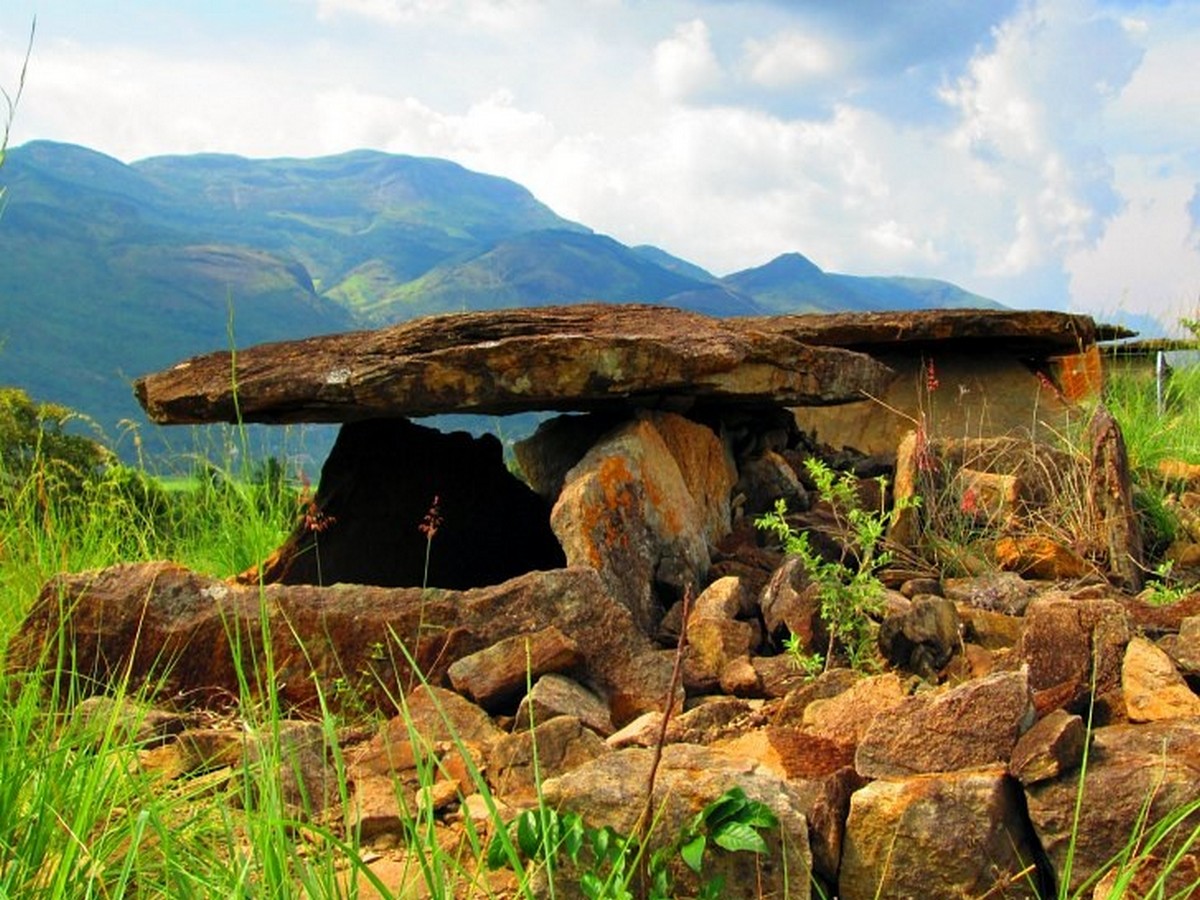 Instructions for Tourists – Marayoor Dolmens are accessible from the road only at Kovilkadavu which is in the Marayoor Kanthalloor route at a distance of 48 kilometres from Munnar and at Pius Nagar which is at a distance of 50 kilometres from Munnar. Go for visiting Marayoor Dolmens only if you are interested in history as the climate of Marayoor is totally different from Munnar.
10. Anamudi Peak
Anamudi is the highest peak in the Western Ghats and South India and is situated 2695 meters above sea level and is one of the most enchanting sights in Munnar. The place is ideal for trekking and offers many activities if you love to explore something adventurous as it is the highest point in India outside the Himalayas. However, currently Trekking to Anamudi is banned as per court orders.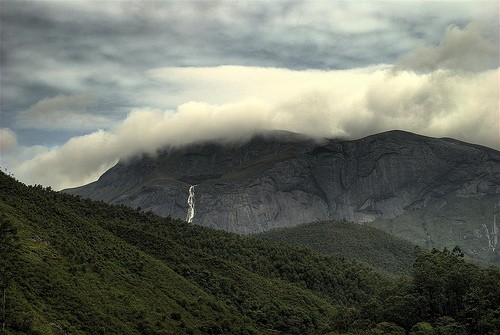 Instructions for Tourists – Anaimudi is inside the Eravikulam National Park and is prohibited for tourists by Kerala Forest Department.
11. Indo Swiss Diary Farm in Mattupetty
For those in search of some offbeat Munnar places to visit, Indo Swiss Dairy farm is your best bet. Indo Swiss diary farm project or Livestock project is located near Mattupetty Dam and is among the best Places to Visit in Munnar. This project was created t produce high yielding cattle and was launched in the year 1963 as part of the bilateral agreement between India and the Swiss government. The sight of the cattle grazing freely on the hills of the wide farm is a unique experience which any tourist can have ever in his life.This project is currently operated by the Kerala Livestock Development and Milk Marketing Board.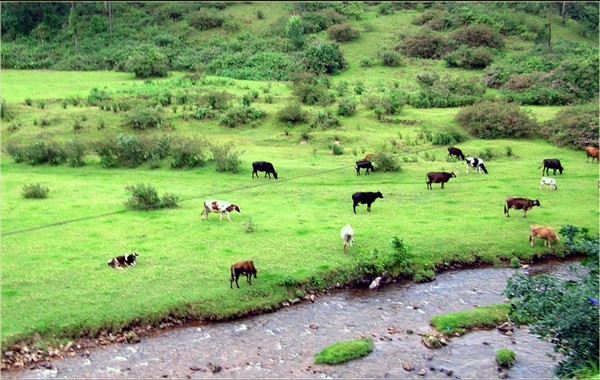 Instructions for Tourists – Indo Swiss diary farm project is not open to tourists at present
12. Lock hart Gap
Lockhart Gap is situated close to Mattupetty and is an ideal place for adventure trekking and adventure activities. This tourist spot in Munnar has fresh mountain air , mist clad tea garden hills and panoramic view of valleys in Munnar.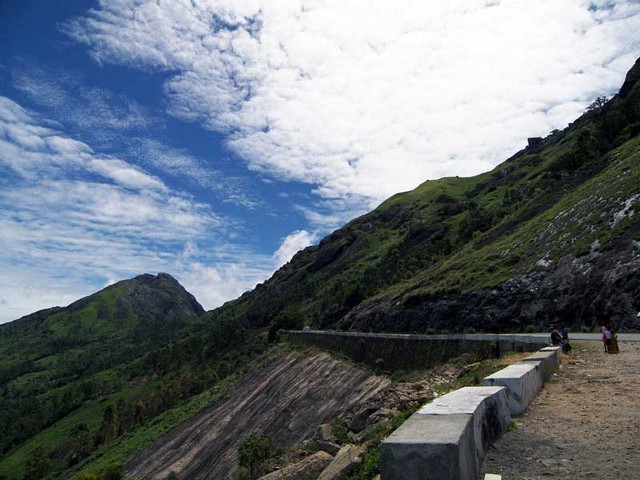 13. Blossom Park
Encircled by inescapable natural beauty at the banks of river Muthirappuzha, Blossom park is one of the most gorgeous Munnar tourist places.
Hydel / Blossom Park is situated near the Pallivasal hydro-electric project and you can enjoy activities like Cycling, boating, and roller skating as well as Hammocks& meditation caves. This is an ideal picnic spot for families who are looking for holidays with kids in Kerala and the entry fee is only Rs.10.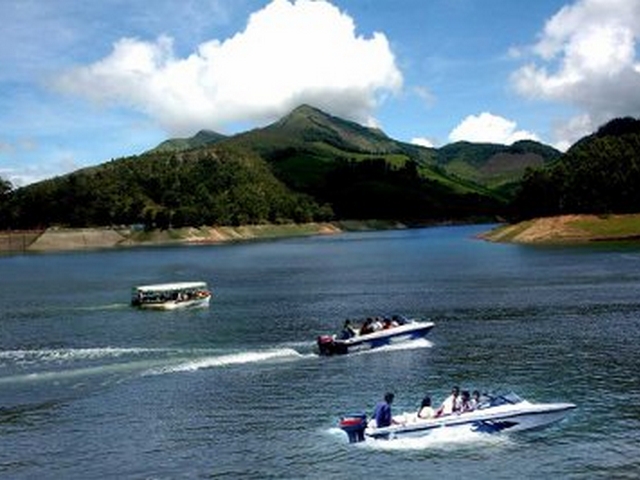 Instructions for Tourists – Entrance Fees to Blossom International Park is – Rs.10.00/ for adult and Rs.2.00/- for Kids and there are facilities for water cycling, boating etc
14. Life of Pi Church (C.S.I Christ Church)
In the film Life of Pi which was shot in Munnar, there is a full scene that captures the beauty of Munnar when the protagonist Pi visits a church in Munnar. The story in Life of Pi is based on the tigers that author Yann Martel saw in Trivandrum zoo in Kerala.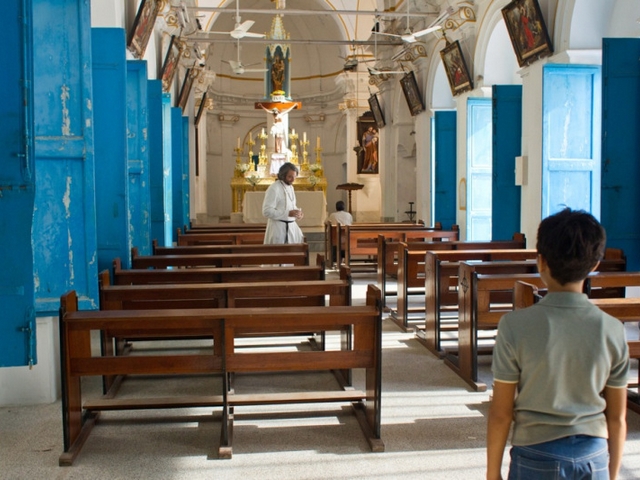 15. Meesapulimala
If you are into hiking, then Meesapulimala trekking will be a good activity to do in Munnar. The trek starts from a place called silent valley and goes in between the tea gardens and forests. Get on top of Meesapulimala and if it is a cloudless day, you can see the beauty of Munnar Tea Gardens far and wide.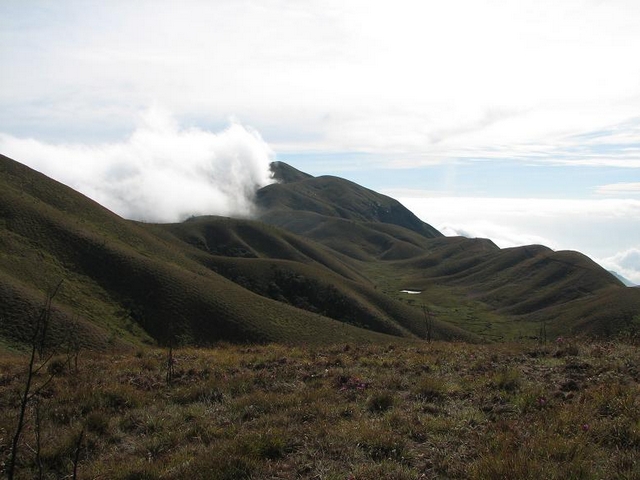 16. Chokramudi Peak
Chokramudi peak is a lovely deep valley full of lush green and is situated at 7,210 feet above sea level inside the Eravikulam National Park and is masked by lush green Shola forest. This is a popular Trekking spot among travellers when the trekking is permitted by authorities. When you do an early morning trek, not only you can witness the fiery sunrise but also view herds of Nilgiri Tahr departing for livestock.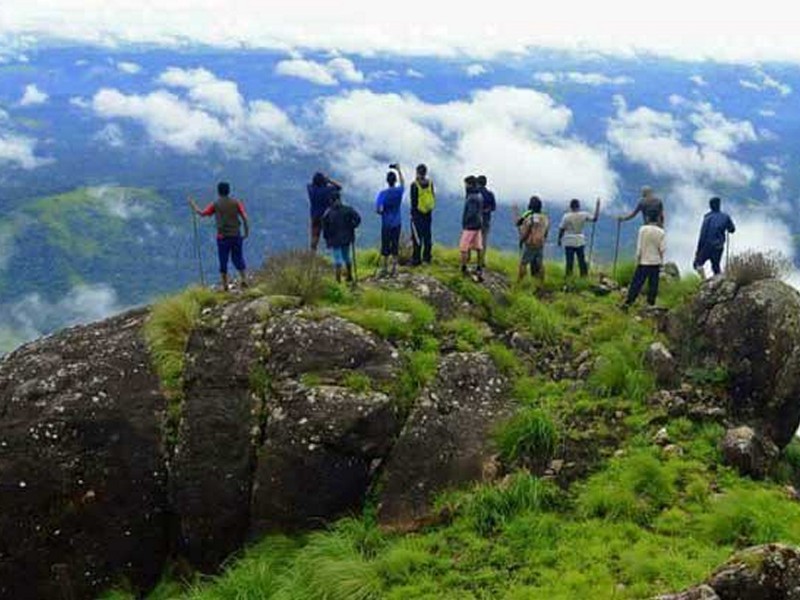 17. Wonder Valley Adventure And Amusement Park
An eco-friendly park, and a favourite haunt for adventure enthusiasts, this amusement park is a huge attraction amongst the tourists that is like an escape in the lap of nature. The amusement park offers a myriad thrilling opportunity for adventure junkies to indulge in. With lots of activities and nature trails, one can enjoy a day outing at this park and never run out of ideas.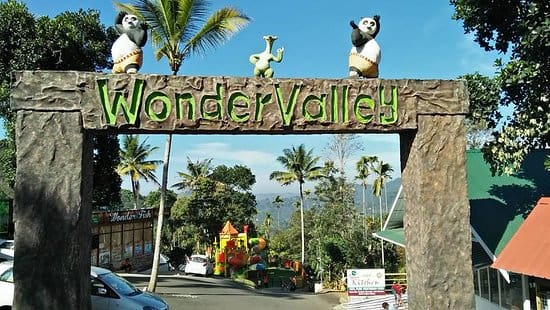 Location: No. 89, Chithirapuram P.O Anachal, Munnar, Kerala 685565
Entry fee: INR 1000 per head
Timings: 8:30 am – 6:45 pm
18. Chinnar Wildlife Sanctuary
Located in the Western Ghats, the Chinnar Wildlife Sanctuary is rich and has a diverse ecosystem that protects the ethnic cultural heritage and is a well-known repository of medicinal plants as well as a large population of wild species like elephants, crocodiles, tiger, leopard, and birds. The sanctuary is ideal for trekking expeditions and exploring the diverse flora and fauna.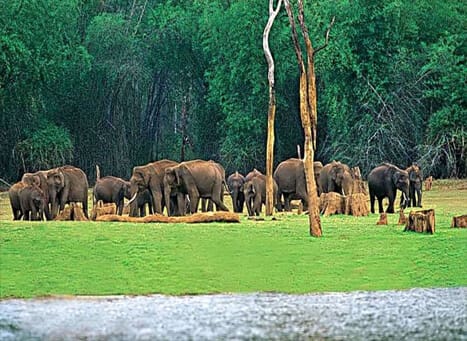 Location: Munnar – Udumalpet Road, Munnar, Kerala 685612
Timings: 8 am – 5 pm
Entry fee: INR 10
19. Chinnakanal Waterfalls
Falling from a towering height of 800m, the sheer beauty of this waterfall can be spotted from miles away. Located about 16 km from Munnar, this waterfall is an excellent spot for a day outing or a quick getaway from the main city. You can spend hours here and marvel at the sight of this mesmerizing waterfall that is said to have originated from scenic and sacred Devikulam Hills. It is also known as one of the best waterfalls in India.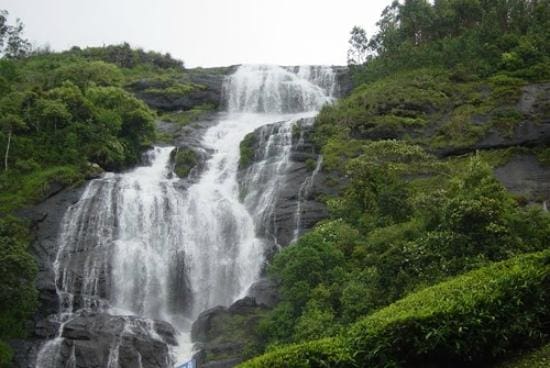 Location: NH-49, Chinnakanal, Kerala 685618
Timings: 6 am onwards
Entry fee: NA
20. Rose Garden Munnar
Sprawling across 2 acres of land, this beautiful garden attracts many nature enthusiasts and tourists alike. This garden is a sheer stretch of bright and colourful plants, roses, and several spices amongst a huge variety of fruit trees as well. The garden exudes a certain charm and mesmerizing beauty that people love to visit here on weekends to get away from the urban chaos and soak in the good vibes. Arrays of vibrant flowers blooming and showcasing colourful displays, this garden is like a mini paradise in Munnar. You can also buy seeds of plants and grow your garden back home.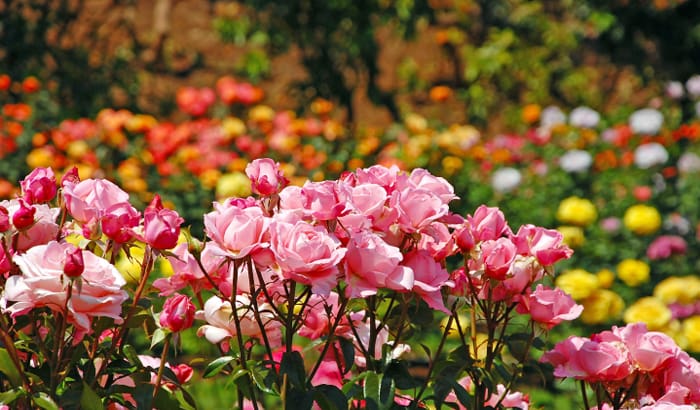 Location: Karadippara, Kerala 685561
Timings: 10 am – 5 pm
Entry fee: INR 20
How to reach Munnar
Kochi is the closest city to Munnar.
However, you can cut your travel time if you alight at the closest airport or railway station to Munnar.
Munnar does not have a railway station or airport and 'Aluva' is the nearest major town with a railway station which is situated at a distance of 90 kilometres.
Airports near Munnar include Kochi, Coimbatore, Madurai, and Calicut. The closest airport is Kochi International Airport which is at a distance of 110 Kilometers from Munnar Town.
Direct buses are also available to Munnar from all major towns in Kerala, Tamil Nadu, and Karnataka.
| | | | |
| --- | --- | --- | --- |
| From | To | Time | Distance |
| Kochi | Munnar | 4.5 hrs | 135 Km |
| Bangalore/b> | Munnar | 13.5 hrs | 565 Km |
| Kozhikode | Munnar | 9 hrs | 289 Km |
| Kumarakom | Munnar | 5.5 hrs | 156 Km |
| Kovalam | Munnar | 11 hrs | 135 Km |
| Kanyakumari | Munnar | 14 hrs | 324 Km |
| Alleppey | Munnar | 5.5 hrs | 192 Km |
| Thekkady | Munnar | 2.5 hrs | 90 Km |
| Trivandrum | Munnar | 7.5 hrs | 277 Km |
| Marari Beach | Munnar | 5 hrs | 166 Km |
Munnar Tourist Map
If you have finally decided to go to Munnar, after reading about the best places to visit in Munnar here is a map of Munnar that will be helpful for your travel.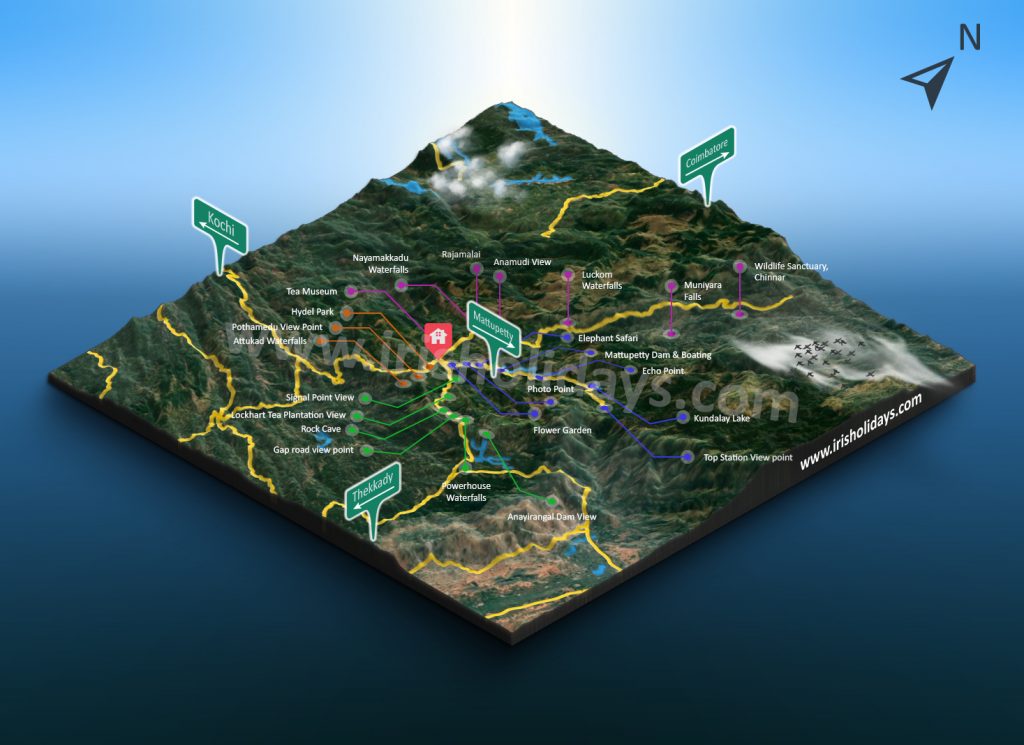 Tourist Map of Munnar with routes to Kochi, Thekkady, Coimbatore, and Alleppey.
Some of the other places of interest here include Kalvari Mount, Meenuli, Nyayamakad, Pallivasal, Pothamedu, Power House Waterfalls and Rajamala.
With its verdant tea plantations covering acres of mountains and cool, misty air Munnar has always been rated among the most popular hill stations in Kerala. The breathtaking beauty of Munnar offers the opportunity to take Munnar Photos and a lot of mesmerizing lens moments to Photography enthusiasts who plan to visit Kerala.
Munnar Photos and Pictures
Here is a collection that displays photos that range from the mornings of Munnar to images that capture the tea gardens in Munnar. The photos will not solely be for the viewing pleasure of visitors but also will help them to get some free travel inspiration if they plan to visit Munnar.
These Munnar Photos are from the collections on Gireesh Gopi who contacted us after seeing our earlier post on Kerala Images and one of our guests Carmel Petri who was kind enough to share photos after his trip to Kerala and Goa with iris holidays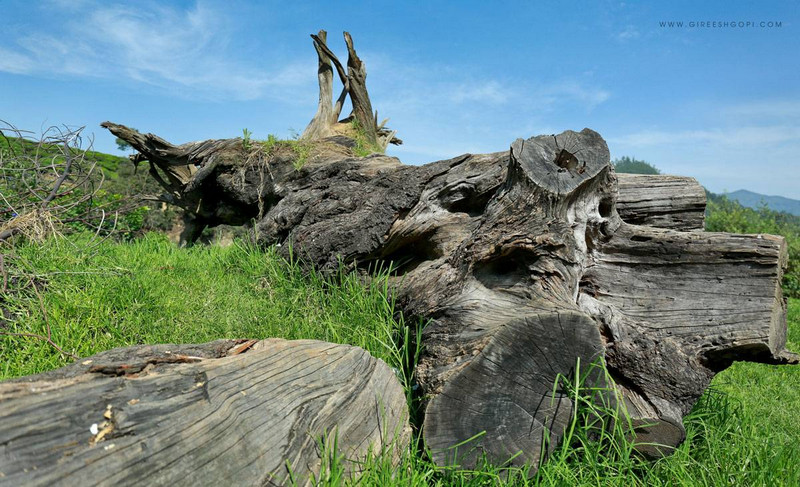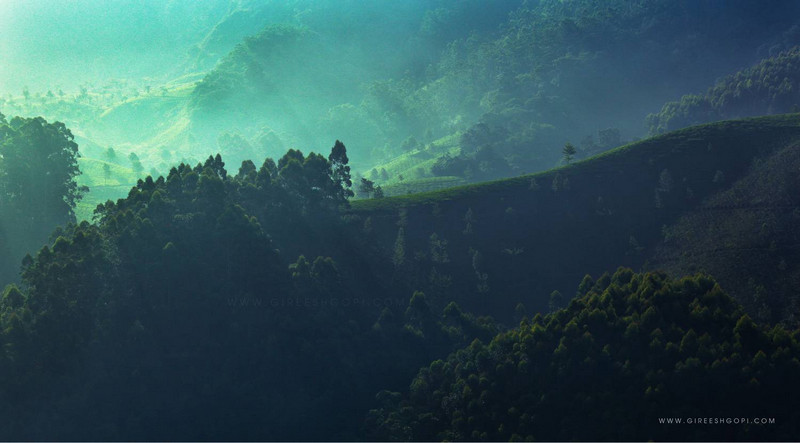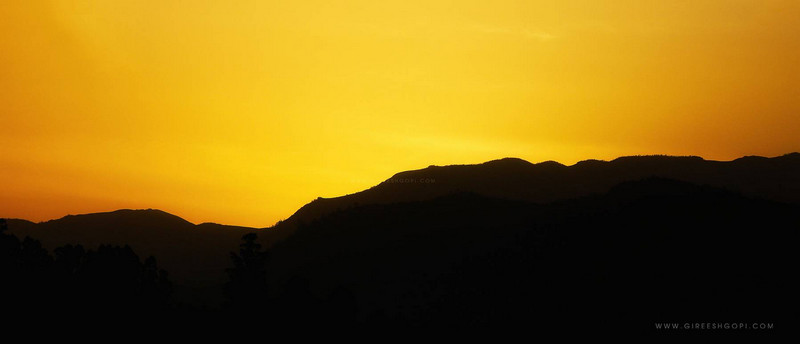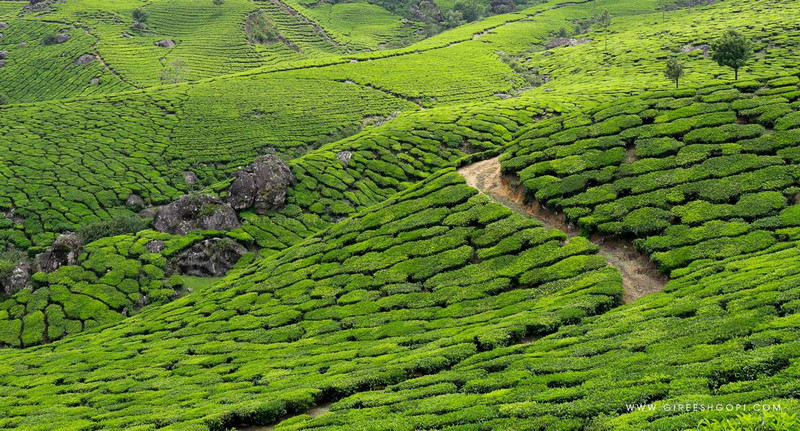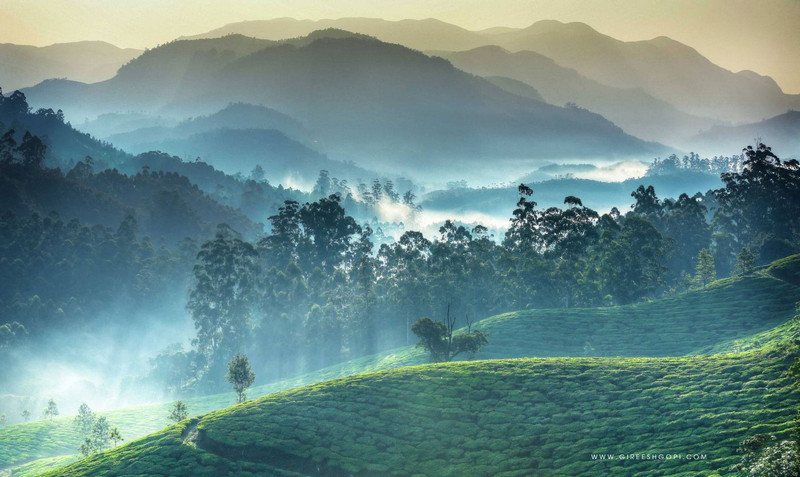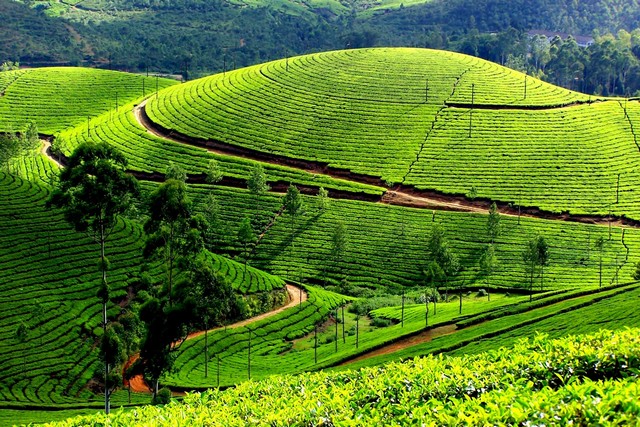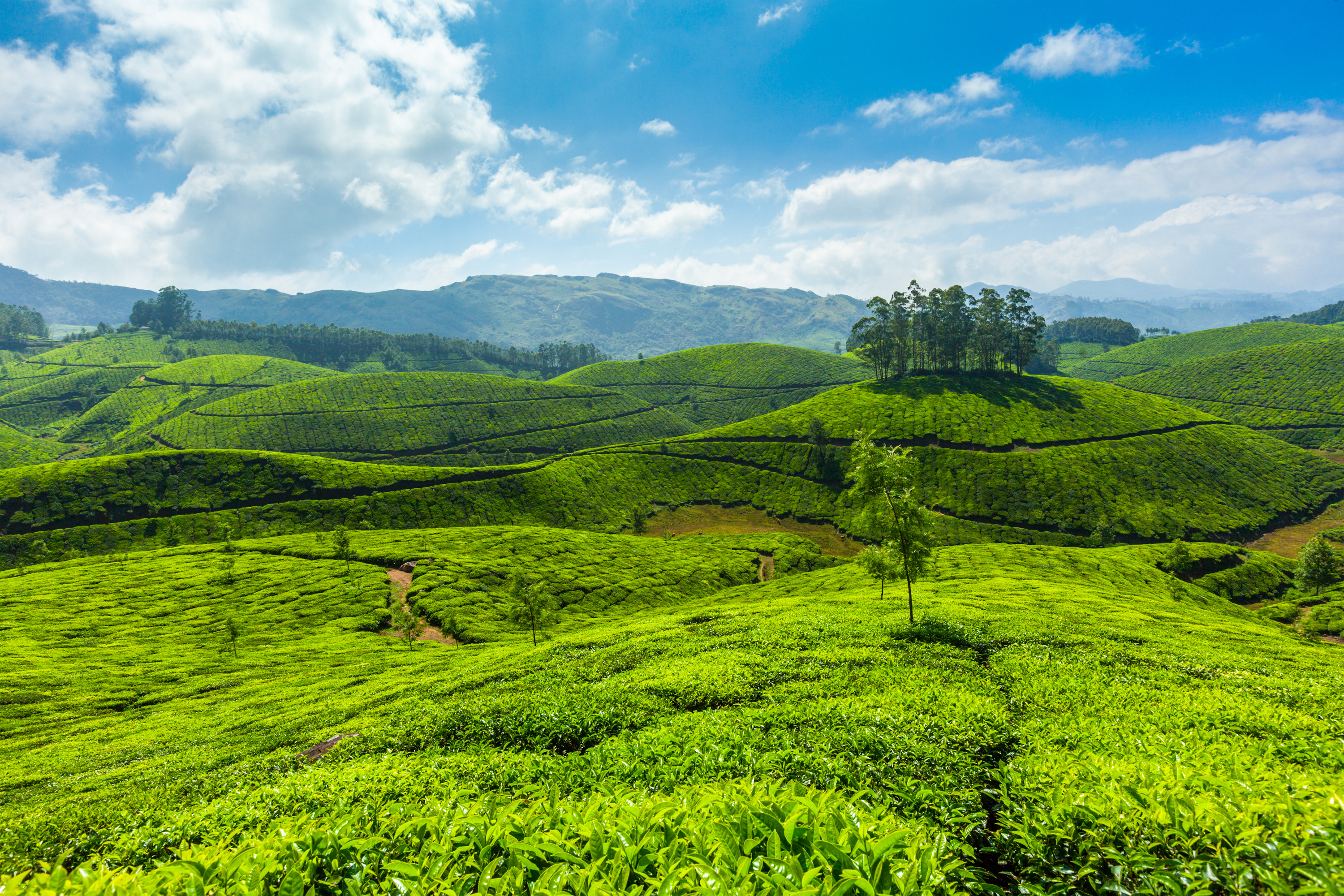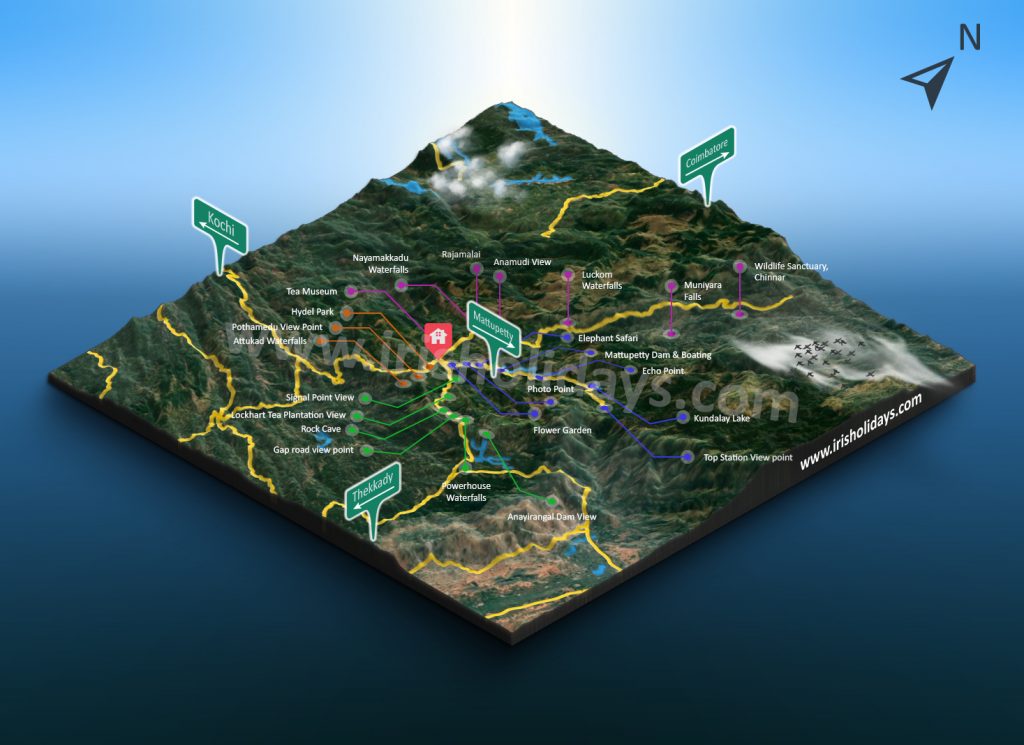 Download Tourist Map of Munnar in PDF
Munnar is also emerging as a destination for adventure tourism in Kerala with a stunning topography that is ideal for paragliding, trekking, and rock-climbing.
Planning for Visiting Munnar? Taking pictures in Munnar of your partner in the middle of a tea garden is among the most popular best things to do in Kerala and do make sure you come back with some cool travel memories that can be permanently etched in your mind and a photo frame in your home.
Now that you are aware of the amazing Munnar tourist places, plan your trip to Kerala with us.
If you have any questions to ask about the best places to visit in Munnar, let us know through comments and we would be happy to answer them same.