Kerala has without a doubt, one of the best ranges of accommodation in India ranging from homestays to budget hotels to Luxury Resorts. This list below presents few of the best luxury resorts in Kerala, as rated by visitors where you can enjoy luxury holidays in Kerala. Many of the Best Resorts in Kerala are clustered in Munnar, Kovalam and Vythiri and Kerala's hotels and resorts cater to those who prefer spas, activities, and cultural pursuits over surfing and other beach activities. Varkala and Cherai are also popular for luxury resorts but the atmosphere is much more sophisticated and laid-back than Kovalam.
The best things to do in Kerala are distributed all over the state and the usual starting point for any holiday in Kerala is Cochin from where guests proceed to Munnar through a scenic Cochin to Munnar route to enjoy tea gardens. Kerala has become famous for its large collection of 5-star luxury resorts complete with staff and top-class levels of service.
Resorts in Kerala are an ode to the quintessential Kerala hospitality. Looking for the best resorts in Kerala? Here are our top 10 recommendations –
1. Kumarakom Lake resort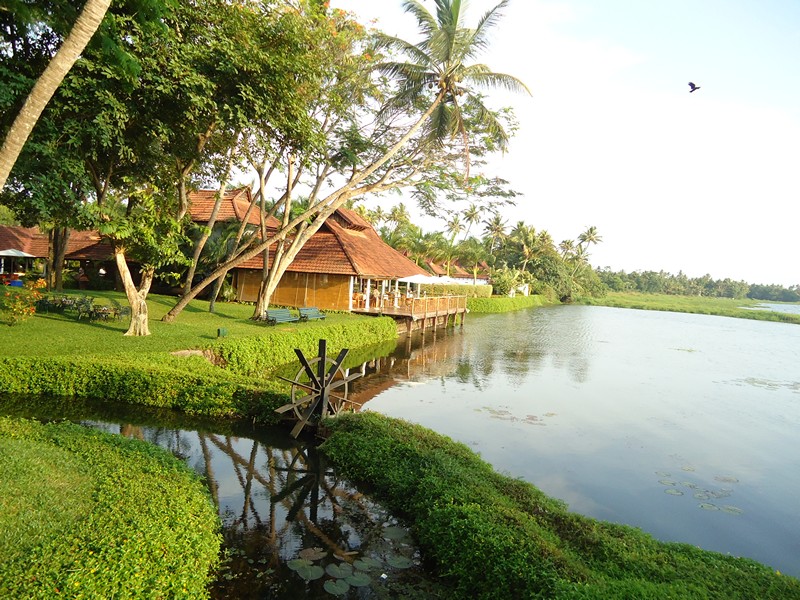 One of the finest resorts in the backwaters of Kerala, Kumarakom lake resort is well known for the Pool villas , cottages created from 16th-century Kerala homesteads, guestrooms balconies with lake or garden views. At this 5-star luxury hotel resort, guests can relax in the Ayurvedic spa or the infinity pool with outdoor bar. The resort also offers a boating dock.Some of the more luxurious villas include private swimming pools while all villas have high-speed Internet and plasma television and Ettukettu – Kumarakom's feature restaurant housed inside an 18th-century structure commissioned by an Indian king, serves a variety of continental dishes, with a special focus on authentic Kerala fare.
2. Marari beach resort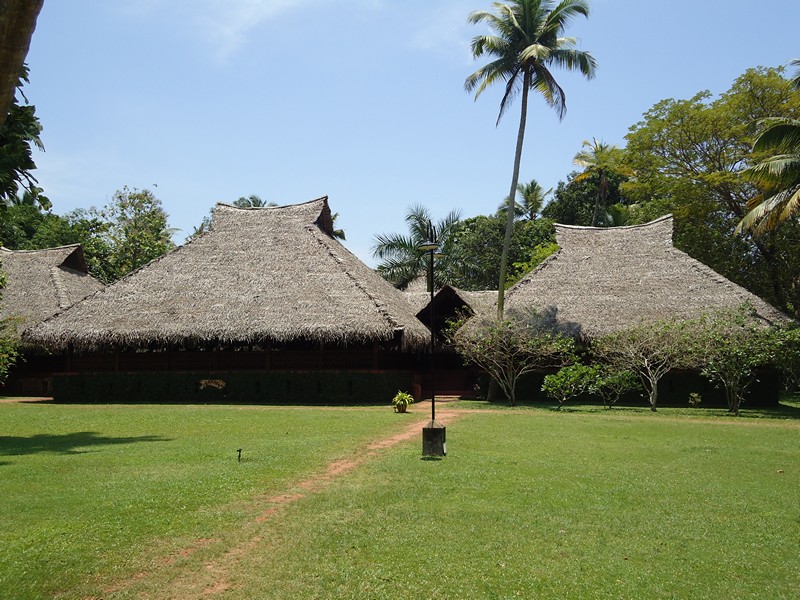 Marari beach is one of the quiet and pristine beaches in Kerala where you can relax and Marari Beach Resort is a place where you can unwind completely, without the trying bit like watching TV to relax as it is not there in your room. The ambiance, property, and service by passionate staff are at the highest and best standards in hospitality in Kerala which is testified by various awards won by Marari Beach Resort. One of the rarest resorts in Kerala to have a butterfly garden and a stay in Marari Beach Resort is not merely an antidote to stress but it is a way to set yourself free and enjoy relaxation.
3. Camp Noel in Munnar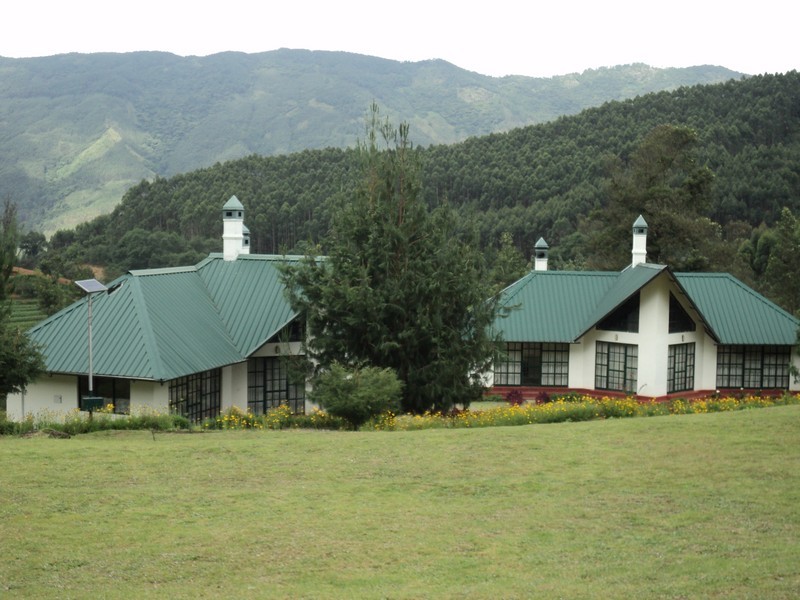 Camp Noel has consistently been rated among the best part of the Munnar despite the fact that it is one of the farthest resorts from Munnar town and a journey to the resort through the plantation roads will break your back. Camp Noel may be hard to get into but is a lovely place for any nature enthusiast. Camp Noel is a mountain resort and if you enjoy aimless walks through the mountains, soft trekking, campfires, and occasional rendezvous with wild animals then Camp Noel is one of the best resorts in Kerala for you.
4. Leela in Kovalam- One of the best resorts in Kerala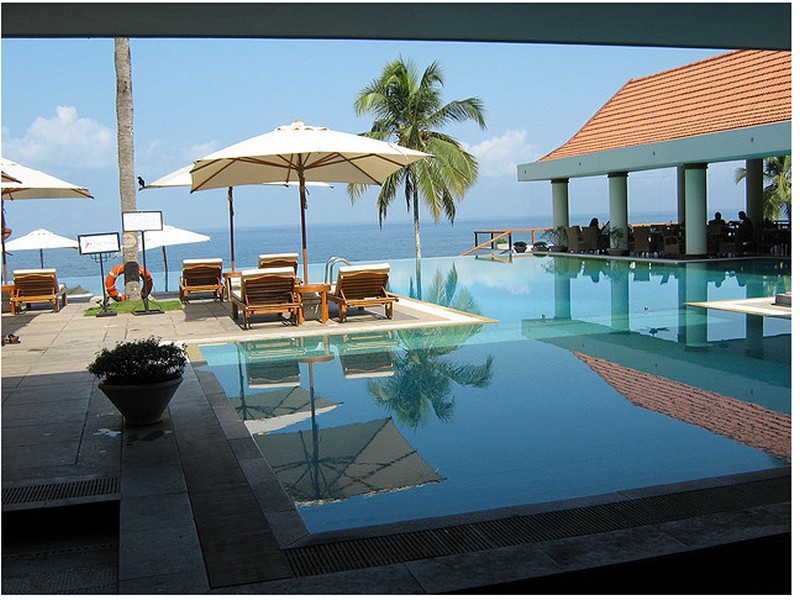 The Leela Kovalam Beach Kerala built on a clifftop, is cradled between wide sweeping beaches and has a panoramic view of the famous Kovalam coastline, and specializes in traditional Ayurvedic treatments of Kerala as well. The Leela Kovalam is Kerala's largest beachside resort is cradled between two sweeping beaches and the magic of Leela Kovalam with its sweeping view of the Arabian Sea. Perched in a rock face, this 5-star deluxe resort offers the most panoramic view of the famed Kovalam shoreline. All Guest Rooms have bath with walk-in showers and one of the attractions of Leela is The Terrace- a restaurant featuring a wood–fire pizza oven and buffet set up in addition to the multi-cuisine a-la-carté fare.
5. Spice Village in Thekkady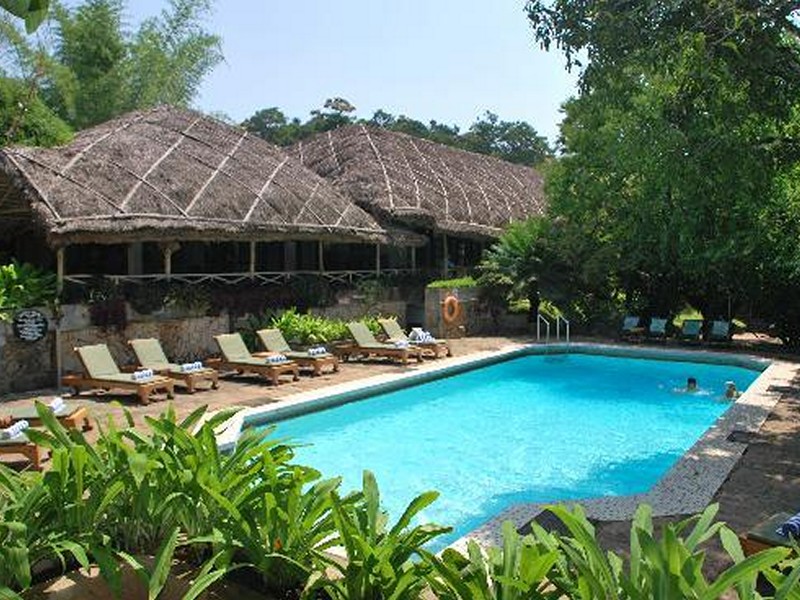 If you are looking for a nice relaxing eco-friendly place to stay and relax then Spice Village in Thekkady is the best bet. Spice Village is the essence of a mountain tribal village, re-imagined for the modern independent traveler. A tribute to ancient ways of life where comforts of modern travel do exist, without intruding to your relaxed stay at Spice Village Thekkady is amongst the best resorts in Kerala.
6. Fragrant Nature Resort in Kollam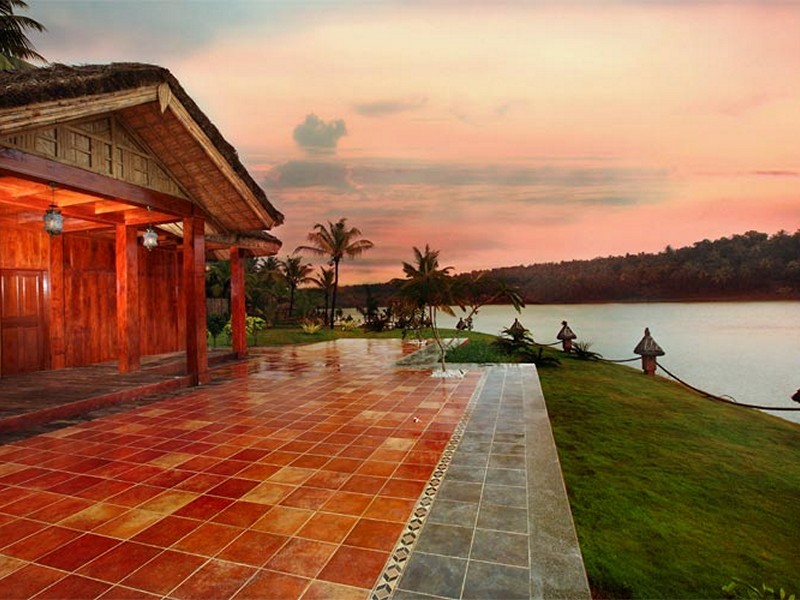 Fragrant Nature Resort is located in Kollam and is one of the resorts known for its scenic beauty, excellent service and a nice , calm and quite place to stay with great food and service. The resort is located next to a large river in beautiful surroundings and traditional Kerala cottages adorn the whole property. There is a cultural amphitheater aptly titled as Kala Kendra Amphitheatre which is a heritage-styled furniture and furnishings, wooden pillars and large windows that provide fascinating views of pristine nature and Emperor's Nest which is the most luxuriously done up cottage in the resort that is apt for honeymoon couples.
7.Travancore Heritage in Chowara near Kovalam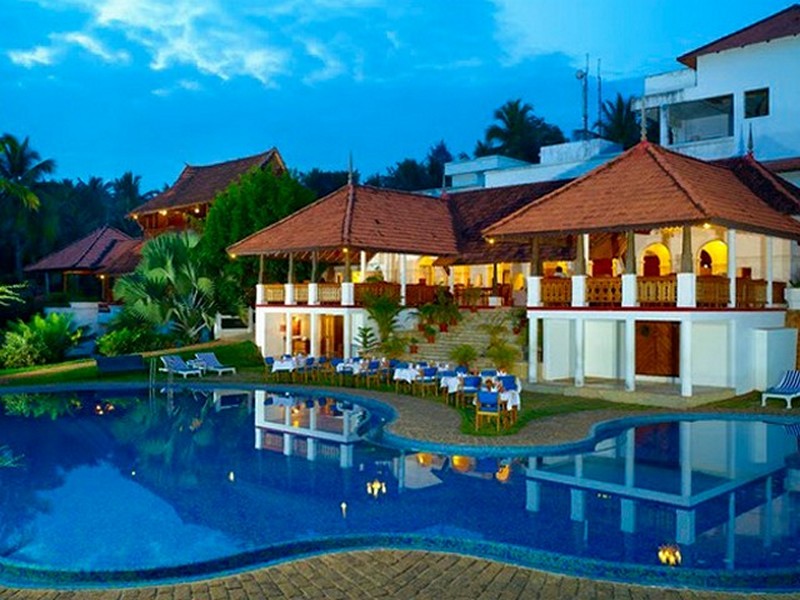 The Travancore Heritage is a seaside resort that stands on a high cliff overlooking the Arabian Sea and a kilometer walk through the green coconut palm trees to a long wide beach of powdery white sand bordering Arabian Sea. As the name suggests this resort in Kerala is a heritage property that brings to life the age-old traditional architectural splendor of the region with its typical timber houses and 'Nalukettus' with tiled roofing and the sea is visible from most cottages, rooms, and restaurant. One of the specialties of this hotel is the two swimming poos. The primary pool near the restaurant has a main pool, child pool, and Jacuzzi with poolside umbrellas and long reclining poolside cots. The second swimming pool having an area of 110 sq.meters is at the beach grove with a sea view is one the best resorts in Kerala.
8. Vythiri Resort in Wayanad
Vythiri resort is rated as one of the best resorts in Kerala for honeymoon Packages in Kerala and is quietly elegant and exclusive, the Vythri Resort in Wayanad is wrapped in the lush embrace of a tropical rain forest, where you can dwell in perfect harmony with nature, pristine and waiting to be explored and you can also opt for a stay in a treehouse. The resort is located in Wayanad in Northen Kerala which is ideal for trekking and a visit to the indigenous tribals who still follow an ancient way of life and are not touched by modern life. When you stay in Vythiri resort you will be seduced by the orchestration of delicate, subtle sounds accompanying nature's theatre and it is an experience to cherish in itself.
9. Poovar Island Resort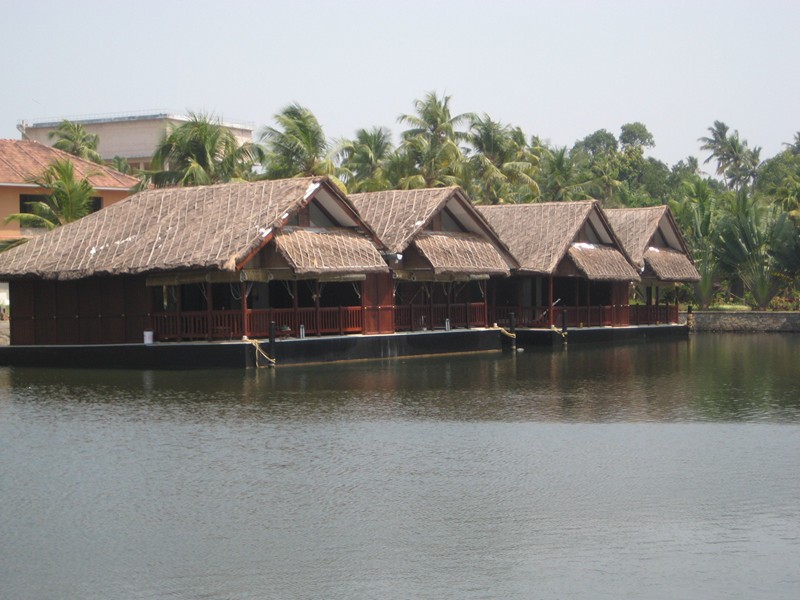 What makes Poovar Island resort unique is it location in an Estuary where there is a chance to stay at the meeting point of backwaters , lake , river and sea may be only one of the few places in the world where all these water bodies come together. Poovar Island resort in Kerala is also unique because of the floating cottages right on the Poovar river where you will be literally staying on the top of a cottage above the water body with a view of backwaters and Poovar beach where you can view the fishermen boats. The resort also has an ayurvedic spa ad boating facilities for the guests including a transfer for the guests who are reaching the resort in a motor boat.
10. Ramada Resort in Kochi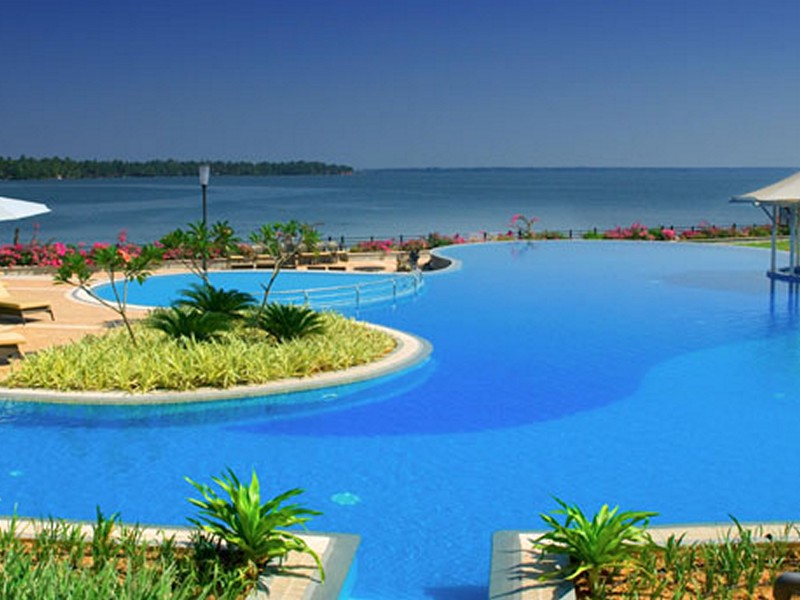 Ramada Resort is a luxury retreat set within 8 sprawling acres, beside the picturesque lakes of Kumbalam, in the outskirts of Cochin. Nestled in a picture-perfect locale, amidst an ambiance of absolute serenity, Ramada Resort is a haven of leisure for the city-weary soul and combines the best of both worlds. The ambiance of a resort. The amenities of a deluxe hotel. In addition to lake-facing cottages and deluxe rooms, the resort houses three top-notch banqueting facilities of varying capacities, two specialty restaurants, a lounge bar, a library bar, and a sunken pool bar makes it one of the best resorts in Kerala. A massive 105-meter long swimming pool, Kerala's biggest spa by a well-equipped health club, and Ayurveda center are facilities that make Ramada Resort the most sensible choice for a relaxing stay while in Cochin.
There are a lot of other excellent resorts in Kerala best resorts list where you can experience the best in Kerala hospitality. However, if you want to enjoy elegant design, imaginative setting, and a touch of personalized services all of which combines to ensure an impressive experience, then you should certainly stay in one of the resorts above when you are enjoying one of the famous Kerala Holiday Packages