When you book one of those renowned Kerala houseboat packages, one of the most common questions that you have in your mind is regarding the choice between Alleppey or Kumarakom and a question about the best backwaters in Kerala.
Alleppey or Kumarakom – Each of these places has emerged as the top contenders for a ride through the famed backwaters of Kerala. 
ALSO SEE – Best Time to Visit Kerala Backwaters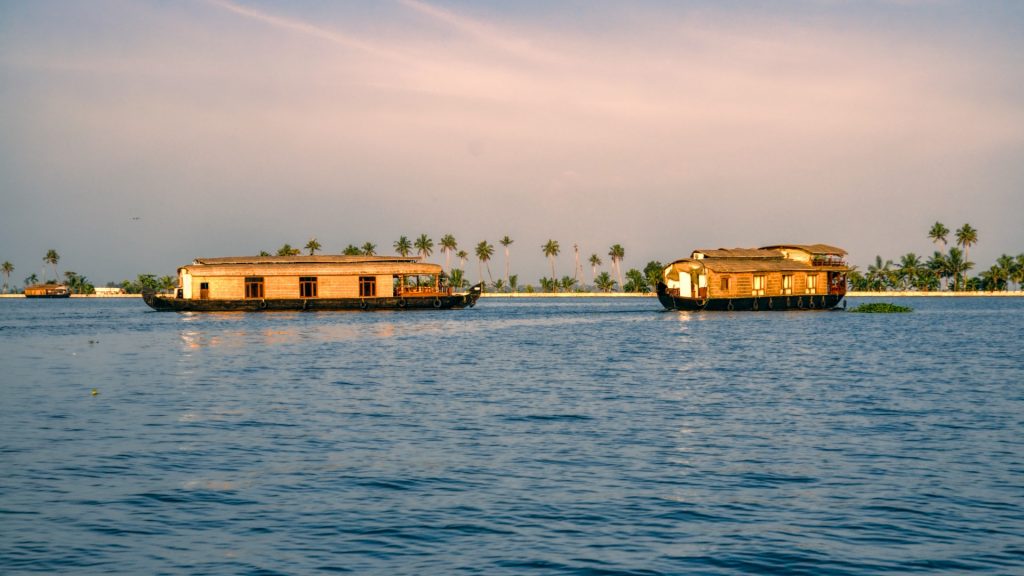 Where are Alleppey and Kumarakom
Kumarakom and Alleppey are two corners of Vembanad backwaters and Kumarakom is a laid back village while alleppey is a town and the flavor of both are different.
ALSO SEE – How to Plan Your Kerala Backwaters & Houseboat Trip – The Complete Guide
What will you see when you choose Alleppey or Kumarakom
Either it's Alleppey or Kumarakom the most preferred option by visitors when it comes to backwater houseboat tourism in Kerala.
Alleppey or Kumarakom both are the starting points of the boat cruises through the backwaters. Whether you choose Alleppey or Kumarakom the scenes in the backwaters would be the same but Alleppey will be a more crowded houseboat route than Kumarakom. Sailing along in a houseboat through the enchanting backwaters of Alappuzha or Kumarakom is sure to rob your heart. Palm-fringed narrow canals winding through the vast expanse of paddy fields and the neat tiny hamlets lined up along either side of the canals are sights one can never forget.
One can glimpse green paddy fields, flocks of ducks swimming around the banks, and tiny birds flying across the sky. It is as close as one can get to feel the vibrant life in the countryside of God's own country.
ALSO SEE –Kerala Backwater Cruise-Top 10 Fun Facts
However, the feel and flavor of Alleppey and Kumarakom are different. There are more houseboats in Alleppey whereas luxury resorts are concentrated around Kumarakom which includes Kumarakom Lake Resort, Coconut Lagoon, Zuri Resorts, etc.
Various new visitors wonder about
Kumarakom or Alleppey which is better
as Alleppey is a town-based tourist destination whereas Kumarakom is a collection of various islands.
What makes Alleppey special?
Alappuzha Tourism has the peculiar geographical feature of having the water in level with the land. This gives the advantage of getting a closer look at the village life on shore while on a backwater ride.
Kumarakom has a spectacular lagoon to behold and coconut trees have become icons of the Kerala tourism industry. There are bird sanctuaries to see along the shores and the village life has the attraction of simplicity and old-age world. There are bungalows that have now been converted into heritage hotels and rides of local houseboats called 'Kettuvallams' are indispensable for every traveler to Kerala.
What to expect in an Alleppey houseboat cruise
The houseboat will start at Alleppey from Nehru Trophy finishing point, go through the backwater resorts and boat building yard and continue the cruise through SNDP Thodu where you can see the paddy fields, houses aside backwaters, churches, temples, watermills in paddy fields, and so on and reach Kuppapuram. Enjoy the cruise through kuppuram village and reach Kuttithode for a lunch break.
ALSO SEE – Best Places to Visit in Alleppey
After lunch, cruise through Nedumudi to reach chennamkary and have your night stay at Kainkari. Start the morning cruise from kainkary village and cross muttel bridge to cruise through muttel thode and go through pallathruthi thode, reaches chungam Kayal, vilakumaram thode, Nehru trophy finishing point.
What makes Kumarakom special?
Kumarakom is much more rural and has more luxury resorts than Alleppey. Alleppey gives you the facility of a town, even though your lakeside resort may be a short journey away. For getting away from the cacophony of a city Kumarakom is an ideal choice while if you are looking for a choice, Alleppey would be the best. Alleppey is much busier than Kumarakom, and also has a wider range of accommodation, especially at the budget end. Much of Kumarakom's accommodation is top end and spread out from the town.
ALSO SEE – Best Places to Visit in Kumarakom
If you are staring from Kumarakom then you will be cruising mainly through the
Vembanad lake
and after covering Chitira, Rani area you can continue to Venattukadu and cover the remaining places that are covered in Alleppey round is you so please. However it is enjoyable watching the sunset when the boat is anchored in the Kumarakom route of the backwaters which is the eastern side of lake.
Now coming back to the question-Kumarakom or Alleppey which is better. This can be decided based on many factors like budget, luxury you wish to avail and regions you want to visit.
Alleppey is the best if you want to stay overnight and Kumarakom is the best if you want to do a day cruise with a culture and village feel.
I have 2 nights to spend in Kerala and want to spend in backwaters? What should I do
If you are looking for a 2 night backwater experience then it is better to spend 1 night in an overnight houseboat in Alleppey and another night in a luxury resort in Kumarakom.
Alleppey or Kumarakom – each of these places are worth visiting and are amazing in their own right.
Plan your trip with us and enjoy the luxuries of both places during your stay in Kerala.