There is nothing even remotely ordinary about Kerala. Everyone who visits is always left in awe of its natural beauty and the unusual experiences they end up having here, one of which is riding on its olive-coloured backwaters. In fact, it is the one thing that stays common in all Kerala holiday itineraries owing to how unique and magical this experience is! Kerala backwaters Alleppey is a true paradise for every kind of traveller, be it a nature lover, wildlife enthusiast, photo bug, or wanderer.
However, while sailing on a handsome houseboat on the many rivers and lagoons of Kerala happens to be on every traveller's bucket list, most are usually never aware of how to book it, when to indulge in it, and where to do it right. When it comes down to actually planning a backwater ride in Kerala, most travellers end up doing it wrong. But don't worry. We have compiled a guide on the best backwaters in Alleppey right here to help you out!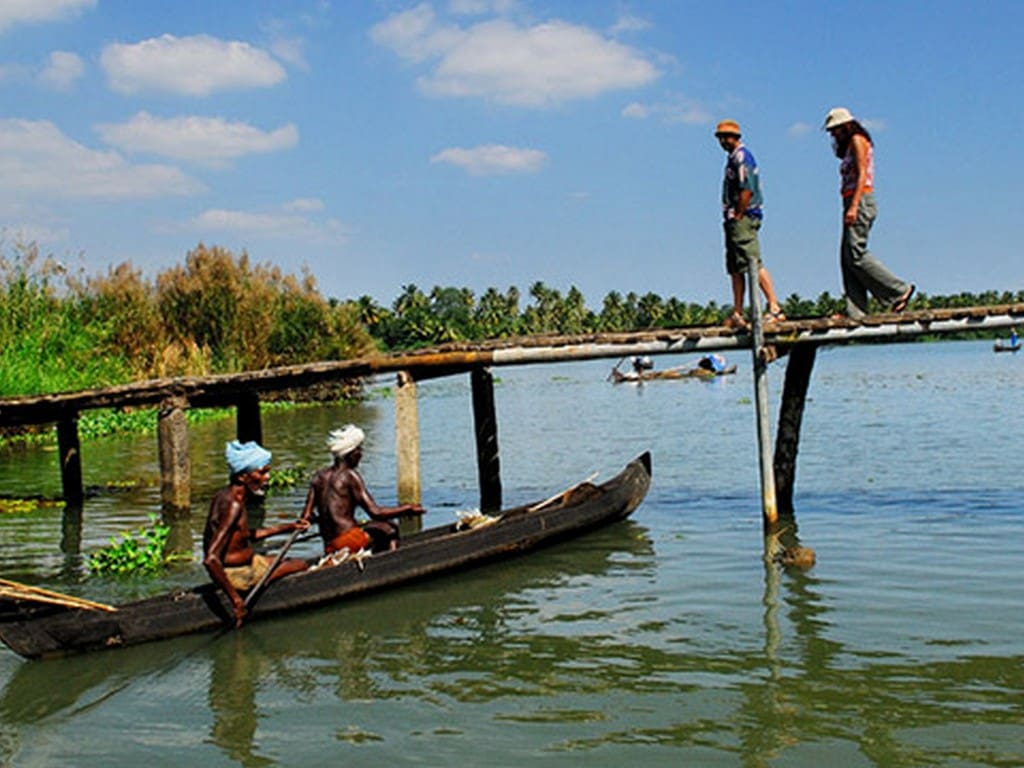 What's Unique About Backwaters in Alleppey Kerala
Alleppey backwaters are immensely popular for their scenic beauty and tranquillity which is why tourists from all across the country and world visit this place. Before we proceed to talk about the best backwaters in Alleppey, let us take a look at these reasons that make backwaters so unique and irresistible.
ALSO, SEE – Top 10 Best Places to Visit in Alleppey
Backwaters are unique natural experiences
It's unlike any normal lake or river with a few boats lurking over them. The backwaters of Kerala have a totally distinct outlook, primarily because of its colour, surrounding views, and famous houseboats. It cannot be compared to a simple boat ride in a stream!
Looking for a peaceful time with your loved ones? How about sailing on the calm and soothing backwaters of Alleppey amidst a city that's absolutely serene and not noisy at all? If what you seek is a long and blissful holiday far away from the maddening crowd of the city, you won't get a better option than this.
For a long and peaceful holiday, there is nothing better than cruising through palm-fringed Kerala backwaters Alleppey.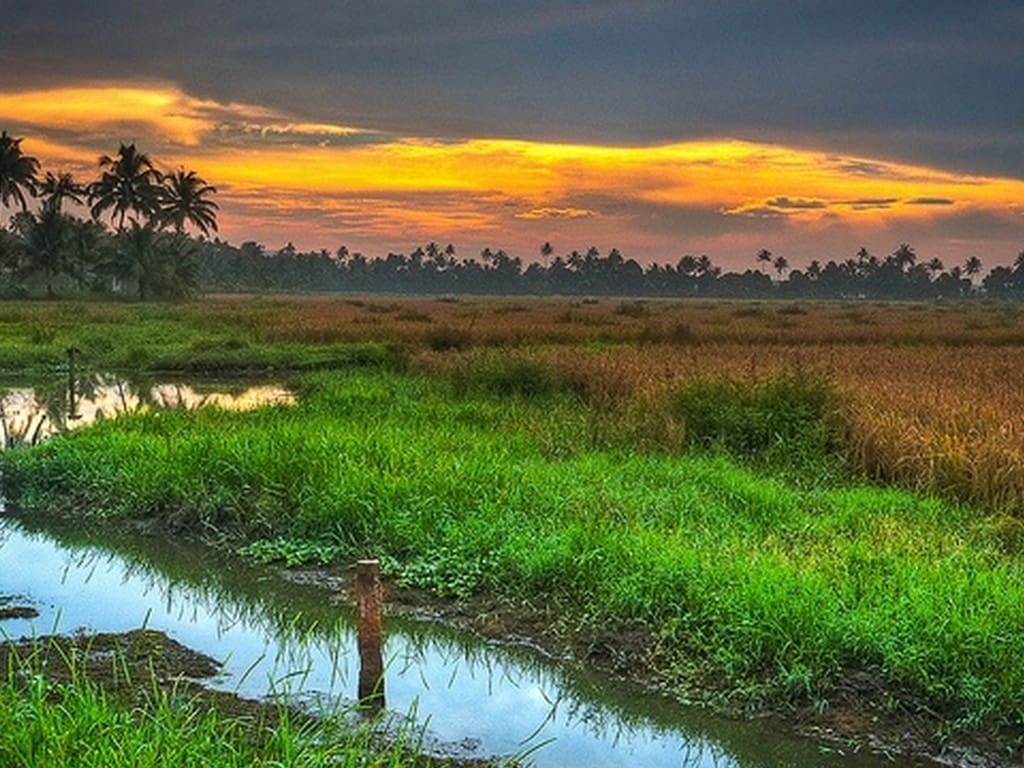 Backwaters Scenes are Unique
It's one thing to sail on a river or backwater, it's quite another to LIVE on one. That's right. Kerala's traditional houseboats or Kettuvallams are one-of-a-kind and much more snug than hotel rooms. They're like your personal mobile suites complete with bedrooms, an on-deck dining area with a gorgeous view, and a chef to make you some of the best seafood you'd ever have tasted. Alleppey backwaters have been a go-to destination for many nature lovers.
You'll be treated to some of the most picturesque views on a backwater tour. You'll sail by everything from meandering cross-waterways, lush green paddy fields, majestic coconut groves, adorably quacking ducks, local fishermen tossing Chinese fishing nets into the water, rustic villages with people going about their daily chores, pristine temples, and a rich mix of biodiversity.
The backwaters Alleppey tour will provide you with a chance to enjoy a blissful vacation in the lap of mother nature.
ALSO SEE – Top 10 Best Backwaters in Kerala that offers much more than beauty and tranquillity
Top 7 Best Backwaters In Alleppey
Find out the best backwater routes that you should sail over on your trip to Alleppey, Kerala. Each route of Alleppey backwaters has something unique and captivates you more than the other. See what each of them offers and take your pick.
Alappuzha Backwaters Round
The picture-perfect canals, lakes, rivers, and beaches of Alleppey surrounded by evergreen paddy fields and coconut palms are generally referred to as the Kuttanad area and make up what people call the "Venice of the East". It's the perfect stretch for a houseboat cruise that lets travellers tour the major tourist attractions in Alleppey like the Kuttanadu Paddy Field and the 11th-century statue of Lord Buddha called Karumadikuttan. It's the core backwater area of Alleppey and is abundant in natural beauty and lush greenery, making a boat ride on these waters nothing less than a fairytale!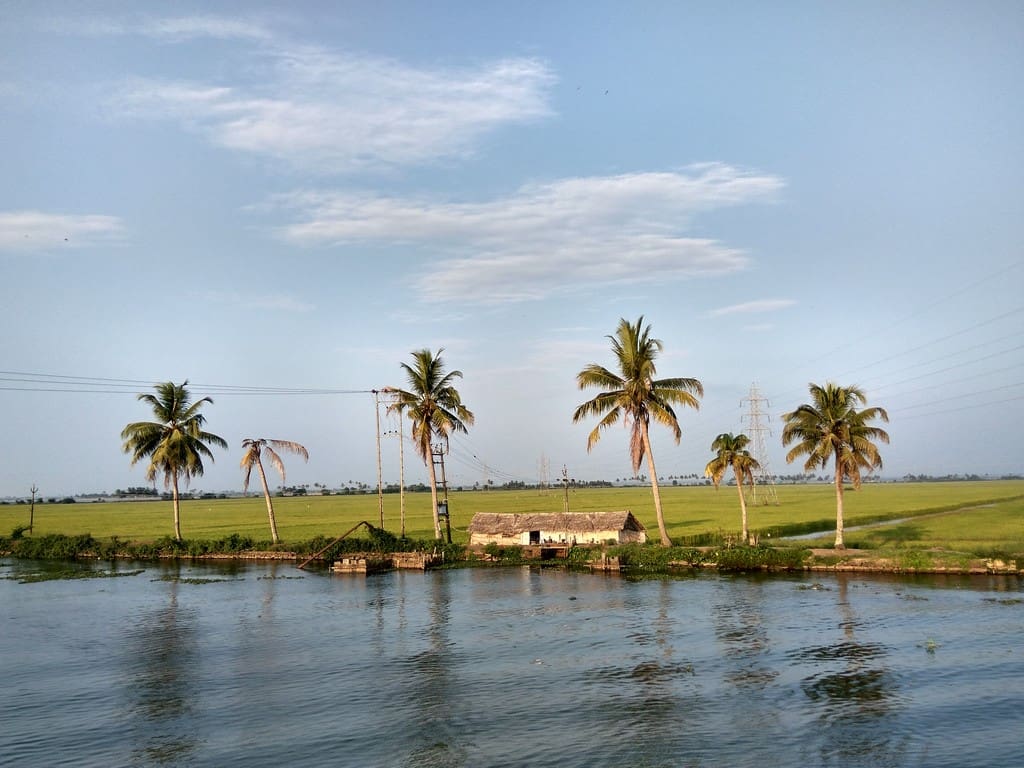 Alleppey To Kumarakom Backwaters Round
The next major stretch over these waters is the Alleppey to Kumarakom Round. This is essentially a combination boat cruise in the backwaters between Alleppey and Kumarakom. Located on the Vembanad lake, backwaters Alleppey are home to numerous flora and fauna. Travellers may find this stretch boring as it is in the middle of the lake and there is nothing much to see.
If you are on the banks, you get to see everything from local village life, canopies of swaying palms, patches of green fields, to a famous bird sanctuary with plentiful water birds sunbathing on the shores. You can also explore the region of Kuttanad in this excursion along with witnessing the best of Kumarakom's backwaters.
ALSO SEE – Alleppey or Kumarakom-Which is the best option for a Kerala houseboat?
Alleppey To Alumkadavu Backwaters Round
Alumkadavu is about 21 km away from Alleppey near Kollam and makes up for the longest backwater stretch in Kerala. It takes about 8 hours with a houseboat to cover the entire distance. It's a one-way cruise ride that covers the entire backwater area and doesn't allow much leisure time since you'll only be spending half a day exploring the backwaters before reaching Kollam early the next morning.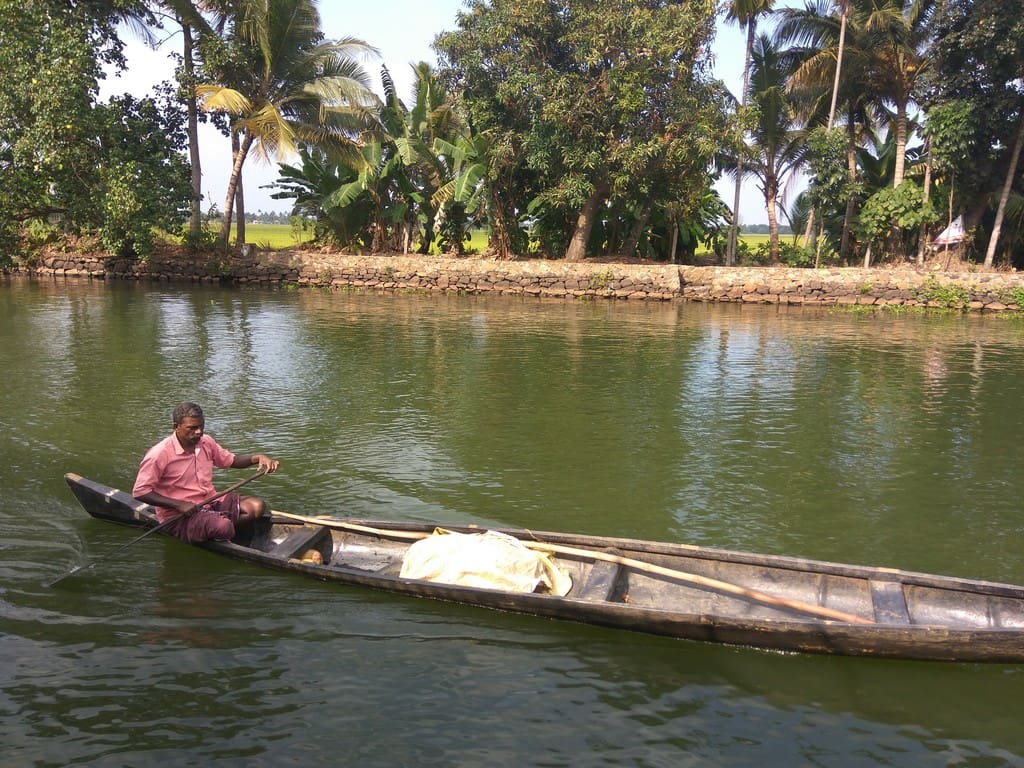 There are very specific entry points for boarding houseboats on this route since the canals are really narrow at various points for the boats to stop. The main attraction of this route are the resplendent paddy fields and the scene of the coir village. Other attractions that you can see on this route are the Karumadikuttan, Kumarakodi, and Matha Amritanandamayi Ashram at Vallikavu. The best way to enjoy this entire route to the fullest is to book your houseboat for 2 days and 2 nights instead of just one.
Alleppey To Thottappally Backwaters Stretch
This is another really popular backwater route in Kerala that you can explore. The major attractions on this route include the Punnamada Lake, the traditional houses of Chavara Bhavan, Champakulam Church, the 11th-century Buddhist temple Karumadikuttan as well as the Ambalappuzha Temple. Though this stretch isn't as famous as the other backwater rounds in Alleppey, the serenity and tranquillity of nature you find on this route surely makes up for that. It's one of the best backwaters in Alleppey for nature lovers and birdwatchers.
Alleppey To Nedumudy Backwater Stretch
This is among the lushest and scenic routes of all filled with winding waterways, lush green paddy fields, and swaying palms. Nedumudy is quite closer to Alleppey as compared to Kottayam, which also makes it one of the shortest routes for a backwater ride in Alleppey. You can take this route via Alleppey's reliable and economical ferry service. And don't worry about finding a boat back to Alleppey. You'll get plenty as long as you make sure you leave before sundown.
Alleppey To Kottayam Backwater Stretch
The backwater route from Alleppey to Kottayam is rather unusual. The ferry takes you over a scenic lake and the ride just ends halfway up the canal where there is just a small school located right next to the jetty. The ride from Alleppey to Kottayam takes a little over 2 hours in one direction.
The ticket cost for this ride is usually around INR 30-40 per person for a round trip. Travellers who embark on this journey to see the beautiful town of Kottayam should take note that the last jetty of this ride is set in the middle of nowhere and one needs to hire an auto to get to the main town from this jetty upon arrival.
Alleppey To Krishnapuram Backwater Round
Krishnapuram, just like Alumkadavu, is about 8 hours away from Alleppey. However, this long journey is going to treat you to some of the most click-worthy views of Kerala's backwaters and let you relish the boundless beauty of the surroundings to the fullest. It is recommended that travellers book a houseboat for this stretch for 2 days and 2 nights. In addition, they're also recommended to travel with bags since they'll be required to get down at the jetty in Krishnapuram where they can choose to explore the city and then proceed onward to the next stop on their trip (or take a boat back to Alleppey).
Best Way To See The Backwaters In Alleppey
The backwaters of Alleppey are spread over an area of 300 sq km and it takes about 2 days to cover the whole distance with a houseboat. Instead of touring the whole length and breadth of these waters, travellers usually pick strategic parts of the backwaters where they can sail using one or the other modes of water transport in a specific duration.
The backwaters of Alleppey are sure to offer you some of the most cherishable experiences of your lives regardless of which mode you choose to explore them with. The most common of these is, of course, the houseboats, but we have given below a few more options to let you pick the perfect one as per your convenience and budget.
Houseboats
The main attraction of Alleppey backwaters is an overnight journey in famous Kerala backwaters. These houseboats are as comfortable as any hotel room-sometimes even more luxurious and as a bonus, you get the open deck.
You can either book an entire day's tour or stay for just a night on the houseboat. If you have budget constraints you can stay in a hotel or resort near the backwaters for some awesome views of Alleppey's prized possession and hire a houseboat for a half-day tour of the waters. Plenty of hotels and resorts in the city have their own houseboats that travellers can book and stay at for an enriching experience of the best backwaters in Alleppey.
ALSO SEE – 75 best things to do in Kerala (with Photos)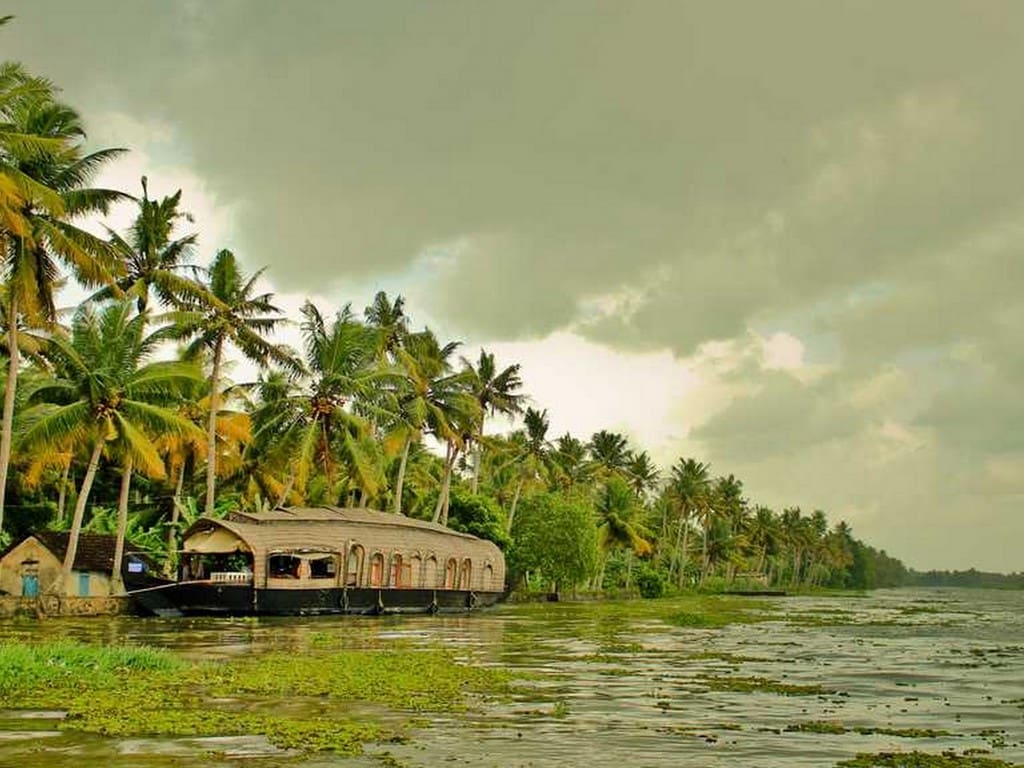 People find this mode better than the rest since it allows them to explore the backwaters at a steady pace while relaxing and unwinding at the same time. It also gives clear views of the local life and greenery beyond the backwaters. You can enjoy a night stay as well as delicious meals on the houseboat prepared by experienced chefs!
Motor Boats
Another fabulous way to explore the backwaters is via a motorboat which is bigger than a houseboat but smaller than a ferry. The big motorboats in Alleppey can easily accommodate from 10 to 50 people at a time, which is why they are great for group tours and family vacations. The best part is that motorboats are always readily available, so it's quite simple to opt for one for either a half-day tour or a full-day excursion of the backwaters.
A typical motorboat tour lasts from one to four hours depending on the package you take. One round trip usually costs between INR 1,200 to INR 3,000 depending on various factors like the duration you pick and the season you choose to sail in.
Explore the beauty of Alleppey backwaters by hiring a motorboat and get ready to witness greenery and picturesque views all around.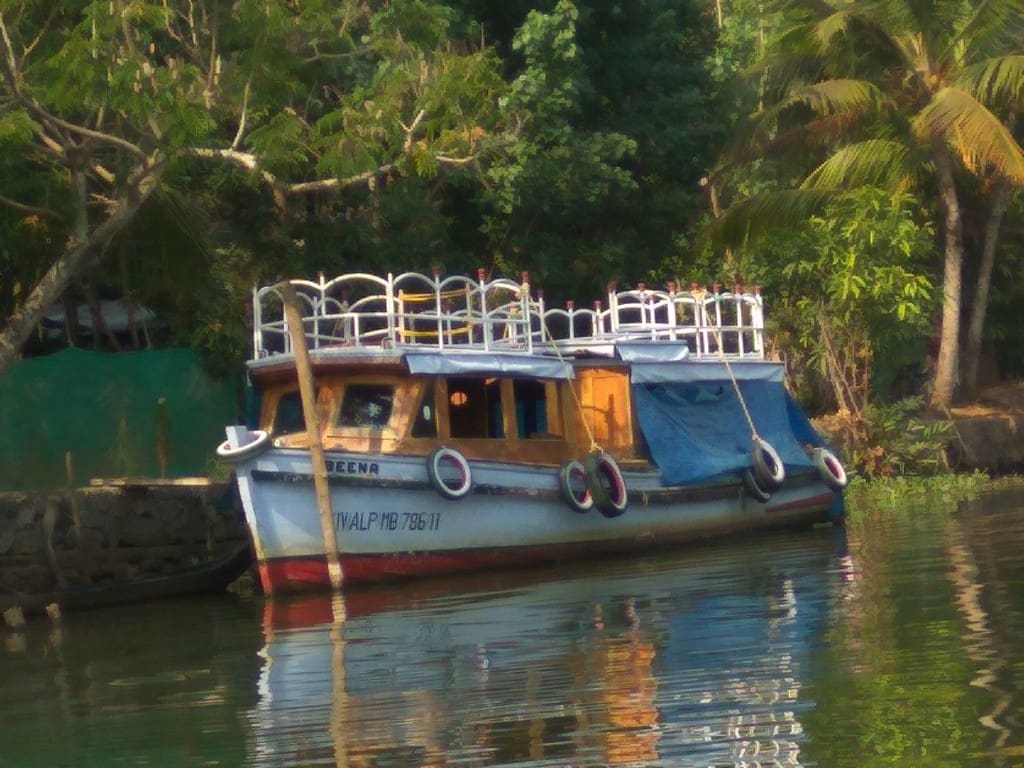 Shikara
If you've seen the famous shikaras of Kashmir, you probably have an idea of what we're talking about, with one slight difference – the shikaras of Kerala are rather motorized. The beautiful and traditional shikaras of Kerala are made with a Yamaha engine and have a capacity to accommodate around 2 to 8 people at a time. Just as it is in the case of motorboats, you do not need to prebook a shikara, they are always available. A shikara ride in Alleppey isn't usually very pricey, but if you feel it is at the time of booking you can always haggle a little bit with the boatman to bring it down, but with respect.
Enjoy the heart-stirring beauty of backwaters Alleppey and heighten your romance while your shikara sails through scenic waterways.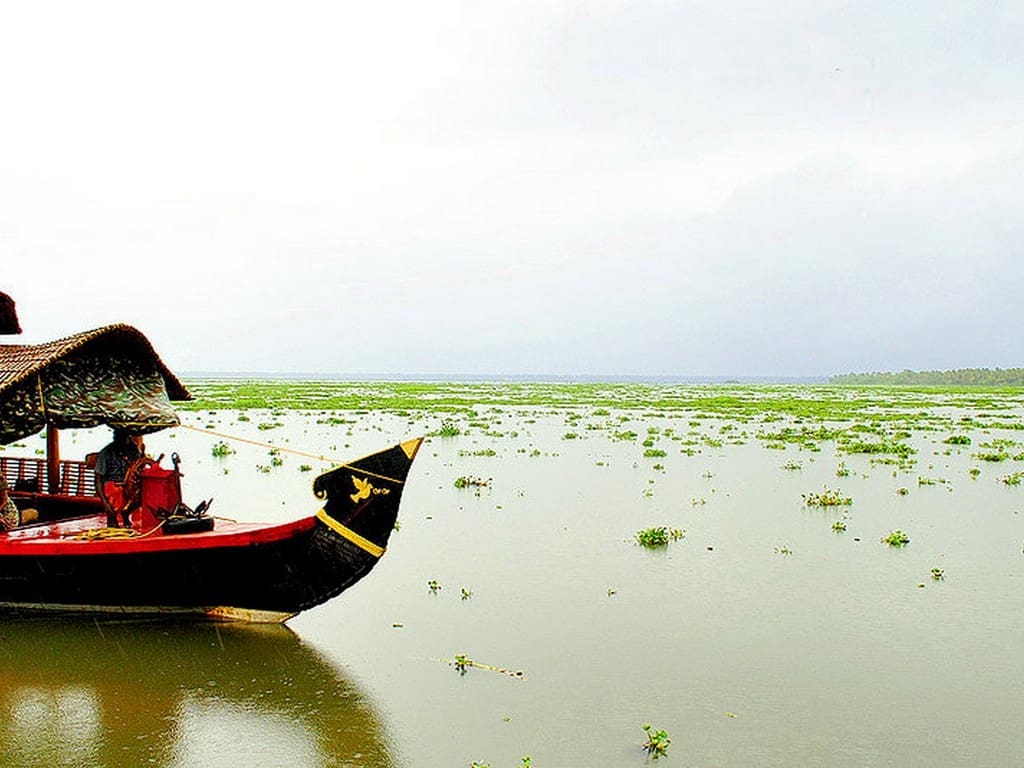 State-run Ferries
If you want to opt for the most boating option over the backwaters of Alleppey, you should go for the ferries run by the Kerala Government Water Transport Service. You won't need to book anything in advance for this and the ticket to is pretty cheap, usually around INR 40. Just find the schedule online (or you can ask the locals) and get to the specified boarding point at your desired time.
Either that or just get down to any of those small boat jetties on the banks of the main canal and wave at a ferry going in the desired direction. Ferries usually stop at all jetties. Do make sure you ask where that ferry is headed to before getting on. You can also ask the locals in Alleppey to assist you in catching the right ferry, they'll be more than happy to help.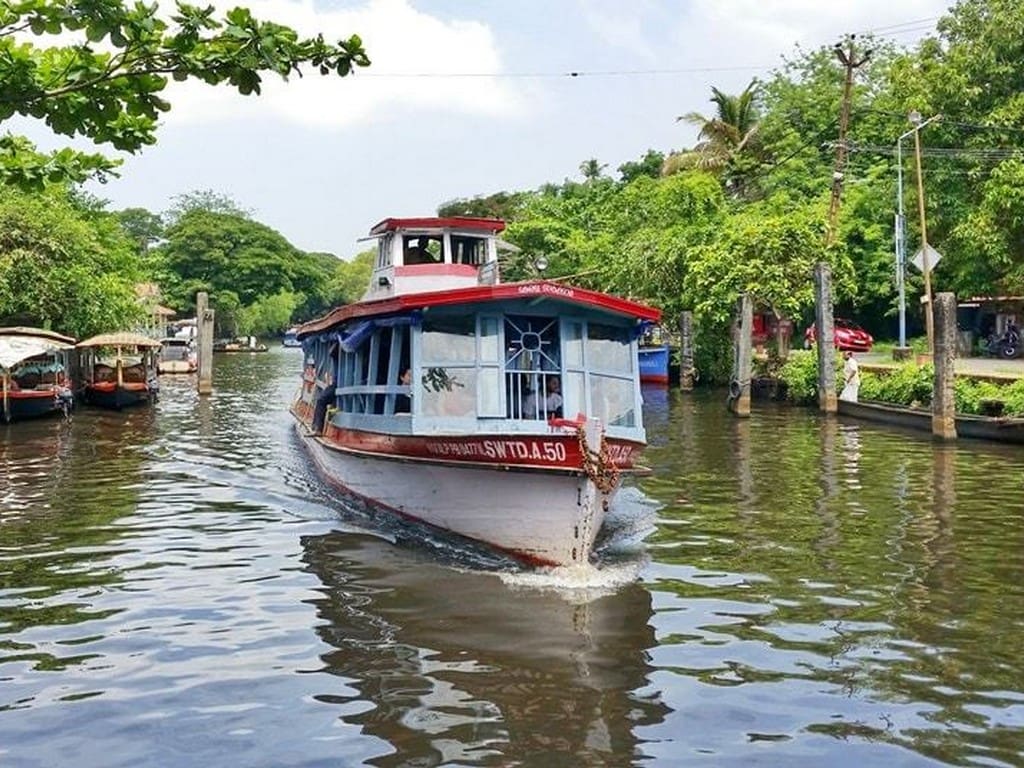 All in all, this is the most convenient, yet a little cluttered means of sailing on the best backwaters in Alleppey since you can catch the govt-run ferries at planned time intervals, from specific ports, and pay a very reasonable amount for your ride.
Lose yourself in the divine Kerala backwaters Alleppey and let the stress fly away.
Note: When you're booking a boat (other than a ferry), make sure you book through a reputable tour agency or an online travel website that has good reviews. Also, it's always best to inspect a boat before making final payments.
Best Time To Visit Alleppey Backwaters
The winter season, which is roughly the time from October to February, is the most suitable time to visit Alleppey in Kerala. The weather during this time is absolutely pleasant and breezy with clear skies, making it ideal to step out and indulge in various activities like sightseeing and sailing on the backwaters. It's the perfect time for nature lovers to relish the amber-hued backwaters, bask on the beaches, and take a dip in the deep blue lagoons. The average temperature during this time period ranges between 15°C to 30°C.
 If you want to see boat races in backwaters Alleppey, you will have to visit Onam, which takes place at the beginning of August.
How To Reach Alleppey
Listed below are different ways by which you can reach Alleppey and experience magic unfold over the best backwaters in Alleppey.
By Air: You can take a flight to Cochin International Airport in Kochi which is well-connected to other major Indian cities like Delhi, Mumbai, Chennai, Bangalore, and Kolkata. From the airport, you can easily hire a taxi and reach Alleppey in around 2.5 hours.
ALSO SEE – Helpful Guide for Airports in Kerala
By Train
: You can take a train to Alleppey Railway Station in Alleppey from almost any major Indian city like Delhi, Mumbai, Kolkata, Bangalore, and Chennai. Once you arrive, you can easily find a cab to take you anywhere you wish to go in Alleppey.
By Road: You can get to Alleppey by road from any city in South India. Kerala has a smooth and well-maintained road network with blissful sights on either side to make sure you have a refreshing road trip from your choice of destination. In case a taxi or hired vehicle comes out to be expensive, you can opt to travel in a private AC Volvo or the economical and reliable buses run by the Kerala State Run Transport Corporation (KSRTC) that connect this lovable city to all major cities in Kerala, Karnataka, Tamil Nadu, and Andhra Pradesh.
How To Reach Alleppey Backwaters
It is pretty easy and hassle-free to travel around in Alleppey, thanks to an effective local bus network as well as other modes of public transport like auto-rickshaws and taxis. Most of Alleppey's popular tourist attractions are easily accessible by foot and it takes less than 10 minutes to get from the Alleppey Bus Stop to the backwaters, while the same distance can be covered in 3 minutes if you hire a cab.
 Sunset viewing, bird watching, village visits, stargazing, witnessing the everyday life of fishermen and farmers-Kerala backwaters Alleppey are a handful of experiences to have.
A tour of the best backwaters in Alleppey is sure to give you and your loved one's memories for a lifetime and leave you yearning for more. A vacation in Kerala topped with a lovely backwater cruise in Alleppey is the best kind of surprise you can give to your family or you are beloved. Browse our range of high selling Kerala holiday packages and find the one that lets you experience the best of the 'Venice of the East in the way you want. Don't forget to write to us about your time at South India's most celebrated tourist spots. Happy Tripping! Make the best of Kerala backwaters Alleppey by planning your trip with us.