Kerala is one of the top tourist destinations in the country! It is often called God's Own Country owing to its endless scenic beauty, untampered nature's bounty, and commitment to ecological preservation. Located in South India, Kerala is sandwiched between the expansive Arabian Sea on one side and the mesmerizing Western Ghats on the other. It offers multiple exciting experiences with its beaches, hill stations, backwaters, colorful festivals, and a vivid culture that brings an enormous influx of travelers here every year!
The best time to visit Kerala is between September and March, winter season. The weather is nice and comfortable and there's not too much humidity. If you wish to enjoy festivals like Onam, snake boat races, hill stations, backwaters, and beaches then Winter season is the perfect time to visit Kerala.
Summer season in Kerala starts in April and ends in May. Monsoon comes twice a year from June to September and around October-November.  Kerala Tourism Peak Season is Winter Season  from September to March.
🌞 Weather In Kerala
Kerala has three seasons – Summer, Winter, and Monsoon.
Take a look at this season-wise data to know the best time to visit Kerala and plan your holiday accordingly.
| Time Period | Season in Kerala | Average Temperature | Weather Conditions |
| --- | --- | --- | --- |
| September-March | Winter | 18°C – 28°C | Cool and pleasant all day |
| April-May | Summer | 29°C – 36°C | Hot days and warm nights |
| June-September | Monsoon | 20°C – 30°C | Heavy to moderate rainfall |
In Kerala temperature also differs with altitude:
On the plains, it ranges from 28°C to 36°C
In the hills, it stays around 20°C.
While September to March (Winter) is regarded as the best time to see Kerala, high-altitude places like Munnar, Wayanad, and Vagamon can be visited at any time of the year regardless of the season.
Munnar, Wayanad, and Vagamon can be visited at any time of the year regardless of the season.

ALSO SEE – What Kerala Is Famous For?  11 Things That Draw The World To God's Own Country
What Is The Best Time To Visit Kerala?
September to March are the best months to visit Kerala in India because:
The weather is pleasant and salubrious
You'll be greeted with cool winds
Humidity levels are low
The daytime temperature is also comfortable
The surroundings are lush green owing to the monsoons
In winter, Kerala has a comfortable climate and pleasant weather with less humidity. Everything from the backwaters to beaches, forests, cities and hill stations can be explored with ease.
It's the perfect time to visit:
Backwaters
Hill stations
Beaches.
Forest reserves
Waterfalls
Tea plantations and spice farms
FUN FACT: September is the time when Kerala witnesses Onam, the most popular festival of Kerala!
ALSO SEE – Top 12 Best Places to Visit in Kerala (with Map)
December is the time for Kochi Muziris Biennale besides extensive Christmas and New Year celebrations. You should book your resort in Kerala way in advance since Winter is the best time to visit Kerala for both its natural beauty and its celebration of Christmas and New Year!
⛅ Winter Season In Kerala (November to February)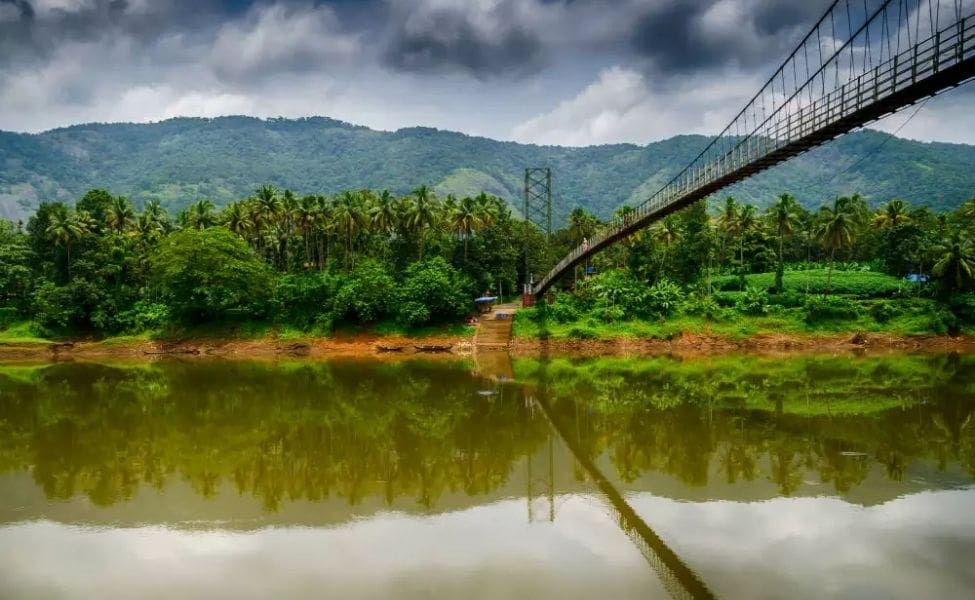 The winter season in Kerala begins roughly in late September and goes on till February. The temperature in Kerala starts falling in late November as the northeast monsoon recedes. While the temperature does not vary much, winters in Kerala are slightly cooler with lower humidity levels.
It's, without a doubt, the most ideal time to visit Kerala!
Scroll down to know what makes the period from September to March a suitable time to travel to this state and plan your trip accordingly.
ALSO SEE- Why September Is The Best Time To Visit Kerala?
Weather In Kerala In Winter
Kerala has cool and pleasant weather in the winter season. Even sunny and hot days will be accompanied by cool winds and a pleasing sea breeze. Specifically, December has the best weather in the winter season and is considered by many travelers to be the best time to visit Kerala.
The winter climate in Kerala is cool and comfortable, the humidity is at its lowest, and the air is crisp and sweet.
While this soothing weather starts setting in late September, it isn't until November that you start to feel the coolness in the air and see the renewed freshness of Kerala's foliage.
Evenings and mornings are cool on the plains and quite chilly in hilly areas like Munnar and Wayanad. The temperature falls even further at night!
Temperature In Winter In Kerala
Kerala temperature in winter differs in accordance with the diverse topography here.
On an average, the Kerala winter temperature ranges between 18°C to 29°C. However, it dips even lower in hilly areas.
The average minimum temperature in Kerala during winter remains around 18°C, but drops as low as 10°C in high altitude places like Munnar, Vagamon, and Wayanad.
Kerala's average maximum temperature in winter is 29°C. Now that does tend to rise a couple or more degrees on really sunny days, but the weather still remains pleasant and windy.
The average temperature in Winter is 28°C, and the minimum temperature is around 18°C.
In the hilly regions of Munnar and Thekkady,
the maximum temperature is 25°C,
and the minimum temperature is 10°C.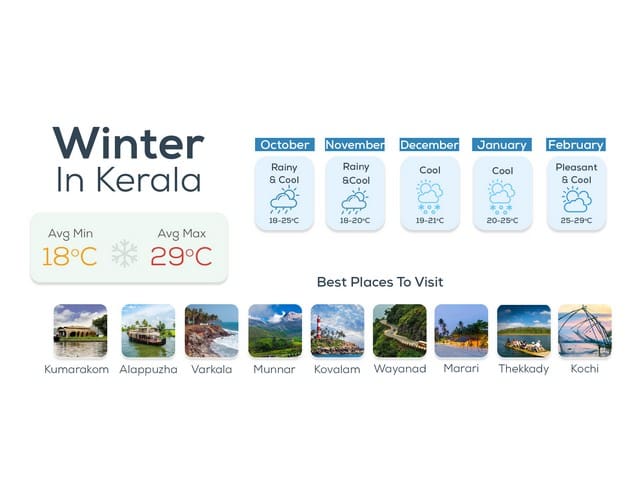 ALSO SEE- Complete list of best things to do in Kerala with Photos
Places To Visit In Kerala During Winter
There is no dearth of places to visit in Kerala during winter owing to its amazing weather, uninterrupted gorgeous scenery, and refreshing greenery. You can choose to visit any city or village in the whole state and expect to be greeted with soothing and blissful weather in this season.
Some of the best Kerala places for that perfect winter sojourn would include:
Munnar – Rolling green pastures covered in mist
Thekkady – Where the wild live!
Alleppey – Sailing houseboats on emerald-green waters
Kochi – Golden sands and sleepy fishing villages
Kumarakom – Exotic birds and enchanting canals
Vagamon – Unspoilt green hills and endless adventure
Kovalam – Ayurvedic massages on a picturesque coastline
Varkala – Artsy cliffs, swaying palms and virgin shores
Wayanad – A mystical paradise in the Nilgiris
The weather in Kerala in winter is ideal for sightseeing, making it the peak tourist season. You can try out water sports, sail the backwaters in a houseboat, or just explore the state's picturesque green valleys and clear blue skies. There is so much to see and things to do in Kerala in the winter season, all you have to do is take your pick.
Whether you go on a jungle safari in Kerala's wildlife sanctuaries to spot wildlife and birds, or soak in the sights and sounds of the forest, you'll end up having the most wonderful time!
There are so many places to explore in Kerala in winter that it'll be hard to pick just a few.
ALSO SEE – Best Time To Visit Kerala Backwaters
Reasons To Visit Kerala During Winter
Looking for reasons to go to Kerala in the winter? We got plenty!
1. Endless Adventure!
Winter is the most favorable time to engage in activities like watersports, trekking, camping, wildlife safaris, sailing on the backwaters, and sightseeing in Kerala.
2. Awesome Weather
During winter, tourists are greeted with lush greenery all around, clear blue skies and refreshing cool winds without the discomfort of scorching heat and gross humidity.
Winter gives travelers in Kerala the most comfortable and amicable weather conditions to meander through its spice plantations, trek high up its rolling hills, cruise its canals and rivers, and interact with its wildlife via thrilling nature safaris in national parks and sanctuaries.
3. Festival Fever!
A trip to Kerala in late December also gives vacationers a chance to indulge in Christmas and New Year festivities that make this place all the more lively and cheerful every year! The cities and towns are gift-wrapped in twinkling fairy lights, decked up with tall Christmas trees, and filled with the aroma of plum cakes and spicy Keralan cuisine.
4. Shopping
It's also a great time to go shopping in Kerala. The markets are brimming with activity and there are great festive discounts on traditional items and handicrafts. So if you want to stock up on the finest coffee, spices, Malayali textiles, aroma oils, terracotta and brass items, jewelry, handicrafts, and more, winter would be the best time to visit Kerala for a fun retail therapy.
Kerala Travel Tips For Winter
Book flight tickets and hotel rooms way in advance. Since it's the peak season, it'll be hard to get good deals at the last minute.
Try and visit offbeat places like Vagamon, Ponmudi, and Kumarakom for peace and seclusion.
Even though the monsoon season is over, carry an umbrella.
Pack light cotton clothes, hats, sunscreen, and sunglasses.
Popular cities and locations might get a tad crowded. Start your day early and cover prominent tourist spots before noon.
Large crowds would also mean slower service at restaurants and lengthy queues at ticket counters. Be patient.
Pack a light jacket/cardigan and long pants if you're visiting the hilly areas of Kerala as winter nights there can get chilly.
Don't forget your camera!
Kerala has 25 wildlife sanctuaries and national parks. The state is a haven for wildlife enthusiasts and birdwatchers.
☀️ Summer Season In Kerala (March to June)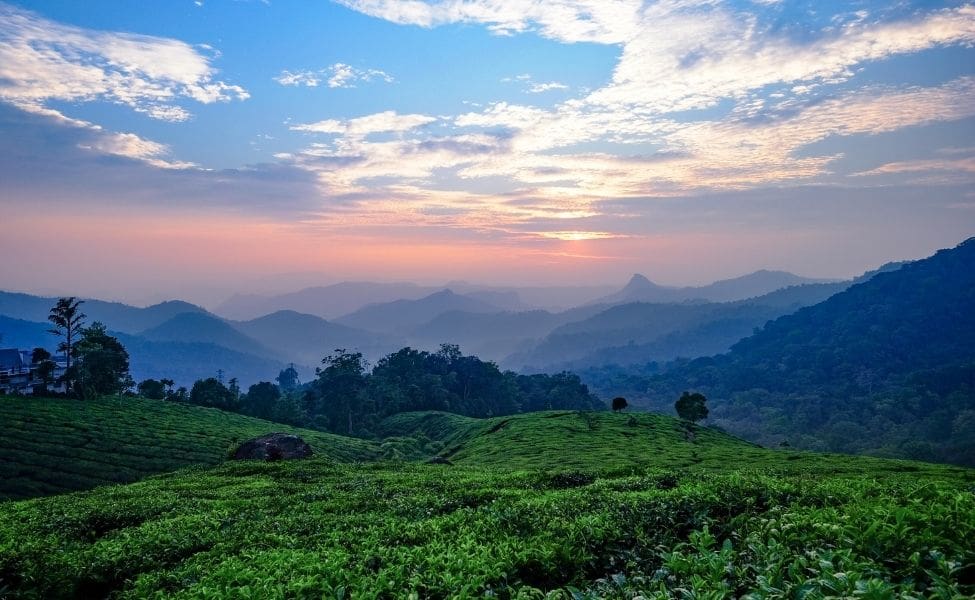 The time period from March to May marks the Summer season in Kerala. The data given below will tell you what this season is like and whether or not you should plan a trip to Kerala in Summer.
The Summer season in Kerala begins at the end of February or the beginning of March and stays till June.
The maximum temperature hovers around 35°C, while the minimum temperature stays around 28°C.
While this may not be the best time to visit Kerala for those leisurely walks on the beach, a thrilling jungle safari, or a backwater cruise, it's the perfect time to head to its pleasing cool hills.
The weather in Kerala's hill stations like Munnar is more pleasant with an average temperature of 25°C-28°C. Occasional rain and thundershowers are common in hill stations.
And the best part – you'll find less crowd and cheaper accommodation everywhere in Kerala during Summertime!
Weather In Kerala In Summer
The Summer season is distinguished by hot and dry weather conditions in Kerala. The weather in plains and coastal areas becomes warm and humid.
The temperature remains high throughout the day. There is no respite from the heat even at night owing to the state's proximity to the ocean.
It's dry and blazing in the plains, but the weather in the hill stations of Kerala remains pleasant. Occasional rain and thundershowers are common in Kerala's hills even in the Summer season.
While Summer may not be the right time to visit Kerala for beach activities, backwater cruises and sightseeing, it's a great time to head to the hills here.
ALSO SEE – Top 8 Hill Stations In Kerala
Temperature In Summer In Kerala
The average temperature in Summer ranges between 28°C to 38°C.
Even in the evenings, Kerala Summer temperature remains a high 28°C with hot and dry winds owing to the state's proximity to the ocean.
In March, the temperature climbs to a high 35°C with high heat and humidity.
The temperature stays a pleasant 25°C-26°C in the hills of Kerala and dips further at night, making it a great time to visit if you're more of a mountain person!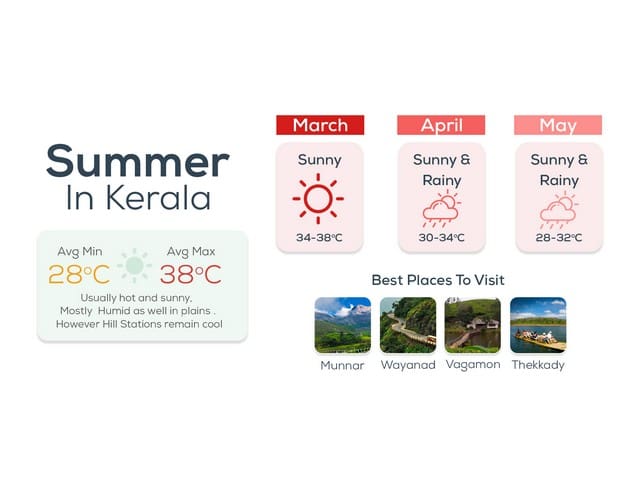 Places To Visit In Kerala In Summer
If you visit in this season, there are quite a number of locations that you can explore. Some of the best Kerala places for that perfect summer sojourn would include:
Munnar – Lush green misty hills
Vagamon – Virgin natural beauty and cool winds
Ponmudi – The Ooty of Kerala!
Wayanad – Refreshing foliage and adventure activities
Lakkidi – Unspoilt hills and nature hikes
Thrissur – Thrissur Pooram festival and waterfalls
Most of these are high-altitude places and relatively cooler than other parts of the state, especially in Summer.
Even in this season, Kerala is frequented by a large number of travelers drawn to its empty beaches, pristine hills and low-priced hotels and resorts. It's a good time to visit Kerala to see it in its serene state without interference.
Reasons To Visit Kerala During Summer
Oh yes, there are loads of reasons why a trip to Kerala in this season won't be a bad idea!
1. Less Crowd
Despite having somewhat unfavorable weather for sightseeing and exploring, this offseason in Kerala actually receives a large influx of tourists drawn by the empty beaches, hills, towns, and tourist attractions.
It's the best time to visit Kerala and explore the natural beauty of this state in its most pristine form as you won't find a massive crowd of tourists at the popular hotspots.
2. Great Deals on Hotels
Hotel prices are at their lowest in the Summer season! It's a great time to visit if you want a budget vacation.
Resorts, homestays, Airbnb's and top hotels roll out amazing deals and packages to lure in people, often giving away services like Spa and day tours for free!
You wouldn't want to miss this chance to stay at your favourite resorts or hotels in Kerala in Summer at rock bottom prices!
3. The Colourful Thrissur Pooram
Kerala celebrates the vibrant and cheerful festival of Thrissur Pooram every year in the month of April/May and it's an experience you shouldn't miss.
It's one of the most important festivals in the state and an absolute treat for travelers who wish to immerse in the local culture and traditions of Kerala.
The festival lasts for three whole days and is an impressive extravaganza of folk dances, percussion music, elephants dressed in gold, colourful umbrellas, and a sumptuous buffet!
4. Tranquility & Peace
Summer is a great time to explore Kerala if you wish to enjoy seclusion, peace, and privacy at all its locations, especially magnificent hill stations like Munnar.
Imagine lying on a beach with no one around! Or enjoying uninterrupted views of the Alleppey backwaters while sailing on your houseboat! Or walking through the tea estates of Munnar with not another soul for miles! Sounds tempting, doesn't it?
Kerala Travel Tips For Summer
Pack light-colored and airy clothes, preferably linens and cotton.
Don't forget your sunscreen (SPF 30+ is recommended), hats, and sunglasses at home.
Carry a water bottle with you at all times and stay hydrated. Do not buy plastic bottles.
Wear comfortable walking shoes that can dry quickly.
Have frequent meals in small proportions during the course of the day, instead of having two or three heavy meals.
Consume hydrating fruits and drink lots of coconut water.
Do not litter.
ALSO SEE – Best Places To Visit In Munnar
🌧️Monsoon Season In Kerala (June to Mid-September, October, November)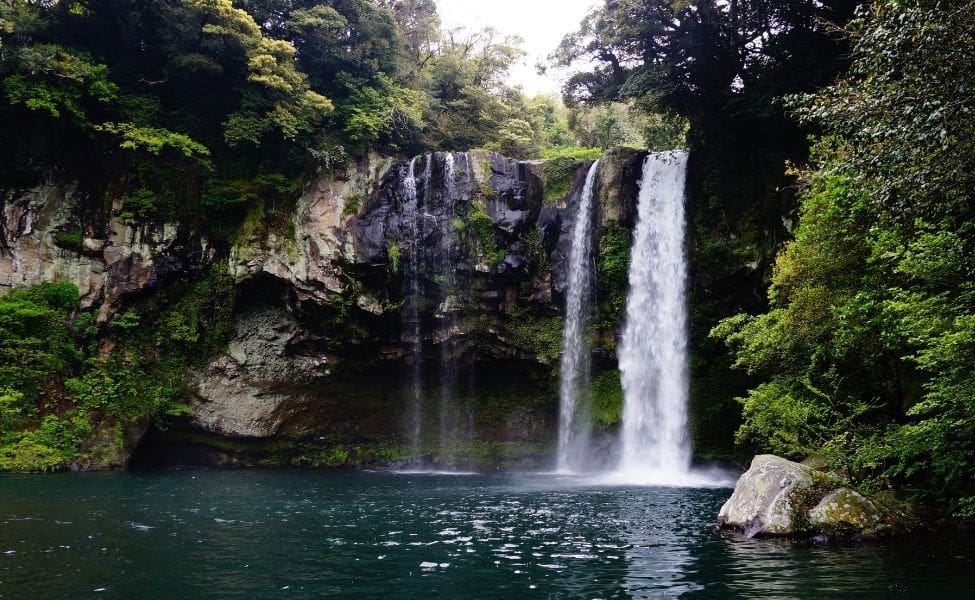 Monsoon in Kerala starts in June and monsoon is a good time to visit Kerala for Ayurveda. There are two monsoon seasons in Kerala:
The Southwest monsoon season from June till about August/September.
The Northeast monsoon during October.
The Southwest monsoon is the main rainy season in Kerala and the ideal time to visit Kerala if one wishes to experience refreshing monsoon showers. Kerala receives torrential rain and humidity levels soar during this time.
However, Kerala monsoon provides relief from the scorching heat, makes rivers and waterfalls flow in full gusto, and turns the surrounding areas green and rejuvenating.
The humidity starts to recede around mid-August as the rainfall gradually reduces.
The monsoon season returns in October and is called the Northeast monsoon season. There is heavy rain accompanied by thunder and lightning.
The maximum temperature during monsoon is around 35°C, while the minimum temperature is around 28°C.
We have highlighted below all that this season offers and what you should expect if you choose to visit Kerala during the monsoon season.
ALSO SEE – A Pleasant & Memorable Solo Woman Ayurveda Trip!
Weather In Kerala In Monsoon
Monsoon in Kerala is characterized by lush green foliage and high humidity. You'll be met with frequent yet refreshing showers in Kerala during this time. If you wish to witness the splendor of rain in Kerala and do not mind the humidity, you can visit during this season.
Though the heavy rainfall and icky humidity can get a little uncomfortable at times, Kerala mostly experiences pleasant, cool weather during this time with lush greenery all around.
It is ideal to travel to Kerala in the monsoon season when the weather is moist and cool. One major reason why tourists find it a great time to visit is the Ayurvedic massages and treatments that Kerala is famous for. Hence, the monsoon season is nothing short of the best season to visit Kerala.
ALSO SEE – Best Experiences To Enjoy Monsoon Tourism In Kerala
Temperature In Kerala In Monsoon
The average temperature during the monsoon season in this Indian state ranges from 19°C to 30°C. On nights that it pours heavily, the temperature further goes down a couple more degrees.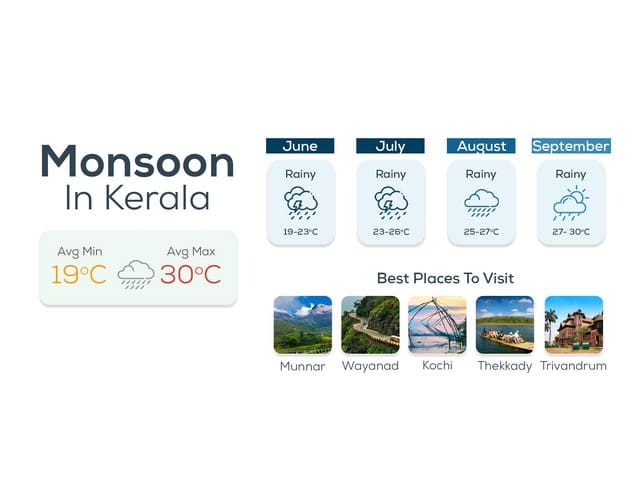 The days remain warm and humid, but the temperature only rises up to 30°C on most days, only reaching a maximum of 38°C on fewer occasions.
Places To Visit In Kerala During Monsoon
Kerala is nothing less of a paradise in the monsoon season. Whether you seek peace and tranquility amidst the untouched reserves of nature or wish to indulge in a once-in-a-lifetime experience like houseboat rides and Ayurvedic Spa, the rainy season will be just the right time to visit Kerala for it all.
You can visit places like:
Munnar – Dewy fields of tea
Wayanad – Green hills and fierce waterfalls
Thekkady – Boat rides through misty greenery
Kumarakom – Backwater cruises in the rain!
Marari Beach – Sea-side serenity
Kochi – Relaxing Ayurvedic massages
Vythiri – Refreshing greenery
Ashtamudi Lake – Pretty houseboats and cozy homestays
Bekal – A picturesque fort on the coast
Varkala – Breezy palm trees and red cliffs
While places like Munnar and Wayanad will offer you pleasant weather and lush foliage, seaside destinations like Kochi and Trivandrum will bestow you with tranquil beaches, cool ocean winds, and low-priced ayurvedic massage therapies in monsoon in Kerala.
Reasons To Visit Kerala During Monsoon
The monsoon season is a time of endless fun and adventure in Kerala. Here's how:
1. Ayurvedic Treatments
It's the best time to indulge in rejuvenating Ayurvedic massage therapies and Ayurvedic Spa in Kerala at affordable rates.
Many Ayurvedic centres and resorts roll out budget deals on their Ayurveda packages that you won't get at any other time of the year.
Monsoon is the most suitable time to visit this state for Ayurvedic therapies for yet another reason – this moist and dust-free environment makes Ayurvedic treatments more comfortable and effective.
2. Lush Foliage
Dripping of dew, the flora is at its most refreshing phase throughout Kerala's monsoon season.
It's almost as if the rains give a boost to Kerala's natural beauty, bringing it to life!
The forests of Thekkady and Wayanad, the otherwise parched vegetation of Kochi and Trivandrum, the amber-hued backwater banks of Alleppey and Kumarakom, and the rolling pastures of Munnar and Vythiri are most vibrant and thriving this time of the year!
And to top it all, those exciting tours of spice, coffee and tea plantations become all the more enjoyable and rewarding!
3. Lovely Waterfalls
Waterfalls in Kerala cascade in full force during the monsoon season. While most waterfalls will be overflowing during the peak rainy season and somewhat dangerous to visit, the time right after monsoons will be perfect for paying a visit to these sweet locations.
Waterfalls like Athirappilly, Palaruvi, Soochipara, Lakkom, Meenmutty and Marmala will be in their most beautiful and rejuvenating state. A trek to these surreal spots through the lush jungles and dip in the refreshing waters will definitely recharge your mind, body and soul!
4. Aranmula Boat Race
Witness Kerala's famous snake boat races that are held mainly during the monsoon season in a multitude of places.
You can attend the colourful Aranmula Boat Race in Aranmula, the Payippad Boat Race in the Payippad River, the Kallada Boat Race in Kollam, or the Vallam Kali boat race at the festival of Onam. Other than these, the annual Nehru Trophy Boat Race of Alappuzha is the most fascinating of all!
Infused with energy, these colourful fiestas are part of some of the oldest traditions of Kerala that shouldn't be missed!
5. Heavy Discounts On Stays
Visit God's Own Country in monsoon and save big on your trip!
Considering it's the off-season and tourists typically do not visit Kerala during this time, most hotels and homestays come up with discounts, deals and super-saver offers to attract people to Kerala.
6. Less Crowd
The off-season of monsoon is the best time to visit Kerala for yet another reason – utter peace and serenity!
There will be fewer people around, shorter queues at ticket counters, no pushing and shoving at famous tourist spots, no over-crowded restaurants, no litter on beaches, and no photobombers ruining your Instagram reels and selfies!
Kerala Travel Tips For Monsoon
Carry an umbrella or raincoat even if it's not raining in real time.
Pack an extra pair of clothes for each day.
Wear light cotton or linen clothes to absorb excess moisture and beat the humidity.
Carry mosquito repellents and lotions.
Carry proper medication for fungal infections if your body cannot handle humidity.
Wear footwear and clothes that fully cover your legs during forest treks to avoid nasty encounters with insects and leeches.
Carry plastic bags to keep your electronic gadgets dry.
Keep a tab on the Kerala weather forecast and always check it before stepping out.
Make sure the places you wish to visit are open before you go there since many tourist spots are closed during heavy showers.
ALSO SEE- Top 10 Best Traditional Kerala Dance Forms That Will Enchant You!
Best Time To Visit Kerala For Peace & Low Crowd – Offseason Bliss!
The peak tourist season in Kerala usually commences mid-December and ends mid-February. Kerala typically observes its highest influx of local and international tourists at this time.
Prices for hotel stays, flights, transport, food and tourist activities tend to be high during these months. Large crowds at major tourist attractions and markets, lengthy queues at ticket counters and slow service in restaurants and hotels can cause a nuisance when one travels to Kerala in the peak season.
To avoid all that, you can make your tour and hotel bookings well in advance and visit offbeat places to steer clear of the crowds.
OR
You can travel to Kerala in the shoulder season instead!
Taking a trip in the off-season will let you enjoy benefits like:
Less crowds and shorter queues
Cheaper stays – significant price drops in hotels, resorts and homestays
Affordable flight tickets
Utter peace, seclusion and serenity
Quiet, clean and empty beaches
Price cuts on fine dining, handicrafts, and local transport
Big deals and discounts on Ayurvedic treatments
Multiple festivals to attend!
On top of that, you get to see Kerala in its most refreshed and gorgeous state (if you visit in the monsoon season)!
Kerala essentially has two shoulder seasons:
Monsoon season (June – Mid-September; October & November)
Summer season (April – May)
Out of these two, monsoon is the best time to visit Kerala. The state turns greener and fresher during this time and the misty pitter patter is nothing but romantic and downright pleasing!
All you need to do is keep a check on the weather forecast and not step out in heavy downpours and your Kerala holiday in monsoon will be one exhilarating affair!
Summer is the second shoulder season in Kerala and though it's quite hot at this time, this season has its own charm and grace. A Summer trip to Kerala can be just as comfortable and enjoyable if you make sure to stay near prominent tourist locations, step out early in the morning to cover most points in your itinerary, wear lots of sunscreen, a hat and airy cotton clothes, and stay hydrated!
ALSO SEE – Offseason in Kerala
Kerala has a treasure trove of unique and engaging experiences for all. Whether you plan a trip to Kerala in winter, monsoon, or the summer season, you'll find plenty of extraordinary experiences to enjoy!
The state has a rich history and vivid culture with various classical dances and martial artforms. It's known for its beautiful architecture and monuments exhibiting influences of the Dutch, Portuguese, and British who had once occupied Kerala as a trading center.
Kerala is also famous for its delicious tangy cuisine from seafood, curries, and spices, to varied veg and non-veg delicacies that you can sample here. It's also popular for being the epitome of Ayurvedic healing through therapeutic Spas and treatment centers.
But what truly leaves guests speechless is this destination's gorgeous and varying topography that changes from rolling hills to serene backwaters, pristine beaches, magical tea and coffee plantations, and boundless lush greenery every few miles!
Kerala's charming forests are home to a diverse range of flora and fauna protected under 25 different wildlife sanctuaries and national parks, making this state a haven for wildlife enthusiasts and birdwatchers.

Every season in Kerala offers unique experiences and adventures. All you have to do is plan your vacation around the best time to visit Kerala and you'll not miss out on any of these mind-blowing experiences that God's Own Country has to offer! What are you still waiting for? Start planning!