Once you've experienced any of the great waterfalls anywhere in the world, you have to see all the waterfalls. Waterfalls come in all varieties: massive, tall, shallow, vast, deep, small but rocky, milky watery, green eyed and wonderfully picturesque; and if you're anything like me, you'll want to visit all of them. Whether you plan on taking a dip or simply taking in the view, these impressive waterfalls in the Kerala are waiting for you if you are planning for a Kerala visit.
Kerala also was known as God's own country is in the most southern part of India. The state is one of the most beautiful places in India offering captivating and breathtaking sights for tourists. The landscapes, waterfalls, backwaters, hill stations are all well-known tourist destinations and offer viewers a great experience and fun time. Waterfalls in Kerala are known for their beauty, power, and uniqueness. Kerala Waterfalls are worth a sight that you will never forget. It is a must to visit natural charm! From North to South, the state of Kerala has the best waterfalls in the country.
Here is a list of the 12 Most Beautiful Waterfalls In Kerala Worthy Of Your Bucket List which you just can't afford to miss! You will be stunned by these beautiful waterfalls in Kerala.
Athirappilly Waterfalls
Athirappilly waterfalls are not only the most famous waterfalls in Kerala but are also among the most attractive of waterfalls in India. Offering scenic beauty, the Athirappilly waterfalls fall from about a height of 80km. Athirappilly Waterfalls is one of the largest waterfall in Kerala. The waterfalls offer a great view of the Sholayar Hills. The Waterfalls is also a major shooting location for movies. Peaking around Monsoons, it appears to be totally secluded in a thick forest in western ghats when you approach from the road, yet it's easily accessible from a paved path leading to the bottom of the waterfalls.
The road to Athirappilly Waterfalls when you travel to reach there traverses along the banks of the river with water keeps flowing silently and incessantly and there are three falls to view adjacent to each other with the central one being the largest. There is also a small trek through a paved pathway down to view the falls. Entrance fee to Athirappilly Waterfalls is Rs.50. You can carry water in tupperware bottles as it is a plastic free zone. There are a few snack stalls near the entrance to Athirappilly Waterfalls Kerala which serve tea and snacks.
Walk to Athirappilly Waterfalls from the ticket point is rather long. However these waterfalls is Elderly
& kids friendly till the top of the falls ( if you dont trek down).
Athirappilly Waterfalls is 32km from Chalakkudy, 122 km from Kottayam, 269 km from Thiruvananthapuram, 100km from Munnar, 174km from Coimbatore, 59 km from Thrissur, 73 km from Kochi. Best time to visit Athirappilly Waterfalls is during September, October, November, December, and January. Kochi is the nearest airport from Athirappilly Waterfalls.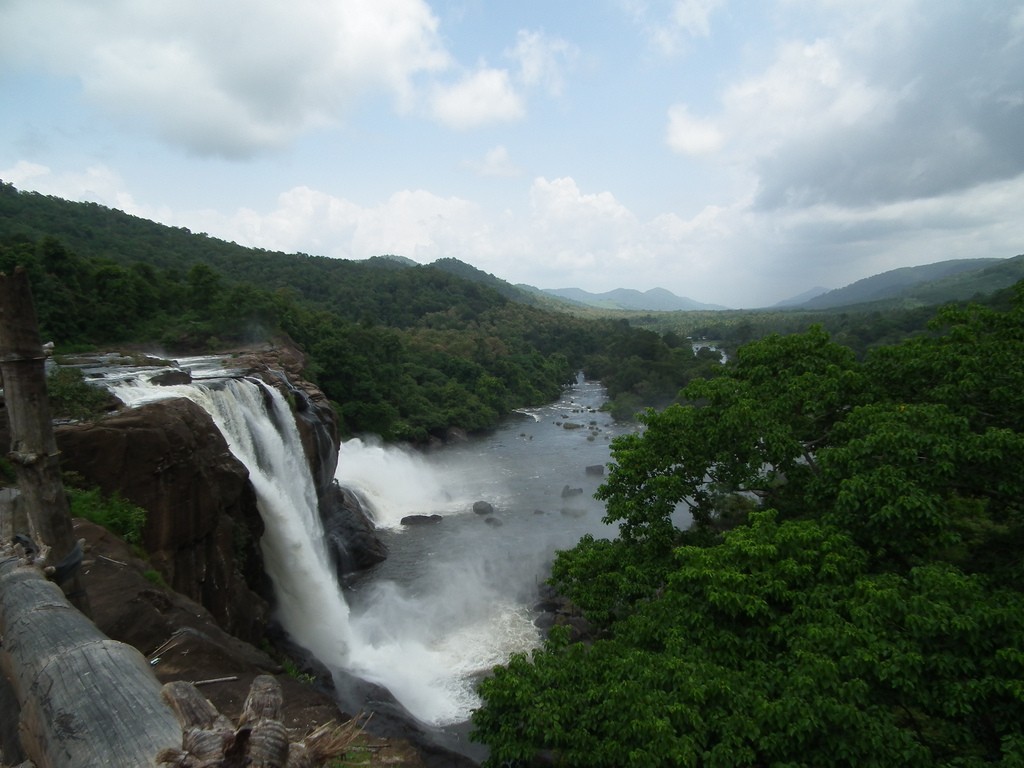 Meenmutty Waterfalls
Though this waterfall is a little-known attraction in Northern Kerala, it's a pretty big deal as it is the second highest waterfalls in Kerala after Athirappilly. Falling from a height of 300 meters, the Meenmutty waterfalls in Wayanad is a spectacular view which is situated inside a forest. Meenmutty waterfalls can also be reached through trekking for about 3 km. The rocky terrain for trekking to Meenmutty waterfalls is also well known as a trekking spot. The place also gives a spectacular view of the BanasuraSagar Dam. It's one of the best waterfalls in Kerala.
When you visit Meenmutty Waterfalls you have to walk almost for a kilometer through a narrow pathway and trees on both sides with tributary of water that comes down from the waterfalls on one side provides a soothing environment. Main waterfalls on the top where you have to reach through trekking is not ideal to bathe due to the force of that falls from top. You can choose tourist spots that are downstream with lot of smaller waterfalls where the water is more gentle. In Monsoons the water in the middle of the river offers a natural jacuzzi like experience which is unique and comfortable.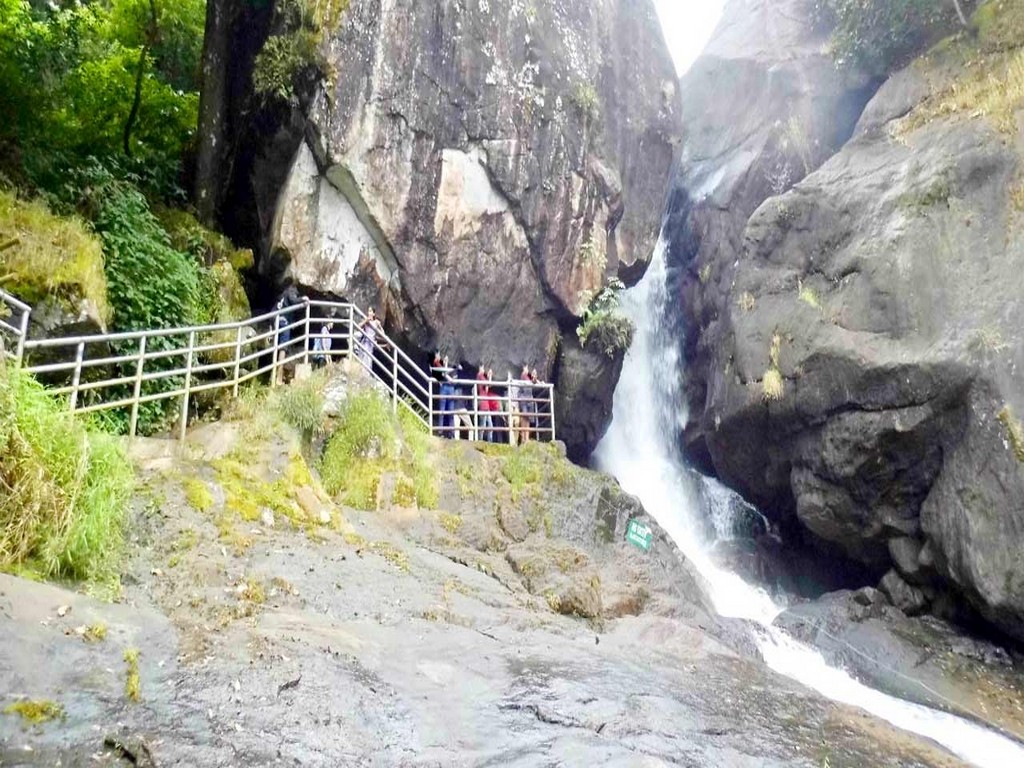 Meenmutty Waterfalls is ideal for a one day trip and the post-monsoon months are the best time to visit Meenmutty Waterfalls. The Meenmutty waterfalls are located 48 km from Sulthan Bathery, 25 km from Kalpetta and 5 km from BanasuraSagar Dam. The entrance fee to Meenmutty Waterfalls is Rs.36 and the waterfalls are open from 10 AM to 5 PM
Palaruvi Waterfalls
Palaruvi Waterfalls is in Senthuruney Wildlife Sanctuary at Kollam District of Kerala. "Pal" means milk and the name translates to Stream of Milk. As the name indicates the waterfalls looks just like the fall of milk from 300 feet due to crystal clear good water. The stream on which the waterfall is ideal for swimming and is a major picnic spot in the country. The Palaruvi Waterfalls are located inside a dense forest and the waterfalls have to reach through trekking. The trekking experience at the Palaruvi waterfalls in Kerala is a great one and is memorable.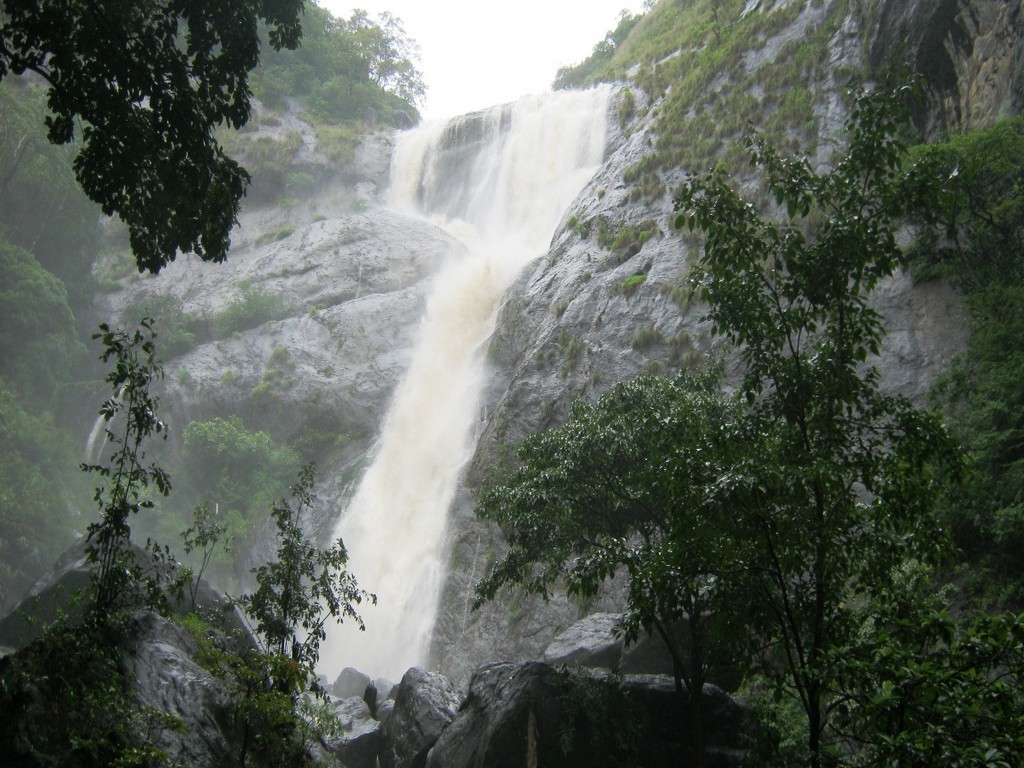 The best time to visit Palaruvi Waterfalls is during the months of June, July, August, September, October, November, December and January. Palaruvi Waterfalls is ideal for one-day trips. Located in the district of Kollam, the nearby places to visit when in Palaruvi waterfalls are Thenmala Dam and Shenduruny Wildlife Sanctuary. To experience a great getaway, visit the Palaruvi waterfalls in Kerala.
Thoovanam Waterfalls
Located inside the Chinnar Wildlife Sanctuary, Thoovanam Waterfalls in Munnar is a beautiful place to visit in Kerala. Thoovanam Waterfalls is about 3 KM trek from Alampatty eco friendly zone Located 50 km from Munnar and 10 km from Marayoor. Thoovanam Waterfalls is also a major trekking trail and Walking through the forest is pleasant and peaceful with deer, butterflies and insects. The serene and wonderful sight while trekking inside the forest to reach the falls is spectacular. The best time to visit the Thoovanam Falls is during the post-monsoon months and is ideal for one day trips. Thoovanam Waterfalls is a major vacation spot in Kerala and you should definitely not miss it and once you take tickets a forest guide will accompany you to the waterfalls.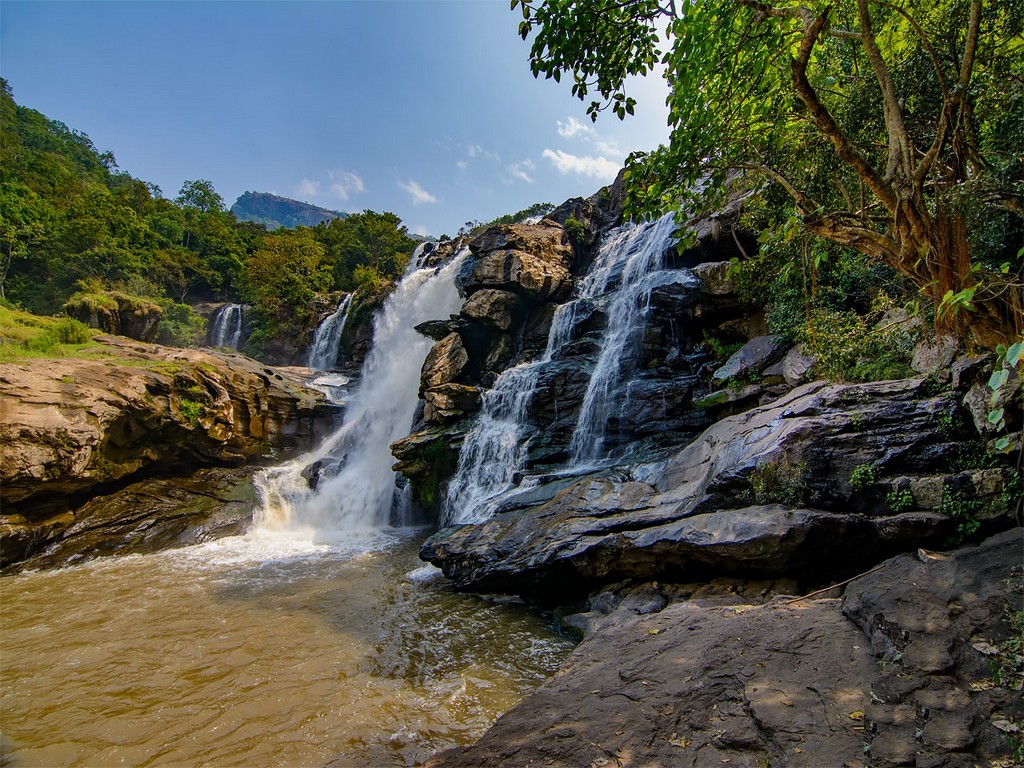 Lakkom Waterfalls
Located 1.5 km from Marayoor and 40 km from Munnar, Lakkom is one of the best waterfalls in Kerala giving the visitors a great getaway experience. Lakkom Waterfalls are small but charming, coming down a steep hill and emerging over rocks out of thick forests.You can twiddle your toes in the clear water and take a dip in the somewhat deeper parts of the pool if you are adventurous. You can also sit in the rocks and put your legs under water. Even though Lakkom Waterfalls is not too deep, but the rocks are slippery underfoot. The nearby locations of Lakkom Waterfalls to visit are Eravikulam National Park and Marayoor Dolmens. The best time to visit the Lakkom Waterfalls is during the months of October, November, December, and January.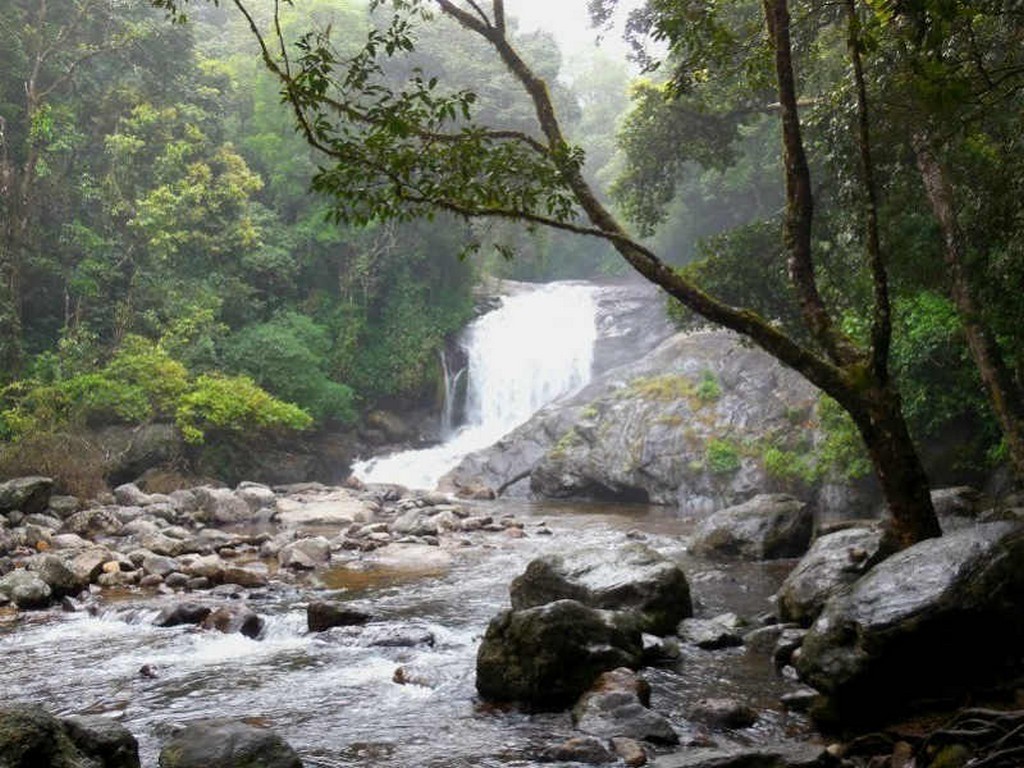 Perunthanaruvi Waterfalls
Perunthenaruvi is a wonderful waterfall located 44 km from Thiruvalla and 26 km from Pathanamthitta. It is ideal for one-day trips and surrounding green forests gives a spectacular experience for the visitors. Perunthanaruvi Waterfalls is calm and peaceful and the only disturbance will be the intense roar of waterfalls. Not a best place to bring your kids. Rocks were slippery and swimming is banned in the waterfalls and this place is not kids friendly. The best time to visit the Perunthanaruvi waterfalls is during the months of March, April, May, June, July, and August. There is also another scenic spot called Panakudanthi Aruvi, 1 km from Perunthanaruvi Waterfalls where water flows inside of a Palm tree. Name Perunthanaruvi originates from Perunthen (great honey) and aruvi (stream) and translates into Stream of Green Honey in local language.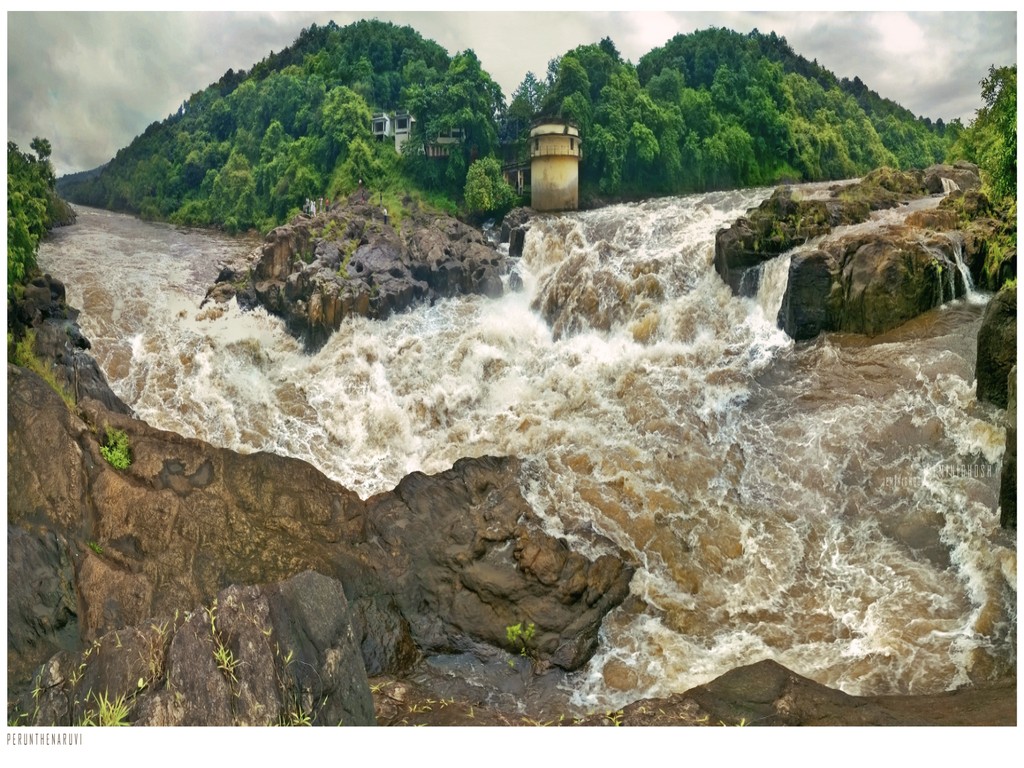 Vazhachaal Falls
Vazhachaal waterfalls is a little ahead of the Athirapally falls even though it is a smaller one higher up the mountain. The spectacular and breathtaking waterfalls are located 7 km from Athirappilly and 75 km from Kochi. There is a park on the way to Vazhachaal Falls and the fencing is very close to the falls so we get a close view of the falls. Vazhachaal Falls has a lot of natural pools and the rocks all around and make it all look lovely. There are many benches to sit in the garden and this place is kids and elderly friendly.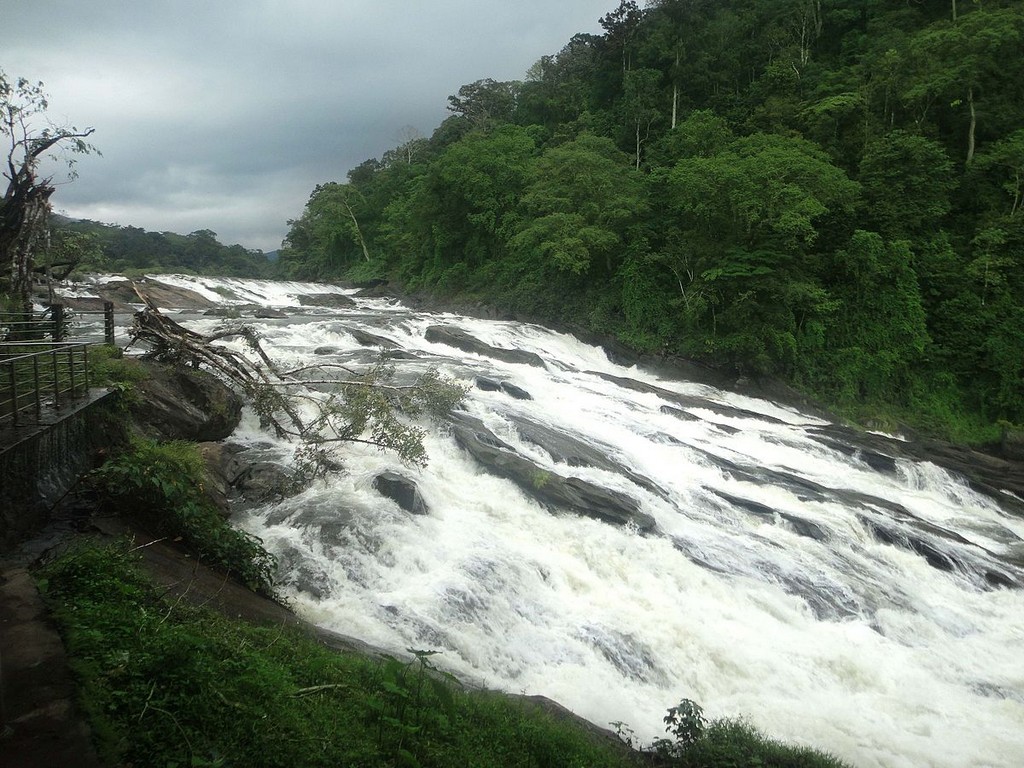 The travel route to Vazhachaal is rich in flora and fauna and includes dense green forests too. The waterfall is of 300 feet. Ideal for one day trips, the best time to visit the Vazhachaal waterfalls during September, October, November, December, and January.
Chethalayam Waterfalls
Chethalayam Waterfalls requires special permission from the forest department to visit it and the the walk area to the waterfalls is good and full of trees and greenery . Reaching Chethalayam Waterfalls includes a trek of 4 km. From Kidangand to the falls, the trekking is a major activity and is loved by the trekking enthusiasts. Rock climbing is also a part of the trek.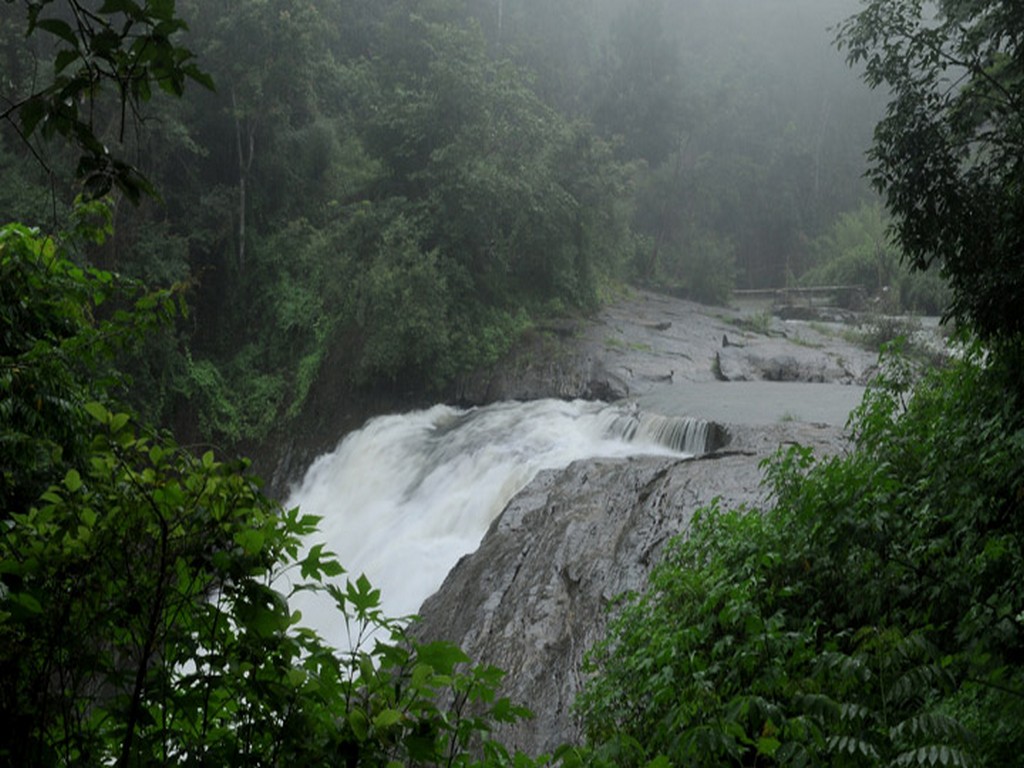 Post monsoon is the best time to visit Chethalayam falls and is ideal for one day trip. This waterfalls is small and dries up during Summer season. Chethalayam Waterfalls is near Sulthan Bathery and located 37 km from Kalpetta and 12 km from SulthanBathery. Wayanad Wildlife Sanctuary is a must visit when visiting the Chethalayam Waterfalls.
Soochipara Waterfalls (Sentinel Rock Waterfalls)
Soochipara Waterfalls also known as the Sentinel Rock Waterfalls is one of the most attractive waterfalls in the district of Wayanad. The waterfalls are at a height of 300 meters. The Soochipara Waterfalls is located 46km from SulthanBathery, 24 km from Kalpetta and 13 km from Meppadi.
The Sentinel Rock Waterfalls is a major adventure spot as it is famous for its trekking activities. The sentinel rock is also an ideal spot for rock climbing. The best time to visit the Soochipara Waterfalls is between June to October and it is ideal for one day trips. Chembra Peak, Kanthapara falls, and Vaduvanchaal are the best locations to visit Soochipara Waterfalls.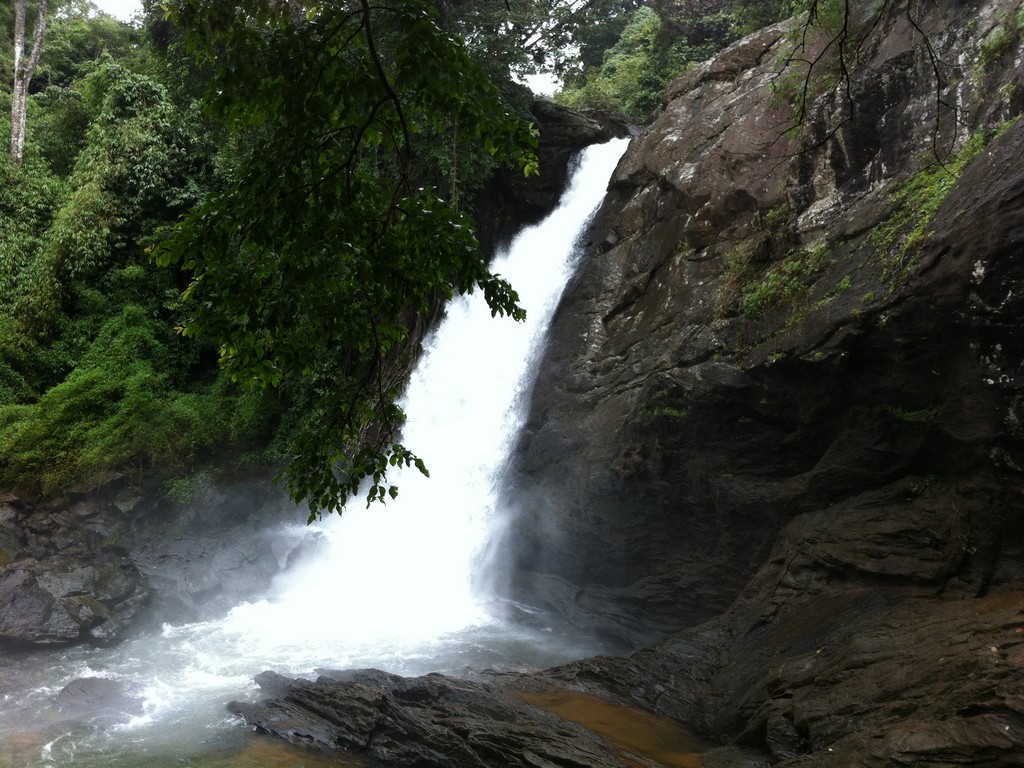 Thommankuthu Waterfalls
Located 20 km from Thodupuzha, 48 km from Munnar and 25 km from Idukki, Thommankuthu waterfalls is a gorgeous and marvelous waterfall dropping from 300 feet. The view from the waterfall is breathtaking and trekking in the surrounding hilly area is also a major spot when visiting Thommankuthu Waterfalls. The best time to visit Thommankuthu waterfalls is during the monsoon season. The best places to visit while Thommankuthu waterfalls are Varambetta Mosque, Karalad Lake, Banasura Hill, and Kakkayam Dam.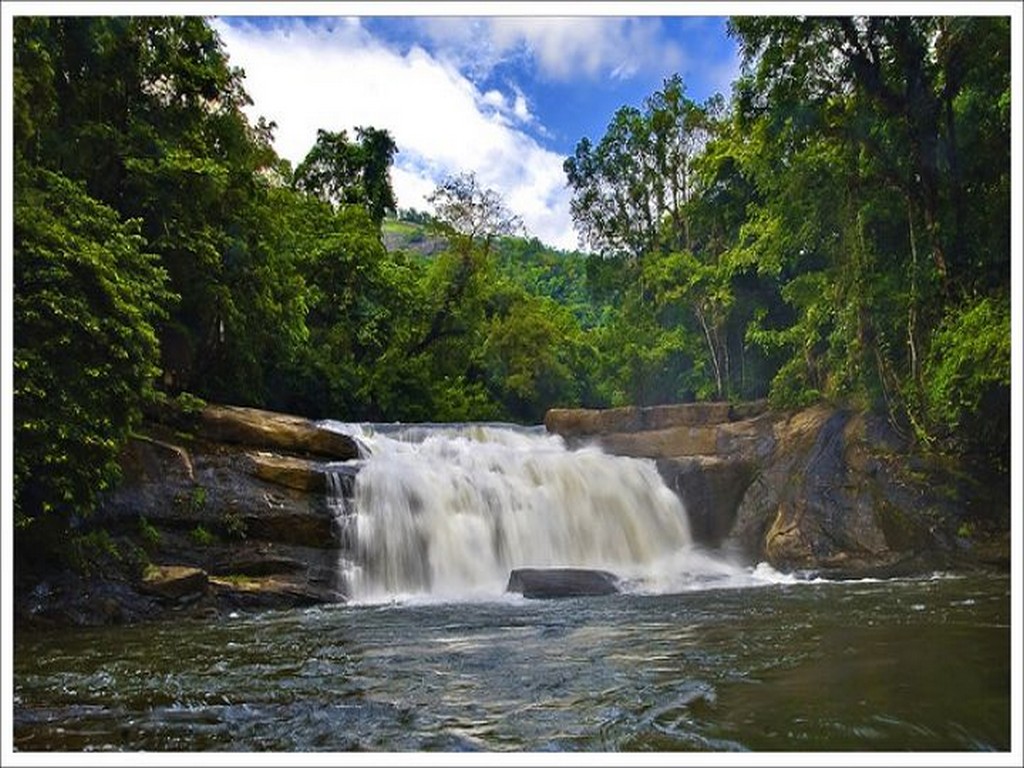 Valara Waterfalls
Valara Waterfalls is on the way to Munnar and is situated next to the Cheeyappara Waterfalls and is adorned by dense forests. The waterfalls are of 1000 feet high and provide a great view for the visitors. The region is also well known for trekking. The Valara Waterfalls is ideal for one day trip and the best time to visit the waterfalls is during post monsoon. The Valara Waterfalls is located in between Adimali and Neriamangalam. During rainy season the flow will be thick and during summer season the water flow will be too less.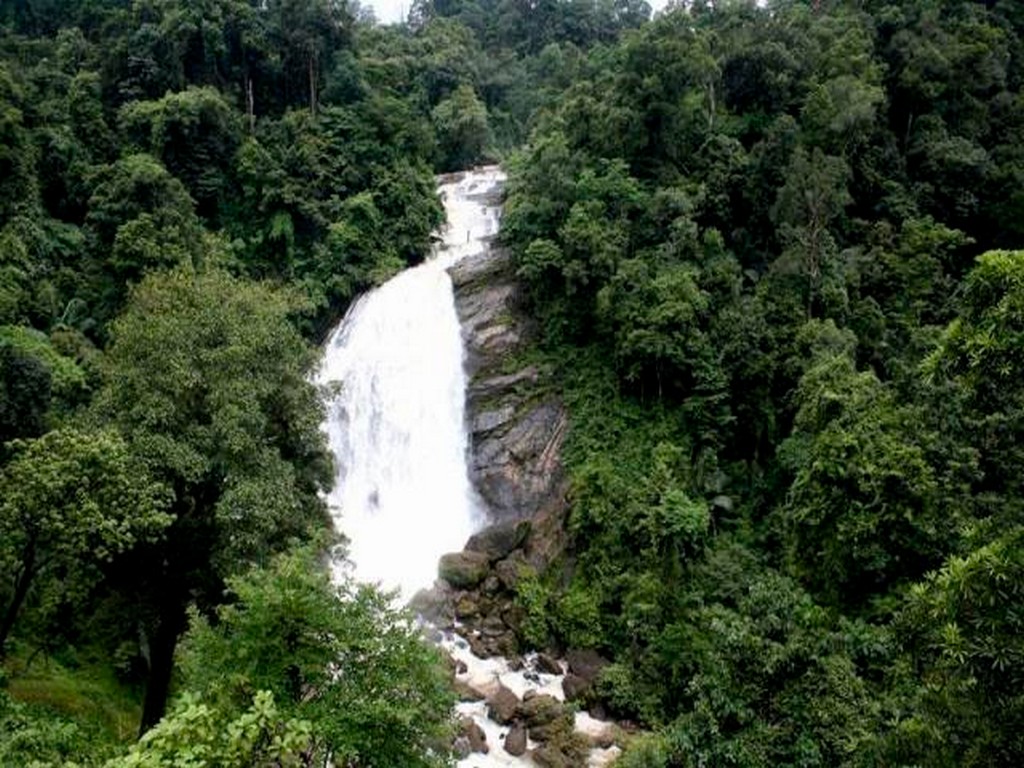 Cheeyappara Waterfalls
Cheeyappara Waterfalls is located next to the Valara Waterfalls and is quite a gorgeous waterfall. The Cheeyappara waterfalls are located between lush dense forests and are a chain of the Deviyar River Waterfalls. It is an ideal location for trekking, rock climbing and exploration. The Cheeyappara Waterfalls has located 42 km from Munnar and is a major destination spot in Kerala ideal for a one day trip and when you travel to Munnar you can stop over at Cheeyapara and Valara waterfalls for a quick break.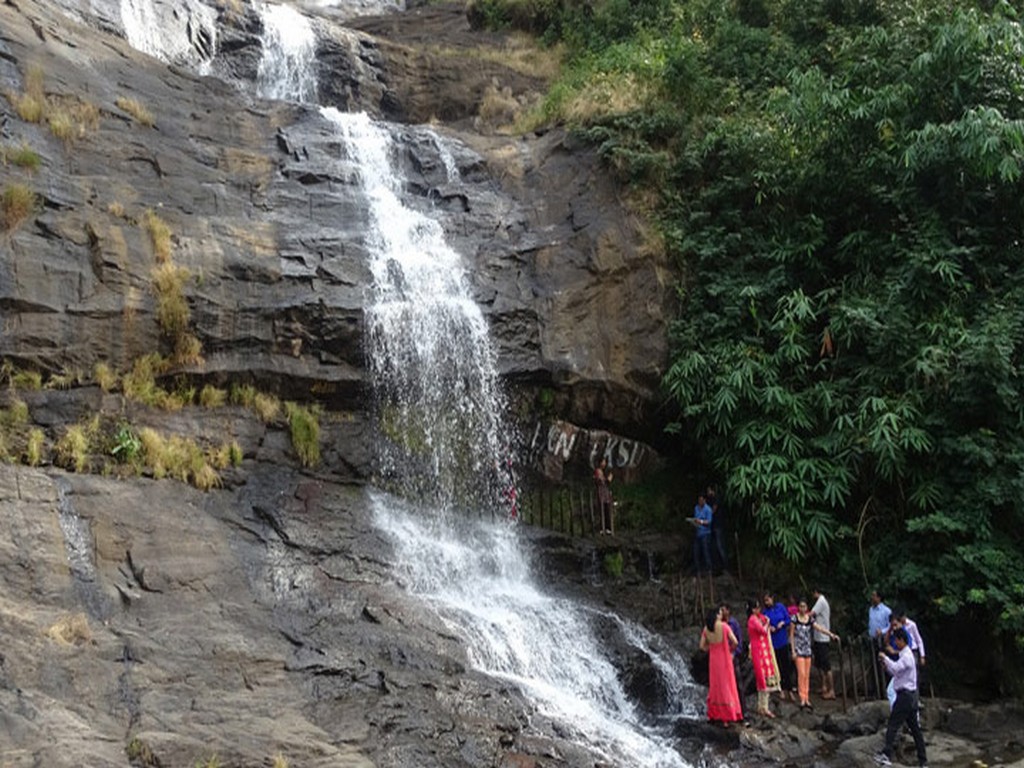 ALSO SEE – Waterfalls on the way to Munnar
Instructions for travelers planning to visit waterfalls in Kerala
Most waterfalls in Kerala are plastic free zones and it is better to carry water in non plastic bottles.
When you visit any of the wear only sports shoes or flat footwear with good grip.
Avoid heels at any cost as it will involve trekking down and walking on slippery ground.
Carry sunglasses and hat as well if you are visiting in Summer.
Monkey Menace exist in some of the waterfalls in Kerala and you need to be careful on displaying the food items that you are carrying.
Most of the waterfalls in Kerala closes by 5 PM and if you are planning for a visit better the schedule the same in the morning.</li
Adorned with spectacular vacation spots and tourist areas, Kerala is well known for the breathtaking sights. The culture and the views in the state are well known and people from different parts of the world visit the place every day. The waterfalls, tea estates, plantation, hilly areas, mountain regions, forests, etc are all popular for their beauty. The natural landscapes mesmerize visitors and never fail to win their hearts. Get your bags packed for Gods own Country because you will definitely have an unforgettable experience.