Food and travel go hand in hand, and there's no better way to delve deep into a holiday in  Kerala than to try the traditional food of Kerala. When you order the  Food in Kerala you will be greeted with a smile and a nod if you are a foreigner and this can also help you make some friends who will explain to you the nuances behind the dish helping you to add the nuances as well to the lasting memory of your trip by enjoying local cuisine.
When you travel to Kerala eating with your fingers may be hard to start off with like locals, however, once you realize that it is the best way to completely enjoy the traditional food of Kerala and appreciate the tastes you will slowly adapt it. Looking at a normal Indian meal with so many curries and side dishes itself will be overwhelming let alone using your fingers to eat.
How to eat food in Kerala?
A normal meal in Kerala may consist of

* Rice
* Indian bread (chappathi, roti, or appam)
* Side dishes (salad, papad, pickles)
* Main dishes (vegetables and/or meat)
* Sambar/ Rasam(a spicy and watery combination of vegetables)
Appam or Chappati is eaten first with some of the vegetable or meat dishes. The remaining vegetables or meat are then eaten along with the rice and sambar. The purpose of the side dishes is to add different flavours and textures to the food in Kerala and you should only eat small helpings of side dish
ALSO, SEE – Best things to do in Kerala
Tips for eating food in Kerala
It's clean and polite to wash your hands before you sit down to eat.
Only eat with your right hand. The left hand is considered to be unclean as it's reserved for functions associated with going to the toilet.
Eat the bread (Chapati/ Appam) first with some of the vegetable or meat dishes, then eat the remaining vegetables or meat along with the rice and daal. The purpose of the side dishes is to add different flavours and textures to the food, so you should have a small portion of any one of these after each bite of the main dishes.
The most important thing is to sample each different dish separately, to allow its individual characteristics to be appreciated.
Be careful with the amount of sambar/ rasam you pour onto the rice. Too much daal will result in the rice becoming sloppy and it won't hold together properly. Too little daal and the rice will be sticky and tasteless.
After eating, if you're a guest in someone's home, wait until everyone has finished then get up to wash your hands again to clean them.
Breakfast Dishes in Kerala
Here is a list of popular breakfast dishes from God's Own country that you can try out while experiencing Kerala tour Packages.
Kerala's spread of morning dishes – Appam, Uppuma, idli, masala dosa, appams, Puttu, etc. has been rated among the best breakfast in the world by Travel & Leisure magazine.
1. Puttu & Kadala
Puttu was among the dishes mentioned by National Geographic Traveler as the World best breakfast and the magazine described that ordering breakfast is a pleasure for the tongue with dishes like Puttu. Puttu is usually eaten with banana, papadam, and kadala curry.  Puttu is made by slowly adding water to ground rice until the correct texture is achieved. It is then spiced, formed, and steamed with layers of grated coconut and served hot for breakfast. Puttu is generally cooked in a metal puttu kutti vessel with two sections. The upper section holds the puttu and the lower section holds water — where the rice mixture is inserted with layers of grated coconut and steamed. Perforated lids separate the sections to allow the steam to pass between them.  The best point to taste puttu, one of the must-try in Kerala's famous foods is any of the tea shops in the villages of Kerala where it is served hot along with spicy kadala curry.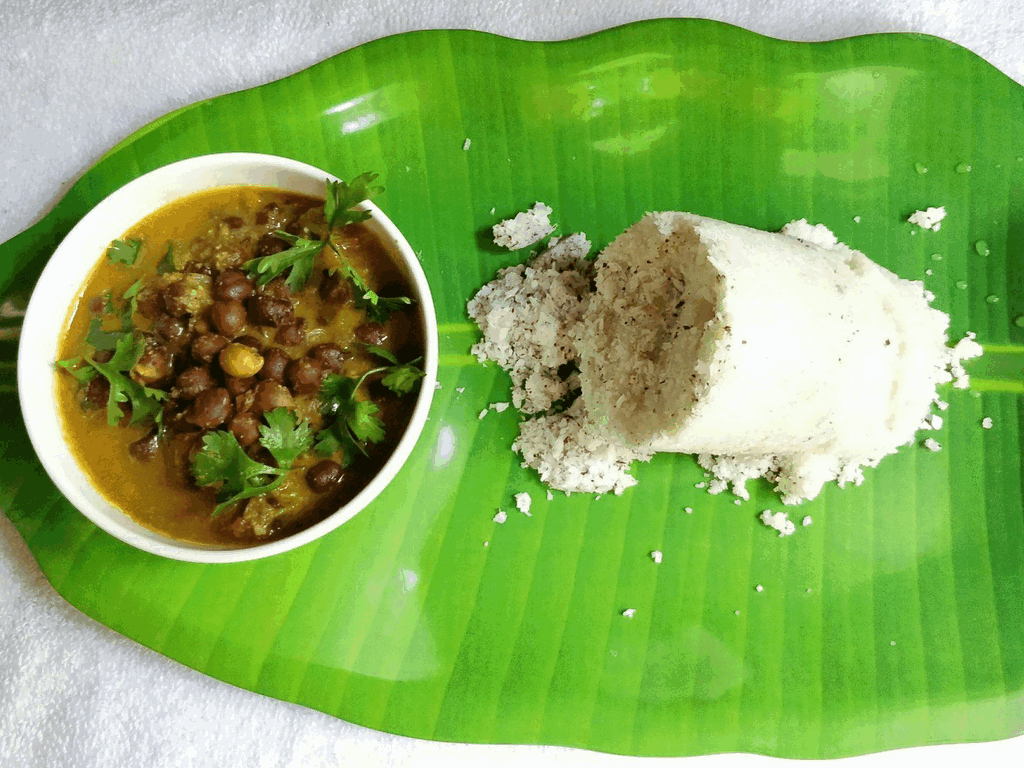 2. Appam
A must-try in the list of Kerala's famous foods is the crisp lacy appam served with meat/vegetable stew. Appam is most frequently eaten with breakfast or dinner and is a fermented flatbread made out of Rice and Coconut. Appam is usually referred to for various kinds of dishes like Idiyappam, Palappam, Velayappam, Kallappam, Vatayappam, and so on however most of the Keralites identify themselves with Kallappam where "kall" (Malayalam) means toddy, which is used for fermentation. Kallappam is prepared in a mould called apa chaatty and is like a pancake even though it tastes different. Appams or Kallappams derive their round shape from the vessel called Appachatti in which they are spread and cooked. . Appams are made from a batter using rice, yeast, salt, and a little sugar and are served with spicy curries or stew in Kerala. In south-central Kerala, it is mostly served with Kadala (Brown Pulses) curry or vegetable stew, or egg roast.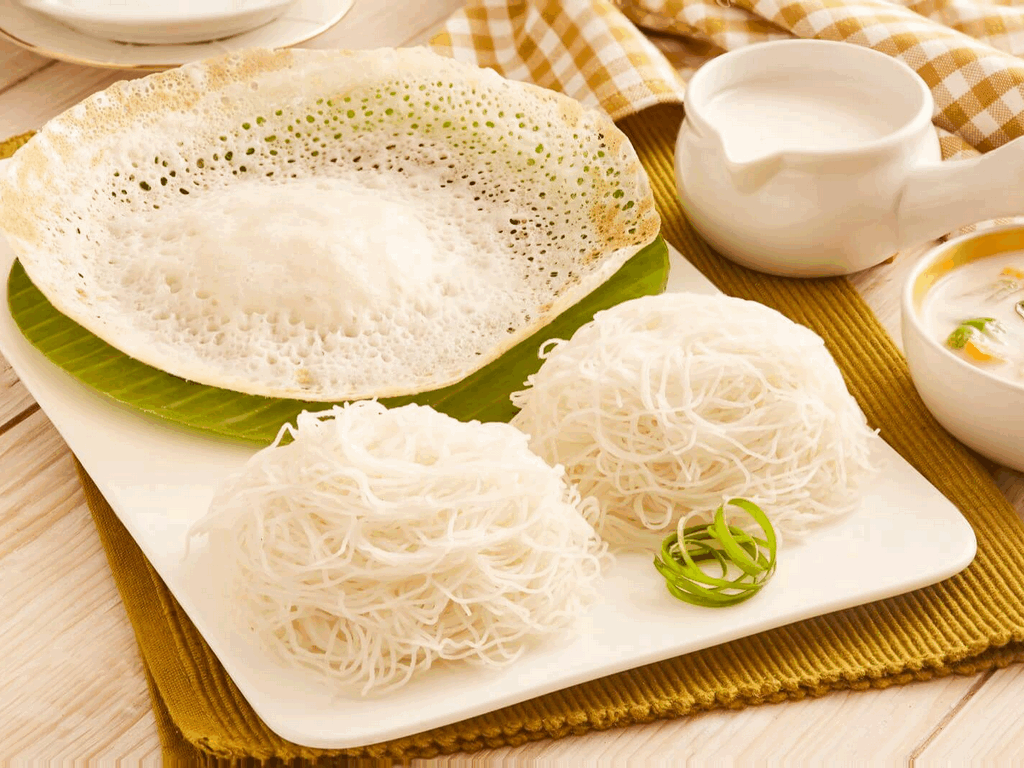 ALSO SEE – Best Restaurants in Kochi to enjoy traditional Kerala food
3. Idlis
Idlis are steam cakes that are usually a few inches in diameter and are made by steaming a batter derived from rice. There is a pre-cook fermentation process that ensures that carbs are broken down and idli is straight away absorbed by the body.
Idlis are most often eaten at breakfast in Kerala and are served with sambar or coconut chutney. Idlis are usually made with idli round-shaped cooking plates now. However, in the olden days, the thick idli batter was poured over a soft cloth tightly tied to the mouth of a deep cooking vessel.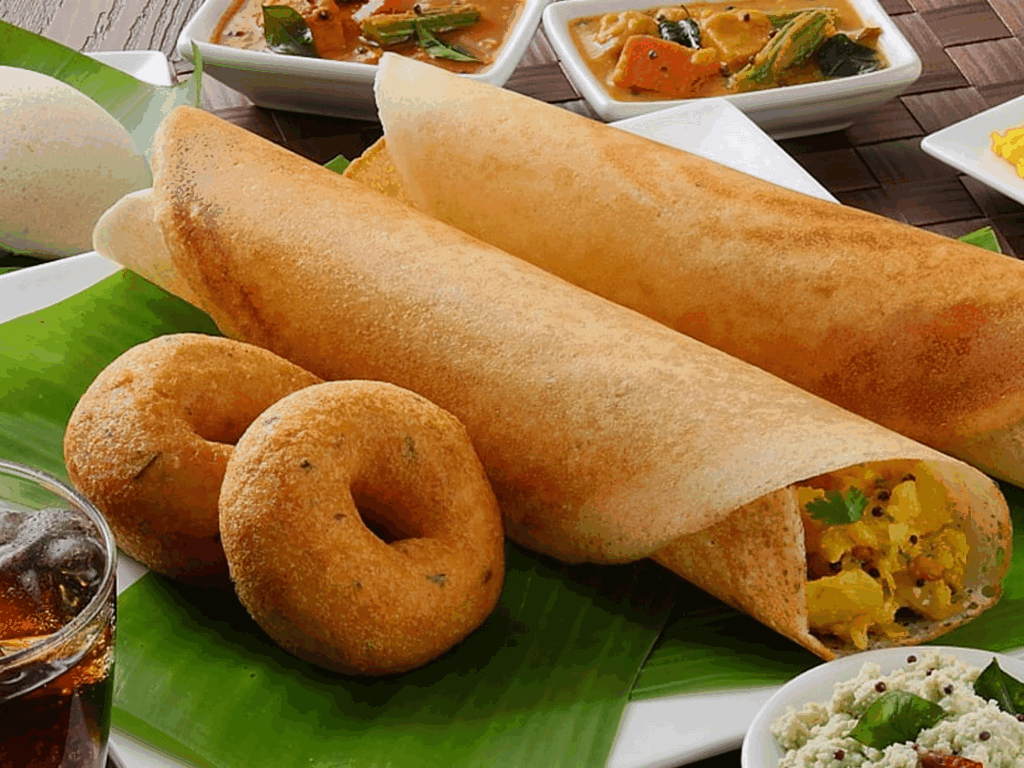 4. Dosa
Dosa is a fermented crepe or pancake made from rice batter and black lentils which is indigenous to and is a staple dish in the southern Indian states of Tamil Nadu, Karnataka, Kerala, and Andhra Pradesh as well as being popular in Sri Lanka. The constituent ingredients of rice and lentils mean it is gluten-free and contains protein. Most popular versions of dosa include Masala Dosa, Paper Dosa, and Mysore Masala Dosa.
Lunch Dishes in Kerala
The traditional food of Kerala also has a variety of lunch dishes that are unique to this region and some of the popular lunch dishes are Avial, Karimeen Pollichathu, Kozhikode Biriyani, and Kerala Fish Curry.
5. Avial
Avial or aviyal is a delicious mix of vegetables in a light, delicately spiced semi gravy with vegetables like carrots, drumsticks, potatoes, yard-long beans, pumpkin, and an endless list of garden-fresh veggies. and is usually served along with rice in any restaurant in Kerala. Aviyal is a regular dish during festivities in South India including weddings and festivals. When you prepare Aviyal, it is important to get the right balance of colour and that pronounced coconutty taste and is among the most popular vegetarian dishes in Kerala.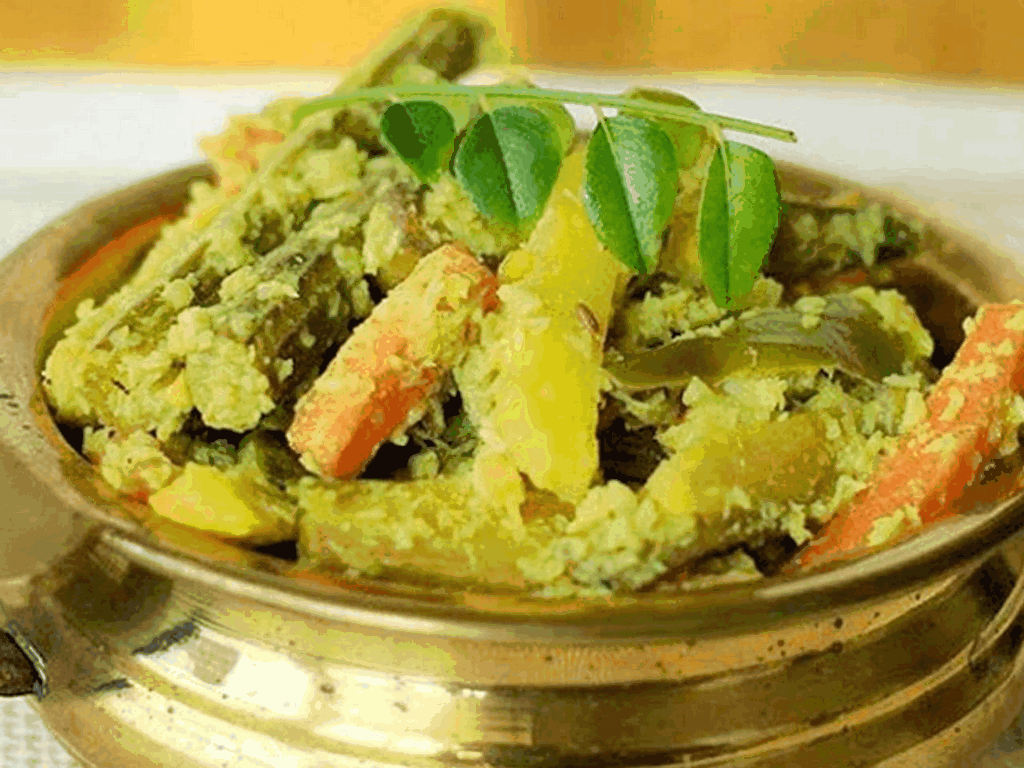 6. Karimeen Pollichathu (Pan-seared Fish)
Karimeen is a fish that is present in the backwaters of Kerala and is an essential part of the Kerala Houseboat menu. The fish is first roasted and then steamed with onion and other spicy condiments inside a banana leaf and for the fish lovers in Kerala unwrapping a steamed fish is as good as unwrapping any other gift for a food lover.
Karimeen is the local name and this variety is pearl spot fish that is marinated for long and is wrapped in banana leaf which is readily available in Kerala. This dish is served with rice and this is known as Karimeen Pollichathu which is a common dish in central Kerala, especially among the backwaters.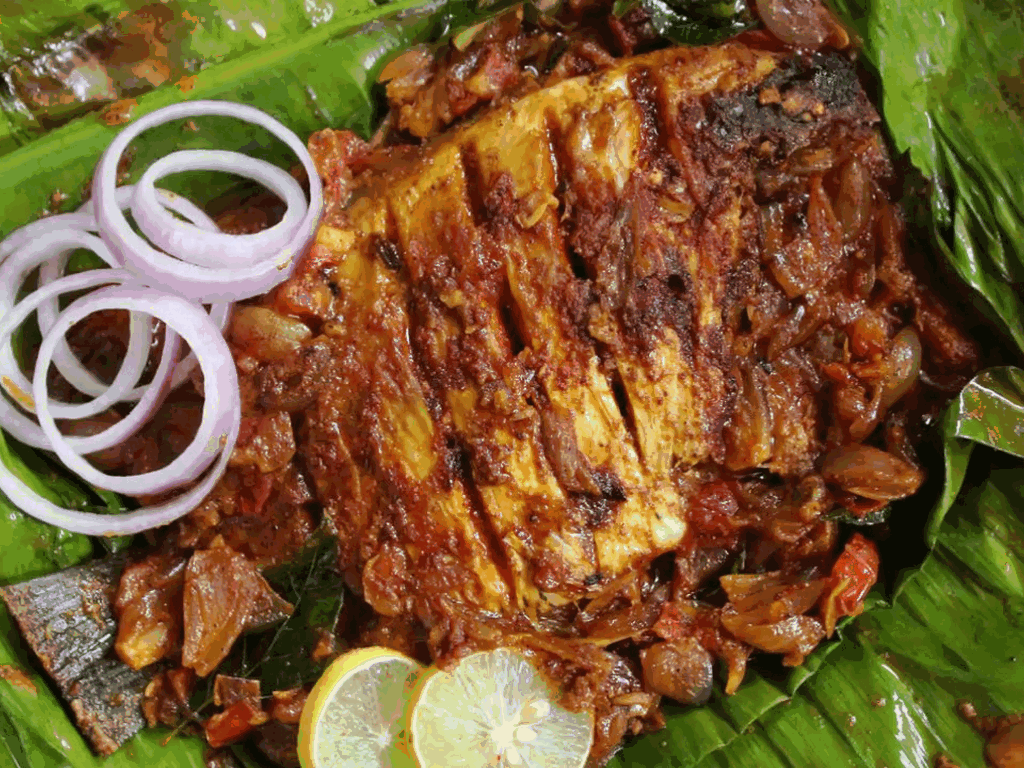 ALSO, SEE – Top 15 Homestays in Kerala for all budgets
7. Malabar Biriyani
There are various kinds of biryanis in India, However, biriyanis in the Malalabar area from Kozhikode, Malappuram, Thalassery to Kasargod of Kerala is special and the recipe has crossed generations. This is yummy biriyani from Malabar is not spicy or fiery but comes with a small number of chillies and a single egg.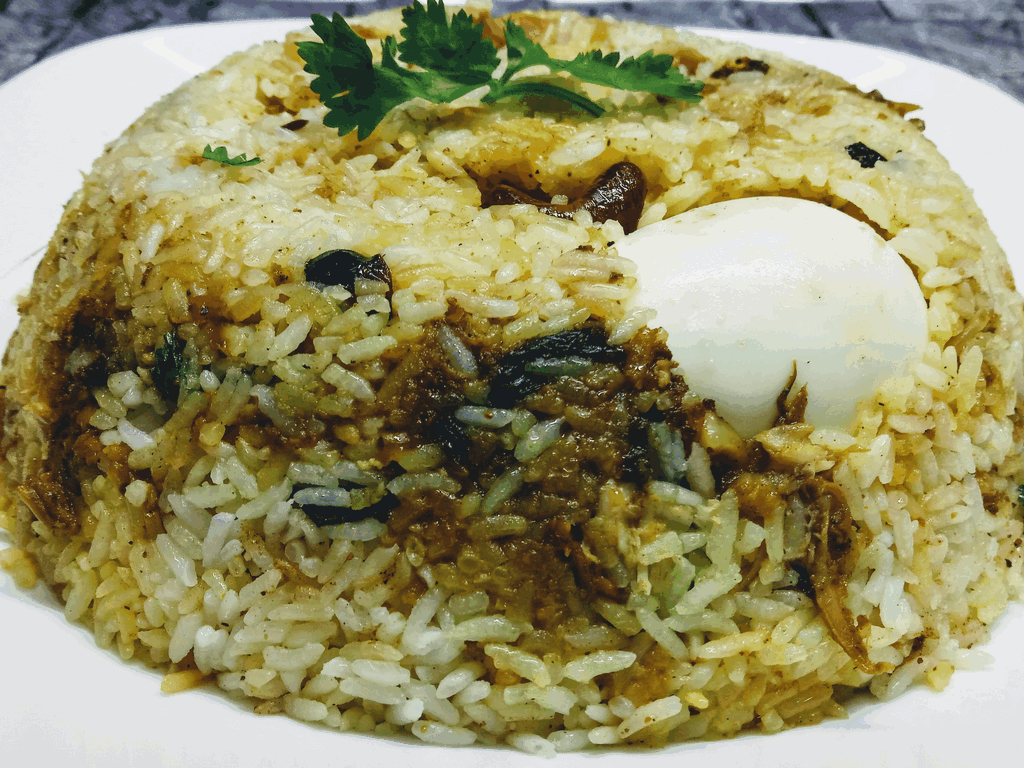 8. Kerala Fish Curry
Kerala Fish Curry is a basic fish curry recipe, but the flavours of cocoum and coconut milk take it to another level. This is one of the main traditional food of Kerala that is tasty with a fleshy white fish smeared with onion, tomatoes, garlic, green chillies, and coconut paste which is steamed, tempered, and served.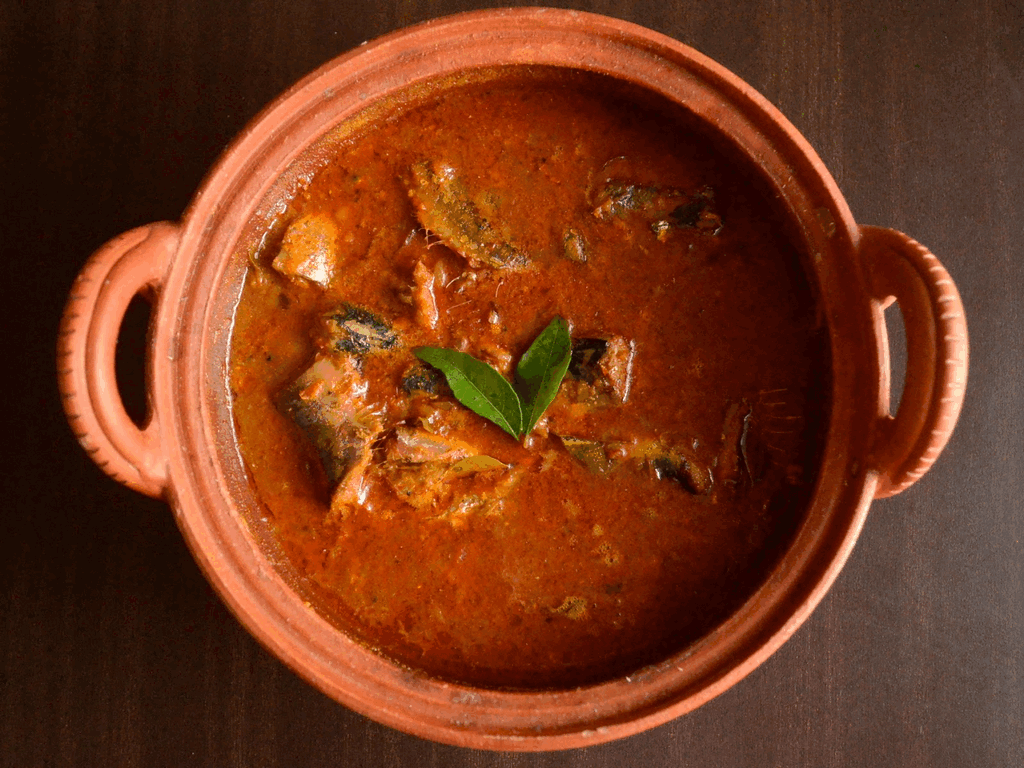 9. Naadan Beef fry or Kerala Style Beef Fry
Beef fry cooked in Kerala Style has a mix of coconut and onions and the beef once cooked is generously coated with curry leaves, ginger-garlic paste, coconut, and mustard seeds. The dark hue of this dish reflects the depth of its tasty flavours that can emanate from tender beef.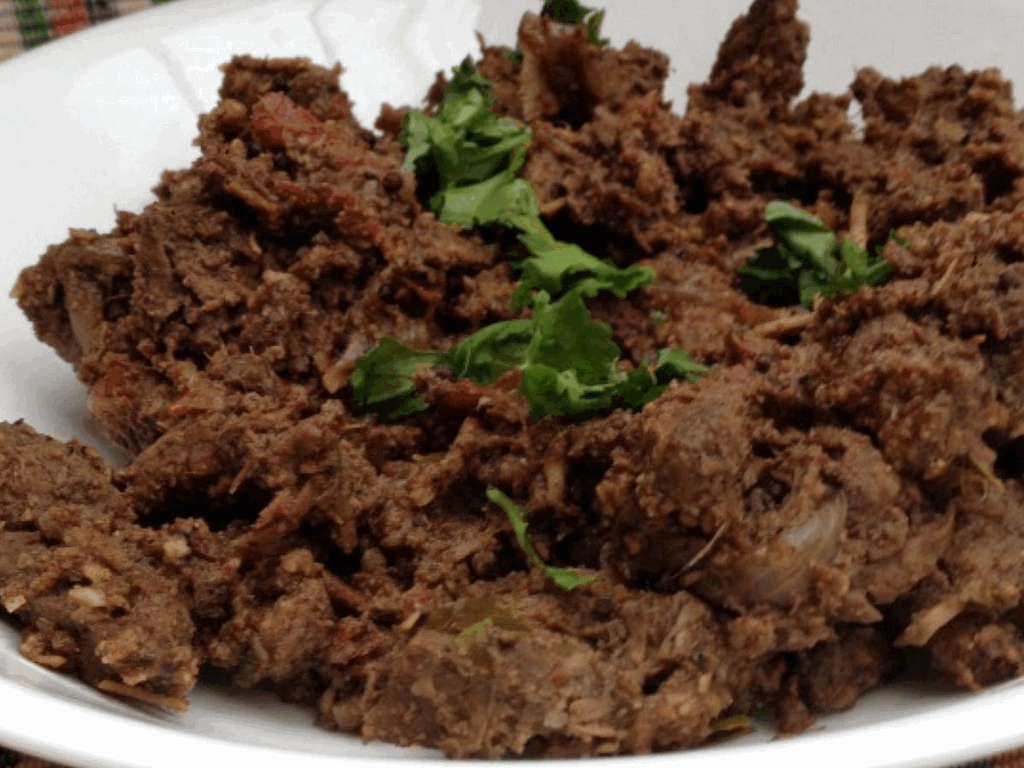 Have you tried out any Kerala famous food items in a restaurant that you are fond of food in Kerala? Let us know through comments.
Frequently Asked Questions About Food in Kerala
What is the famous sweet of Kerala?
Ada Pradhaman: classic dessert from Kerala, popular during the festival of Onam. Ada Pradhaman is a variation of payasam, made with Ada rice, cashew nuts, coconut and palm jaggery mixed well.
What makes Kerala's cuisine unique?
Kerala's cuisine is a beautiful amalgamation of Arabian, Malabari & French influences along with a unique touch of the state's very own culture. Food in Kerala offers a multitude of dishes, ranging from traditional sadya to seafood delicacies.
Which type of food is famous in Kerala?
The famous foods in Kerala do include global favourites such as Sadhya, Ghee Roast Dosa, Idli and Sambhar, Palappam, stew, Puttu and Iddiyappams.
What is the main food of Kerala?
Kerala Sadya: Very popular traditional Kerala thali served in banana leaf. It is a feast of Kerala origin and of importance to all Malayalis, consisting of a variety of traditional vegetarian dishes.