Kerala Backwaters which is synonymous with Kerala is a scenic network of lakes, rivers, lagoons, and canals that is parallel to the Arabian Sea coast and runs inland in the coast of Kerala, from Cochin to Kollam (Quilon) and Best Time to visit Kerala Backwaters will be based on what kind of cruise you want to enjoy on your holiday.
The long coastline of around 590 kilometers on one side and western ghats on the other side in Kerala ensures that the climate of Kerala is neither too hot nor too cold, one of the reasons because of which it is slowly emerging as an all-season destination, although the period between October and April are considered best, as this time offers moderate temperatures around Kerala, making it ideal to visit the marvelous state.
ALSO SEE – Top 10 Best Backwaters of Kerala That Offer Much More Than Beauty And Tranquillity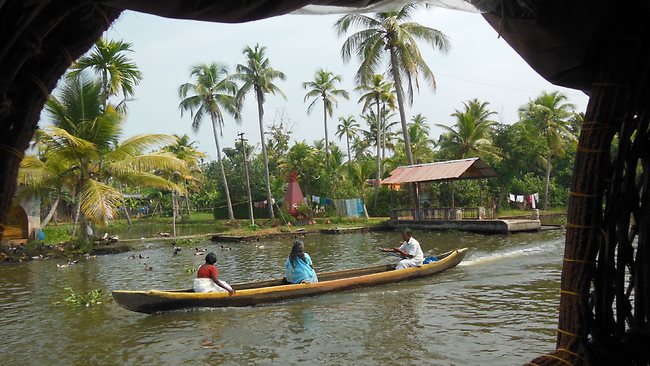 Serene backwaters and verdant hill stations as well as the stunning beaches with historical palaces that embraces rich cultural heritage – The choice that Kerala offers to any guest is endless and there is so much to explore in Kerala but most guests ensure that they never miss a Kerala Houseboat Experience when they come for a visit in God's Own Country. Wondering what's the best time to visit Kerala backwaters?
ALSO SEE – How to Plan Your Kerala Backwaters & Houseboat Trip – The Complete Guide
Best Time to Visit Kerala Backwaters
Winter Season (Peak Season) in Kerala Backwaters (September-February)
Winter Season between September and February is the peak season in Kerala considered the best time for visiting Kerala backwaters and for visiting the tourist places like Munnar and backwaters for which Kerala is renowned worldwide.
Monsoon Season (Off Season) in Kerala Backwaters (June-August)
Monsoon Season between June and August is the Off Season for Kerala Houseboats and is considered the best time for getting Ayurvedic treatments, for which Kerala is renowned worldwide. You can do a houseboat in Kerala when there is a slight downpour or drizzle and it will be more enjoyable. Kerala Monsoons are not known for cloud breaks or downpours and rains are mild and comfortable.
Summer Season in Kerala Backwaters (March-May)
Summer Season in Kerala is hot and humid from March to May. However, this is not a deterrent and you can sail across the backwaters in Kerala in your houseboat. We recommend hiring an air-conditioned houseboat if you are visiting Kerala in the summer season.
ALSO SEE – Alleppey or Kumarakom-Which is the best option for a Kerala houseboat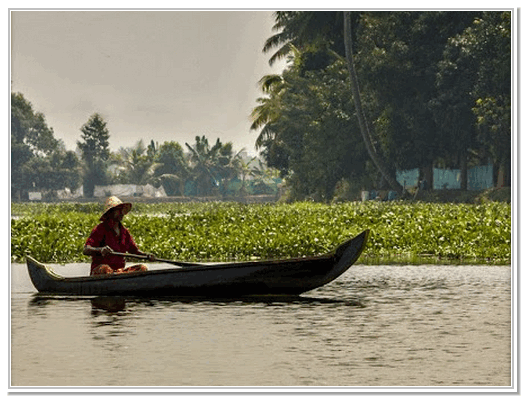 So what is the best time to visit Kerala backwaters?. Should you visit it at the best time for Ayurveda treatments or the peak season? You can take a backwater cruise irrespective of the season but Kerala has a knack for throwing up sudden bursts of showers in monsoon and if it is a heavy shower you may not enjoy it as much as you would wish to.
What is the best time to visit Kerala backwaters?
The best time to visit Kerala Backwaters is Winter Season from September to March. However, Kerala backwaters are ideal for a visit at any time of the year. Winter Season in Kerala is considered the best time for visiting Kerala to enjoy the experience of the tranquil, palm-fringed backwaters of Kerala.
If you have a choice then don't plan your visit to backwaters between June and July so that you can avoid monsoons. It rains intermittently in Kerala and the weather will be cold but pleasant. If there is a heavy monsoon then a houseboat trip is not advised.
If you are planning to visit backwaters in the summer season from April and May, then opt for houseboats with AC as it may offer you the best experience.
Exploring backwaters on your holiday to Kerala is the best way to turn your holiday into a memorable one. While the best season to visit Kerala is between October to April. The Kerala backwaters remain a favorite around the year.
ALSO SEE – Best time to visit Kerala
One of the best backwater destinations in Kerala to enjoy your houseboat ride in Alleppey. Alleppey is one of the oldest trading towns in the Arabian Sea which was frequented by British, Portuguese, and Chinese.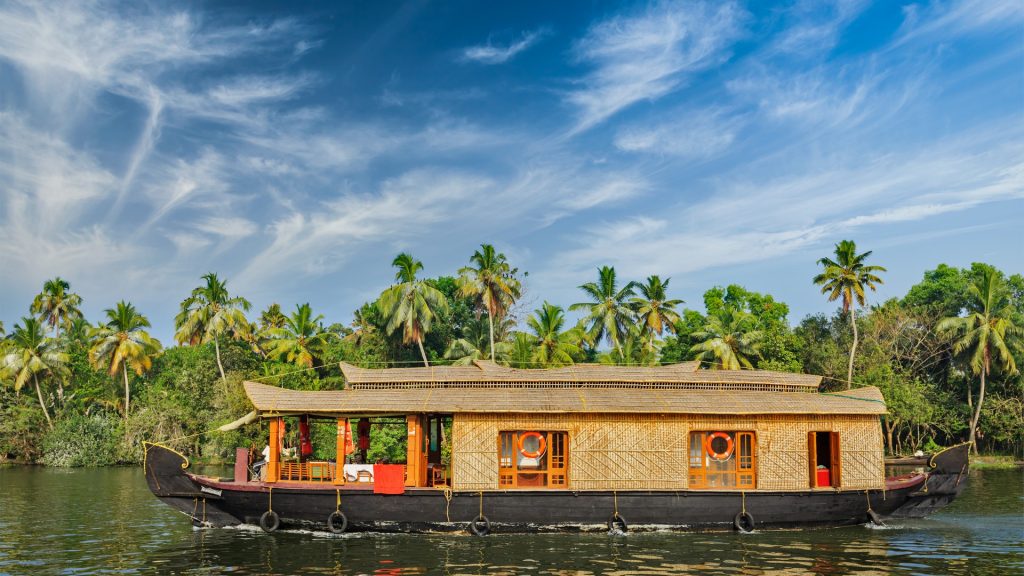 You can hire a houseboat, shikara, or motorboat to enjoy the Kerala backwaters and a houseboat is the most preferred option with the tourists vising Kerala. Some people find that the monsoon season has special appeal and choose to combine their houseboat hire with ayurvedic treatment. March to May gets very hot and humid, so if you hire a houseboat during this time, an air-conditioned one is definitely recommended. Peak season is from December to the end of January when the weather is cooler and dry, but the rates are also highest in the peak season and the backwater ways in Alleppey and Kumarakom will be too crowded as well.
Whenever you are visiting, you can also choose between an overnight cruise or a day cruise in a houseboat . There are so many houseboats for hire at Alleppey that it's advisable to book in advance with a tour operator especially in the peak season as the availability of quality boats drops dramatically, and prices get hiked. As prices aren't properly regulated, they can fluctuate widely.