Are you planning for a Backwaters of Kerala Trip? We are here to help you!
Book our Kerala cruise and holidays package today and give your soul and eyes a treat with the beauty of Kerala backwaters.
In this blog post, you'll find all the tips and help that is required to enjoy a fun-filled holiday in the Backwaters of Kerala.
Backwaters of Kerala Trip–The Complete Guide
Kerala is one of the most charming and captivating states in India and this exceptional natural beauty claims for it being named to be "God's Own Country". Kerala provides tourists with memorable experiences and Kerala tourism options that are going to delight your holidays with leisure and pleasure.
The backwaters of Kerala are the unique ecosystem and prominent tourist attraction with Kerala backwaters houseboats. 
The backwaters of Kerala are a network of brackish lagoons and lakes lying parallel to the Arabian Sea.
Houseboats in Kerala is a unique attraction that has gained the attention of tourists from all over the world. One cannot think of complete tours and travel in India without exploring the scenic backwaters with a stay in a Kerala boathouse.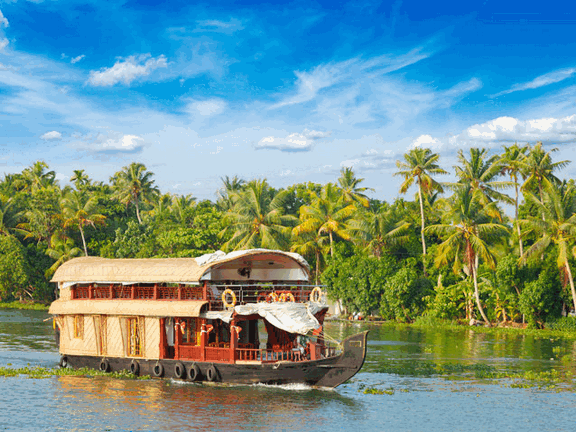 Kerala backwaters houseboats are one of the major hallmarks in the IndianTourism Industry. Here is a list of questions that we get from guests who want to book a houseboat package and you may have some of these questions as well if you are planning to visit Kerala.
What is unique about backwaters in Kerala
Best time to go to Backwaters of Kerala
Perfect backwaters in Kerala for your houseboat trip
How to pick your best Kerala Houseboat Tours
Choose the category and type of Kerala houseboat
Kerala Houseboat Photos
Rooms, Facilities and Staff in a Houseboat in Kerala
Day Cruise or Overnight Kerala Houseboat Package
Kerala Houseboat Honeymoon
Kerala Houseboat Menu
Transportation to Alleppey or Kumarakom backwaters
Safety precautions in Houseboat
Planning any holiday can be a time-consuming affair with all the myriad details that need to be taken care of. However, if you do the planning properly then you can sit back and relax instead of being under stress while celebrating the houseboat holiday in Kerala. We want you to have an enjoyable time during your Kerala Houseboat trip in Alleppey, Kumarakom or Kollam and this guide will help you for the same.
What is unique about the Backwaters of Kerala?
Backwaters of Kerala are a network of interconnected canals, rivers, lakes and inlets, a labyrinthine system formed by more than 900 km of waterways. In the midst of this landscape, there are a number of towns and cities, which serve as the starting and endpoints of backwater cruises. The backwaters have a unique ecosystem – freshwater from the rivers meets the seawater from the Arabian Sea.
In certain areas, such as the Vembanad Kayal, where a barrage has been built near Kumarakom, saltwater from the sea is prevented from entering the deep inside, keeping the fresh water intact. Such freshwater is extensively used for irrigation purposes.
Many unique species of aquatic life including crabs, frogs and mudskippers, water birds such as terns, kingfishers, darters and cormorants, and animals such as otters and turtles live in and alongside the backwaters. Palm trees, pandanus shrubs, various leafy plants and bushes grow alongside the backwaters, providing a green hue to the surrounding landscape.
Are you visiting at the best time to go to the Backwaters of Kerala ?- Confirm your dates
The backwaters of Kerala is ideal for a visit at any time of the year but if you have a choice then plan your visit to backwaters between August and May so that you avoid monsoons and enjoy the experience of tranquil, palm-fringed backwaters of Kerala to the maximum.
So what is the best time to visit the Backwaters of Kerala ?. Should you visit it at the best time for Ayurveda treatments in Kerala or the peak season in Kerala? You can take a backwater cruise irrespective of the season but Kerala has a knack for throwing up sudden bursts of showers in monsoon and if it is a heavy shower you may not enjoy it as much as you would wish to.
Pick the best backwaters in Kerala for your houseboat trip
Alleppey, popularly known as Venice of the East, is the most well-known Kerala backwater destination and is a place of immense natural beauty with lakes, lagoons and freshwater rivers and a houseboat day cruise or an overnight stay is a must if you visit tourist places in Alleppey. The Kerala backwaters houseboats at Alleppey allow guests to explore Kerala in a unique way.
In any houseboat, cruise food is also included as a part of the price the guests pay and complete breakfast along with lunch, dinner and evening snacks is provided onboard a houseboat in Kerala. Though based on the tradition of fish and vegetables, in keeping with the demands of a cosmopolitan clientele, the cuisine served aboard on houseboats in Kerala vary depending on the client's requirements.
Guidelines on how to pick your best Kerala Houseboat Tours
Travelling in a Kerela backwaters houseboat is not just a matter of exquisite window views. It is an enchanting experience in itself.
Backwaters of Kerala are canals that run parallel to the Arabian Sea coast and runs inland in the coast of Kerala, from Cochin to Kollam (Quilon) and there are multiple routes in these canals through which your houseboat can cruise along.
ALSO SEE- Kerala Houseboat Packages
There are several backwater destinations in the state and the most beautiful and hence most popular among them are Alleppey and Kumarakom. The most popular of the backwater routes are Alleppey or Alappuzha Backwaters Round and Kumarakom Backwaters Round and the cruise in these routes can fulfil the desire of both types of tourists – ones who want to explore exotic backwater cruises.
Ashtamudi in Kollam and Bekal in Kasargod are the other popular backwater tourist spots in Kerala that are coming up.
Kerala backwaters tour packages price in good houseboats will range from 6500 to 20000 depending upon the amenities and facilities within the houseboat and the interiors.
Alleppey or Alappuzha Backwaters Round
Alleppey or Alappuzha is fondly phrased as the "Venice of the East". Alleppey tops the list of Kerala boat house places. The major attraction of the Backwater cruise is the Alappuzha Round trip which is a popular Alleppey houseboats day trip cruise. This cruise goes through Kuttanad, which is an ideal place for a houseboat cruise. This core backwater area is rich in natural beauty with enchanting greenery all around the backwaters, as either side of the river edges the gentle surfing of the coconut palms.
You can the mirror still images of gods own country and the tree branches bending precariously over the water before they shoot skywards is mesmerizing and a sight to behold. Kerala houseboat rates will be the cheapest for the Alleppey backwaters round of houseboat cruises.
The major attraction in the area is Kuttanadu Paddy Field which the farming is below sea level. 11th century Lord Buddha Statue 'Karumadikuttan'is also near Alleppey., this cruise you can enjoy the real village life and scenic beauty. Alappuzha is the also called 'Venice of East. The night halt is in the lake and you are safe from mosquitoes and pollution.
This mesmerizing Kerala boat house place also offers a rousing environment for romantic outings.
There are no crocodiles or any dangerous species in the lakes or canals of Alleppey.
ALSO SEE- Kerala Luxury Houseboat Package
Kumarakom Backwaters Round
Kumarakom is one of the most alluring Kerala boat house places. Kumarakom is a favourite holiday destination of celebrities like former Prime Minister of India – Atal Behari Vajpayee and Britney Spears. Kumarakom is also famous for the Kumarakom Bird Sanctuary on the periphery of the picturesque Vembanad Lake. It is a small but picturesque village in Kerala which is the ideal destination for eco-tourism, beach tourism and backwater tourism.
A houseboat cruise on the scenic Vembanad Lake provides a wonderful opportunity to see the lots of bird species of Kumarakom Bird Sanctuary. Sunset cruise over the scenic Vembanad Lake is simply a delightful experience of a lifetime. Houseboat Cruise on Kumarakom backwaters provides a uniquely different but delightful experience.
Alleppey to Kumarakom Backwaters Round
Tourists from all over the world visit Kerala to explore the Kerala backwater houseboats. Alleppey to Kumarakom Round is a combination of cruises that combines the best of backwater cruises around Alleppey and Kumarakom and Alleppey houseboats price for this trip will be around Rs.6000 in a deluxe houseboat. You can enjoy the maximum in this trip, cruises around the villages, farm fields, Resorts and Bird sanctuary and other places of interest are included. You can explore Kuttanad, the rice bowl of Kerala at Alleppey and Kumarakom in a single backwater houseboat cruise.
ALSO SEE- Best Places to visit in Kumarakom
Alleppey to Alumkadavu Backwaters Round
One of the best Kerala boat house places, Alleppey to Alumkadavu Backwaters Ground is the best way to explore the scenic charm of backwaters. Alumkadavu is the destination near Kollam (21 km). The eight hour trip between Kollam and Alappuzha is the longest backwater cruise in Kerala and not many companies offer this as a part of Alleppey houseboat packages.
On this trip, the entire backwater area is covered but the leisure time is less. Half the way will be finished on day one and the second day you will reach Kollam. The entry to houseboats is restricted to some areas because there is not sufficient space for canals. This one-way backwater cruise's major attractions are paddy fields which are lower than the sea level, coir village, Kumarakodi, Karimadikuttan, Matha Amrithamanadha Math at Vallikavu.
Alleppey to Thottappalley Backwaters Stretch
Alleppey to thottappalley is another popular backwater route in Kerala. The major attractions in this route include Punnamada lake, Chavara Bhavan (traditional houses on the banks), Church at Champakkulam, 11th Century Buddha temple – Karumadikkuttan and Ambalappuzha temple.
Kumarakom and Alleppey are popular for weekend packages in Kerala and Kerala honeymoon tours. However, within these famous backwater destinations, you can choose the Best Kerala Backwaters stretches to enjoy the best backwater experience.
ALSO SEE- 10 Best Tourist Places in Alleppey
Choose the category and type of Kerala houseboat
The Kerala backwaters houseboats are the best way to explore the incredible life of Kerala. Houseboats in Kerala are made up of eco-friendly materials are available on hire for a day cruise or for a night stay. Most of the boats are made of thatched roofs made of coconut leaves. They are outfitted with modern amenities and provide the facilities of a comfortable hotel.
Kerala houseboats have fully furnished single double triple and five bedrooms with sundeck, private balcony with comfortable chairs, kitchen and toilet. In addition, there is also a separate restroom with a television and a crew comprising two oarsmen and a cook. It takes great skill and meticulousness to construct and navigate these giant Houseboats by tying huge planks of Anjili tree and the staff has been trained properly. All Houseboats have adequate safety measures and the Kerala government and tourism department conduct periodic audits and inspections to ensure the safety of tourists.
Kerala houseboat Tariff for a single bedroom houseboat may range from Rs.5000 to a Kerala luxury houseboat of Rs.30000 for a boat like Vrinda which is an 8 bedroom Luxury Houseboat from Oberoi Group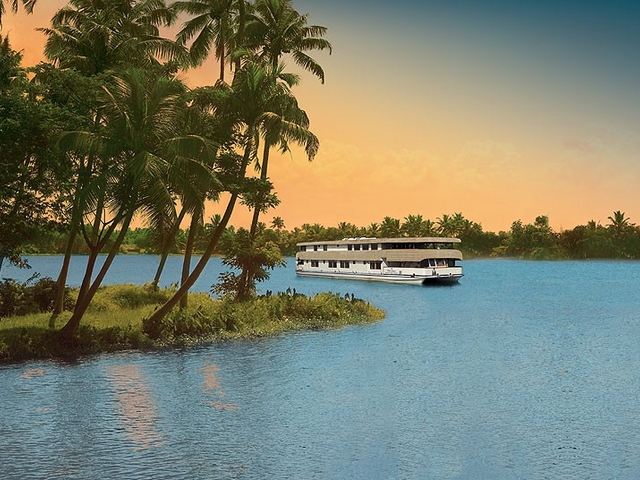 Kerala Government gives an official rating to houseboats which are Platinum or green, Gold and Silver rating. However, these ratings are not mandatory and very few boat companies would have rated their houseboats with government ratings.
There are four main types of Kerala houseboats that may be available with most houseboat providers- Standard, Deluxe, Premium and Luxury.
Standard Houseboat– This will a basic boat and sometimes may turn too basic for your liking. We would not suggest you go for this as many of them will be boats without an air conditioner.
Deluxe/ Premium Houseboat- These are houseboats that are much more comfortable and where the air conditioner will be available for 10 hours at night. These are the houseboats that are provided by us to most of our guests booking backwater tour packages.
Luxury / Super Deluxe Houseboat– Super deluxe houseboats will have uniformed butlers and 24-hour air conditioners and you should choose this option if you enjoy staying in the upper echelon hotels. Here is a list of the best luxury houseboats in Kerala.
You should always check Kerala Houseboat Photos and search for Kerala houseboat reviews in TripAdvisor or any other travel website or should ask around with your friends if they have already taken a houseboat trip in Kerala for a well-recommended tour operator who will arrange for a houseboat trip in Kerala.
Kerala Houseboat Photos
Celebrated for towering mountain ranges, deep valleys, and flowing rivers, this Southern Indian state is also known for Kerala backwater houseboats. If you are choosing a houseboat either for a day cruise package in backwaters or for one of the overnight Kerala houseboat packages, it is always advisable to prebook the houseboat and here are some images and photos that will help you to narrow down on your choices
Houseboats with Double deck
The houseboat with a double deck has an upper deck to enjoy an uninterrupted backwater view with conference facilities and a capacity to cater to more people. The upper deck usually has a cosy double bedroom with an attached bath, a living area with a TV and music system and a sundeck. The lower deck usually have 2 double rooms with ACs and attached baths, with each room capable of accommodating 2 adults and two or three children.
The lower deck usually has its own dining area with television and a stout and welcome area of the houseboat and the two decks also ensure that two separate groups can hire the boat at the same time – even as they maintain their privacy and exclusivity – at half the cost of hiring a full houseboat.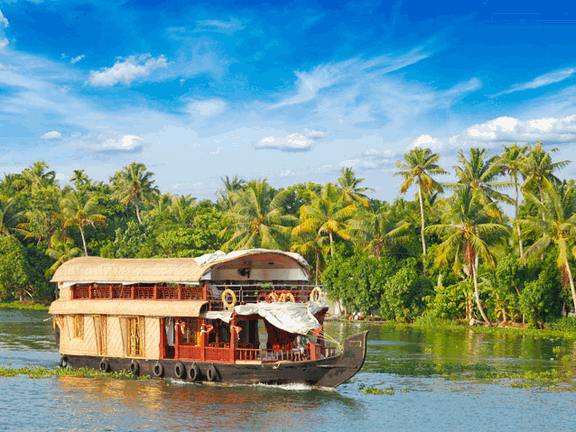 Houseboats in Kerala with Sun Deck
There are houseboats in Kerala without a full upper deck but with a sun deck which is a great way to enjoy the backwater cruise without any obtrusive distractions that can be there in the lower deck. These houseboats will have a staircase from the welcome area of the boat that goes into the sundeck. The sundeck can be open or glass-covered. Given a choice, opt for a glass-covered houseboat that will protect you from insects at night.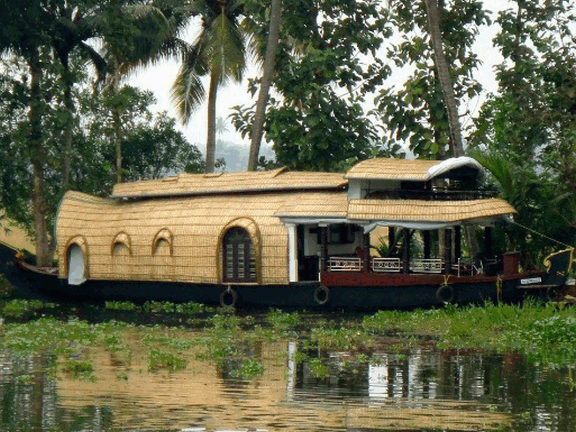 Houseboats in Kerala without Upper decks
Houseboats in Kerala are made of the parts of a coconut tree, and plough on the waters, taking you to the interior of the lakes, making your stay a thoroughly memorable affair. Most houseboats are an awe-inspiring moment to realise how an entire house – including a sitting room, two bedrooms and a kitchen – have been constructed atop a boat.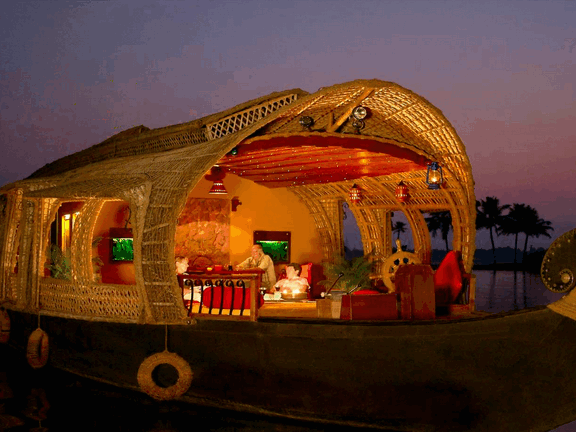 More Images & Photos of Houseboats in Kerala
Houseboats of Kerala are available for rental from prices starting from Rs.5000 for a Non A/C to Rs.40000 for a super luxury houseboat with butlers. Select a single bedroom houseboat for two people and two-bedroom houseboats for four people, a 3 bedroom houseboat for six people and a 5 bedroom houseboat for 10 People.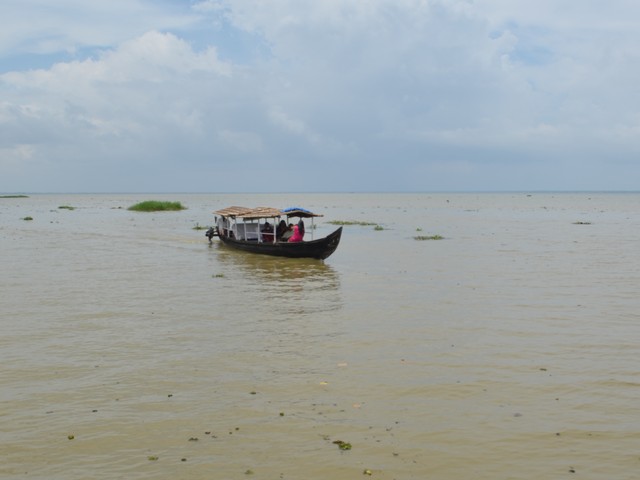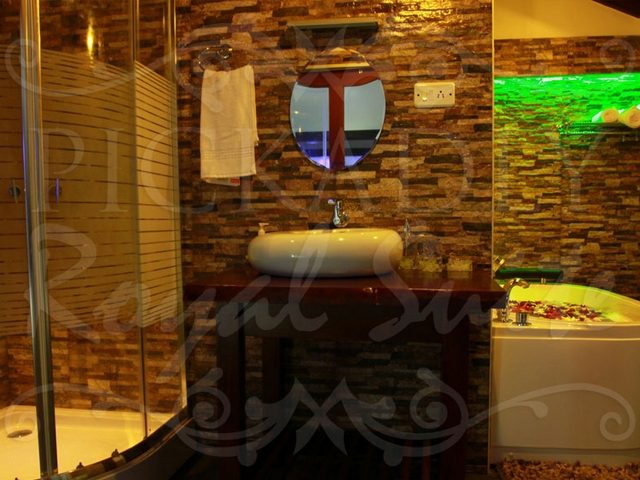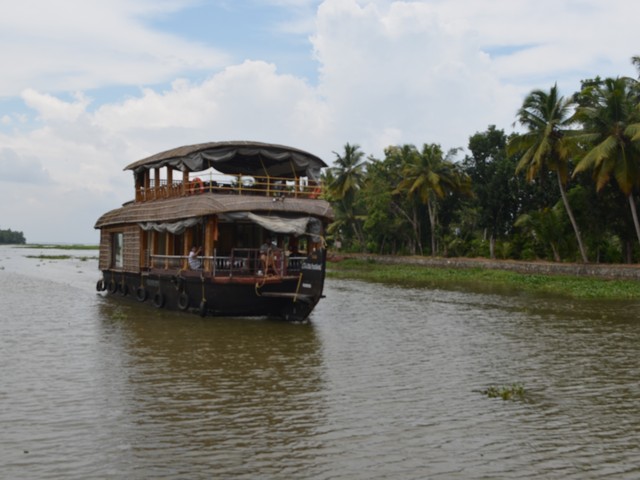 ALSO, SEE- Options other than houseboat in Backwaters of Kerala
Rooms, Facilities and Staff in a Houseboat in Kerala
Kerala houseboats have fully furnished single double triple and five bedrooms with sundeck, private balcony with comfortable chairs, kitchen and toilet. There will be three crew members comprising of two oarsmen and a cook. It takes great skill and meticulousness to construct and navigate these giant Houseboats by tying huge planks of Anjili tree and the staff has been trained properly. All Houseboats have adequate safety measures and the Kerala government and tourism department conduct periodic audits and inspections to ensure the safety of tourists.
Choosing between Day Cruise or Overnight Kerala Houseboat Package
Kerala cruise is a luxury you will enjoy in the quiet waters of Kerala.
You have an option of choosing between a Day trip in Kerala Houseboat or an Overnight stay in any Kerala Houseboat Package. Day Cruise starts earlier than overnight package and cruise time is still 5:00 PM in the evening and you can always choose this option if you have an early morning flight or you are travelling with senior citizens or kids who may find it difficult to stay in a houseboat at Night.
The starting point of a Kerala Houseboat Cruise is Alleppey / Kumarakom for both Day Cruise or Overnight Stay and Kerala Houseboat booking has to be done from either of these places.
ALSO SEE- Kerala Houseboat Cruise – Once in a lifetime experience
Food preferences (Vegetarian/ Non-Vegetarian) has to be specified before the boat leaves from the shore. Fishing Arrangements and canoeing in a traditional Kerala boat can also be arranged on request
While many Kerala Houseboat Cruises take tourists from a particular point and bring them back to around the same point the next morning there are some specific cruises mostly in the Alappuzha area, such as the one night cruise from Alappuzha to Thotapally via Punnamada Lake, two nights cruise from Alappuzha to Alumkavadi, one night cruise from Alappuzha to Kidangara, and one night cruise from Alappuzha to Mankotta.There are numerous such cruises which we arrange for our guests on special request.
Planning for a Kerala Houseboat Honeymoon?
Luxuriate the best time of your life and revel in Kerala backwaters houseboats. If you are enjoying a Honeymoon in a Kerala houseboat, ask for special arrangements like candlelight dinner, flower arrangement etc so that you can enjoy your honeymoon on a romantic cruise. Also try to include other romantic destinations in Kerala like Munnar Hill Station, Thekkady Wildlife Experience, Marari Beach etc to ensure that you have a variety of experiences in your honeymoon in Kerala.
Honeymoon in a Kerala Houseboat is unique to Kerala and is an experience to look forward to as a part of any of the Kerala Honeymoon Packages. Couples wanting the magic, memories, tradition and blessings of an intimate, private and special honeymoon should definitely choose the romantic seclusion and ambience that Kerala houseboats offer.
Most Kerala houseboats have one or two bathrooms, a deck, an open lounge, kitchenette. The crew on the houseboat consists of two oarsmen and a cook. The sights during the journey offer a captivating experience and it becomes more enjoyable when you are on a honeymoon.
Here are some of the additional items that will make your honeymoon even more memorable like spices added to a dish in a normal Kerala meal. Make sure that these preparations are done in advance for the perfect houseboat stay and a holiday romance.
Candle Light Dinner in a Houseboat
A romantic candlelight dinner in the houseboat is a highlight for a romantic evening during your honeymoon in a Kerala Houseboat. Houseboat Staff will set you up with a romantic setting with candles, flowers, you can select to have a Kerala Style sitting with triangle cushions on the wooden floor or if you prefer to have a western setting with a normal table and chairs it is your choice.
Flower Arrangement in Houseboat
Romance can continue in the bedroom in the houseboat. A king-sized bed with high-quality comfortable cotton sheets on which jasmine and rose flowers are placed to make a perfect romantic setting. Most houseboats will provide a bouquet of seasonal flowers or roses arranged in an attractive glass vase as well in your room and a pattern of scented flowers in your honeymoon bed.
If you are really interested in tips for honeymoon night romance, you must realize that it all starts with planning. Honeymoon night is to be one of the most important moments of your life. This will be the first major shared experience you and your spouse will have in your new marriage.
ALSO SEE – Kerala Honeymoon Packages
Kerala Houseboat Menu
When you book a Kerala houseboat cruise for one night all meals will be served inside the boat and the Kerala Houseboat Menu is continental, South Indian, North Indian or traditional Kerala flavoured with the local specialities; delicious local fish. Most of the houseboats cook food in sin flower oil even though Kerala is well known for coconut oil. You can confirm this in advance before getting on to the houseboat.
When guests can check-in at 12:00 hrs, they will be welcomed with fresh tender coconut water or juices. Once the houseboat cruise starts the guests will relax and enjoy the canals and backwaters. Toddy can be bought from toddy shops onshore and it is a soft liquor made from Coconut it is safe pure and sweet.
At around 13:00 hrs houseboats will stop for lunch either in the middle of the backwaters or at the shore as per the request of the guest and a lavish menu of traditional Kerala cuisine is served on board. The food is cooked inside the boat by a chef and guests can visit the kitchen to check out the food preparation and the Kerala houseboat menu.
Normally traditional Kerala food is served with rice, sambar, vegetarian dishes, fish fry, pickles, papad, salads and sweets. The food is cooked from fresh and seasonal vegetables and fish and chicken are purchased just before the cruise starts. In case any of the guests are successful in catching some fish on board it will be cooked as well.
Guests can also buy crab, fish or lobsters from shores and request the chef to cook the same onboard for lunch or dinner in the houseboat and just imagine the taste of bug tiger prawns or lobsters cooked on the boat on your request.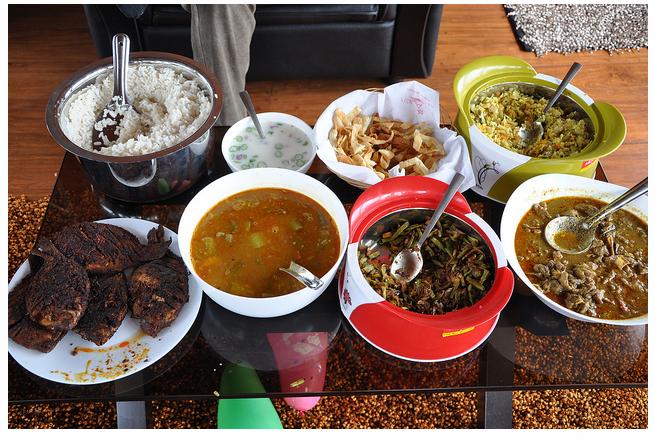 ALSO SEE – Kerala Honeymoon Packages
The houseboat crew will provide guests with evening coffee/ tea with traditional Kerala style snacks like Banana fry or Finger Chips or Tapioca Chips at around 16:30 and the boat will anchor onshore at 17:30. Kerala Government regulations do not allow boats to ply after 17:30 as fishing nets may get ruined by houseboat movement after this time.
The boats will anchor onshore at 17:30 and guests can get a chance to go out and walk along the riverside or villages or go canoeing by renting out a canoe and coming back. When guests come back in the evening, they can enjoy dinner in the houseboat freshly cooked by the guest.
Early morning at around 6:30 hrs Bed tea / Coffee will be provided sipping which you can enjoy the sunrise in backwaters. Before checking out breakfast will be served at around 8:00 hrs which will include either the option of Bread+ butter + Jam + omelettes or an option with South Indian food items like Upma, Puttu, Dosa, Idly with sambar and chutney as well as tea /coffee.
If guests request the food items in the menu will be altered and food will be prepared according to their taste buds and preferences, and foreign guests can get food specially made with less spice or without spice at all. Most houseboats also have trained staff with valid licenses for cooking the food and serving it fresh and tasty giving importance to hygiene. The usual menu in any houseboat will have the Kerala delicacies or North Indian and continental menu.
If you are interested in enjoying this menu and booking a Kerala houseboat cruise, check out our Kerala houseboat packages
Arrange your transportation to Alleppey backwaters of Kumarakom Backwaters
Cochin International Airport is the nearest airport to Alleppey or Kumarakom backwater destinations at a distance of approximately 70 kilometres. You can prebook a taxi from Kochi International Airport pre-paid counter or from your hotel in Kochi.
If you are prebooking the houseboat, always try to ensure that you take a complete Kerala Houseboat package that includes pickup in a car from the airport, hotel or railway stations, cruise in a houseboat and drop back to airport, hotel or railway stations so as to save on money and budget. We recommend that you pre-book a good houseboat with transportation to enjoy your trip to the maximum.
About a week before it's time for you to travel, make a list of all the things you need to take with you on your houseboat trip. Make sure you consider the weather forecast when you pick out your clothes. You will also need to take some kind of identity proof and make sure your travel documents are in order. Other things that can be taken with you are a mosquito repellent, a flashlight, sufficient cash and your phone.
Take safety precautions
Just to be on the safe side, it is recommended that you take some basic precautions to ensure a trouble-free honeymoon. Don't anchor your houseboat in very remote locations with no other people around. Pick a place where you'll feel safe, and when you travel to unknown locations, go in your own car. Try not to travel after 7 PM as the roads may get foggy, and should something happen to your vehicle, you will be left stranded.
Another thing to note is that people in south India are a bit more conservative, so try to avoid public display of affection. Take a peek at these safety tips too, as you plan any trip to Kerala but don't forget to enjoy the backwaters of Kerala.
Have loads of fun
Check the infographic below and get more details on what all you can enjoy in a Kerala Backwaters and Houseboat Trip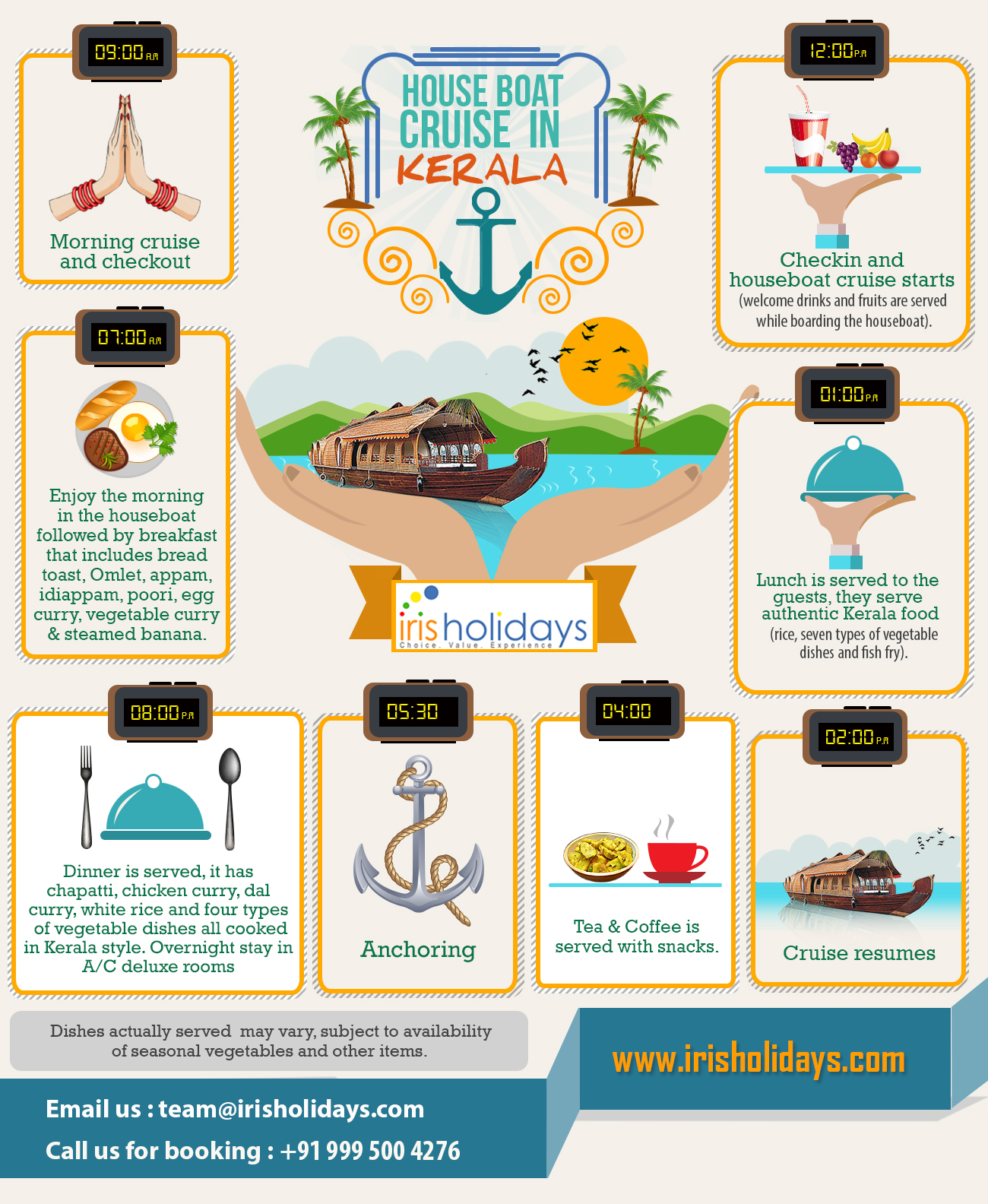 Embed this Infographic on Your Site:
We want you to have a hassle-free, fun-filled Backwaters of Kerala trip and a houseboat cruise that will remain with you long after you get back into the hustle and bustle of everyday life. Kick back, relax and enjoy your trip and it will be a once in a lifetime experience that you may never forget.