In addition to a blissful tropical climate, exotic wildlife, ancient architecture, beautiful beaches, and Ayurveda, Kerala is unique for beautiful Backwaters of Kerala which is a unique and divine experience it to rightfully earn it its title of God's Own Country!
But, wait!
As you travel to this silver state in India's south, get ready to be swayed away by the rich scenic heritage which enchants, enthralls, and exhilarates. But no trip to Kerala is complete without experiencing backwater tourism in Kerala. Kerala as a state is famous for its backwaters. Do you think there are no options besides Alleppey and Kumarakom to see the gorgeous best backwaters in Kerala? Well, then you're in for a treat! Kerala is literally teeming with natural beauty and laid with 44 serpentine rivers that promise visitors the most joyful experience of sailing the gorgeous backwaters of kerala and bring them here from near and far!
Now, the fact that there is more than one place to take a ride on these backwaters of kerala will surely surprise many people! So, without further ado, scroll down for a glimpse of the most fascinating destinations where you can enjoy a dreamy houseboat cruise on the backwaters of Kerala flanked by swaying coconut palms, postcard-like rural settings, colorful fields, and the soft melody of splashing water!
What are backwaters of Kerala?
For those who do not have a clear idea of what backwaters of kerala are, let us give you a simple idea of what exactly is backwaters. The place is called backwaters because the lake water is fresh river water that is stored and used for agriculture in paddy fields and later once it is released the same merges with Arabian Sea. There are barrages in this interconnected system of canals, rivers, lakes and rivulets which ensure that sea water does not mix with fresh water.
Houseboat Cruises in Backwaters  is one of the most famous and popular things to do in Kerala
ALSO SEE – 75 best things to do in Kerala -The Complete List  (with Photos)
Here is a helpful map of the backwaters of Kerala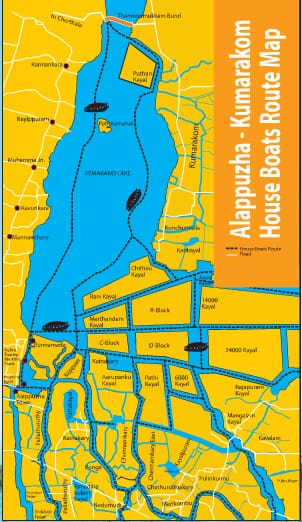 List of 10 Best Backwaters of Kerala
If you are looking for that perfect backwater escapade in Kerala for a romantic honeymoon or a sweet family vacay? We urge you to scroll down to find the top backwater hubs, and you'll be spoilt for choice for sure!
1. Alleppey Backwaters
Alleppey is the most popular backwater places in Kerala. Alleppey is always a prominent addition to Kerala Tour Packages and travel list, especially for couples! For travelers, it's an incredibly enchanting experience to sail on the backwaters of these beautiful backwaters of Kerala.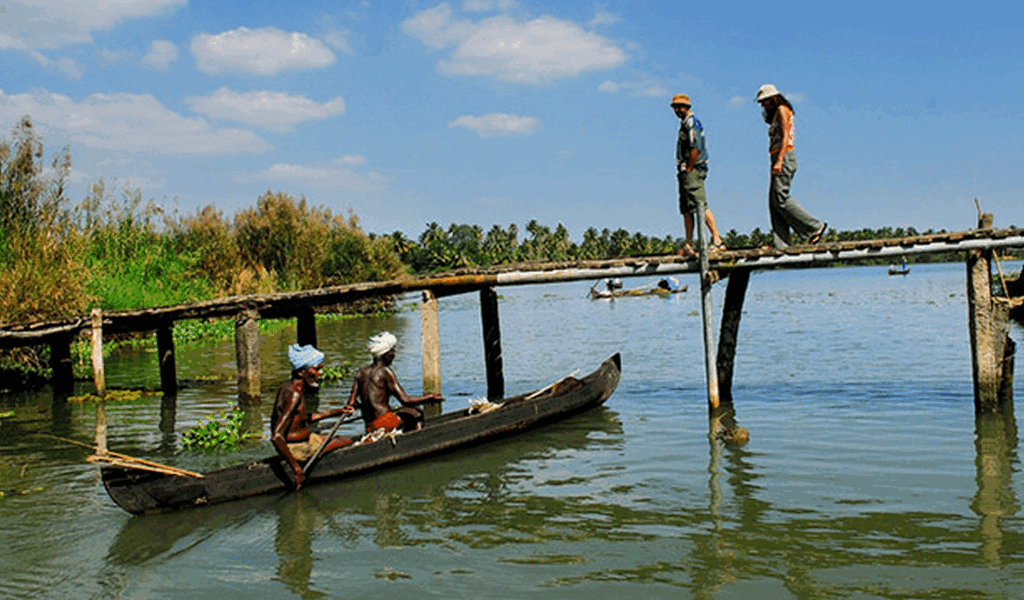 Alleppey Backwaters is a part of the Vembanad Lake which is the largest backwater in Kerala.
All you have to do is book a tour on any of the marvelous houseboats that sail on this stretch, which are essentially modified versions of "Kettuvallams" that sailed here in olden times. You'll be able to have a once-in-a-lifetime experience of cruising through the luxuriously beautiful landscapes of Kerala in a mini home complete with a furnished bedroom, bathroom, dining room, viewing deck, and more!
ALSO SEE – Things to do in Alleppey
2. Kumarakom Backwaters
Kumarakom is a small village in Kerala that is famous for its stunning collection of tiny islands jeweled over the Vembanad Lake. The backwaters formed by this very lake in Kumarakom are among the best backwaters in Kerala owing to the bird sanctuary located here which gives birdwatchers, bird photographers, and ornithologists the opportunity to spot a gazillion varieties of birds in a vast 14 acres of land.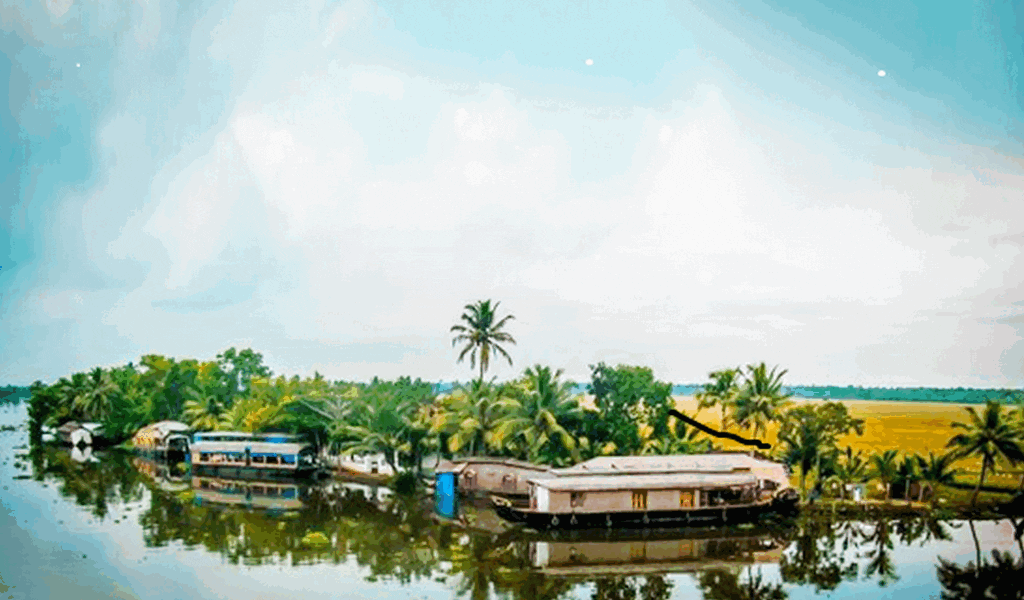 You'll find a range of migratory as well as resident birds here like Egrets, Herons, Darters, Teals, Cuckoos, Waterfowls, Wild Ducks, as well as the mighty Siberian Stork, among others. You can also enjoy fishing other than bird watching while your boat or houseboat is circling the backwaters around this lake! Kumarakom is one of the most popular spots for backwater tourism in Kerala.
ALSO SEE – Alleppey or Kumarakom- Which is the best backwater destination?
3. Kollam Backwaters
Also called Quilon, Kollam is an ancient port town in Kerala and is located a mere 70 km away from Thiruvananthapuram, the state's capital. This city is popular as the "Gateway to Kerala Backwaters" since it's here that the backwater stretches of the state originates. This also means that here you'll find the most virgin and clean version of the backwaters, which makes it one of the most beautiful backwater destinations in Kerala.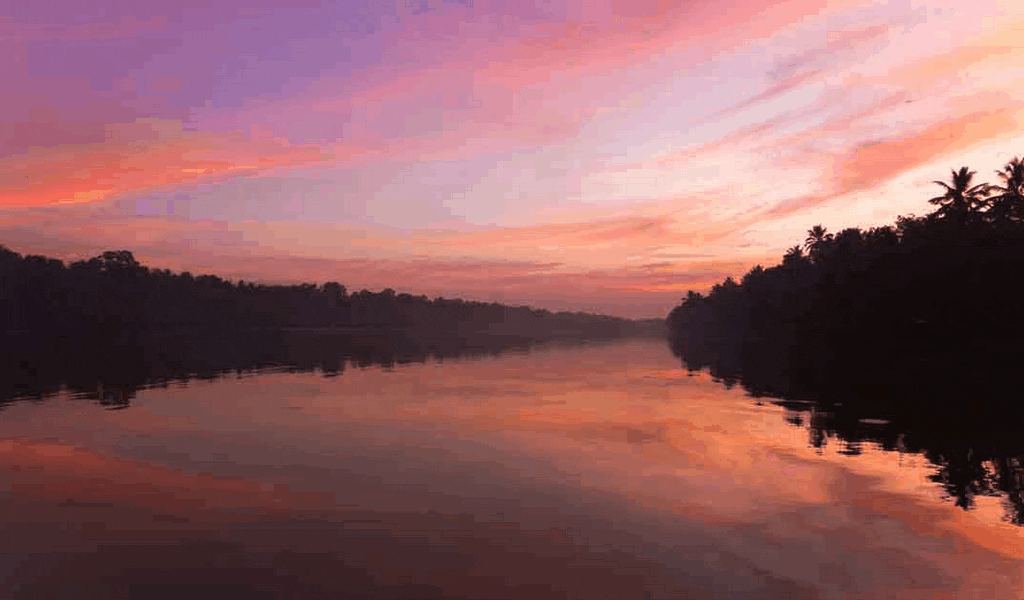 A slow and melodious ride on these backwaters will let you witness plenty of migratory birds perched on branches of mangrove trees and on the banks of the river. Sailing on these pristine waters will also let you catch frequent glimpses of the day-to-day activities of the villages in Kerala and thrill you with sights of white ducks gliding amidst a sea of floating water lilies.
ALSO SEE – 10 Lakes in Kerala for a charming escape to Nature
4. Kasargod Backwaters
Each of the backwater destinations in Kerala offers a unique experience to visitors, as does Kasargod. This place has some of the best backwaters in Kerala, including the Bekal backwaters, for people looking for a mix of tranquility, untouched nature, and endless beauty on their tour. Kasargod Backwaters are not crowded like Alleppey or Kumarakom backwaters and is closer to Bangalore.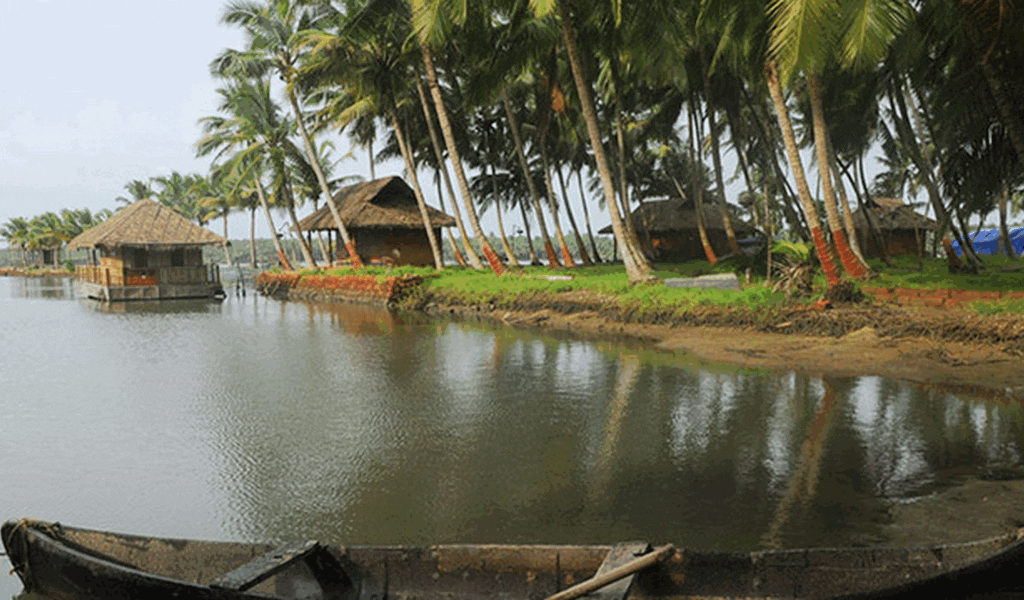 Promising travelers a rather thrilling experience, Kasargod offers a range of backwater cruises that take guests through the pristine and lush green landscapes of Kerala around four small yet beautiful islands that the rivers and streams have embraced here. All in all, the fact that this beautiful part of Kerala is still far away from the greedy eyes of tourists and lies in complete solitude is what makes this place one of the best Kerala backwaters for you to explore!
ALSO SEE – Best Places to see in Northern Kerala that no travel guide will ever tell you
5. Kozhikode Backwaters
It was the Kappad Beach in Kozhikode where the world's first European explorer Vasco Da Gama had first landed way back in 1948! In fact, while this beautiful city has a number of wonderful experiences and sights to offer, it was this fact that made it famous in the first place. Named after that legendary explorer, the backwaters in Kozhikode are a power package of fun and excitement.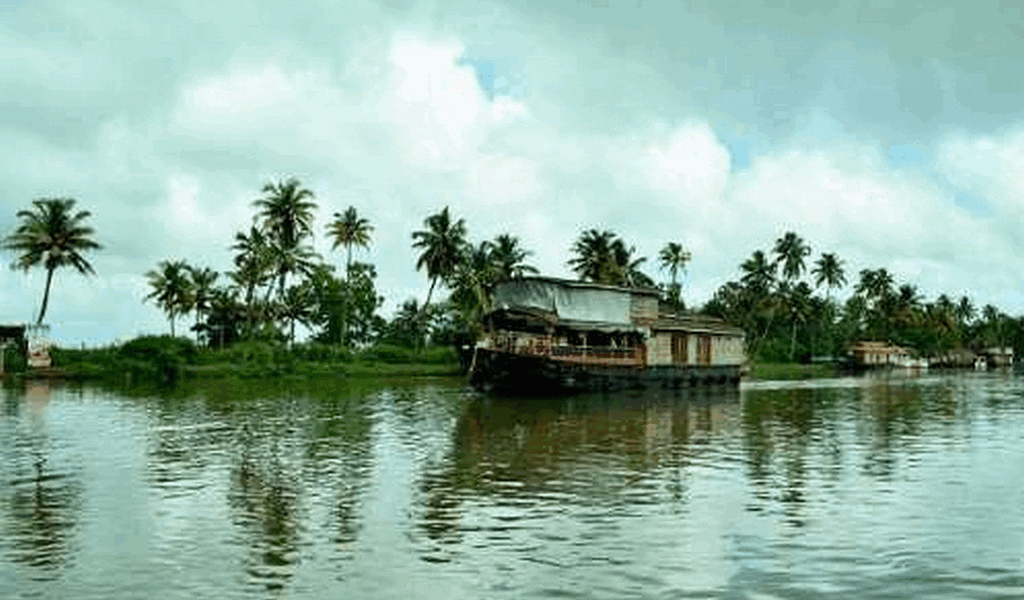 The best way to experience the beauty of these virgin backwaters in Kerala is to hitch a ride on one of the massive Kozhikode Houseboats available here with your friends, family, or partner. These enormous and luxurious houseboats rowing graciously over the velvet backwaters offer some of the most stunning natural scenery around the Kallai River and Cannoli canals you'll ever find!
6. Kochi Backwaters
Kochi is mostly famous for its beaches, it's beautiful attractions like the lighthouse, and it's fishing villages that give photographers stunning captures of men fishing in the seas and a taste of the rural backdrop of Kerala. But little do people know that Kochi is also home to some of the most gorgeous Kerala backwaters that showcase a whole new side of this beach town! Kochi is the place where backwaters from Kumarakom and Alleppey merges with the sea.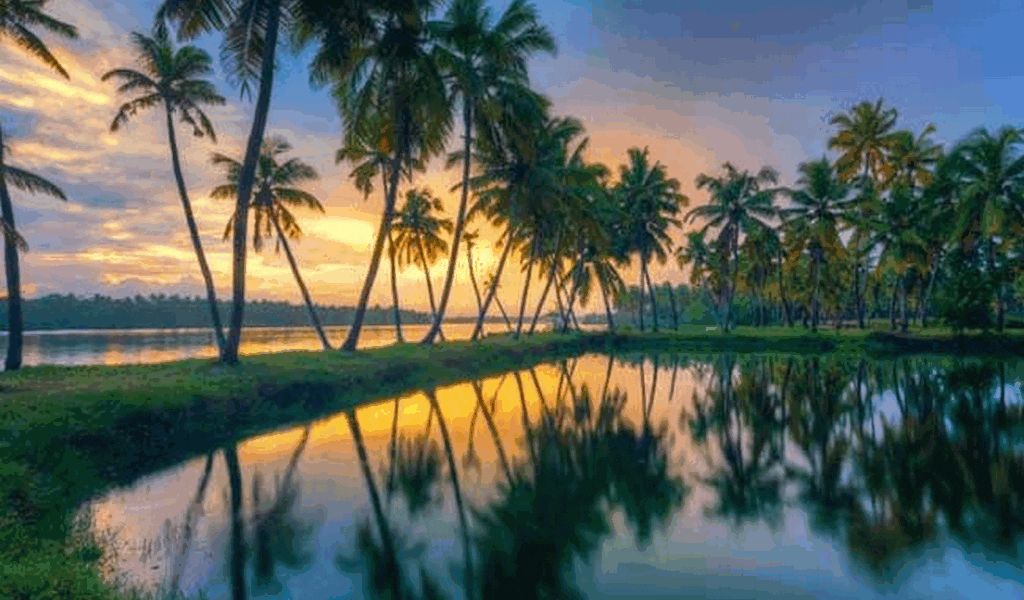 A smooth houseboat or canoe ride on these marvelous backwaters will bring you face to face with several exciting attractions of Kochi including the beautiful islands scattered around as well as the dense foliage adorning the banks. In fact, if you feel the shores of Kochi are choking with tourists and photographers, you can choose to click those Instagram-ready scenarios of Chinese fishing nets being tossed into the water via a backwater ride instead! You'll also be able to witness many rustic and picture-perfect passenger ships and cargo ships pass by to make your cruising experience all the more enchanting!
ALSO SEE – Snake-boat Races in Kerala
7. Trivandrum Backwaters
How about cruising lavishly through a mesmerizing network of canals, lagoons, lakes, as well as tropical jungles that provide a dreamy setting to your backwater ride? We bet you like that idea! Well, in that case, it's only befitting that you visit one of the best and most beautiful backwater destinations in Kerala – Thiruvananthapuram. While Vembanad Lake is the largest backwater setting here, the one along the route of Kovalam is more popular and scenic!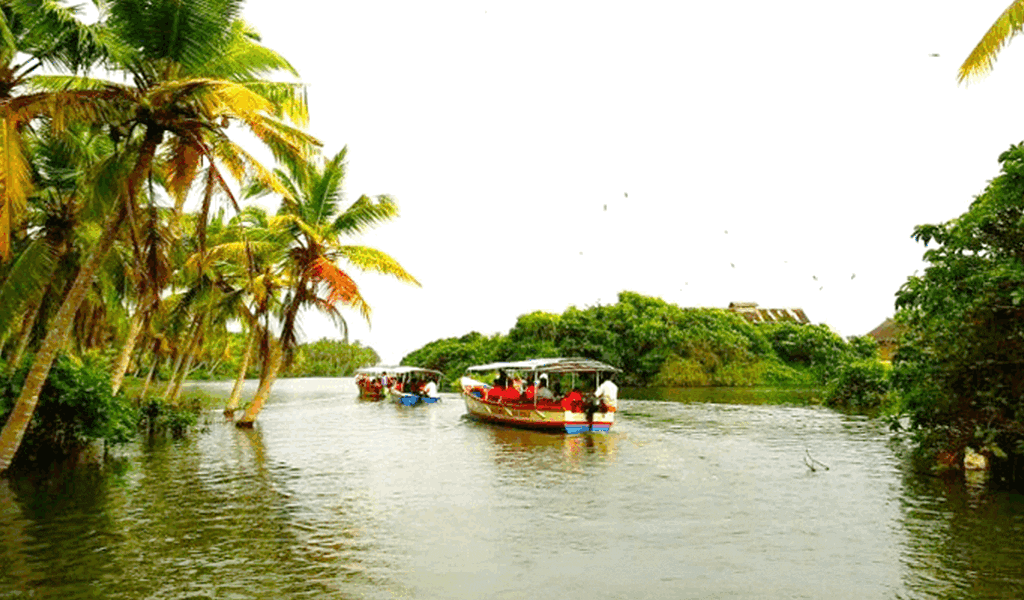 Stretching into miles of serenity and beautiful natural vistas that Kerala is known for, the backwaters in Kovalam offer a range of options for exploring the tranquil river, including houseboat rides, canoe rides, boating, and more. It also has the famous sangam (meeting) point of the two pristine rivers of Kili and Karamana.
8. Kavvayi Backwaters
Set in the Payyanur at Kannur district of Kerala, Kavvayi Kayal is among the most visually attractive and untampered backwater stretches featuring its own set of unique attractions. Allowing visitors to bathe in absolute peace and solitude, the Kavvayi backwaters in Kerala stay hidden from the eyes of the world. These stunning backwaters are essentially a merger of five different rivers, and this point of sangam is a sight to behold!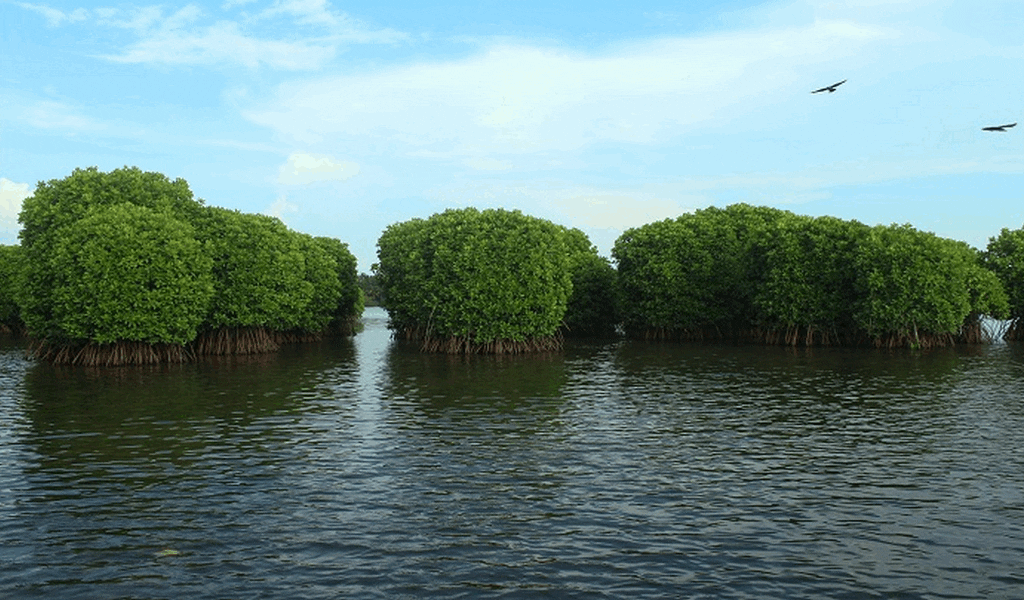 So other than a joyous ride overlooking the enchanting rural settings of Kerala and its lush foliage, your backwater ride will also greet you with a rare sight of five prominent rivers – Kavvayi, Kankol, Vannathichal, Kuppi Thodu, and Kuniyan – blending beautifully into one entity! It's a sight you'd regret missing, in addition to many other attractions that are in store for you if you choose to cruise over these waters!
9. Ashtamudi Backwaters
The pristine backwater stretches of Ashtamudi are said to be the second largest as well as deepest wetland ecosystem in India. A ride on these picture-perfect backwaters will take you through evergreen coconut groves, and slender palm trees swaying overhead, and give you a peak at Kerala's charming rural setting from your houseboat or kayak. Ashtamudi means "Eight Hills" and these backwaters have a unique topography of eight branches as the name signifies.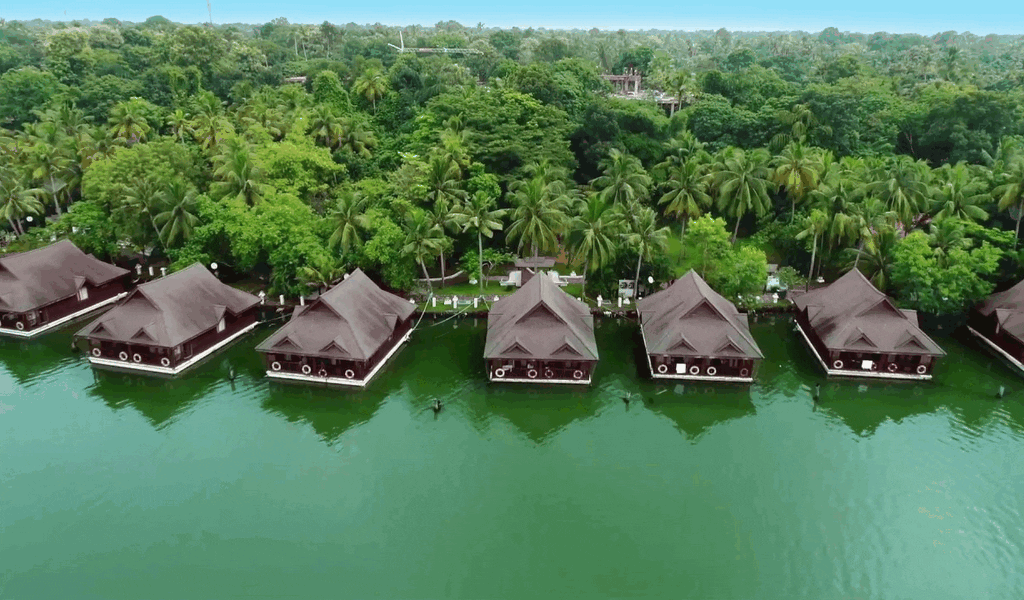 The Ashtamudi Lake here is also often called the "Gateway to the Backwaters of Kerala" and has acted as the perfect muse for plenty of writers, photographers, and artists who visited this place. Out of the many things you'll see here, the one sight you mustn't miss is that of the Cheena Vala, or Chinese fishing nets, draped over the waters giving it a graceful look.
10. Kuttanad Backwaters
Commencing from the Kodimatha boat jetty in Kottayam district, a cruise through the gorgeous backwaters of Kuttanad enchants travelers in more ways than one. Other than sailing amidst Kerala's natural bounty and basking in the soft sunlight sifting through the swaying palms overhead, your journey over these silken waters takes you to a number of attractions on the way, the likes of which include the Monroe Lighthouse in Pallom! That is in fact the first ever tourist spot you'll encounter on your fascinating voyage from Kottayam to Alappuzha jetty.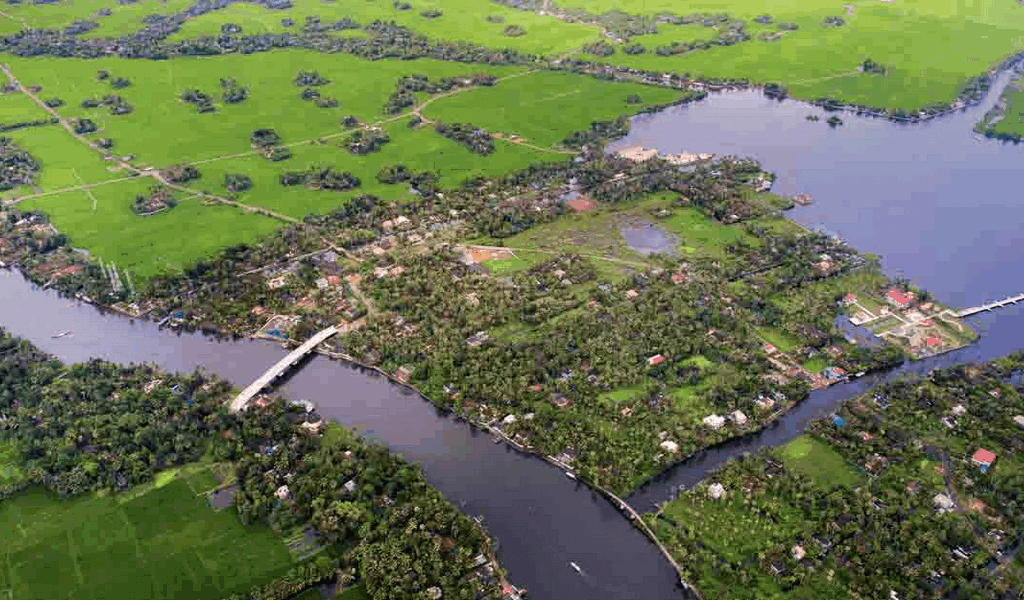 Among other things, you'll notice that the area surrounding these best backwaters in Kerala is also famous as the "Rice Bowl of Kerala". In fact, in many places throughout your ride, you'll be able to catch rare glimpses of backwater paddy cultivation with plants sowed in as deep as 10ft below sea level!
Had no idea about all these amazing options, did you? Well, now that you do, we suggest you get off the couch and book yourself an exciting trip to Kerala so that you can experience pure euphoria while sailing on the backwaters in Kerala once things go back to normal! Explore our range of bestseller Kerala tour packages and find one that fits your budget and trip expectations to tour this fantastic Indian state the way you want to. Happy Tripping!
Tourism is emerging as a big industry worldwide. Kerala had also realized the significance of this industry. Backwater tourism in kerala is also taking due importance on this side. It provides many benefits in many ways for host communities and countries. Backwater tourism in Kerala is seen by governments as a constructive tool for economic development.
Frequently Asked Questions About Backwaters In Kerala
What is the meaning of backwaters?
A backwater is usually defined as a part of a river or stream that is devoid of a current, signifying that the water is stagnant. In Kerala, backwaters are a labyrinthine system of brackish lagoons as well as lakes that mostly lie parallel to the Arabian Sea coast (also called the Malabar Coast). A major section of interconnected canals, standing rivers, and small inlets also form a part of the Kerala backwaters.
What is the best time to visit Kerala backwaters?
October to February is considered to be the best time to sail the backwaters of Kerala. The winter season in Kerala brings along pleasant and cool weather that allows travellers to enjoy the beauty of the serene, palm-fringed best backwaters in Kerala to the fullest.
Can you swim in Kerala backwaters?
No, it's not considered safe to swim in the Kerala backwaters for a number of reasons. For starters, the water is stagnant, which means the quality of that water is not good and it's not clean. Secondly, since the visibility is low, you'd not be able to figure out how deep it is. You can instead choose to swim in any of the famous waterfalls or beaches (where swimming isn't otherwise deemed hazardous) in Kerala.
Which place in Kerala is famous for backwater?
The most famous canal networks in Kerala, Alleppey, also known as Alappuzha is a green paradise and our number one choice when it comes to backwaters.
Are there crocodiles in Kerala backwaters?
There is no evidence to suggest there are crocodiles in Kerala's Backwaters. There have been no sightings or recorded crocodile attacks on humans in the area.
Can we swim in Kerala backwaters?
The water in the Kerala backwaters Alleppey and Kumarokom is not suitable for swimming. 230,160 litres of wastewater reaches the largest lake in the Backwaters each day.
Is houseboat in backwater of Kerala is safe?
It is safe with experts and the best safety precautions. Travelling in the houseboats in the backwaters in Kerala is one of the most soothing as well as the most rejuvenating experiences that a person can ever have.
Which is the biggest backwater destination in Kerala?
Vembanad lake is the largest of the lakes, covering an area of 2,033 square kilometres (785 sq mi).