Homestays in Kerala are traditional, comfortable, and clean family homes offering authentic local experiences to travelers from all over the world. You need to look at homestays not through the eyes of a normal vacation seeker but with close interactions with local people. Best homestays in Kerala offer a relaxing stay and an authentic experience along with delicious, home-cooked Kerala food and try-out cooking classes.
Stay in a local family home and you'll see and feel the authentic Kerala which combines the comfort and distinction of a local experience with strong local knowledge. Discover this unique state and immerse yourself in social traditions by staying with Keralite locals in their charming homestays, as they proudly share Kerala's many delights with you. You'll soon discover why Kerala is known as 'God's Own Country.'
Apart from being economical, homestay accommodation is an experience of the hospitality and warmth of the people of Kerala. It is far removed from the monotonous dwelling and seclusion of the closed four walls of a hotel room. Thus Kerala homestays are not akin to bed and breakfast accommodation but on the contrary offer the comfort of Malayalee hospitality and warmth. We have a special Homely Kerala Tour package as a part of our responsible tourism initiative for guests who want to stay in Kerala Homestays.
 Are you in search of an appropriate location for a homestay? Then Kerala got you covered. Kerala, God's own country which never ceases to mesmerize have several homestays worth visiting or spending your entire vacation in. They make you feel at home even when you are miles away, irrespective of the distance or duration of the trip. Homestays in Kerala ensure a blissful time, leaving you in ecstatic trance, pouring love in form of local, homemade delights.
Kerala homestays brim with flora and fauna and possess rural charms which will make you crave to be there the moment you discover them. They are a haven of unpretentious luxury, home away from home indeed! Below are several spectacular and delightful homestays to choose from;
How to Select a Homestay in Kerala for your vacation?
Kerala homestay accommodation is available at many different levels of service. The Best homestays in Kerala do not offer upscale amenities of five-star hotels but the rich experience a traveler gets is much more than the comfort of the luxury accommodation.
Here are some things that you need to know about selecting a Kerala Homestay for your vacation.
Homestays in Kerala are classified into three for government certification based on a set of predefined score criteria – Class A (Diamond House), Class B (Gold House), and Class C (Silver House).
Classification will be only for operational Home-stays and it has to be renewed every two years.
The classification for Homestay units will be given only for those homestays in Kerala where the owner/promoter of the unit along with his/her family is physically residing in the same unit.
Spending holidays at the best Homestays in Kerala enable tourists to have an immersive experience in a Kerala village home with calmness and experience and enjoy local traditions, canoe or kettuvallom ride, martial art forms like Kalarippayattu, Sadhya of Kerala, Ayurveda, yoga, and other local therapies, all of which enables one to enjoy the authenticity of local interactions.
Which are the Best Homestays in Kerala?
We carefully handpicked the top 15 best homestays in Kerala for all budgets believe in "Atithi Devo Bhava" meaning that "Guest is God" and promote "responsible eco-friendly Tourism". Whether one is in search of relaxation and to unwind, to experience the advantages of meditation, to experience the activities of nature to de-stress, Kerala homestays offers something unique for each of our guests.
1. Harivihar Heritage Homestead in Calicut
Harivihar Heritage Homestead is the perfect place from which to soak in the atmosphere of Kerala's oldest city. This 170-year-old restored royal house, nestled amidst verdant greenery and beautifully landscaped gardens, is a quaint and private home in the heart of the historic Malabar province. Serene garden views from the traditional rooms, a relaxing outdoor pool, and a rejuvenating Ayurvedic wellness center will quickly have you feeling right at home, restored, and invigorated. The gracious hosts will treat you to delicious home-cooked meals, help you plan tours to the nearby beaches and hills, and immerse you in the local culture and traditions with occasional performances of traditional art forms.
        What we love 

        What to Know? 

The traditional dining room, kitchen and lounge which create a pleasant atmosphere in a beautiful, unique setting

The serene garden views from the rooms

The wellness centre, with its Ayurveda, massage and yoga programmes

The delightful and flavourful vegetarian cuisine

The environment, steeped in local history

Wifi is available in public areas

An airport shuttle service can be booked in advance

The wellness centre, with its Ayurveda, massage and yoga programmes The tour desk will assist in planning your excursions and onward travel arrangements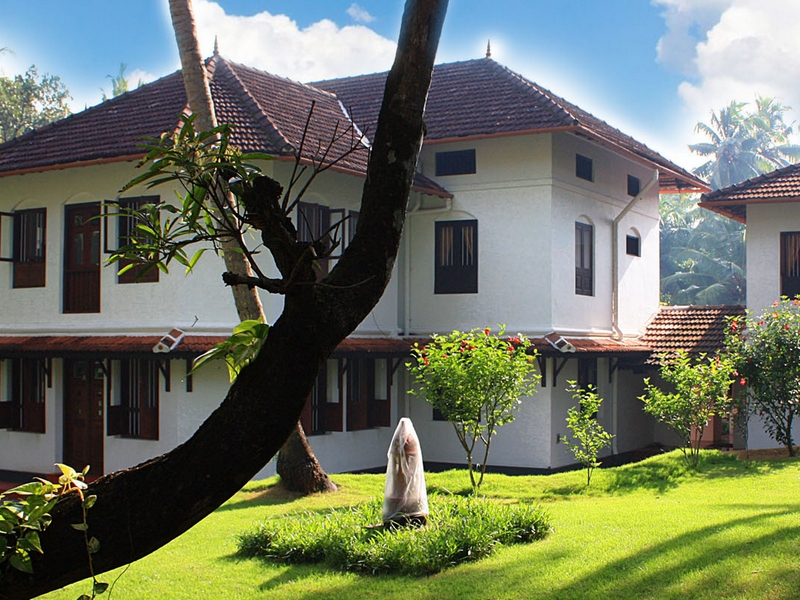 2. Backwater Brook in Kumarakom
Perched on the scenic banks of Kerala's famous backwaters, Backwater Brook is a homestay in Kumarakom and an idyllic getaway for couples and families. Relax amid lush greenery, coconut palms, and paddy fields, alternating between breathtaking views of Lake Vembanad and serene canal scenes as you watch the houseboats ply the waters. With a children's playground, picturesque gardens, sun terrace, and outdoor fireplace, there is something for everyone at this unique homestay.
The striking setting is complemented with the authentic Kerala cuisine lovingly served in the restaurant and coffee house – the seafood is especially fresh! The hosts additionally organize live performances and help you organize your houseboat cruises, trips to the nearby bird sanctuary and Pathiramanal Island, and fishing trips, as well as cycling and walking tours. This makes it one of the best homestays in Kerala!
        What we love 

        What to Know? 

The traditional dining room, kitchen and lounge create a pleasant atmosphere in a beautiful, unique setting

The difficult choice between canal views and lake views

The sun terrace and outdoor fireplace, which make the gardens perfect for night and day entertainment

The mouth-watering cuisine

The fabulous and relaxing houseboat cruises organised by the tour desk

Free wifi is available throughout

Complimentary breakfast is provided

Cycling, fishing, and trekking tours are easily accessible from the tour desk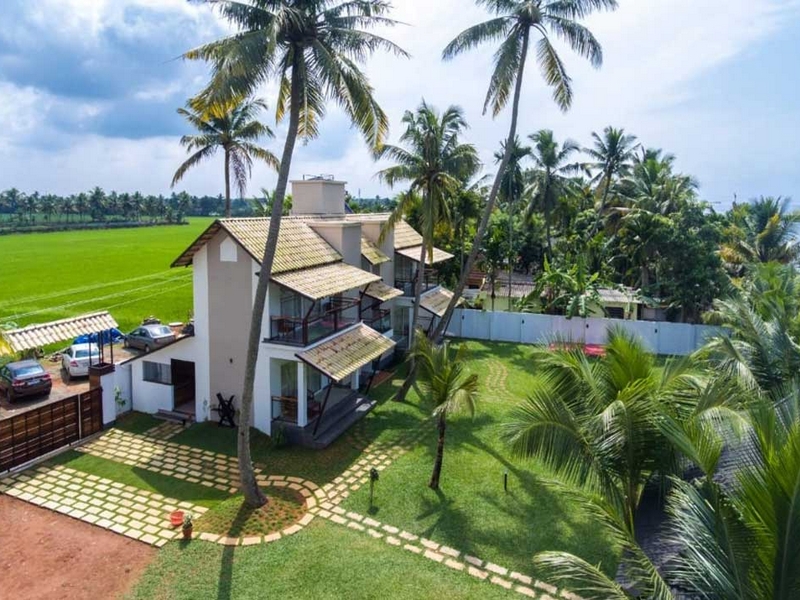 3. Vismaya Boutique Villa in Vembanad
Bask in the effortless and unpretentious elegance of the Vismaya Boutique Villa. Perched at the tip of the peninsula, find yourself surrounded by pristine lake waters, which you can admire from the exquisitely designed sun terrace, garden, and infinity pool. This 400-year-old restored royal house is a haven of seclusion and tranquillity, with long carefree days giving way to lingering evenings and evocative nights.
The tastefully pared-back aesthetics and elegant simplicity are a soothing balm for the mind and soul, while the private gardens and outdoor showers that accompany each room ensure a unique experience you'll never forget. The villa's restaurant to is an experience in-and-of-itself, with breathtaking views and first-rate international and local cuisine accentuating the idyllic environment and unassuming luxury.
        What we love 

        What to Know? 

The unbeatable sunrise and sunset views over the lake

Rooms, with private gardens, garden bath and outdoor shower which are a world apart

The minimalist elegance of the gardens, terrace, infinity pool and restaurant

The delicious seafood, vegetarian, continental and traditional cuisine

There are only two rooms in this homestay

Wifi is available in public areas

Bike rentals and walking tours are available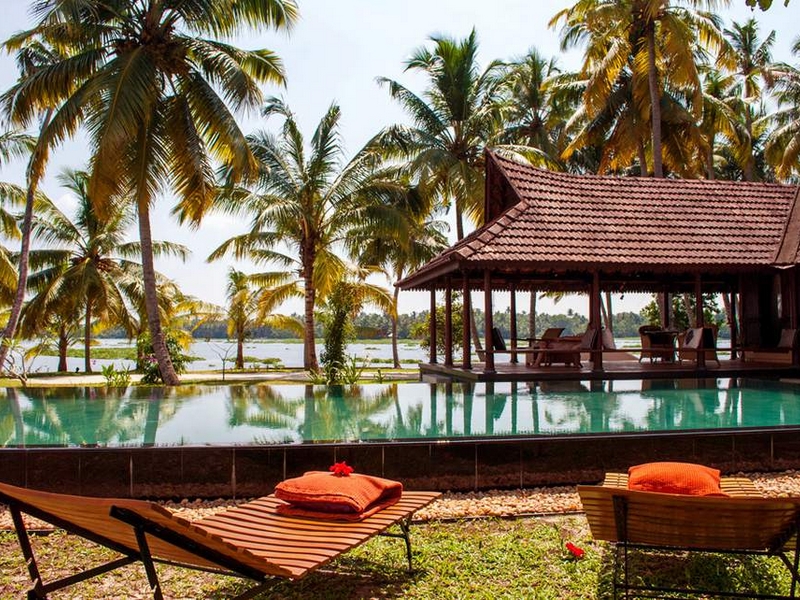 ALSO SEE- How to Plan your Kerala Houseboat and Backwaters Tour
4. Ayisha Manzil in Kannur
Immerse yourself in the history of Kerala as you settle into this majestic yet cozy 150-year-old colonial mansion which is a traditional Kerala Homestay in North Kerala. The stone and wood architecture is accented by the carefully chosen traditional furniture, creating a singularly atmospheric environment evocative of the historical richness of the Malabar province. Surrounded by sea and coconut palms, the pool and balcony both overlook the Arabian Sea, and there is no more idyllic setting from which to watch the sunrise and set.
Inside the mansion, lounge amidst the greenery in the verandah, or take advantage of the cooking classes offered by your host: once you taste one of her mouthwatering Muslim or seafood dishes, you are sure to want to know her secrets! The hosts themselves are gracious and knowledgable, their family having long been involved in the town's spice trade, and will organize trips to the local fish and spice markets, weaving centers, and notable landmarks.
        What we love 

        What to Know? 

The tangible history and traditional design

The stunning sea views and open terrace

The lovingly prepared food and the cooking classes

There is no wifi here

There are four bedrooms

The hosts will organise day-trips, tours and excursions for you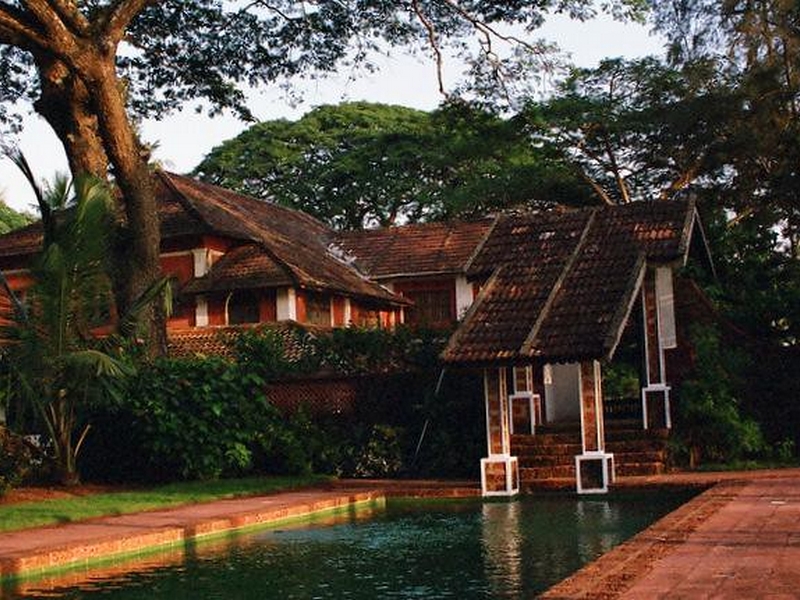 5. Vembanad House Homestay in Lake Vembanad
Enfolded within the rich greenery of tropical gardens and the banks of Lake Vembanad, Vembanad House Homestay is one of the best homestays in Kerala. It is a traditional bungalow surrounded on three sides by pristine waters. Behind the bungalow, picturesque paddy fields fan out as far as the eye can see. These serene surroundings accentuate the Zen aesthetics of the gardens and the peace and tranquillity of this striking location.
The lovingly prepared food is part of the experience of your stay: sourced fresh from the local markets and the owner's own organic farms, it's served up on banana leaves in a beautiful open dining space, making your environment an intimate element of your sojourn in as many ways as possible. Your lovely hosts will organize canal cruises and evening cruises at your convenience, as well as cycling, fishing and canoeing excursions so that you can experience as much as possible.
ALSO SEE- Top 10 Fun Facts about Kerala Backwater Cruise
        What we love 

        What to Know? 

The breathtaking setting and landscaping

The local food served on banana leaves

The tranquil cruises along the lake and canals

The charming village within close proximity

Free wifi is available throughout

There are four rooms only

The hosts will organise day-trips, tours and excursions for you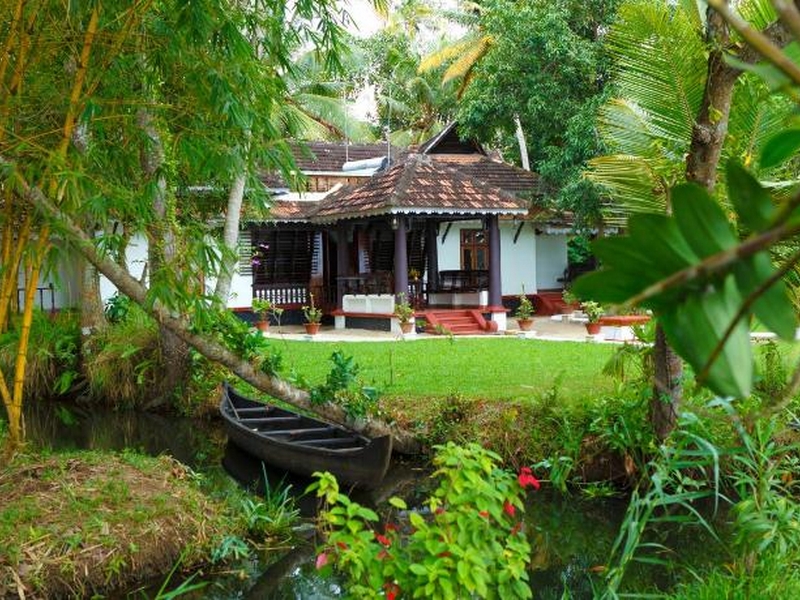 6. Marari Dreamz Homestay in Marari Beach
This small homestay on the sea-shore is the perfect place from which to enjoy the temples, paddy fields, and sea-based lifestyle of the locals, as well as the nearby beach itself and the relaxing services provided by the hosts. Amidst the luxury villas and pools, enjoy yoga and cooking classes, Ayurveda services, and traditional homely cuisine.
Combining luxe and coziness, the warm red-brick villas and verdant gardens provide privacy and seclusion, making Marari Dreamz Homestay the perfect place to forget your troubles and immerse yourself in local culture and traditions, or simply rest and relax on the shores of Marari Beach. The hosts will organize backwater cruises, fishing, and cycling tours at your convenience, giving you a taste of what Marari has to offer.
ALSO SEE- Best Time to Visit Marari Beach
        What we love 

        What to Know? 

The charming nearby village

The restaurant, which serves up traditional and modern cuisine

The beautifully landscaped poolside

The yoga, cooking, and Ayurveda programmes

The environment, steeped in local history

Free wifi is available throughout

There are four luxury villas to choose from

The hosts will organise day trips, tours, and excursions for you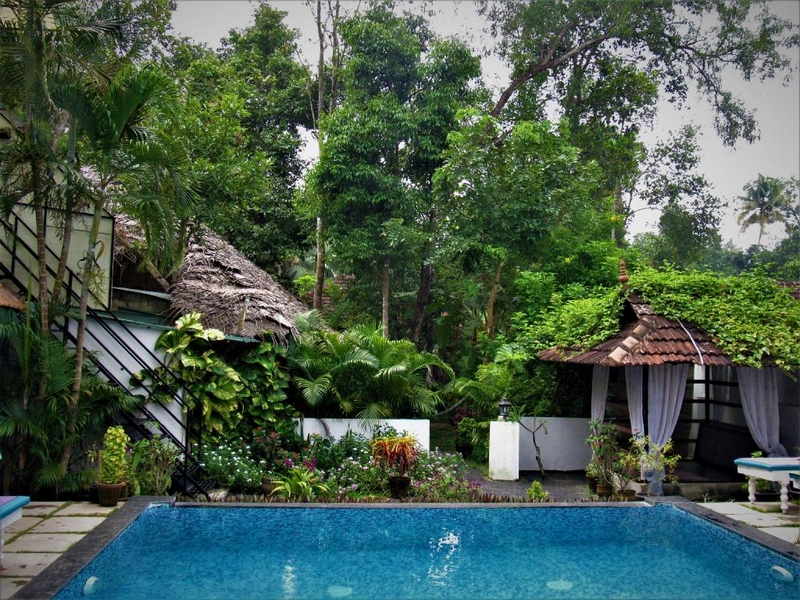 7. Kerala House Homestay in Thekkady
Poised on the edge of the famous Periyar Tiger Reserve, Kerala House Homestay is surrounded by intense and awe-inspiring jungle forests, with stunning greenery extending as far as the eye can see. Admire your tropical surroundings from the elegant balcony, terrace, and garden at your disposal, enjoy cooking classes with your hosts and avail yourself of the restorative Ayurveda services provided, making the most of your unique and idyllic situation.
This homestay combines modernity with characterful tradition, from the rooms, furnishings, and delicious home-cooked meals to the evening entertainments and traditional performances. During the day, your wonderful hosts will help you organize cycling, boating, rafting, hiking, and jeep tours, helping you to experience all that Thekkady has to offer.
ALSO SEE- Thekkady Boating- Online Booking, Timings and Tips
        What we love 

        What to Know? 

The dramatic views of the wildlife sanctuary

The beautiful gardens

The wellness centre, with its Ayurveda, massage and yoga programmes

The abundant greenery surrounding the home

Free wifi is available throughout

A shuttle service can be pre-booked

The hosts will organise day-trips, tours, and excursions for you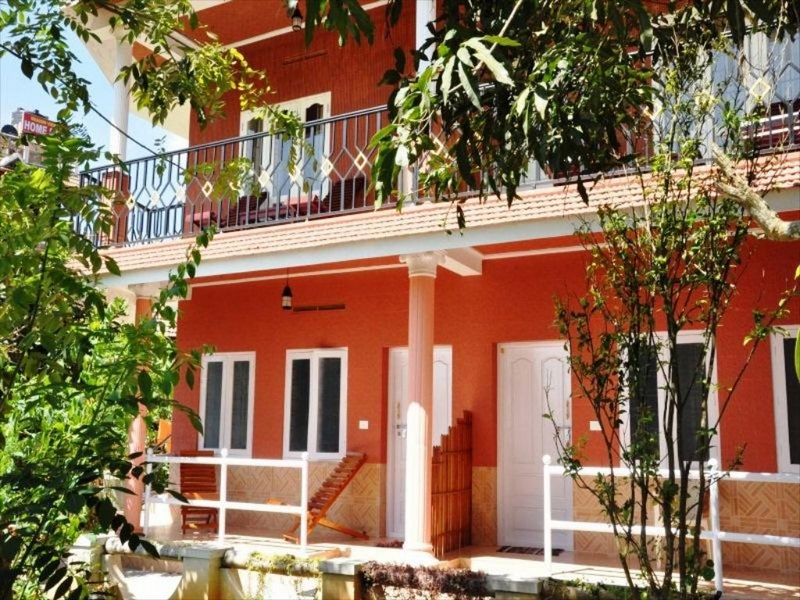 8. Beena Homestay in Fort Kochi
Fort Cochin in Kerala also known as Fort Kochi, cochi, cochin. Make the most of your time in the heart of Fort Kochi at Beena's charming and friendly homestay which is one of the best homestays in Kerala. Packed with character, this delightful home blends modern luxuries and traditional comforts within close proximity to many Fort Kochi landmarks.
Treat your tastebuds to Beena's delicious home-cooked south Indian cuisine, stroll down the landscaped lawn to gaze at the soothing pond, or lounge around in the cozy communal parlor when you're not out and about exploring the wonders of Fort Kochi. Beena's family is renowned for their professional, pleasant, and easy-going hospitality, ensuring you find your home away from home.
        What we love 

        What to Know? 

Beena's tastebud tickling meals

The shared lounge area, which speaks to the open and convivial spirit of the homestay

The excellent location at the heart of Fort Kochi

The family's use of solar power

Wifi is available throughout

There are six rooms available to guests

The hosts will organise day-trips, tours and excursions for you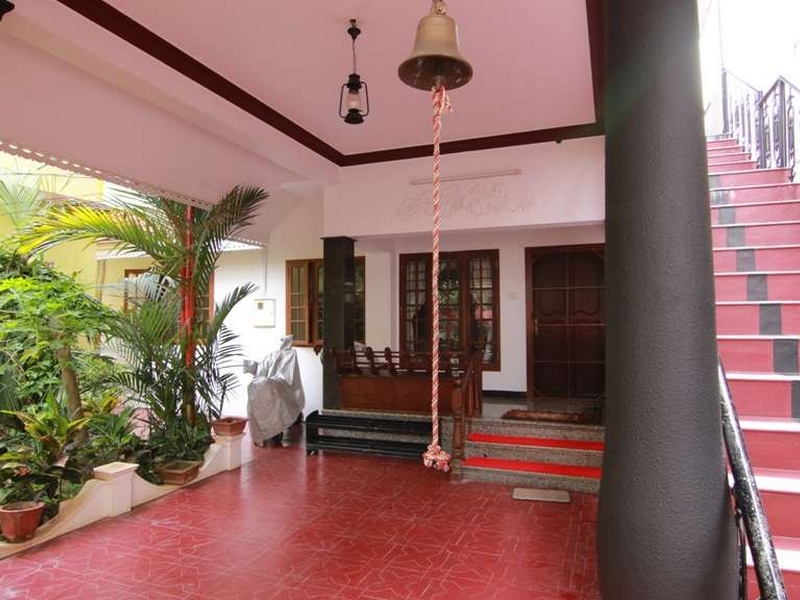 ALSO SEE- 11 Must Visit Tourist Places in Kochi
9. Taamara Homestay in Alleppey
Even the bathtubs come with a lake view at Taamara Homestay! The casual elegance of this homestay is carried through the vast well-tended gardens, the deck with idyllic views of the lake, the charming restaurant right to the beautiful rooms and amenities. Every room has its own lake view, ensuring all guests can wholly soak in their striking surroundings and watch the rising sun from the comfort of their beds.
The gardens and deck are the perfect places to spend the day relaxing and watching the hive of activity that washes over the lake: fishermen, canoes, Chinese fishing nets, and houseboats hustle and bustle around each other as they go about the business of earning their living. To finish off the day, delicious home-cooked food is lovingly prepared and served on banana leaves at the restaurant, overlooking the beautiful sunset colors which paint the lake in a whole new light.
        What we love 

        What to Know? 

The fantastic lake views from every room and bathtub

The beautiful rooms and stunning gardens

The daily jostle of locals who make their living from the lake

The mouthwatering traditional Kerala meals beautifully presented on banana leaves

The environment, steeped in local history

Wifi is available throughout

There are four cottages

The hosts will organise day-trips, tours and excursions for you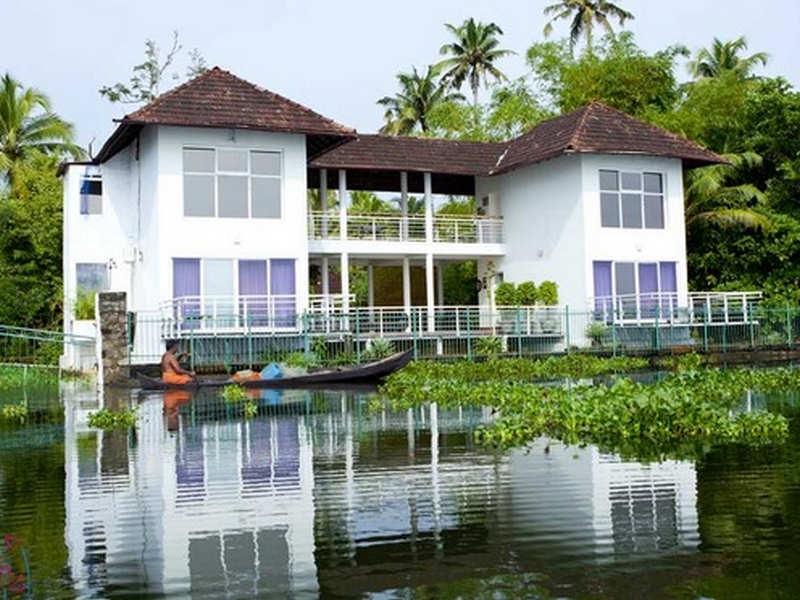 ALSO SEE- Alleppey or Kumarakom – Which is the best option for a Kerala Houseboat?
10. Eden Garden Heritage Homestay in Fort Kochi
Within close proximity to significant Fort Kochi landmarks, including the enchanting Chinese fishing nets, Eden Garden offers a traditionally elegant haven within this bustling historical town. Out of many fort Kochi homestays, The heritage architecture, understated charm, and balanced simplicity of the rooms and lounges make this homestay the ideal place to unwind after a day of sightseeing, accentuated by the vibrant, otherworldly greenery of the beautifully landscaped garden and terrace. Put your feet up and enjoy the 24h room service and deliciously prepared home-cooked dishes, or enjoy your meals in the picturesque picnic area and shared dining area.
        What we love 

        What to Know? 

The proximity to tourist places in Kochi

The sightseeing excursions organised by the hosts

The understated elegance of the design

The beautiful garden and the terrace

The environment, steeped in local history

Free wifi is available throughout

Cycling and fishing trips are available

There are three rooms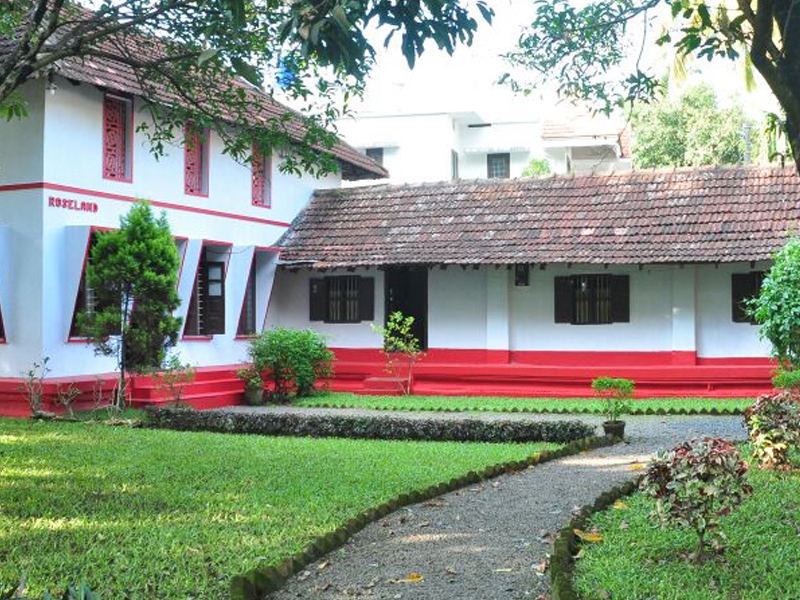 ALSO SEE- The Many Moods of Fort Kochi Sightseeing
11. Estate Residency in Munnar
what can be a better place to rejuvenate than experiencing Munnar homestays! Succumb to the enthralling misty valleys views and tropical greenery of Munnar from this charming and comfortable residence. Sitting in the middle of 70 acres of cardamom, pepper, coffee, vanilla, and cocoa plantations and surrounded by boisterous wildlife like birds and macaques, this is a genuinely immersive stay that will give you a first-hand experience of all that makes Munnar magical.
With unbeatable views of hills, forests, plantations, and the lake from your open terrace or the oversized windows in your room, sit back and enjoy the sunset over the treetops as you sample the mouthwatering home-cooked dinners available. At night, admire the stars from an open campfire and listen to the forest come alive. The simple modernity and style of this home mean that Munnar's natural beauty is the star of the show, and few stars shine brighter.
ALSO SEE- Top 16 Tourist Places to visit in Munnar
        What we love 

        What to Know? 

The stunning views

The large rooms and windows

Home-cooked meals

The tours of the plantations and the heritage cardamom factory

Cooking Classes

Free wifi is available throughout

Breakfast in traditional South Indian style

There are only three rooms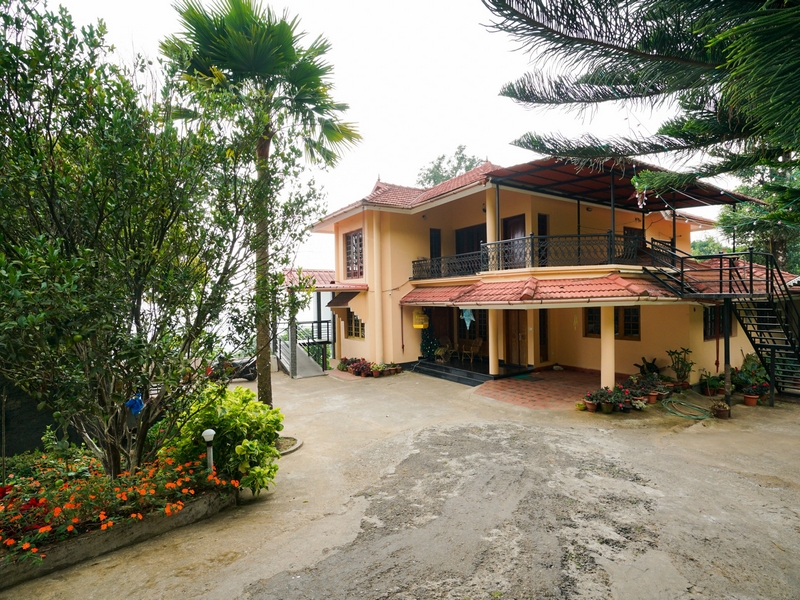 12. Konark Homestay in Thekkady
An oasis of elegance and tradition surrounded by deep forests and breathtaking views, Konark Homestay is the ideal place from which to enjoy all that Thekkady has to offer. Located close to the famous Periyar Tiger Reserve, the residence and its spacious pavilion are the perfect platforms for wildlife watching from the comfort of your home, and the stunning lake views will take your breath away.
To help you make the most of your stay, the wonderful hosts organize bamboo rafting, trekking, and trips along the singular Periyar Tiger trail, and while you may not spot the elusive tigers themselves, there are myriad other beautiful creatures to see, from exotic birds to vociferous monkey and more. When you're not captivated by your surroundings, enjoy the delicious home-cooked meals and the gracious company of your hosts as you unwind amid ancient jungles.
        What we love 

        What to Know? 

Breathtaking lake and forest views

Variety of wildlife which can be observed from the pavilion

Deliciously cooked meals

Cooking classes are available on request

Free wifi is available throughout

There are six rooms at Konark Homestay in Thekkady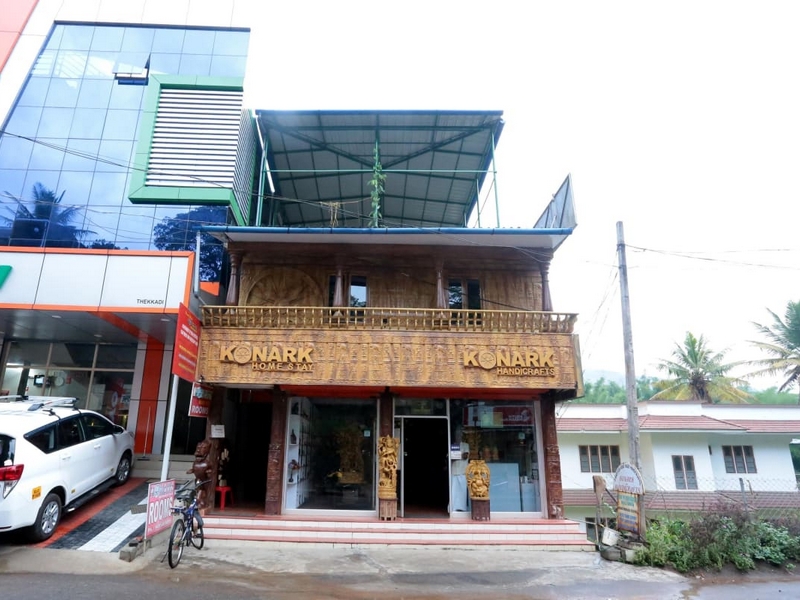 ALSO SEE- Best things to do in Thekkady
13. Coconut Creek Homestay in Kumarakom
Make the most of your location at Coconut Creek Homestay: choose between lake or canal views, take backwater houseboat cruises or float along the lake and its bird sanctuaries, experience both the serene ambiance of the backwaters and the bustling activity of the lake. This traditional colonial home is surrounded by four acres of lush evergreen forest as well as coconut, mango, bananas, and jack fruit plantations which provide some of the delicious food you'll be eating at the restaurant. There is also a fully equipped kitchen if you want to try your hand at using some of these traditional ingredients yourself!
Spend your days visiting the farms, taking fishing trips, or exploring the nearby village with your hosts, then relax and restore yourself at the herbal wellness center or soak in the breathtaking views from the garden, balcony, and veranda. This exotic oasis of peace and tranquility ensconced on the backwater banks will have you feeling refreshed and rejuvenated in no time.
        What we love 

        What to Know? 

Herbal beauty and wellness centre

perfect location between backwater and lake, with stunning views of both

Deliciously cooked meals

Cooking classes are available on request

Free wifi is available throughout

There are six rooms at Konark Homestay in Thekkady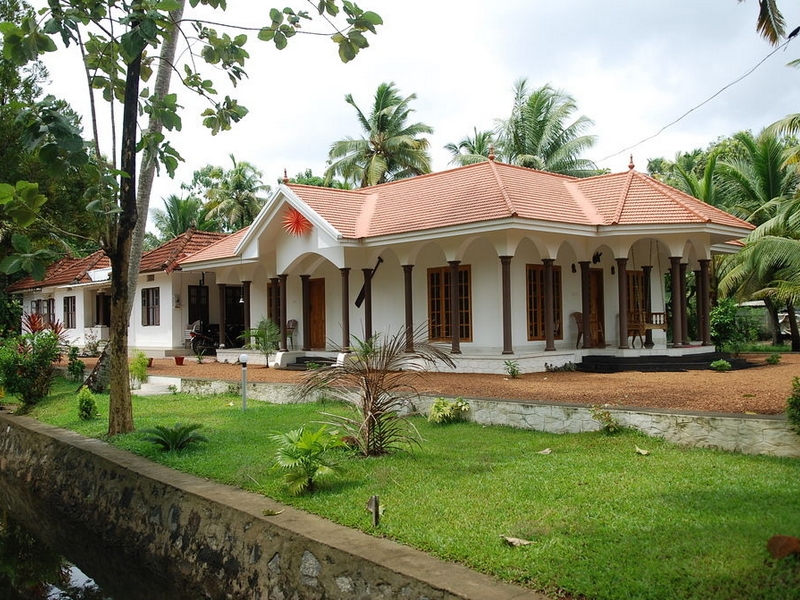 14. Tharavadu Heritage Homestay in Kumarakom
The traditional Keralite architecture of this 140-year-old heritage home is perfectly set off by the ancient natural beauty of the river bank and the bustling activity of those whose livelihoods have depended on the lake and its backwaters for centuries. Bask in the understated luxe of the scenic gardens and swimming pool and relax in the simple and homely balconied rooms and fresh-food restaurant.
Eco-friendliness and sustainability are some of the hallmarks of Tharavadu Heritage Homestay, and from sourcing their ingredients to their buildings materials or the items they provide their guests, every effort is made to exist respectfully and symbiotically within this unique environment. Here, simplicity is key, highlighting the natural delights of Kerala. Get involved in their ethos by joining their fishing trips and taking cooking classes with the hosts!
        What we love 

        What to Know? 

Relaxed atmosphere in a Traditional Kerala Styled Building

Beautiful garden and swimming pool

Fishing and cooking classes

Eco-friendly ethos

Free wifi is available throughout

Every room is equipped with a balcony

Complimentary Asian-style breakfast is provided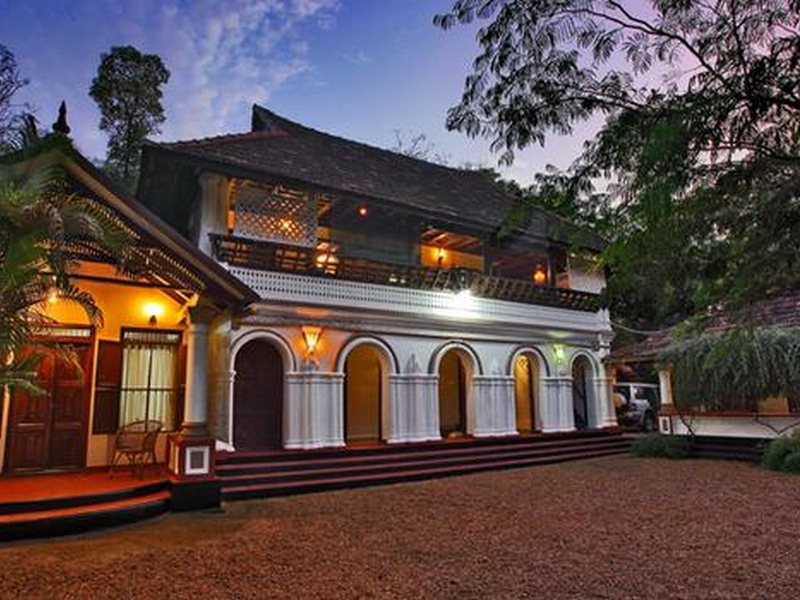 15. Molly's Retreat, Kovalam
Leave all your daily troubles behind and let yourself be pampered by the lovely staff at Molly's Retreat. Their renowned friendliness and efficiency are entirely in line with the charmingly simple luxury of this residence, which offers privacy and seclusion along with effortless access to the beautiful beach. The honeycomb of alcove terraces creates a unique and picturesque backdrop to the stylish pool, bar lounge, and restaurant, which is known to serve up incredible home-cooked food – some of which you even need to pre-order!
Many significant sites, such as the famous Lighthouse Beach, are but a short ride away, and you'll always look forward to coming home to Molly's, where the rooms and terraces are spacious and comfortable, the ideal place to breathe in the sea air and soak in the atmosphere of lingering evenings and starry nights.
ALSO SEE – Top 15 Best Beaches in Kerala
        What we love 

        What to Know? 

Unique architecture and design

Spacious rooms and balconies

Famously good customer service

Easy access to the beach

Free wifi is available throughout

An airport shuttle service can be pre-booked

Breakfast is complimentary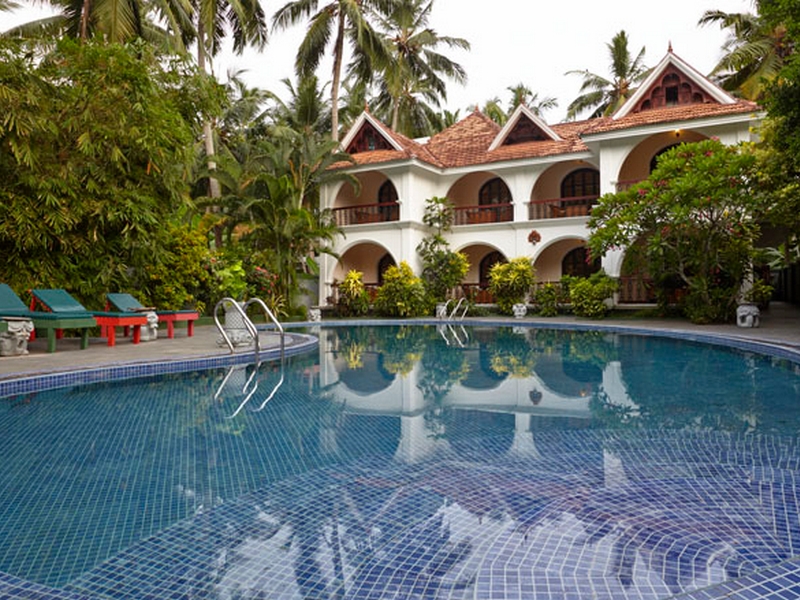 16. ANUGRAHA, KUMARAKOM
This homestay is situated near Kumarakom, Anugrahar located along the backwaters of the Meenachil river. It has been built for more than a century and was restored by an architect named Bijoy Jain of Studio Mumbai. This home is brimmed with flora and fauna, it's a styled contemporary art that belongs to the family's collection is also a real treat for the eyes.
A stay at Anugraha offers ultimate privacy and ensures that you are the center of attention. You'll have the villa all to yourself on your stay here because they accept only one booking at a time. There are several recreational activities that can be done here especially at the property lounge by the pool, one can also amble around the perfectly manicured lawns or gorge on traditional Syrian-Christain cuisine.
        What we love 

        What to Know? 

Charming backwaters quite tempting to cruise on

This place offers privacy

Amazing architecture styled with contemporary arts

You've made the center of attention on your stay here

You'll have the whole villa to yourself

Only a booking at a time is accepted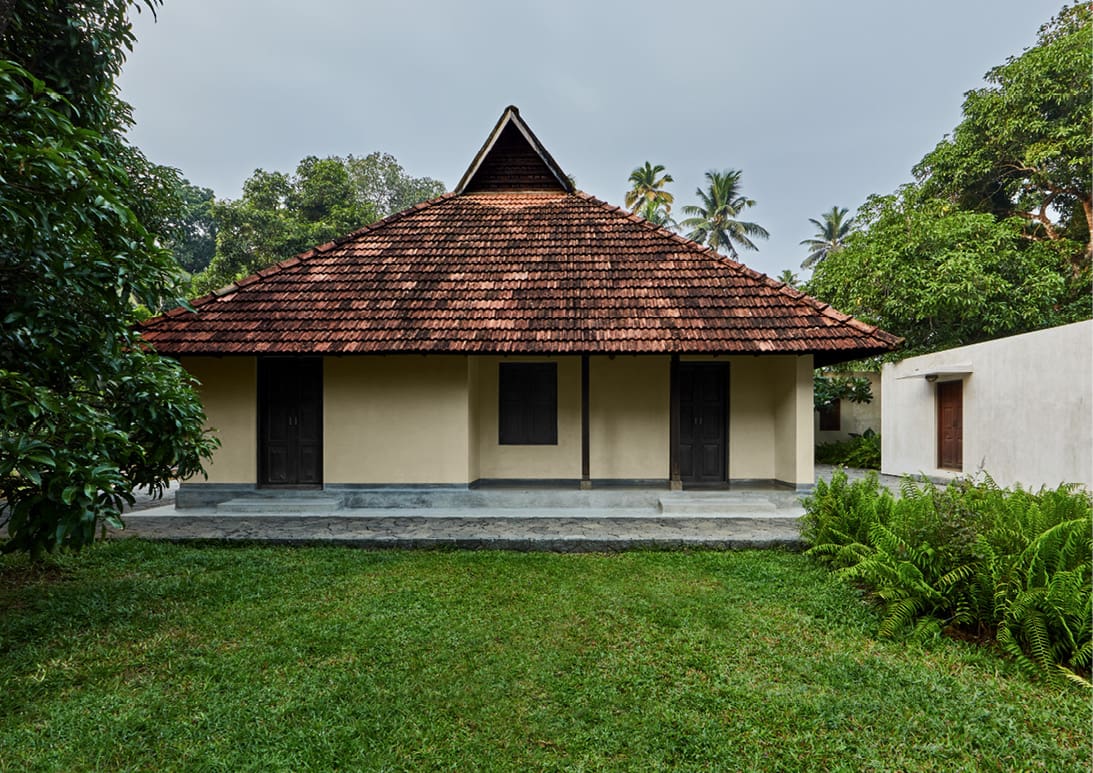 17. VISAYA VILLA, VEMBANAD
This is a 6,000msq property that has been in existence for over four centuries. 400 years of Preservation, good nursing, and care. These ancient homestays in Kerala are believed to be a reward from the king of Travancore to one of his Chieftains who helped him. The house has found a mention in the famous Aithihyamala – an ancient Kerala legend.
This villa has an amazing three-side lake view of its private lake-the Vembanad lake. There are two bedrooms here, private bath gardens, lobby with a library designed and decorated with wooden interiors. Here, one can laze around the lake and feel its nature. A stay at Vismaya Villa feeds your soul, offers utmost relaxation, a perfect ambiance for reading, writing, sketching, meditating, and soul surfing.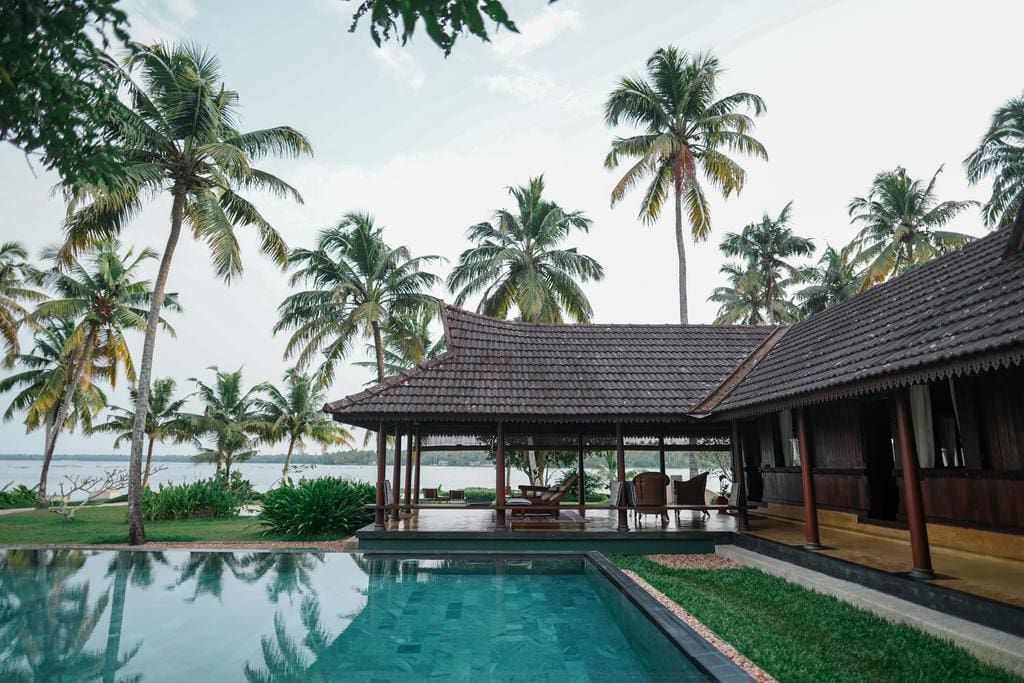 18. ENTE VEEDU HOMESTAY, WAYANAD
Ente Veedu is a cozy homestay Situated in an 80-year old estate in Wayanad, this homestay is surrounded by coffee plantations and paddy fields, a homestay that also offers Ayurvedic treatments. Ente Veedu is the Malayalam term for "my house", its amazing environment will make you feel at home, the name couldn't be more accurate! The thatched roofings and cane furniture add to its beauty. Here, there are a lot of fascinating activities that can be done, some of which include; bird watching, coracle riding, jeep safaris, or preferably taking a tour of the estates.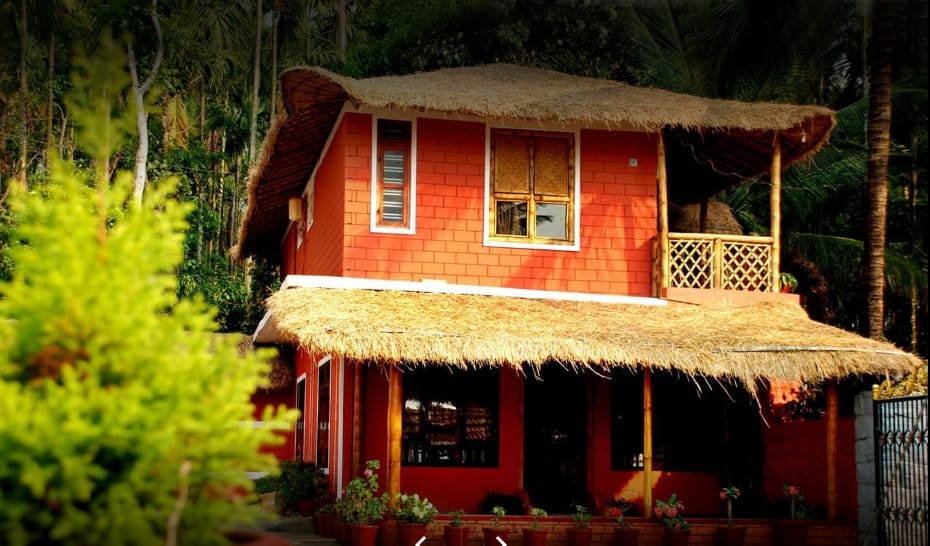 19. VARIKATT HERITAGE, TRIVANDRUM
This is a 150-year-old Indo-Gothic villa situated in the heart of Trivandrum. This homestay is tastefully restored to hark back to the times of the Raj. This homestay comprises a deluxe suite and three deluxe double bedrooms. It also includes a huge verandah, a badminton court, an orchid garden, and a hammock to laze on. Variant Heritage being situated in the heart of the city enables you to explore a lot within a distance, you could explore the zoological gardens around or close by temples such as; the  Padmanabhaswamy temple and the Shree Krishna Swami Temple.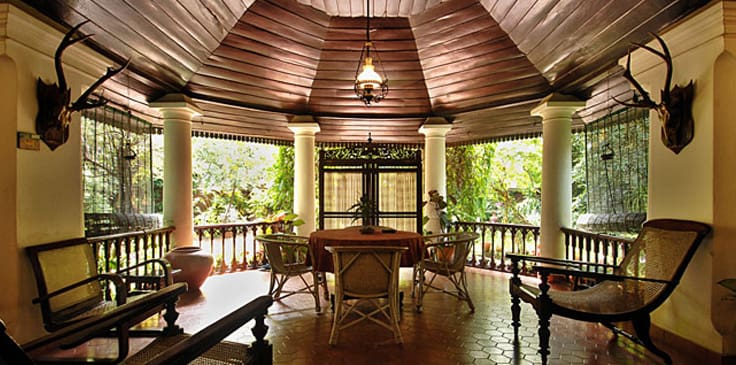 20. VEMBANAD HOUSE HOMESTAY, VEMBANAD
This refreshing homestay is owned and was established by the grandfather of Mr. Balakrishnan Mayithara, It was set up in the year 2000 but is currently maintained by his wife Mrs. Sandhya Balakrishnan(a writer, trained musician, and a scholar). The Vembanad House has 800m of waterfront with fishing options, extensive farmland to meet the needs of the residents making home-cooked food available from its organically produced vegetation, and an array of activities to provide for that feeling of traveling while staying home.
Here are some activities you should consider doing to enjoy your stay here; Night fishing in the Vembanad lake, canoeing, swimming, and cooking classes for Kerala cuisine. There are rooms for every budget making the homestay a real family heritage. Vembanad House Homestay is a rejuvenating retreat indeed!
        What we love 

        What to Know? 

The breathtaking settings and landscaping the location offers

tasty local food served on banana leaves

mesmerizing and tranquil cruises along the lake and canals

Also the charming villages within proximity

There are four rooms only.

Free wifi is available throughout your stay here

Also, your hosts will organize day trips, tours, and excursions for you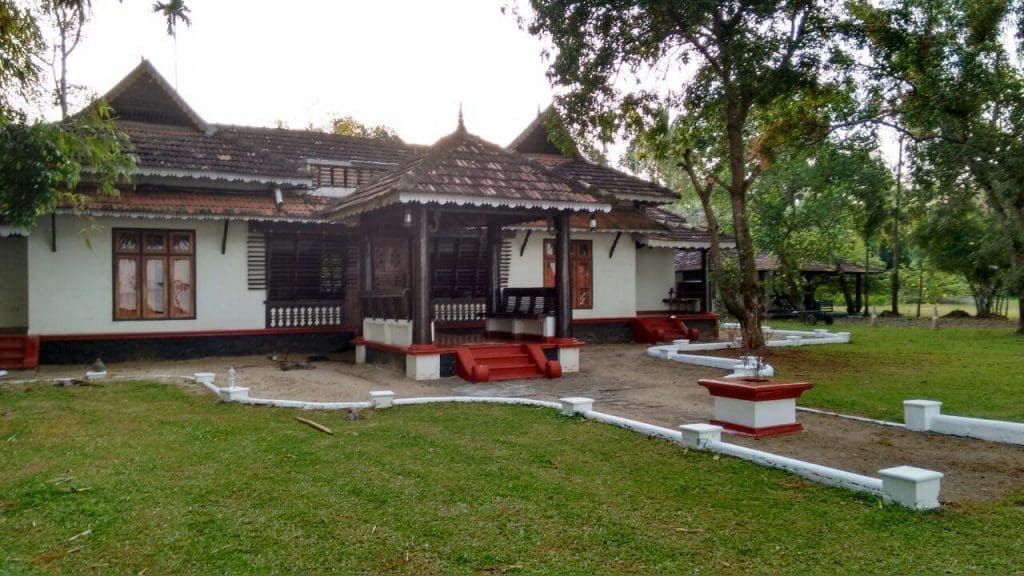 21. MOUNTAIN VILLA, VAGAMON
This haven of peace and nature is nestled on serene 5 acres of virgin forest on a remote mountain top which borders the Kurushumala Ashram estate on one side and overlooks the lush green valleys with a mesmerizing bird's eye view of 5 districts of Kerala. This haven of peace and tranquillity which resonate with the harmony of the earth, trees, birds, stars and the blue sky offers utmost relaxation to the body, mind, and soul alongside the best of mother nature!
This property currently has three cottages indigenously built by native craftsmen. This fifty-plus-year-old labor shed has been renovated and restored in the theme and décor of a quaint English Cottage.
        What we love 

        What to Know? 

You can have a mesmerizing bird's eye view of the 5 districts of Kerala

This location offers utmost relaxation, indigenously cottages built by native craftsmen

Situated on a remote mountain top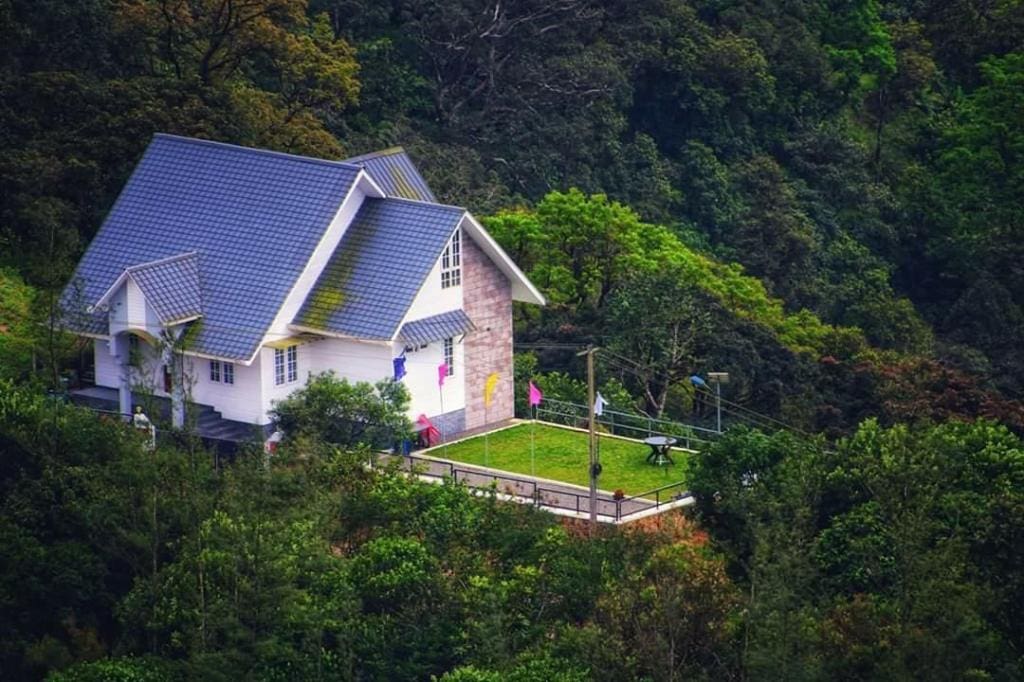 22. LITTLE FLOWER FARM, VAGAMON
This farm-stay is situated on the border of the Idukki district amidst rolling hills and tea plantations on a hillside and has 3 levels. This farm stay is a perfect hide-out for the traveler who wants to get enveloped in the raw beauty of mother nature. This farm-stay is tucked away from the main Vagamon town and has many secrets to offer for plant lovers, foodies, and adventurers. The property features a four-room homestay, semi-outdoor wooden deck as a creative/ Yoga space, camping spaces, a spring pool (June-Nov), and many trails around.
You should be prepared to do a fair bit of walking up and down slopes. The weather here is unpredictable particularly in the monsoon season, ensure you're with your rain gear, comfortable footwear at all times, and a torch in case of unexpected late evening trails.
        What we love 

        What to Know? 

The lush green plantations make it more of an amazing destination for plant lovers, foodies, and adventurers.

The property has four room homestay

Situated amidst the plantations on a hillside

has three levels

weather here is not predictable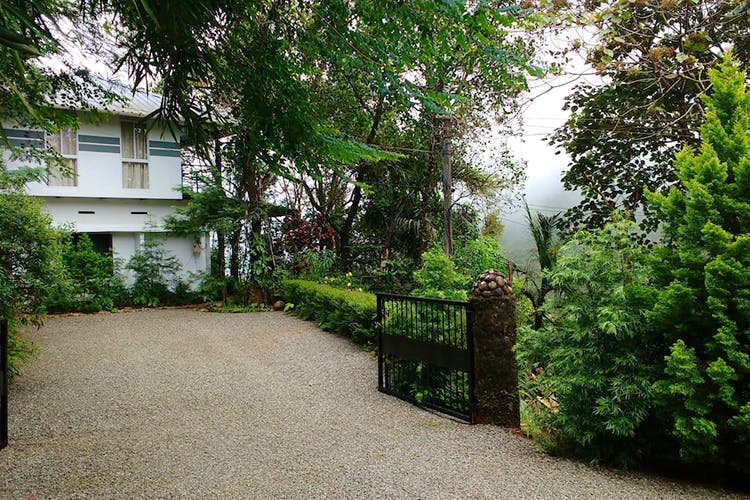 23. PINEDALE COTTAGE VAGAMON
    PINEDALE cottage was built as a holiday home for weekend getaways, it is situated on a small hill in 5acres of land which comprises tea and cardamom plantations. Its located close to the main attractions in Vagamon such as Vagamon meadows which is 2km away, pine valley-5km away and Kurisumala echo point-6km away. Pinedale offers mesmerizing views of the palozhukum waterfalls and pine valley. This facility comprises two spacious rooms with bathrooms each, a small fully functional kitchen, dining space, living room with TV, food and barbeque facility available upon request, and rainwater storage.
        What we love 

        What to Know? 

Mesmerizing views of the palozhukum waterfalls and pine valley. 

There are two spacious rooms with bathrooms each

A small fully functional kitchen also a living room with TV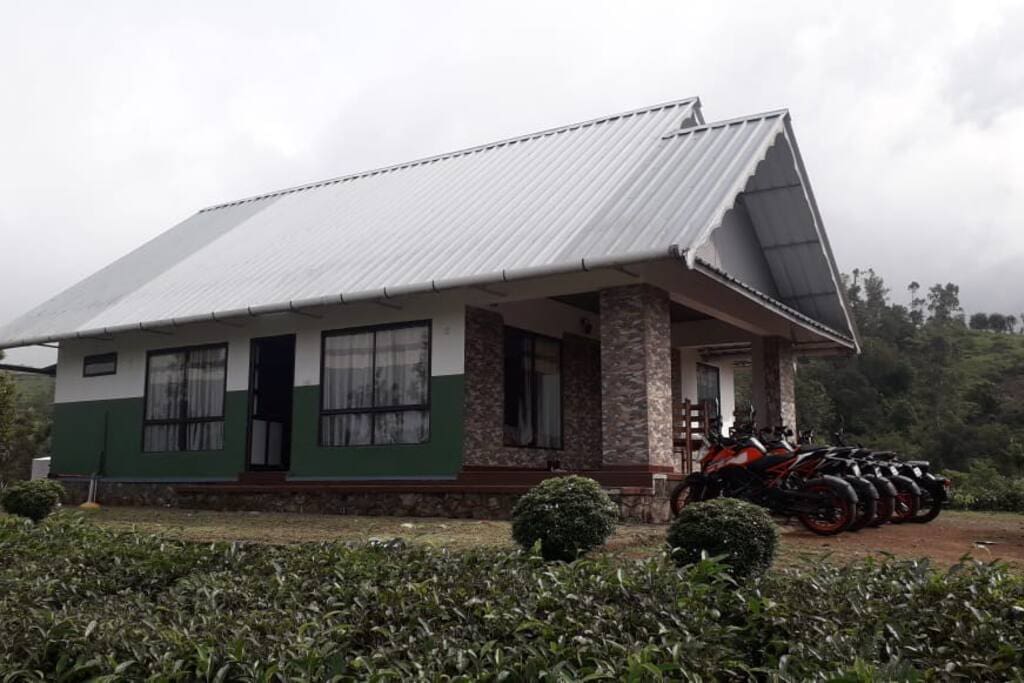 24. SILVER OAK NATURAL STAY, MUNNAR
    This property is 12km away from Munnar and is located in a beautiful dense forest that will keep one close with the nature of a rainforest with heavily sparkling waterfalls, huge varieties of wild animals, rare birds, and other species of animals. This home has a bathroom with a hot tub and a bath, a flat-screen TV is also provided. One can enjoy the tranquility of this place in its peaceful ambiance of tea, coffee, and coca garden. A stay here entitles you to the full house and its surroundings which can be accessed by guests. One can partake in various activities such as; Trekking, tribal visit, Jeep Safari, waterfall visit, bird watching, elephant watching, etc.
        What we love 

        What to Know? 

Sparkling waterfall

The rainforest

Offers privacy

Tribal visits

Jeep safaris & e

lephant safaris

 The homestay has a bathroom with a hot tub and a bath

 A flat-screen TV is also provided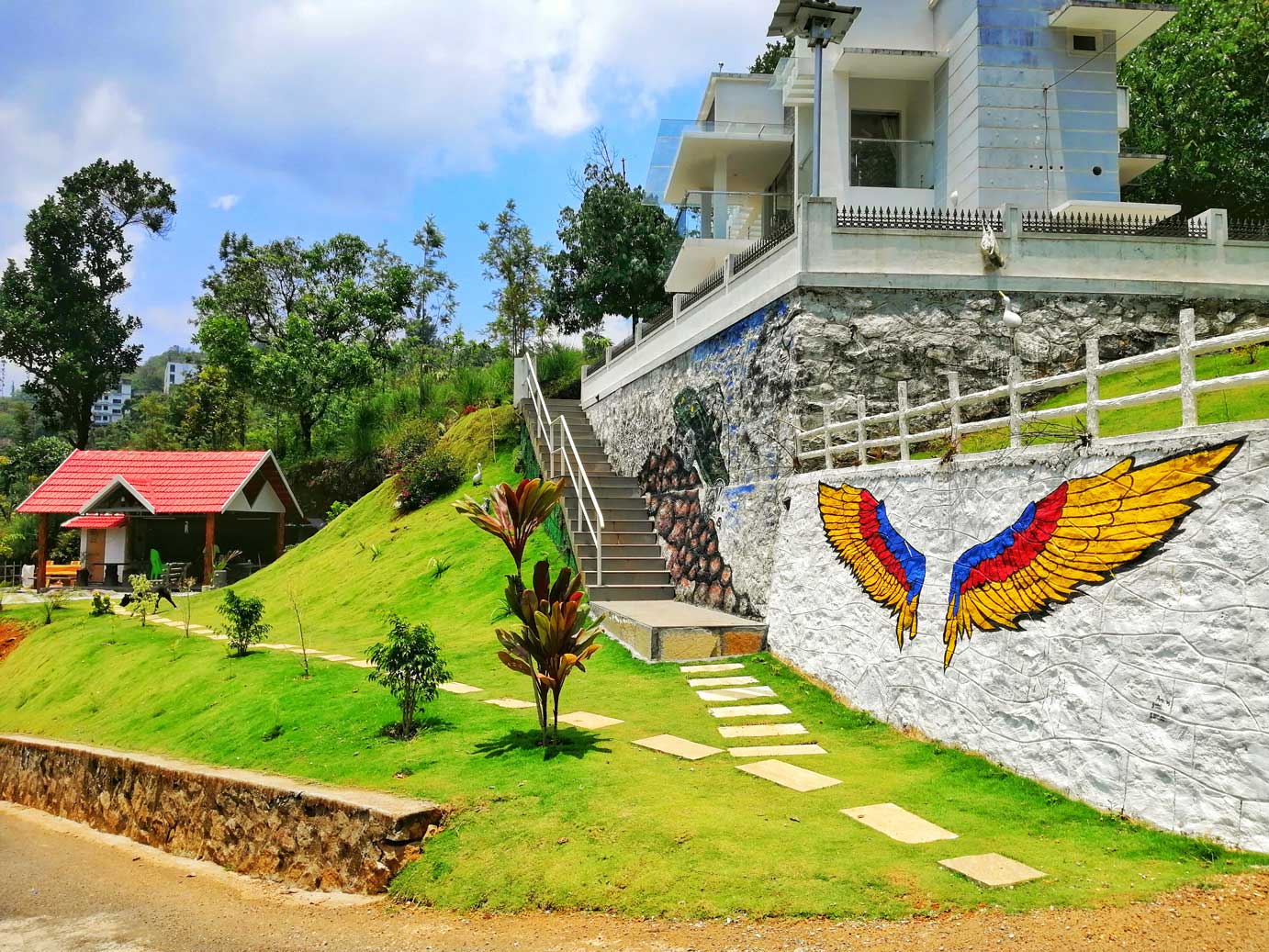 25. HILLTOP HOMESTAY, MUNNAR
    Nestles beautifully on a hilltop amid the tea and coffee plantations of Munnar, where you can unwind yourself away from the hustles and bustles of daily life. The property is engulfed with a cloak of lush green plantations and tall trees offering nature at its best and making you feel true bliss with family or friends coupled with its pleasant weather all year round. Here, there are rooms aesthetically designer with luxurious interiors and amenities embracing a vision of offering uttermost comfort and relaxation.
Here, you can feast on the exotic flavors of mouth-watering Kerala and South Indian Cuisines, also engage in fun-filled activities such as bird watching, bonfire, nature walks, and swimming. Have in mind there are nearby tourist attractions you might want to explore such as; Tea gardens-15.6km away, Kalari Kshetha-12.2km away, Punarjani Traditional Village-15.2km away, and Lock Heart Cap-35.2km away.
        What we love 

        What to Know? 

A mesmerizing view of the lush green tea and coffee plantations

aesthetically designed rooms

luxury interiors

mouth-watering Kerala cuisines

 This location is a hilltop region and has pleasant weather all year round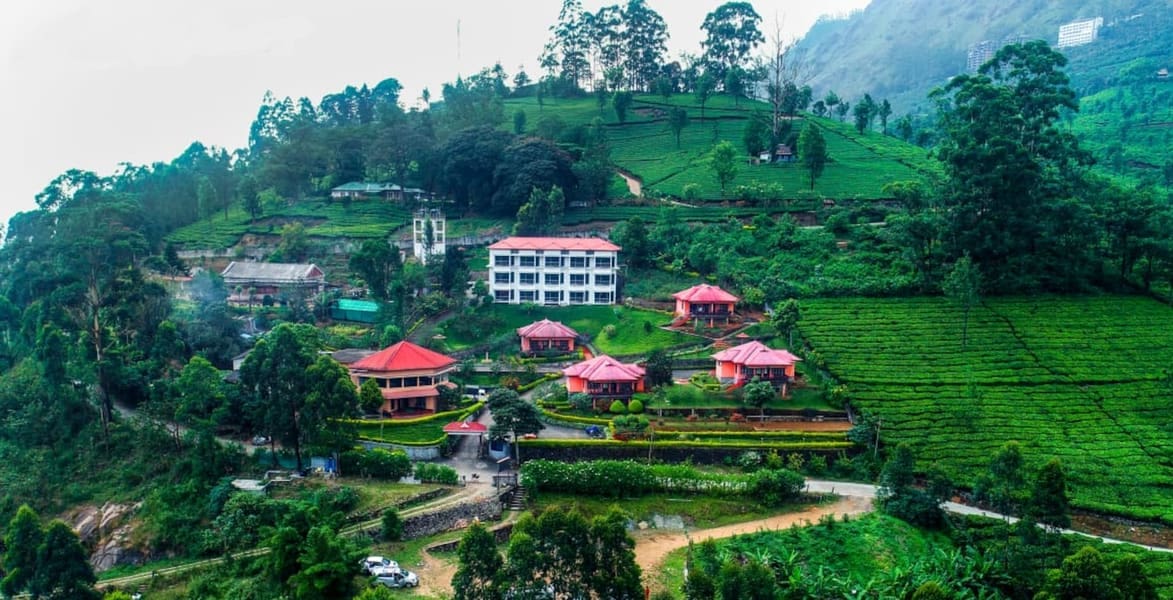 Indian families had been renting rooms out to travelers in their own homes and this is a practice that existed from the time of the invasion of Alexander the Great. With many traditional houses in Kerala houses equipped with spacious rooms, and many families experiencing the same quandary with their sons and daughters being away from family, the practice spread quickly across the nation's cities and towns, and with the advent of Airbnb, etc this has become widely popular.
Frequently Asked Questions About Best Homestays in Kerala
What kind of amenities do Kerala homestays provide?
The facilities in the homestay are comfortable and efficient allowing you relaxation. Daily housekeeping, free wifi, food, all major satellite channels and spacious rooms are the amenities that Kerala homestays provide.
Are homestays in Kerala are comfortable and traditional?
Situated away from hustle and bustle of the city, homestays in Kerala are ideal for travellers looking for a peaceful haunt. The humble yet elegant interiors, traditional architecture combined with modern amenities make home stays a delight for travellers. These homestays are run by warm and welcoming families and their hospitality will bowl you over. A homestay leaves an indelible impression on the minds of travellers as they enjoy first-hand the culture and traditional values of Kerala.
Can homestays in Kerala offer clean family homes with authentic local experiences?
Homestays are meant to offer comfortable accommodation in an informal atmosphere with family interaction while promoting the localised tours. The homestays in Kerala are a comprehensive concept that provides a supplementary accommodation experience to tourists in a homely environment.
Best homestays in Kerala offer delicious,home-cooked Kerala food with cooking classes?
Kerala is home to a colourful and unique cuisine. If you want to taste Kerala at its best then it has to be those recipes that are passed on from generations. If you are a foodie and would love to treat your taste buds during your stay in Kerala, book a homestay and enjoy the rich local flavours. The food is prepared using masalas grounded at home itself.