Thekkady is a beautiful misty hill station located in the Idukki district of God's own country, Kerala. Set high in the Western Ghats, this place is blessed with picture-perfect greenery and is a pleasant heaven on Earth for all nature lovers and adventure travellers. Thekkady is an ideal tourist spot in Kerala wherein with the crisp, cool air of the Western Ghats you will experience the most enchanting holiday. Thekkady Boating conjures up images of elephants, unending chains of hill and spice scented plantations.
ALSO SEE- Thekkady Tour Packages 
The Periyar forest of Thekkady is one of the finest wildlife reserves in India, and spread across the entire district are picturesque plantations and hill towns that hold great opportunities for treks and mountain walks and the tourist places in Thekkady include Periyar Lake, Kumili, Murikkady, Pandikuzhi, Chellarkovil, Vandiperiyar and Gavi in Kerala which is known as Trekkers paradise.
Periyar Tiger Reserve, set in the mountains district of Idukki, is India's finest and most picturesque wildlife reserve.
Thekkady is thus a perfect adventure as well as a family holiday destination.
ALSO SEE – Best Time to Visit Thekkady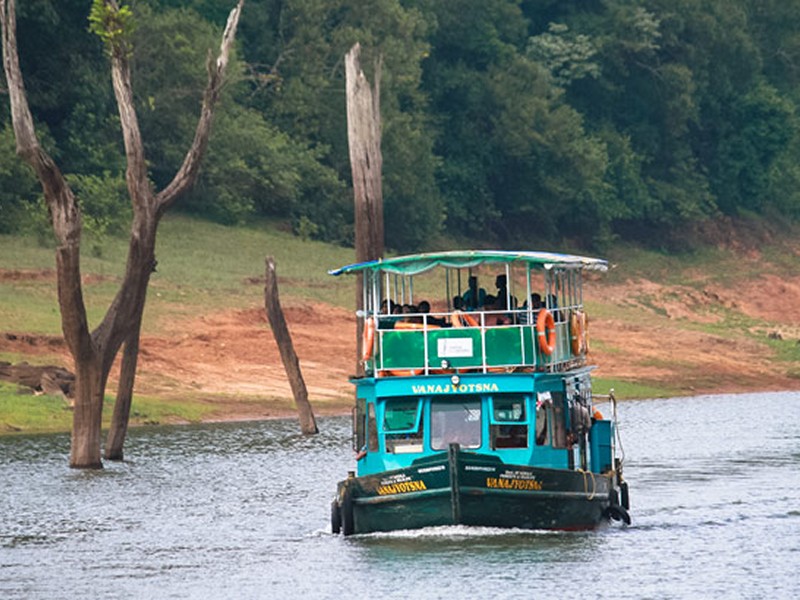 Boating is an amazing way to explore Periyar Tiger Reserve.
The Periyar River is the longest river in the state of Kerala with a length of 244 km. It is also known as the 'Lifeline of Kerala' as it is one of the few perennial rivers in the state.
The serenity of the lake is like an oasis amidst the maddening world. The sound of wind and water provides a sense of calm that is unmatchable which could be a good spot to try boating in Thekkady.
The boat service operated by the Kerala Tourism Development Corporation (KTDC) and the Forest Department is of one-and-half hours duration.
It is a splendid eco-friendly, entertainment program for nature lovers who visit Thekkady.
Boating in Thekkady
A cruise through the waters of Periyar lake around which the wildlife sanctuary is situated is covered in the Boating in Thekkady and offers a soul-stirring pleasant experience and the boat service operated by the Kerala Tourism Development Corporation (KTDC) and the Forest Department is one-and-half hours duration.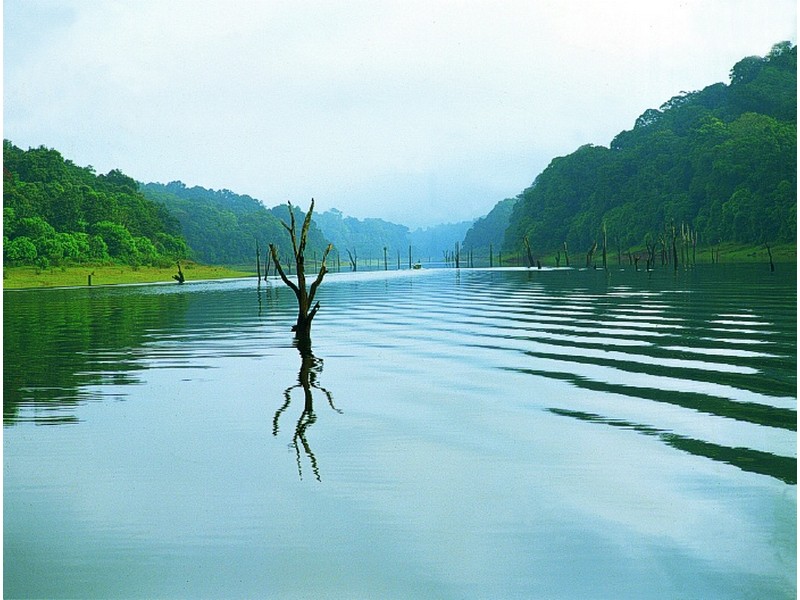 Boating in Thekkady – Timing
The new timing of the boating in Thekkady is as follows:
7.30 A.M. to 9 A.M.
9.30 A.M. to 11 A.M.
11.15 A.M. to 12.45 P.M.
1.45 P.M. to 3.15 P.M.
3.30 P.M. to 5 P.M.
ALSO, SEE – Top 25 Best Places to visit in Kerala
Boating in Thekkady – Cost for Indian & Foreign Adults and Children for Thekkady Boating
| | |
| --- | --- |
| Item | The rate in Indian Rupees |
| Indians – Entry Fee | 500 |
| Foreigners – Entry Fee | 500 |
| Indian Student – Entry Fee | 0 |
| Foreign Student – Entry Fee | 0 |
| Boating – Adults | 255 |
| Boating – Children | 85 |
If you are lucky you may see animals like bison, Gaur, Wild Elephants, Sambhar and a wide variety of birds. Wildlife sighting is a chance, be patient and silent during a boat cruise.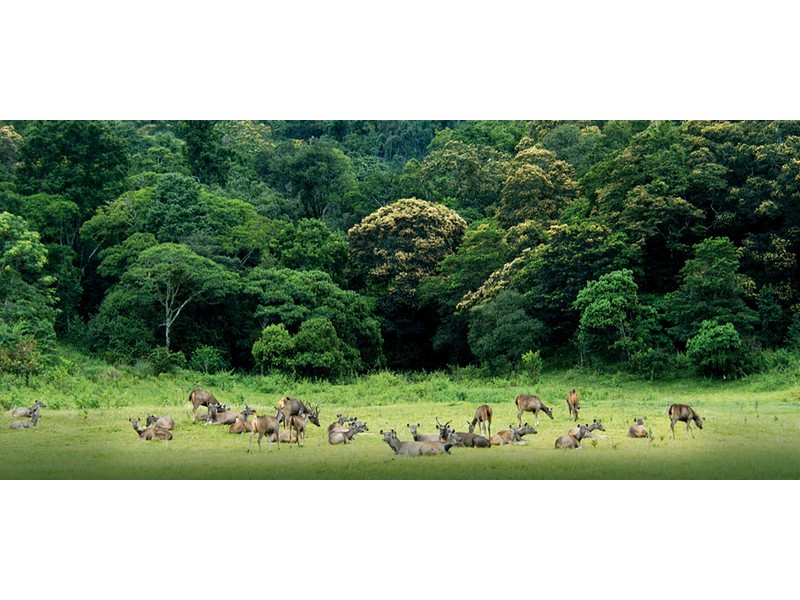 Do note that there is an option to do online booking of Thekkady Boat Tickets at http://ktdc-boating.com/ as well. Kindly note there is no option to book/check availability over the phone as well with anyone in Thekkady and you can book tickets from the counter in Thekkady. However, when you are doing online booking it is permitted only for 30 days from the date of booking
ALSO SEE – Best Things to do in Thekkady
Boating in Thekkady – Instructions for Guests
1) Guest must produce the Unique Identification number along with the original id proof at check post for verification and issue of the entrance ticket.
2) Entrance ticket issued from check post is required to avail boat boarding pass and any other Eco-tourism programs.
3) Guest shall report at the Entrance Check post at least one hour prior to boating time and at least half an hour prior to the boating time at the special online counter at the Boat landing.
4) It is mandatory to wear life jackets while boating
5) E-Ticket will be sent to given email id if you are booking an online ticket
6) Any person while inside Periyar Tiger Reserve, leaving litters; smoking & consuming alcohol in public; illegally entering forests; speeding vehicles; blowing horns; playing music systems; parking vehicles outside the parking zone; feeding, teasing, disturbing wild animals; keeping pet animals; unauthorised trekking and picnicking; keeping firearms, wildlife traps, poisonous or other substances injurious to wildlife; causing a fire in Periyar Tiger Reserve, breaching the lawful directions of the park staff on duty will be fined suitably and/or penalised as per the provisions of the Wildlife (Protection) Act, 1972 or as deemed fit.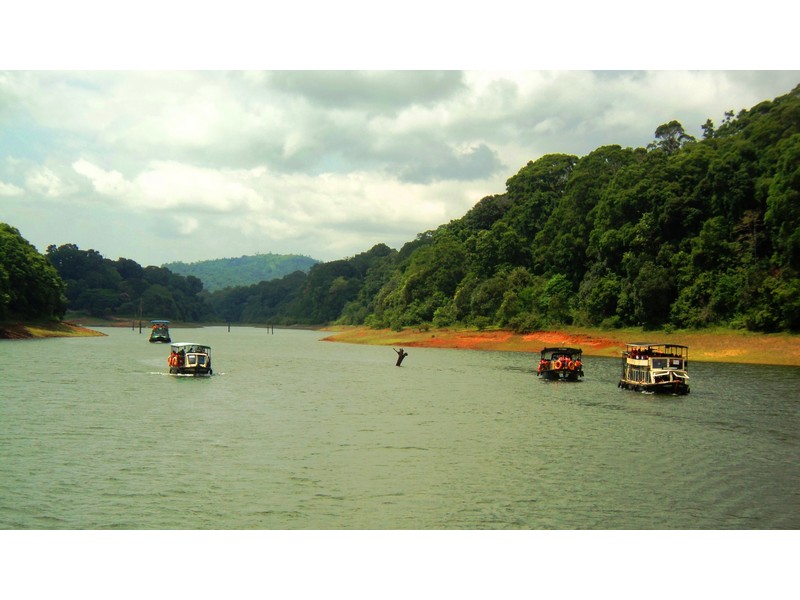 7) CBET programs are subjected to minimum people requirements, the Otherwise minimum charge is applicable.
8) Please obey the instructions of Boat staff / Officers on duty
9) Please keep the valid entrance ticket always with you (issued from check post against your Unique Identification number) for verification by forest officials
10) The Ticket may be cancelled without any prior notice if any Administrative contingency occurs
11) Cancellation policy applies for all online bookings
12) Wildlife sighting is a chance, be patient and silent during a boat cruise.
What you may see in Thekkady Boating?
The boat ride is one of the major attractions of Thekkady sightseeing and is surely a must-do.
Explore nature's bounty and see the local wildlife in action with Thekkady Boating.
The first and foremost activity of a tourist is Thekkady boating in the Lake around the wildlife sanctuary. One can see the wild animals along the sides of the lake. KTDC and Forest Departments are operating the Boat Services around the lake and there are daily 5 Trips and each trip is of two hours around the lake.
Experience the sheer joy of observing elephants visiting the place, unending chains of hill and spice scented plantations.
ALSO SEE – Top 10 Best Trekking Places in Kerala
The reserve covers 777 Sq. Km of the area and is made up of diverse habitat which includes mainly tropical evergreen, semi-evergreen forest and moist deciduous forest, grasslands and eucalyptus. The Periyar Wild Life Sanctuary was declared a Tiger Reserve in 1978. Attracted by its geomorphology, diversity of wildlife and scenic beauty, visitors come from all over the world.
The major tourist attraction of Thekkady Wildlife sanctuary, are the herds of wild elephants and baby elephants that come down to play in the lake. This is a unique sanctuary in India where one can have an unforgettable and close experience with wildlife from the safety of the boat. There are about 2000 species of flowering plants, 145 varieties of Orchids, 35 species of mammals, namely elephants, Gaur (Indian Bison), Leopard, Tiger, Barking Deer, Bear, Nilgiri Langur and the highly endangered monkey Lion-tailed Macaque.
The diverse collection of 45 reptiles species includes the famous King Cobra, Russels, Viper, Freshwater Tortoise. Also, 27 Amphibians has been recorded. Periyar is also a rich habitat for Birds. More than 320 species of birds have been identified namely, the Malabar Parakeet, Waynad Laughing Thrush, Ruforus Babbler and the endangered Great Malabar Hornbill, the state bird of Kerala.
Thekkady is a serene as well as an attractive destination with a range of activities that promise a lot of excitement like cruise boating on the Periyar River and exploring the forests while hiking in the Tiger Reserve.
The human spirit needs places where nature has not been rearranged by the hand of man.
Plan your trip with us and tour this heaven on Earth.