Nestled in the mountains in Kerala is Thekkady, also known as Periyar. There are many places to visit in Thekkady like Periyar Lake, Periyar Tiger Reserve, Gavi Forest, Periyar wildlife sanctuary amongst others.
The climate in Thekkady remains moderate all across the year and best time to visit Thekkady in all through the year. The temperatures do not vary a lot, but are ideal to visit throughout.
Kumily near Thekkady is the place for accommodations whereas Thekkady is home to the Periyar Wildlife Sanctuary. Reaching Thekkady is a road trip either from Munnar which is 110 kms away or from Alleppey, which is 140 kms apart.
ALSO SEE Best time to Visit Kerala
Winter – Best time to visit Thekkady (October – February)
October to February is the winter time in Thekkady. The minimum temperature is 15°C and maximum is 27°C. The weather remains cool and is ideal for sightseeing and outdoor activities. Sudden showers can be expected, but this is the peak season for tourism. Activities like elephant riding, bird watching, plantation tours, canoeing, boating, etc. can be done during this time. It is also the time for major festivals. Wildlife safaris are common during this time while admiring the natural beauty of the place. During this season, numerous migratory birds can also be seen flocking. This time is ideal for honeymooners. It is recommended to carry light woolens during the trip.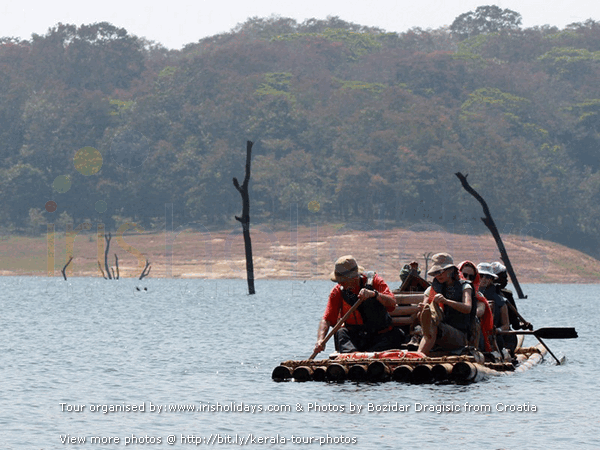 ALSO SEE Bamboo rafting in Thekkady periyar in Kerala
Summer – Enjoy the summer in Thekkady (March – May)
The minimum temperature is 20°C and maximum can go upto 36°C. Travelling around this time may be tiring as temperatures will be on a hotter side and will be too humid. Although it is unfavourable to visit during summers, but the wildlife sightseeing is the best during summers. It is one of the major outdoor activities in Thekkady during May, as the chances of spotting wild animals increases as they can easily be found gathering near water bodies. The doors of the famous Mangala Devi Temple are thrown open for pilgrims during this time. it becomes a spiritual as well as adventurous experience. From April onwards, it starts getting warmer and temperatures start rising. It is advisable to carry light cotton clothes & sunscreen along.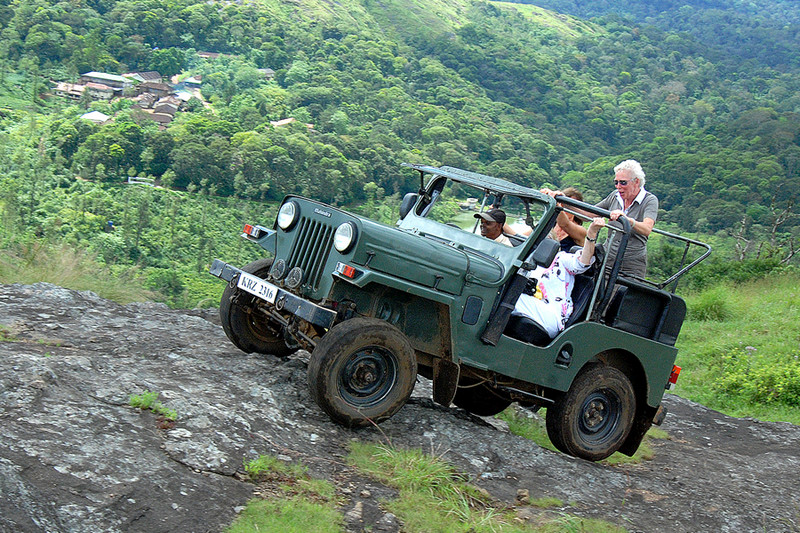 ALSO SEE Thekkady Boating-New Timings
Monsoons – Enjoy monsoon rains over Thekkady (June – September)
June to September is the season of the Monsoons. The temperature slightly falls after the summer heats. The minimum temperature is 19°C and maximum 25°C. The area receives heavy rainfall & experiences landslides as well. Tourists are therefore advised not to travel during this time. But this is the time when, the place is filled with greenery & becomes soothing to the eye. The landscapes and forests in Periyar are worth a watch during this season.
Monsoon is the best time for nature lovers and for people who love rain. Tourists can find hotels at discounted prices, being an off season, and can access several other places with much ease. It is advisable to carry raincoats & umbrella along.
Thekkady has many wonderful things to offer, say it to be adventurous trekking to Ramakkalmedu or a family boating trip in Periyar Lake. There are boat rides on the famous Periyar Lake to trekking in the Periyar forests in search of the Tigers. One can soothe their eyes with the mesmerising views of the lush green vegetation by visiting Chellarkovil and Pandikuzhi view points to have an adventurous Jeep Safari Tour in Thekkady. One can have a religious sightseeing at Mangala Devi Temple to have a bamboo rafting or a border hiking.
Thekkady is suitable for all types of people across the year and has something unique to offer. It has pleasant summer time & cool winter time. Thekkady, offers a journey, to embark your soul to a spiritual experience, like never before.