Thekkady is heaven for wildlife as well as for nature lovers and is usually combined with Munnar for a Munnar Thekkady Package which is the most popular among guests visiting Kerala. Its cool climate, scenic vistas, lush greenery, and exotic wildlife sanctuary attract tourists from the nook and corner of the world. More of all the wonderful destinations and the blissful ambiance of Thekkady has truly made it the most favored holidaying destination in Kerala, India and there are multiple choices for Best Things to do in Thekkady.
ALSO SEE- Thekkady Tour Packages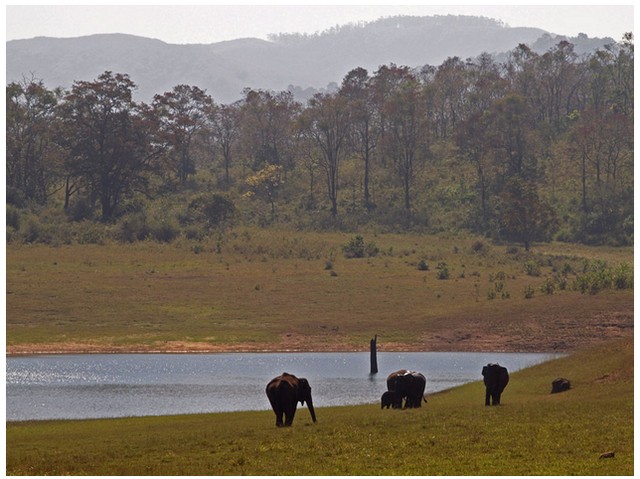 Thekkady brings the live images of elephants pack walking along the pristine lakes and rivers in Periyar wildlife sanctuary and boating in the lake, spice gardens surrounded by aromatic air, chains of lush green hills, lovely waterfalls and the call of nature giving a soothing experience & revitalizing your soul. Thekkady is the perfect place to see the wildlife animals from the very close point of the safety of the boat cruise over the scenic Periyar Lake. The major attraction of Thekkady is the herds of elephants that walk along the edge of the Lake sprinkling water all over. In addition to the boating in Thekkady, there are a lot of other things to do in Thekkady as well.
Boating
The first and foremost activity of a tourist visiting Thekkady is Boating in the Lake. One can see the wild animals along the gringe of the lake foraging, bathing, drinking, and resting. It would be greater fun if one is lucky enough to see the elephants playing with their babies in the lake. KTDC and Forest Departments are operating the Boat Service. Daily 5 Trips and each trip of Two Hours.
Timings : 7 am, 9:30 am, 11:30 am, 2 pm & 4 pm . Check out the post on New Boat Timings in Thekkady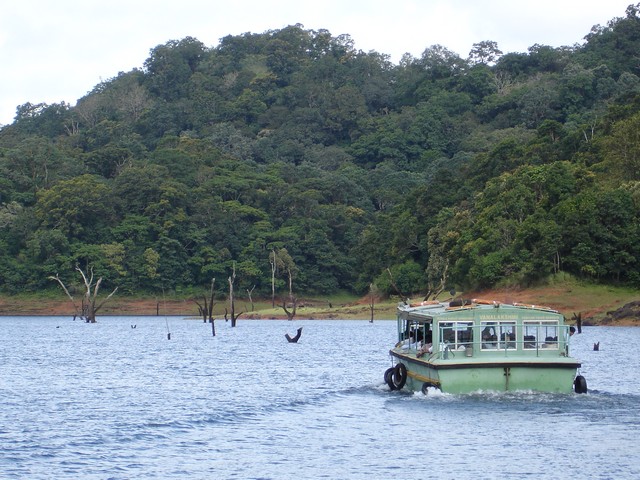 Jeep Safari in Thekkady
The jeep safari to Gavi from 6 AM to 5 PM is the major off-the-track destination activity ideal for a wilderness retreat among the Things to do in Thekkady replete with trekking, birding, canoeing, and facilities for boarding. This program includes breakfast, lunch as well. Jeep Safari covers the dense green vegetation, thick forests, cascading waterfalls, and aromatic spice plantations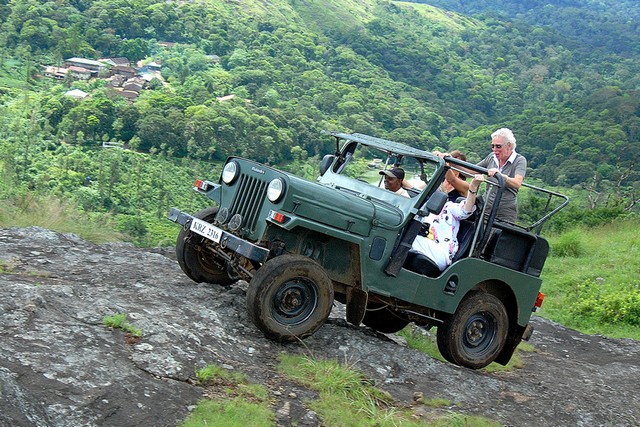 Jungle Patrol – Shepherding the jungle
Jungle Patrol or Shepherding the jungle is one of the Best Things to do in Thekkady. This program is part of the regular night patrolling in the fringe eco-development zones of the tiger reserve. By participating in this, one is actually helping in the protection of the forests of Periyar. The trekking could be at any time between 7 p.m and 4 am. and could be taken by persons having proper physical and mental fitness to trek through the wilderness in the night.
The maximum duration for a slot is 3 hours and a maximum capacity of one slot is limited to 8 visitors (to move in two separate teams). They will accompany two protection watchers and a one-armed forest guard! Try the limits of your senses-sight, hearing, and smell and take in the totally different world of nocturnal jungle life.
Border Hiking – Protection oriented range hiking
This is a conservation-oriented hard trek taking up a full day. The Trekking starts at 8'o clock in the morning and ends in the evening. The route passes through undulating terrains. Attitudinal ranges of 900 meters to 1300 meters will be covered in the trekkers could glimpse the lofty escarpments bordering the park watershed and the vast plains down below. Gaur, sloth bear, elephant, etc. are often sighted along this route apart from birds and butterflies. A maximum of 10 Tourists can hike the program in two different groups. The Trekkers will go with two guides and an armed forest guard. Vegetarian refreshments can be had en route.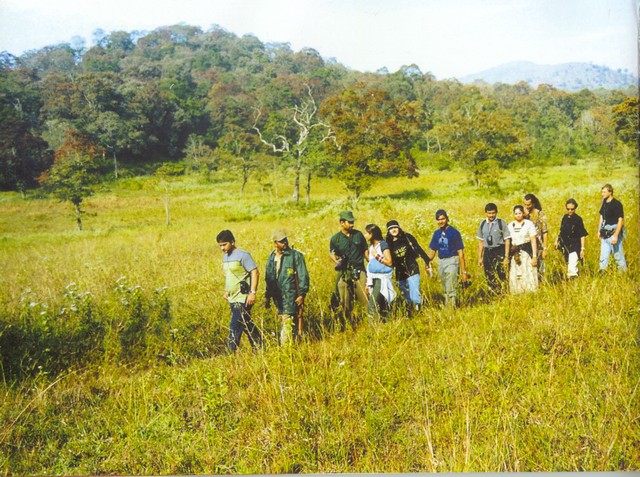 Bamboo Rafting – Dawn to dusk range hiking
Bamboo rafting in Thekkady is a dawn to dusk range hiking and rafting program through some of the richest forest tracts of Periyar Tiger Reserve including the thick forests on trek and then to the catchments area of the Periyar Tiger Reserve on a bamboo raft is popular among the Best Things to do in Thekkady. Starting at 8 am from the boat landing, a mosaic of habitats will be traversed before the party gets into rafts made of bamboos.
The forests are rich in birdlife and arboreal animals like giant squirrels and Nilgiri langur. The rafting is for about three hours and one gets a panoramic view of forest–clad hills reflected on the lake. Animals like elephants, gaur, and sambar are sighted keeping close to the edges of the lake. The team hitchhikes back to the boat landing by about 5 pm. An armed guard and 4 guides will accompany a maximum of 10 tourists. Tea, snacks, and packed lunch will be served en route. This eco-friendly program takes the tourists too.
The bamboo rafting team consists of a maximum of 10 tourists, 5 guides, and a one-armed guard for protection from the wild animals. During this program, the tourists have a panoramic view of the lake and forests and are also provided rare opportunities to encounter wild animals and birds.
The bamboo rafting program normally starts at 8 and ends at 5 in the evening. Lunch and tea are served during the day.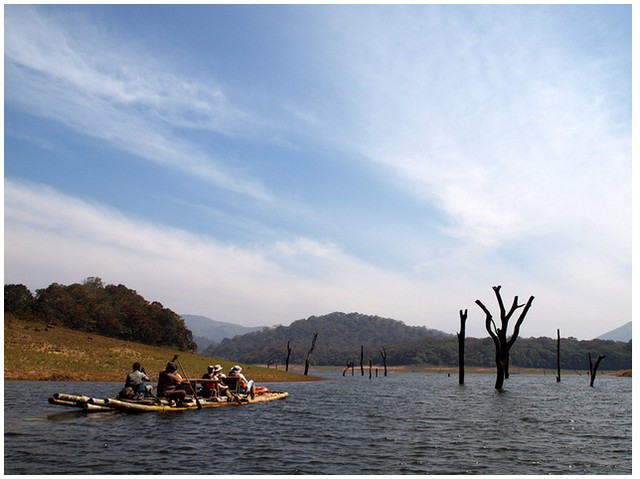 Tribal Heritage – A peep into the past
A Tribal heritage museum built inside the Mannan settlement featuring various types of artifacts related to their ancient agricultural practices, marriage ceremonies, cultural events, dress code, rituals, and death ceremonies is the hub of this ecotourism program. Display of fishing gear, hunting weaponry, indigenous medicine and vessels, cereals, medicinal herbs, bamboo furniture, etc. are other attractions providing a peep into their original culture.
Tribal Heritage Visit is a two-hour program available on all days from 8 am. to 12 noon and 2 pm. to 4 pm. It involves mainly the tribal museum visit and trekking through the tribal hamlet situated within the periphery of Periyar Tiger accompanies by a tribal guide.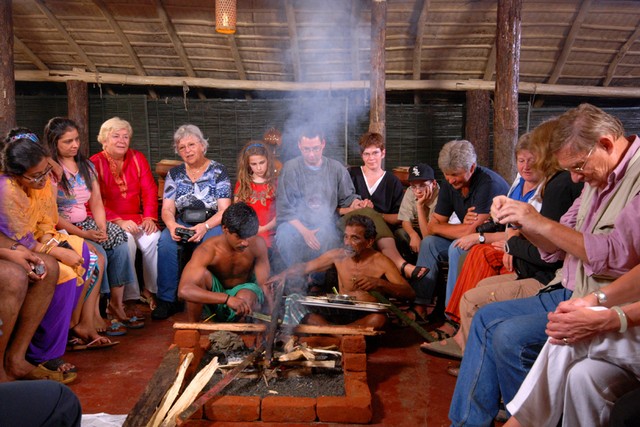 Bullock Cart Discoveries
Conducted by a group of people who were engaged in sandalwood smuggling, later surrendered before the Forest Department. This program is a visit in a bullock cart to the farming areas of diverse crops of mangoes, tamarind, onions, sunflower, jasmine, and a score of other vegetables. The profit from this program goes to rehabilitate this group of people. The program starts at 6 am. In the morning and 2:30 pm and is a 3 hours package.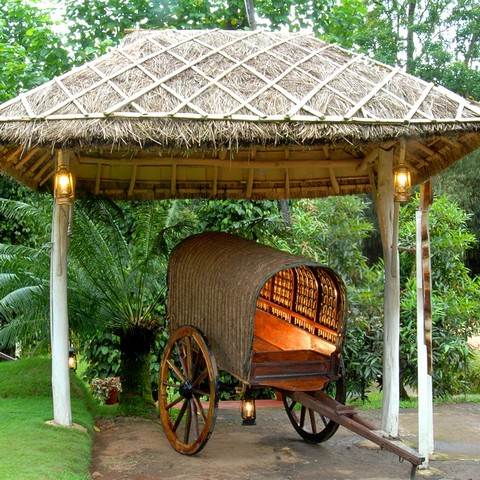 Border Hiking
Border Hiking is a trekking program conducted on the high terrains of the forests ranging from heights of 1000 to 1200 meters. A group consists of 13 people comprising of 10 tourists, 2 guides, and 1 armed guard.
During trekking, the guides that are reformed ex-poachers narrate their fascinating stories regarding encounters of wild lives. Their exceptional knowledge about the terrain, flora, and fauna of the jungles will help tourists know much about the forest and wildlife. In a day, a maximum of two border hiking groups is taken into the forest. Only people between the age of 16 and 65 are allowed to participate in border hiking. The timing is from 8 AM to 5 PM
Plantation Tour
About 4000 Sq. KM of Idukki district is under verdant spice plantations. The main occupations of the natives are spice farming and trading. The original product was cardamom, pepper, ginger and turmeric, cinnamon, nutmeg, cloves, allspice, tea, etc. This will give an excellent opportunity to the visitor to see the spice plants and ayurvedic medicinal plants and buy some garden fresh spices from the plantations. This Tour will take 2-3 hours.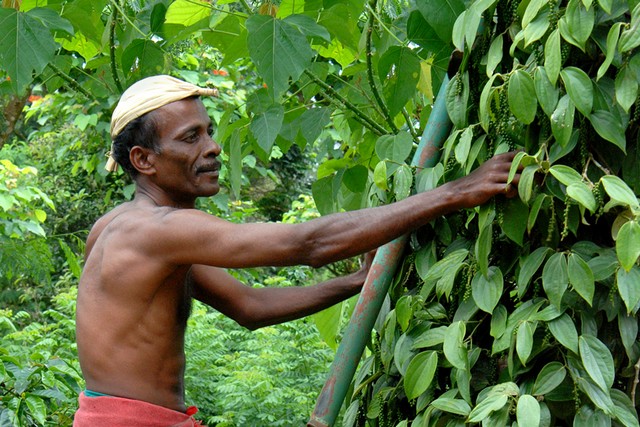 Elephant Ride
There is a park having Elephants and inmates and filled aroma of spices due to the plantation of spices in the park and there are various programs on offer here including Half an hour ride and photo session and another program called One hour with elephant which includes Elephant Ride, Elephant Bath, Photo Session, Commands and Communication. and Two Hours with Elephant – Elephant Ride, Elephant Bath, Photo Session, Commands and Communications, Timber Dragging, Feeding, Elephant Shower.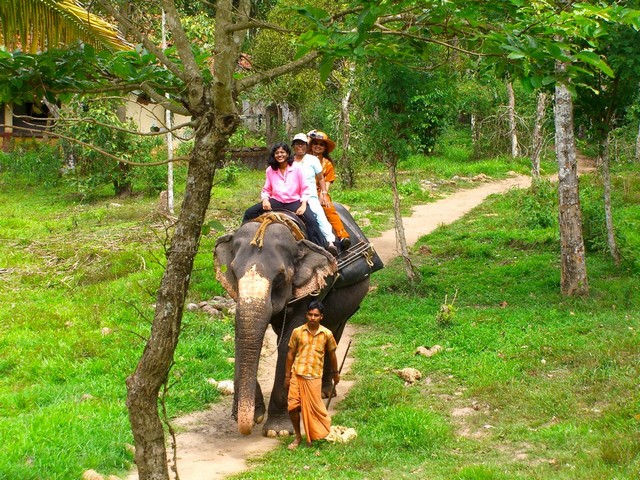 Periyar Tiger Trail
Periyar Tiger Trail is a unique program launched by the forest department to provide a unique opportunity for visitors to explore the wildlife deep into the forest. This program is conducted by the erstwhile poachers who have reformed themselves as saviors of forests. These people possess exceptional knowledge about the terrain and wildlife.
The team comprises 5 tourists, 5 guides, and 2 forest department officials. There are two types of programs offered, such as 1 night and 2 days or 2 nights and 3 days covering a distance of around 35 km. Team members trek along the forest during the daytime and stay inside the tents at night.
Food is cooked in the forest using vegetables and fruits available in the jungle. This program provides a great opportunity to encounter wild animals such as giant squirrels, elephants, sambars, sometimes even tigers.
Come, let's explore the wonderful places to visit in Thekkady in God's own country, Kerala.
Visit Chellarkovil Waterfalls
Chellarkovil Waterfalls are 15 km north of Thekkady and Kumili at Anakkara panchayath and it is one of the beautiful places to visit in Thekkady. Kerala State Forest Department has implemented community-based ecotourism activities like valley view from a wooden watchtower; border trekking, spice, and ayurvedic garden visits.
The cascading waterfalls are a feast for the eyes. The village slopes down to the farms in neighboring Tamil Nadu. Chellarkovil is the perfect place for trekking and other adventure activities.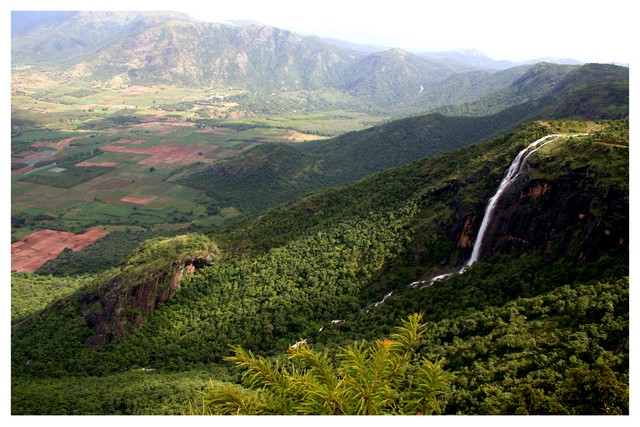 Visit to Ramakkalmedu
Enjoy the wind, sunset, and plains of Tamil Nadu and trek through the rocks at Ramakkalmedu which is a hill station and a hamlet. It is a famous attraction of Thekkady tourism. The wind gusts into the hills and is recorded as maximum in Asia. The wind blows at a speed of around 35 km per hour at Ramakkalmedu throughout the year irrespective of the season and time.
The hilltop also offers a panoramic view of Tamil Nadu towns of Cumbum, Theni, Kombe, Thevaram, Uthamapalayam, Bodinaykannor, and Vaiga. It is believed that that lord 'Sree Rama', had set his foot on this rock and hence the name Rama-Kal-Medu (Meaning: Rama's foot imprints). One story says that Lord Rama kept his feet at the tip of Ramakkalmedu to search Ravana the King of Lanka who abducted his wife Sita.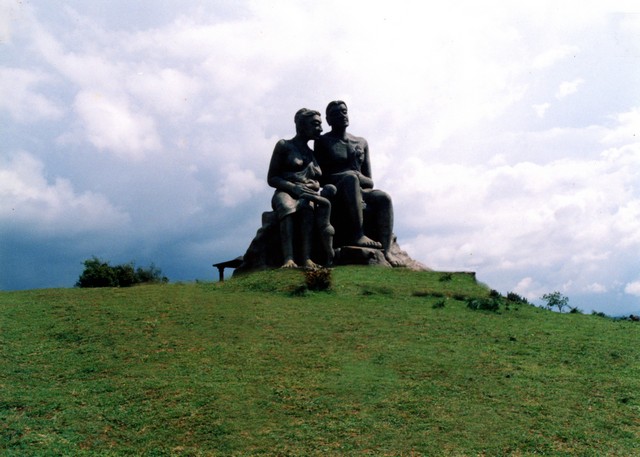 Visit to Kalvari Mount
The Kalvari Mount is one of the best sightseeing points out of the places to visit in Thekkady. This mountain provides beautiful views of the Idukki Reservoir as well as the two prominent tribal villages of the region, namely Kamakshy and Mariyapuram. Elephants can also be seen roaming in the forests, near the foothill. The Malankara Dam, Idukki Hydroelectric Project and Nadukani and numerous tea gardens are present in its vicinity and this mount is on the way to Kattappana.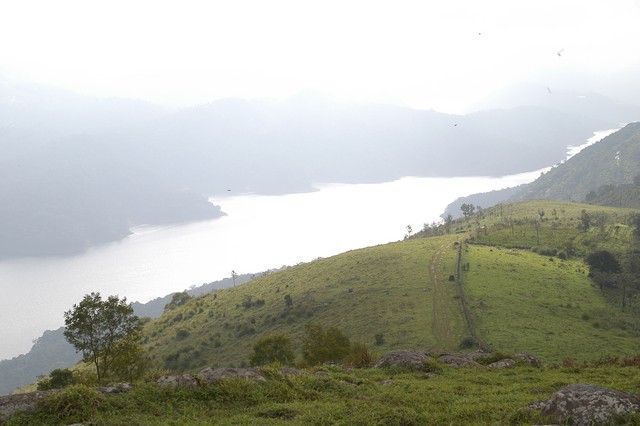 Nature Walk – The guided day trek
Nature walk provides an excellent opportunity to explore nature on its own turf. Normally, nature walk routes pass through forests and grasslands providing a unique experience of watching rare birds and other small wildlife.
Nature walk programs are conducted by the forest department between 7.30 to 11 am and 2.30 to 3.30 pm usually, a batch consisting of a maximum of five people with a well-trained guide go into jungles for a nature walk. As the guide is always a local inhabitant of forests, they are well versed with the jungle routes and wildlife behavior.
Thekkady has different nature trails traversing diverse habitats from the trekking routes, generally 4 to 5 km. in length. This interpretive program offers an excellent opportunity to watch birds, butterflies, and other wildlife, flora, and fauna. The trails often pass through evergreen and moist deciduous forests interspersed with marshy grasslands.
The program is offered between 7:00 am. And 10:30 am. and between 2:00 pm. And 3:00 pm. and lasts for about 3 hours. A maximum of 5 persons can go trekking at a time along each nature trail, accompanied by a trained tribal guide. The Nature walk is the right program to feel nature, hear her whispers, and smell flowers.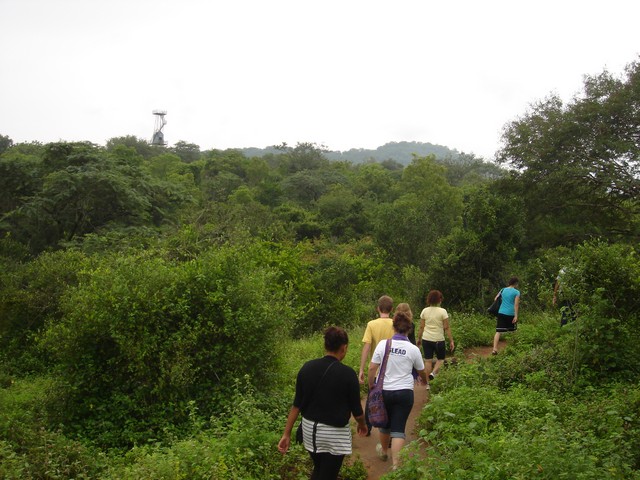 Green Park Ayurvedic and Spices Center 
One of the best places of Thekkady is Green Park Ayurvedic and Spices Center. The park's name is well justified because it is all green whichever direction you cast your look. You should call it an ecological park. Naturally, for both children and adults, it is a great source of enjoyment, let alone knowledge. There are two tree houses, both of which can be reached by a suspension bridge, which hangs 20 feet above the ground.  Even before you reach the treehouses, you get a lot of fun when you mount on the bridge itself. 
Having explored the treehouses, you are now on the way to another world – a world known for its rich store of rarest spices and ayurvedic plants. They are important parts of the five-acre farm. As you move around, you will grow more eager to learn about each plant. Next, you are in the organic farm where you will find an aquarium, a fish pond, and a fruit processing unit, which are equally interesting. 
You will also see an artificial paddy field. Besides, in Green Park, another attraction awaits the visitors. It is the honey bee colonies. There is also a cardamom processing workshop. By now, you may have understood that Green Park Ayurvedic and Spices Center is so designed as may tell the visitors about the great value of plants and the limitless gifts that nature has offered us. Go ahead and add to your things to do in Thekkady List.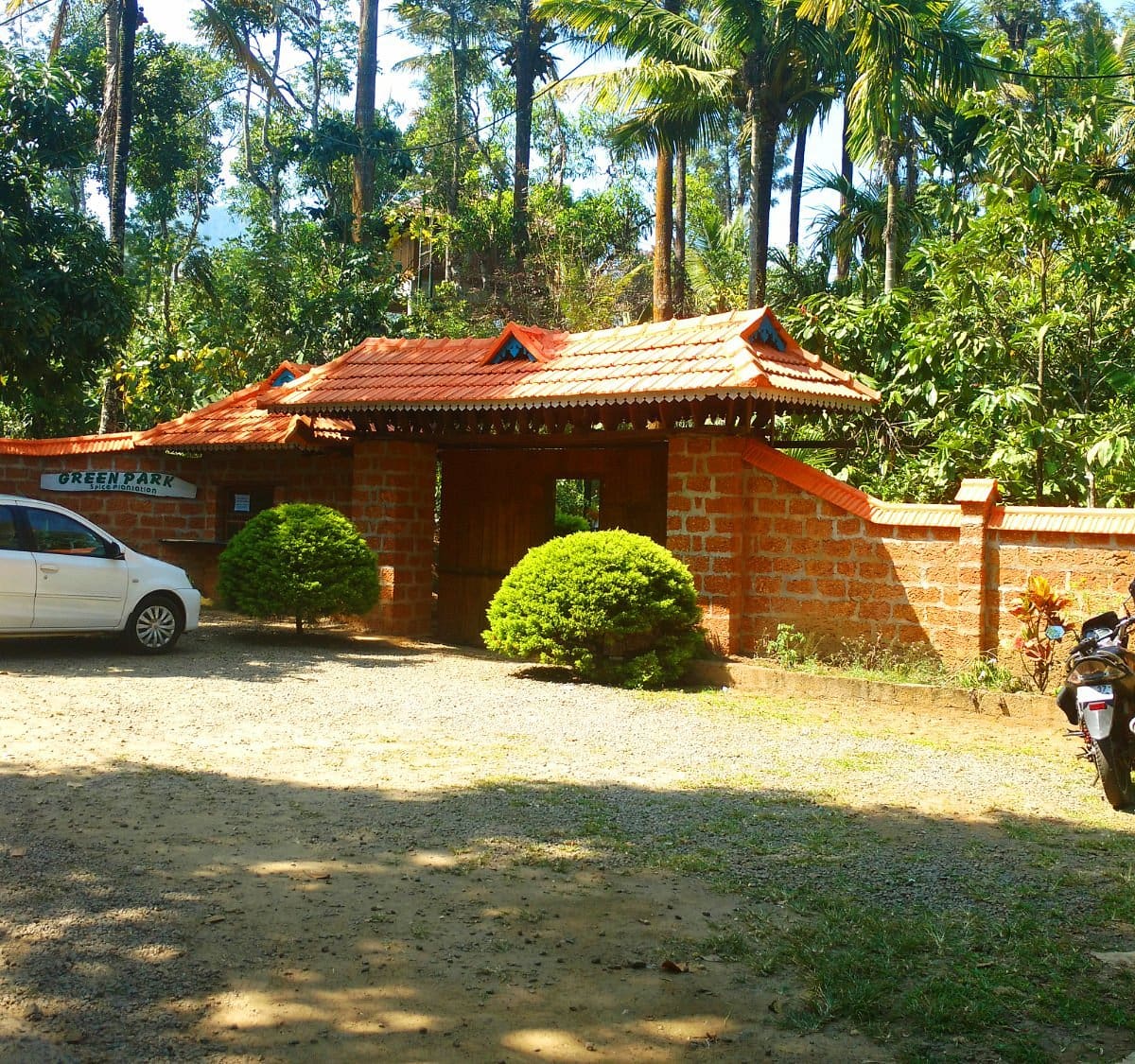 Pandikuzhi     
Pandikuzhi is one of the most sought-after tourist destinations. It is a gigantic 1200-foot-long waterfall. However, it is one of the offbeat places of Thekkady.  Moreover, lush greenery surrounds Pandikuzhi.  It is very close to Periyar. Pandikuzhi is a hill town between the borders of Tamil Nadu and Chellarkovil.  It is 4 km away from Kumily and 5 km from Thekkady.  The best time to visit Pandikuzhi is from September to March. 
The exotic flora and fauna of Pandikuzhi make it a preferred place for tourists. Most photographers find Pandikuzhi a place worth visiting. They love to take photos among the gushing water of the falls and the green pastures.  If you visit the place on board a tuk-tuk or rickshaw from Periyar you will relish the drive more and appreciate nature. The tourists can enjoy trekking. Besides, it is a popular picnic spot as well.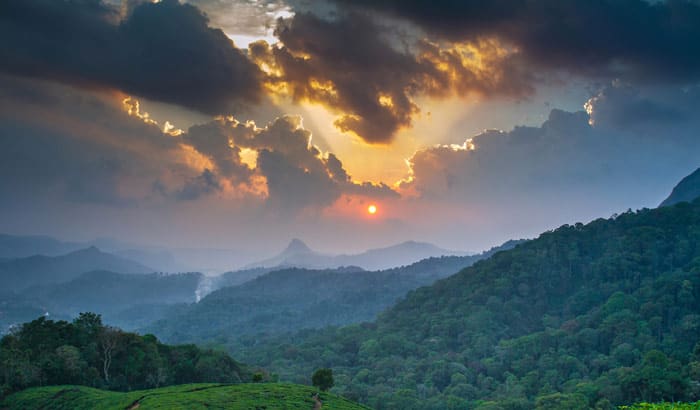 Murikkady 
 Tourists who visit Periyar Wildlife Sanctuary keep Murikkady on their list. A trip to a picturesque hill station like Murikkady will surely add a memorable experience to your journey. The beauty of the rolling mounts covered with lush green plants and trees will steal your heart. But that's not all. People from home and abroad visit Murikkady for spices. You will also find spices like pepper, nutmeg, cumin, clove, cardamom, etc. The place, however, is best known for its huge plantations of tea and coffee. There are around 15 kinds of tea grown here. You can also enjoy coffee and spiced tea. It's one of the best things to do in Thekkady.
You can trek to Murikkaady's viewpoint.  This viewpoint is preferred by the Paragliders because this place is an excellent point to take off.  Again, adventurers like this spot because trekking is not that hard.  If you want to spend a day with your family and friends you can choose Murikkady as an ideal picnic spot. 
Murikkady is in Idukki district.   It is 5 km away from Thekkady and easily accessible.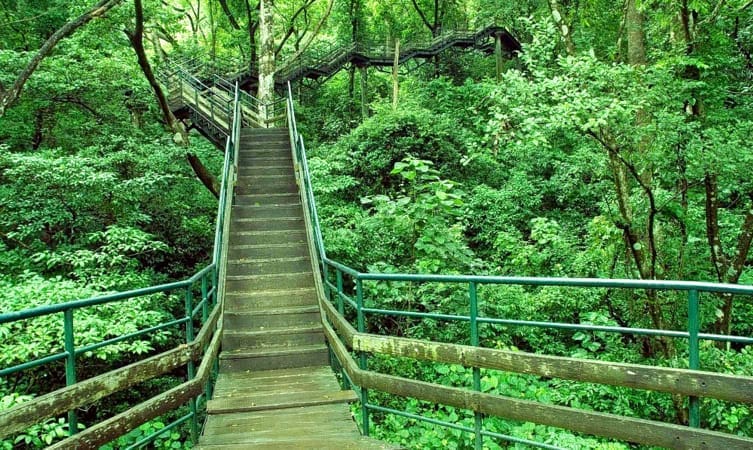 Thekkady also has other attractions like treehouses in Thekkady Trekking to Gavi, Kathakali Shows, and Kalarippayattu Shows as well
Through Thekkady tourism, we can experience the true abode of the Gods! Visit and get involved in the unique things to do in Thekkady, this pictorial town amidst the rolling hills and scenic meadows, and you will get to know how alluring Mother Nature can be!
Which of these activities have you enjoyed in Thekkady ? Let us know through the comments.
Frequently Asked Questions About Things to do in Thekkady
Is Jungle walk in Thekkady safe?
It is a heaven for nature lovers and wildlife enthusiasts. Trekkers are advised to use jungle boots to ensure safety. Also, For your safety, you will have two well-trained guides and an armed forest guard accompanying.
How many people can do bamboo rafting at once?
Rafting can be done by anybody who is over the age of 12 years. They may allow 2 to 10 people to do bamboo rafting at once.
Best time to watch Kalariyapattu in Thekkady?
Watch the beautiful and traditional form of self-defence from the galleries at Kadathanadan Kalari in Thekkady. When bookings are done at the tourist resorts at Thekkady, the team arranges a one-hour show.
What is the best time to ride on an elephant in Thekkady?
Make sure you check out the timings for elephant rides before you go for the activity. Usually, it is available between 10 AM to 5 PM every day.