Are you travelling from Kochi to Thekkady? Any trip to Kerala will help you know how beautiful and magnificent nature can be. In Kerala, nature is unspoiled and so relaxing with tea and spice plantations!  Naturally, most of the tourists' spots in this state are highly rated and recommended making travel. Another plus point is that these places are motor friendly and therefore people have easy access to them.
For this reason, we will suggest you hire a car or drive on your own from Kochi to Thekkady to make the best out of your trip. A road trip from Kochi to Thekkady is the most preferable option for many travellers because they can go sightseeing in different spots within a short time.
ALSO SEE- Thekkady Tour Packages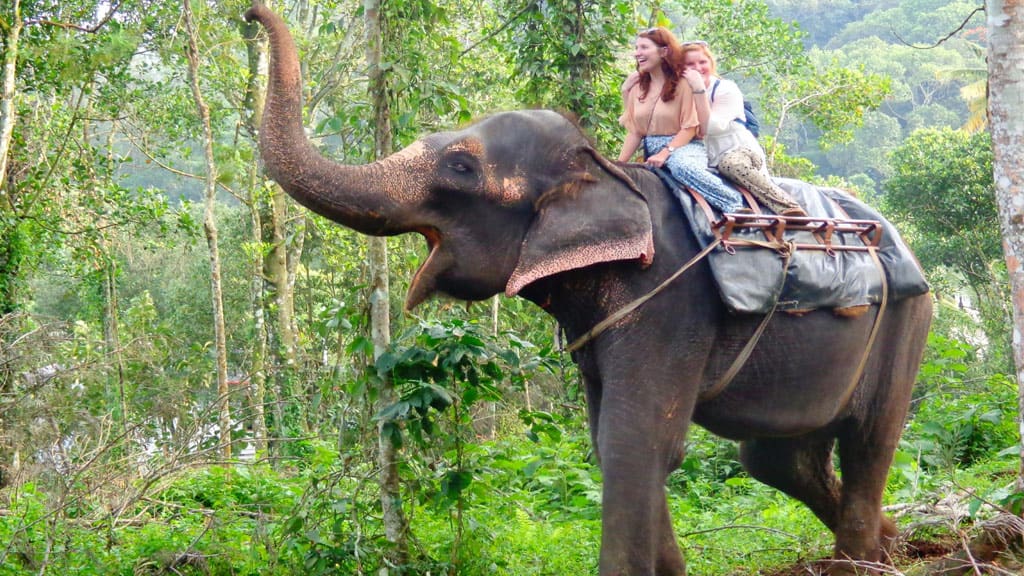 Kochi- Your starting Point
Kochi, the Queen of the Arabian Sea is adorned with both skyscrapers and natural beauty alike. From the 14th century, travellers from European and Asian countries visited this port.  The old streets and some of the major landmarks still hold the mark of trading relations with the British, the Dutch and the Portuguese.
On the other hand, over the years Kochi has earned the reputation of being a cosmopolitan city and commercial capital with shopping falls, cinemas and business hubs.  There is also the scope to explore backwaters, small islands, coastal cities, like Fort Kochi and Mattancherry. 
In these areas, you will get the chance to see Chinese Fishing Nets or CheenaVala.  Go to the Vasco da Gama Square, along Fort Kochi to click amazing photographs of the sea with sunset and Chinese Fishing Nets in the backdrop. Finally, don't miss Lulu Mall and Marine Drive to shop and take something special from Kochi. 
Thekkady- Your endpoint
Periyar National Park is the first name that comes to mind when we talk about Thekkady. As a wildlife sanctuary, it has earned a lot of reputation. The area of the sanctuary is above 777 square Kilometers. Inside the park, you will find an artificial lake that covers an area of 25 square Kilometers.
Moreover, it is also the country's only Tiger reserve. Obviously, it's a place for wildlife enthusiasts.  It is a safe home for a lot of endangered species. Periyar National Park gives you the rare opportunity to explore tropical flora and fauna.  For the visitors, Periyar National Park offers all the funs including hiking, elephant rides, boating, safari. 
Different Ways to Travel from Kochi to Thekkady 
There are different ways you can travel from Kochi to Thekkady. Unfortunately, there is no railway station in Thekkady. The nearest one is in Kottayam, which is 70 Kilometers away from Thekkady. 
We don't recommend going to Thekkady from Kochi by Air. Cochin International Airport is the nearest airport to Kochi.  On the other hand, Madurai Airport is the closest airport to Thekkady. The distance between Thekkady and Kochi is 105 kilometres. 
How to Travel from Kochi to Thekkady 
Duration of the Journey from Kochi to Thekkady by Road 
It takes 4 to 5 hours maximum to go from Kochi to Thekkady. 
Road trip from Kochi to Thekkady  
Vytilla Junction: You can start the journey from Vytilla Junction. It is unbelievable that this area was once a paddy field.  Now it is a major transportation hub.  The bypass connects districts like Alleppey, Kottayam, etc. with Kochi. 
Thrippunithura:  Next comes Thrippunithura or Raja Nagari where you will see people in fish market buying and selling different types of fish. Thripunithura is the area where the first royal family of Cochin resided long ago. Their descendants still live here. You can visit the Hill Palace to get an idea of how the Maharaja dwelled in Cochin once upon a time. 
Puthenkavu:  You will see the Puthenkavu, a small village or hamlet in Chengannur Block in Alappuzha District next. The scenic views of the village will charm you. You will get the sight of a river flowing by you.  It gives you a glimpse of the village life of Kerala. 
Thalayolaparambu: Thalayolaparambu is a town in the Kottayam district. It is a home of renowned personalities, like Anaparambil, former Chief Minister of Travancore Cochin, KG Balakrishnan, the former Chief Justice of India and Vaikom Muhammad Basheer, a famous Malayalam writer. 
Kaduthuruthy: Kaduthuruthy is known as a temple town. Tourists come here from near and far to see the Thaliyil Mahadeva Temple. It is also called Shiva Temple. 
Pala: One of the major destinations between Kochi and Thekkady is Pala.  It is important because Pala operates as one of the gateways to southern high ranges. Moreover, Pala has got Pala Serie Malabar Catholic Pilgrimage Center. The majority of the population of Pala are Christians and they belong to Saint Thomas Christians or Syrian Catholics. There is also the tomb of Saint Alfosono. Moreover, Pala has got rubber and pepper plantations. You can visit the rubber markets and also venture to buy some pepper from here. 
Ponkunnam: Ponkunnam refers to the town on the golden mountain. It is part of the Kottayam district. In Ponkunnam  the3re are many educational institutions and health care facilities. As you move along you could be delighted to see the rubber plantations. 
Kanjirappally: Kanjirappally is one of the busiest towns in the region. It is also one of the gateways to southern high ranges. The Syrian Christan Colonization has affected the area greatly. 
Mundakayam: Mundakayam is a small town in Kottayam district. It is located at the border of the Idukki and Kottayam districts. Mundakayam is gifted with greenery and rubber plantations because of the Manimala River that flows close by. 
Valanjanganam waterfalls: Valanjanganam waterfalls is also known as Ninnumullipara. Valanjanganam waterfalls are on the Kottayam-Kumily highway.  It is along the roadside. Usually, people stop at the waterfalls to have tea and snacks, besides enjoying its beauty. 
Peerumeedu: Peerumeedu is a hill station. The Maharajas of Travancore used to go to Peerumeedu for a summer retreat. In those days Peerumeedu was inaccessible. It was occupied by certain tribes like 'Malappandarams' and 'Malayarans'.  Various kinds of plantations, like coffee, rubber, white pepper, black pepper, ginger, turmeric, etc. will give you immense pleasure.  
Pambanar: Pambanar is a small village with a tea plantation. Its surroundings are really wonderful.  
Vandiperiyar: Vandiperiyar is a place where you will see tea, coffee and black pepper plantation mile after mile. There are a good number of black pepper and tea factories in Vandiperiyar. The Periyar river flows through this region. 
 The next stop is Thekkady.  You have reached your destination Thekkady successfully. 
Major Attractions from Kochi to Thekkady
Ernakulam Shiva Temple 
Ernakulathappan Temple or Ernakulam Temple is a renowned temple in Kerala.  As the name suggests it is dedicated to Lord Shiva. The temple is constructed on 4000 sq. meter land in 1846. Entry is Free. The Temple is open from 3.30 AM to 8 PM
Cochin Jewish Synagogue 
Cochin Jewish Synagogue is popularly known as The Paradesi Synagogue. The word Pardeshi means foreigners. In 1568 the Jewish Community built it. Later the Portuguese destroyed the Synagogue. Later the Dutch rebuilt it in 1664. You are advised to enter the Synagogue barefooted. The Cochin Jewish Synagogue is open from 10 am to 12 pm and 3 pm to 5 pm. It remains closed on Jewish Holidays and Saturdays. The entry fee is 5 rupees per person. 
Dutch Palace 
The Dutch Palace or the Mattancherry Palace is a major landmark. Like many places, it is a symbol of intricate architecture. Moreover, the place also shows British influences. It was constructed around 1545 C.E. In this place, you will find special murals that depict the Mahabharata and the Ramayana. The works of renowned poet Kalidas can be also found. The place is only 12 kilometres from Ernakulam. The entry fee is only 2 rupees per person. The Dutch Palace is open from 10 AM to 5 PM. It is closed on National Holidays and Fridays. 
Indo Portuguese Museum
The Indo-Portuguese Museum is situated in the Bishop's House.  The main attraction of this place is the different artefacts gathered from different churches.  It also showcases many items that depict the art and culture of Indo- Portuguese influence in Kerala. Dr Joseph Kureethra the former Bishop of contributed greatly to the museum. 
Those who love to learn about different places by exploring museums can visit Indo Portuguese Museum. The visitors will be delighted to see artefacts that show the Portuguese Legacy. The Indo Portuguese Museum is open every day from 6:30-5:30. It is open from 5:45 AM-5:30 PM on Sundays.  The4 entry fee is 10 rupees for Indians. On the other hand, 25 rupees for foreigners. 
The road trip from Kochi to Thekkady is interesting at the same time memorable. We hope you will explore the tourist attractions mentioned in the article to have an enriching experience.