Munnar is 140 km (about 4.5 hours) from Kochi and there are some amazing waterfalls on the way to Munnar. Remember to budget a good 4 hours if you are driving up or down since the road is blind in some places and there are a lot of trucks and buses that seem to drive as if they own the road. Alongside, you can see many refreshing waterfalls where you can take some rest. The majestic waterfalls in Munnar stand unique with pristine beauty and attractiveness.
When you plan a Munnar trip you need to ensure that you stay in Munnar for two nights at least enjoy the complete experience. If done in haste you may spend most of your time inside the car and may miss out on a lot of experiences on the way like waterfalls on the way to Munnar.
Tucked away between Neriamangalam and Adimali, Cheeyappara and Valara Waterfalls in Munnar are often mentioned together due to their close proximity with each other. Located around 10 km on the Munnar-Kochi Highway, these two waterfalls in Munnar are canopied with lush and evergreen thickets. Surrounded by dense forests and luxuriant tea plantations, these waterfalls in Munnar offer peace and solitude away from the hustle-bustle of the city.
Waterfalls on the way to Munnar
1. Valara Waterfalls
Valara waterfalls are surrounded by lush, dense forests that are home to a wide variety of small animals and birds. Valara waterfall is in the middle of a non-exploited forest with a chilly downpour of clear water and it is a common sight to see tourists taking a bath in this waterfall. The waterfall cascades from a height of 1000 m which itself is a treat to our eyes making it one of the best waterfalls in Munnar.
The Valara waterfalls in Munnar look the best right after the monsoon season. This waterfall is in the Deviyar river, a small river originating from western ghats, passing through Adimali Grama Panchayath. It is considered one of the major waterfalls in Kerala state. The Thottiyar Hydro Electric Project, the upcoming project by Kerala State Electricity Board is very close to this waterfall.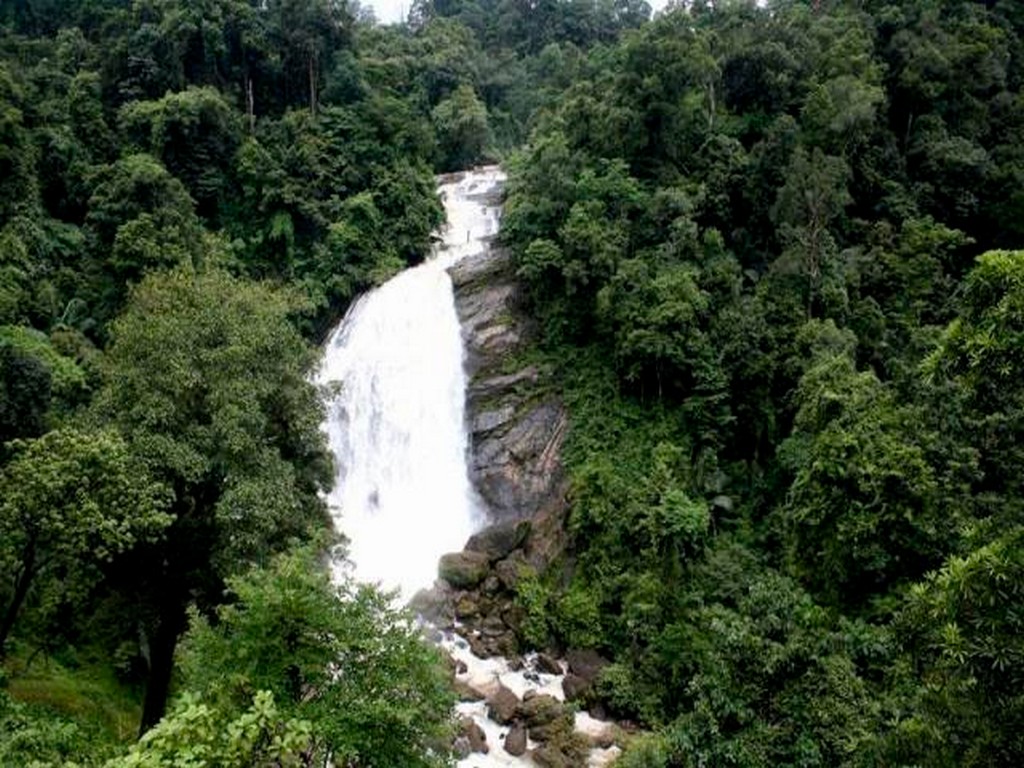 2. Cheeyappara Waterfalls
Famed as one of the best waterfalls in Munnar, Cheeyappara has been declared as an 'Eco-tourism Destination' in Kerala. Cheeyappara Waterfalls is even more magnificent than Valara and you can see water cascading down here over seven steps, providing a truly fantastic spectacle for you to behold! The awesome scene of white waters cascading down from the top of a peak will remain forever in your heart as one of your most precious memories.
This waterfall in Kerala is a picturesque spot that is easy to reach as it is well connected to nearby cities. The surroundings of the beautiful Cheeyappara Waterfalls are a great place where you can pursue a range of activities, foremost among these being trekking.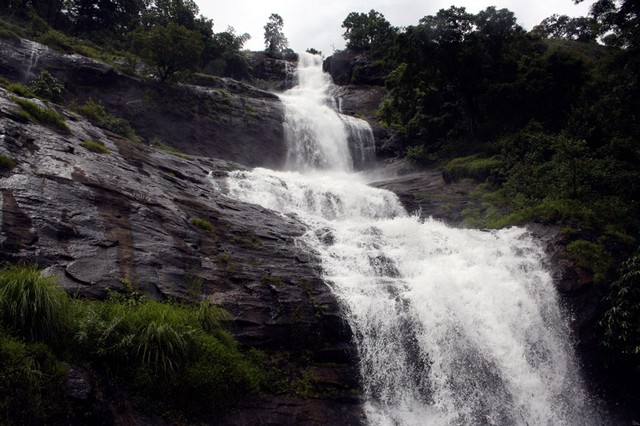 Although the road is a national highway and is smooth (NH 49), it is narrow, twisty, and curvy. Make sure you have a light meal before you drive to Munnar on these roads, to ensure a smooth experience! Kothamangalam is around 60 km from Kochi and is 80 km away from Munnar. Between Kothamangalam and the next town "Adimali", you can experience a beautiful cool drive through a natural forest where you enjoy the waterfalls on the way to Munnar and multiple streams.
3. Nyayamakad Waterfalls
Nyayamakad waterfall is a remarkable addition to the Waterfalls on the way to Munnar. It is situated between Rajamala and Munnar. Nyayamakad waterfall is only 10 kilometers away from Munnar. The scenic route will provide you with absolute greenery. 
Surrounded by enthralling green valleys of Western Ghats, the location of Nyayamakad waterfall gives it an advantage. It is situated inside the Eravikulam National Park. Thus, you will get the opportunity to see animals, like barking deer, sambar, Malabar civet, grey jungle fowl, etc. If you are lucky, you will catch a glimpse of Nilgiri Thar. 
Nyayamakad waterfall awakens the nature lover in you.  There are many reasons why the Nyayamakad waterfall claims to be the best among the waterfalls on the way to Munnar.  First, it drops from a height of about 1600 meters. You can trek to the top to be a spectator of amazing views of bordering valleys like Anamudi Peak. The trail is a good one for those who love adventures. However, winter is the best time to visit Nyayamakad waterfall.
During monsoon the trails become risky. Furthermore, others enjoy going to Gravel Banks. It is a trout fishing site.  Besides, you can also visit Kolukkumalai Tea Estate. Women picking up tea leaves is a sight that can't be missed.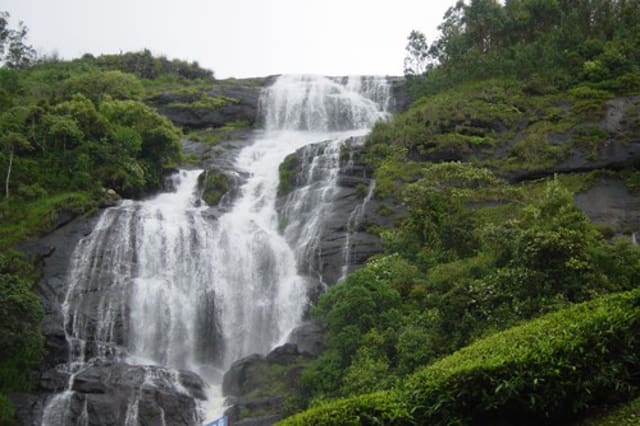 4. Chinnakanal Waterfalls
The beauty of Chinnakanal Waterfalls in Munnar can't be described in words. It is also known as Powerhouse Waterfalls. Chinnakanal Waterfalls look enthralling because it is surrounded by tea estates and green mountains. The mountain ranges are such that you can hike them easily. Moreover, you can sit on the rocks and enjoy the waterfalls as it cascades from a height of about 800 meters.
 The waterfall originates from the river Devikulum. If you are planning to visit Periyar Wildlife Sanctuary then keep Chinnakanal Waterfalls on your list. Chinnakanal Waterfalls is only 16 kilometers from Munnar. The waterfalls are accessible. On the way to Munnar, you will find Chinnakanal Waterfalls on the main road opposite Chinnakanal Health Hospital. You will be happy to learn that there are shops at Chinnakanal where food is available.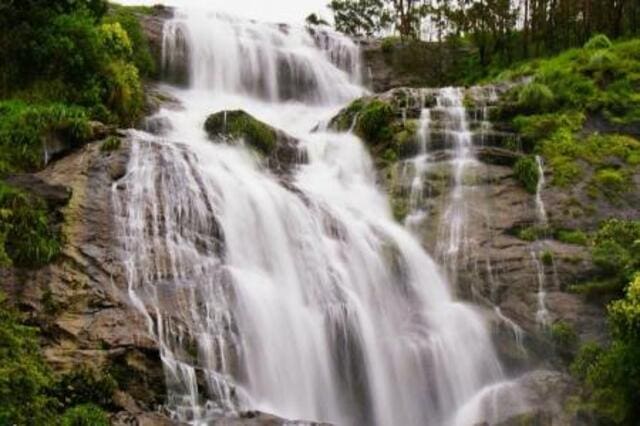 5. Kuthumkal Waterfalls
Kuthumkal waterfall is a misty thundering fall. The mist is created because of waterfalls at full velocity from a great height.  It is situated 28 kilometers from Munnar in Rajakkad village. Kuthumkal waterfall is a popular picnic spot. People usually like to spend time amid the greenery in a peaceful environment. But unfortunately, many do not have an idea about Kuthumkal waterfall. As a result, it is less crowded. So, this waterfall remains unexplored in most cases.  The reason being the waterfall dries up during summer and loses its shape. Hence, it is best to go to this place from June to October during the rainy season.
If you are keen to watch and enjoy the waterfalls on the way to Munnar, you won't be disappointed. Munnar is blessed with some of the mesmerizing waterfalls which can take your breath away. Standing in front of any one of them you will feel nature's exquisiteness.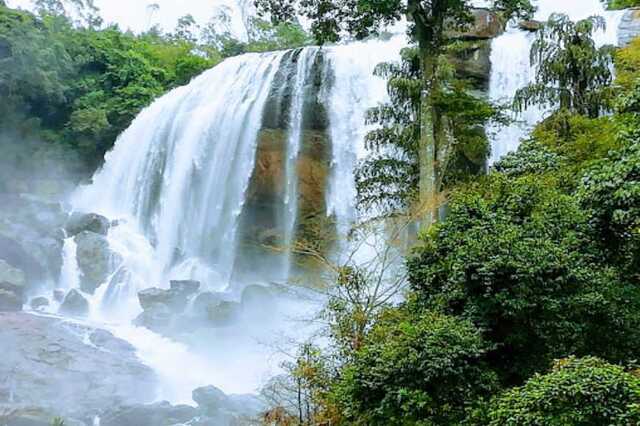 Check out some of our Munnar tour packages to experience the beauty of these waterfalls.