With undiscovered natural realms and vivid ecosystems lying deep in its forests and hills, Kerala never fails to amaze those who come here seeking offbeat experiences and hidden locations to explore. Dhoni Waterfalls is one such place. Set 15 km away from the delightful little town of Palakkad in Kerala and 1 hour away from Kollengode, the cleanest village in Kerala, Dhoni Waterfalls is the perfect mix of refreshing natural beauty in its pristine form, boundless adventure, and breathtaking vistas all around! All in all, it's the perfect place to take that much-needed break you long for…and what better time than now!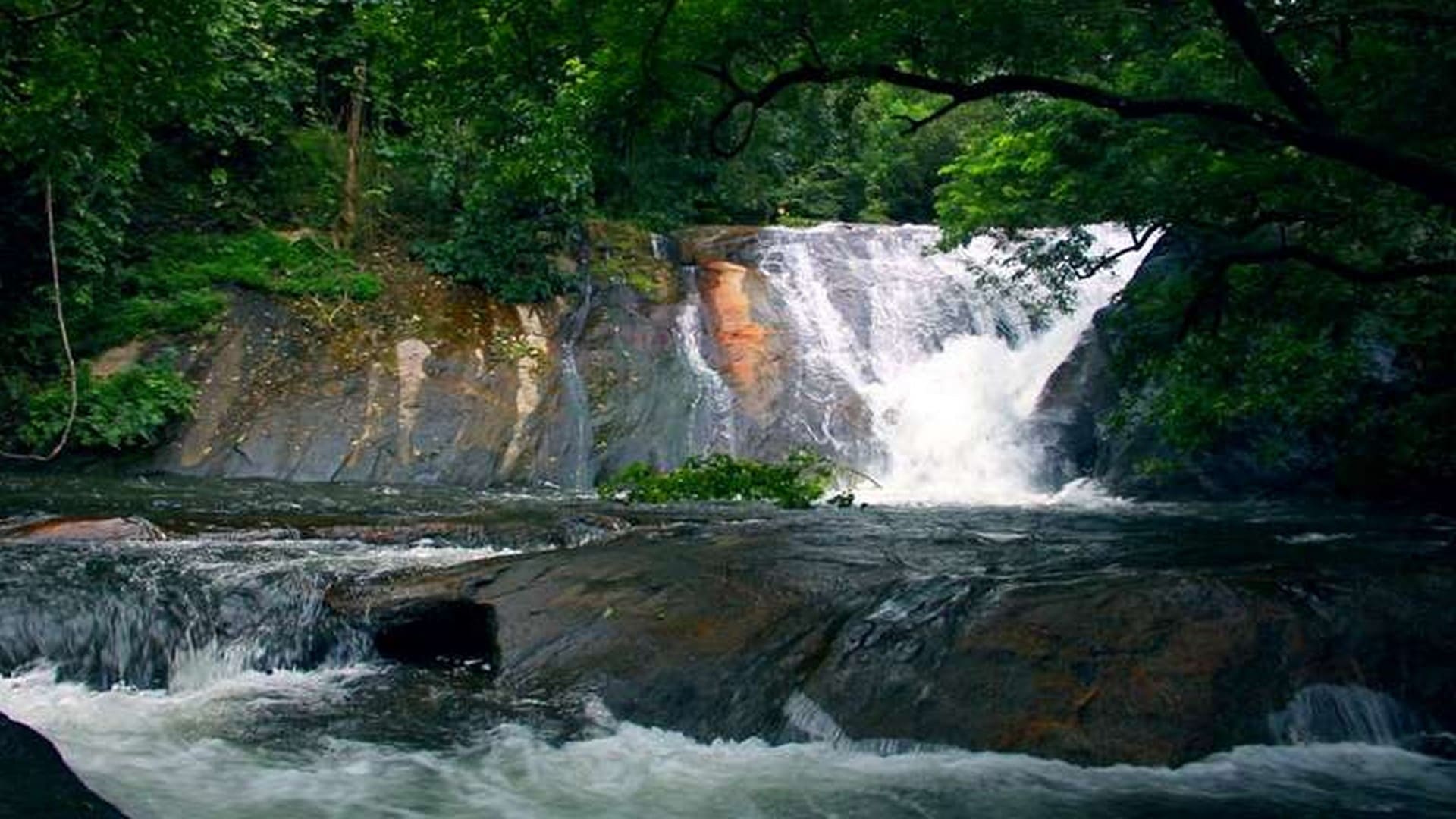 Scroll down to find all the necessary details on Dhoni Waterfalls like the best season to visit, how to get there, where to stay, and the activities you can engage in to make it a kickass holiday experience for yourself and your loved ones.
ALSO SEE- 20 Most Beautiful Waterfalls In Kerala Worthy Of Your Bucket List
Dhoni Waterfalls: Brief Information
Location: Dhoni Hill, Olavakkode Range, Puthuppariyaram, Palakkad, Kerala 678591
Geography: The waterfall is surrounded mainly by grasslands, evergreen and semi-evergreen forest cover, as well as dry and moist deciduous forest cover, and is situated inside the Nilgiri Biosphere of the Western Ghats
Nearest city: Palakkad
Distance from Palakkad: 15 km
Best Time To Visit Dhoni Waterfalls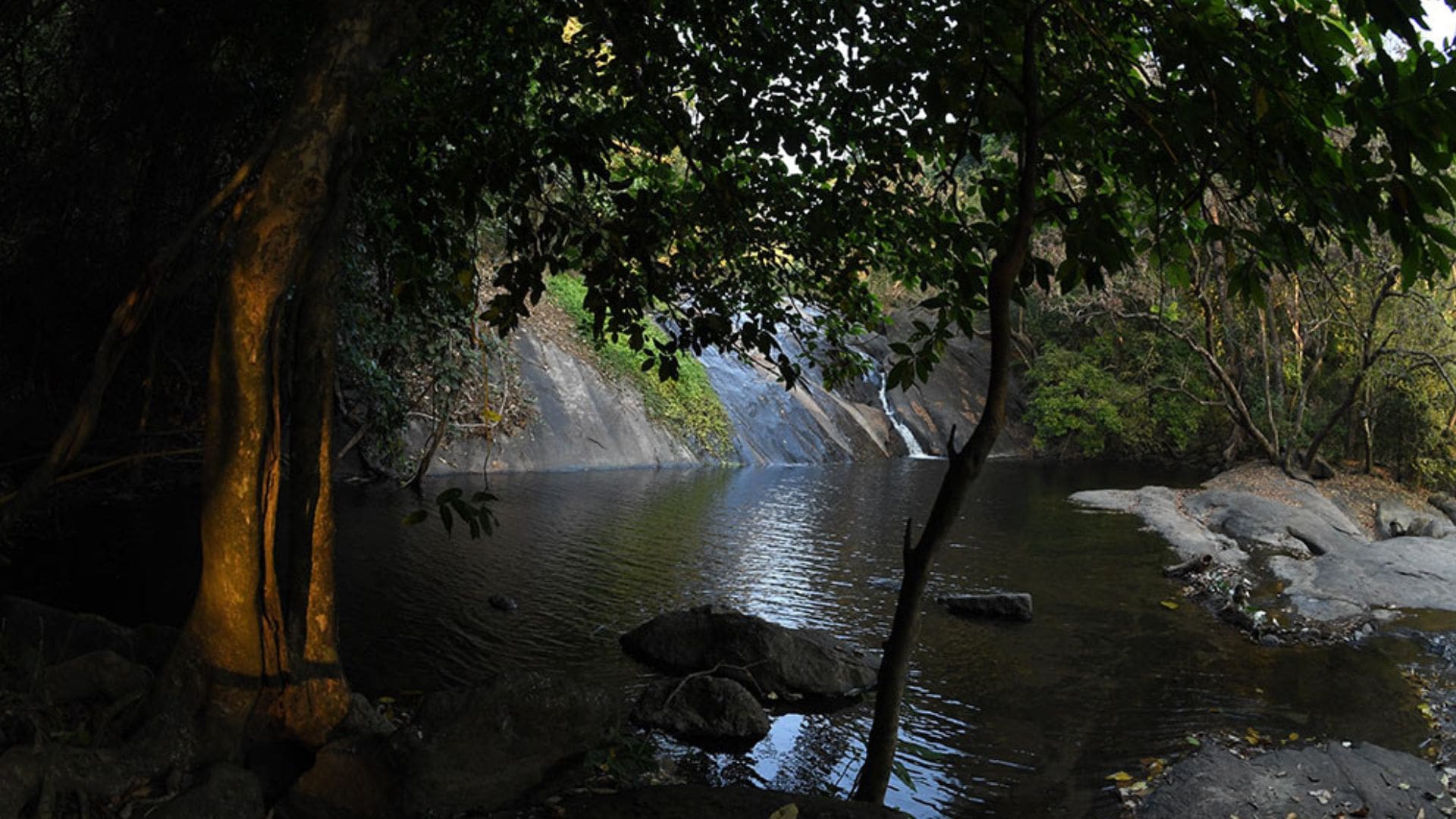 September to January is considered to be perfect for exploring this waterfall. It cascades with all its might during monsoon, filling up many small streams in its vicinity and transforming the whole landscape into a lush paradise! While it is certainly an ideal time to witness this beauty tucked in the midst of the Western Ghats, it is also the most dangerous time to be here!
The waterfall overflows and is completely unpredictable in the rain, and even the narrow trail leading up to it is muddy and slippery. Which is why, most trekkers and adventure enthusiasts prefer to visit it in September, right after the final spell of rain leaves the waterfall flowing in full force. At this point, trekkers going up to the falls are also greeted with fresh, dew-covered foliage, cool monsoon breeze, and the intoxicating aroma of wet earth, making their experience all the more revitalizing!
ALSE SEE-  🌴Best Time To Visit Kerala(Updated )- Weather, Tips & Places To See
Getting To Dhoni Waterfalls:
Once you've reached the forest entrance at the base of the Dhoni hills, you need to trek all the way up to the waterfall. The 3-hour long trek to Dhoni Waterfalls is moderately easy, but certainly very refreshing and scenic! Your guide will take you up a narrow, winding trail, through dense woods, and past some lovely streams.
Dhoni Waterfalls Timings
The entrance to the waterfall at the base of Dhoni hills opens up for trekkers at about 9 AM every morning and closes in the afternoon. It is advised to embark on the hike early in the morning so that you have enough time at hand to explore the waterfall and its surroundings properly and return downhill before it gets dark.
Dhoni Waterfalls Entry Fee
Visitors have to pay a nominal fee of INR 100/- per person to gain entry into the forest area leading up to the waterfall. Make sure you carry with you a valid ID as you will also need to acquire at the ticket counter an official permit to get into the Nilgiri Bioreserve along with the ticket.
Things To Do At Dhoni Waterfalls
A trip to Dhoni Waterfalls comes with a plethora of exciting experiences! Scroll down and find out what all is in store for you there.
First on the list is, of course, a thrilling and rejuvenating trek to the falls and other places around it. And it's not some average trek inside a common jungle. You'll be traversing through the enchanting woodlands of the Nilgiri Biosphere in the Western Ghats, one of the most beautiful and diverse ecosystems in the world! They say the journey is always more memorable than the destination, don't they? Well, hiking in this bewitching jungle past delicious streams, resplendent greenery, misty mountains, and musical bird calls is sure to tell you why!
The pristine Dhoni waterfalls break into many different streams and collect in a massive pool at the bottom. Visitors can take a refreshing dip here and also witness the mighty falls up above from this point. Post monsoon, this pool is filled to the brim with fresh, cold water that is bound to tingle your senses and leave you feeling recharged! However, one must take great care while bathing in these waters as the rocks underneath tend to be slippery and the intensity of the water's flow unpredictable.
It is recommended that you initiate your trek to the falls early in the morning so that you can enjoy a cool dip in the water as well as explore other interesting avenues in the jungle including the Kalavara Kunnu Bungalow and the Malampuzha Dam.
This is another reason why you should begin your trek to Dhoni Waterfalls early in the morning! You're bound to come across many wonderful and even rare animals and birds on your way to the falls. The jungle is home to a plethora of wild animals, birds, amphibians, reptiles and insects that wander freely owing to restricted human intervention and the absence of paved roads which in turn ensures limited vehicle encroachment here.
Being nestled in the remote wilderness of the Western Ghats, a large number of Asian Elephants, a variety of deer, Lion-tailed Macaques, and even tigers and King Cobras find shelter here. While the chances of spotting a Cobra or a Tiger are pretty slim, it is quite easy to catch glimpses of elephants and deer roaming around with their young ones or sunbathing close to a stream.
Visit The Ruins Of A Colonial Bungalow
You must not miss the chance to explore this hauntingly beautiful yet abandoned bungalow while trekking to the falls, or while climbing down from it. While the shortcut from your trek that takes you to this mansion has a few steep inclines, the picture-perfect view that you get at the end of it will make up for your struggle!
Built in the 1850's, the Kalavara Kunnu Bungalow once served as a vantage point for overseeing the orange and cardamom plantations of this region. Other than the beautiful remains of the bungalow itself, the mesmerizing views from this point are also something to write home about!
ALSO SEE- 75 best things to do in Kerala in 2023 (with Photos)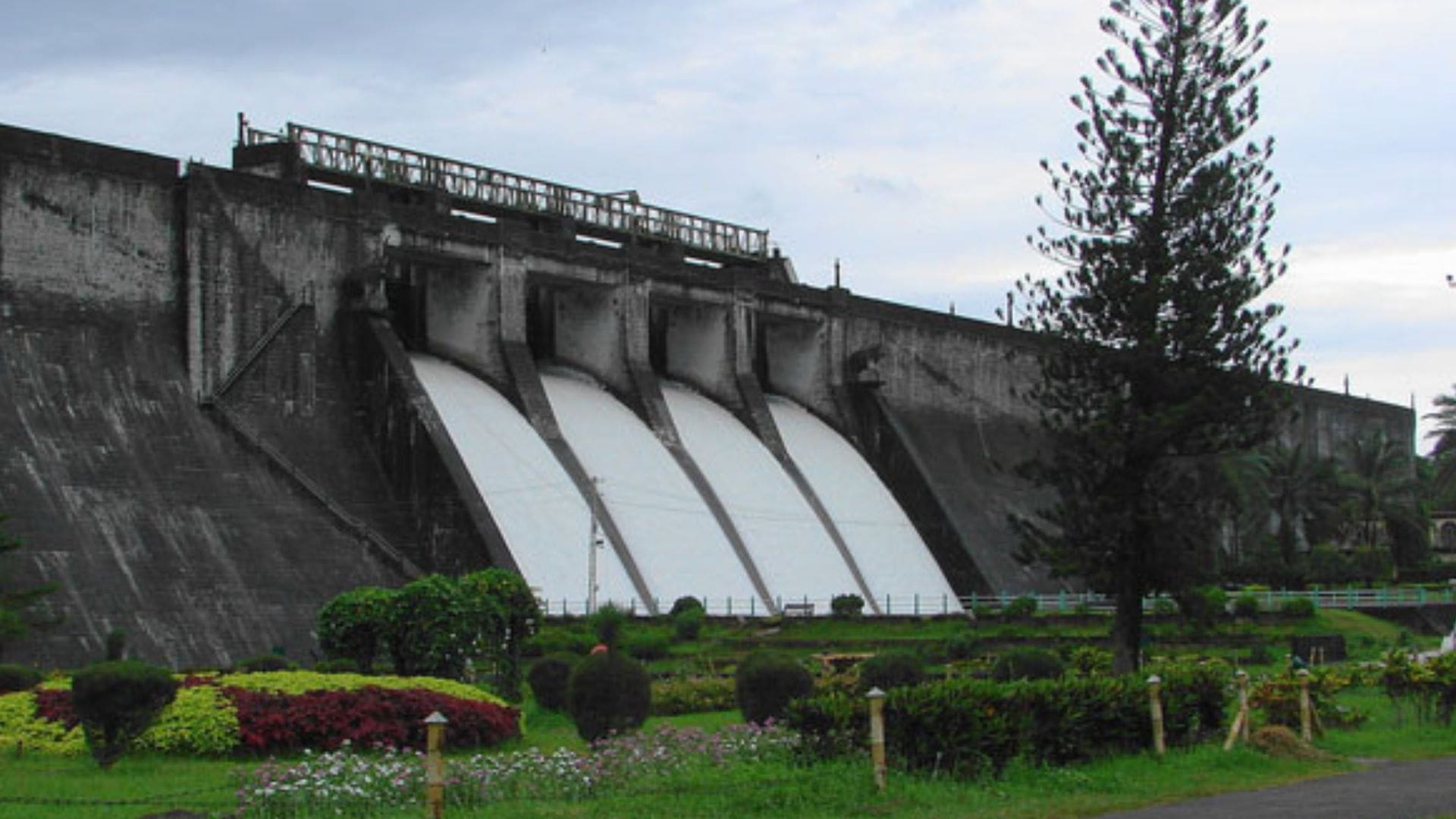 Just 5 km off the Dhoni Waterfalls trekking trail is the Malampuzha Garden and Dam, a treat for sore eyes! One might argue that it's just an ordinary dam, but they can't deny that the beauty of its surrounding area and the view from the dam itself are to die for! Even the trail that leads here is no less beautiful! However, since entry to this area is restricted, you must obtain prior permission from the District Forest Officer (near the ticket counter) and hire a local guide to help you find your way through this breathtaking but somewhat confusing forest area.
ALSO SEE – Best Things to do in Nelliyampathi Tourist Places
So, if you start early, you will be able to enjoy a detour to all these charming places to visit near Dhoni Waterfalls as well as spend quality time at the waterfall itself!
Places To Stay Near Dhoni Waterfalls
There are a handful of guest houses, budget hotels, and lavish resorts in Palakkad that you can choose from based on your convenience and budget. You can find out about some of them here:
1. Au Revoir Resort – For Boundless Luxury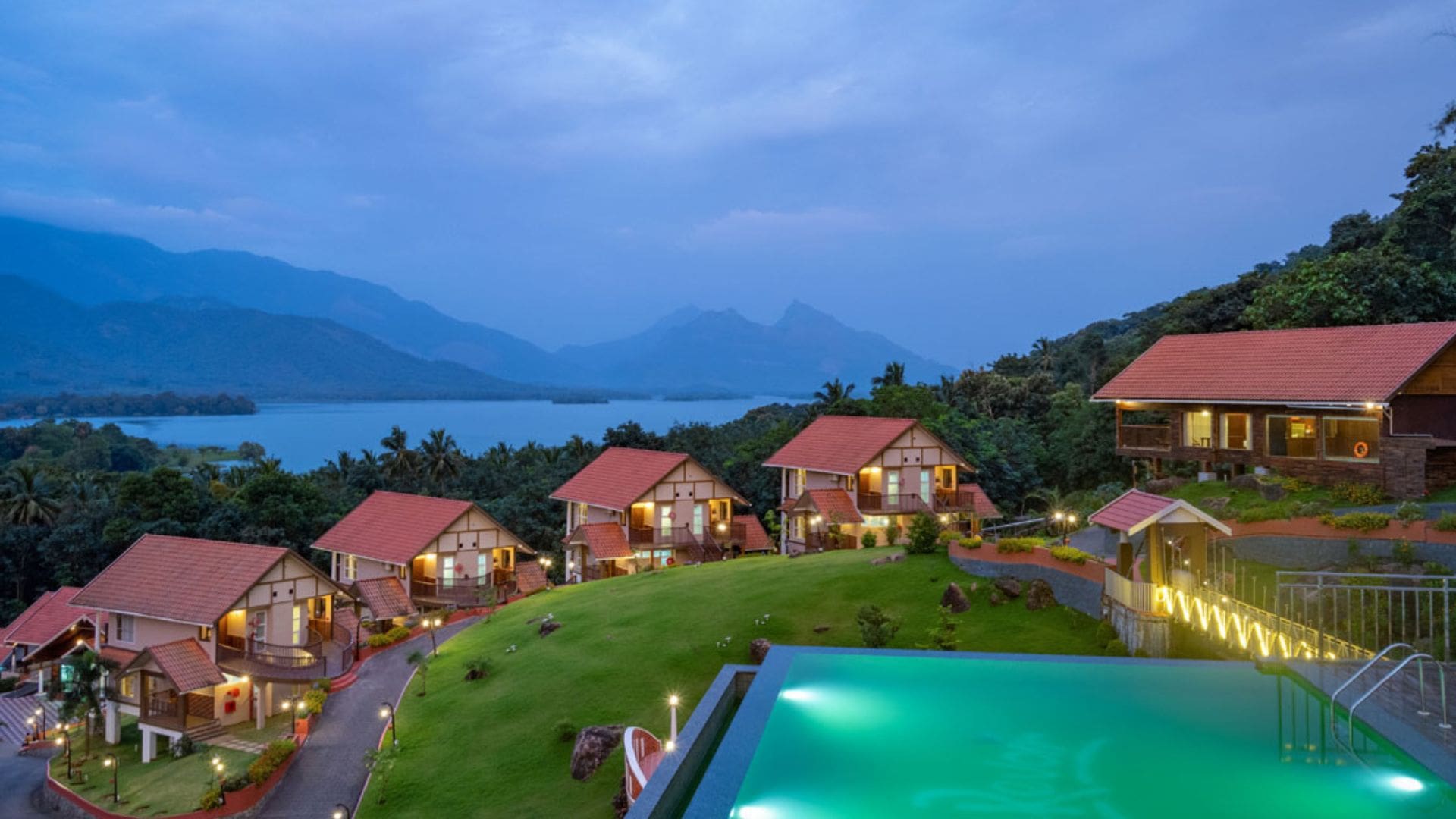 Au Revoir Wellness Retreat is a gem of a locale for a regal holiday that treats guests to stunning views of the Sahyadri Mountain range in Kerala. Hidden from the eyes of the world, it is bounded by cloud-kissed evergreen mountains on one side and a majestic lake on the other, offering guests picture-perfect sights all day long! It's 17 km away from Dhoni Waterfalls (15 km from Palakkad) dense forests, rubber plantations, and the stunning Malampuzha Dam greeting visitors on their way to it!
This 4.4 acre property gives guests a sense of being one with nature with its artfully designed architecture and landscaped gardens. Complete with a multi-cuisine restaurant, coffee shop, business centre, and children's play area, Au Revoir is perfect for a luxurious stay.
Location: Malampuzha Dam Ring Road South Malampuzha, Palakkad 678591 India
Starting price: INR 6,795 per night
2. Boon Inn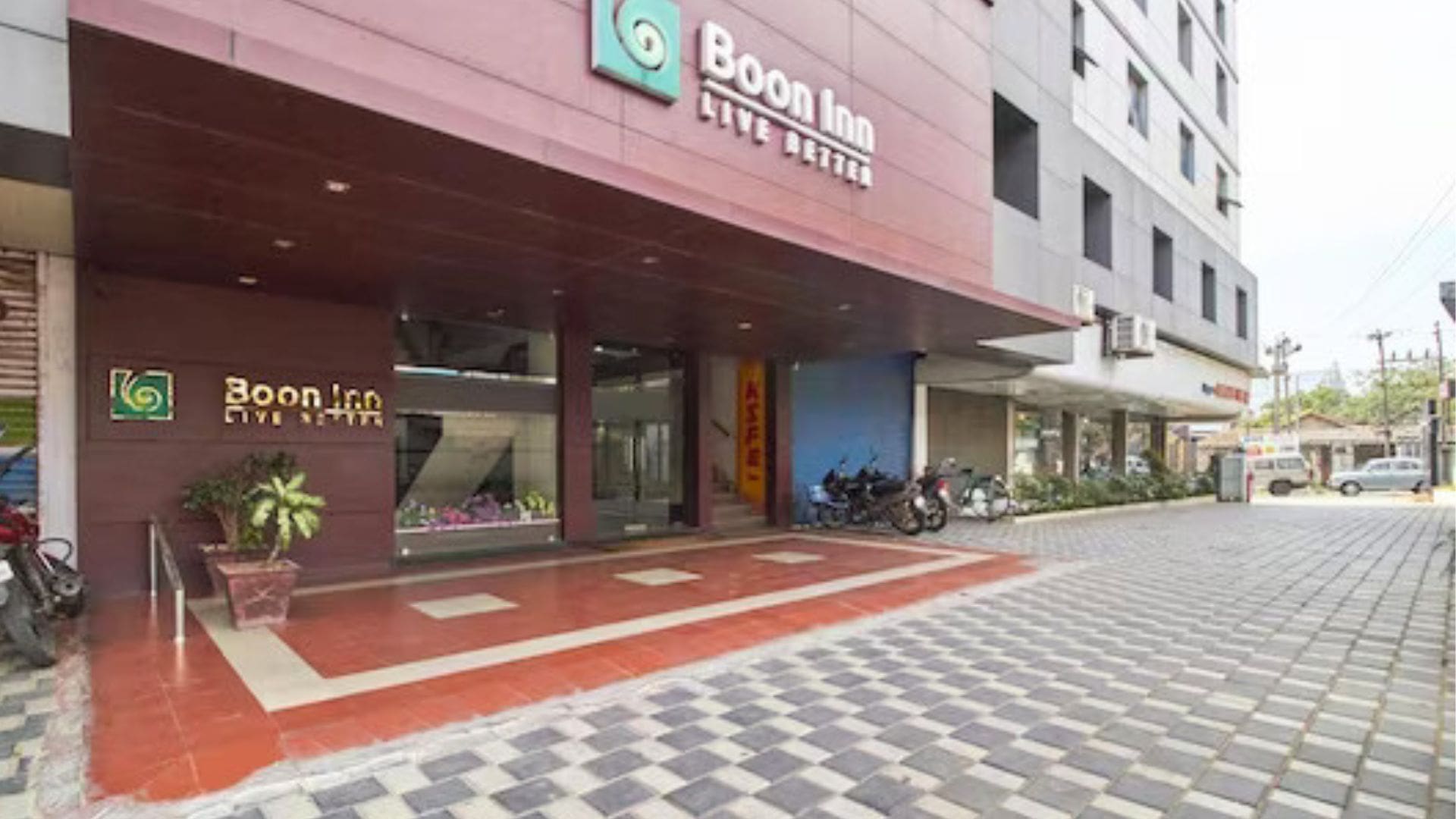 If you're looking for a budget stay that offers luxurious amenities, Boon Inn is the place to be! The 3-star hotel has spacious, fully furnished rooms and suites with tastefully designed interiors and all basic facilities to make your stay comfortable and memorable, including an electronic safe, multiple charging ports, in-house laundry, LED TV, free Wi-Fi, and a comfy workspace.
The hotel property is located right in the heart of Palakkad, making it super convenient for travelers to explore the city, access the markets, and travel to and fro the airport or train station. It is also just 12 km away from Dhoni Waterfalls, making it a great stay option near it for budget travelers.
Location: Parayil Square, Kandath Complex GB Road, Palakkad 678014 India
Starting price: INR 1,819 per night
3. Ambat Farmstay
Living in a spacious bungalow set inside a vast farm surrounded by tall trees and green hills is the stuff of dreams, isn't it? Well, you can make that dream a reality by staying at Palakkad's spacious and homely Ambat Farmstay! Started as an a forestation project by the late A.M. Menon in 1962, this once-barren region now has 6,000 trees. Even its current host Naren Kutty is a campaigner for environmental conservation and has spent his life in the management and well-being of this farm.
This elegant villa offers all comforts of home and the luxuries of a 5-star hotel. It has fully furnished cottages and tented campsites with en-suite bathrooms. You can relax in the lounge, dine on wholesome and organic Kerala cuisine, or visit the nearby lake for swimming, fishing, and bird watching while you're here. The farm stay is only 2 km away from the Palakkad Railway Junction and 73 km away from Coimbatore International Airport.
Location: Ambat Kalam Puduppiriyaram, Palakkad 678731 India
Starting price: INR 2,800 per night
ALSO SEE- Top 10 Best Resorts in Kerala
Tips For Visiting Dhoni Waterfalls
Please keep the following things in mind while planning your trip and visiting the waterfall.
Plan at least two months in advance to make sure you get the accommodation of your choice.
Do not visit the waterfall during heavy rains as the trail leading up to the waterfalls turns slippery and muddy during this time.
Carry mosquito repellent.
Wear sturdy hiking shoes and comfortable casuals for the trek.
Do not litter. Leave the forest as clean and pristine as it was when you entered it!
Acquire prior permission to enter the forest area from the official website of Kerala Tourism.
Hire an experienced guide to take you to Dhoni Waterfalls as the route can be tricky and dangerous to cover on your own.
The water at the base of the waterfall appears calm but is rather treacherous and unpredictable. Tread carefully, stay on the shallow side of the water, and don't dive.
Make sure you are physically fit to undertake the trek. Though the hike is easy, it is not recommended for people with back and joint pain.
How To Reach Dhoni Waterfalls
Getting to the forest where the waterfall is situated is pretty easy, as it's connected to all nearby cities and towns and is rather close to transportation facilities like the airport and railway station. It is the final leg of the journey – getting to the waterfall inside the forest – where all the adventure actually lies.
By Air: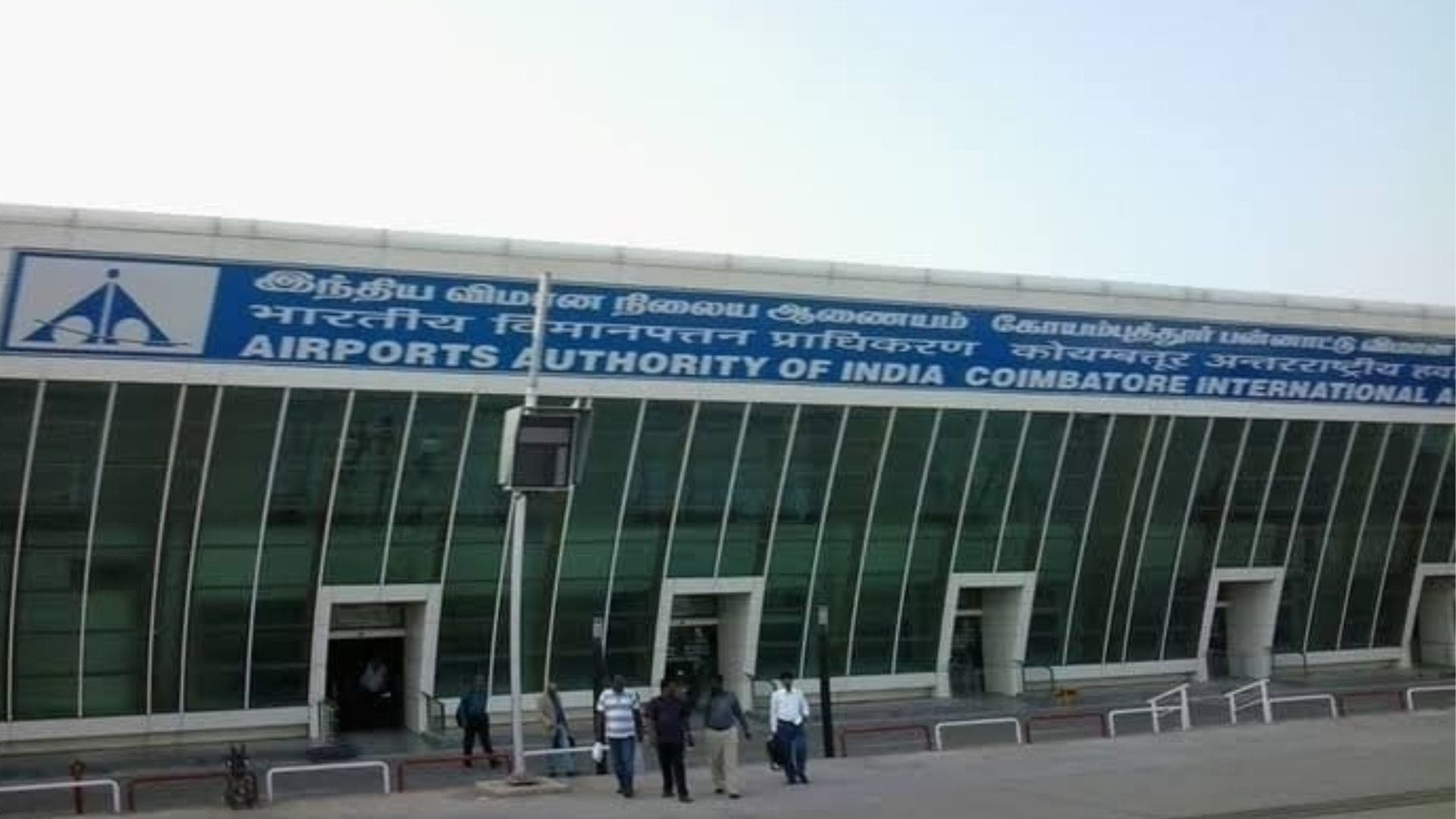 The nearest airport to Dhoni Waterfalls is the Coimbatore Airport in Tamil Nadu located 55 km from Palakkad city, followed by Calicut International Airport 101 km away. Cabs, rental vehicles, Volvos, and private buses are available at the airport and can take you to Palakkad or the waterfall itself. Or you can grab a seat in one of the KSRTC buses plying on the route to get to Palakkad at a comparatively nominal fare.
ALSO SEE – Airports in Kerala – Helpful Guide for Tourists Visiting Kerala
By Rail: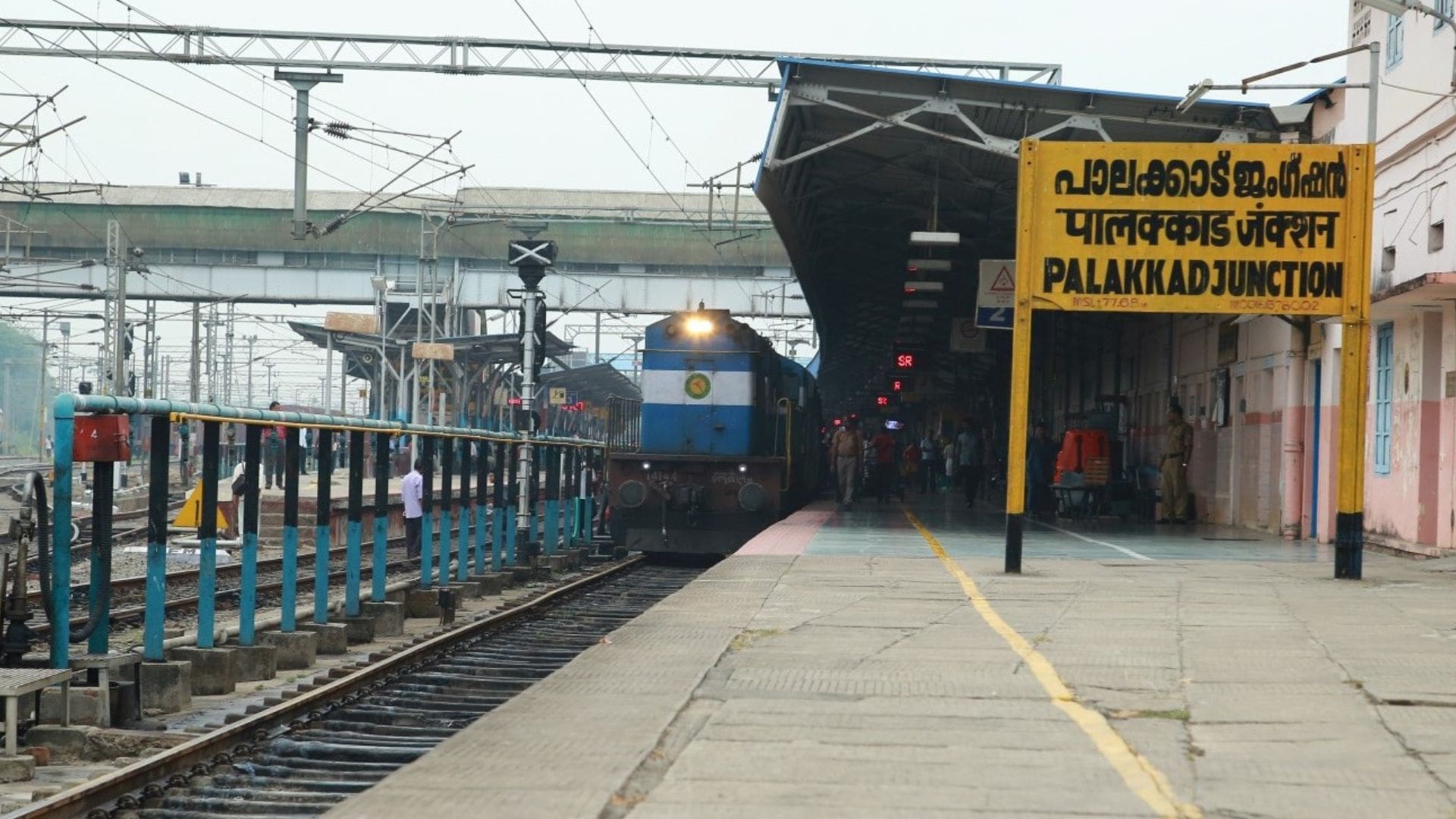 Located just 9 km away, Palakkad Railway Station is the nearest rail head to the waterfall. Though available, private and public bus facilities here are infrequent. So, it is better to hail a cab or hire a rental from this point to the waterfall entrance.
ALSO SEE – Best Train Journeys In Kerala  that will compel You for a holiday!
By Road:
All cities and towns in Kerala are interconnected by a fairly smooth and well-developed road network, including Palakkad. A road trip to this waterfall from anywhere in Kerala or any other part of South India is bound to treat you to stunning views of Kerala's boundless natural beauty including villages, mountains, rivers, forests, and tea plantations! Whether you drive down here in your own vehicle, rent one, or book a seat in any of the private AC Volvos operating in Kerala to get there, your journey will be a memorable one!
With its limitless beauty and captivating views, Dhoni Waterfalls is quickly gaining the attention of the world. Don't miss this opportunity to explore this unspoiled hotspot before it loses its pristine charm and is overrun by tourists and adventure seekers. Browse our range of Kerala tour packages today and get in touch with our team to customize your holiday as per your liking. Happy tripping!