Kerala has rich culture and heritage which is so well preserved by the locals. Unique beauty of Kerala is not only reflected in its glistening water bodies and the verdant forests, but also in its culture and Kerala Dance Forms.
The local people of Kerala foster their love of dance through events and festivals where they portray the beauty of these Kerala Dance Forms. Along with Carnatic and classical music the performances of dances in Kerala make you swoon and in awe of the performers.
ALSO SEE-  Top 33 Best Places to Visit in Kerala for 2023 (Updated with Latest Photos)
Traditional dance forms in Kerala give you a chance to experience the culture of Kerala that will surely steal your hearts. The surreal experience of witnessing a dance form in Kerala is equivalent to witnessing its pristine backwaters from a houseboat in backwaters.
There are more than fifty well know Kerala traditional dance. Out of those fifty Kerala dance form, Kathakali is one the most popular folk dance of Kerala. Kerala folk dance is filled with attractive colors combined with elegant body movements with music.
ALSO SEE – 75 Best Things to do in Kerala
Dance is an integral part of Kerala's art and culture and no festival is complete without a brilliant showcase of kathakali dance. These dance forms have gained popularity not only in the state itself, but also across the globe! Each dance form is unique and has a different way of expression adorned with ornaments and dance costumes.
10 Best Traditional Dances Of Kerala That Will Enchant You!
Let's find out some of the best traditional dance forms in Kerala that will bewilder you for a mesmerizing experience on your trip to Kerala.
1. Kathakali
Amongst the most famous dance forms in Kerala, Kathakali is a renowned Kerala dance that is famous all across the world and performed by many artists at various occasions. Kathakali originated about 500 years ago in Kerala and combines music, art, design. religion as a form of expression to give you a spectacular theatrical performance. Kathakali which is the most famous among Kerala Dance Forms is usually performed by men with colorful attire to portray characters from the Ramanayana, the Mahabharata and the Puranas.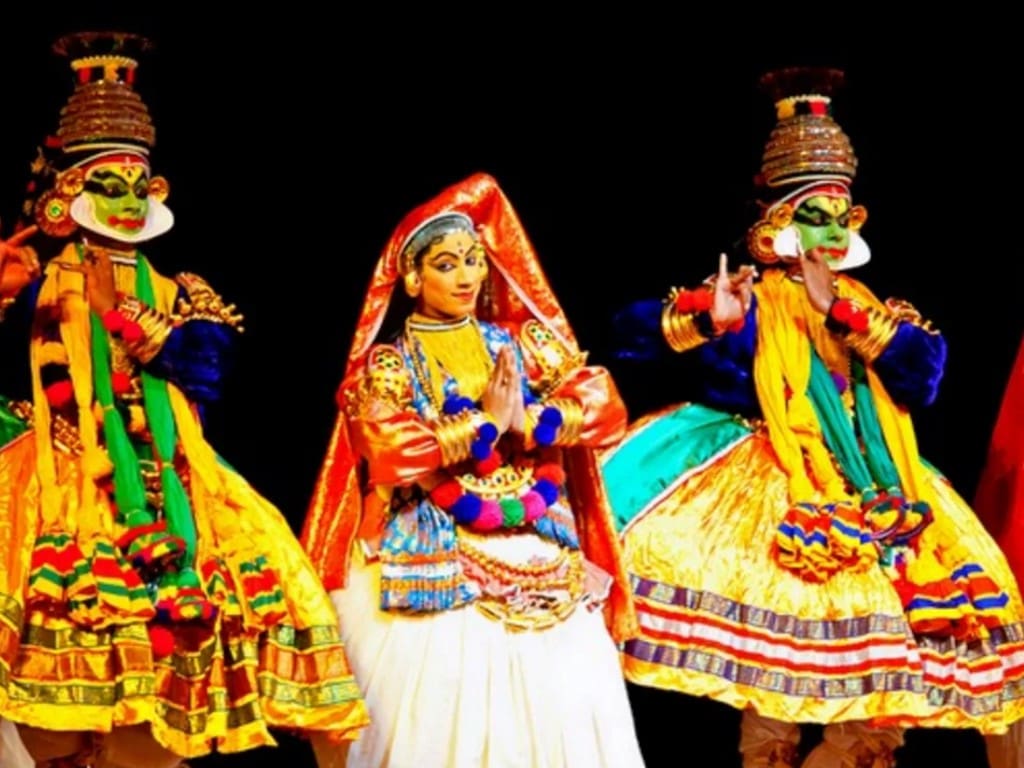 Kathakali is usually performed by men with colorful attire. They portray characters from the Ramanayana, the Mahabharata and the Puranas. Kathakali is a form of ballet with muscle movement, and eye movement to express emotions circling around the life of Lord Krishna.
The dancers are usually decked up in billowing skirts, a headgear, ornaments and their faces are painted in colours of green, white and red to portray different characters.
ALSO SEE – Best Places to watch Kathakali in Kerala
2. Mohiniyattam
Mohiniyattam is a very graceful form of dance that is performed by women and it involves lots of eye movement, and graceful movements that will enchant you. The Mohiniyattam dance is the most famous classical dance form in Kerala . It has the combined elements of two other dance forms that is the Bharatanatyam and Kathakali.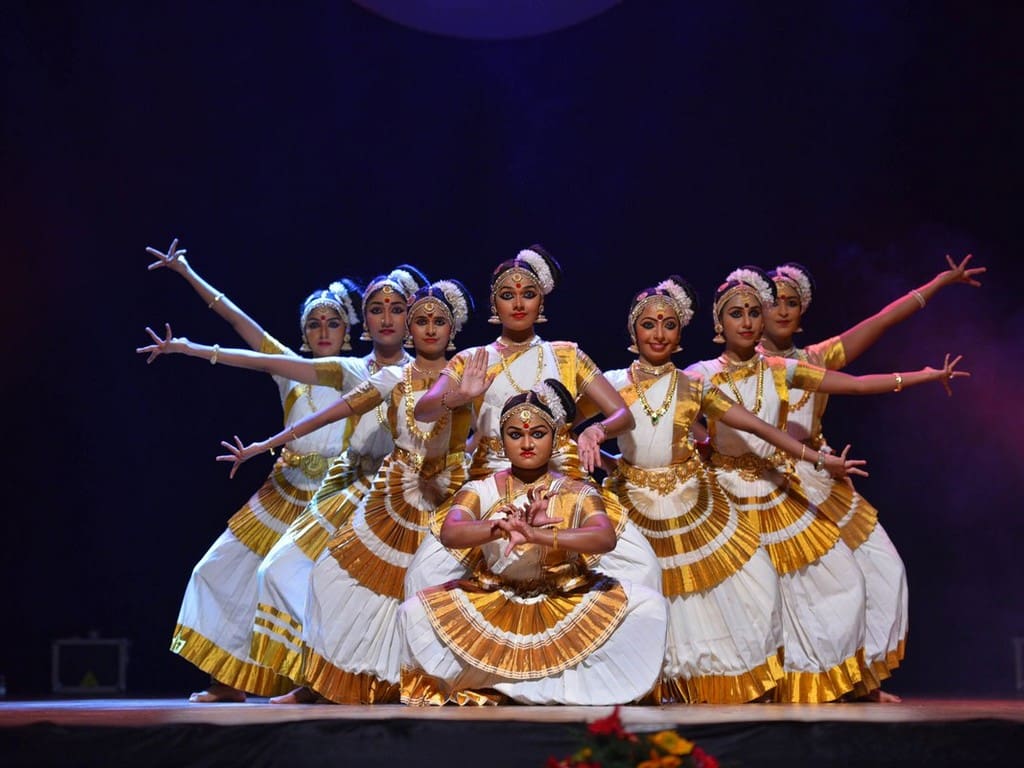 The word Mohiniyattam literally translates to a graceful woman who enchants the audience with her graceful movements. It is performed individually by solo female dancers. When it is done in a group, it is a beautiful amalgamation of many dances. Originated in the 16th century, it is said it was performed by the devadasis dancing on classical music with very fragile and sensuous movements.
3. Thirvathirakali
A popular dance form in Kerala that is often performed by a group of women in a circular movement during the harvest festival of Onam. It is performed by women in order to attain an everlasting marital bliss. It is usually performed from December to January in the Malayalam month of Dhanu.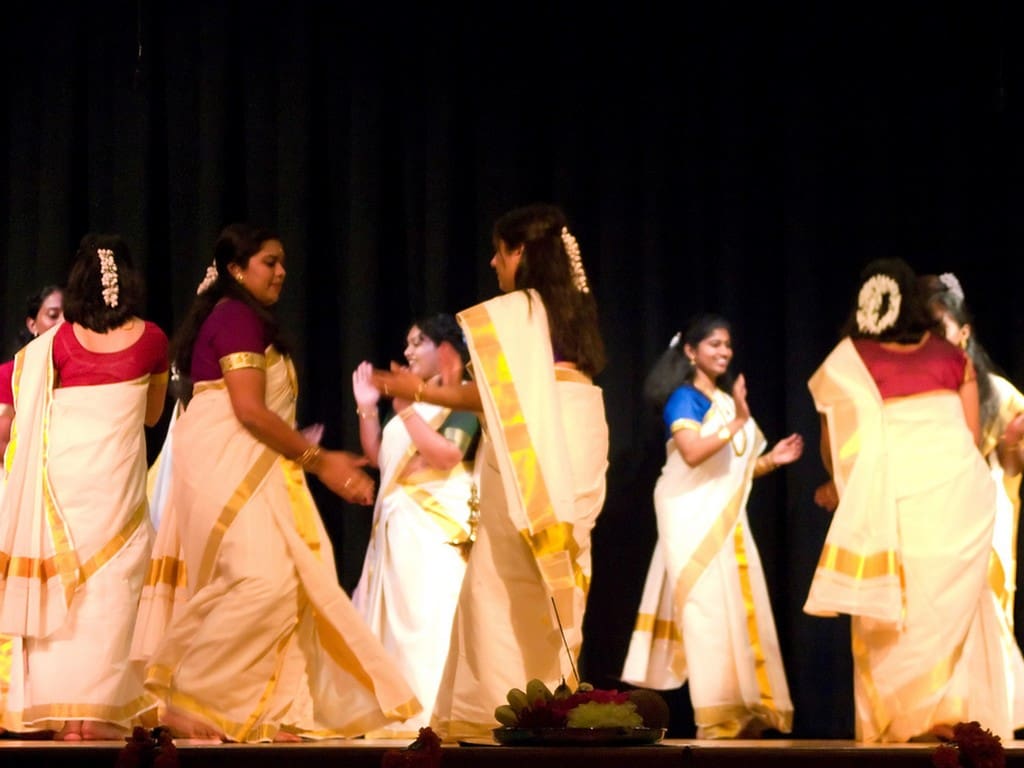 This dance form is performed in a circular pattern along with clapping and singing around a lamp or floral decoration.
It signifies the power of women, their charm, and grace.
4. Kolkali
Kolkali is a particular dance form that involves 24 performers of the farming community. It is usually performed using wooden sticks where dancers move along in circles tapping the wooden sticks that are two feet long.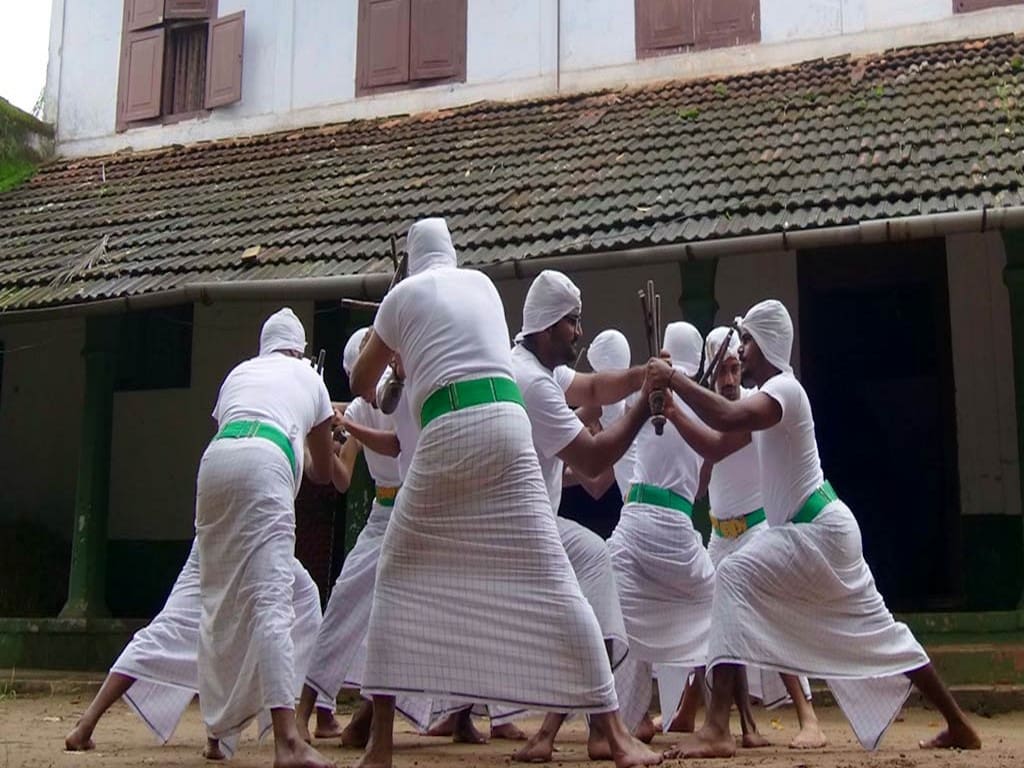 The dancers move along in circles around a ceremonial lamp. It is a rhythmic dance form that you can witness in villages and along the North Malabar Region in Kerala.
Kolkali Songs explains tales of regional Gods.
5. Ottamthullal
Originated in the 18th century, it has become a popular kerala dance form since then. Decked in vibrant costumes and loud make-up, the dancers perform Ottamthullal with hand movements, eye movements as a form of expression narrating a story of Indian mythology.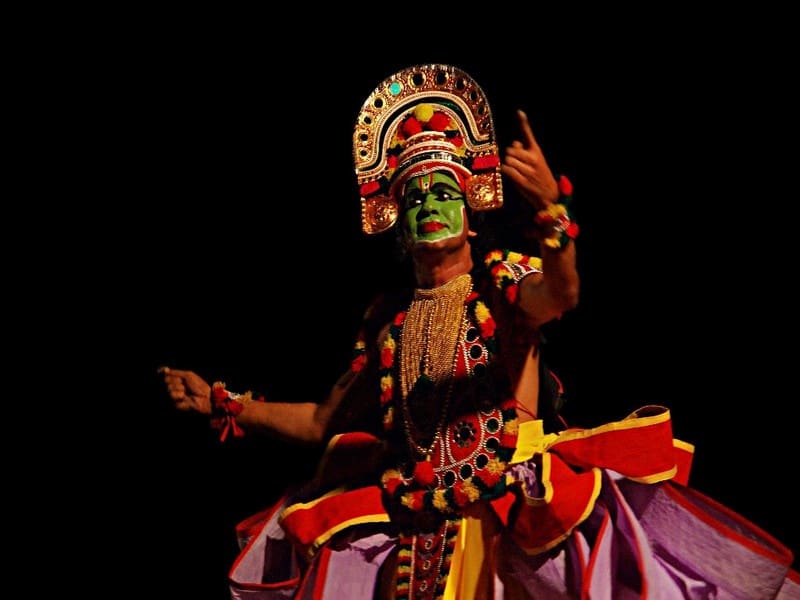 It is said that the famous Malayalam poet, Kalakkaththu Kunchan Nambiar created this dance. This is also known as lso known as the 'poor mans Kathakali.
It is satirical in nature and portrays prevalent socio-political injustices and prejudices of society on the day of the performance.
6. Koodiyattam
A popular kerala dance form, it is often performed in temples. This dance form involves many musical instruments that are also elements of Kuzhitalam, Conch, Kurumkuzhal and , Mizhavu. It's famous for being one of the earliest dance forms in Kerala, and since then it has been performed in temples.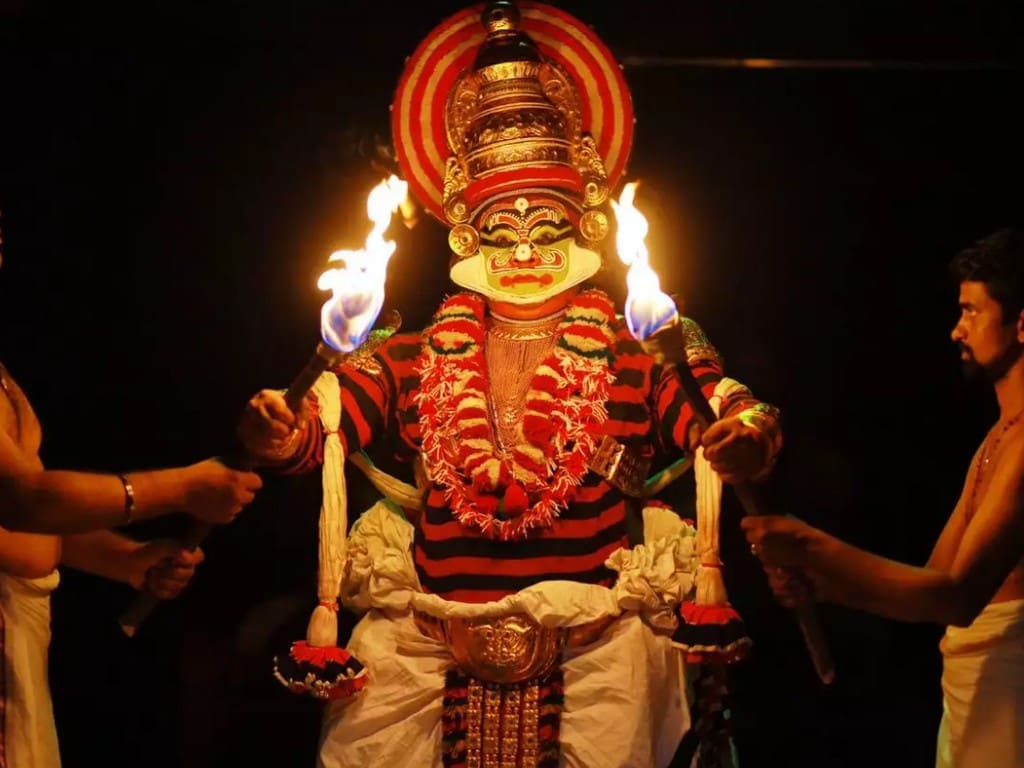 In the previous years, it used to be performed by the Chakkiyars and the Nangiars as a combined Dance drama. The Chakkiyars played the male cast and the latter played the female cast.
This particular dance form would last for about six days to even twenty days based on several themes on Hindu mythology.
7. Chakyar Koothu
An ancient Kerala dance form, it was introduced by the early Aryans, it is an orthodox type of performance that is performed by the Chakyar caste. Often performed at temples or inside a special theatre known as the Koothambalam, in this particular dance form, a story is depicted from the Ramayana, the Mahabharata and the Puranas through gestures and expressions.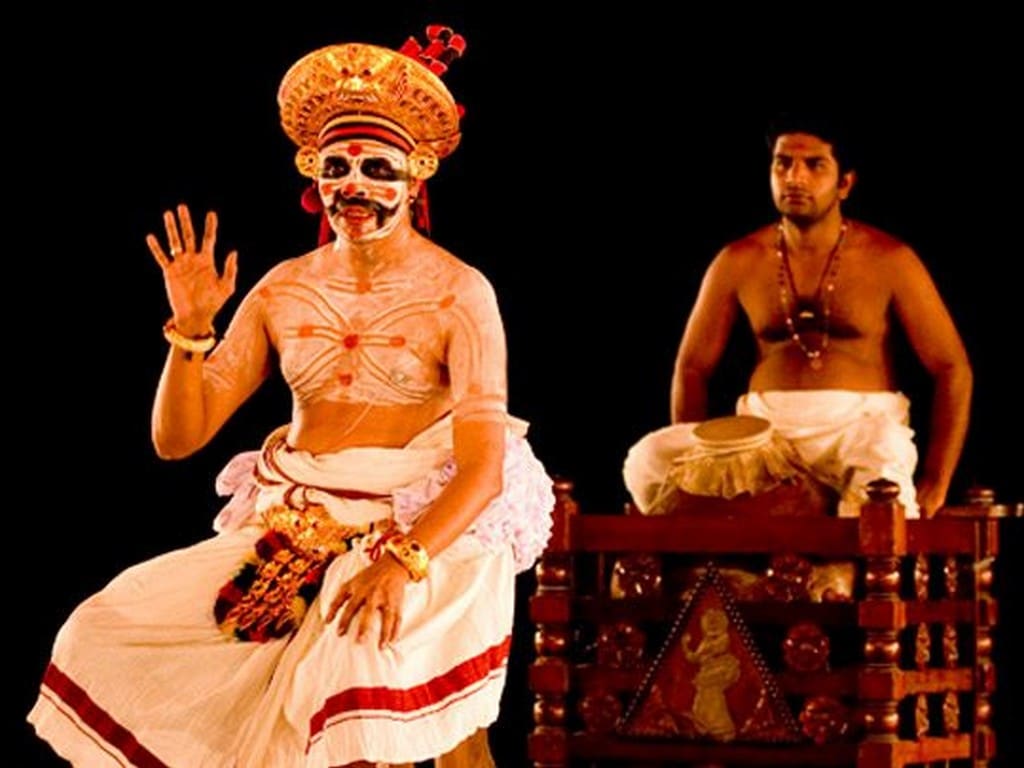 Often they are also depicted as a form of comical acts including commentary on socio-political issues.
8. Oppana
Oppana dance form is specifically performed in the Muslim community of Kerala. The Oppana dance form is very essential to the wedding ceremonies and festivities of the Muslim community, especially in the Malabar region of Kerala. It is usually performed by a group of female relatives of the bride who sing and dance around the bride while clapping their hands.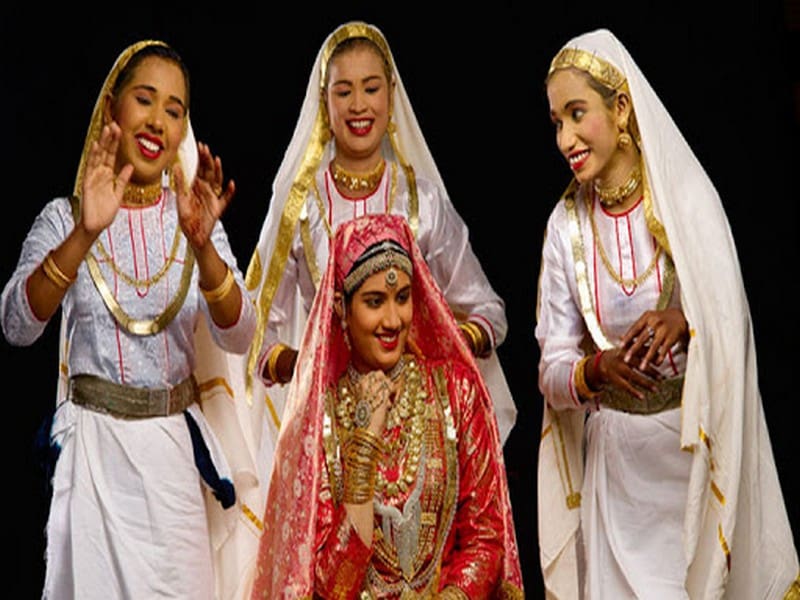 ALSO SEE- Best Places to Visit in North Kerala 
9. Margamkali
One of the ancient kerala dance forms that is very popular in Kerala and prevalent amongst the Syrian Christians of Kerala, it is performed by men on festivals and important occasions, especially during wedding ceremonies. The dance is performed by a group of 12 women who dance in circles around a lighted oil lamp that signifies Christ and the dancers are its disciples.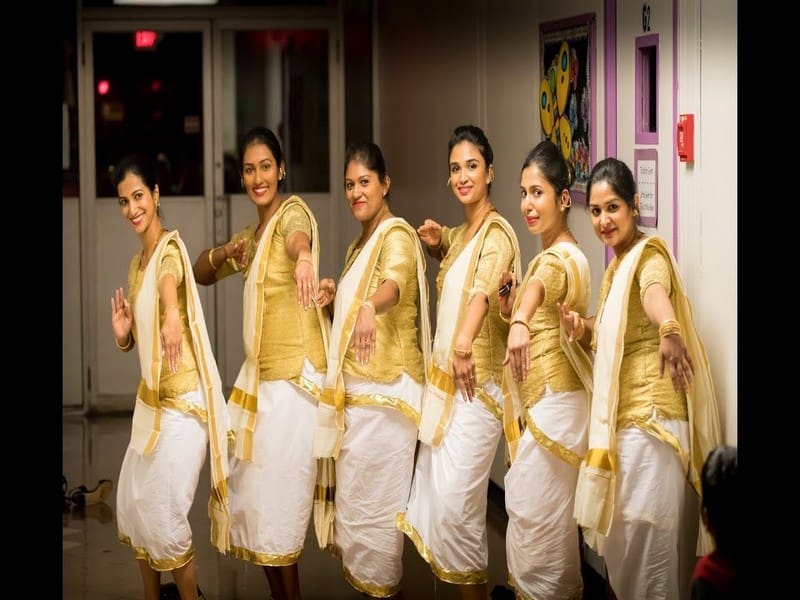 Margamkali is done by Christian women in Kerala and they sing and dance clapping around a Nilavilakku wearing the traditional white Christian Wear including a Chatta. Margamkali depicts the life of St Thomas .
In recent times women do the Margamkali Dance while boys and men used to perform it earlier.
10. Theyyam
Theyyam is the dance of gods that is popular in Malabar region in Kerala.  There are about 456 types of Theyyam in Kerala dance forms and some of the most famous ones are Sree Muthappan Theyyam, Gulikan, Kathivanur Veeran and Manakkott Amma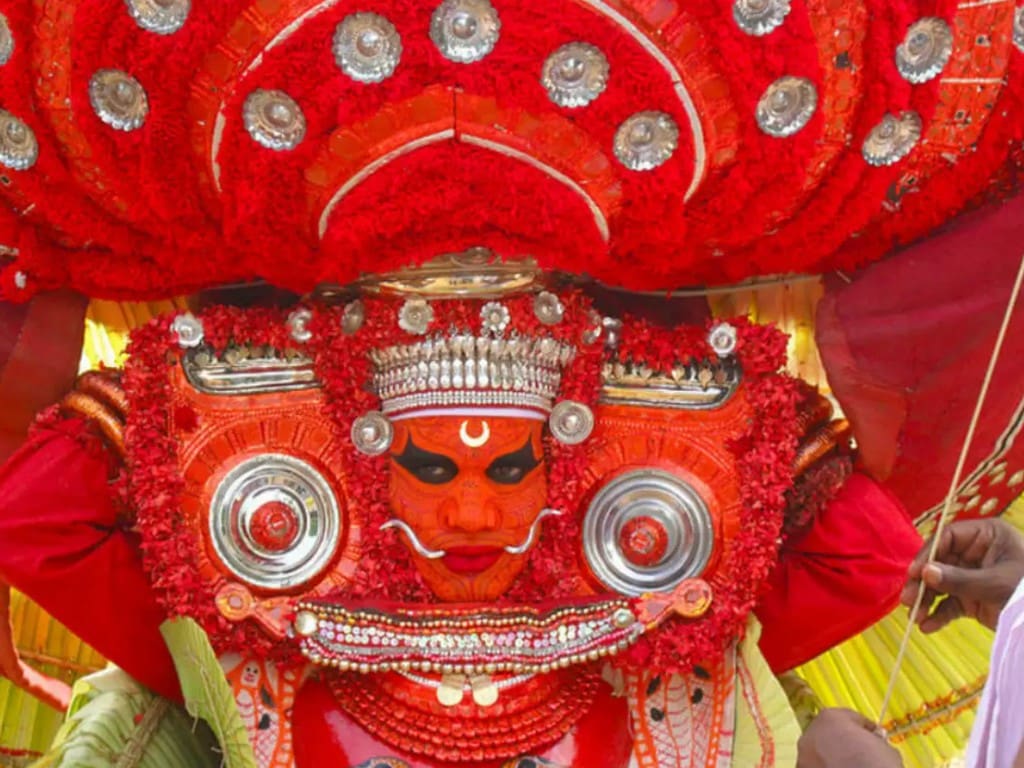 ALSO SEE – Theyyam, The Dance of Gods
Kerala has about 50 forms of traditional dances, but we listed out the best dance forms in Kerala that you must witness on your summer holiday in the southern state! Make sure you read about each dance form and its specialty, the origin and the way of expression that is unique in each dance form.
Hope you have a wonderful holiday in Kerala and a mesmerizing experience while you experience its art and culture.
Frequently Asked Questions About Kerala Dance Forms
Which is the most popular dance in Kerala?
Kathakali – A South Indian Dance-Drama is the most popular Kerala dance form. Kathakali is an impressive form of classical dance originated more than 500 years ago in the southern state of Kerala.
Which dance has its origin in Kerala India?
Theyyam, Thiruvathirakali, Chakyar Koothu Koodiyattam, and Ottamthullal are some of the famous dance forms in Kerala. Kerala is therefore, popular for its two classical dance form 'Kathakali' and 'Mohiniyattam,' which lure tourists from world-wide.
Which is the famous classical dance of Kerala?
Kathakali. Combining classical dance, theatre, opera, and pantomime, Kathakali is a vibrant, utterly unforgettable Keralan art form. Kathakali is one of the most famous dance forms not only in Kerala but also in India.
How many folk dances are there in Kerala?
There are more than fifty well-known folk dances in Kerala. Some of the folk dances like Kathakali and Mohiniyattam are recognized as classical dances. Padayani, Kaikottikali and Thirayattam are also the most popular folk dances of Kerala.