Onam Festival  is the most famous festival celebrated in Kerala, India. It is celebrated during Chingam (a month in Malayalam calendar) that usually starts between mid-August and lasts up to mid- September. Onam festival is celebrated to honor King Mahabali  who visits "Kerala" at the time of Onam.  Kerala opens up with an entire new world of  exotic taste, exquisite fragrances, and enchanting display of beauty for the tourists when Onam is being celebrated. The festivities and celebration at the festivals make your soul and body dance with the exciting beats of music.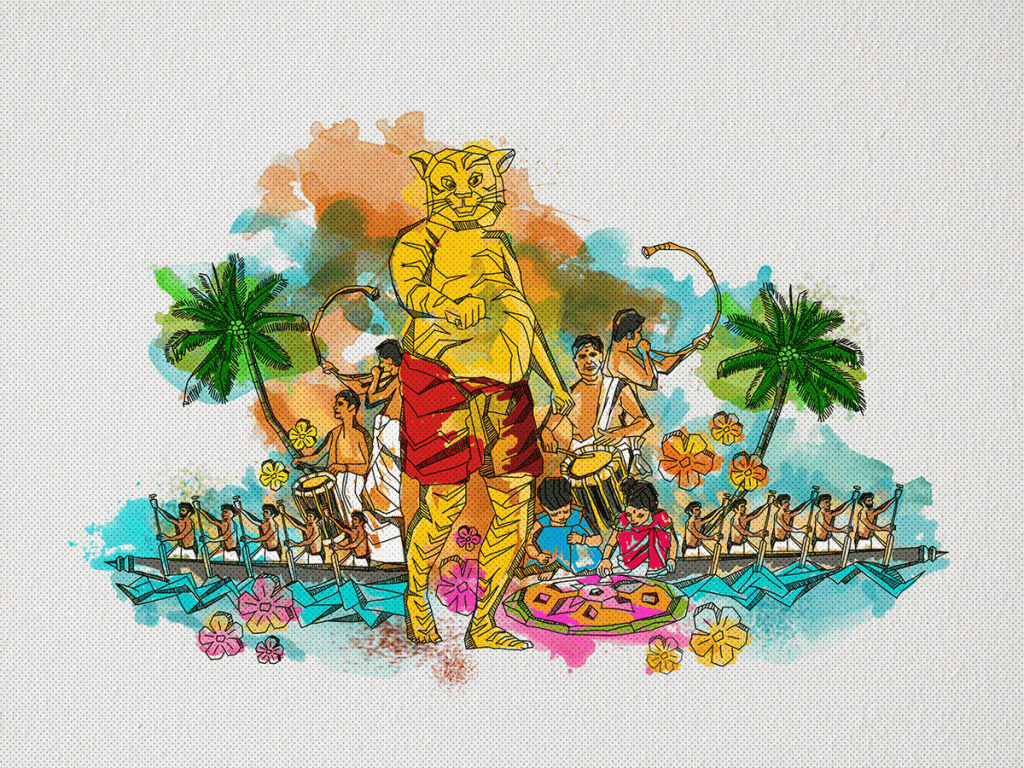 What is Onam Festival?
Onam is celebrated as a harvest featival and celebrations in Kerala include Sadhya, Thiruvathira Kali, Pookalam, Ona-thallu, Pulikali, Onavillu, and welcome songs for King Mahabali. Onam festival lasts for ten days, and during these ten days, it represents a remarkable and amazing display of the culture and beauty of Kerala. Intricately designed Pookalam, aromatic Onasadya, spectacular Snake-boat Race, and enticing Kaikottikali Dance are the most prominent and remarkable festivities at Onam.
ALSO SEE – Festivals to Celebrate in Kerala for 2020
Story Behind Onam Festival & Mahabali
The story behind Onam festival narrates the jealousy incidents of the Gods on Mahabali. In other words, It is the Story of Mahabali and Vamana Avatar. Onam festivities are arranged to welcome  the famous Emperor Mahabali, which is believed to visit Kerala state every year during Onam. The people celebrate this festival with great passion and enthusiasm, as the King is respected greatly by the locals. "Maveli" & "Onathappan" are also the names given to the generous emperor.
Who was Mahabali?
King Mahabali was an Asura emperor who used to rule Kerala in ancient times and was public's favorite  as he was very sensible, vigilant, and extremely good with his people. Legend has it that, the sovereignty of King Mahabali was a golden era for Kerala. In his monarchy, people were happy and contended. Equality flourished in Kerala and financial and racial discrimination vanished completely. Corruption and crime ratio dropped to zero. In the rule of Emperor Mahabali, people got rid of the hardships, sorrows, and ailments. Everyone was pleased, content, and satisfied.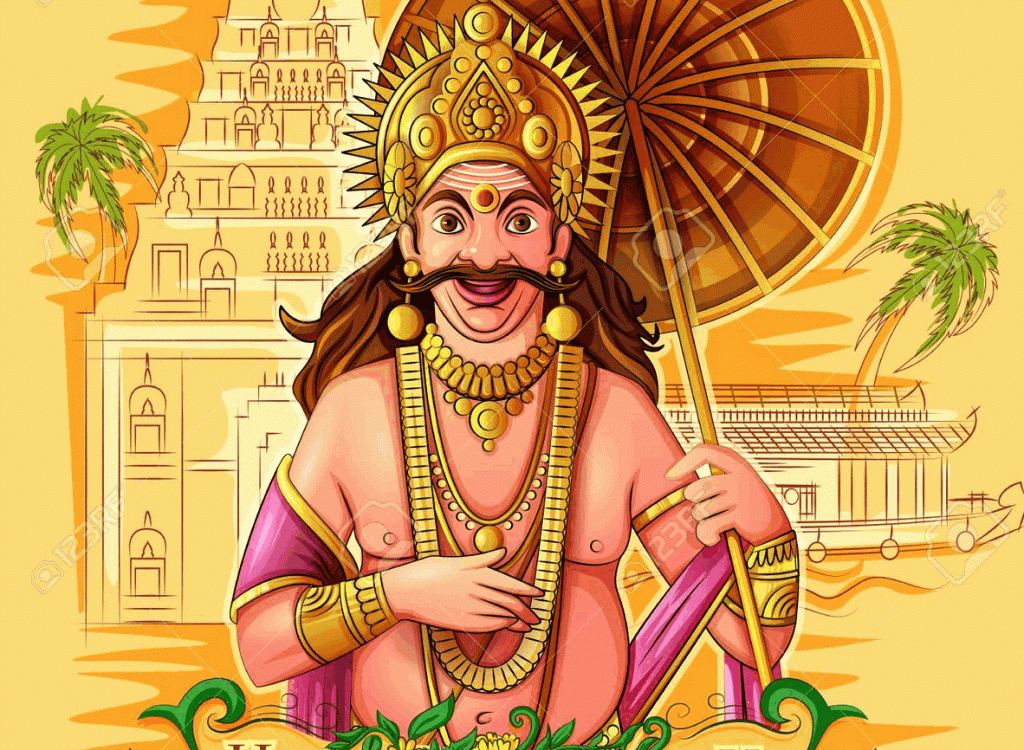 King Mahabali's father was "Veerochana" and his grandfather was "Prahlad", who was born to a demon "Hiranyakashyap". Mahabali has a son named "Bana", who appeared as a fabulous king later on.  Mahabali was originally born in a demon family called Asura, was a keen devotee of Lord Vishnu. Due to the strength of his character and his courage, the public entitled him as "Mahabali – the King of Kings" or "Mahabali Chakravathy" by his people.
Envy of Gods
Due to Mahabali's increasing fame and popularity, Gods got furious and envious. Their own supremacy was at stake, and they started thinking about the strategy to overpower Mahabali. To control the emergent reign of the King Mahabali, and to maintain their own sovereignty, Aditi – the mother of Gods, sought the help of Lord Vishnu (the guardian in the Hindu trinity) whom Mahabali used to worship.
As per folk tales, Mahabali was very kind and charitable. Anyone who asked him for help or anything was always helped out and granted. To test the generous king, Lord Vishnu masked himself as a needy dwarf brahmin named Vamana. He came to Mahabali, right after Mahabali just performed his morning prayers and was getting ready to donate godsends to Brahmins.
Lord Vishnu in Vamana Avatar
Here is the crucial part of the story behind the Onam festival. Camouflaged as Vamana, the Lord Vishnu pretended to be a pitiable Brahmin and requested for some portion of land from Mahabali. The generous Mahabali agreed on giving him his desired land. The Brahmin demanded the only piece of the land that would be covered in Brahmin's three footsteps. Mahabali got surprised but agreed.
A wise advice-giver, Shukracharya, felt that the Brahmin was not a normal being and cautioned the King to break the promise. Nevertheless, the king considered backing from the words sin and asked the poor dwarf to point out the land he wanted. Mahabali was not aware of the fact that the dwarf Brahmin was no other than the Lord Vishnu himself.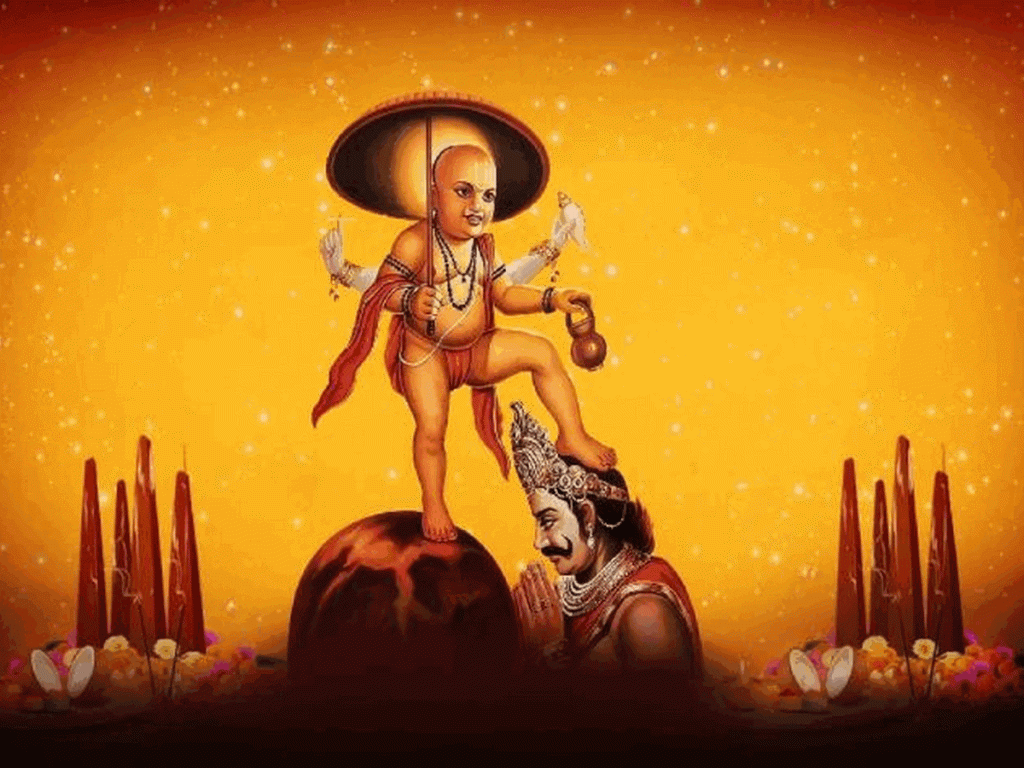 As soon as Mahabali decided to fulfill his promise, Vamana expanded his body to gain the size of galactic proportions. He covered the entire earth in the first step, skies in the second step, and then inquired the Emperor where to step up next.
Mahabali now understood that he was not a usual being and dwarf may destroy the planet with his third footstep. The emperor with folded his hands, bowed his head before him and asked him to put the third foot on his head.
The Brahmin stepped on Emperor's head, which thrusted him underworld (Patala). The emperor asked the strange dwarf to disclose his true self. Vishnu uncovered himself before Mahabali. Vishnu told Mahabali that he just wanted to test him and he passed the test gracefully. Emperor Mahabali was happy to see his Lord. Vishnu then donated a boon to the generous king as a reward.
Mahabali's Annual Visit
The kind ruler was extremely attached to his empire and his people, so he requested to be permitted to come to his empire once every year. Lord Vishnu was greatly moved by the king's nobility and granted the wish happily. Lord Vishnu blessed him and said he would be immortal in the hearts of Lord Vishnu as well as the people of his own kingdom.
Onam Celebrations in Modern Kerala
Onam is celebrated every year in honor their favorite king's arrival at Kerala. The festival, in fact, is an acknowledgement of the sacrifices of the king and good times during Mahabalis reign. People make a lot of arrangements to welcome the beloved king every year whom they remember as "Onathappan."
They make huge efforts to please his spirit by depicting happiness in his empire and wish him warmly. The 2nd day – Thiruvonam is the most significant day of the Onam festival. Emperor Mahabali is believed to visits his empire and people on the 2nd day of the festival.
Popular Onam celebrations include Sadhya, Thiruvathira Kali, Pookalam, Ona-thallu, Pulikali, Onavillu, Vallam Kali (boat races), Onathappan, Tug of War, Onapottan, Thumbi Thullal, Kummattikali, Kazhchakkula, etc.
Onam's celebrations are held in "Thrikkakara", a place located 10 km away from Kochi on the road (Edapally-Pookattupadi). Thrikkara used to be the capital during the reign of Mahabali king. A temple having the divinity of 'Thrikkakara Appan', who is Vishnu behind the masquerade, is also situated in Thrikkakara. This captivating legend is artistically portrayed in "Suchindram Temple" located in Kanyakumari district.
ALSO SEE – Top 33 Best Places to visit in Kerala for 2020
The Onam Festival is organized in the 1st month (Chingam) of Malayalam Calendar. Festivities of the Onam Festival begin around 10 days before Thiru Onam on Atham and Onam in 2020 will begin on August 22.
Onam Celebrations 2020 in Kerala
Pookalam
Flower beds and floral decorations commonly known as Pookkalam are the first to come to mind when talking about Onam & the legend of Mahabali. The traditional Ona-pookkalam consists of ten rings, which indicate the ten-days rituals performed during Onam, which starts on "Atham" and ends on "Thiru Onam" during the month of Chingam.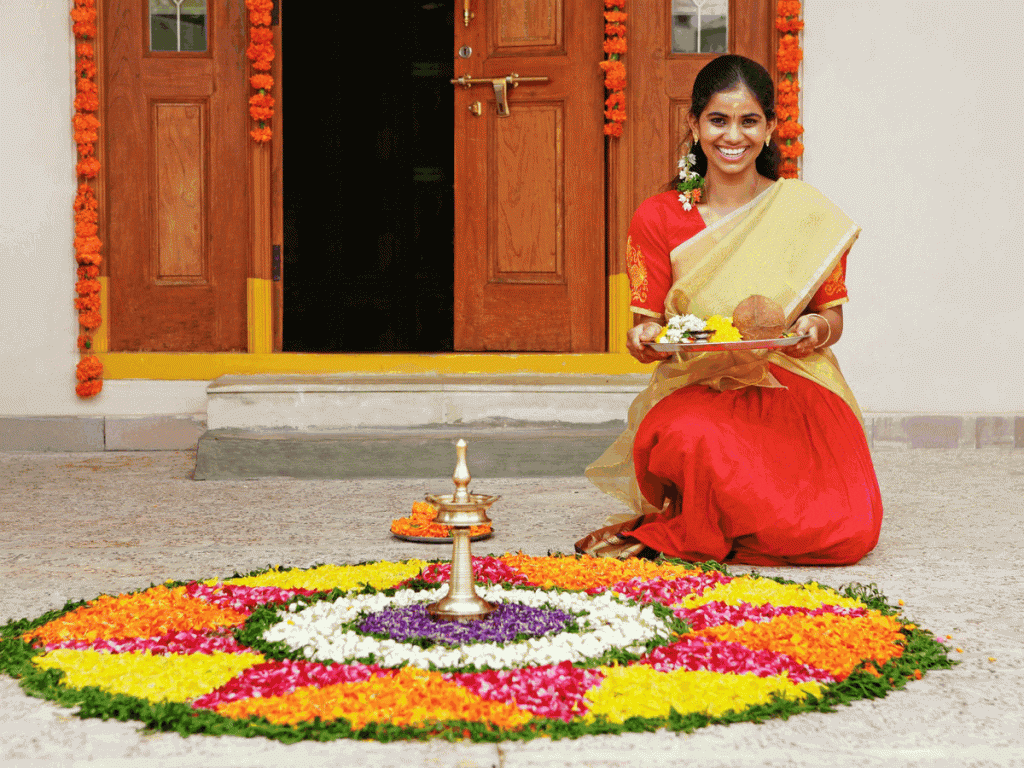 "Onam Pookkalam" stands out as a sign of secularism. Numerous kinds of flowers are used to create a beautiful Pookkalam, and the Pookkalam starts from Atham and ends at Thiruvonam to mirror the good old days during King Mahabali's reign.
Onasadhya
Onasadhya is the most famous traditional meal of Kerala and is served on a banana leaf on the last day (Thiruonam) of the Onam Festival. Onasadhya means Onam Food Feast and is a symbol of prosperity that existed during of rule of Mahabali. The people of Kerala make sure that their king Mahabali sees them with the grandest meal on this auspicious day. All the people, rich or poor, across all regions in Kerala, prepare grand Onasadyas on the last day of the festival.
ALSO SEE – Best Food in Kerala to try when you travel 
Onasadhya is served on a green and properly washed banana leaf with a pappad on the left. Sarkaravaratti, banana wafers, salt, and fries are served on the right side of pappad next to which lie the ginger lime, and mango pickles.
Vegetarian items like pavakka, ullikitchadi, and Kitchadi (made up of banana and pineapple pieces) are placed next. Thoran (a mixture of vegetable curries) is served after this variety. After the meal, payasam is served as a dessert.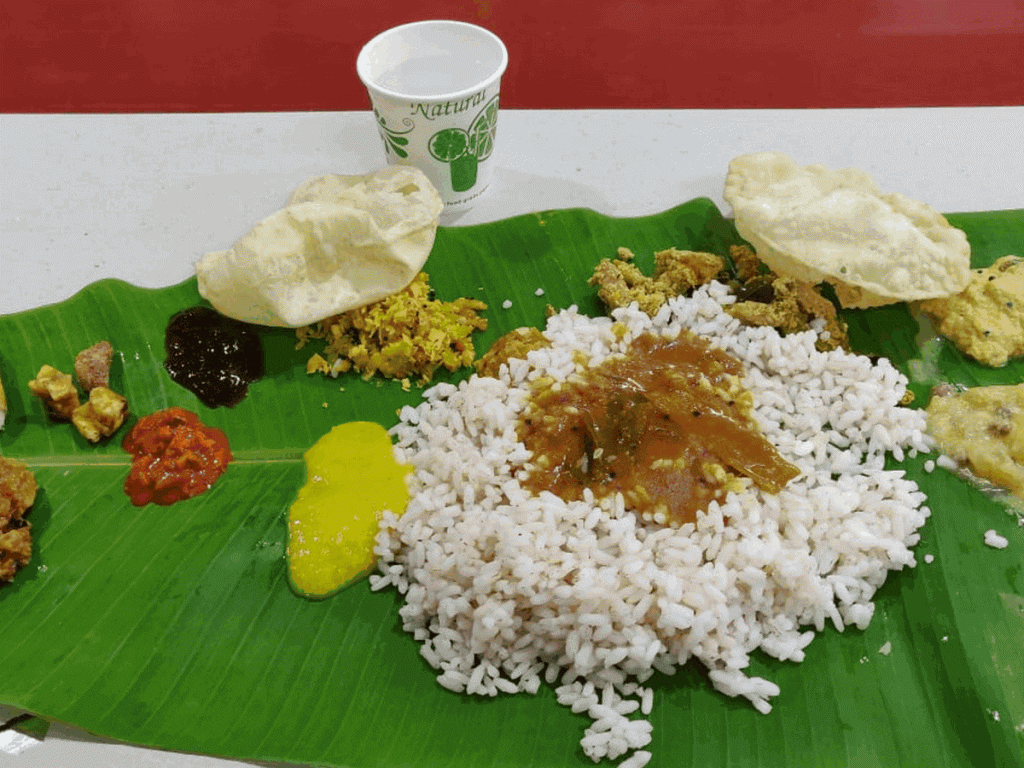 Snake-Boat Races
Another famous festivity performed at Onam is 'Snake Boat Race' which is held in 'Aranmula Parthasarathy Temple'.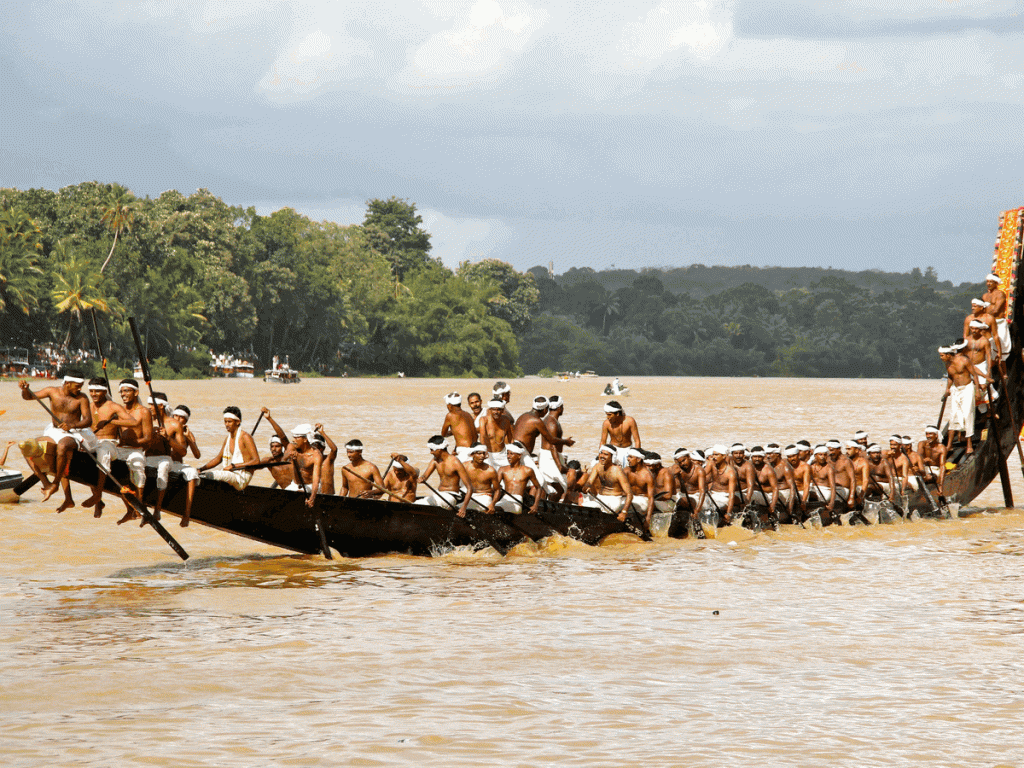 The famous Onam festival which is celebrated in August or September every year. So, August and September are the best months to visit Kerala. Here one can enjoy Kerala in its full magnificence during the Onam festival. One can also enjoy the exotic taste of Onasadhya, participate in decorating a Pookalam, and witness the true beauty of Kerala during the famous Onam Festival.
ALSO SEE – Nehru Trophy- Most Famous Snake Boat Race in Kerala
Pulikali
Pulikali, aka Kaduvakali, is really beautiful folk-art which is skillfully performed by well-trained dancers to amuse and entertain the people at the festival. The artists dance excitedly and perform the hunting moves with the beats of musical instruments.
ALSO SEE – Pulikali- The Majestic Tiger Dance in Kerala 
In Malayalam language, Pulikali means 'play of the tigers'. On the 4th day (Nalaam Onam) of the Onam festival, performers paint themselves like hunters and tigers with yellow, black, and red, paint and dance with the sound of thrilling music like Thakil, and Udukku. The performance is based on the theme of 'tiger hunting'.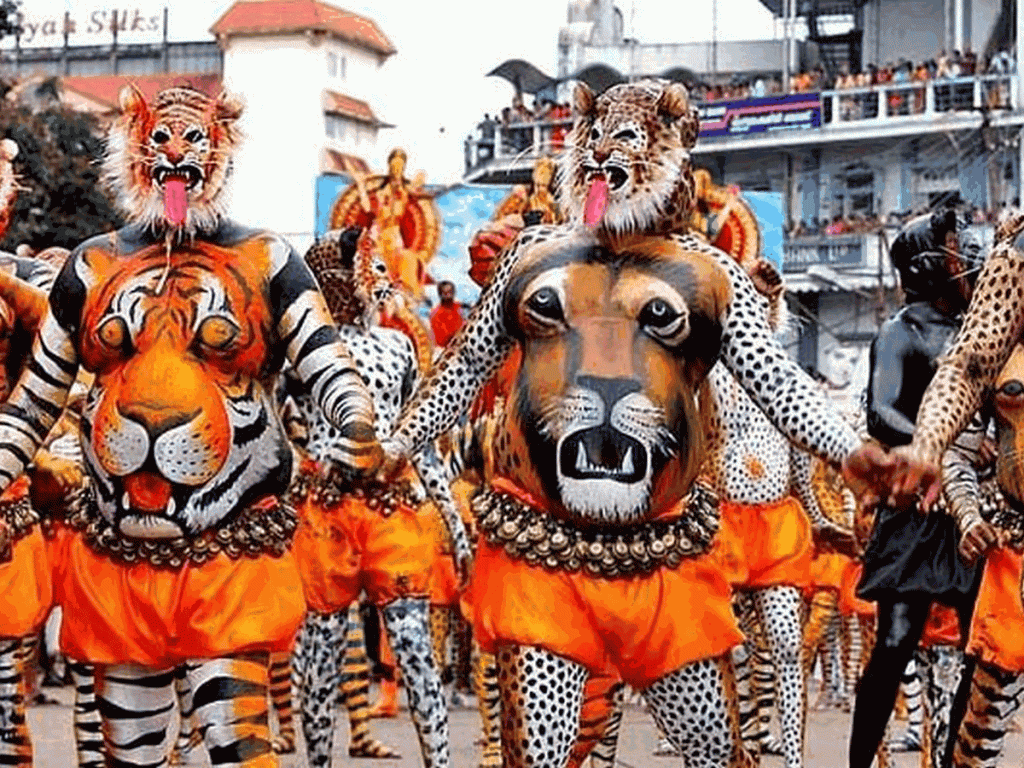 This dance is mostly practiced in the 'Thrissur District' of Kerala. Most suitable place to witness this dance is 'Swaraj Round', where Pulikali performing groups from the entire district gather to perform the folk art. This huge festival attracts a large number of tourists from round the world to this small Thrissur city.
When is Onam?
It is celebrated during Chingam (a month in Malayalam calendar) that usually starts between mid-August and lasts up to mid-September. The celebration typically lasts for 10 days, where Keralites indulge in numerous celebratory acts throughout the festival.