Kathakali dance in Kerala is one of the main forms of classical dance-drama of India. Kathakali is the classical dance of Kerala and is translated into "story play" in Malayalam – the language spoken in Kerala. Kathakali in Kerala is a traditional dance that tells stories from the Indian epics and is a unique blend of dance, music, and acting which depicts these epics. Kathakali dancer which can be a woman or man wears a painted face were dancers and communicates stories to music using animated expressions and mimes with hand gestures and facial expressions.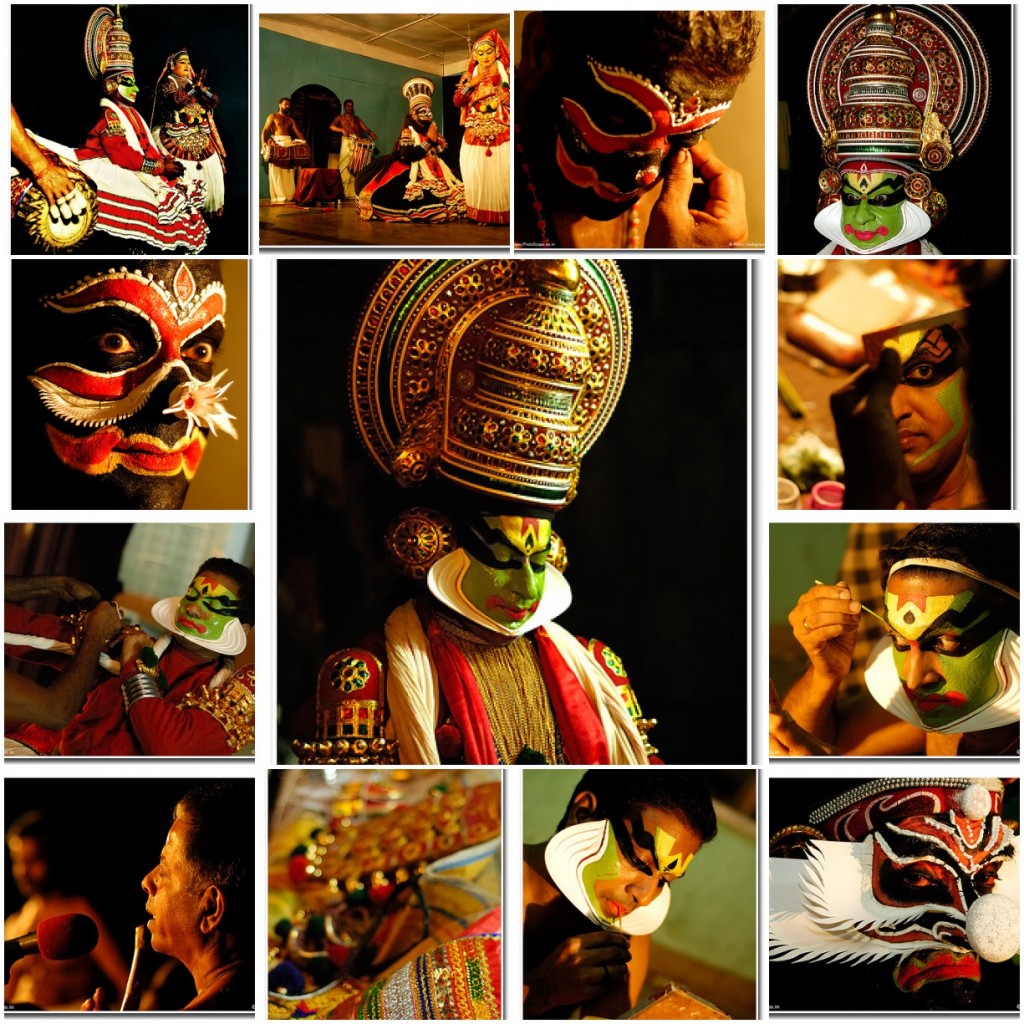 Famous around the world, Kathakali dance has won great admiration for the state of Kerala. Kathakali which is the leading classical dance of India showcases mesmerizing dance dramas – depicting the struggles of gods and demons – which are an unmissable feature of cultural life in Kerala. Kathakali in Kerala performance combines dance, devotion, drama, music, costumes, and make-up into a divine experience for all who get to view it. Kathakali music used during the performance comprises Karnatic ragas and the orchestra has traditional instruments of Kerala like the Chenda, Idakka and Shankhu, Maddalam, Chengila, Ilathalam.
A Kathakali performance begins with the Kelikottu calling the audience to attention followed by the Todayam when characters invoke the blessings of the gods. Purappadu comes after this which is a pure Nritya piece. In Melappada, the musicians and drummers entertain the audience. All remaining characters make their debut in Tiranokku. Then the play or the particular scene of the chosen play begins. During the entire Kathakali performance, the audience is unable to take their eyes away from the art taking place on the stage.
Kerala Kalamandalam
One of the most well-known places for the training of art forms like Kathakali in Kerala is Kerala Kalamandalam. Kerala Kalamandalam which is a bit off from the touristy trail may be the best place to watch Kathakali in Kerala. Unless you catch some kind of festivals that are conducted occasionally in Kerala, Kalamandalam will only do command performances at a considerable price, but it would be the best authentic, classical Kathakali performance in Kerala.
Kochi is where you have the best chance to see a live Kathakali in Kerala either in temple festivals held in winter or at the shorter tourist-oriented shows that take place year-round on all days.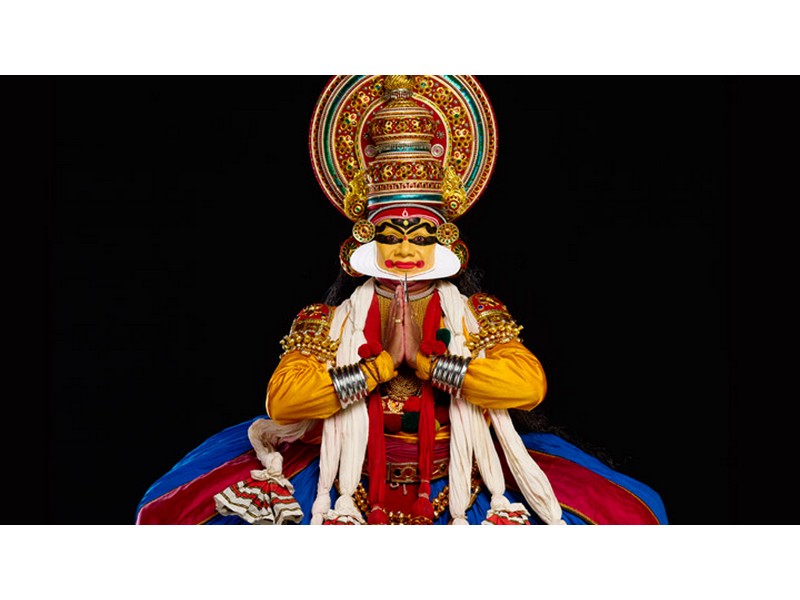 Ernakulam Kathakali Club
At Ernakulam Kathakali, you'll have a great view of the rich display of Kerala dance form Kathakali with special Kathakali instruments. Ernakulam Kathakali Club is among the best option to see Kathakali dance in Kerala and the club stages night-long plays by Kerala's leading actors once a month, either at the TDM Hall in Ernakulam or at the Ernakulathappan Hall in the city's main Shiva temple. Details of the shows by Ernakulam Kathakali Club are available in Tourist Information Centers. At Ernakulam Kathakali, you'll have a great view of the rich display of Kathakali dance.
ALSO SEE – Kathakali Dance of Kerala
You can opt for a Kathakali Performance in Kochi on the evening on the day of arrival or on the last day if your flight is in the morning. It is not an ideal option to watch it after Kerala Houseboat Tour as you may checkout from the houseboat in the morning.
There are five other venues in the city that currently hold daily shows, each preceded by an introductory talk at around 6.30 PM. If you are a photographer, you should come early to ensure a front-row seat. Tickets (usually Rs100–150) can be bought at the door. You can watch the dancers being made up if you arrive an hour or so beforehand.
Folklore Museum
Located in the city of Kochi, Folklore Museum is one of the best places where you can enjoy the Kathakali dance. Kathakali in kerala performances by popular performers and amateur artists are conducted here. Folklore Museum is where Prince Charles watched the Kathakali show in Kerala and this is located at bypass Rd, the southeastern edge of Ernakulam near the Hotel Sarovar. This is among the pricey shows with a comfortable and atmospheric venue – an a/c theatre decorated with wonderful Keralan murals and traditional wooden architecture and along with Kathakali you can also enjoy the museum downstairs.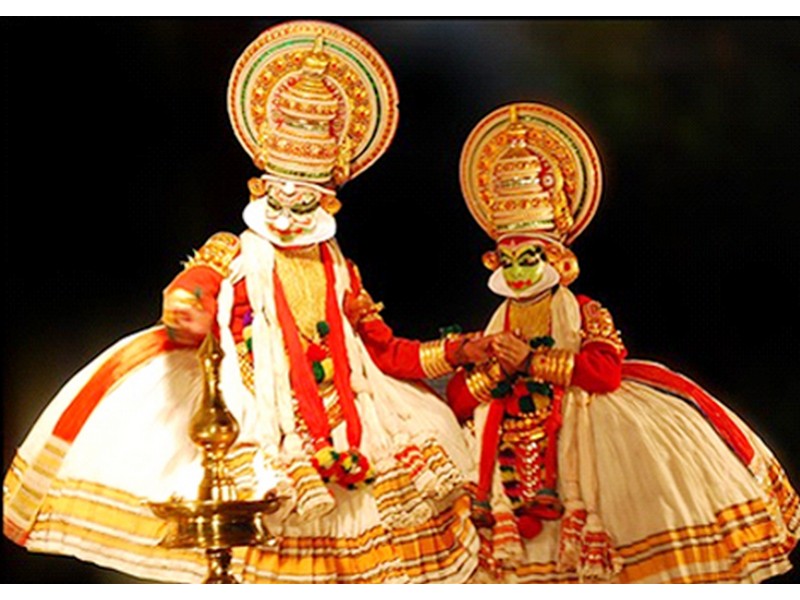 Dr Devan's Kathakali
A desire for wisdom and knowledge related to Kathakali dance would lead you straight to Dr. Devan's Kathakali. Dr Devan's Kathakali is the oldest tourist show in the city, introduced by the inimitable Dr. Devan, who starts the show with a lengthy discourse on Indian philosophy and mythology and is located near Ernakulam Junction railway station.
ALSO SEE – Pulikali- Tiger Dance of Kerala
Kairali Kathakali
Kairali Kathakali is the place to go to watch Kathakali Kerala dance in a small intimate setting. Kairali Kathakali is ideal for people who are staying in Fort Kochi and is located opposite Brunton Boatyard Hotel, Fort Cochin. This is in an old-fashioned hessian-roofed structure and is the smallest and most intimate venue.
Kerala Kathakali Centre
Kerala Kathakali Centre is the most popular and famous place to watch Kathakali in Kochi and is near Santa Cruz Basilica in Fort Cochin. Popular performances in a dedicated a/c theatre by graduates of the renowned Kerala Kalamandalam. You usually get to see three characters, and the music is live. This place has kathakali Shows from 6–7.30 pm with makeup at 5 PM and Kalarippayat at 4 PM There is live Carnatic music after the Kathakali show at 8:30 PM.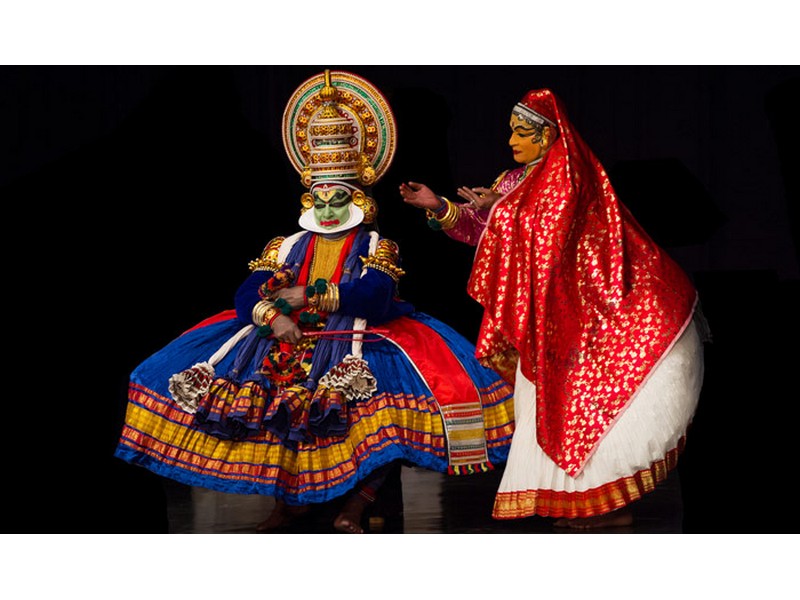 Rhythms Theatre
It is a grand venue where you can watch Kathakali performances in Kerala. Rhythms Theatre opposite Fort House, Fort Cochin is the most expensive place to watch Kathakali in Kochi but makes up for the price by combining excerpts from kathakali plays with displays of mohiniyattam dance, kalarippayat martial art, and theyyam performance on Sundays, Performances aren't of the highest standards by traditional benchmarks, but as costumes and acts change in quick succession the show here may appeal to kids.
ALSO SEE – Mudiyettu – Ritual dance drama annually performed after the harvest of summer crop
Margi School Trivandrum
The main focus of this theatre in Trivandrum is the regeneration of Kathakali dance along with Kutiyattom, another famous art form in Kerala. Margi School Trivandrum has more often shown for Kathakali. It's authentic, quality classical dance.'Margi', the Sanskrit word means "pursuit of aesthetic values which are universal and everlasting". The organization provides a Gurukula system of training for these classical art forms and also holds regular performances. Margo school is located near Fort, Trivandrum.
Kadathanadan Kalari Centre & Navarasa Kathakali
Kadathanadan Kalari Centre & Navarasa Kathakali in Thekkady is another place to watch Kathakali in Kerala and this place has shown of 1 hour at timings of 6-7 and 8-9 in the evening and the price varies from 200 INR per hour. It is advised to book the tickets as soon as you reach Thekkady town to avoid the final minute rush. The theatre is small enough so that you can enjoy the performance from a close distance and the participants allow tourists to click photos after the performances.
The classic Kathakali dance in Kerala coupled with the Kathakali instruments is an enticer of both locals and foreigners to God's own country.
If you have already watched Kathakali in Kerala do let us know whether we have included the place where you wanted Kathakali show and if you are planning to visit Kerala , You can let us know and we would love to create a customised holiday plan for your Kerala trip.
Plan your trip to Kerala with Iris Holidays and enjoy Kathakali dance performances jointly with Kathakali instruments that give a rhythm to the dance performed.

Frequently Asked Questions
Q-Is Kathakali from Kerala?
A-The classical Kathakali dance originated from the state of Kerala over 300 years ago between the 16th and 17th centuries around the same time as Shakespeare.
Q-Who is the father of Kathakali?
A-Padmanabhan Nair who was an eminent Kathakali performer is the father of Kathakali.
Q-What is the significance of Kathakali?
A-Kathakali is a beautiful dance form representing the art and culture of Kerala. It synthesizes music, choreography, hand and facial expressions together that help to express ideas in the form of storytelling.
Q-Which is the main centre of Kathakali?
A-Kerala Kathakali Centre is the most popular and famous place to watch the famous art form of Kathakali in Kerala.