Kerala is a land of festivals. Festivals of Kerala ranges from the most famous celebrations like Snake Boat Races, Cochin carnival , Onam & Vishu to local events like Payippad Boat Race and Thutha Pooram. Each of these festivals are celebrated and enjoyed by people from different sects, regions and religions with fun, enthusiasm and gaiety ensuring the religious and communal harmony.
Here are the photographs of some famous Kerala festivals & celebrations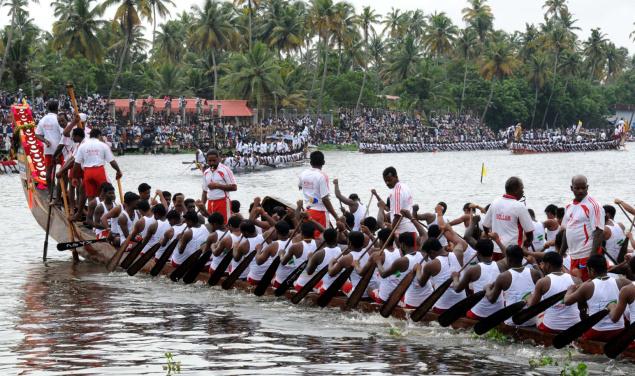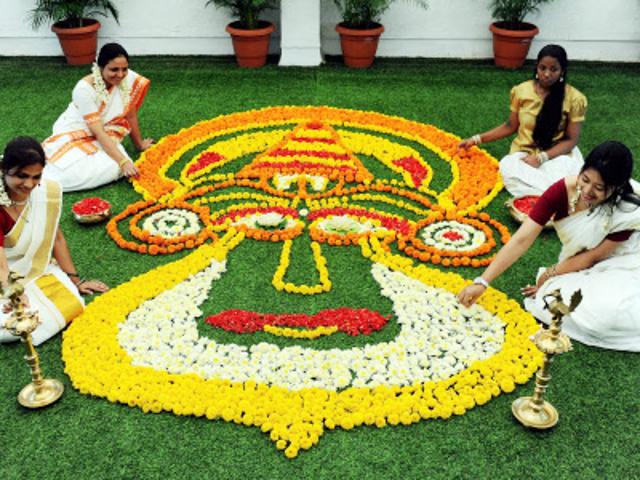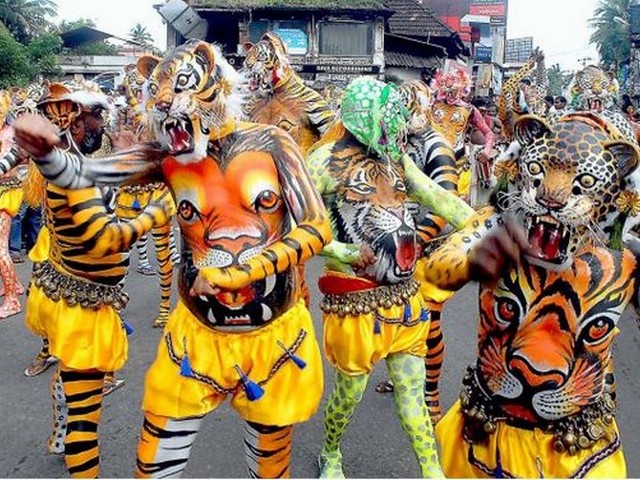 However the dates of each of these festivals change every year as per the Malayalam calendar and we have created a ready reckoner for you to refer if you are planning to visit Kerala in 2020.
ALSO SEE- Top 33 Tourist Places in Kerala you should visit in 2020
Kerala Festivals in 2020
Kerala Festival
Celebrated Place
Date
Type of festival
Swathi Sangitholsavam
East Fort – Thiruvananthapuram Dist
04 Jan 2020 to 14 Jan 2020
Music Festival
Avoor Utsavam
Avoor – Kollam Dist
14 Jan 2020
Temple Festival
Kanjiramattom Nercha
Kanjiramattom – Ernakulam Dist
14 Jan 2020
Muslim Festival
Thaipooya Mahotsavam
Koorkancherry – Thrissur Dist
08 Feb 2020
Temple Festival
Neroth Peratoor Sri Bhagavathy Kshethram Utsavam
 Neroth Peratoor Sri Bhagavathy Kshethram
19 Jan 2020
Temple Festival
Arthungal Perunnal
Arthungal – Alappuzha Dist
20 Jan 2020
Christian Festival
Pattambi Nercha
Pattambi – Palakkad Dist
01 Mar 2020
Muslim Festival
Adoor Gajamela
Adoor – Pathanamthitta Dist
04 Feb 2020
Elephant Pageant
Machattu Mamangam
Wadakkancherry – Thrissur Dist
18 Feb 2020
Temple Festival
Pariyanampetta Pooram
Kattakulam – Palakkad Dist
20 Feb 2020
Elephant Pageant
Kuttikkol Thampuratty Theyyam
Kuttikkol – Kasaragod Dist
23 Feb 2020
Theyyam
Uthralikavu Pooram
Wadakkancherry – Thrissur
25 Feb 2020
Elephant Pageant
Aluva Sivarathri
Aluva – Ernakulam Dist
21 Feb 2020
Temple Festival
Parippally Gajamela
Parippally – Kollam  Dist
2 Mar 20
Elephant Pageant
Chettikulangara Bharani
Chettikulangara – Alappuzha Dist
29 Feb 2020
Temple Festival
Chottanikara
Chottanikara – Ernakulam Dist
8 Mar 2020
Temple Festival
Ettumanur Utsavam
Ettumanur – Kottayam Dist
3 Mar 2020
Temple Festival
Konganpada
Chittoor – Palakkad Dist
10 Mar 20
Temple Festival
Jaganadha Temple
Thalassery – Kannur Dist
17 Feb 20
Temple Festival
Guruvayoor Aanaottam
Guruvayoor – -Thrissur Dist
22 Feb 20
Elephant Pageant
Guruvayoor Utsavam
Guruvayoor – Thrissur Dist
22 Feb 20
Temple Festival
Chinakkathoor Pooram
Palappuram – Palakkad Dist
19 Feb 20
Elephant Pageant
Attukal Pongala
Attukal – Thiruvananthapuram Dist
12 Feb 20
Temple Festival
Thirunakkara Arattu
Thirunakkara – Kottayam Dist
23 Mar 20
Temple Festival
Valliyoor Kavu
Valliyoor Kavu – Wayanad Dist
15 Mar 20
Ambalapuzha Festival
Ambalapuzha – Alappuzha Dist
11Mar 20
Temple Festival
Puthoor Festival
Puthoor – Palakkad
15 Mar 20
Temple Festival
Chamayavilakku
Kottankulangara – Kollam Dist
24 Mar 20
Temple Festival
Kottakkal Pooram
Kottakkal – Malappuram Dist
24 Mar 20
Elephant Pageant
Malanada Kettukazhcha
Poruvazhi – Kollam Dist
27 Mar 20
Temple Festival
Attuvela Mahotsavam
Vadayar – Kottaym Dist
26 Mar 20
Temple Festival
Kodungalloor Bharani
Kodungalloor – Thrissur Dist
27 Mar 20
Temple Festival
Nenmara Vallangi Vela
Nenmara – Palakkad Dist
2 Apr 20
Temple Festival
Muchilottu Kavu  Theyyam
Muchilottu – Kannur Dist
2 Mar 20
Theyyam
Thirumandhamkunnu Pooram
Angadipuram – Malappuram Dist
5 Apr 20
Temple Festival
Cherthala Karthiyayani Temple
Cherthala – Alappuzha Dist
5 Apr 20
Temple Festival
Othara Patayani
Othara – Pathanamthitta Dist
6-Apr-20
Ritual
Peruvanam Pooram
Peruvanam – Thrissur Dist
8-Apr-20
Elephant Pageant
Arattupuzha Pooram
Arattupuzha – Thrissur Dist
11-Apr-20
Elephant Pageant
Palm Sunday
Celebrated all over Kerala
13-Apr-20
Christian Festival
Sree Padmanabha Swami Temple Painkuni Utsavam
East Fort – Thiruvananthapuram Dist
14-Apr-20
Temple Festival
Kadammanitta Patayani
Kadammanitta – Pathanamthitta Dist
14-Apr-20
Ritual
Chamakkavu Kettukazhcha
Mavelikkara – Alappuzha Dist
15-Apr-20
Temple Festival
Thirunelli
Thirunelli – Wayanad Dist
15-Apr-20
Temple Festival
Mathoor Vinayaka Temple
Thottakara – Thrissur  Dist
15-Apr-20
Temple Festival
Vishu
Celebrated all over Kerala
15-Apr-20
Kerala New Year
Easter
Celebrated all over Kerala
20-Apr-20
Christian Festival
Puthunjayar
Malayattoor – Ernakulam Dist
27-Apr-20
Christian Festival
Edathuva
Edathuva – Alappuzha Dist
27-Apr-20
Christian Festival
Palayoor Church
Palayoor – Thrissur Dist
6-May-20
Christian Festival
Thrissur Pooram
Thrissur Town -Thrissur Dist
9-May-20
Elephant Pageant
Kudal Manickam
Iringalakuda – Thrissur Dist
10-May-20
Temple Festival
Thutha Pooram
Thutha – Palakkad
13-May-20
Elephant Pageant
Kottiyoor Utsavam
Kottiyoor – Kannur Dist
10-Jun-20
Temple Festival
Champakkulam Boat Race
Champakkulam – Alappuzha Dist
11-Jul-20
Boat Race
Njangattiri Aanayoottu
Pattambi – Palakkad Dist
18-Jul-20
Ritual
Nehru Trophy Boat Race
Punnamada – Alappuzha Dist
9-Aug-20
Boat Race
Athachamayam
Thrippunithura – Ernakulam Dist
29-Aug-20
Onam Festival
Thiruvonam
Celebrated all over Kerala
7-Sep-20
Onam Festival
Payippad Boat Race
Payippad – Alappuzha Dist
8-Sep-20
Boat Race
Kumarakom Boat Race
Kumarakom – Kottayam Dist
8-Sep-20
Boat Race
Aranmula Boat Race
Aranmula – Pathanamthitta Dist
10-Sep-20
Boat Race
Pulikali
Swaraj Round – Thrissur Dist
11-Sep-20
Onam Festival
Feast of Vallarpadathamma
Vallarpadam Church, Kochi
16-Sep-20
Christian Festival
Neelamperoor Patayani
Neelamperoor – Kottayam Dist
23-Sep-20
Ritual
Panachikadu Festival
Panachikadu – Kottayam Dist
25-Sep-20
Temple Festival
Navarathri Festival
East Fort – Thiruvananthapuram Dist
25-Sep-20
Temple Festival
Mullackal Utsavam
Mullackal – Alappuzha Dist
25-Sep-20
Temple Festival
Navarathri Sangitholsavam
Thiruvananthapuram
25-Sep-20
Music Festival
Urakam
Urakam – Kottayam Dist
4-Oct-20
Temple Festival
Thiruvullakavu
Cherpu – Thrissur Dist
4-Oct-20
Temple Festival
Vettikode Ayilyam
Vettikode – Alappuzha Dist
11-Oct-20
Temple Festival
Attangyeru at Thirumandhamkunnu
Angadippuram Malappuram Dist
18-Oct-20
Ritual
Thripoonithura Poornathrayesha Temple
Thripoonithura – Ernakulam Dist
26-Oct-20
Temple Festival
Sree Padmanabha Swami Temple Alpashy Utsavam
East Fort – Thiruvananthapuram Dist
31-Oct-20
Temple Festival
Parumala Perunnal
Parumala – Pathanamthitta Dist
2-Nov-20
Christian Festival
Vallathol Jayanthi Varshikam, Kalamandalam
Kerala Kalamandalam – Thrissur Dist
9-Nov-20
Dance Festival
Mannarasala Ayilyam
Mannarasala – Alappuzha Dist
14-Nov-20
Temple Festival
Kalpathi Ratholsavam
Kalpathi – Palakkkad Dist
14-Nov-20
Temple Festival
Payyannoor Subramaniya Swami Temple
Payyannoor – Kannur Dist
17-Nov-20
Temple Festival
Chembai Sangitholsavam
Guruvayur – Thrissur Dist
18-Nov-20
Music Festival
Vaikathashtami Festival
Vaikom – Kottayam Dist
29-Nov-20
Temple Festival
Parassinikadavu , Kannur
Parassinikadavu, Kannur
2-Dec-20
Temple Festival
Guruvayoor Ekadasi
Guruvayoor – Thrissur Dist
2-Dec-20
Temple Festival
Kadampuzha Devi  Temple
Kadampuzha – Malappuram Dist
5-Dec-20
Temple Festival
Perumthitta Tharavad Kottamkuzhy
Kottamkuzhy – Kasaragod Dist
7-Dec-20
Theyyam
Mullackal Cherappu
Mullackal – Alappuzha Dist
16-Dec-20
Temple Festival
Christmas
Celebrated all over Kerala
25-Dec-20
Christian Festival
Kanathoor Nalvar Bhoothasthanam
Kanathoor – Kasaragod Dist
28 Dec 20
Theyyam
Kochi-Muziris Biennale 2020
Kochi
December 12, 2020 onwards
Art Festival
Cochin Carnival
Kochi
Last week of December
Celebration
In Kerala, Malayalam calendar, the local traditions and customs determine the festival dates. Some of these dates will change according the local customs and rituals associated with each festival. Even though we have tried to make these dates as exact as possible, please recheck the dates again before making a plan to visit these Kerala festivals. https://zp-pdl.com/get-a-next-business-day-payday-loan.php https://credit-n.ru/order/zaymyi-e_zayom-leads.html https://zp-pdl.com/best-payday-loans.php https://credit-n.ru/kredit/kredit-promsvyaz.html