Pathanamthitta is the district headquarters of Pathanamthitta district in the state of Kerala in southern India. The district can be divided into three parts one comprising of tall hills stretching through the Western Ghats, the other the descending smaller hills forming plains and landscapes, and third the low-lying area abundant in coconut trees. The district has dense evergreen, semi-green and humid forest areas. Three important rivers Pamba, Achankovil, and Manimala flow through the district originating from different mountains of the Western Ghats Mountain range. Pathanamthitta district is a rich district. Timber is one of the most important produce and raw material for wood-based industrial units. The district is famous for its scenic beauty, fairs, festivals, and culture.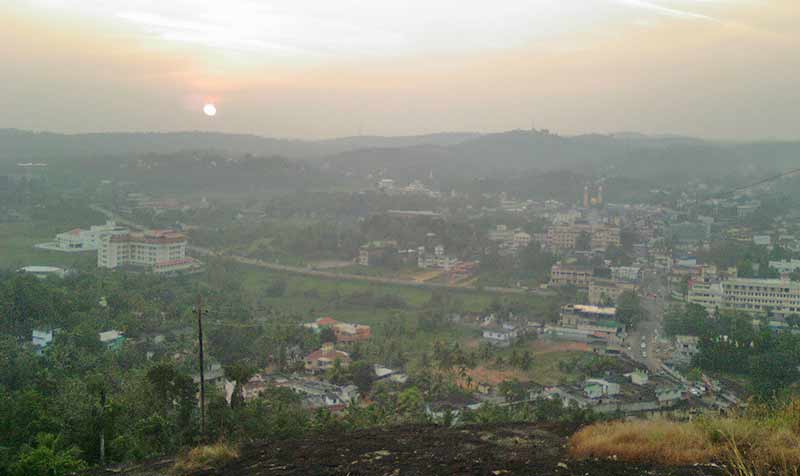 The top 10 places in Pathanamthitta are:
1. Sabarimala Temple
Sabarimala Temple is located at a distance of 72 km from Pathanamthitta town. It is one of the most sacred temples of Lord Ayyappa and an important Hindu pilgrimage centre in the country. The shrine is located amidst dense forests in the rough terrain of Western Ghats, inhibited by various wild species. Millions of pilgrims from all over the country assemble here during festivals "Vishnu Vilakku", "Mandalapooja" and Vrichikam Dhanu" held in April, Nov-Dec, and January respectively.
2. Gavi
Gavi is an Eco-Tourism project of the Kerala Development Corporation located at a distance of 109 km from Pathanamthitta surrounded by cardamom plantation, tropical forests, hills, valley, grasslands, spectacular waterfalls, and tea plantation. It has magnificent wildlife, flora, various bird species. It offers activities like trekking, wildlife watching, outdoor camping in specially built tents, and night safaris. It is a part of the Periyar Tiger Reserve and serves as a base camp for deep jungle trekkers, bird watchers, nature lovers, and research students, etc. An eco-tourist lodge in the village is located in front of a splendid lake providing a beautiful look at the lake and adjoining forest.
3. Pampa River
Pampa River of Pamba River is the longest river in the state of Kerala after Periyar and Bharathappuzha at a distance of 18 km from Pathanamthitta. It originates from Pulachimalai hill in the Peermedu plateau of Western Ghats and after nourishing and passing through many places drains into Vembanad Lake. It is a sacred river for Hindus and is known as Thriveni Sangamam-the meeting point of three rivers. The sandy banks of the river have emerged as a cultural and religious centre.
An important Hindu religious convention Cherukolpuzha is held on the banks of Pamba River at Cherukole in February every year. Asia's largest Christian convention Maramon is also held on the banks of river Pamba. Aranmula is a cultural village on the banks of Pamba.
4. Aranmula
Aranmula is a small town situated at a distance of 15 km from Pathanamthitta is surrounded by green hills and the holy river Pampa flowing through it. There is an ancient Parthasarathy temple dedicated to Lord Krishna. This town is also famous for Aranmula Kannadi, handmade metal-alloy mirrors unlike normal silvered glass mirrors and eliminates secondary reflections typical of back surface mirrors. These mirrors are unique and the exact metals used in the mirror are not known however metallurgists believe that the ally is a mix of copper and tin.
This town is also famous for Aranmula Vallamkali, the annual regatta of the snake boat during the festival of Onam. These boats are 30 feet long and carry four helmsmen, hundred rowers, and twenty-five singers. Vasthuvidya Gurukulam a unique institution of Indian architecture and mural paints, established for promotion and preservation of Vasthuvidya and mural paintings is located here.
5. Konni and Adavi
Konni is an attractive town with lush pastures and hills on the banks of river Achakovil situated at a distance of 11 km from Pathanamthitta. It is surrounded by pepper and clove plantation. It is a famous timber trade and elephant training centre. Its vast area of lush green forests make it the eco-tourism hub of Pathanamthitta district and has projects like Ancient and present elephant shelters, photo gallery, etc., to provide different experiences to the visitors.
Adavi is a major tourist attraction in Konni situated on the banks of the Kallar river. The main attraction of Adavi is coracle (a small, round, lightweight traditional boat) riding and bamboo huts erected on the banks of the Kallar River.
6. Perunthenaruvi Waterfalls
Perunthenaruvi waterfalls in Wester Ghats are located at a distance of 36 KMs from Pathanamthitta. It is a famous tourist destination and a family picnic spot. Here the waterfalls on a rocky path into a ravine. These waterfalls are mostly famous for their wide area and not for their height. These falls ultimately merge with the waters of the Pamba River. These waterfalls become more graceful during monsoons with roaring waters and even become dangerous.
7. Thriveni Sangamam
Thriveni Sangamam is situated at a distance of 64 km from Pathanamthitta on way to Sabarimala and is the meeting point of the holy Pamba River that meets Manimala River and Achankovil River. It is a sacred place for the Hindus and pilgrims on way to Sabarimala Temple stop here and take a dip in the holy water to wash away their sins. It is a beautiful place with natural surroundings and millions of visitors come here to enjoy the beautiful landscape.
8. Kaviyoor Rock Temple
Kaviyoor Rock Temple is an ancient temple carved on a massive rough rock, situated around 28 km from district headquarters and dedicated to Lord Shiva. This temple has a lot of archaeological importance because of its similarity to Pallava-style architecture. The 8th-century monument as well as stone sculptures and carved rooms of the temple are well preserved by the archaeological department. The temple is visited by historians and travellers besides devotees. The nearest Thiruvalla railway station is 4 km away.
9. Muloor Smarakam
Muloor Smarakam is a memorial situated at a small village Elavumthitta at a short distance of 12 km from Pathanamthitta town. This memorial is dedicated to the poet and social reformer of the pre-independence era Muloor S Padmanabha Panicker known as a humorous poet for his satirical writings. It is an ordinary Kerala house once inhabited by the poet himself. To preserve the culture of the state the department of culture of Kerala state Government took over the house and converted it into a memorial of the poet. The memorial attracts historians, writers, poets, and tourists because of its historical importance as well as the original beauty of the surroundings.
10. Palikara Church
Paliakara Church situated in Trivuvalla around 32 km from Pathanamthitta is one of the important religious centres for Syrian Christians. The history of the church dates back to 54 A.D and the arrival of St Thomas to Kerala. The church is known for the unique incredible architecture and breath-taking beauty of its sculptures. The outer wall of the building is decked with the carved lattice and inscriptions of various saints.
The pure artistry and ancient paintings were drawn with natural vegetable dyes on the eastern wall of the church are other major attractions. They portray the main events of the life of Jesus Christ depicting many tales relating to struggle, establishment, and spread of religion and other social movements. The structure also holds blends of Hindu cultural elements like tiny sculptures of elephants and tigers on the wooden beams supporting the roof. Various festivals similar to Hindu festivals and parallel to that of Sri Vakkabha temple are celebrated here. The most important festival is a 10-day festival during mid-April and May every year.
Distance of Pathanamthitta
Airport – The nearest airport from Pathanamthitta is Trivandrum International Airport 103 Kms far.
Railway station – The nearest railway station from Pathanamthitta is Thiruvalla or Chengannur 24 and 30 Kms far off respectively.
Bus – There are regular buses from major cities of the State to Pathanamthitta Bus Stand.
Pathanamthitta is a beautiful place, which has many more tourist attractions other than these Top 10 places in Pathanamthitta. So do not wait any longer and make a plan to visit Pathanamthitta now.