Christmas in Kerala is the festival of universal love and is celebrated full of happiness and joy. Kerala is known to be the best destination in South India and is famous for celebrating Christmas. Kerala is certainly famous for its celebration of Onam with all the glitz and similarly, Christmas celebrations in Kerala are widespread with many non-Christians celebrating the festival. Christmas in Kerala is the most glorious time when you will get to see the true colors of the Keralite celebration. Christmas celebrations in Kerala are incomplete without special Christmas cakes, lightning, presents, the crib, Christmas stars, and all kinds of decoration just before the new year celebrations in Kerala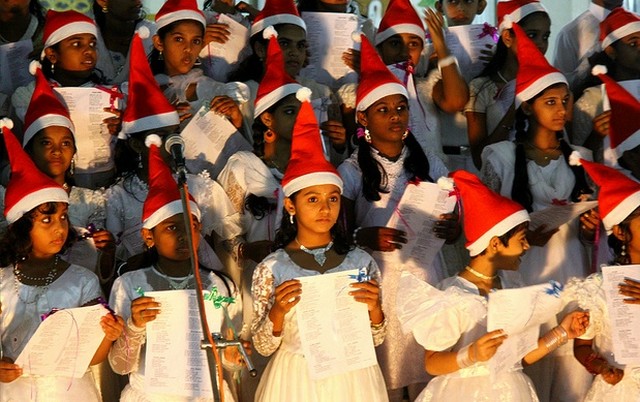 It is the twinkling Christmas star put up at Christian homes or shops which sets the tone for a season of cheerfulness and joy during Christmas in Kerala. The Christians in Kerala decorate their homes, which give a different look to the mesmerizing God's own country all together during Christmas celebrations in Kerala. Kerala is also known to have some really beautiful churches and cathedrals where Christmas carols are sung. Miniature models are used to enact the birth of Lord Jesus in the churches of Kerala.
ALSO SEE – What Kerala Is Famous For: 11 Things That Draw The World To God's Own Country
You can also enjoy the delicious grand feasts in Kerala during Christmas in Kerala. Kerala has quite a good population of Christians and this famous festival is celebrated with enthusiasm and vigour. You can see thousands of people gathering in the churches of Kerala during this time; while the churches are open throughout the night.
Best Places to Celebrate Christmas in Kerala
Christmas celebrations in Kerala are a great time to visit God's own country to enjoy the festival with its own taste and also to enjoy the beautiful backwaters, shopping, and beaches of Kerala. Whether you want to go to the highlands or the beaches; Kerala will serve you during Christmas with the best weather and celebration. You will certainly enjoy the lights and the peaceful celebration of Christmas in Kerala. Enjoy the local flavors of Kerala this Christmas.
1. Kochi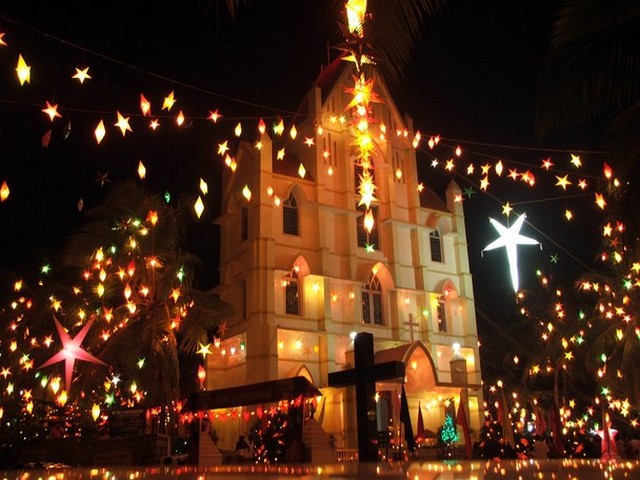 The city is known to celebrate Christmas with charm. You can see the beautiful homes and churches of Kochi decorated with ornamental lighting and Christmas trees. You can enjoy the Xmas packages with the traditional and exotic food of Kerala. On the other hand, enjoy the traditional Christmas cakes on Christmas in Kerala.
This is the time when Kochi also celebrates the shopping festival Kochi Muziris Biennale and Cochin Carnival, which will further make your Christmas celebration more colourful and enjoyable. This is the time when you can also enjoy the Indira Gandhi Boat Race. Fort Kochi and Mattancherry Palace are adorned with white paper buntings during Christmas in Kochi.
You can also visit the churches like Sanat Cruz Cathedral Basilica, Holy Koonan Cross Church, St.Francis Church, Koonankurishu Church, Malayattoor, St. George Ferona Church and many others in Kochin. Pubs and discotheques are also open during Christmas in Kochi. Some of such places are Club1100, opium the club, longevity, AVA lounge, Couchyn and more.
2. Trivandrum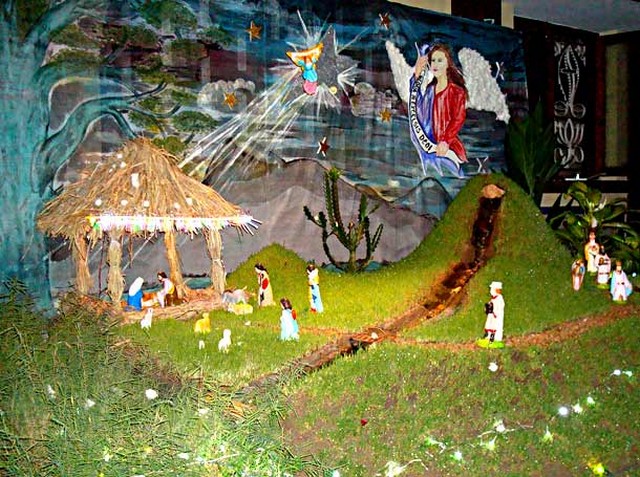 Trivandrum is the capital city of Kerala with modern facilities. You can check out the L.M.S. compound during Christmas to see the beautiful decorations like hanging stars. Further, Chalai Market and Palayam market are two markets to enjoy Christmas shopping at its best. Some of the most popular places for cake in Trivandrum are Ambrosia, St. Michels, Salt n' Pepper and The Christmas fair at Little Flower Hall.
You can also visit the popular churches in Trivandrum; like St. Mary's Cathedral, Madre de Deus Church, St. Joseph's Cathedral and more. For mistletoe and wine; you can certainly visit Connemara! Besides the backwaters, hill stations, and lagoons of Trivandrum are the best place for Christmas celebrations in Kerala.
3. Kovalam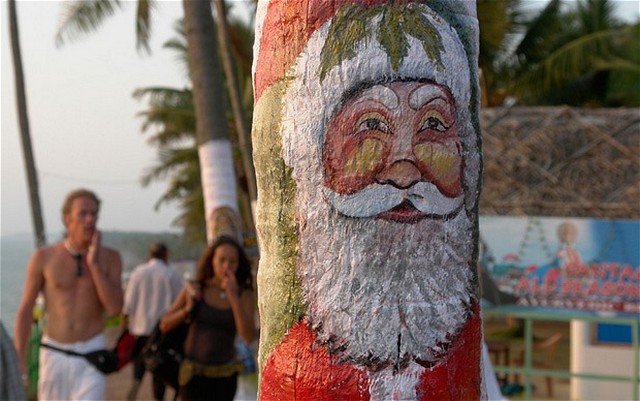 Kovalam is famous for its beaches and winter is the perfect time to visit Kovalam to enjoy the pleasant weather with bright sunny days and windy nights. You can enjoy your Christmas as well as you can also have the fun of attending the beach carnivals during the time. Get into a festive mood during your Christmas celebrations in Kerala and visit beaches in Kovalam that are a beautiful sight on cold winter nights.
4. Munnar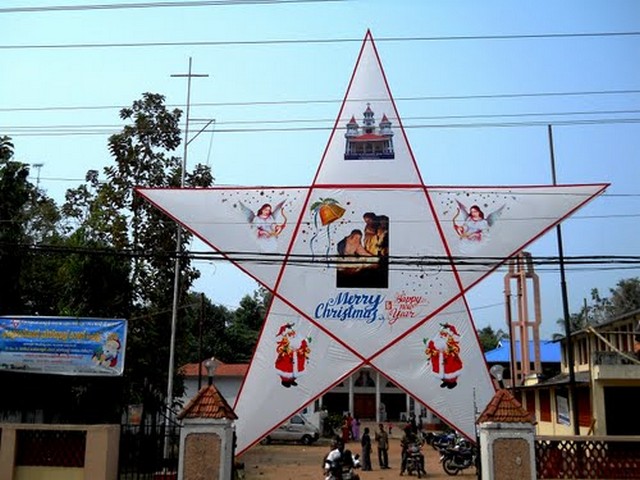 If you love to visit the hill stations; then Munnar is the perfect place for you to celebrate Christmas. The place is known for its amazing weather and tea plantation. Munnar does not have snowfalls during winters; which makes it a perfect place for celebrating Christmas with ease.
The majestic green beauty of this place with the celebration of Christmas would certainly make your stay a memorable one. You can also visit the churches in Munnar; like Christ Church, Christian Shree and many more during Christmas. Get a feel of the charming colonial hill station and enjoy your Christmas celebrations in Kerala.
5. Wayanad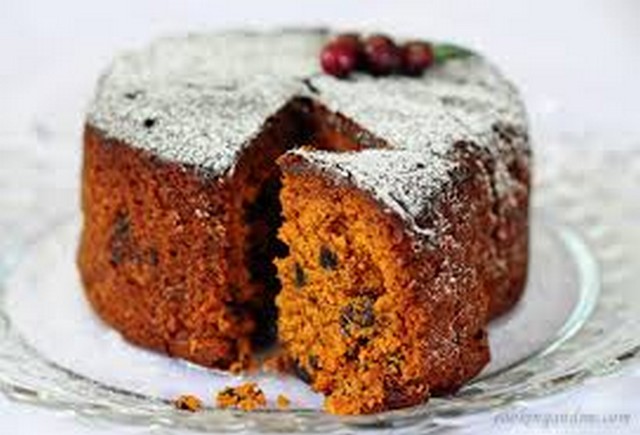 Enjoy the beautiful surroundings of Wayanad that will double your Christmas celebrations in Kerala. Christmas is one of the major festivals in Wayanad. Wayanad Wildlife Sanctuary is a major attraction to celebrate Christmas in Kerala. You can enjoy the beautiful sceneries of Wayanad and can also see the beautifully decorated houses of devotees as well as enjoy the beautiful musical carols.
6. Kollam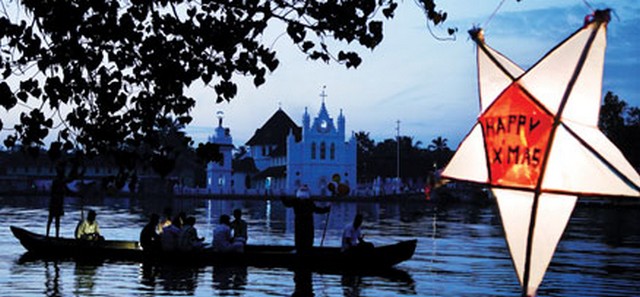 Kollam celebrates Christmas in its own colour. The fish workers in Kollam are known to be Catholic community who reside in the coastal areas and celebrate Christmas by taking out their families to the sea. This is a traditional way of celebrating Christmas where the elders take the younger generation to the sea to introduce them to the sea.
You can enjoy the beautiful surroundings of Kollam while can get to know people to know their traditional way of celebrating Christmas. You can also go to Lake Ashtamudi and to the Churches of Kollam to experience the beautiful Christmas celebration of Kollam.
Each city of Kerala celebrates its Christmas, in its own wonderful way. You can enjoy the different flavours and meet the beautiful people of Kerala on Christmas to make your Christmas an exotic one! Plan a trip to celebrate Christmas in Kerala for an ultimate experience in God's own country like never before.