If you were to ask us, where to head for New Year 2024 and to forget the covid years from 2020 to 2023, we will certainly say that you must visit Kerala if possible. Kerala is one of the most happening destinations not only in India but across the world. Kerala also offers a chance to celebrate New Year and Xmas in the sunny outdoors in hill stations, beaches or backwaters. The new year celebration in Kerala is all about exotic party places that will make your day more memorable. Tourists from across the globe can be seen in Kerala if you are here during the month of December.
However, the 2024 New year is different as International Travelers are  allowed in Kerala and  covid restrictions have been removed. As per the latest covid regulations, any one can visit Kerala for for a holiday
January 1, 2024, New Years Day is a Monday and it is going to be a long weekend that will kickoff 2024. If you are planning for celebrating in Kerala, here are some tips from us on how best to make the start of a year a memorable day.
Please note that Government of Kerala   allows large scale gatherings in New Year 2024 and Covid restrictions have been removed completely. If you are staying a hotel or resort, you can contact them for any specific new year celebration details
New Year Celebrations in Kerala 2024
Kerala New Year is celebrated with much gusto and zest. Also called the Malayalam New Year, this important event attracts tourists in large numbers from different parts of the world.
While cruising in a houseboat is an appealing way to celebrate the new year that is unique to Kerala, you will be in for an awesome treat if you attend Cochin carnival or the burning of the gigantic Pappanji or a Giant Santa Claus in Fort Kochi beach. When you attend any new year party in Kerala you'll find everyone in an enthusiastic party mode, locals and tourists alike and the sun doesn't set on the New Year celebrations in Kerala.
ALSO SEE- Best Time to Visit Kerala (Updated)
Varkala, Kovalam or Fort Kochi will be among the best places to spend New Years Eve 2024 in Kerala. However, if you ask us to pick one place we would surely pick Fort Kochi, simply because of the carnival celebrations on the day of the new year 2024 which falls on a Monday, January 1, 2024.
Ring the New Year 2024 bells with exciting events, memorable activities, and crazy nights by being a part of new year parties in Kochi.
For those who believe that the end of the year needs to be celebrated with groovy music and crazy dancing, then for them, there are some new year parties in Kochi awaiting you.
To enjoy the fullest of Kerala new year, tourists can visit the places discussed below.
Cochin Carnival
One of the best eye-pleasing and heart-catching carnivals that take place during the new year celebration in Kerala.
Cochin Carnival is a mesmerizing and unique experience put forth by the Portuguese during the colonial era. The activities bring in dazzling splendour with a charming elegance that gets imbibed into these festivities. The ceremonial fiesta gives the right ambience for people to celebrate grandly, to one's heart's content. The native folk arrives in vibrant coloured attire to mark the occasion of a new dawn. This adds a definitive colour to the gala event.
Cochin Carnival is hosted every year in the last week of December and it runs with the New year and ends with a massive procession on New Year's Day through Fort Kochi. The highlight of the carnival is the massive procession on New Year's Day. Led by an embellished elephant and accompanied by drums and music, the carnival is a moment to behold and stays with you….well….until the next year! There is also staging of different South and North Indian folk dances during the festivity.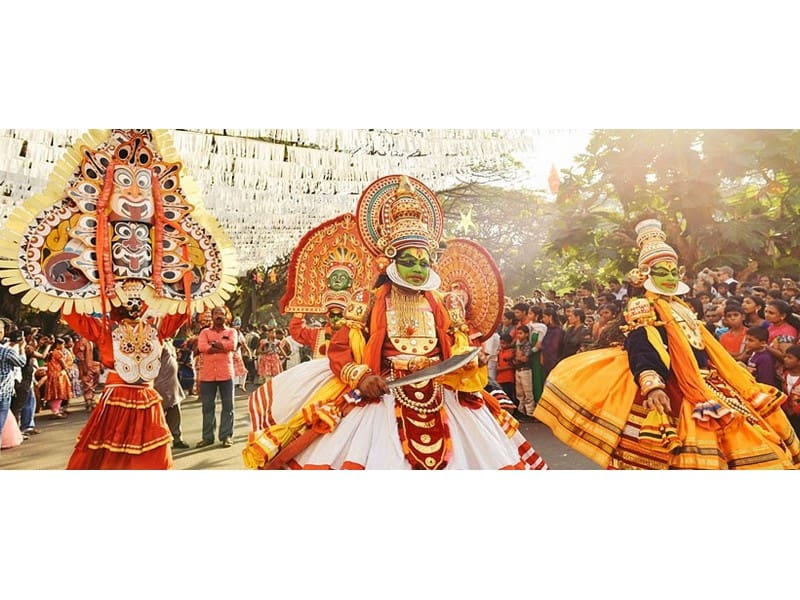 Preparations begin months in advance for hosting the carnival games, fairs and partying. Dressed up in fancy costumes, everyone including the children are seen bursting with enthusiasm and unbridled energy. The available space on the streets hosts impromptu competitions and multifaceted celebrations. Kalam Vara (floor drawing), tug-of-war, bicycle race, swimming in the sea, beach volleyball are some of the programs that take place during the Carnival.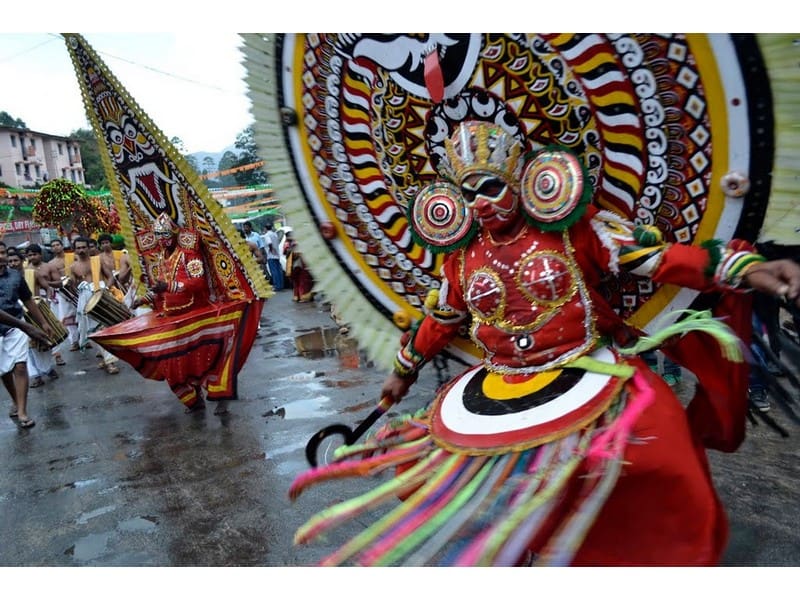 In addition to the usual procession, Events like Sea-Swimming, Beach Volleyball, Beach Football and Beach Bike races make the Cochin carnival more interesting and amusing. Even prizes are awarded to the competition winners. On New Year's Day elephants are brought out on the roads and the tunes of the instrument known as 'Panchavadyam' reverberates throughout the city.
As part of the New Year celebrations, the Cochin Carnival is being conducted for the past several years in Kochi, Kerala. This year, the Cochin Carnival is slotted in between December 25th and January 1st. A week full of celebrations in Fort Kochi, Cochin Carnival is a paradise for all people who are gripped by this wonderful festive mood. So, what awaits you when you reach Fort Kochi for celebrating the Cochin Carnival?
Be amazed by the sights that awe you into absolute bliss.
The official inauguration of Cochin Carnival is done by hoisting the Carnival flag at the Vasco de Gama Square. This festival is a true union of many cultures. The festive occasion uniquely blends the cultures of Portugal, Arab, Dutch, and Anglo-Indian along with those from different parts of India such as Kerala, Karnataka, Punjab, and Gujarat.
Be a part of various events that test your competitive spirit and fill your mind with absolute joy. Some of these might include beach football, beach bike-race, wrestling, boxing, Kayaking, swimming as well as the marathon.
It's a given that, the people of Kerala, and all around the world, love being part of a society that follows principles. So, you might as well be wondering about the principles involved in Cochin Carnival. The main ones are peace, progress, environment, adventure, and participation.
A sea of white-paper buntings awaits you at the carnival city; white symbolizes peace as well as tranquillity. The major centre of activities is the Kochi Fort.
The new year parties in Kochi including games and fairs continues until the fireworks take place on 31st December making the grand finale of the carnival.
A tradition that started in the Portuguese colonial era, as part of their New Year celebrations, the first edition of the Cochin Carnival in independent India was started in 1984. This was named, 'Carnivale Cochin'. Be a part of the tradition and cultural customs by experiencing the grand Cochin Carnival, this year.
Kochi-Muziris Biennale 2023
Get enthralled by the largest art exhibition in India, which is also the biggest contemporary art festival in Asia. One can admire contemporary arts, at the Kochi Muziris Biennale; one of the best reasons for locals and tourists to flock in. Last Biennale was  conducted  from Mon, 12 Dec, 2022  to  Monday  10 Apr, 2023 . The next carnival will be in December 2024 and never miss one of the biggest spectacles on earth, the Cochin Carnival.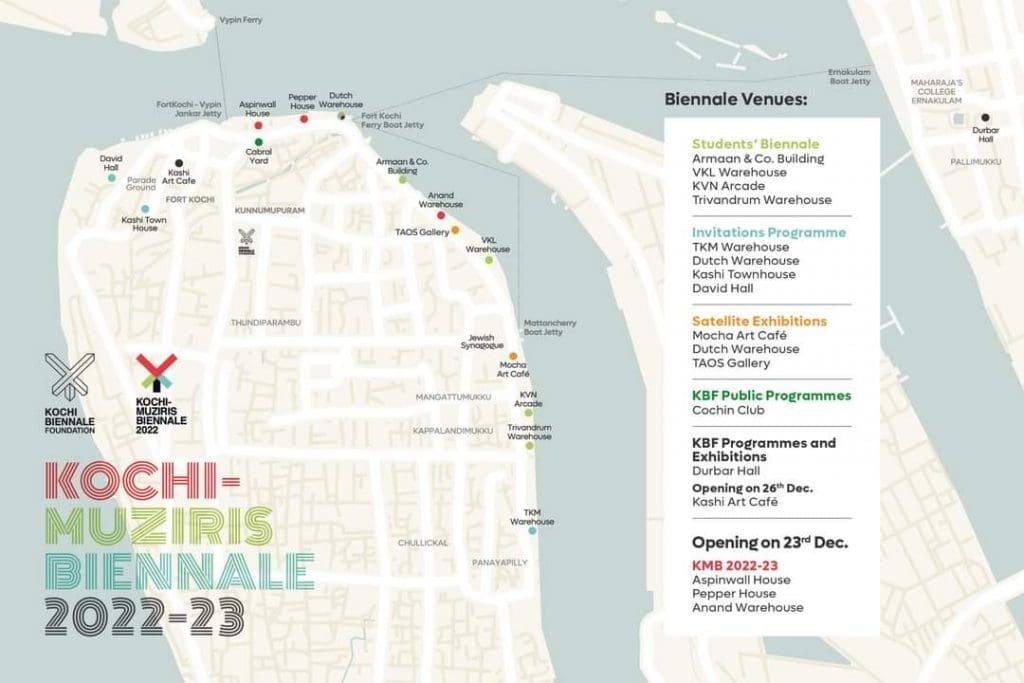 Through the celebration of contemporary art from around the world, Kochi Muziris Biennale held during Kerala new year seeks to link the past with the modern-day present.
New Year 2024 in Kochi will not be   marked by the Kochi-Muziris Biennale which was also a major factor for attracting domestic and international travelers. Art lovers from around the country and abroad visited Fort Kochi for the first Kochi-Muziris Biennale in 2011 and every year number of visitors are only increasing.
Santa Burning in Fort Kochi Beach
In Kochi, the burning of Pappanji or a giant statue of Santa marks the start of a new year. The burning of Pappanji is a 500-year-old tradition to mark the end of Xmas and New Year festivities which was started when the Portuguese established its first base in India at Kochi as part of Portuguese New Year celebrations.
This is usually celebrated in Fort Kochi beach and nearly a hundred thousand people attend the celebrations on the beach every year.
Santa Burning in Fort Kochi Beach symbolizes the arrival of hope and harmony that you believe to last for a year. Be spellbound by the sight of the burning Pappanji, which is followed by a grand party that includes all your favorite elements.
People from different classes, castes, and religions enjoy the Pappamji Burning festival during the new year celebration in Kerala.
The procession is one unbelievable sight that has caparisoned elephants, enchanting folk performances with vibrant costumes and different kinds of music. What a wonderful way to kick-start the New Year isn't it.
Be awed by the visual extravaganza enjoyed by all people alike. Kick-start your senses and feel the energy course through your body, all year around.
Check out the Best beaches near Kochi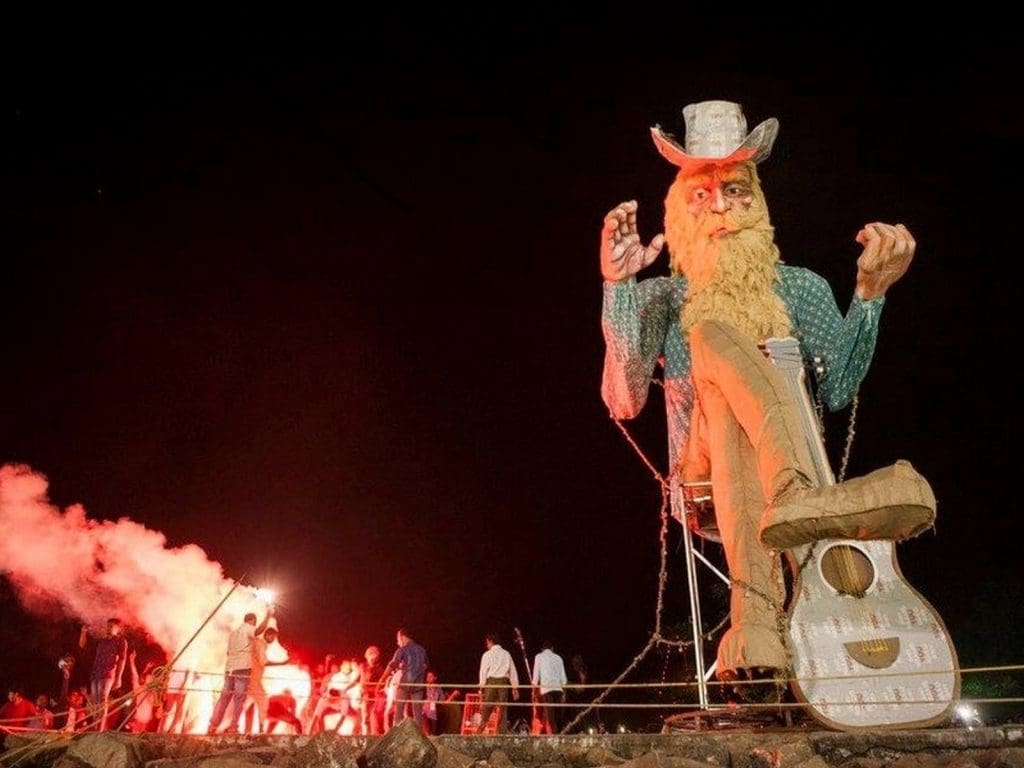 Check Best beach Resorts in Kerala to celebrate new Year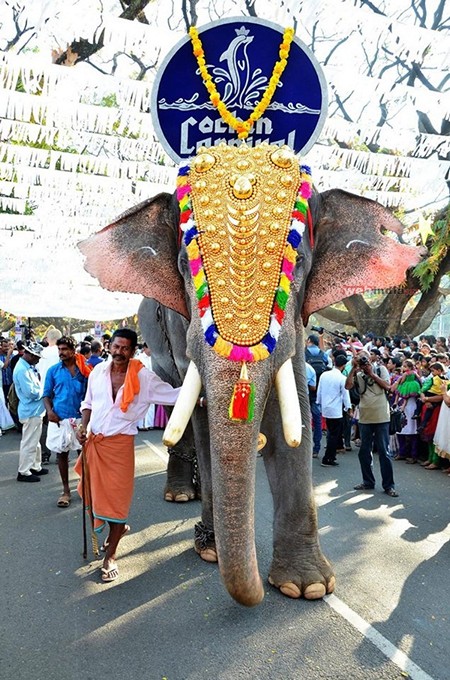 The Vasco Da Gama square and the streets are dotted with makeshift shops selling Kerala souvenirs, artificial jewelry and traditional garments in New Year and if you are planning to go for New year Parties in Kochi in 2024, you need to book much in advance.
What if you miss out on Cochin?
No need to worry if you miss out on the festivities in Cochin. The capital city of Kerala, Trivandrum offers celebrations as well; especially the Kovalam and the Varkala beach.
If you are not in Cochin, don't worry. Most hotels in Kerala have grand New Year parties with live bands and DJs for in house guests. If you are already booked with a hotel, check the rates to see whether the Grand New Year Ball rates are included with the room rates. It is a compulsory inclusion in most New Year itineraries. However, be forewarned that tickets will be expensive to get into any new year ball and stags are not allowed.
New Year Party 2024
Beach in Kovalam and Cliff in Varkala is becoming a popular venue for the New Year countdown party in North Kerala. Celebrate the party by being busy bees on the dance floor to some amazing music and relaxing with yoga afterwards. It's a truly unique way to celebrate the New Year 2024.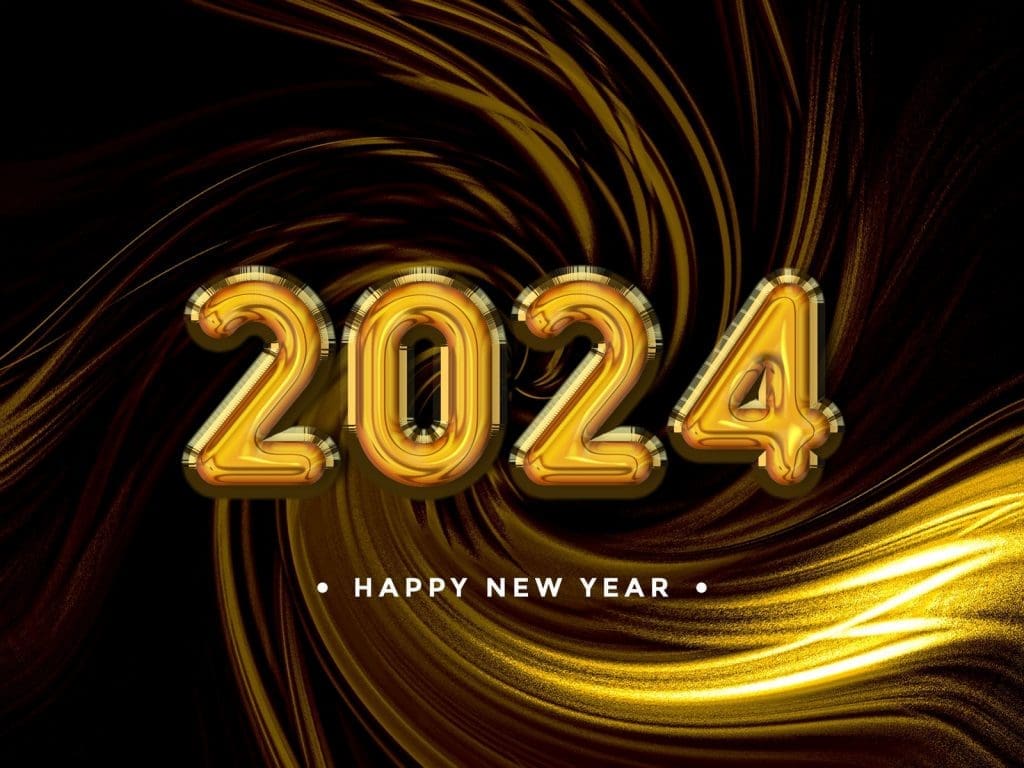 Don't miss out on the night-shopping experience at Thrissur in Kerala. The whole Thrissur city will be decorated with lights as part of the 'Happy Days: Night Shopping Festival'. Be mesmerized by various cultural programs in Thrissur during this time, which will last till a month until Christmas. With shops open till midnight, it would be a unique experience to get engaged in some wonderful shopping experience en route to Cochin for the carnival at the Fort Kochi.
Music Parties all around Kerala
If you are in Kerala, but not in Cochin, Trivandrum, or Thrissur, you can check-in at various hotels that organize thrilling New Year events. You can celebrate New Year in the quaint little province of Kerala. DJ parties galore at various hotels and restaurants in Kerala, which you can enjoy by dancing to these tunes. Music fills your soul and re-energizes you. Create wonderful moments that you will cherish for life-long by coming to Kerala.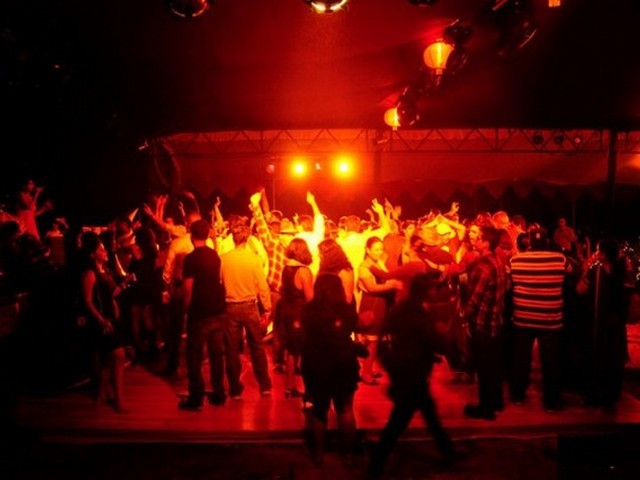 Kerala may be one of the most ideal destinations to celebrate the new year and December – January is cold and comfortable and is ideal for sightseeing in Kerala. There is no snow and it will be comfortably cold.
However, it is better to book hotels and resorts early for your New Year in Kerala as this is the peak season and the rates of resorts are very high and the climate in Kerala is ideal for a holiday.
From beaches, clubs, pubs, houseboats, and high ranges, you have various options for the new year celebration in Kerala with enthralling crowds and finest gatherings.
New Year has a good climate for houseboat trips in Kerala, bird watching, fishing and canoeing. The winter in Kerala is ideally suited for sightseeing and enjoying various destinations in Kerala such as Athirappilly, Thekkady, Alappuzha, and Munnar to name a few.
It would be wise to book hotels beforehand if you come to Kerala for the New Year celebrations. The climate welcomes you with its pleasant nature; ideal for house-boat rides through calm and serene backwaters.

The new year is the peak tourist season in Kerala and most of the resorts and hotels in Kerala will be sold out in advance. It will be prudent to book your New Year and Xmas Packages in Kerala in advance to ensure that you celebrate the New Year without any hassles as Kerala is one of the most popular tourist destinations in the world for New Year Celebrations.
It can be noted that Kerala is one of the best destinations for New Year celebrations. Kerala New Year is one of the best in South India amidst the natural beauty and backwaters
Kerala cuisine is one of the most enjoyed entities as you will be treated to a traditional five or seven-course meal as part of the Christmas and New Year celebrations. Various resorts offer the best packages during New Year to ensure you are comfortable and having fun to your heart's content.
As mentioned before, try not to miss out on the awesome Cochin Carnival and Pappanji burning. Be amazed by the events organized in Thrissur and Trivandrum that will blow your mind.
Thoroughly enjoy your New Year 2024 celebrations regardless of wherever you are in Kerala. Have fun and begin your New Year with resolutions of optimism, hope, and faith. Don't forget about the amazing cherishable moments, which will become nostalgic in your life. We wish everyone a very happy and eventful New Year.
If you are travelling to Kerala you can find that most of the resorts in tourist destinations across Kerala will offer a grand gala dinner to celebrate the new year with five-course of seven-course meals with popular food in Kerala included as an attraction.
Plan a tour in Kerala during the New Year 2024 and delight in the enchanting beauty of this wonderland
Wherever you are, whatever you do. Enjoy the New year in 2024 :). Everyone at Iris Holidays wishes you a very Happy New Year 2024  and here is our new year gift to you, get a FREE quote for your New year in 2024 in Kerala if you are thinking about planning your holiday in Kerala by clicking on the button below.