The beauty of Kerala does not stop with its stunning natural attractions, delicious cuisine, or fascinating history. A powerful and ancient tradition of craftsmanship and art has made Kerala a focal point of jewelry, carvings, antiques, and other handicrafts which are some of the Best Things to Buy in Kerala. These make perfect souvenirs of your trip or gifts to give your friends and family a taste of what they missed out on! From fragrant sandalwood figurines to artful coconut shell carvings and breathtaking Kathakali masks, you'll remember Kerala's special charm forever with these unique souvenirs. It is said that the artisans of Kerala are descended from Vishwakarma, the architect of the Gods – and it's not hard to see why.
ALSO SEE- Shopping in Kochi- A guide on where to buy
Souvenirs are more than mere objects. Travelers coming from various parts of the world, leave Kerala with memories & Kerala souvenirs to cherish those memories and experiences. They are tangible representations of a particular, beautiful moment or experience, and they enable you to relive, cherish and share your special memories. An experience as enticing as a holiday in Kerala creates exceptional memories, giving Keralite souvenirs exceptionally high emotive value. For inspiration on the most typical and unique souvenirs crafted by Kerala's talented artisans, look no further! Kerala has so many traditional, practical and beautiful articles to choose from – here are just a few suggestions.
15 Best Things to Buy in Kerala –
1. Kasavu Sari
If you are looking for the best things to buy in Kerala, These traditional white and gold saris, worn by Kerala women during festive occasions, are meticulously handwoven from the finest cotton. While the gold border, or kasavu, is always present, the colour of the blouse is traditionally determined by the age and marital status of the woman in question. Green for young, unmarried women and red for middle-aged married mothers. This beautiful garment makes for a stylish and exotic gift, but they are worn in precise ways! For a demonstration on how to wear a sari, have a look at the video below
The cost of a Kasavu Sari can vary between Rs.800 and Rs. 1lakh, depending on the width and material of the kasavu, and they can be purchased from any good textile shop.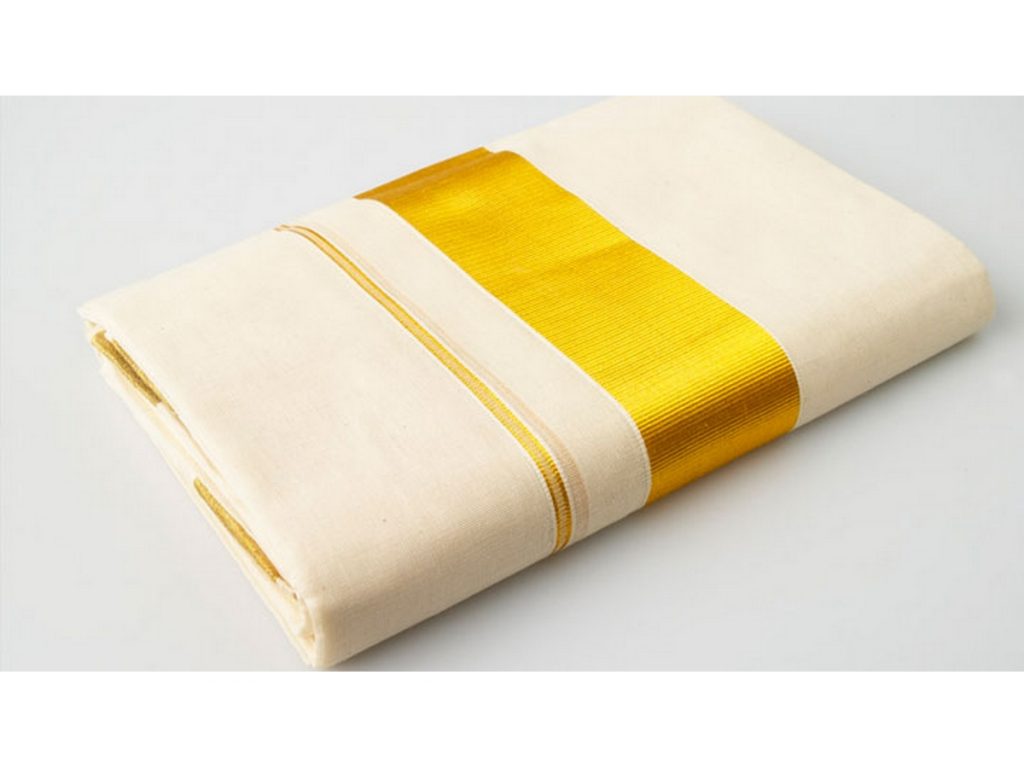 2. Aranmula Mirror
Produced solely in the Keralite village of Aranmula, following a centuries-old, family-secret formula for a particular metal allow, these mirrors are renowned for the quality of their reflection. The front-surface reflection produced by the metal allow eliminates the secondary reflections and aberrations typical of black surface mirrors.
The most popular model is the Sree Padmanabha mirror, which was initially a symbol of the Travancore dynasty. It is still associated with tremendous prosperity and power to this day. Prices start around Rs. 2500, and we highly recommend purchasing your mirror from the original family workshop in Aranmula itself.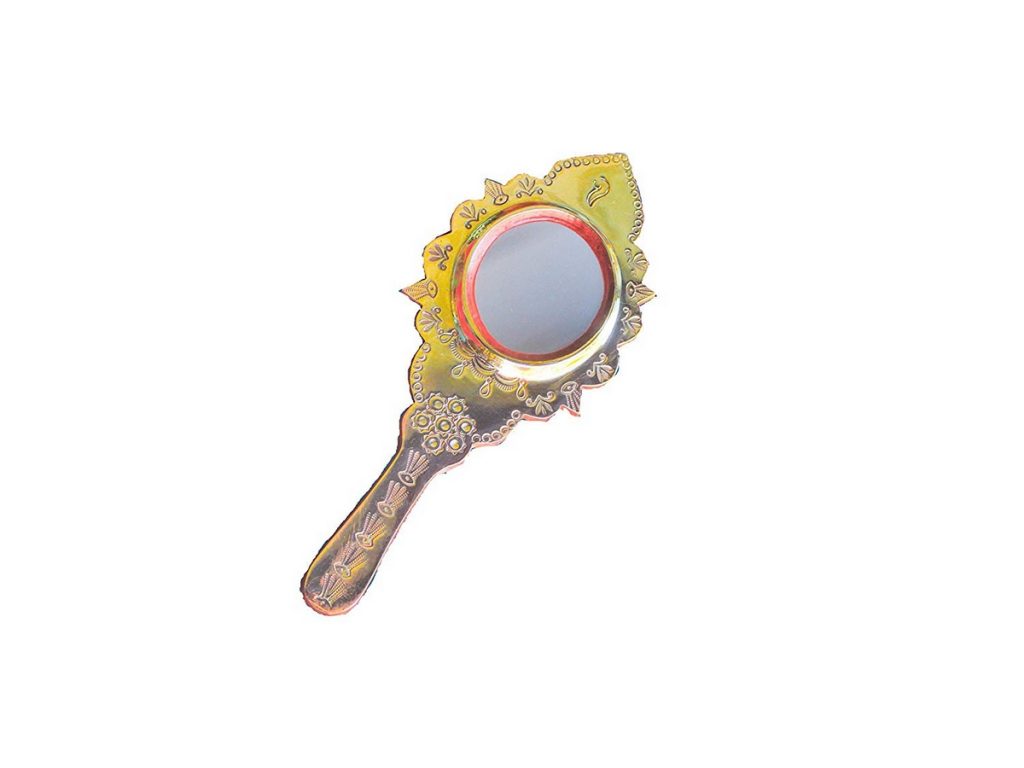 3. Nettur Petti
Born in the Nettur region of Kerala's Kannur district, this distinctive style of jewelry box is today considered a discerning collector's item. These caskets are entirely handcrafted from rosewood or country wood with bright, intricate patterns. Even the nails and hinges are handcrafted! Prices for these unique items start from around Rs. 400, and they can be found in handicraft showrooms throughout Kerala.
4. Coir Products
Coir is extracted from the fibrous outer shell of coconuts, which grow in abundance across Kerala. The fibers are then graded according to the method of extraction, their color, purity, and length and used in the creation of a wide range of products, including the very popular coir mats. A well-made coir mat can cost around Rs.300, and these items can be purchased in Coir Board Showrooms throughout the state.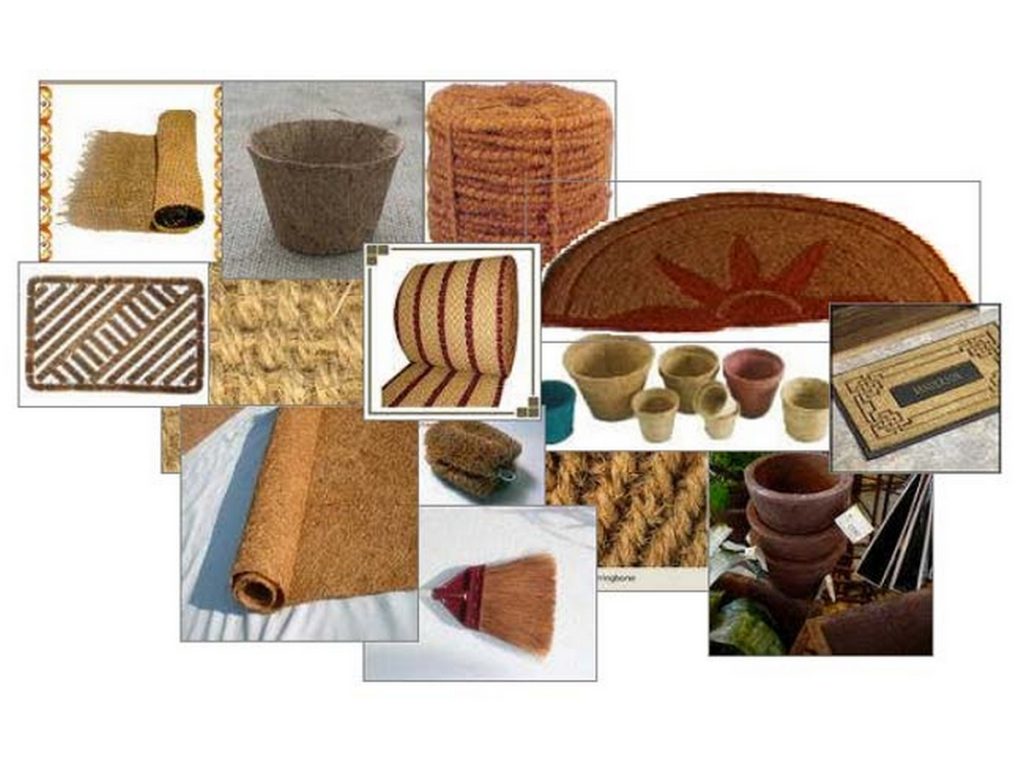 5.Elephant Model
Elephants are proudly featured on the State of Kerala's emblem and were the symbol of both Travancore and Kochi and is available to buy all over Kerala. As well as this, most Hindu temples across Kerala own elephants, the majority of which are donated by devotees. In fact, Guruvayur temple has its own Elephant Palace, to house the 60 plus elephants which call it home! Elephants are also central to many local festivals. They carry the deity through the streets of the town in a celebratory procession. Fully decorated, the elephant's shimmer in gold-plated nettipattoms, bells, and necklaces, and the little figurines which represent these festive elephants are a sight to behold as well.
ALSO SEE- Elephant Experiences of Kerala
6. Nettipattom
A central figure in Kerala's cultural and religious celebrations, elephants are revered and adored. These majestic creatures take center stage in temple festivals around Kerala and are adorned accordingly. The nettipattom that elephants wear over their foreheads as they parade down the streets of Kerala are traditionally created by a clan of artisans, over at least 20 days. The artisans will use at least 3.5kg of copper and 24gms of gold for even the simplest nettipattom, making these shimmering adornments a stunning sight to behold.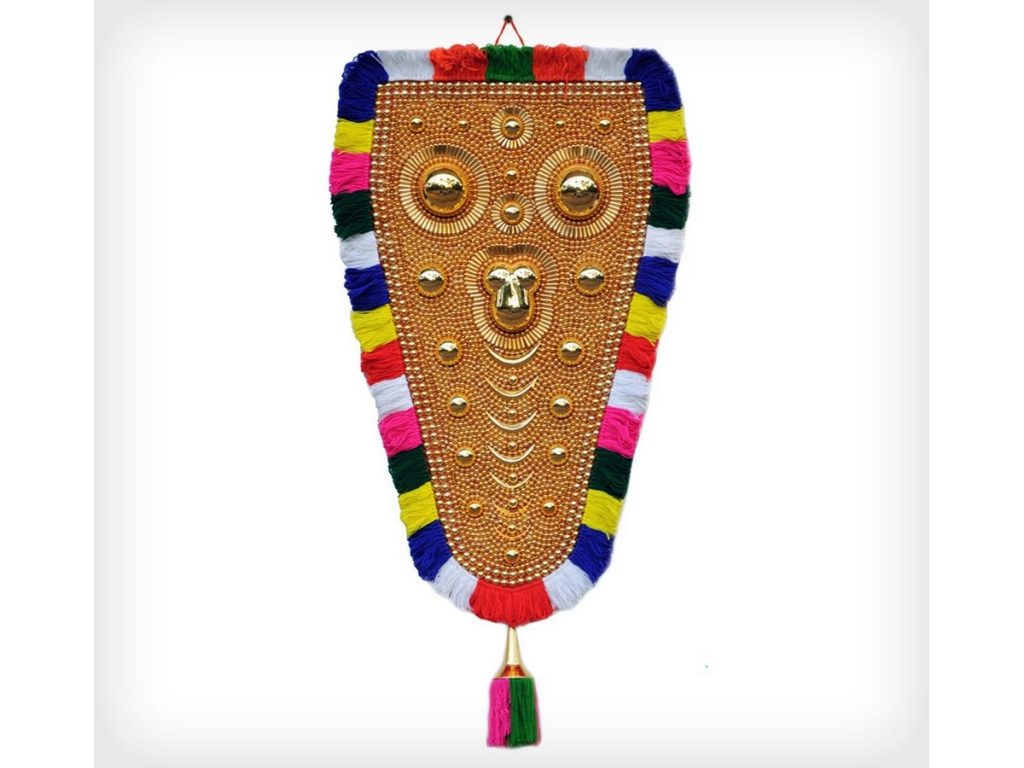 7. Nilavilakku
Another crucial element in Kerala's religious landscape, these oil lamps, or nilavilakku, are brought to the home's veranda and lit at dusk and dawn by the young girls of the household. Lighting the oil lamp is considered to be auspicious, and this ritual often precedes an artistic performance or celebration. It's one of the most famous things in Kerala.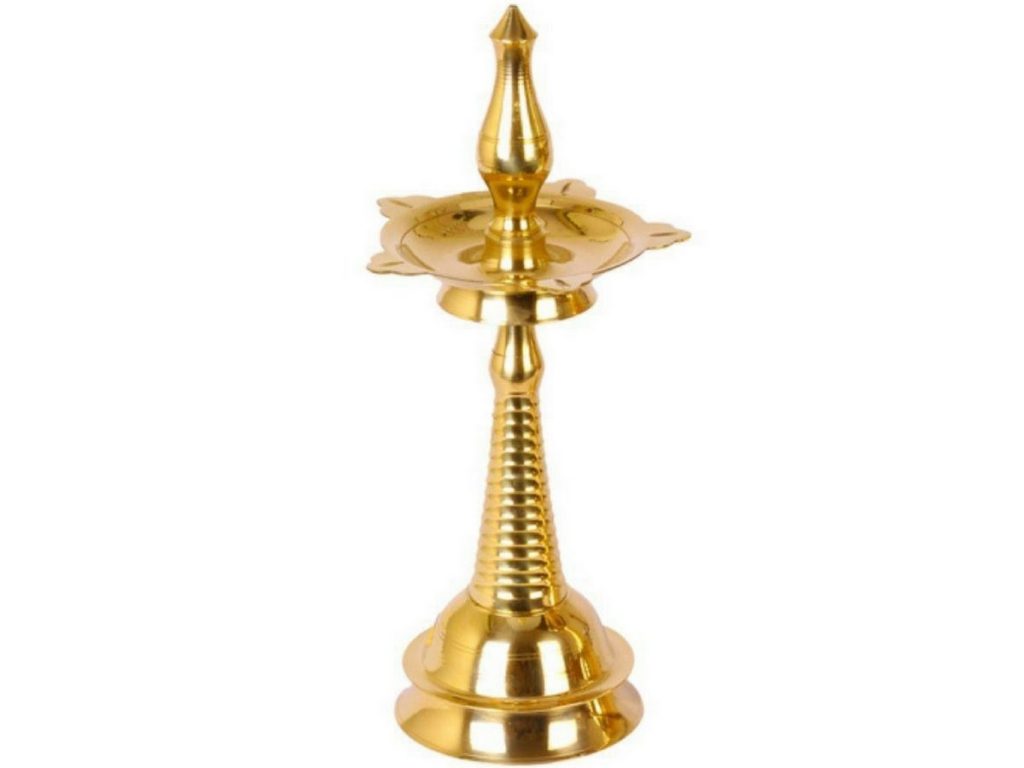 Thrissur's Kuruppan Road is an excellent place to look for oil lamps, from the Arathy Deepa (prayer lamp) to the Mile Vilakku (peacock lamp) or the Deepasthambha (the tower of lights in a temple). Prices depend on size and function and can range from Rs.80 to Rs. 50, 000 or more!
8. Kathakali Masks
The art of Kathakali has become an icon of Keralite culture, and the traditional make-up worn by the performers is immediately recognizable. This make-up is faithfully reproduced in the artisanal masks crafted from fibers and artificial stone which lovingly emulate the Kathakali characters portrayed by the actors. These masks, which make a beautiful cultural Kerala souvenir, are available in Kerala handicraft showrooms throughout Kerala, especially in Kochi.
ALSO SEE – Where to Watch Kathakali in Kerala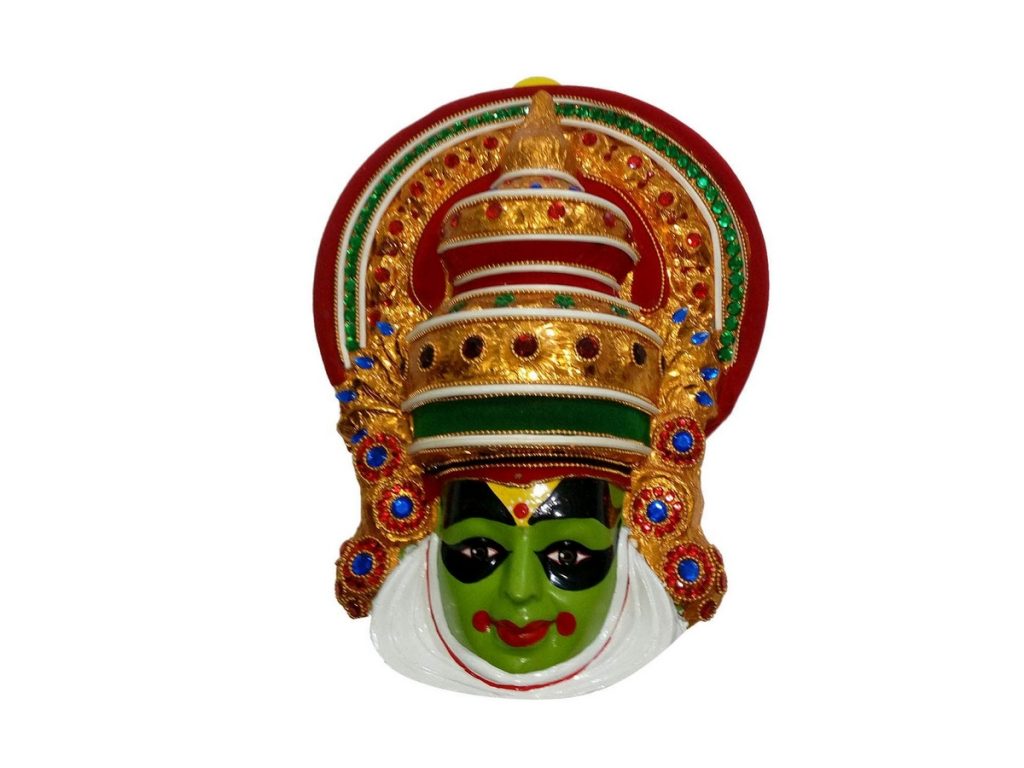 8. Pepper, Cardamom, and Spices
Black pepper is one of the most used spices in the world. It was even referred to as 'black gold' by the traders of the Roman Empire! Bring home a fragrant and flavourful blend of black pepper and cardamom to spice up your cooking or simply create a wonderfully exotic scent throughout your space.
As far as spices go, the most popular and readily available around Kerala are ginger, turmeric, star anise, Cambodge, cloves, and cinnamon.
9. Snake Boat Model
Boat races are an ancient and deeply ingrained tradition in Kerala. There are even recorded instances of disputes between kings and chiefs being resolved by a boat race! Amongst the many types of boats that ply Kerala's oceans and backwaters, the grandest of all is the chundan vallams or snake boats. A carved figurine of a snake boat is highly evocative of the intimate relationship between the people of Kerala and the waters that rhythm their lives. It's part of the most famous things in Kerala, representing Kerala handicrafts at it's finest.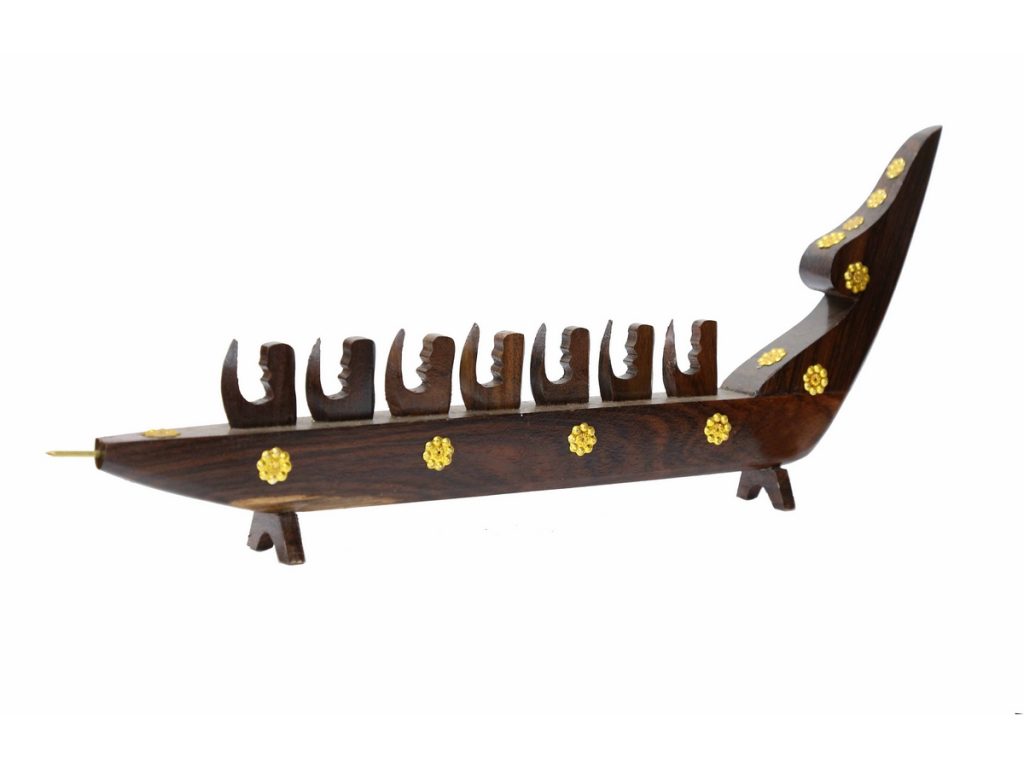 ALSO SEE- Snakeboat Races in Kerala
10. Pulpaya
These traditional straw mats are one of the oldest handwoven products in Kerala. They are even mentioned in the Atharva Veda, one of the four philosophical treaties on ancient India which date back to 3500-1800 BC. Their characteristic smooth texture and red and black design make them a distinctive, practical, and beautiful gift or Kerala souvenir.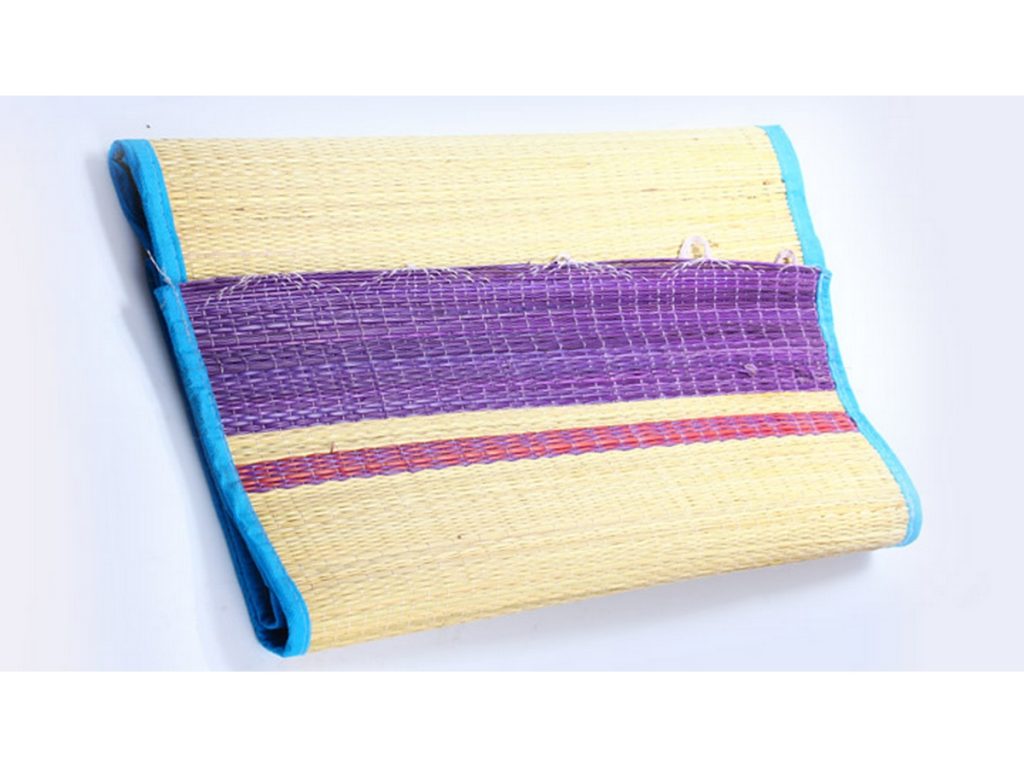 They were traditionally used by the elites for sitting or sleeping on, depending on their size, while the rest made do with wooden planks.
11.Coconut Shell Handicrafts
Coconut palms grow in droves throughout Kerala, but more than just a scenic bonus, coconuts themselves are used in their entirety. While the kernel and water are usually eaten or imbibed, the husk, or shell, is used in the creation of beautiful works of art.
Coconut shells are skillfully carved into anything from cups and bowls to flower vases, snuff boxes, and sugar basins, as well as a range of toys. Hookahs and large vessels are also often manufactured by combining coconut shells with brass bindings.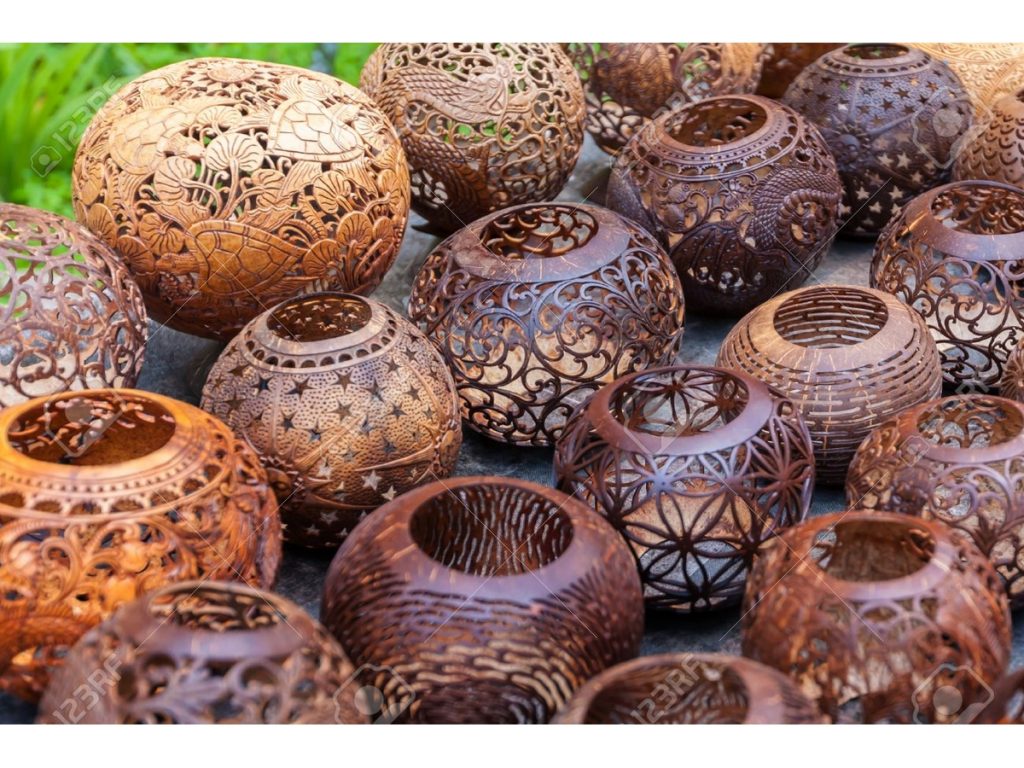 Brass-broidered coconut shell products offer a little extra glamour and shine, and they are singular to Kerala, while raw articles feel more rustic and rugged. Either way, you're guaranteed a unique and beautiful reminder of your time in God's Own Country!
12. Mural Painting (Temple Painting)
Murals are pieces of artwork painted directly onto a permanent surface, incorporating the architectural elements of the support seamlessly into their design. Kerala's historical temple murals are amongst the finest in the world, and comprise the most extensive collection of murals based on ancient Indian mythologies!
Authentic Kerala mural paintings are distinctive, bright, and highly technical works of fine art. Most of those which remain today were produced between the fifteenth and nineteenth centuries, although some date back to the eighth century! The oldest ones can be found in Thiruvananthapuram.
While you can't take home a wall, many temple paintings are now being reproduced on canvas and paper. So you can keep your own piece of Keralese tradition and mythology with you when you go home!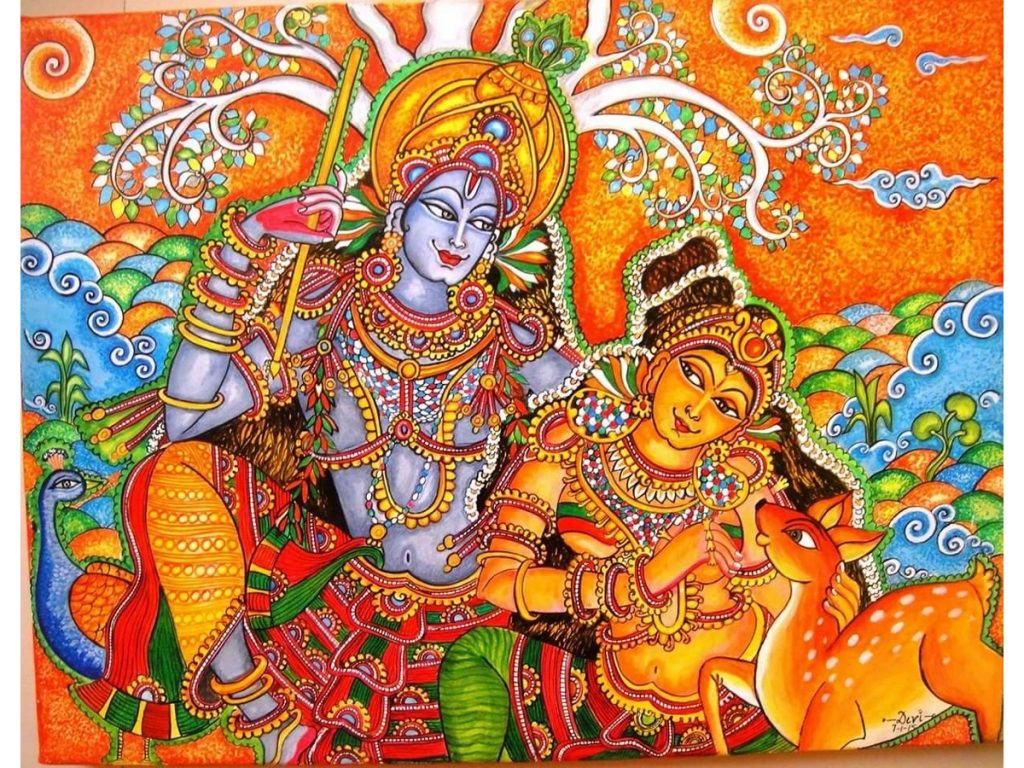 12. Banana Chips
Banana chips are a staple of the Kerala food scene. Whether snacking on the go or enjoying a lavish wedding feast, these delectable delicacies are sure to be the food of choice. Made with either ripe or unripe plantains, the sliced fruits are fried in coconut oil before being enjoyed plain, coated with masala for spice or in jaggery for sweetness. These variations would all be served in the traditional meal known as sadya, eaten during weddings and festivals.
Traditionally, every grandmother would have been considered the sole banana-chip chef. She would lovingly peel and slice the fruit, heat the oil in an iron wok and watch the slices turn golden as they fried.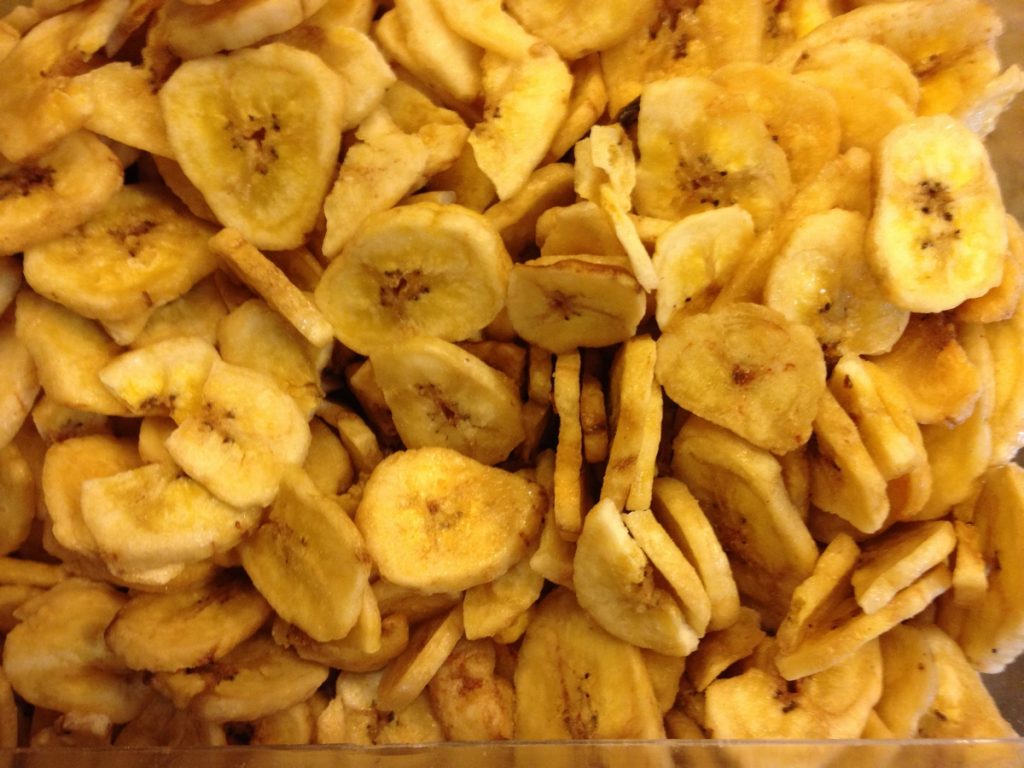 Today the process is more industrialized. Banana chips are produced on a large scale for consumption throughout Kerala, and they're slowly gaining traction in the rest of the world as well. This healthy alternative to traditional potato chips is the perfect way to introduce friends and family to the magic of Keralese cooking traditions.
13. Ramacham Vishari
No matter when you time your visit, Kerala is likely to be a lot warmer than you're used to! The hot, humid summers often surprise visitors with their intensity. Luckily, there a time-tested, age-old, and straightforward solution that is widely used amongst locals: the Ramacham Vishari. These simple hand-fans are made from Ramacham, or Vettiveria, a medicinal plant whose grass and roots are commonly used in medicines, cosmetics, and drinks.
The roots of the Ramacham plant are also used to make these fans – I bet you've never had a medicinal fan before! When water is sprinkled over the fan, the breeze created by the fanning motion is fresh and fragrant.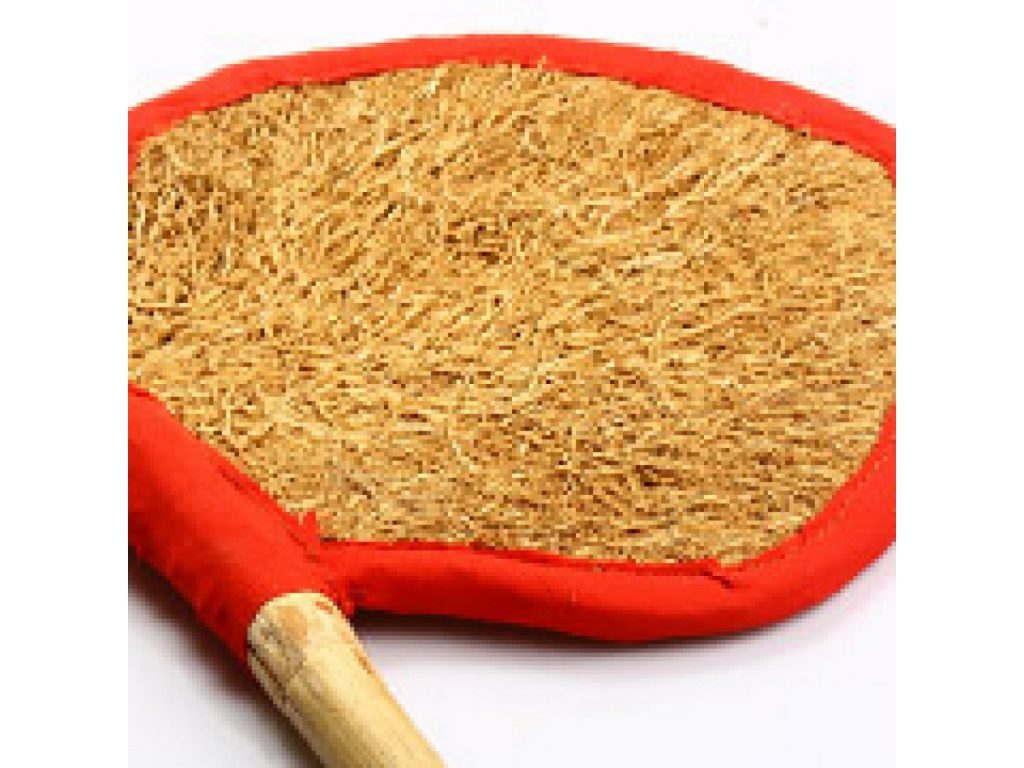 Some fans even come with a little motor, running the fan automatically. However, the hand-held version has been used in Kerala for centuries and is a traditional method to stay fresh during the hot summer months. This souvenir therefore uniquely combines beauty, tradition, and practicality!
14. Kerala Bronze Vessels
Bronze has traditionally played an essential role in Keralese households. Used to make anything from everyday kitchenware to ceremonial vessels and wick lamps, homes across the state were full of this metal.
Bronze was the primary material used to produce pooja, or worship, articles. The Valkannadi, a mirror representing Lakshmi, goddess of prosperity; the kindi, a water container with a spouting nozzle; uruli, a broad and shallow cooking vessel; and the beautifully crafted thattu, plates, are all used for ceremonial purposes.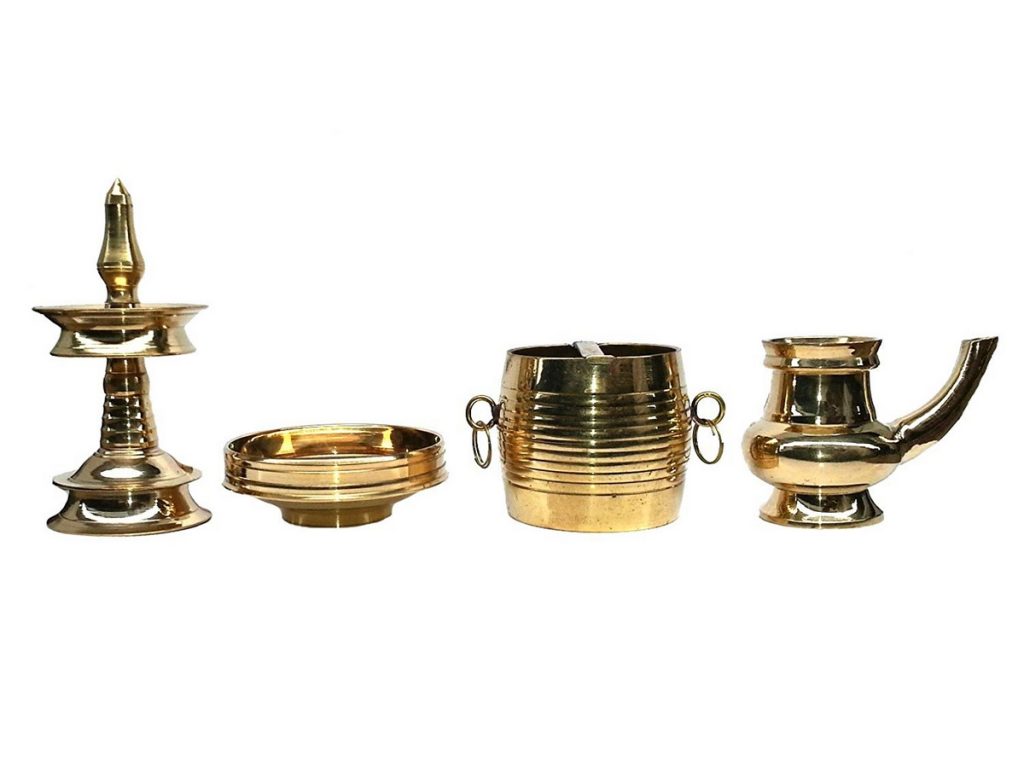 15. Sandalwood figurine
Sandalwood is a material beloved by sculptors throughout Kerala, favored for its warm golden color and long-lasting fragrance.
A range of figurines and items are available for you to buy before you leave which is made of Sandalwood. Choose between religious icons like the elephant-headed god Ganapathy or the Trinity (Brahma, Vishnu, Shiva), or popular souvenirs like snake boats, elephants, and other animals. Other popular articles include ashtrays, boxes, candle stands, wooden toys, and Kathakali dance postures, amongst many others!
Sandalwood retains its fragrance for years, and merely sprinkling it with water can renew the scent and permeate any room with sandalwood aroma for days at a time.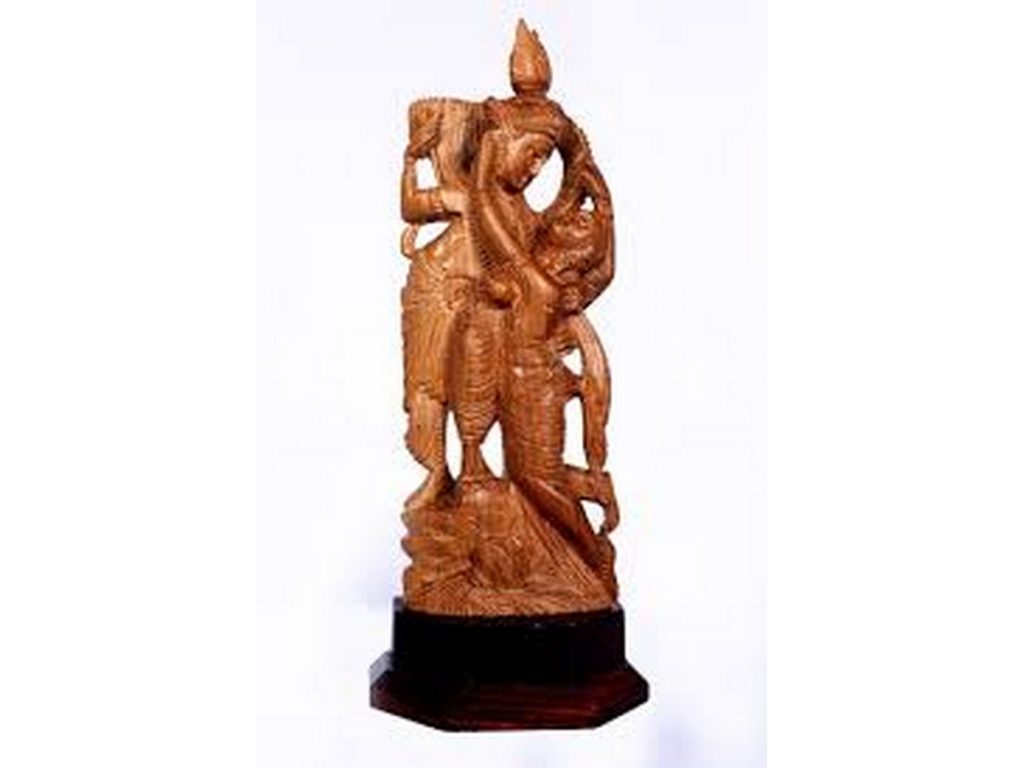 Any holiday in God's Own Country is bound to be one to cherish and remember. So what could be better than bringing a Kerala handicrafts memento of your time amongst the sun, sea, backwaters, palms, and banana leaves back home with you!