Cochin or Kochi also known as the "Queen of Arabian Sea" is the starting point for tour packages to Kerala. Experience of Shopping in Kochi almost rivals its obsession with food, and nowadays barely a year goes by without some vast new retail monolith flinging open its doors to the slavering hordes.
Among visitors to Kerala, Shopping in Cochin is a popular activity and the city's reputation as a bargain hunter's paradise has lingered, though in price terms many items in Kochi can be cheaper and can be "bundled" with more products if you know how to bargain and where to bargain and we are outlining some areas in Kochi where you can get great bargains for shopping in Kochi below.
There are two different options when it comes to shopping in Kochi. One being the malls in cochin, and the other is street shopping in Cochin. One should definitely go street shopping in cochin to feel the heartbeat of the city. On the other hand malls in Kochi add glamour to the city with abundant choices for the shopaholics traveling to kochi.
ALSO SEE- Is Kochi and Cochin the same?
1. Lulu Shopping Mall
LuLu Shopping Mall located in Edappally is among the biggest malls in Asia and is the center of shopping activities and things to do in Kochi with fashion shows and musical performances to celebrity visits and kids activities that is organized here once in a while. In addition to brands like LuLu Hypermarket, LuLu Fashion Store, LuLu Celebrate, LuLu Connect, Walt Disney, and Barbie and as many as 320 international and national brands have a presence in the mall out of which 46 set up their shop in Kerala for the first time in Lulu Shopping Mall. It's considered to be the hub for kochi city shopping. 
A 20-story, 300-room hotel managed by JW Marriott Hotels is also located on the mall premises along with an exclusive entertainment zone and a food court with a capacity of 3,000 on the top floor.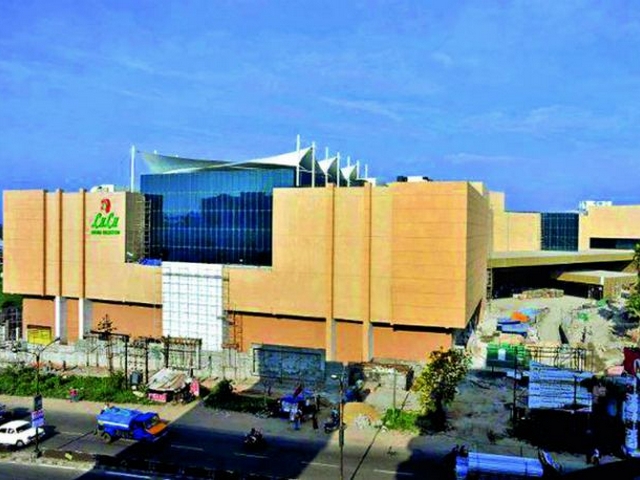 ALSO SEE- Chinese Fishing Nets in Cochin Kerala
2. Bazaar Road
Running from Fort Cochin to Mattancherry, this two-kilometer stretch of road is where Kerala's commodities are sold. This is a narrow section of road filled with tiny open-fronted shops advertising wholesale, retail, or commission sales. Green cardamom, Pepper, Cinnamon, brown cardamom, cloves, bay leaf, and other unique things to buy in Kochi are all on offer in the shops here.
Try and pick well-sealed packets rather than open spices as the vacuum packed spices will keep fresh longer. There are many shops along Bazaar Rd, selling spices, pulses, etc and is much cheaper to buy here than in Jew Town, where everything is more tourist-orientated. Some are actually wholesalers, but there are plenty of shops selling small quantities of spices as well. This is also the best option to buy great souvenirs to carry back from Kerala.
ALSO SEE- Best Souvenirs to carry back from Kerala
3. Broadway – Traditional Shopping in Kochi
The area is characterized by narrow roads, quite ironical to its name! One can buy varieties of clothes and spices here which are famous in Kochi. It is a perfect spot for shopping and you will get all kinds of stuff here. Electronic goods, umbrellas (from Colombo Umbrella House), spices, clothes, jewelry, leather goods, stationery, watch the list is too big and broadway adjoins Ernakulam Market where you can get wholesale prices as well. broadway features many hole-in-the-wall spice shops. No need to look for them, the wafting aromas will guide you there.
If you are looking for street shopping in cochin, this is your spot.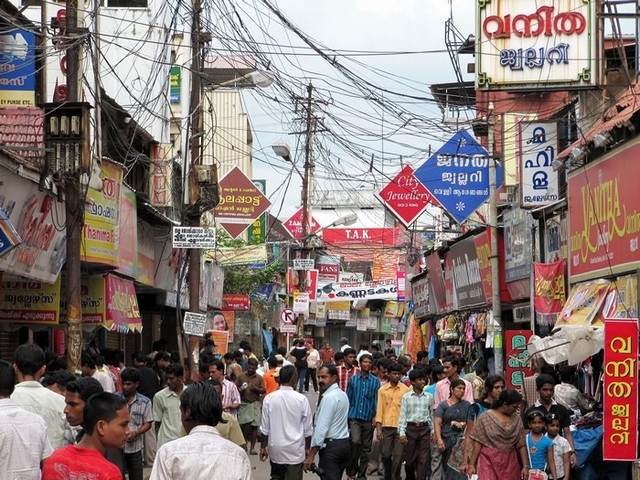 ALSO SEE- Cochin Sightseeing-Keralas Friendly Gateway to Backwaters
4. M G Road
The most important commercial center in Cochin is at the M.G road, which is short for Mahatma Gandhi road. Here, you can buy stuff ranging from clothes to cosmetics to knick-knacks. The road is lined with small and big shops and many shops selling spices which are among the best places for shopping in kochi.
The most popular items that are bought by tourists are handicrafts, spices, and nuts. In handicrafts, the most commonly used raw materials are coir, brass, copper, bamboo, etc. Kairali Emporium at M G Road is one of the best places to shop for artifacts, clothes, and crafts which are all typical to Kerala. A Kathakali mask makes a nice souvenir and comes in small, medium, and large sizes and is available at Kairali Emporium. You can also look at large retail showrooms like Seematti, jayalakshmi Silks, and Chennai Silks to get a taste for fashion and the finest quality sarees and other exquisite range of clothes and fabrics.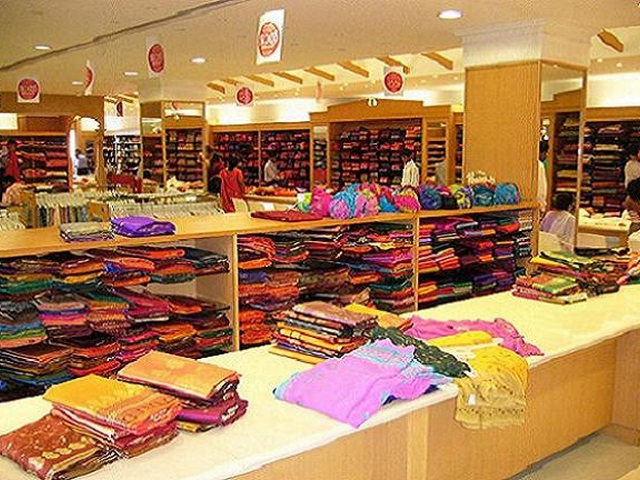 ALSO SEE- 11 must visit tourist places in Kochi
5. Jewel Junction
Jewel Junction is famous for its jewelry showrooms and the most popular ones are Bhima, Josco, and Alukkas Jewel Junction and the shops here is rendezvous of ethnic gold ornaments, lightweight jewelry, and trendy collection, and some diamond showrooms as well. You can shop and buy some traditional jewelry at some of the prestigious showrooms here like Alappat Jewellery, Alukkas, Bhima Jewellers, Ayodhya Jewelry, etc.
ALSO SEE- What to see in Kochi in 24 hours
6. Marine Drive – Seaside Shopping in Kochi
One can get an amazing collection of readymade items and cotton items on the Marine Drive road and the GCDA shopping compleX. One great thing about shopping in Cochin is that there are many varieties of cotton clothes that would fetch high prices in Western shops. This means that a lot of them make it onto market stalls in Cochin and with a bit of clever bargaining and 'bundling' you will get some great buys for a fraction of what they would cost back in your country. There are many fast food joints and cafes on the roadside and one can always stop there to munch on some eatables while on your shopping spree.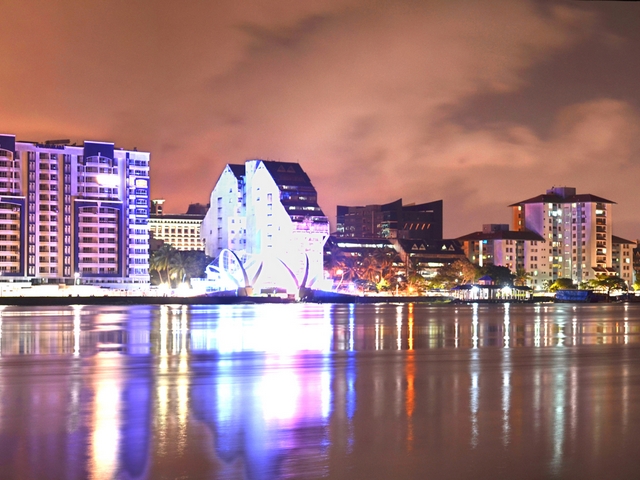 7. Oberon Mall
Oberon Mall is the first full-format Mall in Kerala with Multiplex theatre, an indoor gaming zone, and one of the largest glass domes in South India and is among the most happening shopping malls in Kochi. The mall houses shops that offer branded wear and other items, apart from food courts and amenities for children to play.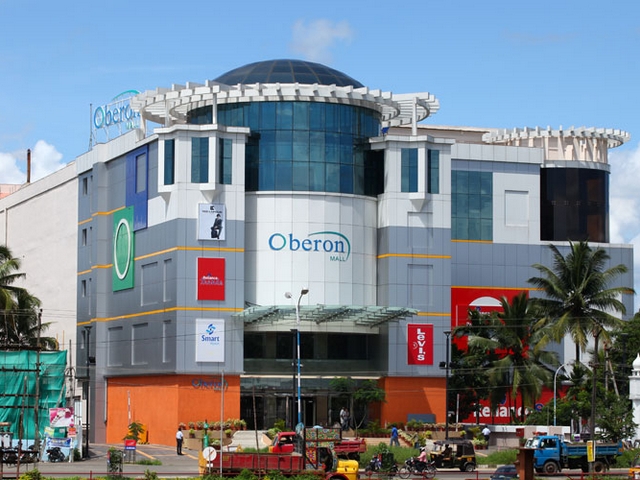 8. Streets around Synagogue at Fort Cochin
In the Streets around Synagogue at Fort Cochin, you will find a unique assortment of items like figurines, colorful bead jewelry, mat, bangles et al made from coir, wood, bamboo, shells, brass, ivory, and sandalwood.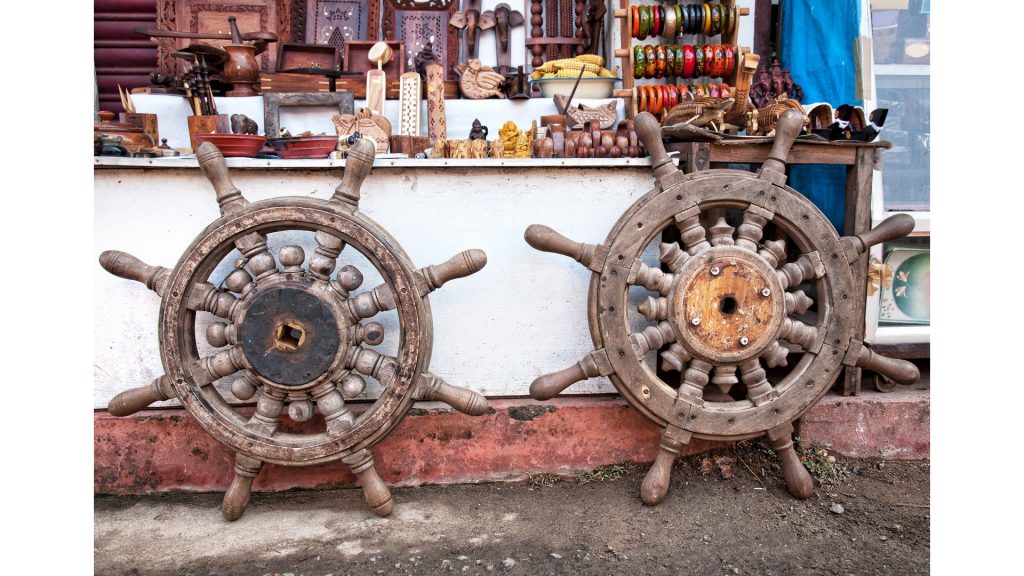 ALSO SEE- The Many moods of Fort Cochin
In all probability, your predicament over where to buy in Cochin should end here. Though the concept of shopping malls is relatively new in Kochi / Cochin, yet there are a number of places here where you can enjoy shopping and in case you still did not buy anything, don't worry there are a lot of shops inside the departure terminal at cochin international airport from where you can buy so many things but at a higher cost than the shopping paradises above.
Enjoy your Shopping in Kochi.
Check out our cochin tour packages if you are interested in a sojourn in Kochi.
Frequently Asked Questions About Shopping in Kochi
What is famous in Kochi for shopping?
Shopping Malls in Kochi, Shopping Centers in Kochi, Shopping Markets in Kochi etc are the major attractions.
Is Kochi safe at night for shopping?
Kochi is the best city in Kerala in terms of development, transportation, woman safety etc. It is perfectly fine to do night shopping in Kochi compared to other districts.
What most of the people wants to shop in Kochi?
Spices, tea, handicrafts etc are the major attractions of tourists for shopping. This city is famous for exquisite silver and gold jewellery and its silk emporiums also.