An Elephant is worshipped and used in religious rituals, but also slogs it out in labour camps; it features prominently in Indian history and mythology, but is also an icon of modern India. In a bid to give elephant conservation the same momentum of national pride that 'Save the Tiger' campaigns evoke, the government has decided to declare the jumbo as a national heritage animal and this is a post dedicated to all tourists interested in Elephant safari and other activities on their Kerala Visit. Here are some elephant experiences that you can enjoy during your Kerala visit.
1.Enjoy an Elephant Safari
When you come for a vsit to Kerala you can enjoy an elephant safari in Munnar, Kodanad or Thekkady. We provide it as a part of Dream Kerala Package and Grand Munnar Package. Kerala has 700 elephants in captivity. Most of them are tuskers. Unlike the African elephants, Asian elephants has tusks only in male. Each elephants has 3 mahouts. The most important duty of the mahouts is to bath and massage the elephant with rocks, husk of Coconuts. In Monsoon, the elephants undergo Ayurvedic rejuvenation treatments which includes decoctions with herbs etc.
2.Watch Thrissur Pooram
Thrissur is best known for its mammoth Pooram Festival, which is the most colourful and spectacular temple festival of Kerala. The pooram festival highlights include among other things a spectacular pageant of 30 caparisoned elephants and Kudamattom, a competition in the swift rhythmic changing of brightly coloured and sequined parasols. In Trichur there are 250 elephants in captivity and they are a part of the day to day life. People of Trichur has a unique tradition of appreciating the beauty of elephants and it is considered prestigious to keep an elephant. Thrissur pooram happens in April- May every Year.
3.Bathe an Elephant in Kodanad
Kodanad is situated on the south bank of river Periyar, about 42 kilometers east of Kochi and the Elephant rescue and care centre for central and southern forest region of Kerala is located in Kodanad.In the mornings at the riverside, tourists informally get a chance to experience hands-on bathe and massage of adult and baby elephants under the supervision of its Mahouts. Bathe and massage of elephants and baby elpehants are normally done with small flat rocks, and husk of coconuts like shown in the video below
4 .Visit Guruvayoor temple
Many temples like Guruvayoor temple also keep elephants. Elephants are respected as the form of Ganesh, son of Shiva. On special occasions the elephants are worshipped and fed by devotees to please Ganesh for well being. Most of them are donated by devotees. Guruvayoor temple has 57 elephants. All of them donated by devotees. Ceremonial feeding of 101 elephants takes place in Trichur on 16 / 17th July every year.
5 .Watch elephants while riding a boat in Thekkady Lake
Thekkady is well known for the famous Periyar Wild Life Sanctuary which is centered around the large (24 sq km) artificial lake formed by a dam across the Periyar river. Watching elephants during the boat ride is the main attraction is a boat trip over this man-made lake of Thekkady. The forest department would also arrange elephant rides and trekking inside the sanctuary. One can see deers, monkeys, tigers, herds of elephants and other exotic flora and fauna here.
and lastly here is a photo of a majestic elephant from Kerala which was adjudged among the best photos n flickr in 2006.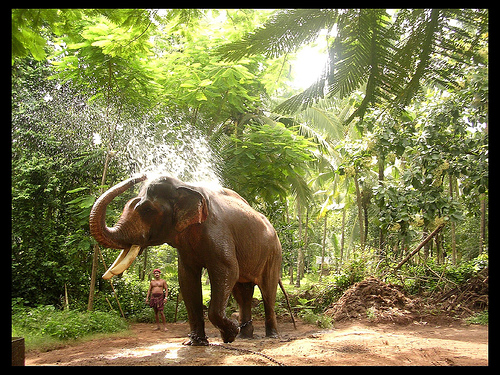 ---
Want to book a holiday in Kerala ? Contact us Today for a FREE Holiday Plan