In Kerala Elephant is a part of everyday life and has been named a state animal. An Elephant is worshiped and used in religious rituals and temple festivals, but also slogs it out in labor camps; it features prominently in Indian history and mythology but is also an icon of modern India. In order to give elephant conservation the same momentum of national pride that 'Save the Tiger' campaigns evoke, the government decided to declare the jumbo as a national heritage animal in 2010. This is a post dedicated to all tourists interested in Elephant safari and other activities on their Kerala Visit.
Kerala has 700 elephants in captivity. Most of them are tuskers. Unlike African elephants, Asian elephants have tusks only in males. Each elephant is accompanied by mahouts and the duty of the mahout is to take care of elephants and bath and massage the elephant with rocks and husk of Coconuts.
In Monsoon, the elephants undergo Ayurvedic rejuvenation treatments known as SukhaChikiltsa which includes decoction with herbs, etc. Elephants in Kerala are used for religious ceremonies in and around the temples, and some churches and a few elephants work at timber yards.
Here are some Kerala elephant experiences that you can enjoy during your Kerala visit.
1. Kerala Elephant Festival- Watch Thrissur Pooram
Thrissur is best known for its famous Thrissur Pooram Festival, which is the most enchanting spectacle with decorated elephants with brightly colored parasols. This Kerala elephant festival is filled with music and fireworks and the biggest attraction is the elephant in Kerala decorated with "nettipattam". The pooram festival highlights include among other things a spectacular procession and display of a large number of decorated elephants in Kudamattom, where there is a rhythmic changing of brightly colored large umbrellas on the top of the elephant which is accompanied by fireworks at night.
In Trichur alone, there are 250 elephants in captivity and they are a part of the day to day life. People of Trichur have a unique tradition of appreciating the beauty of elephants and it is considered prestigious to keep an elephant. The Kerala elephant festival takes place in the Malayalam month of Medam which usually falls in the month of April. Thrissur pooram happens in April- May every Year. Temple elephants in Kerala inspire the kind of fan following reserved for movie stars elsewhere.
The Kerala elephant festival is such an experience that it is just a necessary thing to add to your bucket list when in Kerala.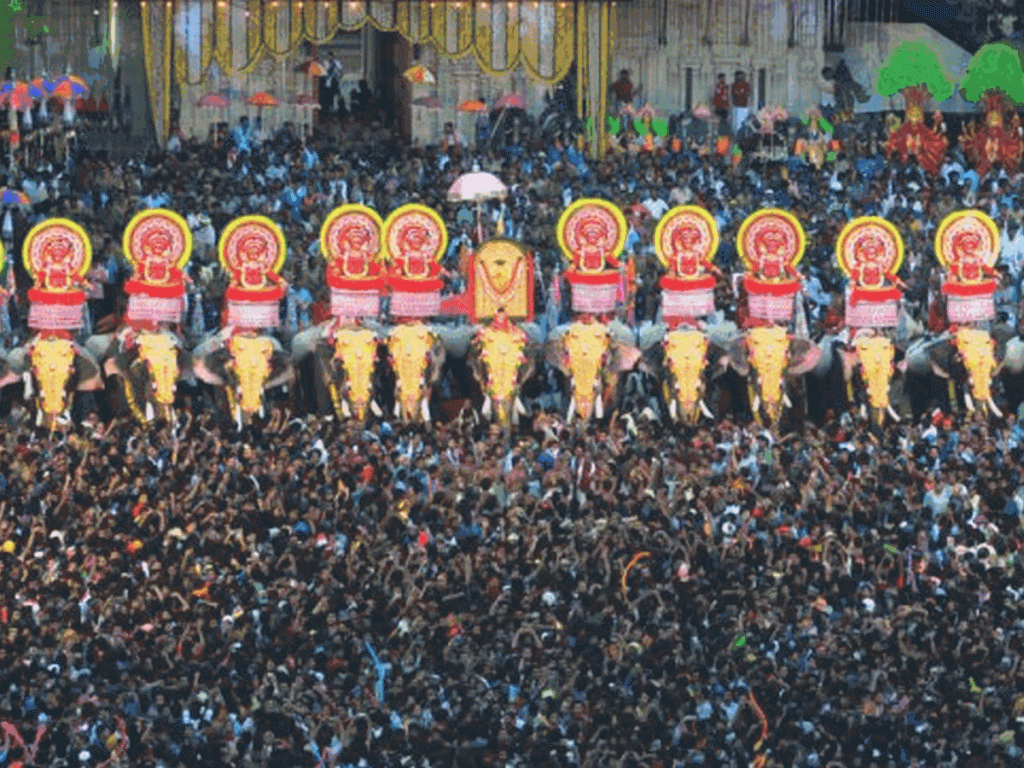 2. Bathe an Elephant in Kodanad
Since elephant in Kerala is also domesticated on a large scale, there are places where you can see elephant Kerala getting trained and taking baths. Kodanad is situated on the south bank of river Periyar, which is around 42 KM from Kochi, and the Elephant rescue centre for the central Kerala forest region is located in Kodanad. Bathe and massage of elephants and baby elephants are normally done with small flat rocks, and husk of coconuts like shown in the video below. Early in the morning at the Kodanad riverside, when mahouts bathe elephants, tourists can get a chance to participate and experience hands-on bathe and massage of elephants at Kodanad.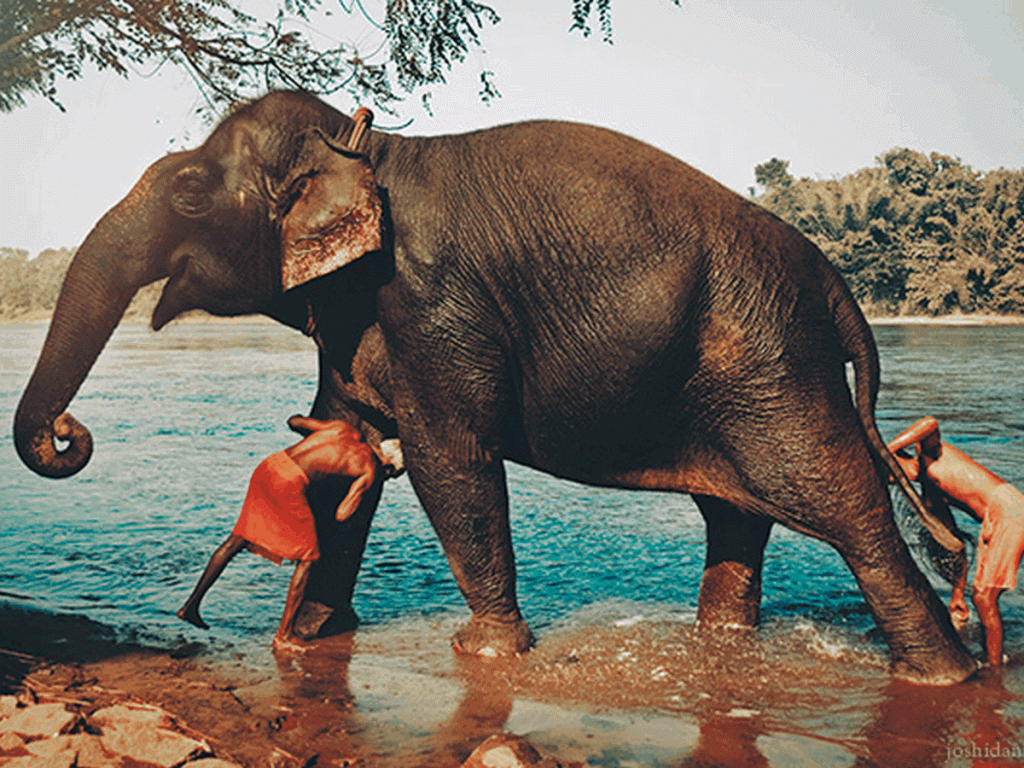 3. Elephant Spotting
If you are ever planning to visit Kerala for a holiday, the one thing that has to be a part of your itinerary is Kerala elephant spotting. The elephant Kerala are magnificent creatures that are just plain beautiful to watch. When you come for a visit to Kerala you can enjoy elephant spotting in Munnar or Thekkady at Periyar Wildlife Sanctuary if you are lucky. We take you to elephant spotting points as a part of Kerala Tour Packages. There are multiple places in Kerala where elephants are well cared about and we recommend you enjoy a safari only at those places.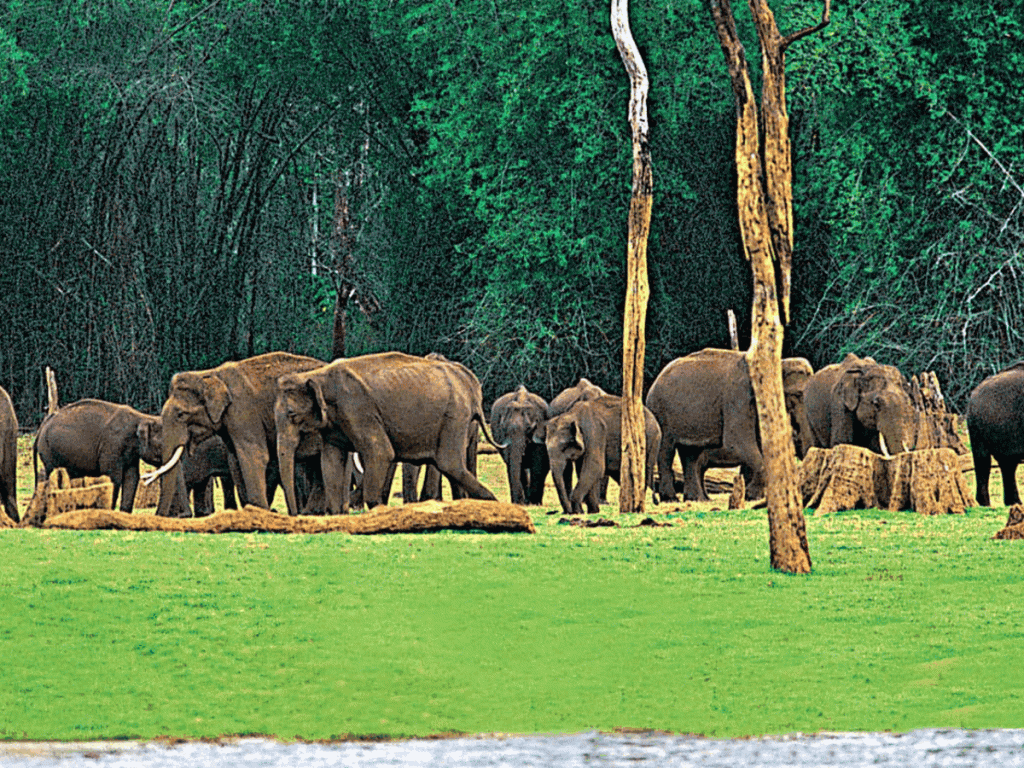 4. Visit Guruvayoor temple
Elephants are a part of temple rituals in Kerala and God's own country being a temple town has Kerala elephants in its temple. Many temples like the Guruvayoor temple also keep elephants. Elephants are respected as the form of Ganesh, son of Shiva. On special occasions, the elephants are worshipped and fed by devotees to please Ganesh for well-being. Most of them are donated by devotees. Guruvayoor temple has 57 elephants. Guruvayur temple currently has 47 elephants. Standing over 3.2 meters tall, Keshavan was known for his devout behaviour which is one of the famous elephants in Kerala. All of them were donated by devotees. Ceremonial feeding of 101 elephants takes place in Trichur on 16 / 17th July every year.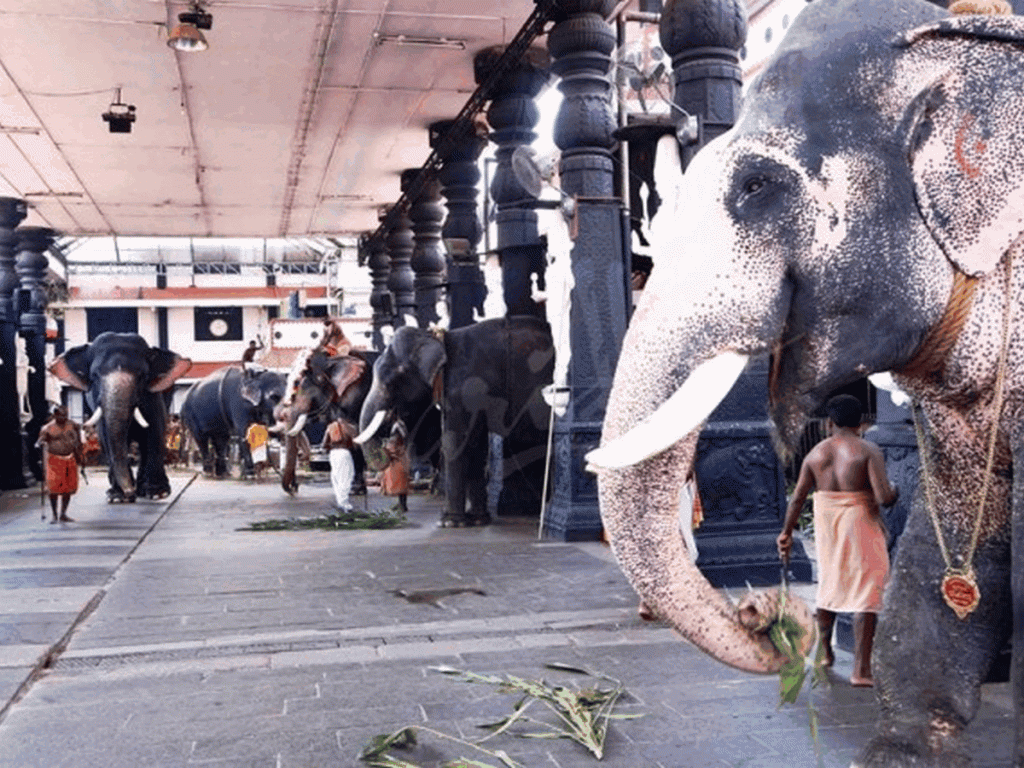 5. Watch elephants while riding a boat in Thekkady Lake
There are several parks in Thekkady that offer the visitors to indulge in a variety of elephant related activities. If you are interested in visiting elephants in Kerala, Thekkady is a good option. Thekkady is well known for the famous Periyar National Park and Wildlife Sanctuary. There is an artificial lake formed by a dam across the Periyar river around which the sanctuary is located. The elephant Kerala ride in Thekkady offers a chance to enjoy a breathtaking view of tea and cardamom plantations to tourists.
Watching elephants during the boat ride is the main attraction is a boat trip over this man-made lake of Thekkady. The forest department also arranges rafting trips, hiking with guides, and elephant rides inside the sanctuary where entry is controlled with tickets. You can experience total tranquillity while enjoying an elephant in Kerala ride through Thekkady lake as it is away from hustle and bustle of the city.
From the protection of elephant Kerala to tourism and temple festivals to races, Keralites keep Kerala elephants very close to their heart.
Plan your trip to God's own country with us and enjoy experiencing elephants in Kerala.`
If you're ever planning to visit Kerala for a holiday, the one thing that has to be part of your itinerary should be elephant spotting. Elephants in Kerala are taken very seriously and have even been named to be state animals.
Frequently Asked Questions About Kerala Elephant
Which elephant has the most fans in Kerala?
Thechikottukavu Ramachandran, the tallest tusker in Kerala and the second tallest one in India, has the most fans. Born in 1964, this 56-year-old Thechikottukavu Ramachandran, the king of elephants is a celebrity among all Malayalis around the world.
Do elephants bond with humans?
Elephants and humans have 'unique bond'. Researchers from the University of St Andrews have found that African elephants seem to have an instinctive understanding of what it means when a human points to something. At the study site, it is anecdotally accepted that certain elephants maintain unique bonds with certain handlers and that some elephants are friendlier overall than others.
Is elephant riding cruel?
Yes. Riding elephants should be avoided. In the US organizations, including the Humane Society of the US and the Association of Zoos and Aquariums, are against riding elephants because of the abuse the animals undergo when they are taught to carry people and safety concerns.