Tucked away in a pristine corner of Kerala just 120 km away from Thiruvananthapuram, the petite temple town of Aranmula is famous for more than just a temple and a boat festival. Many that come here for the popular attractions are unaware of the spiritual secret that this town holds in the form of a rare craft passed down by generations of craftsmen. Furnished daily in this otherwise solemn town sitting on the bank of the Pampa River, this masterpiece is known famously as the Aranmula Kannadi (Aranmula mirror) named after the town where it was born. The Aranmula Kannadi manufactured in this temple town is the first item from the state to get a geographical indication tag.
While the town is primarily famous for welcoming Vaishnav pilgrims every year to its revered Parthasarathi Temple and holding an annual boat race for excited onlookers, it's this magic mirror that reflects the true legacy and heritage of this small town in Kerala. But what is this mirror all about and how can one acquire it? Scroll down to find all the answers to your questions.
What Is Aranmula Kannadi?
Made in Kerala's Aranmula town, Aranmula Kannadi (literally meaning Aranmula mirror) is a handmade metal-alloy mirror, unlike the usual glass mirror. Aranmula Kannadi is an extraordinary traditional handmade metal mirror which is famous for bringing prosperity, luck and wealth into life. What's unique about this front surface reflection mirror is that it eliminates secondary reflections that you typically see in back surface mirrors. Born out of Kerala's rich culture and its inclination towards metallurgical articles, the mirror is said to have tremendous spiritual value and brings good luck.
ALSO SEE – 15 Best things to buy on your holiday in Kerala
The Aranmula Kannadi is made with metals only known to the craftsmen of Aranmula and the exact composition is protected by an ancient secret passed through generations of craftsmen in the village. These mirrors are always made by one extended family in the town of Aranmula. Considered to be one of the eight auspicious articles or "Ashtamangalyam", this mirror is kept at religious occasions, festivals, and ceremonies like weddings where it makes the entry of the bride pure and auspicious. The Aranmula Kannadi is said to have originated at the sacred Aranmula Parthasarathy Temple and has a great legend behind it.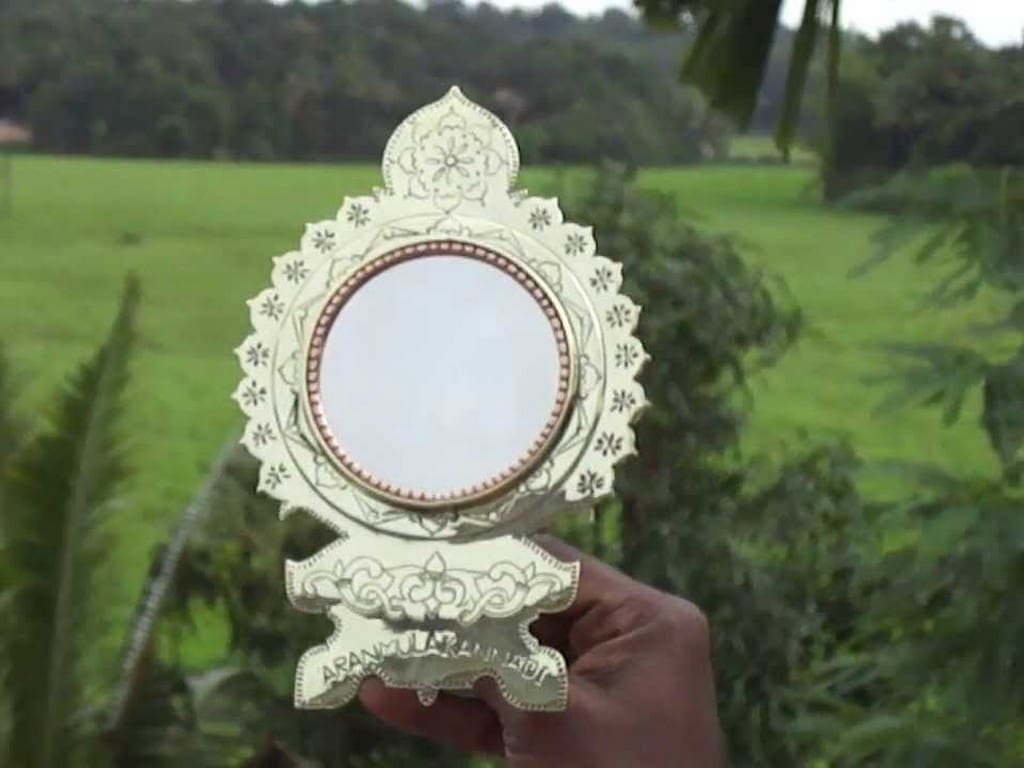 What Is The Significance Of Aranmula Kannadi?
The unique Aranmula mirror holds a special place because of various reasons. Some of them are listed below:
1. The mirror is considered auspicious and a symbol of good luck. Aranmula Kannadi is considered to bring good luck and prosperity in the home and business front. It is part of the 'ashtamangalya' or the eight auspicious objects displayed during religious and social functions, including New Year celebrations, marriages, etc.
2. Made out of several rare metals and imbued with the locals' skills and creativity, this mirror serves as a great example of India's expertise in advanced metallurgical techniques that has become a part of our culture over the centuries.
3. In 2004, this rare craft belonging to a small town in Kerala was given worldwide recognition when a 45-centimeter tall Aranmula mirror was placed in London's British Museum and awarded a geographical indication (GI) tag.
4. Owing to the unmatched splendor and religious significance of Aranmula Kannadi, Aranmula was declared a heritage village by Kerala Tourism in order to draw tourists' attention to this dying craft.
How Is The Aranmula Mirror Made?
Built from scratch, the Aranmula mirrors are usually of three kinds – the back stand, the fixed stand, and the hand mirror. The making of Aranmula Kannadi usually involves two distinct stages. The first stage is where the mould is prepared based on what shape is to be given to the mirror, and about 80 mirrors are then made out of this single mould!
In order to prepare the mould, craftsmen employ a technique similar to the lost wax process to melt all the metals, the particular names of which are only known to these Aranmula Kannadi making families and craftsmen of the village. They refer to it as the Vishwakarma family secret, and no one else knows what all metals this mirror constitute of!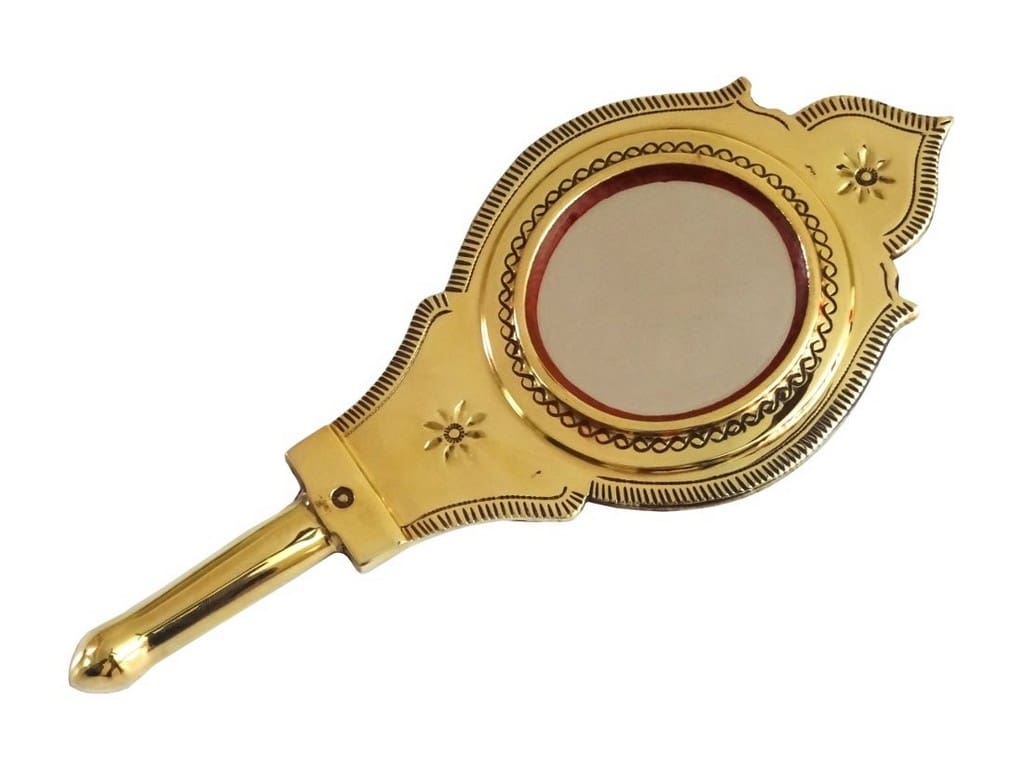 The second stage is where the metal is polished. The mirrors are usually polished for weeks on end to attain the perfect finish and to achieve the mirror's reflective surface! This is why both these processes of preparing the mould and polishing the mirror are long and laborious tasks. Once complete, the beautiful mirror is set in elegant ornamental frames and sold at considerably high prices owing to their rarity, brilliance, and the labor that goes into making them!
ALSO SEE – 75 Best things to do on your Kerala Visit 
What's unique about this mirror is that it's a front surface reflection mirror, which means it eliminates secondary reflections and aberrations that are typical of back surface mirrors that we find in everyday use. Simply put, the reflection formed in an Aranmula mirror doesn't get refracted, unlike common glass mirrors.
Aranmudi Kannadi making is famous for its secretive construction method and uniqueness which got it patent protected with a geographical indication tag. Mysteries in Aranmula Kannadi making process and the unequaled beauty of the mirror have made it one among eight auspicious items to be included in the famous Astamagalaya set.
Aranmula Kannadi making process cannot be duplicated as its details are known only to family members belonging to Aranmula and is kept as a family secret. It would not be wrong to say that the Aranmula kannadi making process is a closely guarded secret.
What Is The History Of Aranmula Kannadi?
The exquisite Aranmula Kannadi is a special type of metal mirror produced only in Aranmula, a village in the state of Kerala in India. Aranmula metal mirror is a precious inherited gift. The mystery of its production is a family gift handed over through generations.
Aranmuda Kannadi is a rare piece of craft that had existed even during the Vedic period of Indian history.
The Aranmula mirror has a rather interesting history behind its origin. According to the locals, the then king had invited several artisans belonging to the Viswabrahmana caste to Aranmula. Coming from Sankarankovil in Tamil Nadu, these artisans were called upon for some exquisite construction work inside the Parthasarathy Temple. Before finally heading home, these artisans had gifted the King a stunning crown bejeweled with a shimmering metal mirror in the center.
The King was so impressed by these craftspeople's unique metallurgical skills that he allowed them to stay and even arranged for them to settle near the 'Theke Nada' of the temple itself. It is said that while two of those families had readily settled, one went back due to a decline in work.
The locals even believe that a woman belonging to these artisans' families had seen the secret formula for making the alloy in a dream! Since then the generations of Aranmula Kannadi making artisans have kept that formula to themselves as part of the Vishwakarma family secret. For many years they continued to make mirrors for royal families using that secret formula, before beginning to sell it to tourists and pilgrims as well.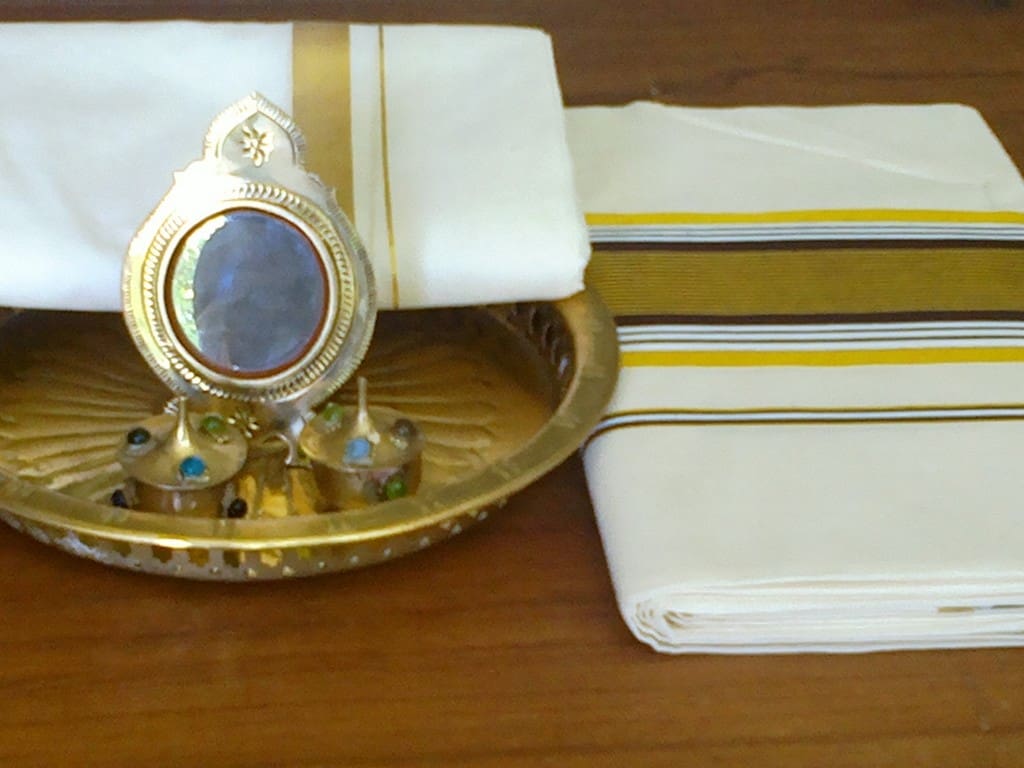 Later in 2004, an Aranmula Kannadi was given special status and placed in the British Museum in London. That's not all! It marked the first instance where the craftsmanship and commendable metallurgical skills of Kerala's local artists were recognised on a global scale! The GI (geographical indication) tag was assigned to Aranmula Kannadi and Aranmula's culture found its rightful place in the world! This led to the formation of the Vishwabrahmana Aranmula Metal Mirror Nirman Society by these artisans so that they could coordinate and market their art collectively.
Sales have, however, dropped in the past few years as more youth-driven businesses have entered the market and competition has risen. In addition to the rising competition, the art also faces extinction as many of the younger artisans of Aranmula show reluctance in learning this craft owing to the long hours of labor involved and better career prospects in cities. So, to persuade young family members to stay, the Vishwabrahmana Aranmula Metal Mirror Nirman Society took steps.
The society now organizes elaborate coaching classes once every two years in separate batches in order to pass on the knowledge and skills and keep the tradition alive. They have also built an impressive online market for their business to tell more and more people about this rare craft and make it reach every corner of the world!
Where To Keep Aranmula Kannadi At Home?
The Aranmula Kannadi is an auspicious item and is part of the eight auspicious articles (Ashtamangalya set) usually kept together at religious ceremonies, functions, and weddings in Kerala. People also like to keep it in their homes to bring luck, wealth, and prosperity into their lives. At home, the mirror is either kept at places of worship and meditation owing to its religious significance, or any other place where family members keep precious belongings, except for a kitchen and bathroom.
It is advised to keep the mirror at room temperature away from dust and heat to protect its surface. In addition to this, the mirror requires a specific method of cleaning. One needs to gently wipe the mirror surface in just one particular direction and not all to maintain its luster and luminosity.
Where To Buy Original Aranmula Kannadi?
Artisans and craftsmen sell this rare mirror in the local markets of Aranmula village in Kerala. The Aranmula Kannadi price is usually fixed and non-negotiable in the village as making these mirrors is the only means of livelihood for many of these artists and a lot of labor goes in crafting them.
If you're lucky, you can also find authentic and good quality Aranmula mirrors in specific markets of the nearby city of Thiruvananthapuram. Once you're there you can ask the locals to guide you on where to buy them in the city.
If you don't find it there, a one-day trip to the beautiful village of Aranmula for buying this marvelous treasure and paying a visit to the famed Parthasarathy Temple will be well worth your time! You can make your trip to Aranmula all the more exciting by visiting during the Onam festival, which is anyway a great time to buy this auspicious mirror!
Other than this, you can also visit the official Aranmula Kannadi website (www.aranmulakannadi.net/) on the internet and buy top quality Aranmula mirrors at fair prices. The website guarantees genuine Aranmula Kannadi mirrors and will even provide a certificate of authenticity with your purchase.
How To Reach Aranmula Village In Kerala?
Aranmula is located about 120 km away from Thiruvananthapuram, the capital city of Kerala. Despite being a small and rather remote town, it is pretty easy to reach Aranmula thanks to the many transport options available and a smooth road network.
By Air
The nearest airport to Aranmula is the Cochin International Airport located 106 km away in Kochi, Kerala. From the airport, you can easily get a taxi or rent a vehicle to drive to Aranmula and the journey will take about 3 hours. You can look up the destination on Google Maps once you have landed and reach there without any hassles. You can also board a bus from Kochi that will drop you at the Aranmula bus stand.
By Railway
The nearest railway station is the Kollam Junction Railway Station (QLN) which, in turn, is connected to many major Indian cities like Chennai, Mumbai, and Bangalore, as well as small cities in Kerala and Tamil Nadu. Chengannur Railway Station (CNGR) on the other hand is the nearest local train station, which, despite being much closer to the village as compared to Kollam station, has very limited connectivity.
By Road
You can hail a taxi from the nearest railway station or airport or rent a vehicle to drive you to Aranmula at fairly reasonable rates. If you want a cheaper option, you can opt to travel by the state-run bus service. The Kerala State Road Transport Corporation has a regular and dedicated bus connecting all major and minor parts of the state. Whichever city you're in, you can easily find a seat in these AC buses and travel with ease. The nearest major bus station to Aranmula is the Ernakulam KSRTC Bus Stand with regular bus service to other parts of Kerala unlike the local Aranmula Bus Stand with limited connectivity.
Best Time To Visit Aranmula
Though Aranmula has a very pleasant climate year-round, it is best to visit this place in the winter season, which is from October to February. However, if one wishes to see the true cultural essence and heritage of this petite town, they must visit during Kerala's famous Onam Festival that commences in October and ends in September. Other than being a time of fun and frolic with lots of exciting things to witness and participate in, this is also the prime time for the artisans of Aranmula to craft and sell Aranmula Kannadi to commemorate the auspicious occasion.
ALSO SEE – Best time to Visit Kerala 
The town will be in a festive spirit at this time and you'll be able to witness colorful celebrations at the temple, cheer for your favorite team at the annual snake boat races, and buy traditional handicrafts and Aranmula Kannadi at the local markets. You'll also be able to savor loads of delicious 'sadya' as part of the local tradition of Aranmula Vallasadya where a traditional meal (called sadya) is offered to the crew of snake boats.
We hope we have cleared all your doubts about Aranmula Kannadi and its significance. Now all you have to do is take a trip to this charming town in Kerala and experience the wonders of this unique mirror yourself. Other than adding beauty and purity to your own home, this auspicious mirror will make an exceptional present to give to your loved ones! But you must hurry and book your trip before the Onam Festival begins if you truly wish to be a part of Aranmula's vibrant culture. Happy Tripping!