Settled comfortably on the slopes of the Western Ghats, Wayanad is among the beautiful Hill stations in Kerala. The dewy area gets its name from two native words namely, "Vayal" which signifies 'paddy field' and the word "Naad" signifying "land" consolidating to make the word "Wayanad" or 'The Land of Paddy Fields. In the Western Ghats set up high, this famous and prominent tourism destination is the main destination in Kerala on the fringes of Karnataka and Kerala, and the Best Time to Visit Wayanad varies based on what you want to do in Wayanad. There is no perfect Wayanad season time to visit this exotic district in Kerala.
When you are contemplating making a trip to South India, you must consider a picturesque place with exotic beaches. However, in this respect, your knowledge of spices and tea plantations is going to be a guiding factor. The more you know about them, the more you become certain about the places worth visiting. 
In this respect, the Hill stations of South India are worthwhile to get your considerations. In addition, they are rich with majestic mountains and wildlife reserves.  Munnar, Ooty, Idduki, Coorg and Coonoor hold the top positions in the list. 
However, if you are more adventurous and want to explore uncharted lands, our recommendation would be Wayanad. In this post, the best time to visit Wayanad and how to reach the place will be elaborated so that you can make your trip safe and full of fun.
Wayanad
Wayanad is known as the home of Kerala's tribal population. When you visit Wayanad you will find yourself amid misty valleys and majestic waterfalls. Meenmutty waterfalls are one of them. 
 There are other attractions to surprise you. The most notable ones are Banasura Sagar Dam and Chembra Peak. Banasura Sagar Dam is the largest earthen dam in India. On the other hand, Chembra is the highest peak of Wayanad. 
Furthermore, explore Edakkal Cave to discover carvings from the Stone Age. Muthanga Wildlife Sanctuary is a safe abode for different kinds of birds and animals.    The chances to explore nature by doing such activities make Wayanad the best hill station.
Wayanad is additionally the least populated district in Kerala. This nature-filled wonderful Hill station is home to numerous tourist attractions. The most frequented traveler places in Wayanad incorporate the antiquated caves, the exotic wilderness, and the adventurous wilderness trails. These stunning fortunes have been made much additionally engaging with the old stories encompassing them. This exotic destination is available for tourists for almost the whole year. The temperature in Wayanad remains more or less constant throughout the year but the best time to visit Wayanad is between October to May.
Although, as many of the travel experts, locals, and people who have been there suggested that the best time to visit Wayanad, is from October to February.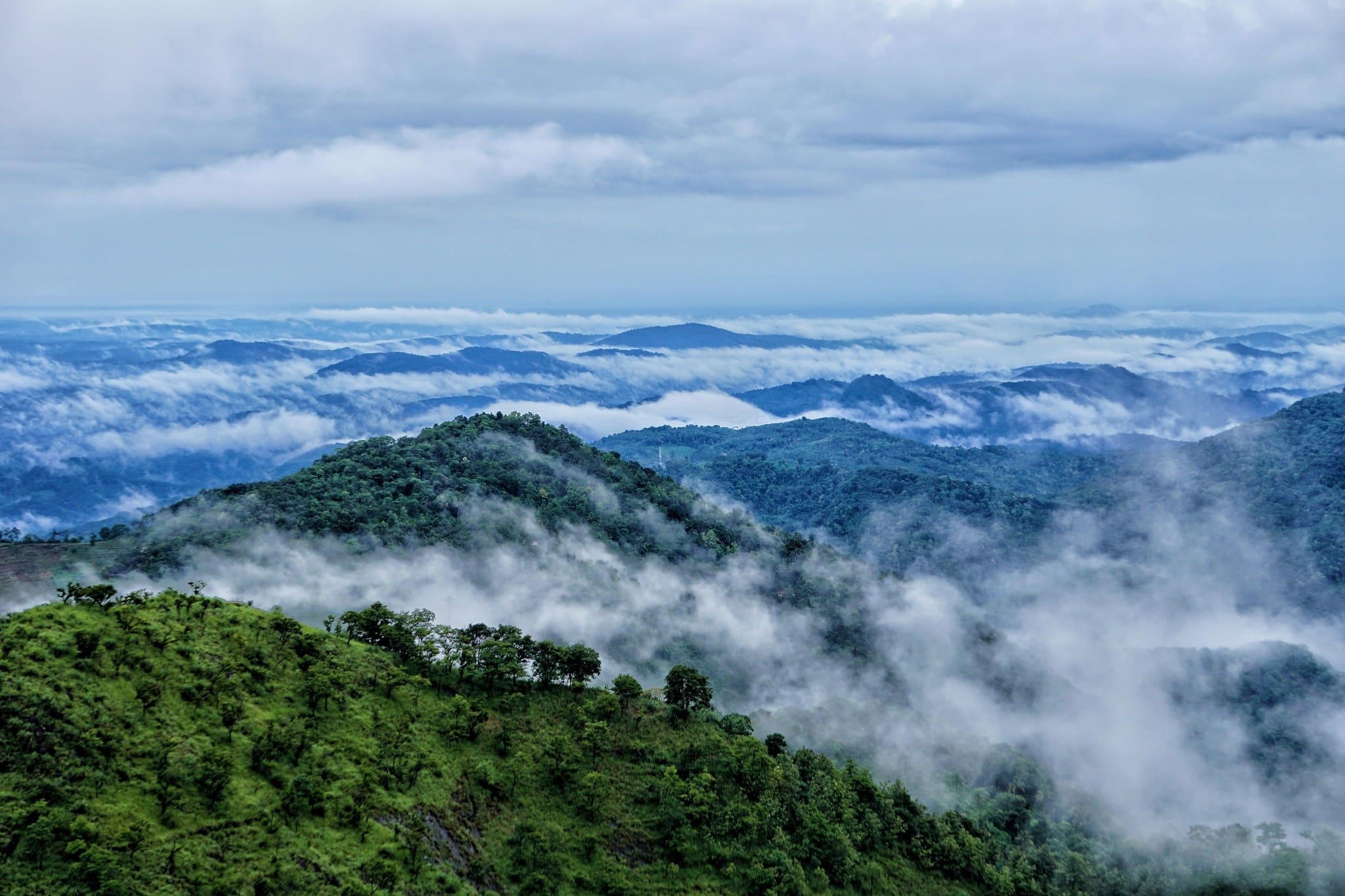 Best Season to visit Wayanad
Wayanad has a salubrious atmosphere all through the year. The temperature in Wayanad remains between a maximum of 25°C to a minimum of 15°C. The best time to visit Wayanad is from October to May. At this time of the year, the weather in Wayanad is mostly pleasant, comfortable, and cool. It is also a perfect time for sightseeing and participating in various other activities like boating, hiking, and camping, etc. The winter season is regarded as the best to have quality time for a holiday as you, your family, or friends can enjoy the outdoor activities in Wayanad without roaming around in the blistering heat of the sun and facing dehydration like Summer.
Winter in Wayanad – December to February
Winter from (December to February) is cool with the least temperature coming to 10°C, and this cold, comfortable climate is preferred by many tourists visiting Wayanad. The chilly, agreeable atmosphere is favored by numerous visitors which makes it the best time to visit Wayanad. The period is perfect for touring, honeymoon and camping. October to May season is perfect for touring, trekking at Chembra Peak, wildlife journey, video, and photography, and the famous heart-shaped lake on the top of the hills in Wayanad will be full.
Summer in Wayanad – March to May
Summers (March to May) are hot yet lovely with the cool wind from the close-by timberland zone. The most astounding temperature in Wayanad comes to up to 36 °C. In May, the territory gets substantial rain from a torrential downpour making it the best time to visit Wayanad. Regular evening rains are not experienced in Wayanad in summer, but, unpredictable slight rains occur. During the day it becomes slightly warmer and comfortable unlike the plains of Kerala
Monsoon in Wayanad – June to September
During Monsoon (June to September) Mornings and evenings are generally chilly and rainy. The southwest rainstorm and northeast storm are going with substantial winds and rainfalls. The hill station receives the right amount of rainfall and wet and humid weather makes it the best time to visit Wayanad. Wayanad looks wonderful with normal rainy days with mist covering the mountains. June to September is a popular time for trekking and adventure tourism enthusiasts to visit Wayanad
Each season in Wayanad has its own charm and, the winter season is the best among all the other seasons to visit this breath-taking naturally beautiful place. So people who are willing to go on a trip here should opt for the winter season.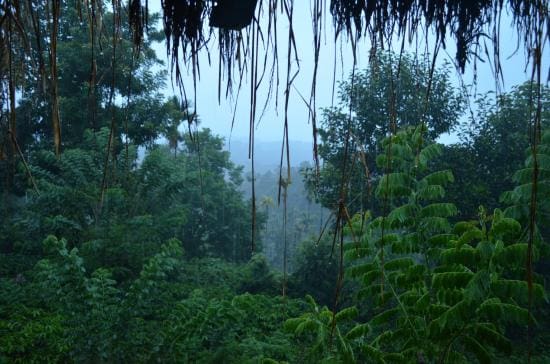 How to reach Wayanad?  
Learning about the best time to visit Wayanad is not enough if you don't know how to go to Wayanad. Wayanad is well connected by road, rail and air. The details are given below. 
Road
You can avail KSRTC buses.  It is a good choice because rail service is not available for most places. Many choose a road trip from Bangalore. The reason is that you will be able to stop by three national parks: Nagarhole, Bandipur and Mudumalai.
The distance between Wayanad and other places. 
Location 

Distance 

Trivandrum to Wayanad

451 kilometers

Mangalore and Wayanad

252 kilometers

Bangalore to Wayanad

289 Kilometers

Kozhikode to Wayanad

86 kilometers

Kannur to

Wayanad

112 kilometers

Rail 
 It is unfortunate that Wayanad is still not in the railway network. One of the nearest railway stations is at Kozhikode. It is known as the Calicut Railway Station. It is 62 km away. Poona and Rajdhani Express usually touch at Kozhikode. 
Air
Calicut International Airport in Karipur is located around 65 km away from Wayanad. It happens to be the nearest airport to reach Wayanad.
In this post, details about the best time to visit Wayanad and how to reach the spot are shared. As a hill station, Wayanad is a strong contender. Tourists can indulge in different types of fun activities.