Kochi, also called the Queen of the Arabian Sea, is a beautiful coastal metropolitan city with a rich history and heritage. Kochi is a popular stop-over destination for business and leisure travelers and one-day ship travel in cochin and One Day Trips from Kochi as a cruise destination is popular.
Although the town itself is crowded and abuzz with the noise of development, there are many popular scenic spots on the outskirts of Kochi that are isolated from the hustle and bustle of city life and make great destinations for a day trip from Kochi.
ALSO SEE-  Top 12 Places to Visit in Kerala (Updated with Latest Photos)
Crafted by the hands of God, Kerala is one of the most beautiful places in the world. There are many one day trip places in Kerala that abound in beauty and bliss.
Top 10 One Day Trips from Kochi
Here is a list of popular Cochin Sightseeing Locations for the Cochin Day Tour that can be reached in an hour or two by car or by using the well-connected public transport here.
1. Fort Kochi
Distance from Kochi: 5 km
Fort Kochi, which is near the cruise harbor of Ernakulam Wharf or Mattancherry Wharf is at the end of Kochi and has a unique amalgamation of British, Dutch, Arab, and Chinese Cultures and a day in Kochi is never complete without a  trip to Fort Kochi. The most popular tourist symbol of Kerala and Kochi, Chinese Fishing Nets can also be seen in Fort Kochi.
The Chinese Fishing Nets are the most famous sight here and if you are considering Fort Kochi as one of the best places for one day trip in Kochi, this should be on top of your list for things to do in Fort Kochi.
Must Visit Places in Fort Kochi Include Princess Street, Dutch Palace,  Paradesi Synagogue,  St Francis Church Fort Kochi and there are multiple shops that sell tourist curios and best souvenirs from Kerala that you can carry back to your home town.
Enjoy the sunset on your one day trip to Kerala at the historic area of Fort Kochi.
Enjoy the sunset on your one day trip to Kerala at the historic area of Fort Kochi.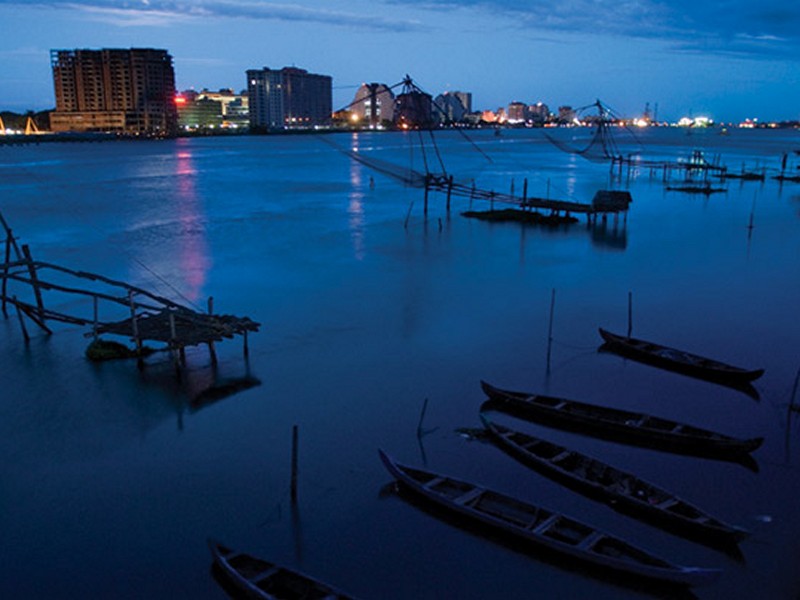 2. Alleppey
Distance from Kochi: 53 km
Alleppey or Alappuzha is a paradise for water lovers and is famous for houseboat cruises and is the most popular destination for Kochi One Day Tour. Alleppey is known as the Venice of the East, and Kochi Alleppey distance is 53 KMs.
A Day Tour or houseboat cruise in Alleppey is filled with tranquil palm-fringed canals and lagoons. The town is famous for boat races, backwater holidays, beaches, marine products, seafood, and the coir industry. Kettuvallam or houseboat tourism is the most popular tourist activity here.
There are several well-maintained beaches in Alappuzha which are safe for swimming and unwinding.
Take a houseboat to explore this beautiful place on your one day trip to Kerala.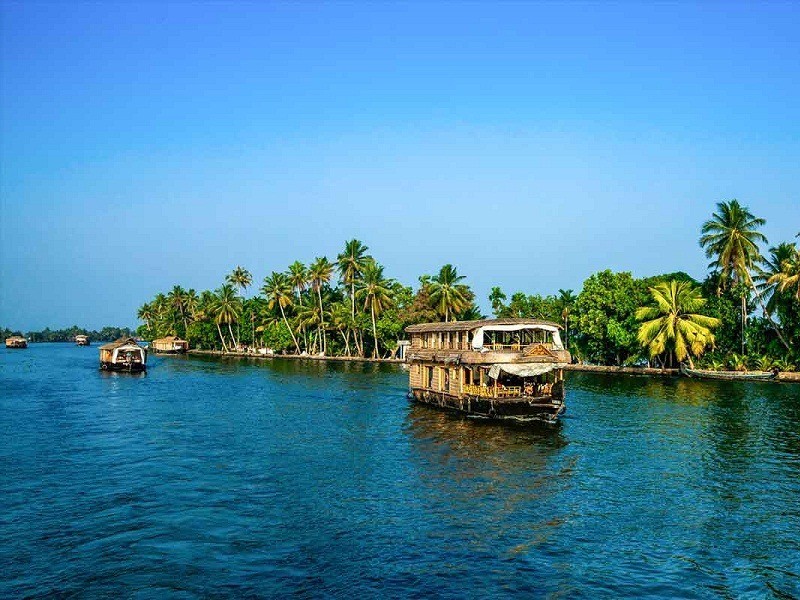 3. Athirapally
Distance from Kochi: 67 km
Athirapally, which is 67 km from Kochi, is a land of rivers, forests, and cascading waterfalls.  It is a great place to spend the day drenched in water or go for a trek into the forest. Explore the Athirapally waterfall which is Niagara of India popular as one of the best places for one day trip in Kochi.
The waterfalls that are part of the Chalakudy River are 80 feet high and are located in the center of the forest and are the largest waterfalls in Kerala.
A great picnic spot; it is also a favorite among movie makers. Only, five-kilometer away is the Vazhachal waterfalls, which is also a bewitching sight.
Swimming is permitted in the region, though with precautions in place, and police lifeguards from the local tribal community take care of the security here.

Enjoy this complete bundle of bewitching sights popular for forest trekking on your one day trip Kerala. Daily jungle safari is organized through the forests of the Sholayar ranges offering tourists a unique opportunity to enjoy the rich flora and fauna of the Athirapally- Vazhachal ecosystem. Several endangered species reside in these forests.
The safari moves across the rain forests in the regions and passes through the Thumboormuzhy Dam and butterfly garden. The butterfly garden is the natural habitat of various species of butterflies and is a great location to observe the colorful winged creatures right from their pupa stage.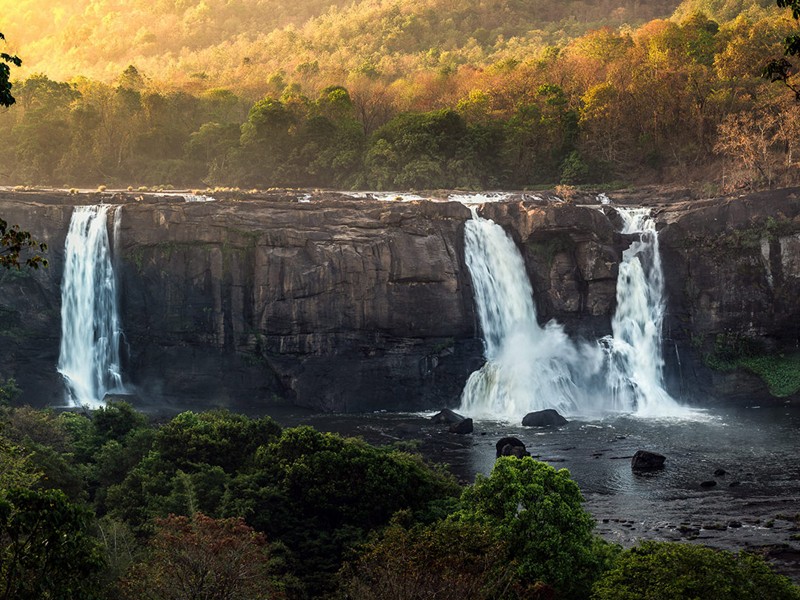 4. Vagamon
Distance from Kochi: 110 km
A sleepy hill station untouched by civilization, Vagamon is filled with meadows, idyllic villages, clear streams, tea plantations, and thick pine forests. Enjoy a bunch of tourist places in Vagamon which is considered as one of the most exceptional one day from Kochi. Around 110 km from Kochi, Vagamon is also a hub of adventure sports activities with arrangements for trekking, paragliding, mountaineering, and rock climbing.
The ride up the hills through the curling hairpin bends offers an awesome view of the picturesque green hills and deep valleys, to add to that the road to Vagamon is lined with pine trees.  Vagamon has made it to National Geographic Traveler's 50 most attractive places to visit in India and is a great summer retreat.
From forests to sacred places, there is a lot to explore at Vgamon which tops the list of places for one day trip in Kochi. Flower lovers will find much joy in the variety of orchids that grow in the wild here. Apart from being an enchanting hill station with plantations, the region is an abode of calm and spiritual delight.
Christian devotees can be seen trekking up the Kurushumala, some with heavy crosses propped on their shoulders. A huge dairy farm is run by the monks here.
An annual international paragliding festival is organized here, attracting enthusiasts of the flying sport from around the globe.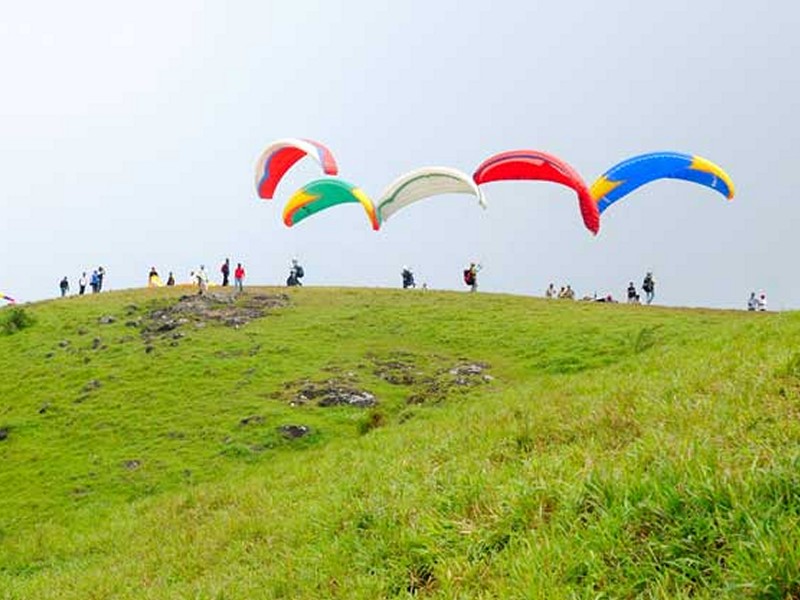 5. Ezhattumugham Nature Village
Distance from Kochi: 47km
If you want to enjoy the gurgling waterfalls, chirping birds, and fluttering butterflies amidst waterfalls and greenery then Ezhattumugham is a must-visit in one day trip Kerala. Ezhattumugham is a pristine nature village in the outskirts of Kochi, with the glistering Chalakudy River flowing through it. The village is in the midst of thick forests.
Ezhattumugham translates to 'seven faces of a river and is called so because here the river bifurcates into seven streams.
There are big boulders in the river here and many tourists choose to lazily relax on these rocks with their feet dipped in the cool water of the flowing river in the backdrop of the sound of parrots on the huge trees.
Ezattumugham can be clubbed with the trip to Athirapally, but the nature village though lacking in the glamour of the Athirpally waterwalls is much less crowded and kept in its original form.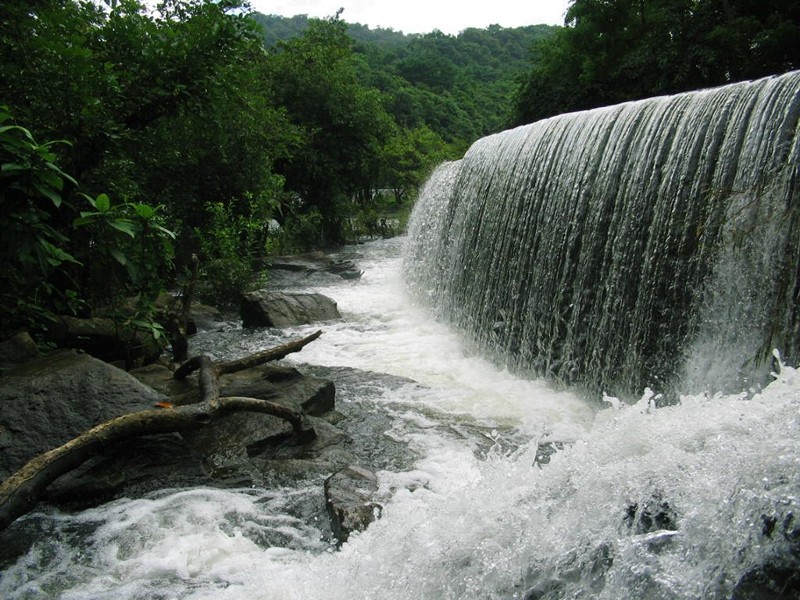 6. Kumarakom
Distance from Kochi: 55 km
Also known as the Queen of Vembanad, Kumarakom is the most enchanting backwater destination which is one of the best places for one day trip from Kochi. Kumarakom is a village that comprises a cluster of islands on Vembanad Lake.
A hotspot for houseboat tourism, the highlight of Kumarakom is the bird sanctuary here which is spread across 14 acres.
The Kumarakom Bird Sanctuary is host to many migratory birds from the Himalayas to as far as Siberia and is the perfect place to watch avian life. Birds such as Siberian stork, egret, darter, heron and teal, waterfowl, cormorant, and Brahminy kite can be spotted here.
The bird sanctuary that is 55 km from Kochi, which is an hour-and-a-half drive, is open from 6 am to 6 pm.
The crystal backwaters of Kumarakom offer many leisure water activities such as an array of boating and fishing activities.
Kumarakom is the best spot to capture photographs of Kerala's much-famed backwater life.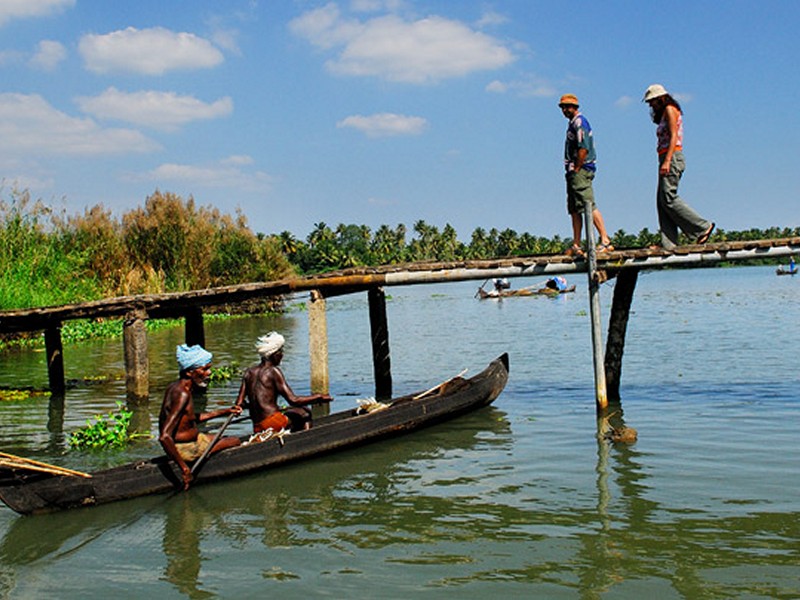 7. Kumbalangi
Distance from Kochi: 15 km
Kumbalangi model tourism village, which is India's first designated ecotourism village, is on the outskirts of Kochi. Ever since the Government of India declared this as a model fishing village, Kumbalangi tops the chart of one day trip places in Kerala.
Although this fishing hamlet is just 15 km from the city, it is tucked away from the maddening crowd and noise of city life. Bait fishing and boating activities are popular among tourists here.
Around 100 Chinese fishing nets dot the backwaters here and mangroves separate land from water providing a breeding ground for prawns, crabs, oysters, and several fishes.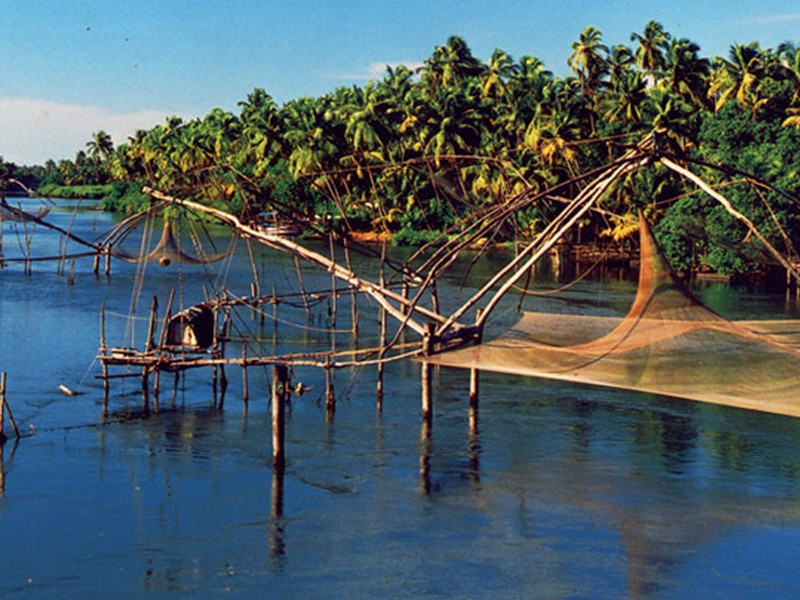 8. Thommankuthu
Distance from Kochi: 72 km
Perfect spot tree huggers, Thommankuthu is famous for its seven-step waterfall. Hidden in Idduki's lush forest, Thommankuthu waterfalls comprises of series of 12 cascading falls making it the best destination for one day trip to Kerala. A popular picnic spot, Thommankuthu attracts nature lovers and adventure seekers alike.
The destination has several caves and is apt for trekking and mountaineering activities. To get around the entire forest area, you will have to trek 12 km in the woods, which is as close to nature as one can get.
A two-hour drive from Kochi, Thommankuthu is nature's treasure trove. Once you reach here you will feel like you are in heaven.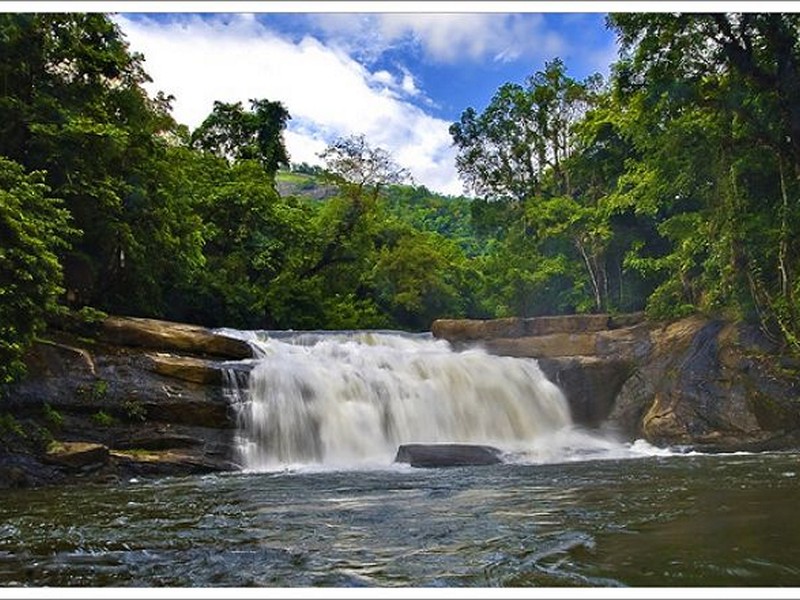 9. Thattekad Bird Santuary and Bhoothathankettu
Distance from Kochi : 65 km
Thattekad Sanctuary, also known as Salim Ali Bird Sanctuary, is located 65 km from Kochi.  Thattekkad Bird Sanctuary is a much-acclaimed bird sanctuary that tops the list of incomparable one day trip places in Kerala. A regular haunt of Ornithologists, 500 bird species including many forest and water birds thrive here. Tourists can go bamboo rafting on the lake and explore the surrounding areas.
Around 10 km from this sanctuary is the Bhoothathankettu Dam in the midst of virgin forests. Bhoothathankettu in Malayalam means 'ghosts' fort', and the myth is that dam was built by Bhoothams (spirit/ghosts) overnight by using rocks. Trekking through the forest to get to the dam is very exciting.
Apart from the scenic beauty many famous and ancient temples and churches are located in this area.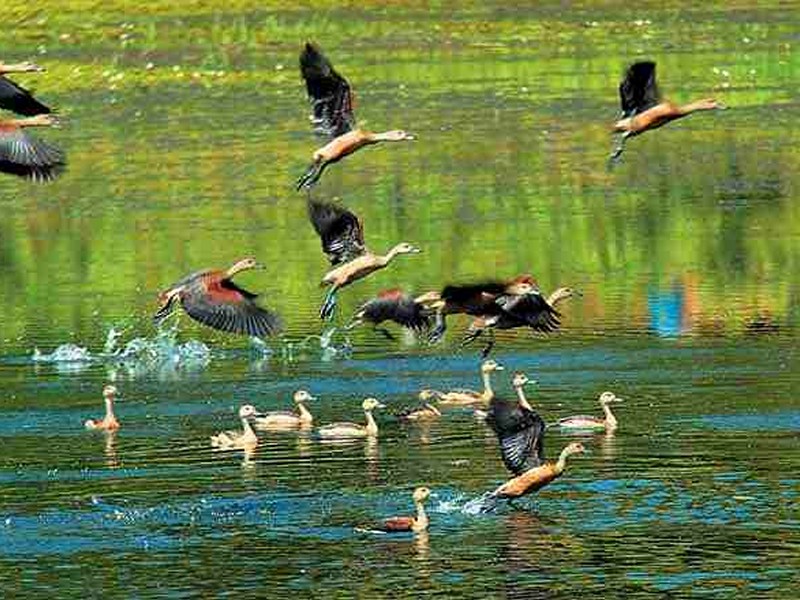 10. Thrissur
Distance from Kochi: 85 km
Although neither a picnic spot nor a nature paradise, Thrissur is a great place to treat yourself to the rich culture of Kerala. Thrissur is known as the Cultural Capital of Kerala and is best known for the Thrissur Pooram festival. Pooram is the most colorful and spectacular festival among all the festivals in Kerala.
Thrissur has a number of world-famous temples and churches worth visiting. Thrissur zoo is home to many exotic animals and birds.
If you want to indulge in history visit the many museums here and Kodungallur Kovilakam, a palace that belonged to the royal family of the medieval ages.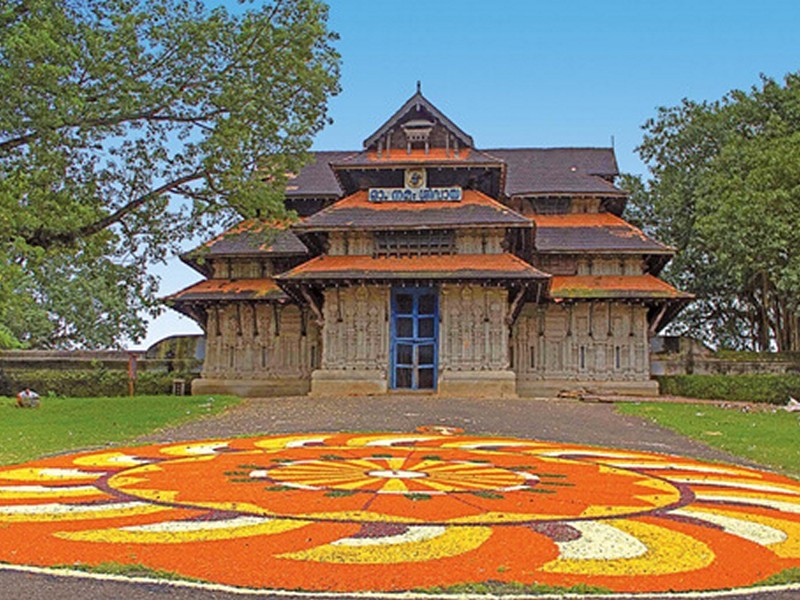 We have not included popular tourist destinations like Munnar, Thekkady, and Marari Beach, etc in the list of Top 10 One Day Trips from Kochi as it will require considerable time to visit these places and experience their uniqueness. We have just shortlisted only those One Day Trips from Kochi where you can leave in the morning and come back by evening for a stay in Kochi.
Do note that for some of these places you may have to start early morning from Kochi and if you are looking to book one of the One Day Trips from Kochi, do contact us for a customized plan.