Munnar in Kerala is a popular hill station famous for its picturesque sceneries & tea plantations. Mountains that hunch out of the valley are covered in manicured slopes of tea and sightseeing places in Munnar are just wonderful and make it an ideal place for honeymooner and families. You can reach Munnar by flights to nearest airport near Munnar or by train to nearest railway station near Munnar or reach directly in Munnar town by road. The best time to visit Munnar would be October to November and from January to May when it is comfortably cold.
ALSO SEE- Top 15 Best Places to Visit in Munnar
Train is an ideal way to reach Munnar from nearest cities like Bangalore or Chennai . However there are no trains to Munnar directly and Munnar is not in the rail route. Nearest railway station to Munnar is at Alwaye (Aluva) or Angamaly, which are nearly 120 kms away from Munnar. Most of the trains stop at Alwaye (Aluva) which is a bigger station than Angamaly. It is better to get down at Aluva rather than Ernakulam if your train stops there as it will help you in saving time on a visit to Munnar. The next best option after Aluva is to get down at any of the two railway stations in Ernakulam.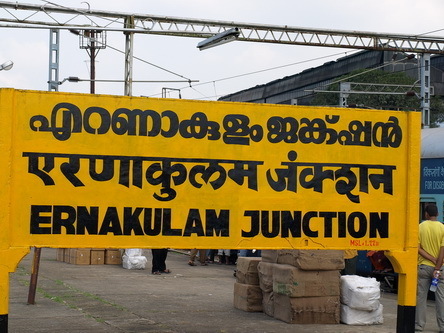 Anyone visiting Munnar can also get down at any of the two railway stations in Ernakulam, Ernakulam Junction (South) and Ernakulam Town (North). A taxi to Munnar from any of the railway stations in Ernakulam may cost 2500 Indian Rupees. Taxis are available for hire from the pre paid counter inside the station premises
ALSO SEE – Nearest Airport to Munnar
All these stations are operated by the Southern Railway zone of the Indian Railways and comes under the Thiruvananthapuram railway division. Ernakulam Junction is one of the major railway stations in Kerala with trains to any part of India and also one of the A1 graded stations in the Southern Railway.