Shikara Boat in Alleppey is smaller and rustic, that can seat 4-20 people and offers an intimate backwater experience. Unlike houseboats, they navigate narrow canals, providing an affordable option for budget-conscious tourists, available by the hour. With open sides and a roof, Shikara boats invite the gentle backwater breeze, featuring comfortable reclining chairs for a tranquil water ride in narrow canals. Alleppey is celebrated for its coir industry, global beach allure, and enchanting backwaters. If you want to discover the essence of rural village life intertwined with natural beauty, Shikara Boat in Alleppey is an ideal choice for those with time constraints seeking an authentic Alleppey experience.
Not Interested in Shikara Boat in Alleppey ?- Check Out the 50+ Kerala Houseboat Packages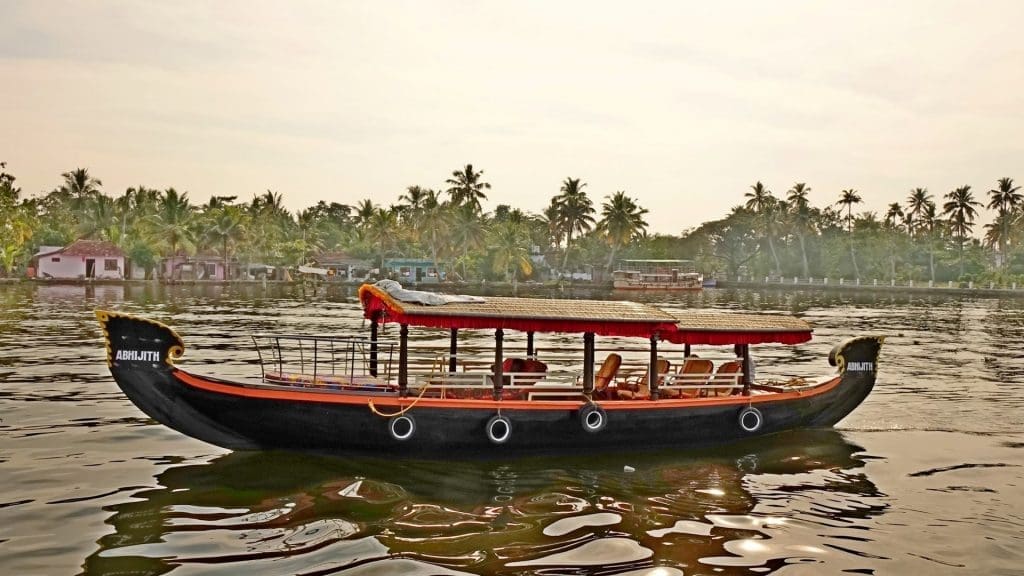 Exploring Shikara Boat in Alleppey
Ever wished to glide through Kerala's bountiful gardens, where water and earth blend smoothly, creating a flora of natural beauty? What if we told you there's a secret gem that offers an extraordinary journey, one that speaks to your longing for simplicity and authenticity? Allow us to introduce you to the irresistible Shikara boat rides in Alleppey.
ALSO SEE – Top 10 Best Backwaters of Kerala 
What is a Shikara Boat?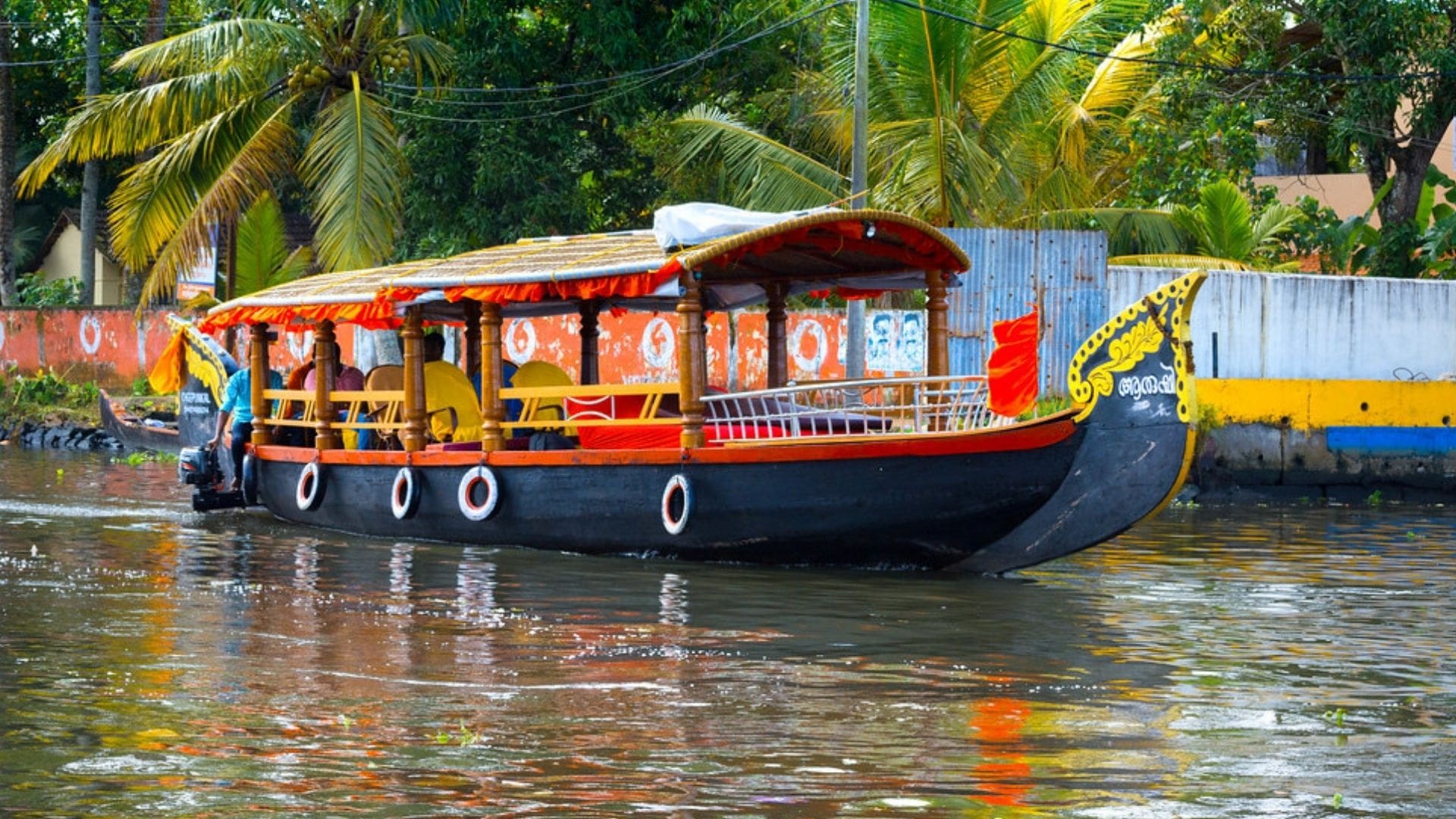 In Alleppey, where nature's generosity is showcased through waterways that crisscross the land, Shikara boats reign like kings. Smaller in size than traditional houseboats, these vessels accommodate a cozy group of explorers, making them the perfect choice for intimate journeys. Shikara boats, a blend of rustic charm and luxurious comfort, are a manifestation of Kerala's artistic craftsmanship. Decorated with bamboo-carved roofs and walls, they transport passengers to an era where elegance met simplicity.
How Accessible is the Shikara Boat?
Alleppey's intricate network of narrow canals, paddy fields, and inlets hides secrets that only Shikara boats can reveal. Unlike their larger counterparts, Shikara boats effortlessly glide through these narrow waterways, ensuring access to the hidden heart of this backwater paradise. If you're a traveler with an appetite for the offbeat and the unseen, the Shikara ride promises to satisfy your curiosity.
ALSO SEE- 9 Useful Alleppey Houseboat Booking Tips: Menu, Rates, Timings & Stay
What makes Shikara Boat in Alleppey Special?
Sail on a Shikara boat from the Fishing Point in Alleppey.  As you set sail, a refreshing welcome drink sets the tone for the journey ahead. Calm waters float you through the narrow backwater canals and a living canvas of coconut trees, paddy fields, and villages that effortlessly blend with the water's edge. Observe local fishermen as they go about their daily routines, lending an authentic touch to your voyage. This three-hour expedition through Kerala's soul-stirring landscapes provides a unique glimpse into its heart.
Pricing of Shikara Boat in Alleppey
Shikara Boat Ride in Alleppey offers flexible pricing, starting at ₹800 per hour for up to 5 passengers with a minimum of 5 hours. Shorter durations, like 2 or 3 hours, have different rates, while weekends and holidays start at ₹1000 per hour.
Alleppey's vast backwaters encompass the Vembanadu Lake, Punnamada, and more. To fully experience Punnamada Lake and glimpse village life, allow at least 3 hours. For a comprehensive exploration of Alleppey's backwaters, opt for 5 hours.
ALSO SEE – Backwaters of Kerala Trip – What to Know?
Some  Shikara boats accommodate up to 7 passengers, while larger ones can host up to 40 and come equipped with toilet facilities. Your Shikara experience can be tailored to your preferences and group size, ensuring an enjoyable journey through Alleppey's scenic waterways.
Shikara Boat Ride Options in Alleppey
Alleppey believes that every traveler has their own rhythm and preferences. The Shikara ride experience is tailored to your needs, with various packages to choose from: Have a glance at what suits your needs.
1. Sunrise Shikara Cruise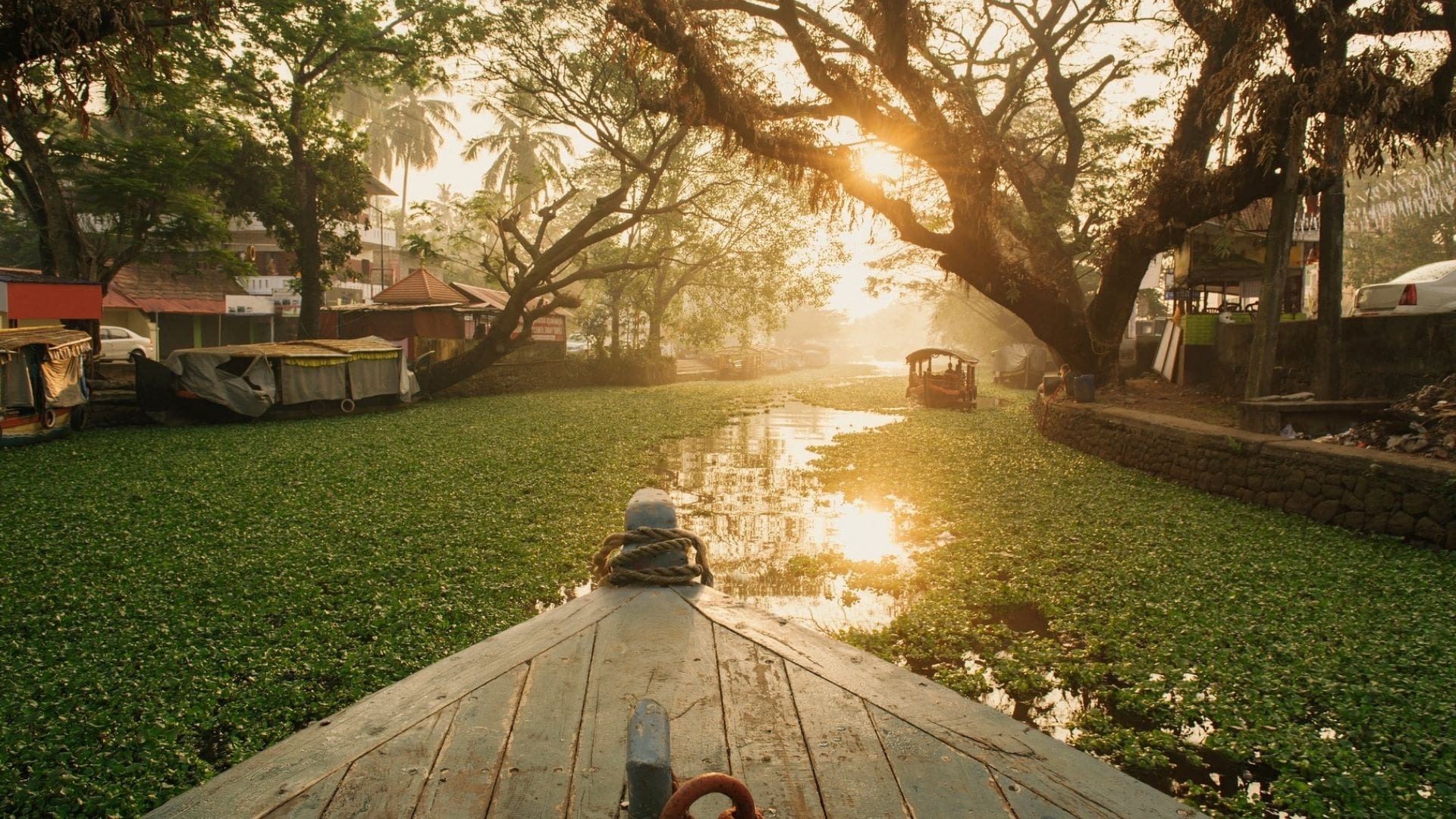 The Shikara cruise departs from Alleppey boat dock at 6:00 AM, offering a serene, less crowded morning experience with captivating views. The itinerary includes a visit to the Snake Boat Race Starting Point, Snake Boat Model, Snake Boat Race Finishing Point, Vembanad Lake, SAI (Sports Authority of India), C Block, and Vilakkumaram, concluding at Rajiv Jetty for disembarkation. This early morning voyage lets you savor the authentic charm of Alleppey with minimal boat traffic, making it an idyllic way to explore the area.
2. Lunch Cruise Shikara Boat Ride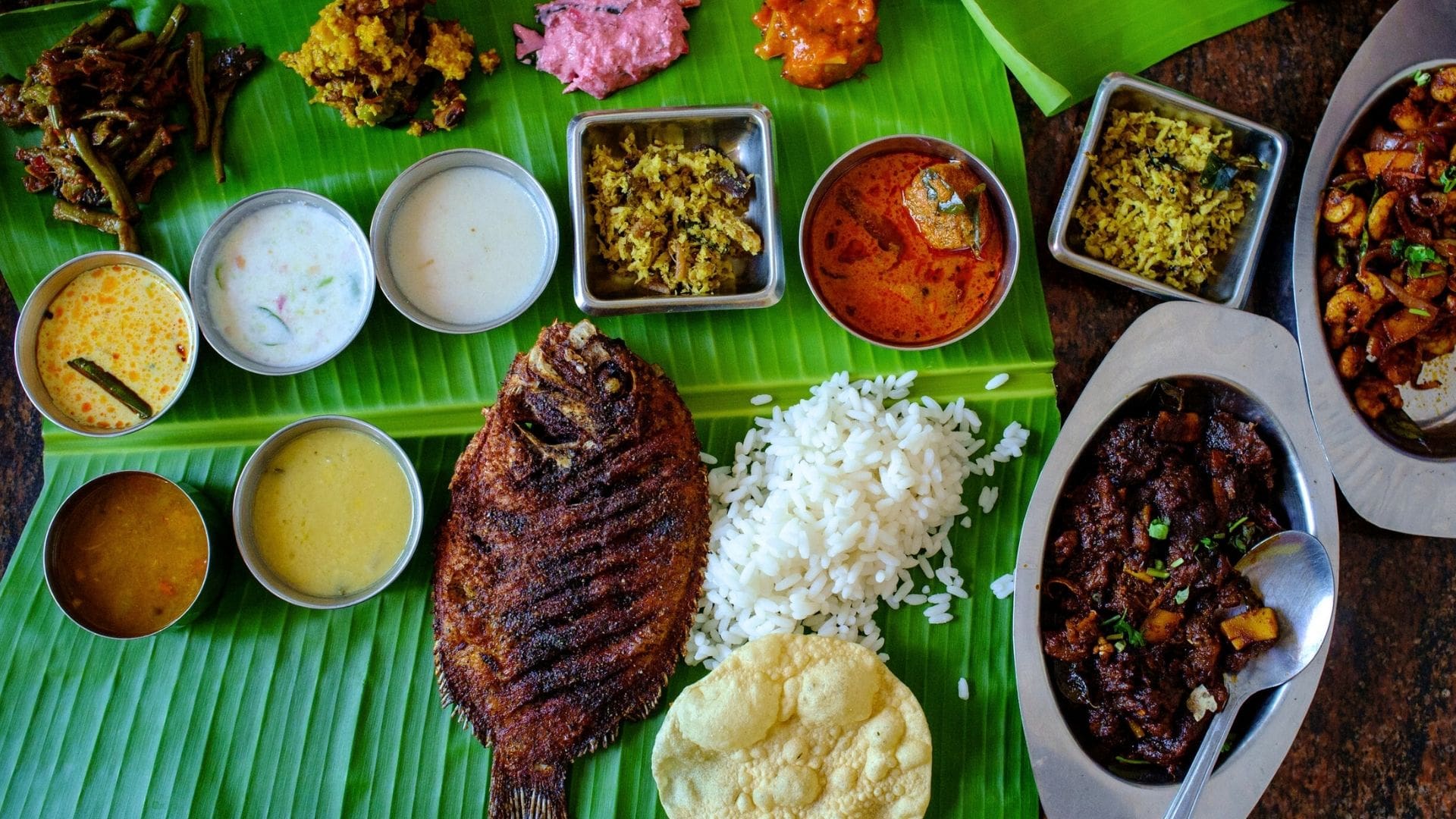 A midday delight, this cruise includes a stop at a lakeside restaurant for an exquisite meal. Our cruise to enjoy Shikara Boat in Alleppey starts at 12 PM, navigating from our jetty through Alleppey and Punnamada lakes, exploring village surroundings. At 1:30 PM, we'll drop you at a lakeside restaurant serving fresh lake fish and diverse dishes, including a pure veg menu (lunch included). After your meal, we'll return you to Alleppey boat dock, all part of the package.
ALSO SEE- Top 10 things to do in Alleppey
3. Sunset Cruise Shikara Boat Ride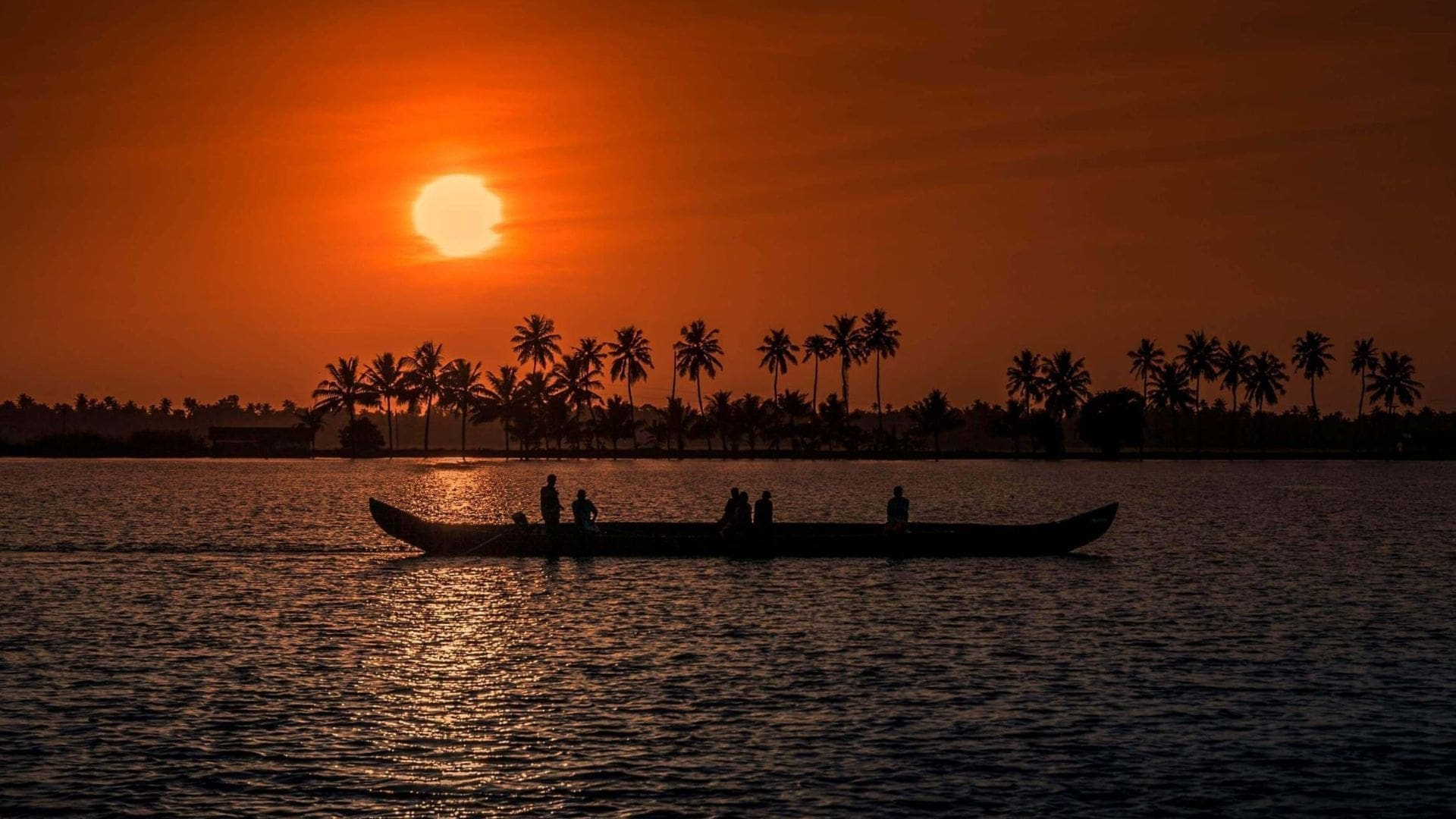 Experience the magic of Alleppey's sunset over the waterways, capturing the heart of Kerala's beauty.
The enchanting Sunset Shikara Boat Cruise embarks from Alleppey Boat Dock at 4:30 PM. Glide from Alleppey Lake to Punnamada Lake, exploring the picturesque village surroundings. Witnessing the sunset over the Alleppey backwaters is a truly breathtaking Kerala experience.
The itinerary includes a journey from Rajiv Boat Jetty to iconic destinations like the Snake Boat Race Starting Point, Snake Boat Model, Snake Boat Race Finishing Point, Vembanad Lake, SAI (Sports Authority of India), C Block, and Vilakkumaram, with the grand finale being the mesmerizing sunset over Vembanad Lake. This scenic voyage promises an unforgettable twilight adventure.
ALSO SEE – Best Time to Visit Kerala Backwaters 
4. Honeymoon Cruise Shikara Boat Ride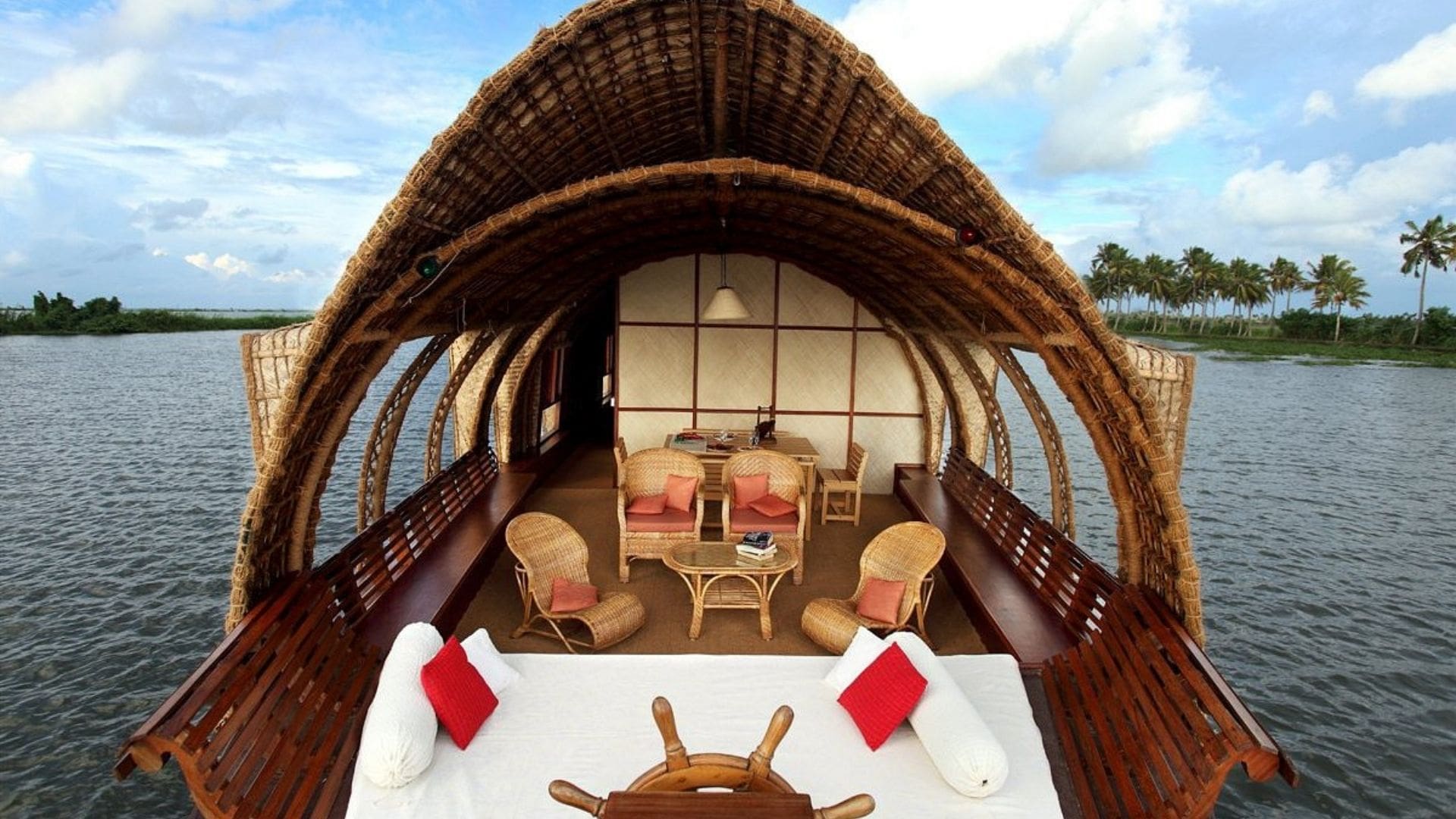 For couples seeking romance, a specially decorated two-seat boat with complimentary treats awaits. Embark on a memorable cruise starting from Alleppey Boat Dock, meandering through Alleppey Lake and the iconic Punnamada Lake, renowned for the Nehru Trophy Boat Race. For a romantic touch, our honeymoon cruise offers a flower-decorated two-seat boat. Enjoy complimentary snacks and beverages as you embark on this journey, tailored to your preferred departure time. It's an idyllic way to savor the beauty of Alleppey's waters.
ALSO SEE – The Ultimate Kerala Honeymoon Guide
5. Full-Day Shikara Cruise Ride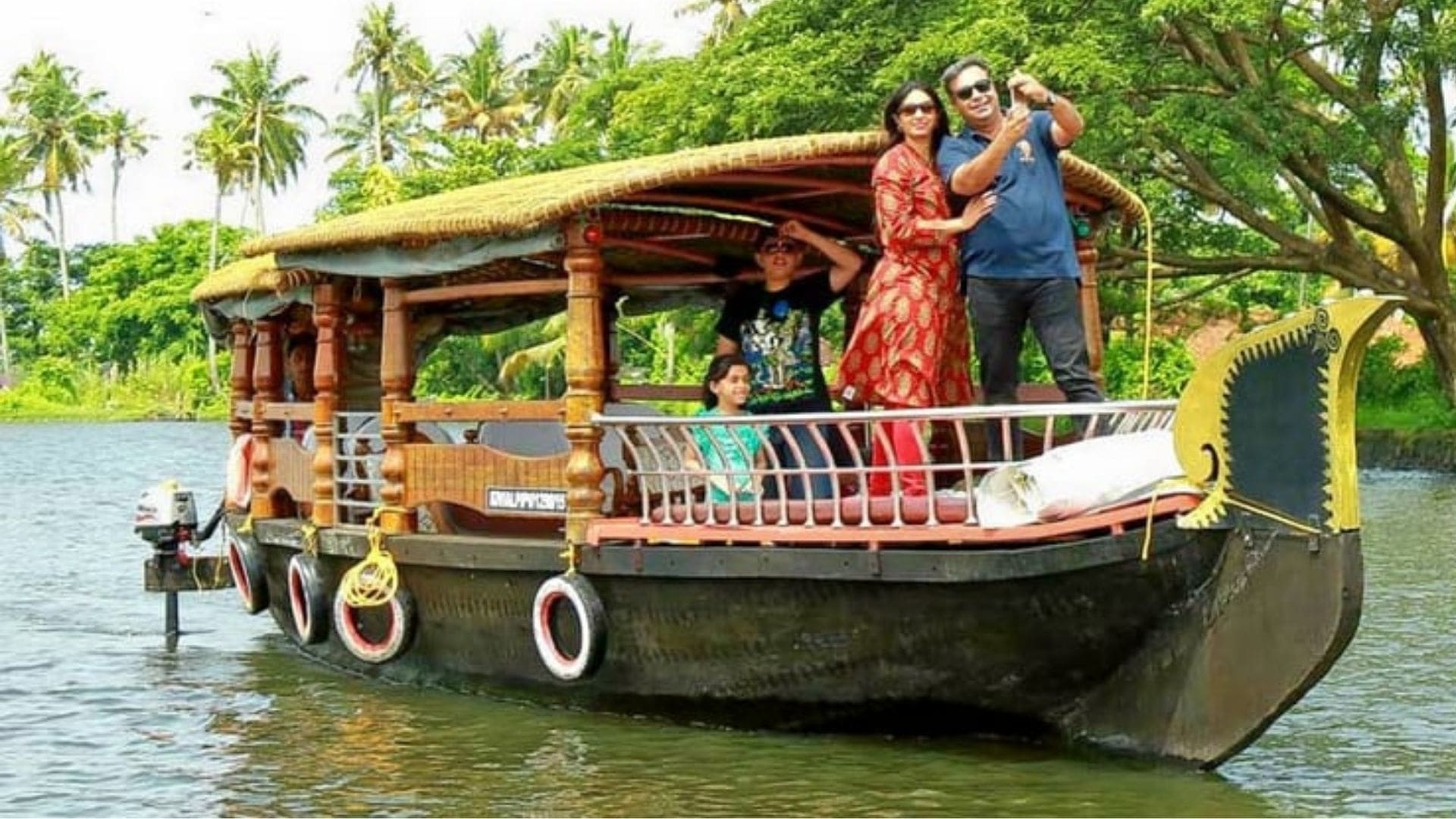 Soak it all in with an 8-hour journey through Alleppey's myriad treasures.
Set sail on a scenic Shikara cruise, commencing at Alleppey Boat Dock. Traverse Alleppey Lake, passing through the famous Punnamada Lake, host of the iconic Nehru Trophy Boat Race. This voyage takes you to idyllic village areas and various captivating sites.
The itinerary includes exploration of notable destinations like the Snake Boat Race Starting Point, Snake Boat Model, Snake Boat Race Finishing Point, Vembanad Lake, SAI (Sports Authority of India), C Block, narrow canals, sea-level paddy field cultivation, temples, duck farming, fish hatchery, Kainakary, Chavara Bhavan, Vattakayal, Pallathurthi, and Vilakkumaram, before returning to Rajiv Jetty for disembarkation. This comprehensive journey promises an immersive experience in Alleppey's rich culture and natural beauty.
Booking & Information
Children under 5 years old enjoy a free ride, while those aged 6-12 can avail of the child package.
A minimum of 2 people is required to book a Shikara ride.
Starting Point of Shikara Boat Ride in Alleppey
The Fishing Point, the launchpad for your Alleppey adventure, lies approximately 5.8 km from Alleppey Railway Station. Arriving by public or private transport, you'll effortlessly transition from the station to the waterways.
Public Transport Convenience
If you're keen to adopt the local vibe, Alleppey offers a reliable network of public transport options. From the Alleppey Railway Station, you'll find a range of buses and auto-rickshaws readily available. A short and comfortable journey of approximately 5.8 kilometers will lead you to the Fishing Point. The experience of traveling among the locals and watching  everyday life adds a touch of authenticity to your journey.
ALSO SEE– Your Pocket Guide To The Best Backwaters In Alleppey
Private Comfort and Ease
For those who prefer personalized convenience, private transportation is an excellent choice. Taxis, cabs, and auto-rickshaws can be easily hired at the Alleppey Railway Station. The journey from the station to the Fishing Point is relatively short, allowing you to savor every moment without the constraints of time. This option is ideal for travelers seeking a more direct and private experience.
Recording Memories
The Alleppey Shikara ride isn't just a journey; it's an experience that stays in your heart. The open design allows nature's gentle breezes to envelop you, while the scenic surroundings create an ideal backdrop for precious moments. Whether you're a solo traveler, a couple seeking romance, or a family seeking bonding, the Shikara ride offers a shangri-la of calm that lingers in your heart long after you've returned home.
Wrapping Up
In the heart of Kerala's backwaters, the Shikara ride in Alleppey encapsulates the wonder of simplicity, the charishma of nature, and the warmth of hospitality. It's an invitation to explore beyond the ordinary, allowing travelers to write their own stories amid the visually pleasing waterways that cradle Alleppey's unique charm.