First off, Congratulations! Wedding arrangements and preparations might be quite a task to handle, its preparations most times turn out stressful as a result of all the essential myriad details that need to be taken care of for the wedding.
Marriage is all about a great beginning to life and every married couple dreams of the perfect Kerala honeymoon, it's advisable that every couple finds a perfect and amazing place to ease themselves of the wedding stress after the wedding and have a memorable start on their endless marriage journey. One of the amazing places in the world for couples to ease themselves have a memorable, fun-filled, and romantic honeymoon experience is in Kerala.
Kerala at a Glance
Kerala is a state on the southwestern Malabar Coast of India. It was formed on 1st November 1956, the state is made up of Malayalam-speaking regions of the erstwhile states of Travancore-Cochin and Madras. Kochi, formerly known as Cochin is the capital of Kerala and is one of the most popular places to visit in Kerala. Kerala spread over 38,863 km2 and happens to be the twenty-first largest Indian state by area. It is bordered by Karnataka to the north and northeast, Tamil Nadu to the east and south, and the Lakshadweep Sea to the west. It is divided into 14 districts with the capital being Thiruvananthapuram.
The most widely spoken language and official language of the state is Malayalam. Kerala's culture and traditions, coupled with its varied demographics, have made the state one of the most popular tourist destinations to have an unforgettable honeymoon in India. A 2012 National Geographic's Traveller magazine termed Kerala one of the "ten paradises of the world" having over 50 must-sees, quite fascinating destinations of a lifetime, and holds over 10,000 festivals yearly.
Kerala is surrounded by wildlife sanctuaries, appealing backwaters, waterfalls, beaches, mountain ranges, ancient ports, lakes, and palaces which are its major attractions that offer a variety of honeymoon destinations for couples to pick from.
Guides on Kerala Honeymoon
Choose and Finalize your Honeymoon dates
 Its often advised consulting with your better half, taking into consideration the time and number of days you both will be available. Finalize the date and make preparations towards it, ensure you are both comfortable with the dates and duration of the Kerala honeymoon trip. 
Know the season for the chosen Honeymoon date
The weather and climate are major factors when it comes to planning your honeymoon dates for Kerala and you can choose from the three famous seasons that are an ideal time to visit this place.
 MONSOON SEASON: This is the season that Kerala blossoms the most and unfolds its natural and true beauty. It starts from the second week of June and lasts until the last week of August. The weather can be a little rough and there are possibilities of rain showers but on the positive side, it won't shower throughout the day. The monsoon rain in Kerala usually showers for few hours and then settles down.
OFF SEASON: The off-season starts in April and lasts until the fourth week of September. The off-season consists of two climate seasons, one summer season and the other monsoon season. Afternoons in the summer season are usually hot and sunny and there is drizzle in the evening. The weather can be a bit humid but on the positive side, you can avoid the crowds and get the best accommodation at pocket-friendly prices.
PEAK SEASON: This season starts in October and lasts until the last week of March. This season holds an absolutely pleasant atmosphere with charming sunny skies and a hint of humidity, making it more ideal weather and an amazing period to spend your honeymoon in Kerala. The charges though can be a bit higher as it is officially the peak season, troupes of tourists are expected in this season.
Pick your Perfect Kerala Honeymoon Destination
Where in Kerala would you love to spend your honeymoon? Kerala has a wide variety of honeymoon spots for you to choose from,  you'll surely find at least one that suits and catches your fancy. Pick a location that you both would like, consider your partner's wishes as well, rather than pushing for your dream location alone.
Make sure it's a noncrowded location that will offer utmost relaxation and give you both an amazing fun-filled Kerala honeymoon experience. There are basically 4 suggestive honeymoon destinations in Kerala quite fascinating to give a zealous start to your journey ahead;
1. Hill Stations
Hill stations are the perfect getaway spot for honeymooners in Kerala. Hill station envelopes you with plenty of greenery, rich in scenic beauty with their lush valleys, quaint environments, gorgeous hilltops, and mesmerizing views. The weather is pleasant all year round and also ideal for those looking to get away from the heat. Below are some fascinating hill stations in Kerala;
Munnar: Munnar is one of the well-known hill stations and must-see places in Kerala suitable for a perfect honeymoon, situated at the confluence of 3 rivers, positioned at an elevation of around 1600m above sea level at an altitude of 6,000ft. Munnar has a lot of attractions and is one of the most visited hill stations in Kerala.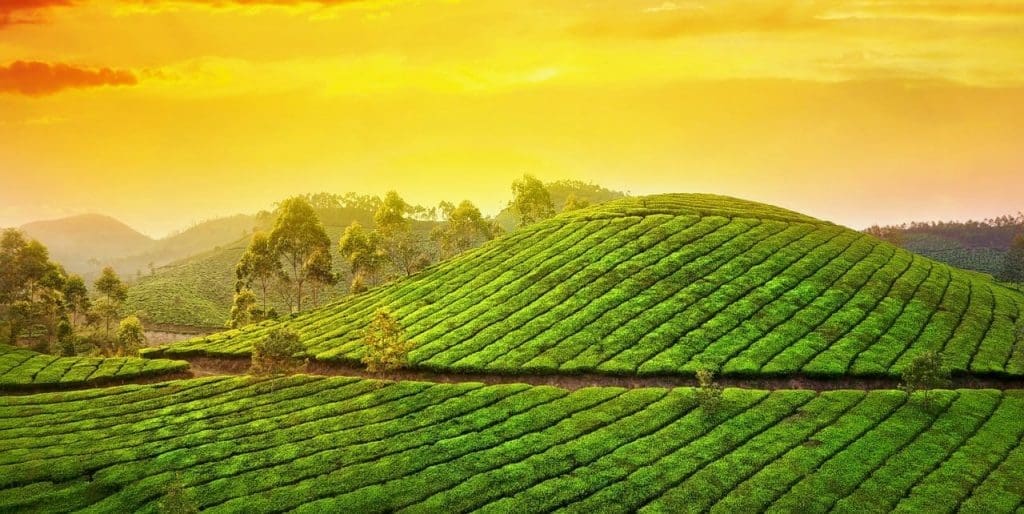 There are so many places to visit in Munnar that a weekend trip is not enough. This place is famous for its unparalleled green shades, the rolling tea-planted hills together with the mist above are picturesque indeed! When you visit Munnar ensure you catch a glimpse of these romantic must-see places; The Munnar echo point also the Pothamedu ViewPoint which is the best spot to have a wide view of the tea, coffee, and cardamom plantations. This hill station is an ideal place to have a honeymoon because it is beautiful, serene, and offers utmost relaxation.
Best time to visit: September to March.
Things to do: Visit national parks, nature walks, treks, etc.
    Other hill stations include;
2. Beaches
Unlike other places, Kerala has the most beautiful and amazing beaches. Where could the best honeymoon experience in Kerala be gotten other than on the wide stretch of beautiful, warm, serene golden beach sands? Here are few beach destinations in Kerala you might need to consider while planning your honeymoon;
Kovalam: Kovalam is a dream honeymoon destination and an idyllic beach town located by the Arabian sea, just 16 Km away from the heart of Trivandrum city, the metropolitan part of Kerala. It comprises three different beaches; Hawah Beach, Samudra beach, and the famous Lighthouse beach all isolated by stony outcroppings of the coastal resort.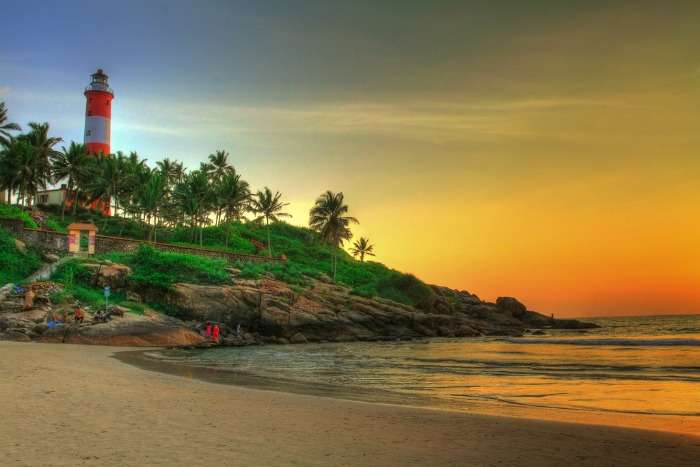 Honeymooners can take long walks on its sun-kissed beaches and gorge on delectable lunches while enjoying the low tides. Since the beach is shallow, honeymooners can have a few meters of romantic evening walks or a leisurely swim. Kovalam is filled with bounty beauty with its dazzling beach sand, the mesmerizing view of its quite relaxing environment, and the waters which enchants an attractive spell, making it tempting to swim in.
Best time to visit: November to February
Things to do: Palace honeymoon, beach walks, trek    
      Other beaches include;
Allepey(Also known as Alappuzha Beach)
Bekal
Varkala
3. Backwaters
Kerala is blessed to have plenty of lakes and lagoons interconnected by waterways aiding transportation of people and goods from one place to another. Kerala is famous for its backwaters that pull in tourists from all over the world. The cool winds, lush greenery mother nature envelopes one with and serene waters make Kerala backwaters a great choice for your honeymoon.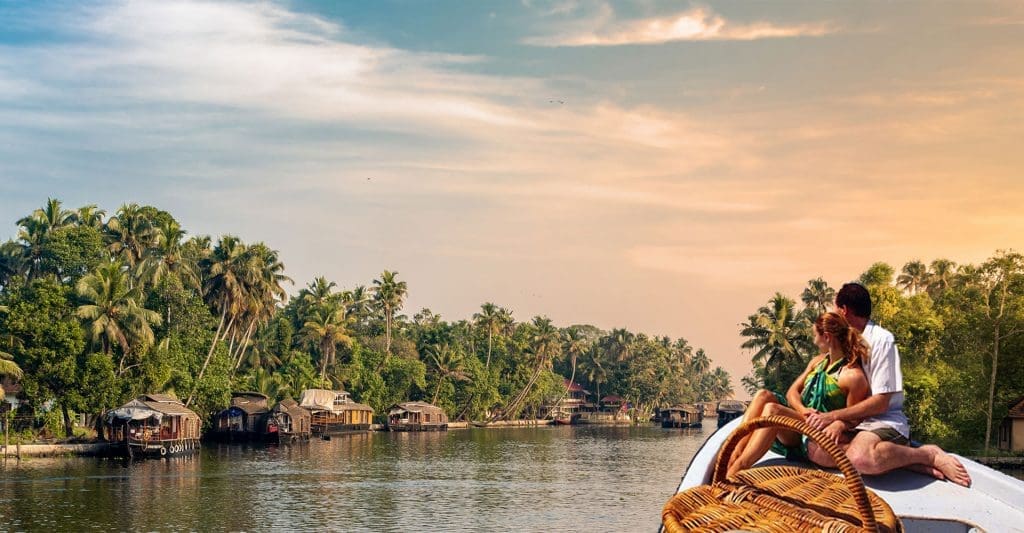 To have the best romantic experience, ensure you opt in for a Kerala houseboat cruise to navigate over these backwaters. Below are some of the perfect backwaters for honeymooners;
 Kollam: Kollam offers one of the best mesmerizing and romantic experiences of your life. Its serene backwaters, beaches, and lagoon make it an ideal setting for honeymooners
    Other Fascinating Kerala backwaters suitable for honeymooners include;
4. Waterfalls
Other romance-filled destinations are the Waterfalls in Kerala. Kerala waterfalls are scenic, filled with bounty beauty, Serene surrounding, charming and attractive waters. The views of Waterfalls in Kerala are picturesque indeed! Ensure it's included in your itinerary.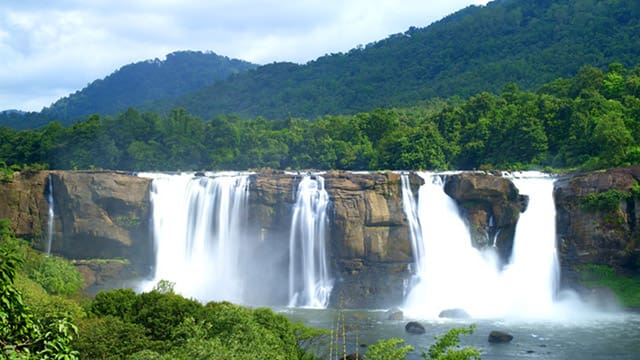 Some of these amazing romance-filled locations are;
Athirapally Falls: Athirapally Falls also called the 'Niagra of India' is the largest waterfall in Kerala. Its magnificent green forests covering the Sholayar make Athirappilly enticing during monsoons, a perfect destination for honeymooners indeed! This location is made up of romantic spices, filled with several enthralling experiences. This place also houses other beautiful attractions such as; Charpa falls, Swollen Chalakudy River, Vazhachal waterfalls, etc.
ALSO, SEE – 12 Most Beautiful Waterfalls In Kerala 
Best time to visit: All year round
Things to do: indulging in activities at waterfalls
Other romantic waterfall locations for Kerala honeymoon include;
Book your Romantic Accomodation: It's advisable to book your romantic accommodation before the honeymoon date to avoid any rush and disappointment.
Arrange your Transportation: Decide on your means of transportation by air, road, rail, or water. You should book your tickets early so your seats will be confirmed.
Pack your Essentials: Pack everything necessary, ensure you don't leave your essentials behind.
Go forth! Enjoy the best of Honeymoon Kerala offers. Bon Voyage!