With 580 kilometers of coastline in Kerala, finding the best beach escape is no small task. K Kerala in fact is well known all over the world for backwaters, beaches and coconut trees but Kerala is not short of great beaches as well. Secluded beaches, laid back beaches, white sand beaches or party beaches: there's any type of beach for everybody in Kerala. There are beaches for couples in Kerala where you can wrap up each other in Love, the beaches suitable for archetypal vacation for couples: the beach getaway. Nothing says romance like warm weather, hammocks strung between palm trees and cocktails with umbrellas in them that occupies the beaches in Kerala will make your holidays more enjoyable.
With over 2.5 million tourists descending on the Gods Own Country in a year, it's becoming increasingly difficult to find the best beach.
Which is why visitors may be wondering: Kovalam Beach of Varkala Beach – which Kerala beach should I head for to get the best beach experience?.
We have picked the Pictures of Best Beaches of Kerala from Flickr showcasing great sandy spots from coast to coast to help you choose some of the best beaches in Kerala.There are plenty of coastal destinations in Kerala for beach lovers. Here is a selection of best beaches from Iris Holidays team that that you can visit while touring Kerala.
Marari Beach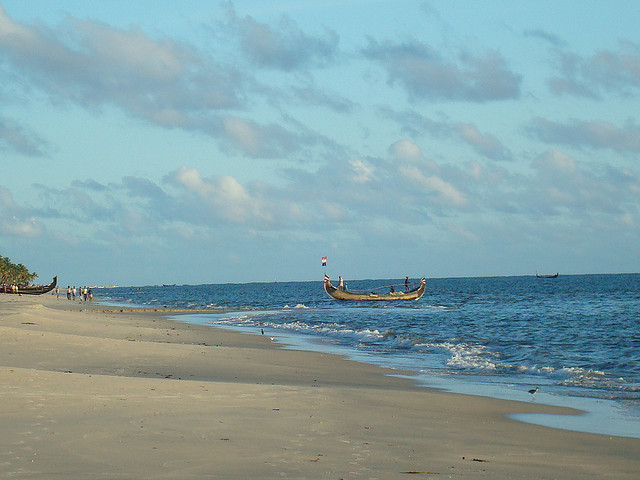 Image by India Trip via Flickr
Marari Beach is in Alleppey district and is located on the way to Alleppey from Kochi .This is a sleepy little fishing village, is an idyllic location for a vacation with coconut trees lining the white sandy shore in the beach. This is an ideal location to visit Alleppey or Kochi and you can opt for a Day Cruise in Alleppey backwaters of a Cochin holidays tour by staying at this beach.
ALSO SEE Best Beach Resorts in Kerala
Marari beach is of the 'endless-golden-sands-where-you-won't -see-a-soul' variety, usually touted for their peace and quiet of beaches. It is an endless vista of sand and surf, but it is more. An authentic experience of the world of Kerala's traditional fishing villages, and a recreation of an ancient, harmonious way of life. Marari offers endless miles of empty sands and coconut trees by the sea side, virgin territory where you can experience to local charm and traditional keralan hospitality at its best.
Alleppey Beach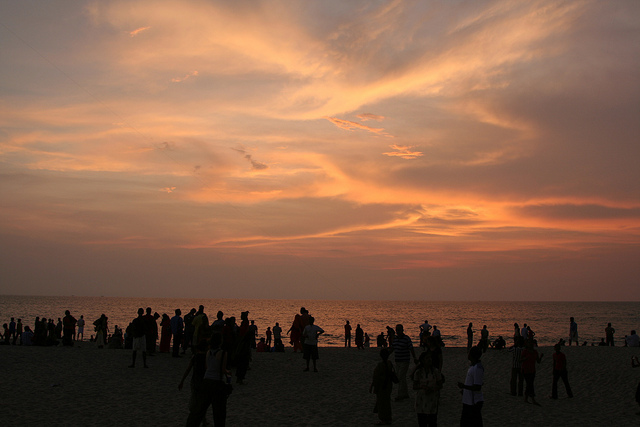 Image by Swifant via Flickr
Alleppey is famous for its backwaters, houseboats, fishing and coir industry. Howeever Alleppey beach in which there is a 137 years old pier, which extends into the sea is a popular tourist spot in Kerala . Alleppey beach has a lighthouse and the entertainment facilities at the Vijaya Beach Park is also popular.
Vizhinjam Beach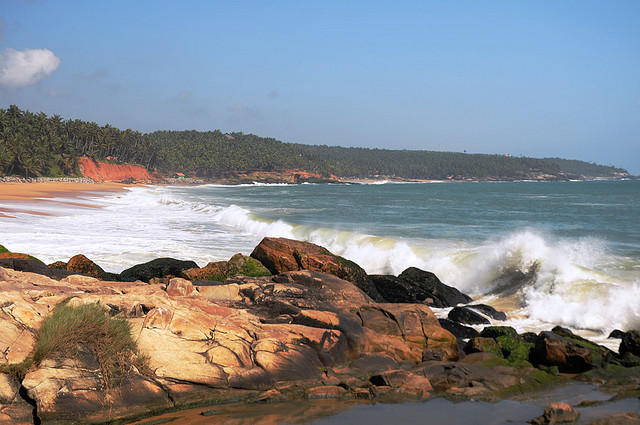 Image by Koshi Koshi via Flickr
Vizhinjam is one of the most famous fishing harbors in Kerala where you can watch fishermen venturing into the distant sea at dawn. Kovalam is located a distance of 3 kilometers from Vizhinjam and Vizhinjam is rustic and earthy unlike Kovalam that is touristy.
Marine aquarium in Vizhinjam which displays squirrelfish, piranhas, lionfish, surgeonfish , clownfish, giant turtles, moon wrasse, butterfly fish, trigger fish and sharks as well as rock- cut temple of 18th century are tourist attractions in Vizhinjam besides Beach.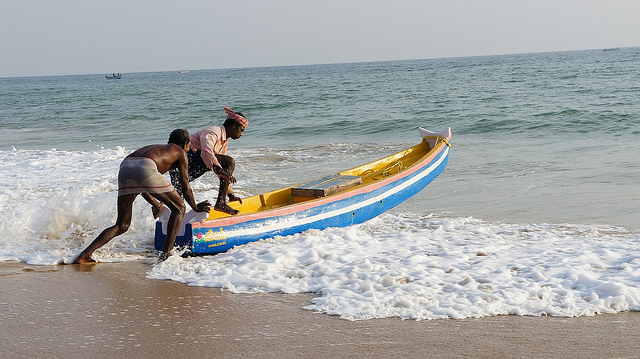 Image by Thierry Leclerc via Flickr
Kovalam is the most popular beach in Kerala due to shallow waters and low tidal waves and shot into limelight in the early seventies with arrivals of the masses of hippies. That started the transformation of a casual fishing village of Kerala into one of the most important tourist destinations in all India- the Kovalam beach. Prince G.V Raja in early 1940s found immense tourist potentiality of the this beach and decided promote the region among state guests, by inviting Thomas Cook & Sons- UK to develop the region. The Maharaja of Travancore soon started hosting regular state banquets and accommodation of his European guests in Kovalam Haylcon Palace.
Kovalam has a 17 km coastline and three major beaches – Light House beach, Hawah Beach and Crescent Beach and Hawah beach is called so because of the top-less sunbathing permitted there.Kovalam has a more relaxed atmosphere than goan beaches with a bit more laid back attitude , the food a touch softer and lighter. Tourist taxies and biked on hire are the common modes of transport available for tourists and the highway is a pleasure to drive on, with the cool breeze and coconut palms lined along the way. Once on the highway, drive north for the plains, drive south for the hills.The major activities enjoyed by tourists in Kovalam are Surfing, wooden boat ride on catamarans and Motor Boat Ride
Bekal Beach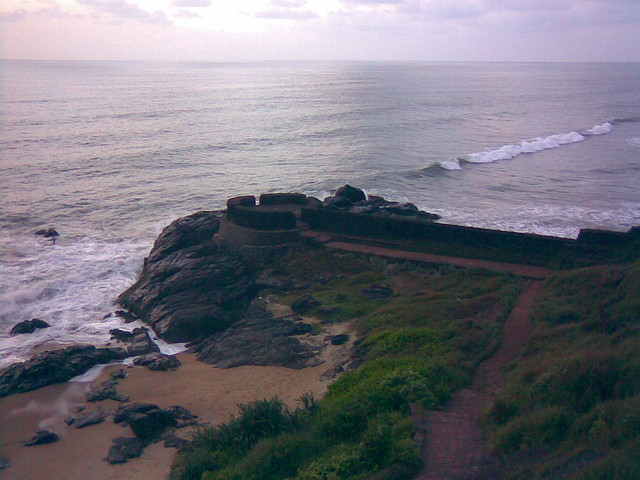 Image by Master Foo via Flickr
Bekal is located 16kms south of Kasaragod town on the National Highway and is famoir for its largest and best preserved forts in Kerala. Bekal Beach is a lovely beach with the palm fringed surroundings and a great view of the Bekal Fort. The beach is really long and clean but again not safe for swimming. This is a beach which urges tourists strongly to use to keep the areas clean.There is also adjacent park and play area and zoo for kids as well in Bekal.The rocks around the bekal fort in the sea is a fantastic place to sit and meditate in the evenings.
Kappad Beach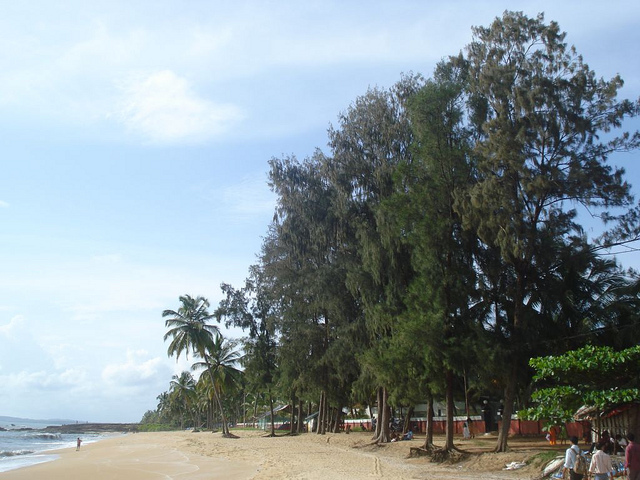 Image by Anulal via Flickr
Kappad Beach is located about 16 km from Calicut town and is well known as the point at which Vasco da Gama landed on May 27, 1498, when on his first visit to Kerala. The beach is enjoyable and has safe waters and you can even watch fishermen going out for fising and coming back in the evening to spread their catches in Kappad beach.There is also a rocky headland stretching into the sea and a 100-year-old temple.
Beypore Beach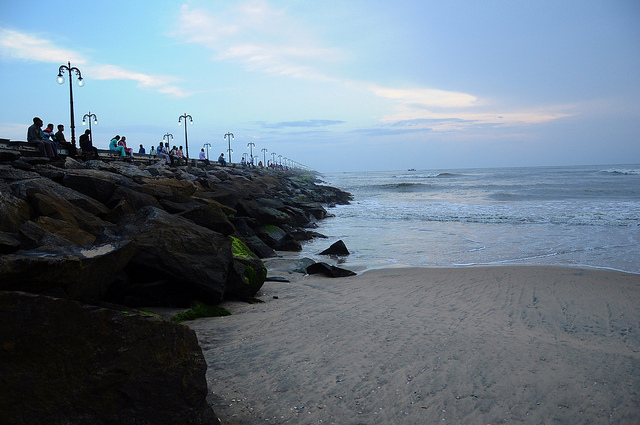 Image by Sreejith via Flickr
Beypore is famous for a small port through which trading was done to the Middle East and a beautiful beach with a kilometer bridge to sea where you can just walk to end and come back and the sunset from the Beypore sea bridge is a wonderful memory. When you walks through the bridge you can see birds like egrets, kites, cranes and carlew around, hunting for fish. You can also watch chaliyar river merging with the sea from Beypore beach and can buy Souvenirs of Kerala from shops like Asha Handicraft Emporium and other shops.
Chowara Beach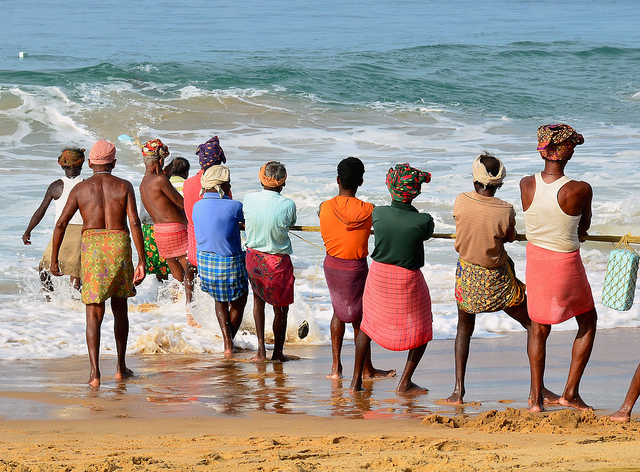 Image by One more shot Rog via Flickr
Chowara Beach is a long white sandy beach near Kovalam where you can see lines of fishermen pulling in their nets while watching gorgeous sunsets. It is relatively clean and less crowded than Kovalam and Varkala beaches in Trivandrum. The best experience in the beach though, is an early morning trip to watch the fishermen land their catch then auction it off which is a unique experience. The currents are treacherous and life guards keep a very watchful eye on the swimmers,
Muzhappilangad Drive in Beach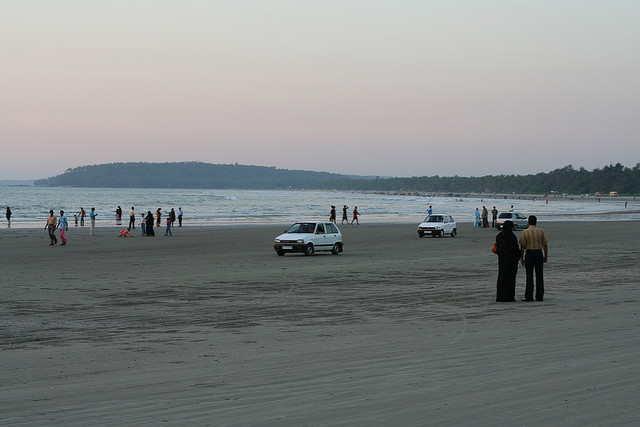 Image by Suhas via Flickr
Muzhappilangad Beach is the only drive in beach in Kerala and the largest drive in beach in Asia .The sand is hard enough in this beach and you can drive your car on the entire stretch of the beach. The excitement of driving a bike or car over the waves is really high. Many locals learn car-driving here. The beach is located parallel to National Highway 66 between Kannur and Thalassery and if you are driving from Tellicherry towards Kannur, take the left turn just before the first railway crossing you encounter after crossing the Moidu bridge to reach an unpaved road winding through coconut groves leading to the beach. The beach is about 5 km long and curves in a wide area providing a good view of Kannur on the north. Local laws allow beachgoers to drive for a full 4 km directly on the sands of the beach. The beach is bordered by black rocks, which also protect it from the stronger currents of the ocean. There is a private island, which can be reached by walk at times of low tide that is located 100 meters from the beach.
Shankumugham Beach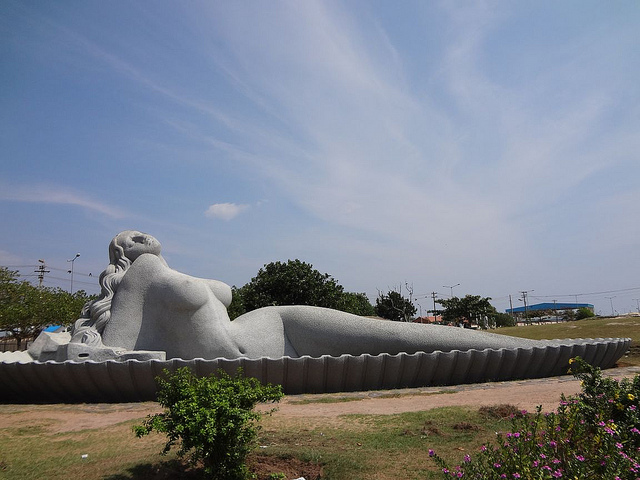 Image by Anulal via Flickr
Shankumugham Beach is around eight kms from Thiruvanathapuram, and is famous for matsya kanyaka – the mermaid statue and a restaurant shaped like a starfish. This beach is a favourite haunt of sunset watchers. The beach is adjacent to the thiruvananthapuram airport and veli tourist village. An indoor recreation club and the beach the major attractions here.
Varkala Beach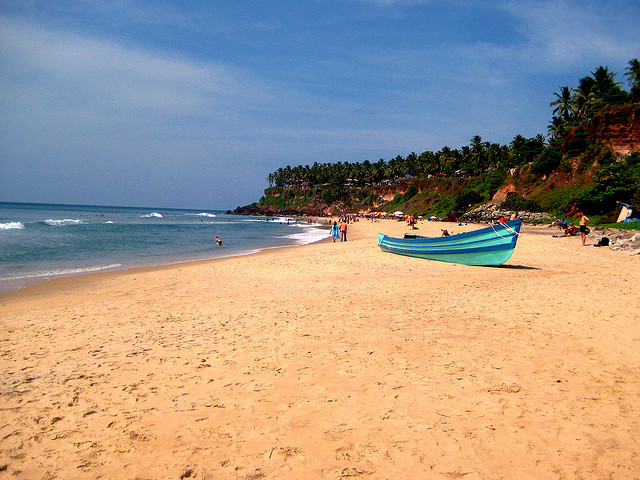 Image by Turntable via Flickr
When the neighboring Kovalam beach got taken over by bulldozers and chain resorts, the surfers drifted over to Varkala. The long stretch of sand is flanked by rocky cliffs which is lined by an assortment of shacks (local cafes) serving plates of beer and fish cuisine in non-air conditioned huts.
If you're looking for laid back beaches s and are fed up with the crowds and prices in places like Kovalam, then its well worth checking out Varkala. The resort area lies along two cliffs, north and south, overlooking the beach areas. The main Papanasam beach is between these, while less crowded Black Beach is to the north. This entire area is easily accessible by walking the fine sidewalk along the cliff edges. Main Tourist Attractions in Varkala are Sivagiri Mutt which was founded Sree Narayana Guru, Janardhana Swamy temple, coir processing centers and Anjengo and its British Fort.
Cherai Beach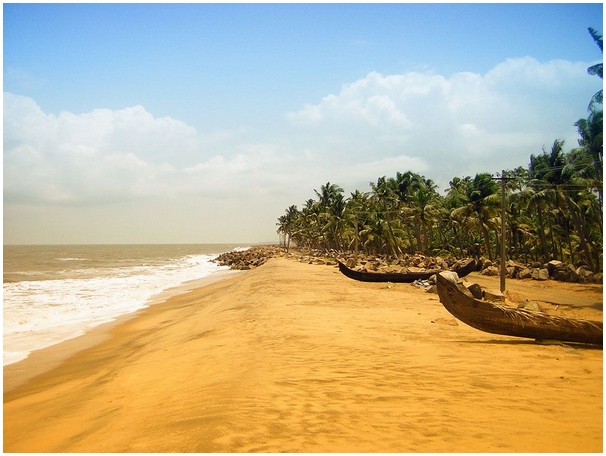 45 kms from Ernakulam city, this lovely beach bordering Vypeen island is ideal for swimming.Beach is stone walled to avoid any high currents entering the roads and civilian areas and the road runs parallel to the beach with resorts on the non beach side of the road. Dolphins are occasionally seen here. A typical kerala village with paddy fields and coconut groves nearby is an added attraction. Portuguese Fort, Pallipuram Church and Munambam Beach are the main attractions in Cherai.
Nattika Beach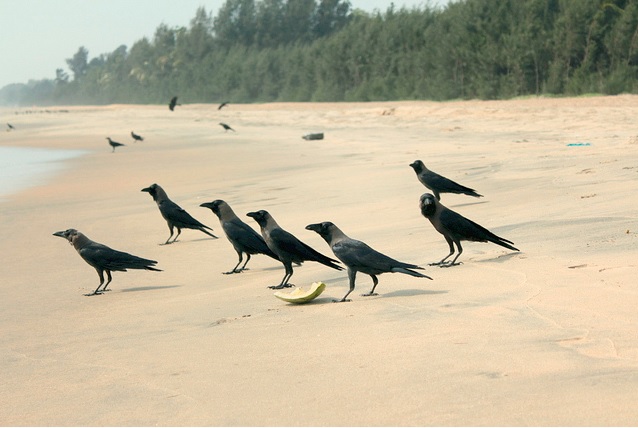 Image by IKB Images via Flickr
Nattika is located at a distance of 30 KM from Thrissur. Attractions in Nattika include backwater cruises, country boat rides, elephant rides, cultural performances in addition to the beach.
Andhakaranazhi Beach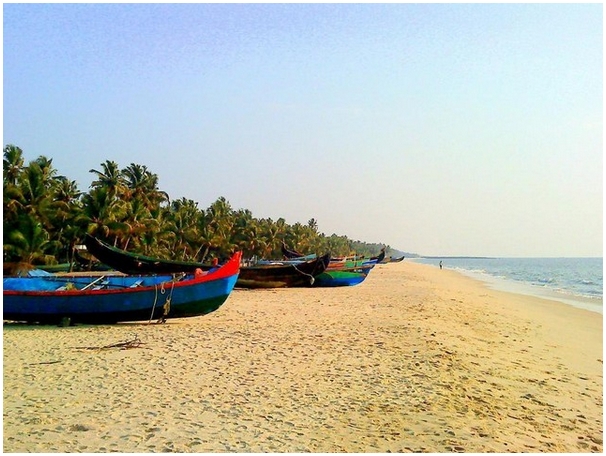 Andhakaranazhi is located at Alleppey near Ezhupunna and is a serene and calm beach npt frequented by tourists. It is one of the most beautiful and pristine beaches near Alleppey and is located at a distance of 30 kilometers from Kochi. There is a beautiful light house near the beach along with a Tsunami shelter. If you want to enjoy Andhakaranazhi Beach, you can try out our Kerala Village Tour package that combines the beach, backwaters and life in a Kerala Village.
Neendakara Beach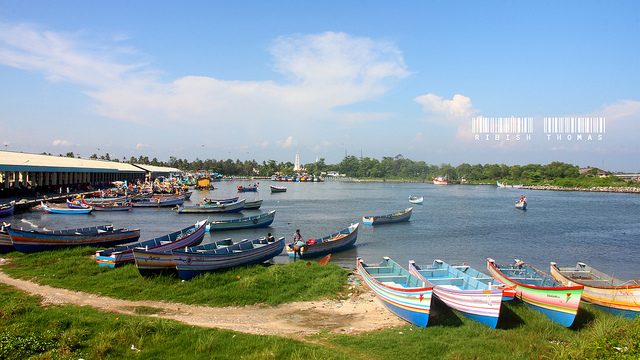 Image by Ribish via Flickr
Neendakara Beach in Kollam is a prominent fishing harbour located in Kollam. The view of the Ashtamudi Lake merging in to the Arabian sea from the Neendakara Bridge is memorable and the this is another place other than Kochi where you can see the Chinese fishing nets silhouetted against the sky.
Kerala is not short of beaches. Kerala in fact is well known all over the world for its beaches and vast coconut groves. Pristine beaches at secluded locations, laid back beaches where you can enjoy sunset reading a book in a hammock or party beaches where you can part all night in a shack.There are beaches for couples in Kerala where you can wrap up each other in Love, the beaches suitable for archetypal vacation for couples: the beach getaway. Nothing says romance like warm weather, hammocks strung between palm trees and cocktails with umbrellas in them. Airy villas, starry nights and private plunge pools will make your holidays more enjoyable
Kerala gives us the realization that finding gorgeous beaches and tropical landscapes where you can truly be alone is still doable. There are three types of accommodation near beaches in Kerala: family-run inns, large resorts and historic cottages facing beaches. For entertainment outside the pace you are staying consider getting a genuine Ayurveda treatment in one of the spas, enjoying some spicy fish pollichathu in one of the beach side shacks, or surfing in the calm waters in some of the beaches like Varkala. Most of the popular Kerala beaches have open-air beachfront restaurants, which serves an eclectic mix of food in Kerala , plus an ever-changing menu of fresh local fish. For something more intimate, book a table at one of the high end resorts.