Kannur is an attractive coastal town in Kerala renowned for its traditional temples and monuments, and also for its excellent beaches, which are perfect for sunbathing and swimming and some of the best resorts in Kannur are the best resorts in Kerala. These beaches are located within easy reach of the resorts in Kannur, which offer comfortable accommodation options. Most people choose to stay at these resort hotels because they are close to the beach and because they are convenient for visiting nearby places such as Ulliyeri.
Kannur has been an influential seaport since ancient times. Its importance in the spice trade has been immortalized by Marco Polo who named Kannur the 'Great Emporium of Spice Trade'. The city is home to a number of forts, beaches, and temples with wildlife sanctuaries that attract a lot of visitors every year.
ALSO SEE- Top 10 Best Resorts in Kerala 
Kannur has a great collection of resorts that offer delicious Kerala cuisine, relaxing stay, and refreshing spa services. We have compiled a list of the best resorts in Kannur for your next vacation in Kerala.
1. Woodgreens Heritage Resort
Woodgreens Heritage Resort is one of the best resorts in Kannur in terms of luxury, they are offering a serene retreat for those seeking an escape from the hustle and bustle of modern life. Located just outside the bustling city center, this boutique hotel enjoys a peaceful setting close to the beach, surrounded by lush tropical gardens. Guests can relax in one of the spacious rooms, take advantage of the spa facilities, and indulge in a range of delicious dishes served in the elegant restaurant.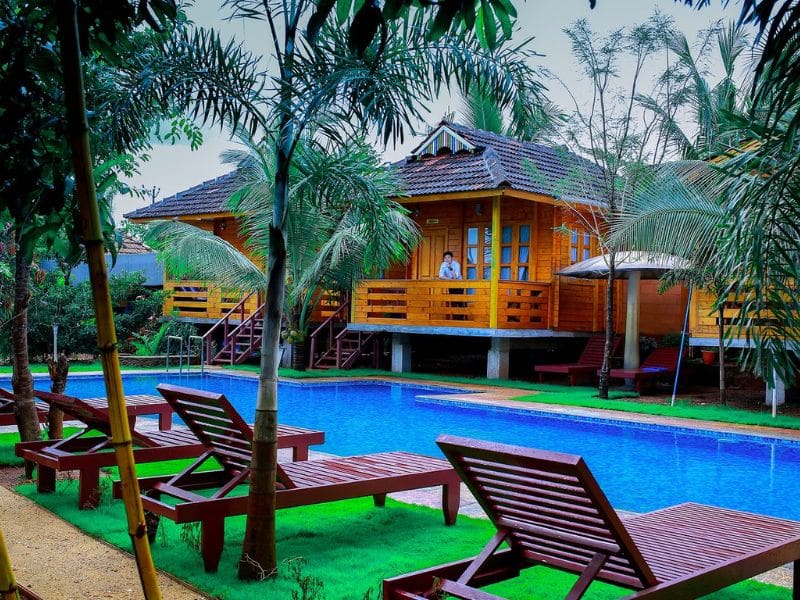 What to Know
The resort has a variety of accommodations available to suit your needs. Choose from the Tree-top Cottages, Ayurvedic Villas, and Wellness Suites.
You get access to Ayurveda treatments and wellness sessions.
The resort is 1 hour away from the Kannur International Airport
You can get car rentals from the resort itself.
What we Love
Tree houses nestled 20-90 feet above the ground
Traditional Kerala suites facing the lake with a balcony
Relaxing Ayurveda treatment from expert doctors
Beautiful garden and a play area for children
Not Interested to visit  Kannur? Check the Top 33 Best Places to Visit in Kerala (Updated)
2. Asokam Beach Resort
Located on Payyambalam beach, Asokam Beach Resort is a tourist favorite. This resort's relaxing sound of coastal waves and clean air is an ideal escape from hectic and demanding lifestyles. Not only is the resort great for relaxing, sunbathing, beach activities, Ayuverdic spa treatments, romantic getaways, group celebrations, and wonderful family experiences, but it is also ideal for revitalizing the body, mind, and spirit.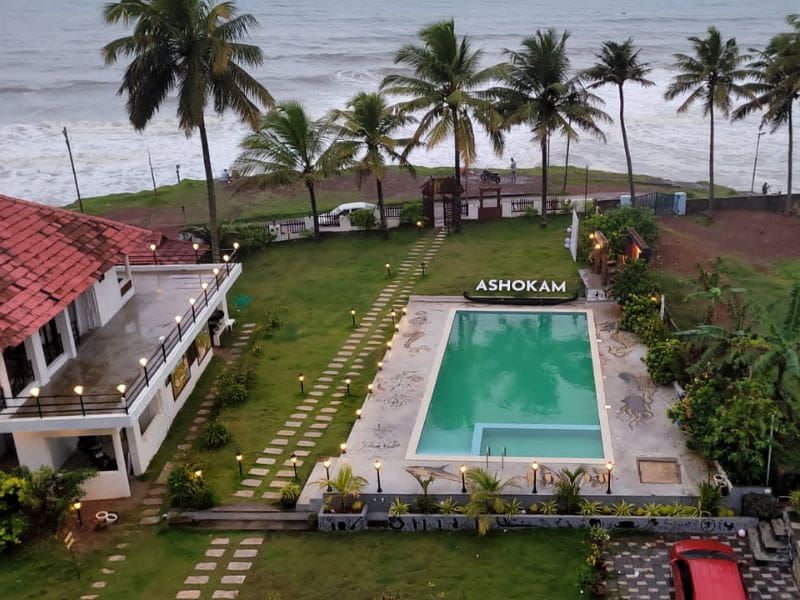 What to Know
The resort is just 5 meters from the beach
There is a multicuisine in-house restaurant that serves Indian, Chinese and Continental dishes
The resort is 1 hour away from the Kannur International Airport
What we Love
Beachfront Resort
Ayurveda treatments
Swimming pool
Chauffeur-driven sightseeing tour
ALSO SEE- Top 10 Best Beach Resorts in Kerala 
3. White Shell Beach Resort
Escape to the luxury of comfort with a stay at White Shell beach resort for an experience to remember with its Private Beach. The Resort arranges cultural and commercial events such as Thayyem festivals and ayurvedic treatments for guests to enjoy a fantastic break and unwind. The staff's warm and professional demeanor makes travelers feel more at ease throughout their stay, and the food served at the campfire is a hit with every guest.
What to Know
This resort also boasts of a library, which is quite well-equipped
Pets are not allowed on the property
The resort is close to a lot of tourist attractions in the city
The resort is 1 hour away from the Kannur International Airport
What we Love
Private beach
In-house library
Ayurvedic treatment and Spa services
ALSO SEE – Best time to visit Kerala
4. Club 7 Beach Resort
Club 7 resort in Kannur provides a cozy seaside stay on a virgin beach in a quiet zone to assist you to rest in the most delightful and calming environment. The facility offers its visitors an in-house restaurant, a playground, and a common lounge. This Kannur Beach resort offers accommodations with a private beach area, a garden, and a seating area. This resort is well-known for its first-rate hospitality and for providing a breathtaking experience and a rejuvenating escape.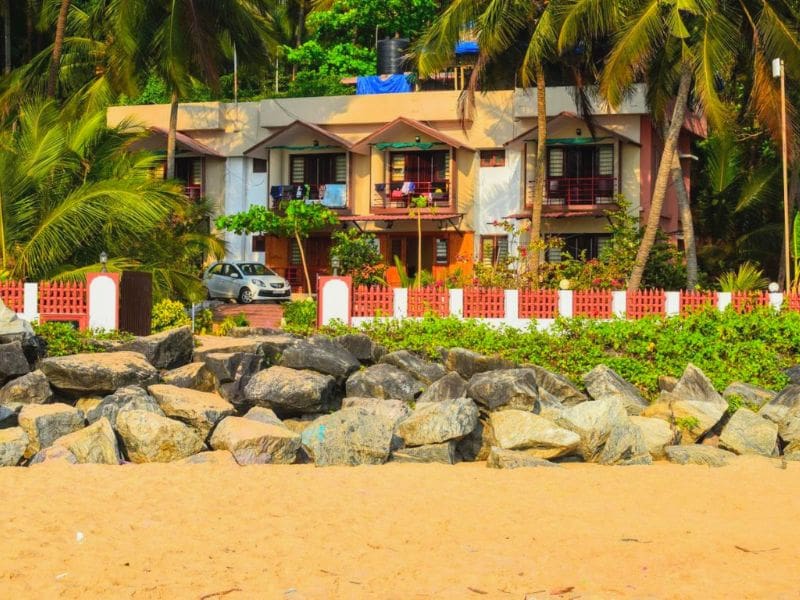 What to Know
It is one of the most preferred resorts in Kannur
The resort is 1 hour away from the Kannur International Airport
The resort offers pick-up and drop-off services to the airport and railway station
What we Love
Private beach
Sea-view rooms
Bathtubs
5. Meenkunnu Beach House by Village Resorts
This resort redefines comfort and provides a delightful stay at a reasonable price with large and well-maintained rooms that make the visitors' stay joyful. Guests may relax and refresh themselves by participating in recreational activities such as yoga, country boat rides, jungle excursions, ayurvedic rejuvenation, and bird-viewing ornithology. Meenkunnu Beach House by Village Resorts is a beachfront property in Kannur with a garden and free WiFi. This facility offers room service as well as a playground for visitors. Some of the hotel's rooms include balconies with sea views.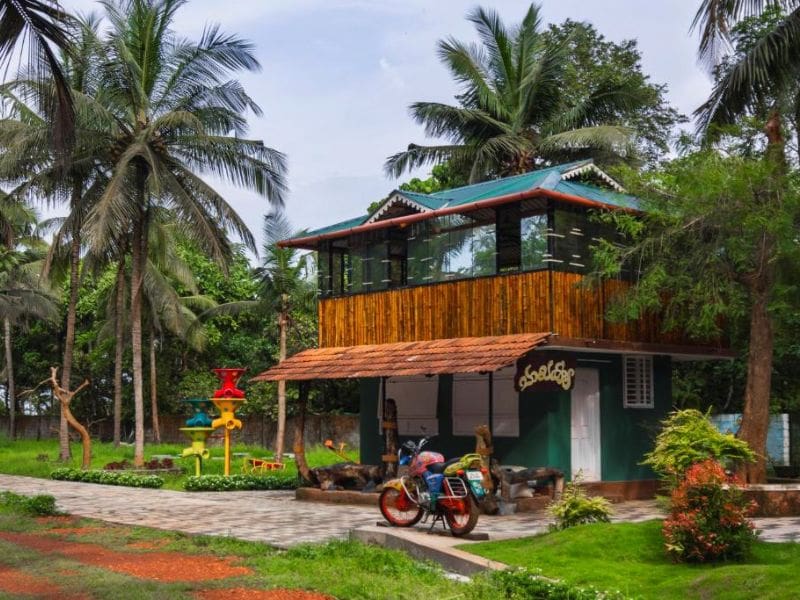 What to Know
The resort serves Malabar, Indian, and Continental cuisines
The resort is close to the beaches
The resort is 1 hour away from the Kannur International Airport
What we Love
Boat rides
Bird watching
Walking tours
6. Mascot Beach Resort
Mascot Beach Resort is situated on a cliff overlooking the amazing Great Arabian Sea, in the heart of Malabar's historic legacy. The resort, located less than a kilometer from Kannur city, provides a peaceful respite from the city's action-packed days with a magnificent atmosphere.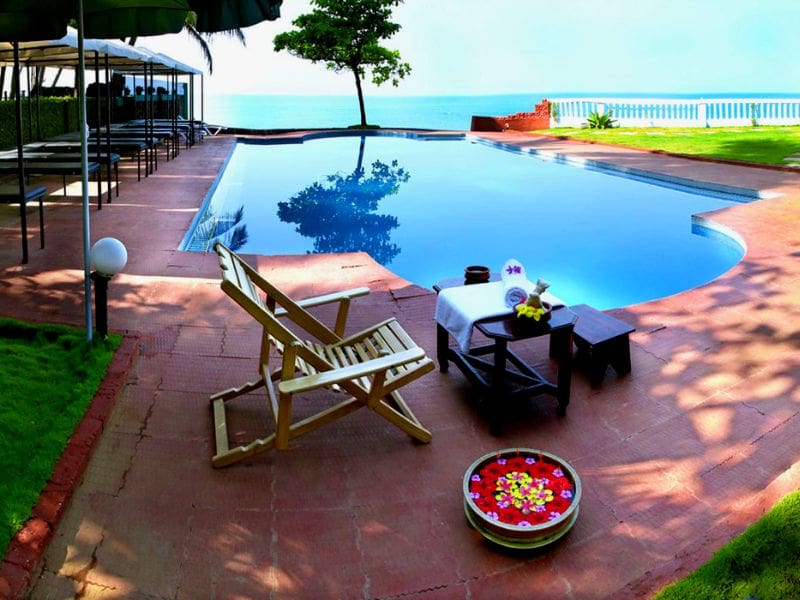 What to Know
The resort offers Malabar, Continental, and Indian delicacies
The resort is close to a number of popular tourist attractions in Kannur
The resort is 1 hour away from the Kannur International Airport
What we Love
Swimming pool
Nature trail
Outdoor activities
Beach bonfire
ALSO SEE – Best Spices of Kerala to buy
Kannur district is surrounded by natural beauty, with the Western Ghats to the east and the Lakshadweep Sea to the west. Do not forget your sunscreen as you come for holiday to Kannur. The beach resorts are the best way to take your beach vacation to the next level. Whether you want to practice yoga, take a walk on the beach, or explore the city and its historical monuments and temples, your beach resort will serve as the base camp for your vacation.