Marari and Alleppey are the two prized possessions of Kerala when it comes to talking about its expansive shorelines. If you are looking to hit the sun and sand, the beaches near Alleppey are the perfect match.  Beaches in Kerala Alleppey are gorgeous with a wide variety ranging from crowded Alleppey Beach Kerala to barely visited Marari Beach Kerala. Considered to be two of the best beaches in Kerala, both these coastal beauties exhibit a charm of their own that lures in beach bums and adventure seekers here from all over the country.
Marari Beach Kerala and Alappuzha Beach offer scenic surroundings that are perfect for lazy days in the sun. These beaches near Alleppey are the perfect getaway for families looking to spend fun time outdoors as well as couples looking to take a break from their mundane life. And while both of them are equally beautiful and exciting, there are many things still that make them different and visit-worthy at the same time. Thus, we have compiled a detailed Marari or Alleppey Beach comparison to help you figure out which of these beaches you can visit on your vacation in case you are in Kerala for a limited number of days. Read on!
Marari or Alleppey Beach: Which One To Visit?
Scroll down to know whether you should be heading to Marari Beach or Alleppey Beach during your holiday based on your preferences and trip type. We have compared both these beaches on various factors like location, how to get there, places to see around, things to do there, and more to help you plan your itinerary accordingly.
ALSO SEE – Top 15 Best Beaches in Kerala you should visit on your holiday
Which Beach – Quietness of Marari Village or the City Beach in Alleppey
The name 'Marari' is short for Mararikulam, which is a small and sleepy village fishing village nestled on this coast. Located in the Alappuzha district of Kerala, the beautiful Marari Beach is still far from commercialization and is thus still enveloped in peace, serenity, and untouched natural beauty. The softly swaying coconut palms and empty golden sands of this beach are perfect companions for your 'me-time far away from the hustle and bustle of city life.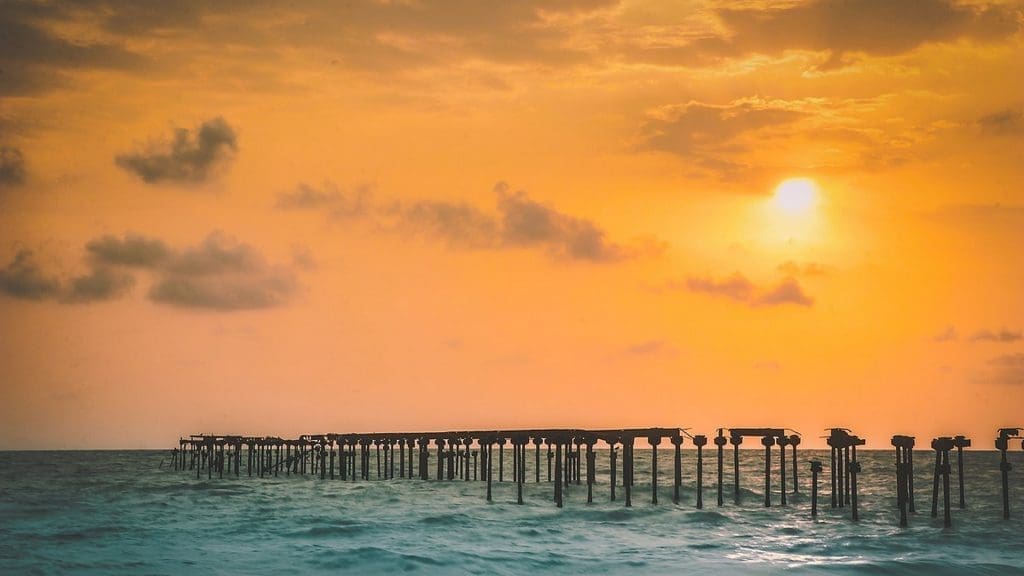 While you're here, you'd also be able to take a peek into the slow-paced local life of the fishing village located close by, and that would certainly be one of the most unusual and calming experiences of your trip. One of the main contributing factors to its undiscovered splendor is that it's located some 16 km away from the main city of Alleppey, and it takes around 24 minutes to get to it by bus or hired taxi.
ALSO SEE – Best time to visit Marari Beach
Alleppey Beach, on the other hand, is located right in the famous Alleppey city and thus tends to be crowded mostly all the time. Known for its swaying beauty and alluring charm, the scenic Alleppey beach in Kerala entices a large number of visitors who flee to Alleppey to enjoy the backwaters. Perpetually crowded, Alleppey Beach Kerala should be on your bucket list if you love bustle and adventure. Popularly known as the Venice of the East, Alappuzha Beach serves as a major landmark connecting a network of rivers merging into it as well as the Arabian Sea.
Adding more to the appeal of the Alleppey Beach, there is 137 years old pier that allows visitors to take a stroll over the playful waves and get soaked in the enchanting beauty of the Arabian Sea. Despite its popularity and crowded shores, it is among the most beautiful beaches as well as a major backwater suburb in Kerala which makes it an unmissable part of every holiday to this state.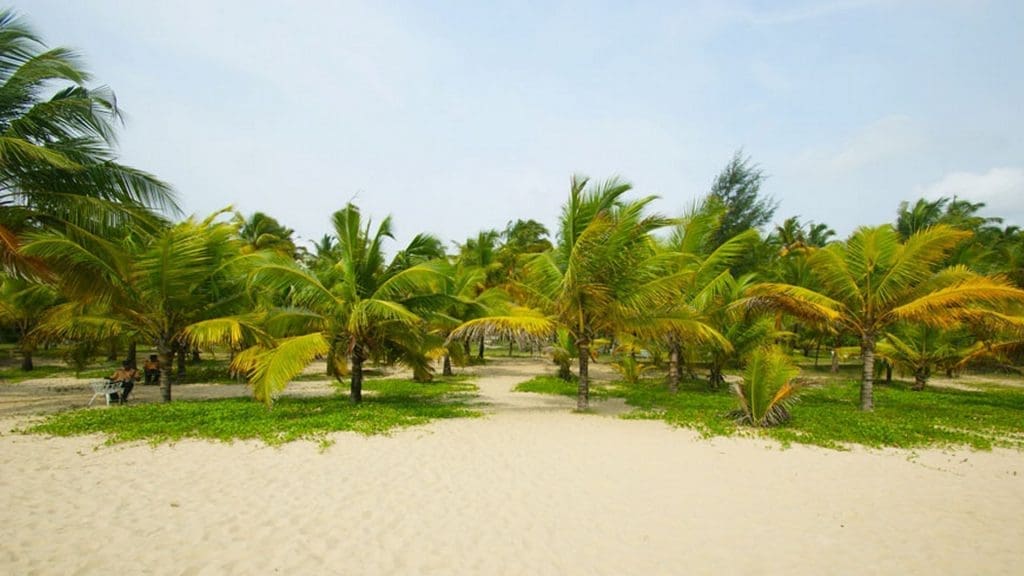 Locals and travellers love to relax here and bask in the beauty of its enormous grid of meandering rivers, serene freshwater lakes, and sparkling blue lagoons. It is also a famous spot for activities like boating, cycling, picnicking, and more. Other than this, the beach is also famous for its 140-year old lighthouse and the annual Nehru Trophy Boat Race.
ALSO SEE – Top 10 Tourist Attractions in Alleppey 
Location of Marari Beach and Alleppey Beach
Whether you choose to visit Marari Beach or Alleppey Beach, you'll need a clear idea on where they are located and how to get to them to plan your trip. So, here are some quick details to make your Marari Beach vs Alleppey Beach comparison much easier. 
Marari Beach: It is located 16 km north of the city of Alleppey and about 60 km south of Kochi. It normally takes about 24 minutes to get to Marari Beach by road.
Alleppey Beach: It is located on the coast of the town of Alleppey itself and is just 3 km (10 minutes) away from the city center.
Alleppey to Marari Beach distance is 12 km. It takes 14 minutes to cover Marari Beach distance.
While both the beaches are a splendid attraction in themselves that you mustn't miss, there also are plenty of other tourist spots around that you can explore once you've had enough of Marari's shores and Alleppey's coast. We've listed some of the most noteworthy ones here: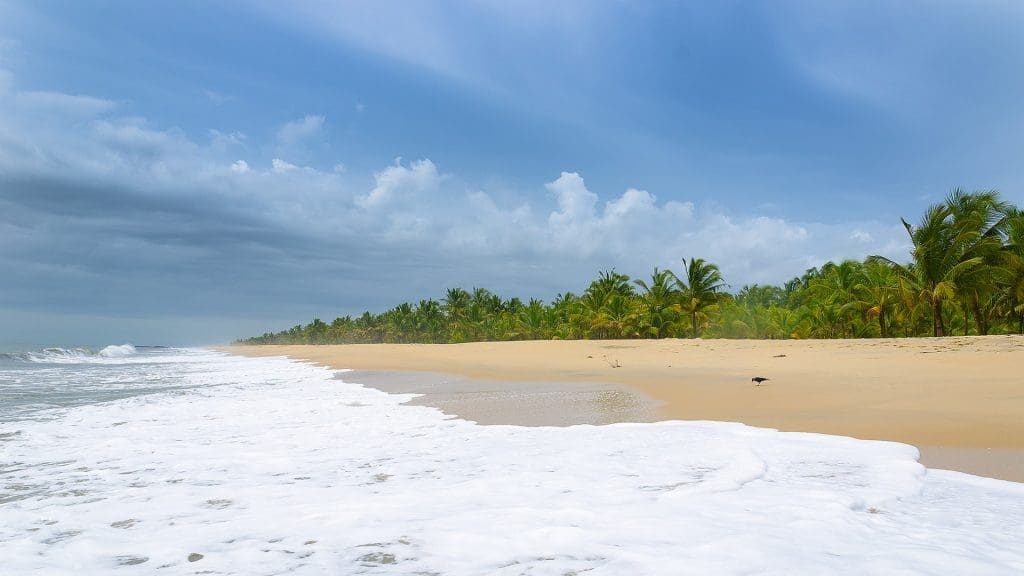 Tourist Attractions near Marari Beach and Alleppey Beach
Places To Visit Near Marari Beach
With palm trees lining the spotless silvery sand, this beach near Alleppey is a sight for sore eyes. Along with basking in the serenity and tranquility of the beach, you can take a short trip to these tourist hubs nearby.
i) Mararikulam Shiva Temple
Dedicated to Lord Shiva and Goddess Parvati, the Mararikulam Shiva Temple near Marari is quite famous for its incomparable architectural grandeur. More than its peaceful aura, it is this fascinating architecture of the temple that attracts people here.  This age-old temple in Alappuzha Kerala is a place where wishes turn into reality. Near the temple is the beautiful Thumpoly Beach which serves as a natural habitat for various species of birds and a haven for birdwatchers and photographers.
ii) St. Thomas Church
St Thomas Church was built long ago by the Christian community living in Kerala. Dedicated to the holy virgin Mary, it's among the most famous pilgrim centers ever created in Kerala. Another awesome attraction around Marari Beach is the Kokkamangalam Apostle St. Thomas Pilgrim Centre which you must check out after church.
iii) The Dutch Palace
Built-up by the Portuguese in the year 1555, this beautiful palace is located at Mattancherry. This palace near Marari Beach of Kerala Alleppey known for its fascinating collection of Mural paintings was used by the rulers of Kochi as their Royal House. It is known for its spellbinding decoration, preserved artifacts of early periods, and wooden ceilings. All these paintings highlight the view from the Hindu epic Ramayana.
Places To Visit Near Alleppey Beach
Hallowed with nature's green beauty and scenery, Alleppey beach is the wonderland of Kerala state. This beach near Alleppey has always savored an unparalleled space in the marine history of Kerala. The Alappuzha Beach too has plenty of attractions nearby that you can explore while you're there.
i) Krishnapuram Palace
Situated in Kayamkulam very close to the Alappuzha Beach, this palace is a magnificent blend of history and intriguing architecture. You'll surely be awestruck by its skillfully designed gabled roofs, long narrow corridors, and pretty dormer windows. There's also a museum inside the palace premises where you'll find a number of beautiful paintings, bronze statues, as well as antique carvings. Krishnapuram Palace situated in Alappuzha Kerala is home to India's largest mural painting.
ii) Vijaya Beach Park
The renowned Vijaya Beach Park happens to be the perfect picnic spot for your family outing or date. It's popular mainly for its boating facility and its children's park which has a swimming pool for kids. Situated in the heart of Alleppey Kerala, Vijaya Beach Park is also popular for hosting cultural events and concerts. Enveloped in natural environs, it's a great place to spend the day with loved ones.
iii) Pathiramanal Island
Situated on the backwaters of Kerala Alleppey, Pathiramanal is one of the best-kept secrets of God's Own Country. This is a tiny yet stunning island that lies smack in the middle of Kumarakom and Thanneermukkom on the backwaters. Boasting a lovely landscape, it's definitely worth a visit for those who choose to explore Alleppey Beach. That's not all! It also lures in bird photographers every year with all those thousands of rare migratory birds that fly to this place from around the world.
Things to do near Marari Beach and Alleppey Beach
This Marari Beach vs Alleppey Beach comparison stands incomplete if we don't mention all the exciting things you can do here to craft lifelong memories with your travel companions. That's right! In addition to many surreal places to explore nearby, these beaches also have in store many wonderful activities and experiences for you to be a part of. Let's check them out!
Things To Do At Marari Beach
Marari beach is a peaceful place in Kerala where you can relax and rejuvenate yourself. If you are looking for serenity on beaches near Alleppey, then do visit here. While it may seem there's not much to do at Marari Beach owing to the fact that it hasn't been commercialized yet, you'll still be able to find plenty of relaxing and rejuvenating experiences to take that break you've been craving for.
i) Ayurvedic Massage And Spa
Marari Beach may not have a lot of facilities for tourists since it isn't a tourist beach, but there are some things it does better than any other beach in Kerala. People normally come to this beach to relax and indulge in some of its traditional Ayurvedic massages and spa treatment. Kerala is anyway world-famous for its Ayurvedic remedies and therapies. Located in close proximity to Alapuzzha Kerala, there are a host of exciting things to do in Marari Beach for fun. 
ii) A Tour Of The Local Village Life
You can observe the local Marari village life and its slow pace of life that will make you feel like you've gone back in time! Cycle around the village and get to know the local people. Watch fishermen catch fish and buy fresh fish from them for a delicious dinner. You'll get to learn a lot about the local Keralite culture this way.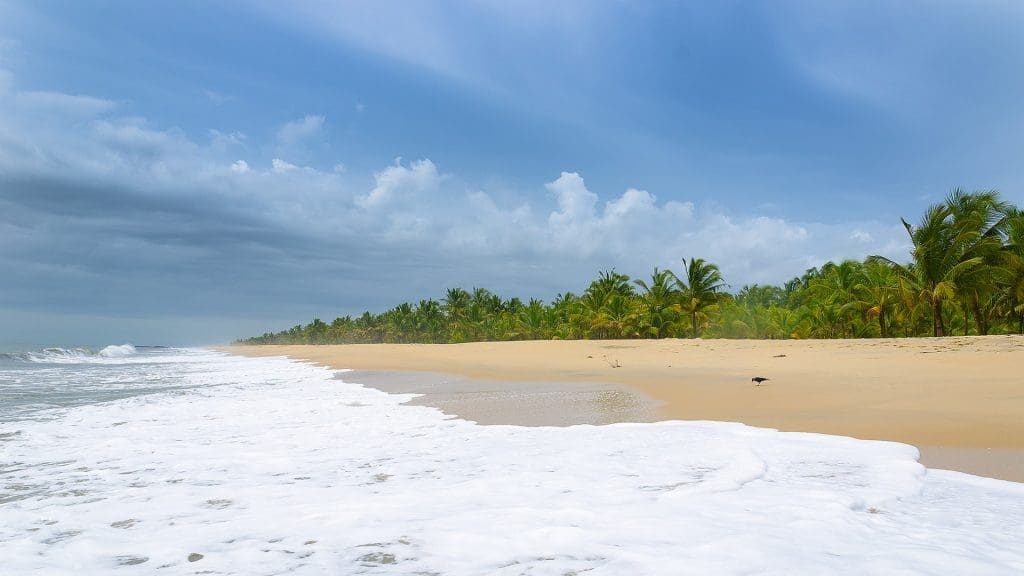 iii) Deep Sea Fishing
You can either stay on the beach and observe the fishermen throw nets in the water like we mentioned above, or you can go ahead and join them in the act! That's true. Talk to the local fishermen and they may as well give you a ride on their boats if they find it safe. There won't be a better cultural experience for you than riding out to sea and hauling long nets into the water to feel the rush of excitement associated with waiting for and catching fish.
Note: If you visit Marari in August, you may be able to witness a Snake Boat Race!
Things To Do At Alleppey Beach
Since it's a popular beach, there are plenty of things for tourists to enjoy and get entertained with here. And no, we are not talking about a backwater experience here. A cruise on the serene waters of Alleppey Beach is the perfect way to explore the Kerala countryside. Let us tell you about some of the lesser-known yet equally thrilling things you can do on Alappuzha Beach.
i) Water Sports
You can indulge in plenty of water adventures like surfing, swimming, parasailing, and even boat races on the beach as well as the emerald backwaters. Aqua-sport equipment and gear is available on the beachside shacks and stalls at nominal rates. You can also come to this beach during the Onam Festival and see or take part in the popular Snake Boat Races held here.
ii) Leisure Activities
After exploring Alleppey Beach, you may enjoy some thrilling activities on emerald backwaters. Other than water sports, there is a vast range of activities you can try out on this beach if you're not the sporty kind. Play volleyball, shop for coir products and marine articles, indulge in an Ayurvedic massage or enroll in fun yoga and meditation sessions at any of the centers near the beach. Holidaying on the beaches of Kerala and that too Alappuzha Beach is great fun for anyone.
iii) Sampling Seafood
The restaurants and beach shacks lining the beach are rather popular for their yummy seafood along with splendid views of the scenic river and seafront. You can head to outlets like the 'KreamKorner' and savor everything from freshly caught seafood to North Indian cuisine including tandoori dishes. Don't forget to try the popular Alleppey Fish Curry near the beach.
Places To Stay in Alleppey Beach and Marari Beach
The next thing we're going to talk about in this Marari Beach vs Alleppey Beach comparison is accommodation. Both Marari and Alleppey have surplus stay options near these two respective beaches in the form of hotels, resorts, homestays, guest houses, and whatnot. We've mentioned two accommodation options, one budget and one luxury, in each of these towns to help you choose accommodation as per your budget and in close proximity to the beach.
ALSO SEE – Best Beaches Near Kochi
Places To Stay Near Marari Beach
Marari Beach Kerala has excellent accommodations available including resorts and homestays. Here are two of the best accommodation options near Marari Beach in Kerala.
i) Marari Beach Resort
This amazing luxury resort is tucked right on the Marari coast and is a favorite of travelers. It is one of the best beach resorts in Kerala and its beauty is amplified by the presence of local fishing villages nearby that add a scenic and cultural touch to the whole experience of staying here. The USP of this resort, other than its location on one of the most serene and untouched coastlines of Kerala, is its Ayurveda treatments and yoga sessions. This resort in Kerala Alleppey offers everything you need for a perfect holiday under one roof. The sprawling luxury property adorned with coconut groves and lotus ponds truly capture the very heart and soul of Marari!
Location: Marari Beach P.O, S.L.Puram, Mararikulam, Kerala 688549
ii) Marari Nest Beach Homestay
This elegant homestay is located just a few steps away from the beach of Marari. Enveloped in lush greenery, this attractive family-owned abode offers visitors the rare chance to experience the hospitality and home-cooked cuisine of Kerala.
This fine property has three independent and clean rooms with an adjacent bathroom as well as a small terrace to give you sweeping views of the beach and surrounding greenery. It'll surely be a memorable experience for you and your loved ones to have candlelit meals on a table raised under palm trees!
Location: Alappuzha District, Mararikulam, Kerala 688523
Places To Stay Near Alleppey Beach
There are plenty of excellent stay options near the beach of Alleppey as well as its backwaters. You'll find everything from luxury resorts to budget hotels to stay in.
i) Haven Alleppey Beach Villa
This spacious and elegant villa truly is a haven for travellers.  For travellers visiting Alapuzzha Kerala, Haven Beach Villa is the perfect choice for rest and relaxation. It's an excellent abode to rest and bask in the natural and unspoiled beauty of Kerala's Marari Beach.
Along with normal services like free WiFi, complimentary breakfast, 24-hour front desk, 24-hour check-in, and fully furnished rooms with bathrooms, this luxurious villa also offers plenty of lavish facilities like a jacuzzi, pool, and gaming zone. It's also close to various attractions like the backwaters, Handloom Showroom, Cottage Art Expo, and the Alleppey Coir Museum. However, the main attraction of this place is its close proximity to the beach, which is a mere 50 meters away from here!
Location: Alappuzha Bypass Rd, Padinjare Kurisadi, Kanjiramchira, Alappuzha, Kerala 688007
ii) Baywatch Beach Resort
It may not be as expansive and luxurious as your typical beach resort, but it still is among the best beach resorts in Alleppey. It's an adorable, clean, and green property set alongside the main beach in Alleppey. They have 4 deluxe double and 2 standard double rooms with air conditioning, attached washrooms, and a patio. After you wake up to the soothing sounds of chirping birds and splendid views of crashing waves every morning, they treat you to a complimentary continental and South Indian breakfast.
There is also a large open lawn with swings and hammocks for you to relax on and read books. The property is just 1.5 km away from the railway station and 85 km away from the Kochi airport.
Location: Sea View Ward, Alappuzha, Kerala 688012
How To Reach Marari Beach and Alleppey Beach
In order to decide whether you should visit Marari Beach or Alleppey Beach, it is important to know how to reach both these places. Comparing the transport costs will make your Marari Beach vs Alleppey Beach analysis easier and help you figure out which of these will be a more economical choice for you Marari or Alleppey, in case you're visiting one of these destinations and not both.
How To Reach Marari Beach
By Air: Kochi airport is the nearest airport to Marari. You can take a flight to Kochi from any major city in India like Delhi, Mumbai, Kolkata, Chennai, and Bangalore. From the airport, you can hail a taxi to get to your hotel or the beach straight away.
By Rail: Alleppey, Kottayam, and Kochi have the nearest railway stations to Marari, with Alleppey being the nearest one at 16 km. You can take a train to these stations from almost any major Indian city like Delhi, Mumbai, Kolkata, Chennai, and Bangalore. From the train station, you can take a cab to get to your hotel or the beach.
By Road: Lined with playful coconut groves, Marari Beach Kerala is located on Alleppey -Cochin Highway or NH-47 and can be reached easily by road. You can drive to Marari from any city in Kerala (or from anywhere in all of South India if you're feeling that adventurous!) thanks to the smooth and well-maintained road network. You can also hire a car from the Kochi airport once you land and drive to Marari. You can reach Marari via the NH 47 which is just a kilometer away from Marari village. Alleppey to Marari beach distance is 16 KM and Marari to cochin distance is 44 KM which you can complete in 1 hour.
ALSO SEE –  75 best things to do in Kerala in 2020 (with Photos)
How To Reach Alleppey Beach
By Air: Kochi airport is the nearest airport to Alleppey as well. You'll find frequent flights to Kochi from all major Indian cities like Delhi, Mumbai, Kolkata, Chennai, and Bangalore. From the airport, you can hail a taxi to get to your hotel or the beach straight away.
By Rail: Alleppey Kerala has its own railway station that also serves as the best ground to reach Alleppey Beach by train. Alappuzha Railway Station located within the city limits is just a kilometer away from the beach, and one train away from all major Indian cities like Delhi, Mumbai, Kolkata, Chennai, and Bangalore. The next nearest railhead is at Ernakulam in Kochi, located about 60 km away.
By Road: Located on the fringes of Alappuzha Kerala town, visitors can reach the Alleppey beach without much effort. Just like Marari, you can also drive to Alleppey from any city in Kerala (or from anywhere in all of South India for that matter) courtesy the smooth and well-maintained road network here. You can also take a bus to Alleppey if you wish to save money on transport. KSRTC runs regular AC buses to and fro Alleppey and other cities in Kerala. In fact, Alleppey Beach has one KSRTC Bus Stand just 4.5 km away from it.
Best Time To Visit Marari Beach and Alleppey Beach
The Alappuzha Beach and Marari Beach Kerala are a jumble of wonderful experiences which when placed together achieve chaotic harmony. It blends relentless energy with a liberal dose of great weather-particularly in winter. The weather is pretty much the same in both these places. The weather is pretty much the same in both these places. Whether you're visiting Marari Beach or Alleppey Beach, the best time to visit them is between December and March.
The weather is the most pleasant during this time and suitable for hanging out on the beach, engaging in water activities, sailing on the backwaters, and sightseeing. The average temperature during these ranges between 24°C to 36°C accompanied by dry winds.
We do hope our Marari Beach vs Alleppey Beach comparison helps you out in some way or the other. So, now that you know so much more about these two awesome beaches than you did before, when will you be planning your vacation to Kerala? Browse our range of top-selling Kerala holiday packages for endless memorable experiences in God's Own Country. Happy Tripping!
Plan your trip to Kerala with Iris Holidays and do check out the serene and beautiful beaches in Alleppey Kerala.
Frequently Asked Questions About Marari Beach Vs Alleppey Beach
How far is Marari Beach from Alleppey?
Marari Beach is approximately 11 km away from Alleppey.
How can I go to Marari Beach from Bangalore?
The fastest and most convenient way to reach Marari from Bangalore is to take a flight from Bangalore to Kochi airport, and then a taxi or bus to Marari. You can also take a state-run or private tourist bus from Bangalore to Marari (or Alleppey, if one to Marari isn't available), which is a more economical yet time consuming option.
Are Kerala beaches clean?
Yes, Kerala beaches are exceptionally clean and well-maintained. However, it is also the traveler's responsibility to ensure these beaches stay just as clean and beautiful. So, make sure you do not litter or damage the environment in any way wherever you go.
Is it safe to swim at Marari Beach?
Swimming is dangerous at Marari Beach owing to the rough waves and unpredictable tides in this part of the ocean. It has, thus, been discouraged by the local authorities to tread deep into the waters of Marari.