Goa and Kerala are the top destinations of India among travelers and each of these popular tourist destinations has been alluring tourists with its own charm. Kerala or Goa is a popular dilemma for all holiday seekers in India.
It is certainly confusing for anybody to decide which of Goa or Kerala would be the right choice without any prior experience of a holiday or without deep research. Here are some interesting facts about the Party Capital known as "Goa" and God's Own Country known as "Kerala". Facts that will help you decide your next holiday destination between Goa or Kerala!
Go through the article to make your choice as per your desire of enjoying a perfect holiday in India. Or, you can just visit both the places! It just depends on your interests and budget.
Here's what to expect from these captivating states and how to decide whether to visit Goa or Kerala first.
Goa or Kerala- Choice between Parties & Nightlife or a laid back vacation
Situated on the west coast of India, Goa is known to be the Party Capital for vibrant nightlife. Goa is the heart of party lovers in India. It is as if life starts in Goa after the sunsets in the evening. The music, thousands of bars, dizzy neon lights, and great food are part of Goa. Goa offers all kinds of parties to its visitors; ranging from quiet party surroundings to crazy ones. Goa is also known for its churches, beaches, cuisines, and forts; where one can feel the effect of Portugal's colonization.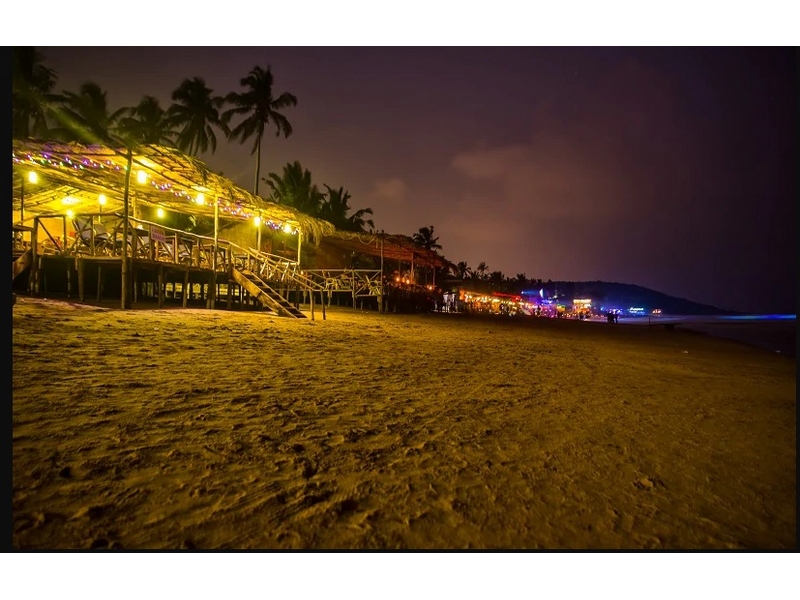 Situated in southern India, Kerala is known to be God's Own Country for its beautiful tourist destinations, rich cultural, traditional, and religious values. Kerala nightlife is not happening barring Kathakali performances. This destination is perfect for nature lovers, who just want to indulge in the beauty of nature. Kerala has a variety of places to visit which include both rural and urban destinations. The picturesque landscapes, festivals, backwaters, traditional art forms, Ayurveda, and temples are part of Kerala.
No matter if you are looking for a luxurious bar or a cost-effective one, there are many options for visitors to enjoy Kerala nightlife. Kerala nightlife is amazing and one of the things that visitors of Kerala love the most.
There are many bars that serve delicious and various types of snacks with amazing drinks. Double the enjoyment of Kerala nightlife with the party environment in the bar that is enough to convert your laziness and stress into a great mood.
Summary:  Kerala is a clear winner here with so many places to visit in addition to beaches as Goa primarily has beaches. If you love party and beaches, then you should opt for Goa.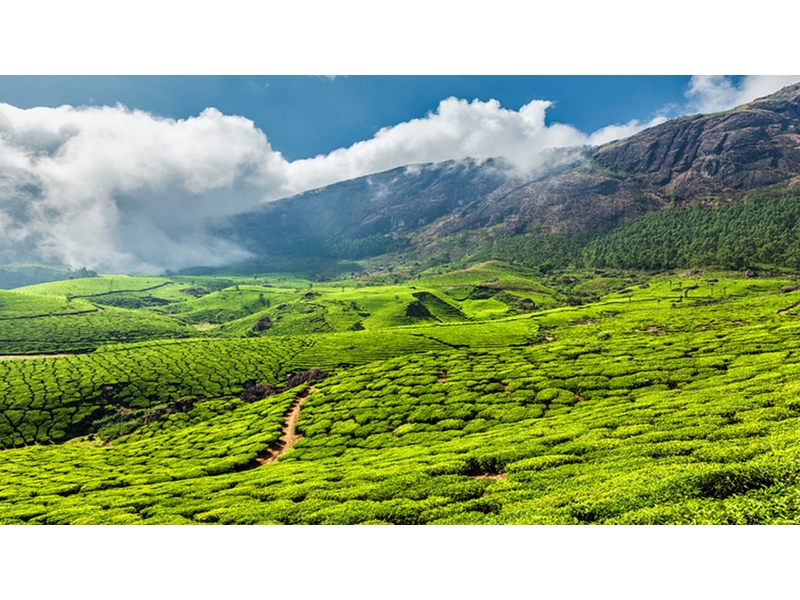 Goa Vs Kerala- Ease of Access through Airports and Transport.
Be it Goa or Kerala – Each state has different modes of transport that connect to various parts of India and other countries.
Access to both destinations is pretty easy and different modes of transportation are readily available. It just depends on the time you might take to reach a particular destination and on your preference of transportation according to your ease and comfort.
How to Reach Goa?
Goa's one and only domestic, as well as an international airport, is the Dabolim airport. The state is well connected with the major cities of India. Certain international cities like Paris, London, Dubai, and New York are connected to the state via air. Goa can be reached by the famous railway lines the "Konkan railway" and the "Southwestern railway". NH-4A, NH-17, and NH-17A are the national highways providing access to Goa.
How to Reach Kerala?
Kerala has four international airports which connect the state to the major international cities. Located in the southern part, the central part, and the northern part are Thiruvananthapuram International Airport, Kochi International Airport, and Calicut International Airport; respectively.
ALSO SEE – Airports in Kerala-Helpful guide for tourists visiting Kerala
The other mode of transportation is via road; where God's Own Country is connected with the other parts of India through national highways. Kerala is home to 200 railway connections and the major cities of India are connected to Kerala via rail.
Summary:  Kerala has more airports than Goa. However Goa gets chartered flights while Kerala does not have. Goa and Kerala  are well connected through air , train and road through other parts of India and the world 
Goa Vs Kerala- Accommodation Options including Resorts/ Hotels and Homestays
Goa is home to amazing beach villas and beach shacks. The state has all kinds of hotels and it is easy to choose as per your budget. There are luxurious resorts as well as beach huts where one can enjoy a peaceful private stay. Goa is known for its beach shack culture.
Kerala is home to numerous numbers of hotels and guest houses. The state is also home to beach villas or beach resorts. Budget-friendly hotels are available in Kerala. Luxurious, high-end hotels in Kerala are known. The unique accommodations of Kerala include treehouses of Munnar, Thekkady, Athirapilly and Waynand, and houseboats of Alleppey and Kumarakom. One can even experience a homestay to indulge with the traditional essence of Kerala.
ALSO SEE – 15 Best Treehouse Resorts in Kerala
Summary: Goa has a strong beach shack culture while Kerala has unique houseboats and tree houses in addition to beach shacks in beaches like Varkala.
Goa and Kerala – Weather and Best time to visit.
Choosing a destination depends on which time of the year you are planning your holiday. The weather of a place varies according to the month. Different months mean you get to see the different sights of a place. On the other hand, one can choose the destination according to the festivals or events that take place in a particular state.
One can experience the different flavors of Goa during different seasons. November to February is considered to be the peak season when the prices are generally high. Some amazingly awesome festivals like Goa Carnival, Christmas eve, Grape escapade, Goa Food and cultural festival, sunburn festival, and VH1 supersonic are ought to be in cards during these months. During these months, the weather is pleasant and nights are cooler. June to October is considered to be the right time for monsoon lovers when Goa's pristine beaches and lush greenery seem to have an exuberant life of its own.
These months are perfect for anybody who wants to party in the rain. The weather is hotter during the months of March, April, and May, and the humidity during the month of May makes it uncomfortable to roam around Goa. The famous religious events of Goa include Shantadurga in January, Shigmotsav (Shigmo) and Carnival in March, and Feast of St Francis Xavier in December.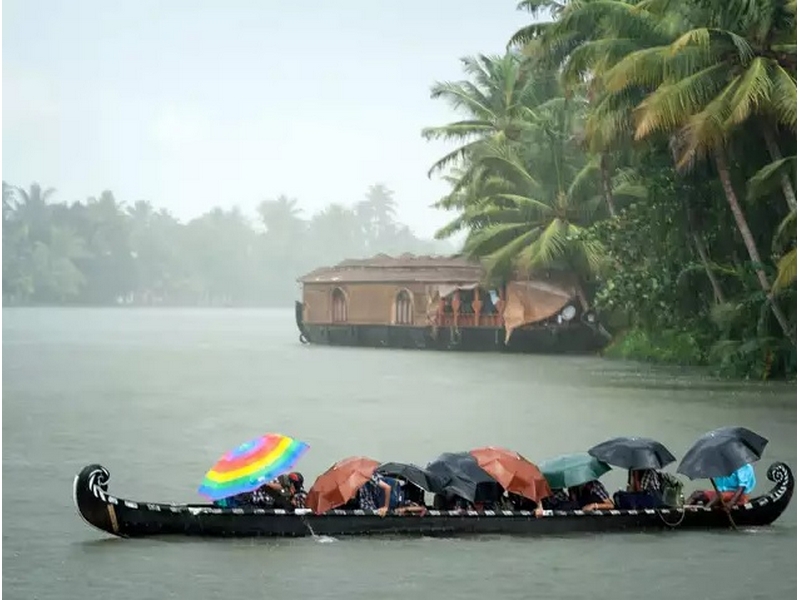 The best time to visit Kerala is from the month of September to February. September to February is the peak season in Kerala where the weather is cooler as the winter begins. The pleasant weather of this time makes it comfortable for the tourists to enjoy a lovely holiday. The moderate temperature of the coast makes it the right time to enjoy time in backwaters and beaches. The pleasant weather helps to enjoy adventurous activities like trekking in wildlife sanctuaries or hill stations.
ALSO SEE –  Best time to Visit Kerala
The state celebrates different festivals during these months which include Onam, Xmas, Muharram, Navratri,  Mahashivratri, Guruvayur, Chittoor Konganpada and The Bharani Utsavam. June to August is the time for monsoon lovers when Kerala is known for its heavy rainfall and high humidity. But this is a good time to opt for the famous traditional Ayurvedic treatment though, during monsoon, it becomes difficult to explore the state. Summer in Kerala starts from March to May, when the weather is too hot and the coasts are humid.
Summary: Goa is an ideal destination if you are a beach lover and is ideal for visit from November to February. Kerala is an all season destination and some destinations like Munnar are open all throughout the year
Goa Vs Kerala- Activities and Things to do
Goa is the ultimate beach destination where one would not only love to explore the pristine beaches but would also be excited about the various water sports available. If you are looking for the cheapest water sports in India, then Goa is the right place for you. Goa has endless beaches from North to the South and along with them come the verities of water sports and activities.
The types of water sports vary as per your interest; ranging from relaxing ones to adventurous ones. Speed boats, wakeboarding, jet skiing, parasailing, banana boats, kayaking, snorkeling, scuba diving, backwater cruise, bird watching, dolphin watching are certain activities one can enjoy in Goa. Goa is the destination for nightlife seekers; who want to party around. Goa is known for its casinos and night markets.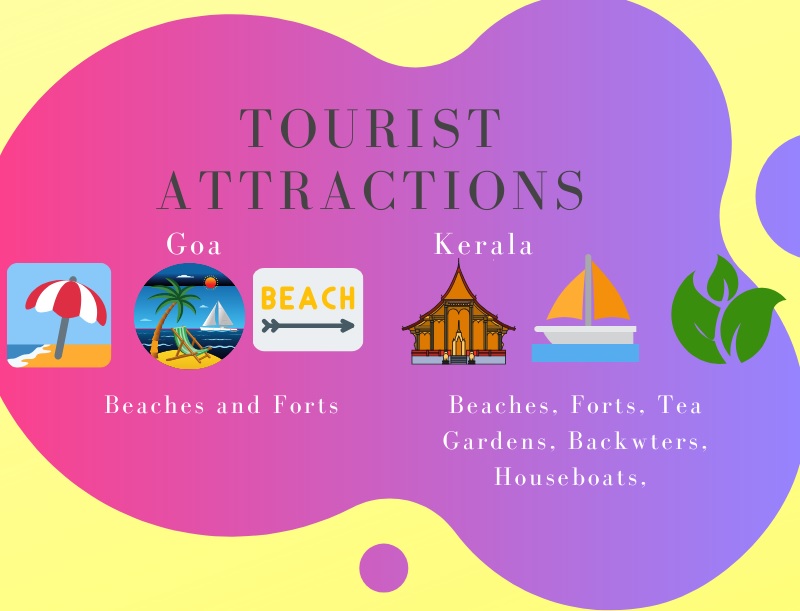 On the other hand, Kerala is famous for its backwater houseboat cruise and tea plantations in Munnar.  There are certain water sports that one can enjoy in Kerala; which include boating, kayaking, parasailing, surfing, rafting, bamboo rafting, and many more.
If you are looking for partying around then Kerala is not the right option as nightlife in Kerala is not as lively as Goa as Kerala has certain restrictions. Though, Kerala is the perfect place for nature lovers who would love to experience the picturesque landscapes, serene backwaters, and the spectacular view of the sprawling tea/coffee plantations. Kerala is famous for its Ayurvedic Treatments and it is advised to experience the rejuvenating Ayurvedic massage in Kerala.
ALSO SEE– 70 Best things to do in Kerala
Summary: Kerala is better than Goa for Honeymoon while Goa is a better option for backpackers and singles.
Goa and Kerala- Popular Tourist attractions
Goa and  Kerala have many popular beaches and Kerala has much much more.
The famous beaches of  Goa include Baga Beach, Anjuna Beach, Vagator Beach, Miramar Beach, Candolim Beach, Agonda Beach, Palolem Beach, and many more. The beaches of the state are longer and wider as compared to the beaches of Kerala. Goa along with its crazy party culture is also known for its historical significance.
Goa has its influence from Portuguese colonization and one can feel the colonial heritage of Portuguese in Goa in the architecture of Se Cathedral, SaoTome, Fontainhus, Basilica of BomJesus, Terekhol Fort, and Chapora Fort. Old Goa is the perfect spot to experience the Portuguese influence. Beaches, colorful markets, and historic forts are the prime attractions of Goa.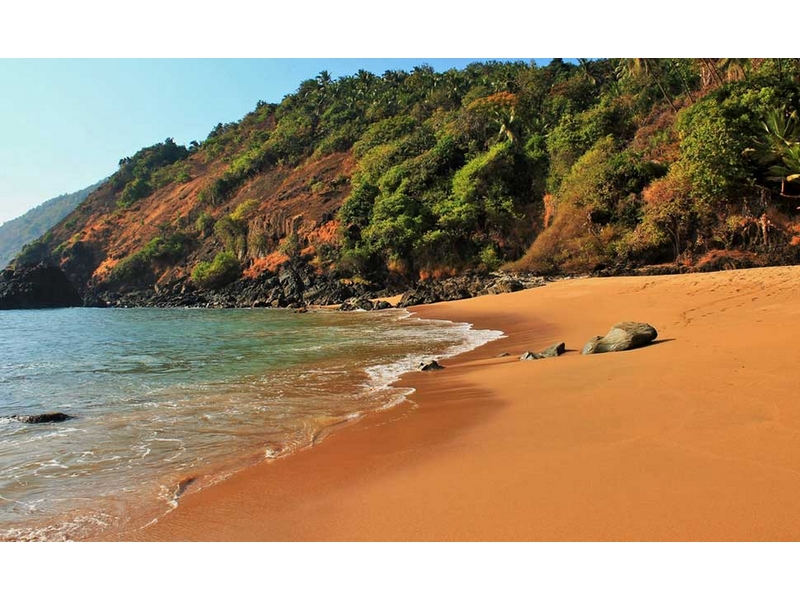 The prime beaches of Kerala are situated in Marari, Cherai, Kovalam and Varkala. You will find fewer crowds in Kerala's beaches as compared to Goa's. The beaches are short. Kerala has its own historic places which attribute the influence of British, Portuguese and Dutch colonization.
ALSO SEE – Top 15 Beaches in Kerala
The various historical attractions of Kerala include Dutch Palace, Synagogue, Bekal Fort, Palakkad Fort, Kannur Fort and Hill Place Museum. Backwaters, cultural sites, hill stations, waterfalls, wildlife sanctuaries, temples, churches, tea/coffee/spice plantations, lakes, and rivers are the prime attractions of Kerala.
Experience the combination of Portuguese and Indian flavor in the cuisine of Goa. The food of this state is known to constitute lots of coconuts, rice, meat, pork, and fish. Goan food is known for the intensity of flavors and spices like Portuguese cuisine.
Get to experience the local spices of Goa like the famous Kokum. The seafood of Goa is also quite famous which includes prawns, shark, pomfret, lobster, mussel, tiger prawns, squid, and crabs. The blend of east and west along with the blend of two religions Hinduism and Christianity in can be felt in the Goan Cuisine. Vegetarians can taste the delicious Goan vegetarian cuisine.
Kerala is home to mouth-watering seafood, lamb, and beef cuisines. The authentic food of Kerala is famous for its unique flavors which are mainly influenced by Malabari, Arabian and French culture. Kerala is known for its verities of vegetarian dishes; a perfect place for vegetarians.
Goa vs Kerala-Alchohol and Drinks.
The party Capital, Goa is known to serve drinks to its visitors. There are numerous authorized bars providing tourists with drinks of their choice.
Kerala does not allow alcohol to its tourists. The state has a strict law as per which any adult above the age of 18 cannot possess alcohol more than 3 litres and beer bottles more than 6 litres. It is not allowed to drink inside a moving vehicle and in the presence of a child below 15 years of age. Anybody who does not abide by the law will be punished.
Goa Vs Kerala-Shopping and Things to Buy:
Shopaholics would like to visit both Goa and Kerala; as both, places have amazing shopping centers.
Goa is popular for its colorful flea markets and night markets. Bargaining is a common part of these markets. These markets are famous for clothes, beachwear, musical instruments, footwear, handmade jewelry, semi-precious stones, spices, handicrafts, and much more. The luxurious malls of Goa are perfect for those who want to check out designer wear or explore shops selling antiques.
Kerala is famous for Ayurvedic medicines and cosmetics. Different spices, coir products, cashews, tea or coffee, spices, Kathakali masks, shell showpieces, Kasavu Mundu, Nilavilakku, Mural paintings and Nettipattam are certain items you can buy in Kerala.
ALSO SEE – 15 Things to Buy in Kerala
Goa Vs Kerala- Trip Duration and Short or Long Trip / Budget:
The best way to enjoy your destination is by exploring it as a whole and with ease. If you are planning for a small trip then Goa is good as the average traveling days of Goa is estimated to be more as Kerala is much larger than Goa.
Goa is relatively cheaper than Kerala in every aspect; where you can buy liquor at cheaper rates and experience water sports at the cheapest rate in India.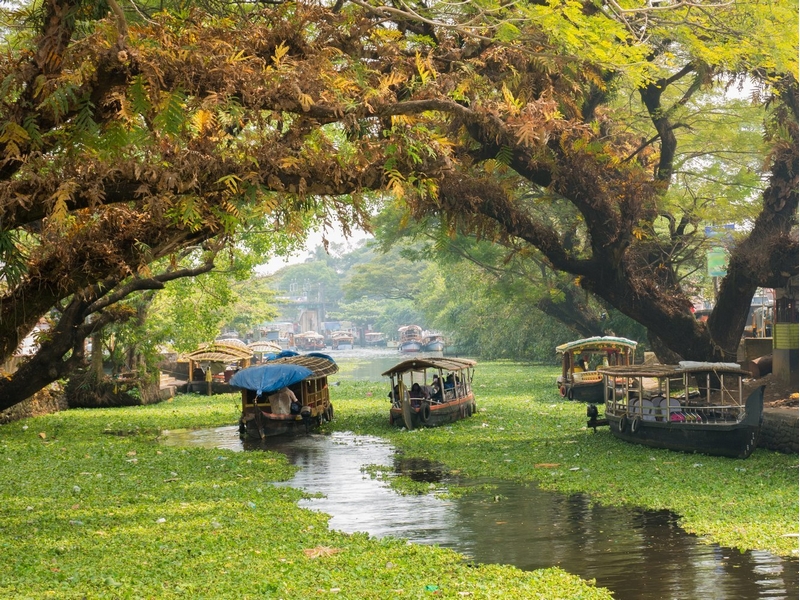 Goa or Kerala-What kind of trip are you planning for?
Kerala is good if you are planning for a honeymoon and a unique trip, family trip, beaches, authentic food, houseboat cruise, and fewer crowds. It is the best destination for family holidays, honeymoons, and group tours.
Goa is good if you are looking to party around, planning trips with friends' beaches, cheaper trips, nightlife, and water sports. It is the best destination for backpackers, singles, and party lovers.