Kerala is not short of beaches. Kerala in fact is well known all over the world for its beaches and vast coconut groves. Secluded beaches, laid back beaches or party beaches: there's any type of beach for everybody in Kerala.There are beaches for couples in Kerala where you can wrap up each other in Love, the beaches suitable for archetypal vacation for couples: the beach getaway. Nothing says romance like warm weather, hammocks strung between palm trees and cocktails with umbrellas in them. Airy villas, starry nights and private plunge pools will make your holidays more enjoyable
Which is why visitors may be wondering: Kovalam Beach of Varkala Beach – which Kerala beach should I head for to get the best beach experience?.
With over 2.5 million tourists descending on the Gods Own Country in 2014 alone, it's becoming increasingly difficult to find the best beach. Here are few beaches that that you can visit while touring Kerala
ALSO SEE Best Beach Resorts in Kerala
Kovalam is the most popular beach in Kerala due to shallow waters and low tidal waves and shot into limelight in the early seventies with arrivals of the masses of hippies. That started the transformation of a casual fishing village of Kerala into one of the most important tourist destinations in all India- the Kovalam beach. Prince G.V Raja in early 1940s found immense tourist potentiality of the this beach and decided promote the region among state guests, by inviting Thomas Cook & Sons- UK to develop the region. The Maharaja of Travancore soon started hosting regular state banquets and accommodation of his European guests in Kovalam Haylcon Palace.
Kovalam has a 17 km coastline and three major beaches – Light House beach, Hawah Beach and Crescent Beach and Hawah beach is called so because of the top-less sunbathing permitted there.Kovalam has a more relaxed atmosphere than goan beaches with a bit more laid back attitude , the food a touch softer and lighter. Tourist taxies and biked on hire are the common modes of transport available for tourists and the highway is a pleasure to drive on, with the cool breeze and coconut palms lined along the way. Once on the highway, drive north for the plains, drive south for the hills.The major activities enjoyed by tourists in Kovalam are Surfing, wooden boat ride on catamarans and Motor Boat Ride
Shanmugham Beach
Shanmugham Beach is around eight kms from Thiruvanathapuram, and is famous for matsya kanyaka and a restaurant shaped like a starfish. This beach is a favourite haunt of sunset watchers. The beach is adjacent to the thiruvananthapuram airport and veli tourist village. An indoor recreation club, the are the major attractions here.
Varkala Beach
When the neighboring Kovalam beach got taken over by bulldozers and chain resorts, the surfers drifted over to Varkala. The long stretch of sand is flanked by rocky cliffs which is lined by an assortment of shacks (local cafes) serving plates of beer and fish cuisine in non-air conditioned huts.
If you're looking for laid back beaches s and are fed up with the crowds and prices in places like Kovalam, then its well worth checking out Varkala. The resort area lies along two cliffs, north and south, overlooking the beach areas. The main Papanasam beach is between these, while less crowded Black Beach is to the north. This entire area is easily accessible by walking the fine sidewalk along the cliff edges. Main Tourist Attractions in varkala are Shree Janardhana Swamy temple, Sivagiri Mutt instituted by Sree Narayana Guru, coir processing centers and Fishing Hamlets of Anjengo and its British Fort.
Marari Beach
Marari beach is of the 'endless-golden-sands-where-you-won't -see-a-soul' variety, usually touted for their peace and quiet of beaches. It is an endless vista of sand and surf, but it is more. An authentic experience of the world of Kerala's traditional fishing villages, and a recreation of an ancient, harmonious way of life.Marari offers endless miles of superb sand beaches backed by swaying palms, virgin territory where you can experience to local charm and traditional keralan hospitality at its best.
Cherai Beach
45 kms from ernakulam city, this lovely beach bordering vypeen island is ideal for swimming. Dolphins are occasionally seen here. A typical kerala village with paddy fields and coconut groves nearby is an added attraction. Portuguese Fort, Pallipuram Church and Munambam Beach are the main attractions in Cherai.
Andhakaranazhi Beach
Andhakaranazhi is a serene and calm beach around 30 kilometers from Kochi towards Alleppey near Ezhupunna . It is one of the most beautiful and pristine beaches near Alleppey. There is a beautiful light house near the beach along with a Tsunami shelter.
Kappad Beach
Kappad Beach is located about 16 km from Calicut town and is well known as the point at which Vasco da Gama landed on May 27, 1498, when on his first visit to Kerala. The beach is enjoyable and has safe waters and you can even watch fishermen going out for fising and coming back in the evening to spread their catches in Kappad beach.There is also a rocky headland stretching into the sea and a 100-year-old temple.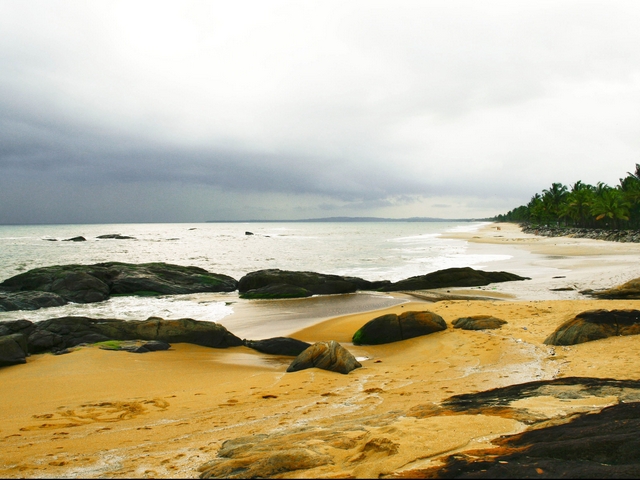 Kerala gives us the realisation that finding gorgeous beaches and tropical landscapes where you can truly be alone is still doable. There are three types of accommodation near beaches in Kerala: family-run inns, large resorts and historic cottages facing beaches. For entertainment outside the pace you are staying consider getting a genuine Ayurveda treatment in one of the spas, enjoying some spicy fish pollichathu in one of the beach side shacks, or surfing in the calm waters in some of the beaches like Varkala. Most of the popular Kerala beaches have open-air beachfront restaurants, which serves an eclectic mix of food in Kerala , plus an ever-changing menu of fresh local fish. For something more intimate, book a table at one of the high end resorts.