The rural life in a Kerala Village, untouched by the sophisticated behaviors of industrialization offers a pristine experience to any traveller. The serene backwaters, swaying coconut farms, soothing paddy fields everything makes the village life of Kerala a memorable and cherishable experience. Far from the tumult and turmoil of the cities these villages usher us into a world were contentment and peace prevail and what better way to enjoy the Kerala Village Tour than watching the idyllic village folk in a Kerala village tour. This is an opportunity for anyone who wants to witness in person the nuances of crafts-making and skills of traditional artisans of Kerala and enjoy the beauty of a Kerala country side.
Here are some of the activities you could enjoy when you opt for a Kerala Village tour.
Coir Making – Kerala in colloquial language means land of coconuts and coir is made from coconut fiber extracted from the coconut husks. The husk contains 20% to 30% fiber on which can be spun into strong threads that can be used in mats and handicrafts. The first step in making coir is to "ret" the coconut husk by putting husks in saltwater and then covering with mud. The husks are removed after nine months from the retting mound, and taken to the threshing compounds where retted husks are then pounded and crushed by mostly ladies with mallets or machetes where husks are pulled off to collect fibers which are dried up for spinning. The dried coir is then spinned by a spinner at a wheel using a gear with a small spinning axle to create strong yarn thread that can be used in mats and handicrafts. Kerala village tour involves watching the process of creating the coir thread by two female workers in a wheel as coir making is the usual means of lively hood in rural Kerala backwater villages.
Traditional Canoe Fishing in Backwaters-The traditional way of fishing is still practiced in backwaters of Kerala where fishermen uses small canoes for fishing with the help of net/ fish hook. Canoe is parked in the middle of backwaters from where fishes are caught with net or using a bait in fish hook. Fishing is the main source of income for people residing near backwaters where they catch freshwater prawns, lobsters, crabs, clams and oysters . The taste of the much celebrated 'pearl-spot' fishes have to be relished to be believed.

Toddy Tapping – Toddy is the country liquor in Kerala extracted from Cocnut Palms and you can climb up the coconut tree to extract fresh madhura kallu (sweet toddy extracted from the coconut palm) and have it the Kerala way with exotic karimeen pollichathu (baked fresh water fish) or spicy pickles. Toddy is an all-time favourite drink of the rural Kerala and you can add toddy tapping to must do activities in a village tour of Kerala.
Paddy field Walk – Walking through paddy fields is completely different walking experience through the narrow dykes that separates one field from another. You may lose yourself in the dazzling green around you, as you'll have to watch out for the slushy water passages that run through your mud path.
Visit a Nalukettu and Kavu – One of the activities that can be included in the village tour is the visit the 350 year old Nalukettu house( ancient Keralan architectural style) where a traditional Kerala Hindu family resides and visit the kavu (sacred grove) with the snake god of the family resides.
Country Boat Cruise – A country boat cruise offers you a chance to learn about the life of local village people through a Kerala Village tour and chance to know about that part of Kerala which lives along these backwaters throbbing with its own unique culture.When you take a country boat cruise you can enjoy the scenes in a Kerala country side in a backwater cruise -skim past Chinese fishing nets, bowed down paddy fields, local inhabitants engaged in making coir products, rustic homes and swaying coconut palms. When you drift along serene waterways in a country craft, enjoy the breeze, answer a cuckoo's call, wave back at the cheerful village folk on the banks. Invite some of their chirpy children to hop in for a ride who will keep you well entertained.
Cycling – A cycling tour in a Kerala village offers rich mix of endless backwater views and wide sandy beaches and portrayal of the Kerala's unique culture and rich heritage as well as scenes from Kerala Village life. Cycling tour is one of the most enjoyable activities in Kerala village tourism.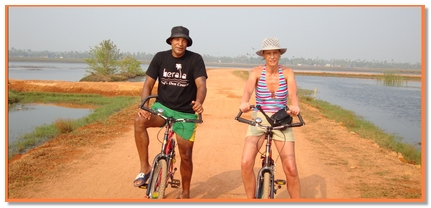 Life in the villages of Kerala moves at an amazingly slow pace and you will be amazed to find that the people in these villages lead simple lives in the pattern that was prevalent in the olden days. Kerala Village tours are an ideal way to spend a perfectly relaxed holiday at one of these villages in the lap of greenery and an atmosphere of complete tranquility.
---
Want to book a holiday in Kerala ? Contact us Today for a FREE Holiday Plan