Beyond the scenic backwater, captivating hills, and rich wildlife are the beaten tourist villages in Kerala that are just the perfect place for those who wish to see something unconventional. The simple, pure, urbane, and cultured life at village Kerala is not touched by the trend of industrial progression and has maintained its originality and purity very well. Tourists and travelers can experience true Village Tourism in Kerala and village life which has almost vanished everywhere in recent times.
Village tourism in Kerala can introduce one to different shades of the state. The tranquil atmosphere, clean water, coconut farms, and fresh fields all around help tourists to have an amazing, rustic, authentic, and unforgettable experience of their life. During the stay at Kerala village, one can have the chance to feel and admire the simplicity of villagers. Villages like Kerala offer us an escape from the hustle and bustle of urban life into a world of peace and tranquility. Witnessing the village residents perform their daily chores and activities, the local crafts, and artistry of Kerala folks enhance the charm of this place and attract true nature lovers.
ALSO SEE – Kerala Village Tour
Coir Making
Coir making is an important part of Kerala village life as it is the main occupation of backwater folk. The name "Kerala" is derived from the Colloquial language, which means "the land of coconuts." Kerala is well known for the incredible coconut products it produces too. Coir, Coconut Mats, Toddy, Copra, Husks etc. It's a natural fiber product made from the outer husk that covers the shell of the coconut. The husk is composed of (20-30) % of fiber, which can be molded into threads and ropes. It is used in several other products such as floor mats, brushes, cushions, mattresses, etc.
A tour of Kerala village provides the chance to watch the coir making process usually performed by two female workers. The coir making is the common means to earn livelihood in Kerala.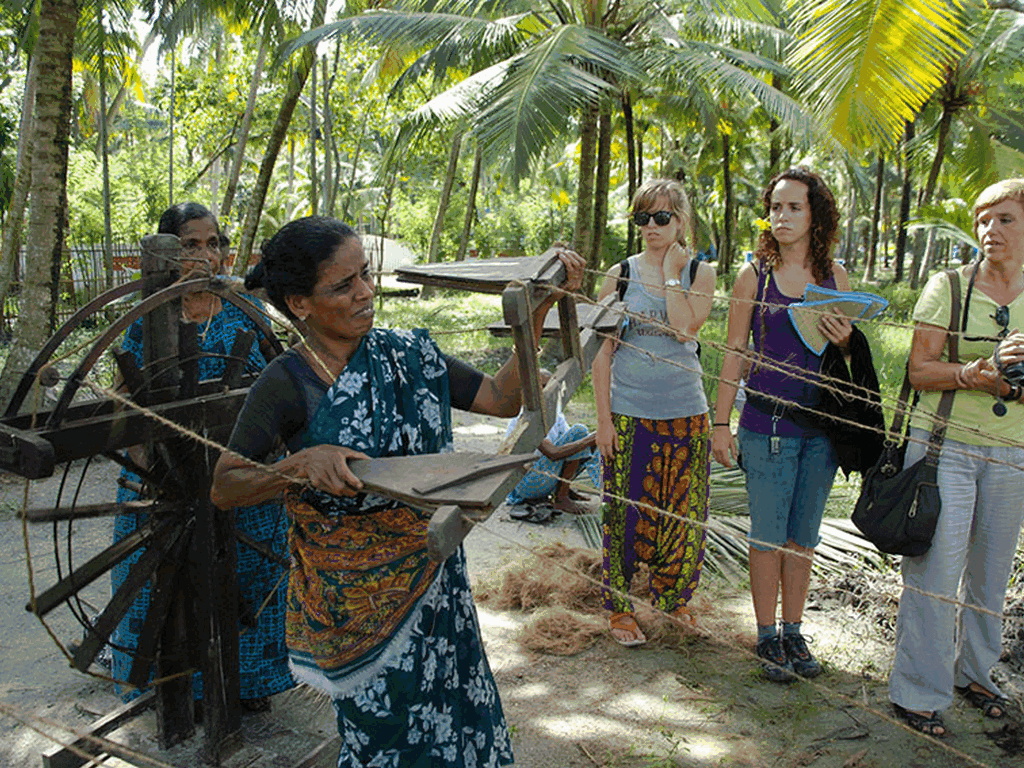 Firstly, the husk passes through the Retting process in which it is soaked in water to soften it. After nine months, husks are taken out of retting banks from where they are. The husks are removed after nine months from the retting mound and then are winnowed properly. These husks are then crushed and crumpled with hammers or knives to collect fibers. These fibers are later on dried and put into a spinning wheel to make very strong threads that are used to make rugs and other handicrafts.
ALSO SEE – 44 Travel Tips for your First Time Kerala Tour
Cycling to enjoy village tourism in Kerala
Experience the Kerala village beauty while cycling through small fishermen's villages and lush coconut trees. Cycling is among the most fun and pleasurable activities in Kerala village for tourists. During the cycling in the Kerala village, you will experience the astonishing beauty around the backwaters, paddy fields and sandy beaches. The friendliness, culture, and heritage of the Kerala people can also be enjoyed during cycling.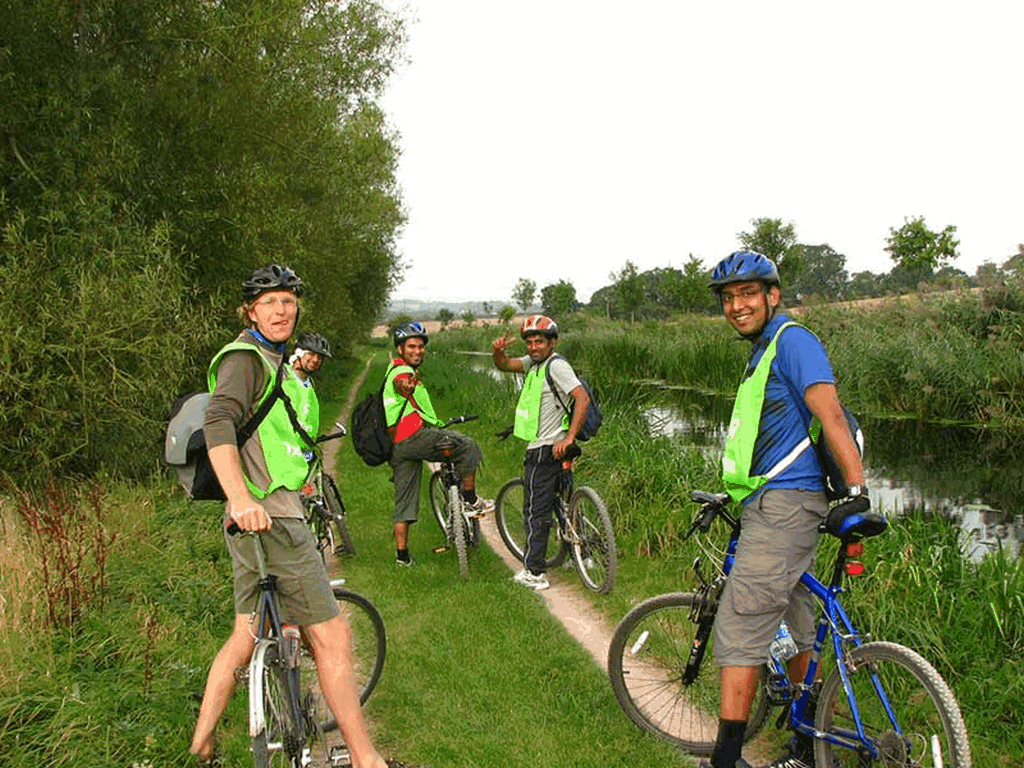 Fishing in Kerala
The traditional method of Canoe Fishing is still in practice in the backwaters of Kerala, where fishermen go for fishing through fishing hooks in small canoes. These small boats are usually parked in the center of the backwaters and fishing poles with baits are used for fishing. Backwater residents usually depend upon fishing as their main source of livelihood. The fishes, crabs, oysters, prawns and lobsters are their common finding in backwaters. The incredible taste of the 'pearl-spot' fishes must be savored at Kerala backwaters.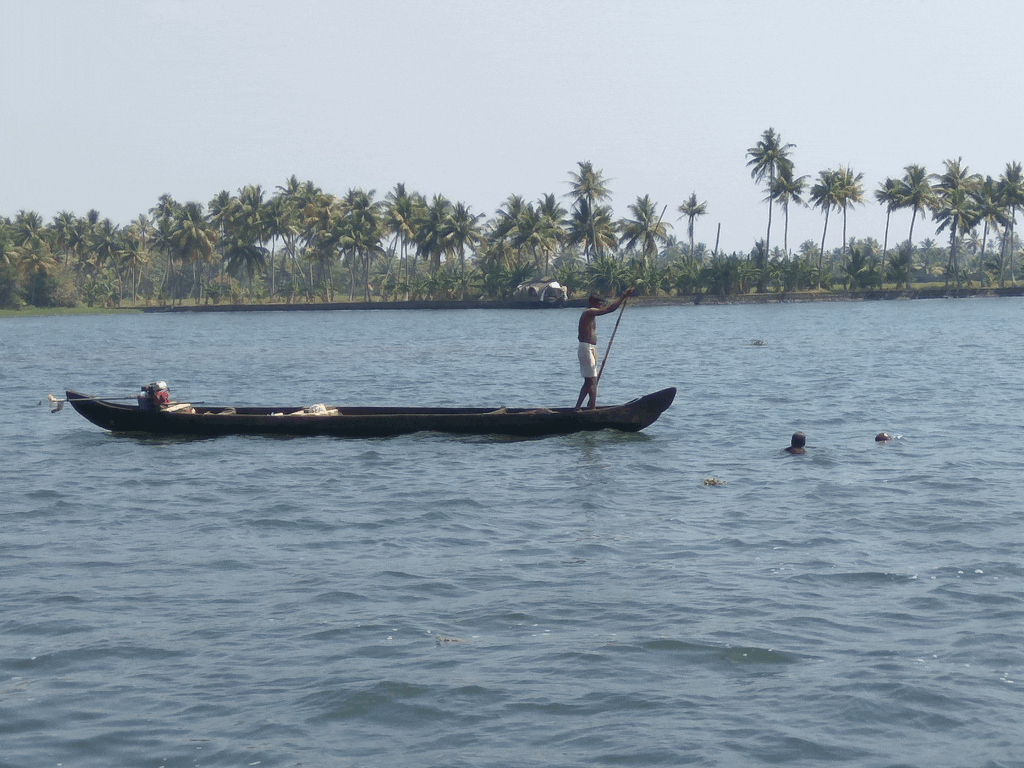 ALSO SEE – Chinese Fishing Nets Kochi-Tourist Traps, Entry Fee & Timings
Toddy Tapping
Village tourism in Kerala is incomplete without trying Toddy Tapping ."Toddy" is the specialty of Kerala. It is a local liquor extracted from coconut Palms at Kerala. The "Madhura Kallu" is one of the toddies at Kerala, and one can easily extract it from the fresh coconuts. It is usually taken with unbelievably tasty baked fish (karimeen pollichathu) or some spiced pickles. Toddy tapping is one of the most amazing and fun activities for tourists at Kerala. So, one must add it into a to-do list for Kerala tour.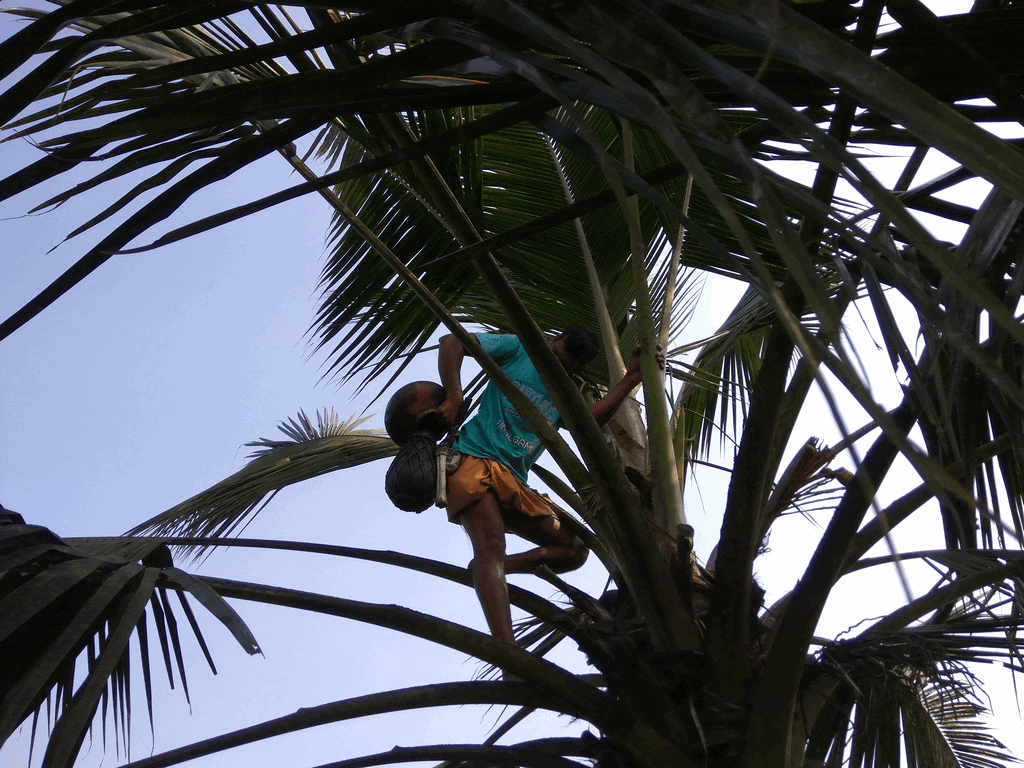 Walk in Kerala Fields
A walk over the paddy land in the fields of Kerala, an entirely different and splendid verdant feeling. A walk in the narrow embankments that separates one field from another may cause you to forget everything else while enjoying Village Tourism in Kerala. The astounding greenery all around demonstrates the beauty of nature. You must experience a walk through the paddy fields of this village, but be careful about the water channels that you may encounter in your way through the fields.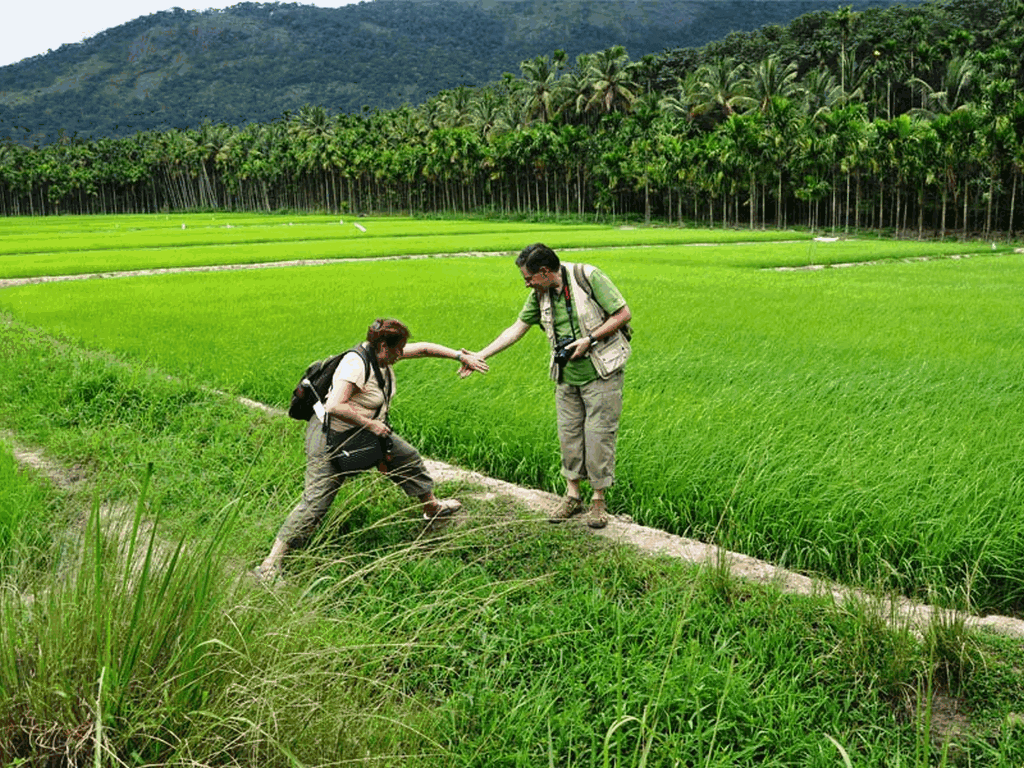 ALSO SEE- 75 Unique things you can do only in Kerala with Photos
A Visit to Nalukettu & Kavu
Get a hang of the heritage history of Kerala and Kerala village life in the age-old times by visiting Nalukettu. During the visit to Kerala Village, you must visit the 350 years old house "Nalukettu house." It is an antique place and represents an ancient architectural design of Kerala. A Hindu family still resides in this house. Don't forget to visit Kavu. Kavu is a sacred place in Kerala near traditional homes. Snakes, along with their families, are believed to be residing in this place. This place holds special religious importance. Do visit the Kavu on your visit to Kerala.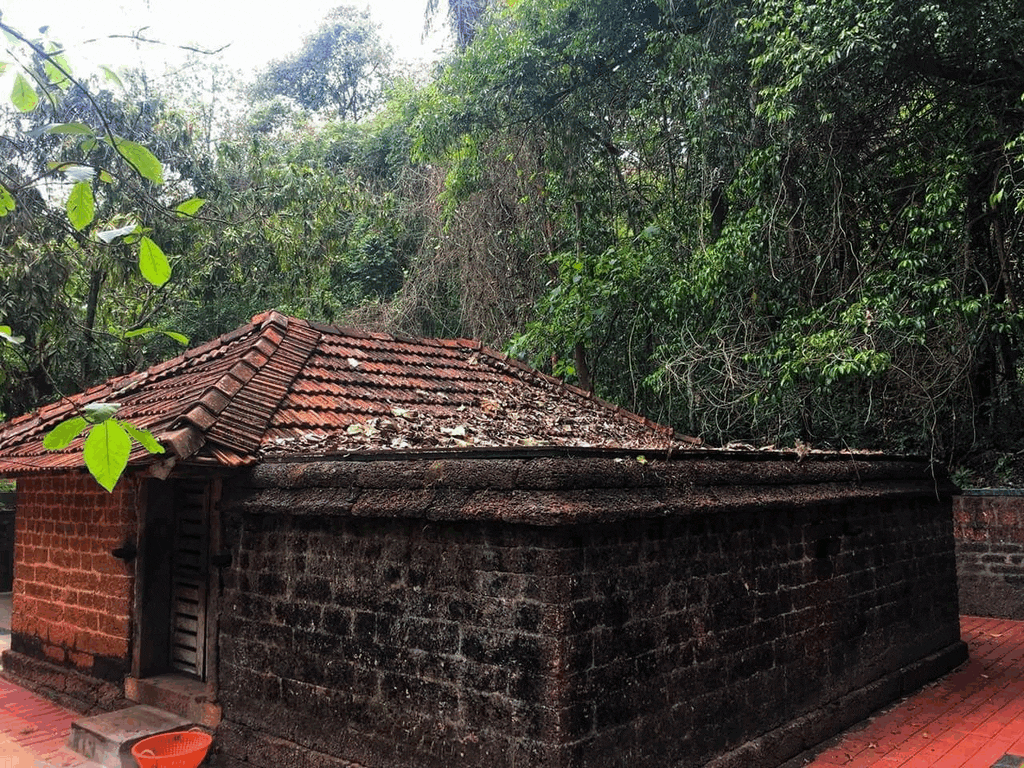 Country Boat Trip
A journey in the country boats provides the chance to know about the lifestyle of the native people of Kerala. It also is a chance to explore part backwaters of Kerala representing its culture beautifully. While riding a boat, one can see the beautiful scenery around backwaters, the famous Chinese fishnets, lush green fields, natives performing their chores and crafts. Along the tranquil waterways, a cool breeze and birds chirping welcome the visitors. It's a journey that you won't ever forget in your life.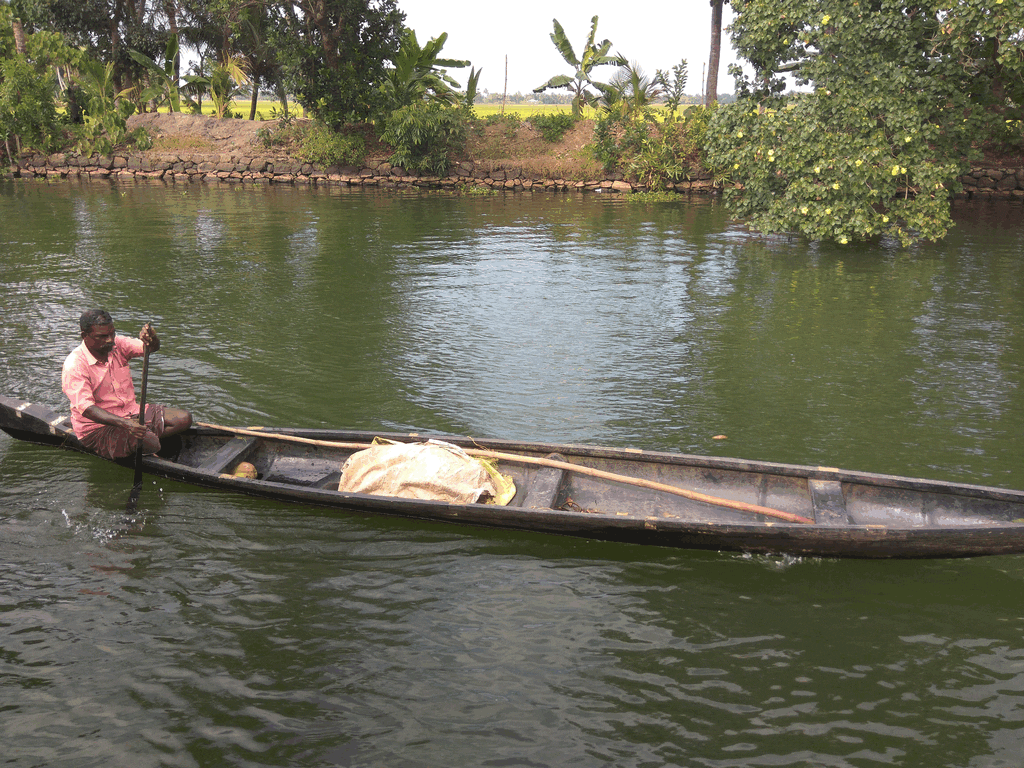 ALSO SEE- Alleppey or Kumarakom-Which is the best option for a Kerala houseboat?
The rural life of Kerala has a remarkably steady pace in modern life progression. You will surely be surprised to know that the locals of Kerala village still live the beautiful and simple life of older times. A tour to Kerala village is a sure way to enjoy your holidays in a peaceful, tranquil, and simplest place.
You can also enjoy Village Tourism in Kerala at Responsible Tourism Destinations in Kerala like Kumarakom, Kovalam, Vaikom, Aymenem, Ambalavayaland Vythiri in Wayanad. Another spot to visit is Kumbalangi which is the first tourism village in Kerala.