Kochi   is one of the most fascinating destinations to visit in Kerala because of its centuries-long history in the spice trade, rich colonial legacy, vibrant cosmopolitan culture, and burgeoning art scene. Kochi, a small port city on India's Malabar Coast, is home to a wide variety of fascinating attractions, including Portuguese and Dutch homes, historic temples and churches, Chinese fishing nets, folk museums, eclectic art cafes, and backwaters, palm-lined beaches, tea gardens, and spice estates and the superior comforts of a metro city.
ALSO SEE – Is Kochi and Cochin the same?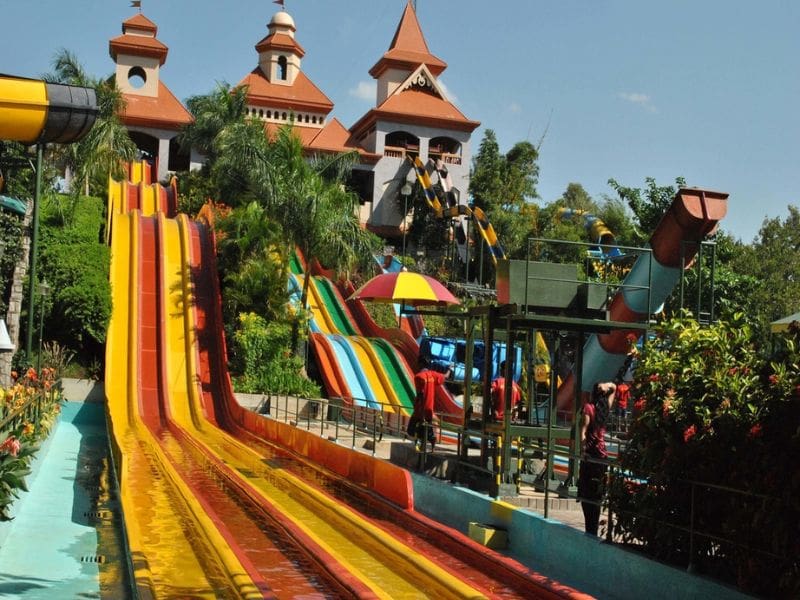 One of the must-see attractions in Kochi for any travelers  to Kochi especially Families  is Wonderla Kochi. Mr. Kochouseph Chittilappilly, a well-known business figure, and philanthropist is the owner of the theme park. A series of theme parks known as Wonderla may be found in Kochi, Bengaluru, and Hyderabad, three significant cities. Currently, Wonderla is one of the largest amusement parks in India, boasting top-notch amenities and technology. No matter their age or gender, visiting Wonderla  Kochi will be an amazing experience for each and everyone visiting this place.
ALSO SEE – What to do in Kerala with Kids
About Wonderla Kochi
The Wonderla Amusement Park Kochi complex in South India's Kochi region offers cutting-edge land and water attractions for people of all ages, as well as offers you various live performances. Two wave pools, a 37-meter-high vertical drop ride, and India's first reverse looping roller coaster are among the attractions' highlights. When the weather is warm, which it frequently is in Kochi, people frequently visit the water park to cool down.
Over 50 rides are available at Wonderla Kochi for riders of all ages and many rides are available for people who want to test their adventure degrees. While larger children and adults can ride the log ride, the Ferris wheel, and roller coasters like the Caterpillar Coaster, younger children can enjoy a carousel and moderate coasters. Recoil, a reverse looping roller coaster, and Equinox 360, which spins passengers at the end of a 360-degree pendulum, are two of the best rides for thrill-seekers. Water attractions include modest to steep and looping waterslides, a lazy river, and a water play area for younger kids.
Most visitors who stay in and around Kochi visit the park on their own. Fast-track tickets, which are only available for a certain amount, let you skip queues and save time. In the summer, when lines are often long, these can be a wise investment.
Address: Kakkanad Pallikara Road, Pallikara, Kumarapuram Post office, State Highway 41, Kochi, Kerala, 683565, India
Pallikara, where Wonderla Kochi is situated, is roughly 9 miles (15 kilometers) from Ernakulum (mainland Kochi). While it is feasible to travel to the park by local bus, it is more practical to use a private vehicle or cab. Take the 41 from Ernakulum.
ALSO SEE – Best Beach Resorts in Kerala
If you are looking for a super thrill experience, the best time to visit is March-April and September to October. These months will save you from super scorching heat and extreme cold so you can enjoy both land and water rides.
Journey of Wonderla  Kochi
In 2000, Veegaland in Kochi, then known as Wonderla, opened for business. The management unveiled the new moniker Wonderla with cutting-edge amenities and technologies for improved enjoyment with the opening of the Bengaluru branch. Following the 2005 opening of the highly developed Bengaluru branch, they rebranded the Kochi theme park as Wonderla in 2011 and added the necessary amenities.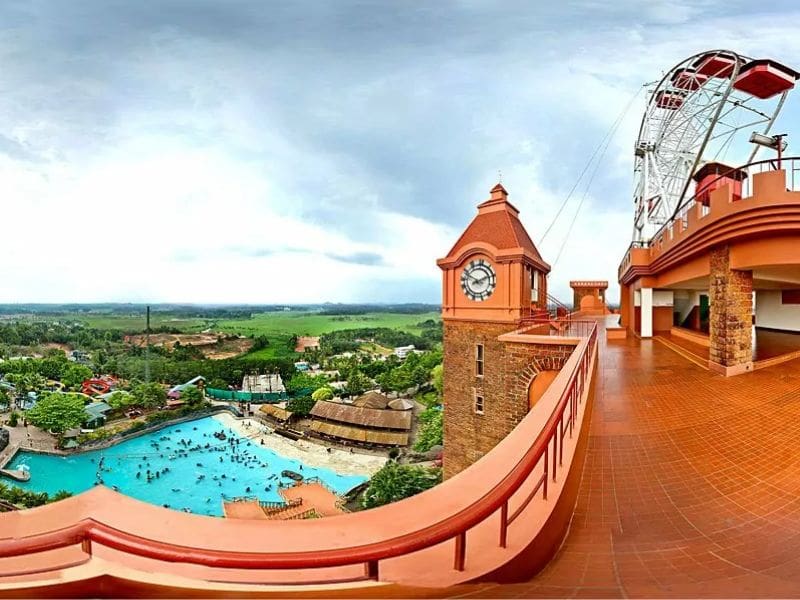 The 82-acre Kochi Wonderla Park has thrilling rides and other exciting activities. It is the first amusement park in India to be accredited under ISO 14001 for environmental protection and OHSAS 18001: 2007 for safety. The park has exceptional preservation with a high priority on safety and security systems. The park's sanitary conditions are astounding, and they've kept a separate system in place to make sure of it at every level. Additionally, the park runs a laboratory for monitoring water quality that regularly tests and purifies the water utilized in the park. In order to maintain exceptional cleanliness inside the theme park, they have also erected five water treatment plants to reuse, process, and filter the water.
Sustainable Initiatives by Wonderla Kochi
The management of Wonderla should be commended for another sustainable initiative: their efforts to be environmentally friendly on every level. To maintain a natural feel, they initially planted about 2000 trees inside the park. Water that is served and safeguarded helps to reduce water waste. Rainwater collecting is a simple yet prudent choice in Kerala because of the massive amount of rainfall the state receives.
After multiple filtrations, Wonderla management uses the collected rainwater extensively for their water ride. They can store 20 million liters of water in their rainwater collection tanks. In addition, they made an attempt to use solar energy to heat the water in their kitchen and swimming pools, which helped them use less electricity overall.
Forget about your stress, Enjoy thrilling rides!
In addition to "XD MAX" and the Musical Fountain Laser Show, Wonderla Kochi features 34 spectacular land-based attractions and about 22 thrilling water-supported rides. They also have an area of rides just for kids that are well-maintained and secure. The Wave Pool, Wonder Splash, Family Slide, Rapid River, Boomerang, Water Coasters, Play Pool, Snake Slides, Fun Slides, Waterfalls, Rain disco, and Water Pendulum are just a few of the popular water rides at Wonderla Kochi. Experts perform numerous layers of safety and hygienic testing on water rides.
For those daredevil guests seeking an adrenaline rush, Wonderla Kochi's land-based rides are primarily high thrill rides. For those who enjoy soft rides for a good time, the park also features a couple of such. The Rocking' tug, Sky wheel, Flying boat, Windmill, Vintage tornado, Twin Flip Monster, Super Jumper, Space gun, Thunder Fall, and Maverick are a few of the park's key draws.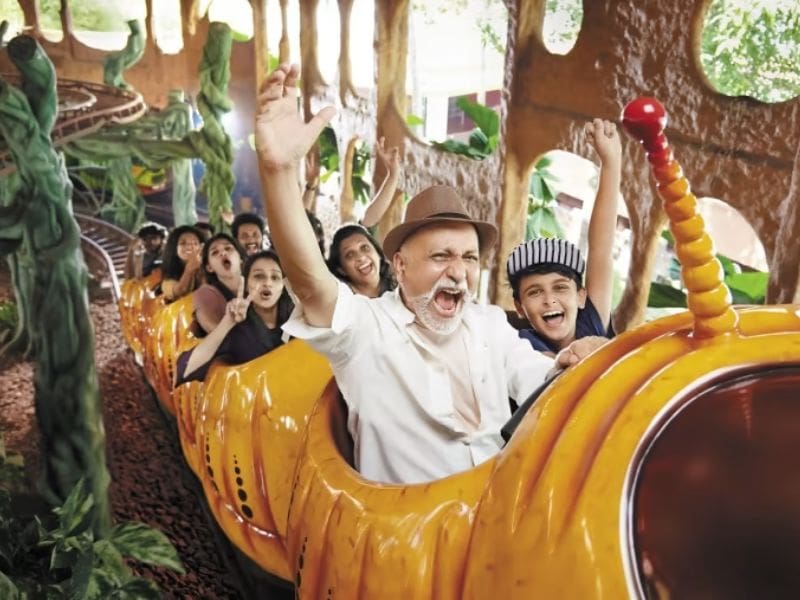 In addition to this, Wonderla Park contains a cave called Balarama that is based on a well-known Malayalam comic book. The darkness of the cave would conceal unexpected surprises that would give visitors a terrifying experience.
Dining Facility
10+ restaurants at Wonderla  Kochi, Kochi offer a wide selection of delectable foods and lip-smacking snacks, as well as fruit smoothies to beat the scorching heat. The dining area can easily accommodate more than 1,000 people, so you won't ever have to wait for hopping up on the delicious food. One of Kochi's top snack counters and cafes is located there as well. Join your family, friends, and loved ones for a fun-filled day at the park where you may experience exhilarating rides and delectable food. If you make reservations in advance, you can enjoy a wide spread of dishes in the lunch buffet.
Other Facility
To make Wonderla Amusement Park Kochi a wholesome experience for you, it offers you facilities like;
· Lockers and Changing Rooms
· Drinking Water
· First Aid Medical Room
· Nursing Room
· Smoking Area
· Parking
· ATM
· Wheelchair/Pram
· Lost/Found Corner
· Student Briefing
· Prayer Room
Ticket Price
Ticket prices for this amusement park vary for weekdays and weekends
** Ticket prices are inclusive of GST. For payments made through cash, the total bill will be rounded off to the nearest 5.00/- You can also book your tickets online 5 days prior to enjoying a discount of 10%. However, if you are a student, by showing your student ID card you can avail of a discount of 20%.
If you want to avoid cash payments and enjoy a hassle-free experience at Wonderla Amusement Park, you can use EZ Pay.
With EZ Pay, you can replace your physical wallet with a wristband, as the name of the service suggests. Use it anywhere in our park by adding money as necessary. Pay at Wonderla with rechargeable EZ Pay Bands to keep your wallet secure! You receive a refund for any money that was not used when it is time for you to depart. Use EZ Pay to pay for any services inside the park and you won't need to bother about having a wallet with you.
To begin using the EZ Pay station in the park, follow these steps:
1. Head to the desks for tickets or lockers.
2. Request the EZ Pay band, pay the security deposit and then top up the watch with cash at the counter as needed.
3. To pay for meals, clothing, souvenirs, etc., flash the band at any counter inside the park.
Timings
Wonderla  Kochi is open from 11:00 AM to 6:00 PM on weekdays and for weekends the timings are 11:00 AM to 7:00 PM. However, the water park is open from 12:00 noon to 6:00 PM on both weekdays and weekends.
Dress Code
Internationally recognized standards require that the permissible garment materials be composed entirely of nylon or synthetic textiles for your safety and cleanliness. There are several enjoyable rides at the amusement park. Almost all of them have motion or moving elements, therefore you must dress appropriately to protect your health and safety. For instance, loose clothing could tangle and endanger both you and other people. They have a stringent clothing code that must be followed in order to maintain the water quality for all rides.
T-shirts, shorts, Bermuda shorts, three-quarters, and swimsuits are the appropriate attire for our water rides. 100% nylon or synthetic material makes up the authorized garment materials.
ALSO SEE – Top 8 Hill Stations in Kerala
Risky clothing for you! The following attire is not allowed for water rides because it poses a risk to your health and safety. Anything other than the above-mentioned list of acceptable attire, including sarees, salwar, dupattas, formal pants, shirts, burkas, shawls, scarves, school uniforms, jeans, three-quarters, cargoes, and loose clothing.
If you are not carrying any suitable garments, you can surely grab them from Wonderla Kochi Store at a very affordable price.