Kerala is famous for its amazing natural beauty and delicious cuisine. From Shikara ride to Theyyam dance, the rich landscape has something in store for every traveller.
However, no trip is complete without shopping for friends, family, and even ourselves. When in Kerala, shopping in Trivandrum is a must.
With shops in almost every corner of the city, shopping in Trivandrum is an amazing experience.
Trivandrum, the original name of the capital city of Kerala, Thiruvananthapuram is one of the largest cities in the southern state.
Endowed with the presence of so many flourishing and thriving industries, malls, well-defined shopping sites, and market squares, this culturally rich and diverse city offers you the best of perfectly designed fabrics, wood and brass carvings, spices, garments, handicrafts and so much more.
While the city is a street shopping paradise, there are plenty of malls in Trivandrum as well.
Walk around the local markets or head to one of Trivandrum shopping malls, explore the Chalai heritage market to get the best deal, or just enjoy some window shopping and local street food around every corner in these bustling market areas.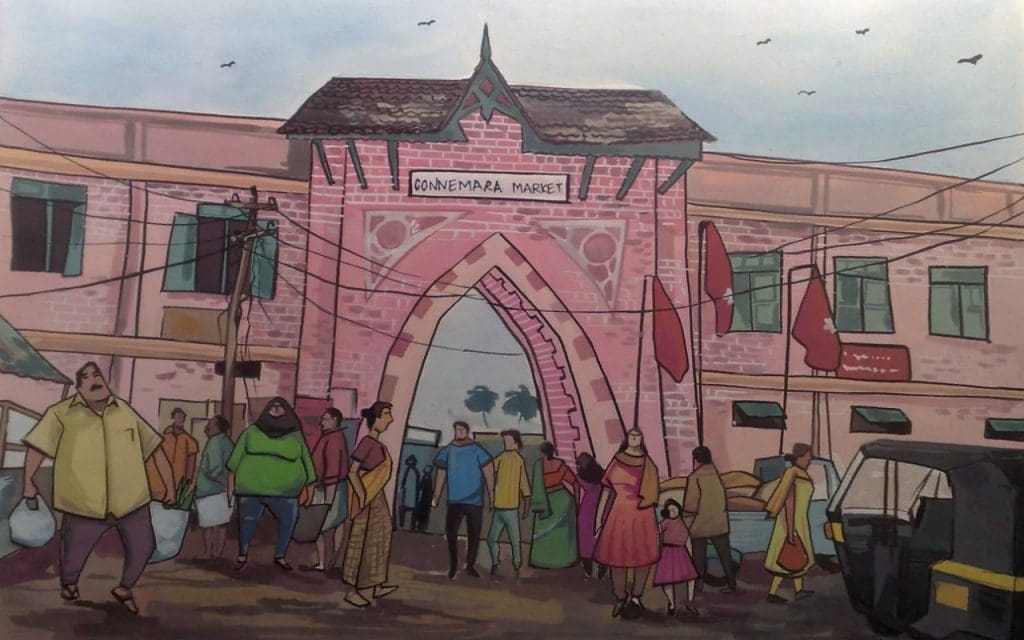 Shopping in Trivandrum
From spices and beverages to mural paintings, you can find everything for shopping in Trivandrum. So, before you visit the city, you should know about the best Trivandrum shopping spots in the city.
Here is a list of the 10 best shopping sites in Trivandrum from where you can buy anything and everything.
1. Connemara Market
Dotted with unbranded local shops selling items of daily use, Connemara Market is one of the favourite destinations for shopping in Trivandrum.
This recently renovated market square seated elegantly in the heart of Palayam is a local market for vegetables, fish, meat, groceries, fabrics, and garments at reasonable prices.
With an ample number of vendors and traders, this market serves as a haven for household items. One is likely welcomed to this market by the engulfing and enticing fragrance of spices such as cinnamon, pepper, clove, nutmeg, turmeric, and an endless list of spices sold by vendors at this market.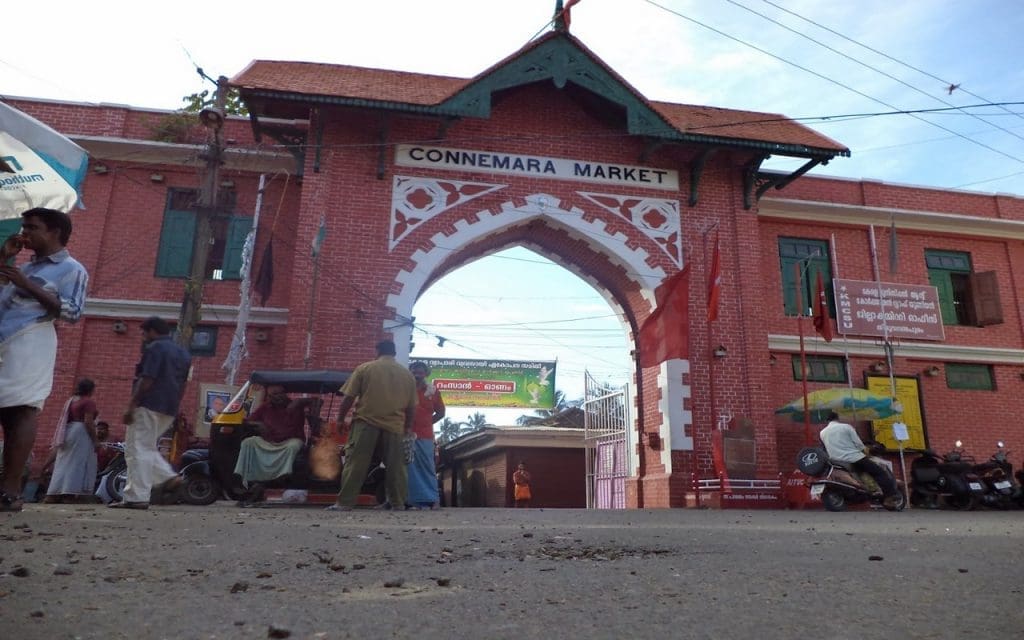 Culinary utensils, fabrics, and textiles, jewellery, men's, women's, and children's clothing are also made available at the market.
Owing to the sale of quality products at reasonable, negotiable, and affordable prices, restaurants, and hotel staff come by regularly to get their supplies. It should therefore be noted that the market is always crowded and bustling with people.
Location; University of Kerala, Senate house campus, Palayam, Trivandrum.
Well known to provide; Fresh vegetables, fruits, fish, meat, spices, groceries, and many other household items.
Timings; The market is opened from 10 am till 9 pm daily.
ALSO SEE – 15 Best Things to Buy in Kerala
2. Kairali Handicrafts
At the Kairali Handicrafts, shopping becomes a delightful activity. With the ambience of a traditional village market, this shopping site offers a platform where craftsmen and people from various parts of the world can get the best collection of expertly made crafts by master craftsmen which customers can buy and take home as souvenirs and mementoes.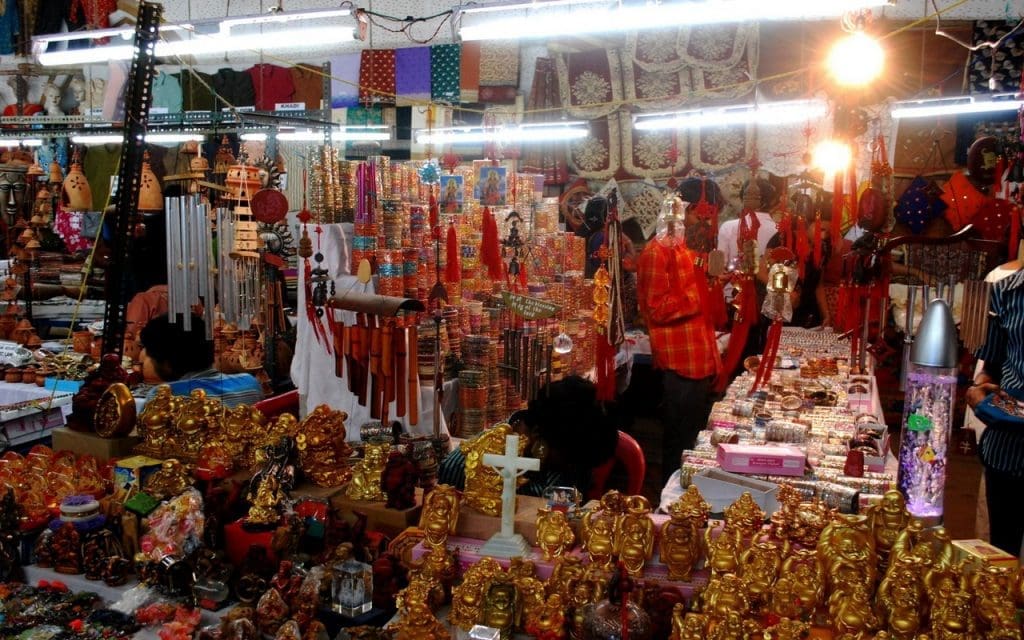 Handicrafts at Kairali include wood carvings, brass carvings, Rosewood, sandalwood, natural fibres, coconut shells, hand embroideries, bamboos, metals, spices crafts and so much more.
Location; SMSM institute compound press road, puthenchanthai PO, Trivandrum.
Well known to provide; The best handicrafts
Timings; The store is opened from 10 am till 7 pm daily.
3. Pothys Textiles
Located in the major shopping area of MG Road, Pothys is the latest addition to the list of malls in Trivandrum.
Popularly known as the home of well-woven fabrics and textiles. This shopping centre houses a nice selection and collection of quality-made sarees, silk, wedding sarees, party sarees, Banaras silk, Kancheepuram silk saree, and an endless list of fabrics and textiles.
The unmatched loyalty and delightful services offered by the vendors and shop attendants at this store help buyers to feel relaxed and welcomed. The comfy air-conditioned environment also makes for a cool and comfortable shopping experience.
Location; Mahatma Gandhi (M.G) road, Trivandrum.
Well, known to provide; Quality made sarees, silk, and textiles.
Timings; The store is opened from 10 am till 9 pm daily.
4. Giggles – The baby store
Just as the name implies, this store provides you with vibrant options for your baby's care and upkeep. Offering a wide range of products from your baby's dresses to toys, diapers, cereals, shoes, and skincare products, customers get to examine and pick the best choices for their babies.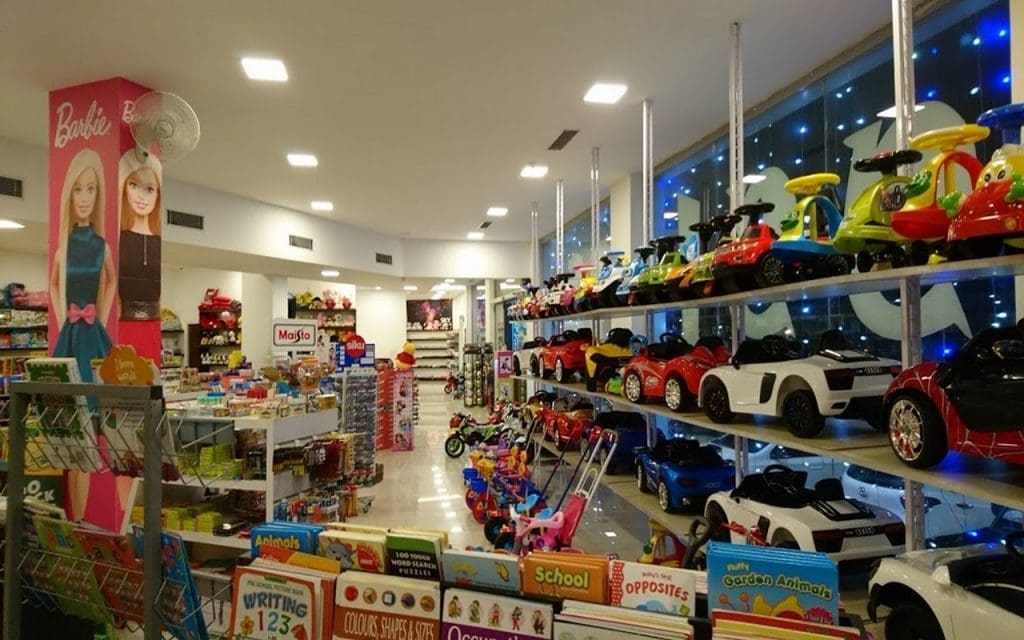 The coherent arrangements and collections of items in this store relieve customers from the stressful activity of searching for similar products makes it one of the best places to do shopping in Trivandrum.
Give your babe a unique treat at Giggles – The baby store.
Location; 1st floor, garden heights, TTC Devasworn board road, kowdiar, Trivandrum.
Well known to provide; Baby products and accessories.
Timings; The store is opened from 9 am till 9 pm daily.
5. Ramachandran shopping mall
Nestled in the heart of Trivandrum city for over 38 years, and upholding the core values of quality and excellence, this shopping mall offers customers a wide range of quality textiles, men, women, and children clothing, jewellery, shoes, slippers, toys, and other household items.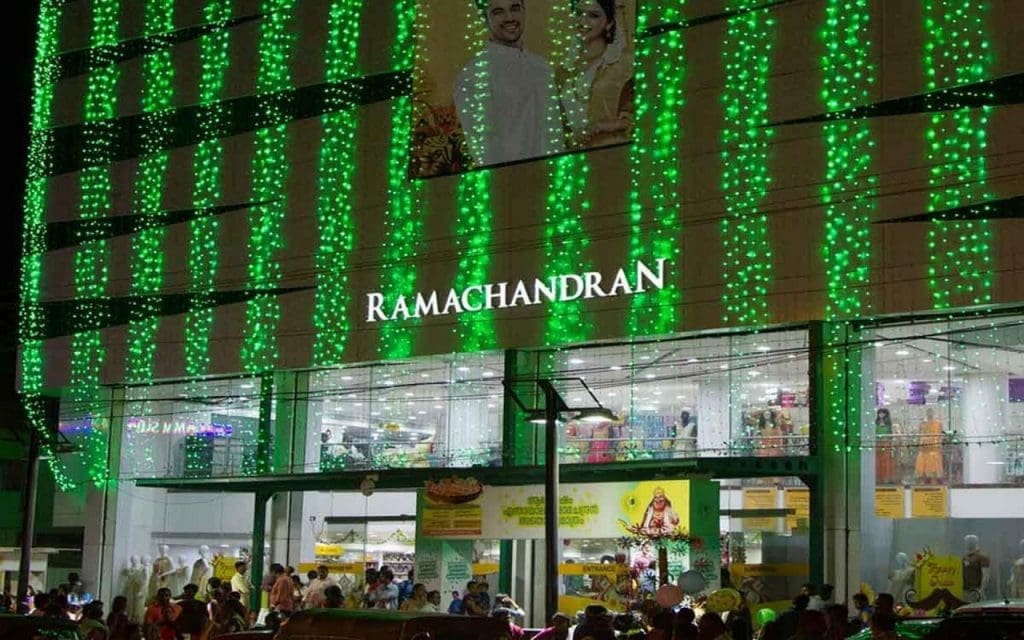 There is also a food court at this market where customers can buy delicious meals at affordable prices during their shopping in Trivandrum.
Being a thriving textile store, it serves as the one-stop shop for all your fabric and textile needs.
Owing to the sweet shopping prices and bargains, there is always a rush at the mall. Customers should therefore arrive early at the store to avoid the hustle and bustle of later hours.
Renowned for its beautiful and well-crafted silk sarees, your trip to Kerala is incomplete without buying clothes from this store that tops the list of Trivandrum shopping malls.
Location; Attakulangara, Enchakkal road, juma masjid, Killipalam, Trivandrum.
Well known to provide; Textiles, Fabrics, and clothing accessories.
Timings; Mall is open from 9 am till 9 pm daily.
ALSO, SEE – Shopping in Kochi-A guide on where to buy
6. Chalai Heritage Market
The most popular and one of the oldest markets for Trivandrum shopping is Chalai Bazaar.
This busy and bustling market with hundreds of shops and vendors is stretched over 2km. At the Chalai market, vendors throng to sell anything and everything you can ever imagine.
Vegetables to spices, fabrics, gold, jewellery, electronics, handicrafts, household items, clothing, and textiles, the market stands as an all-purpose shopping arcade.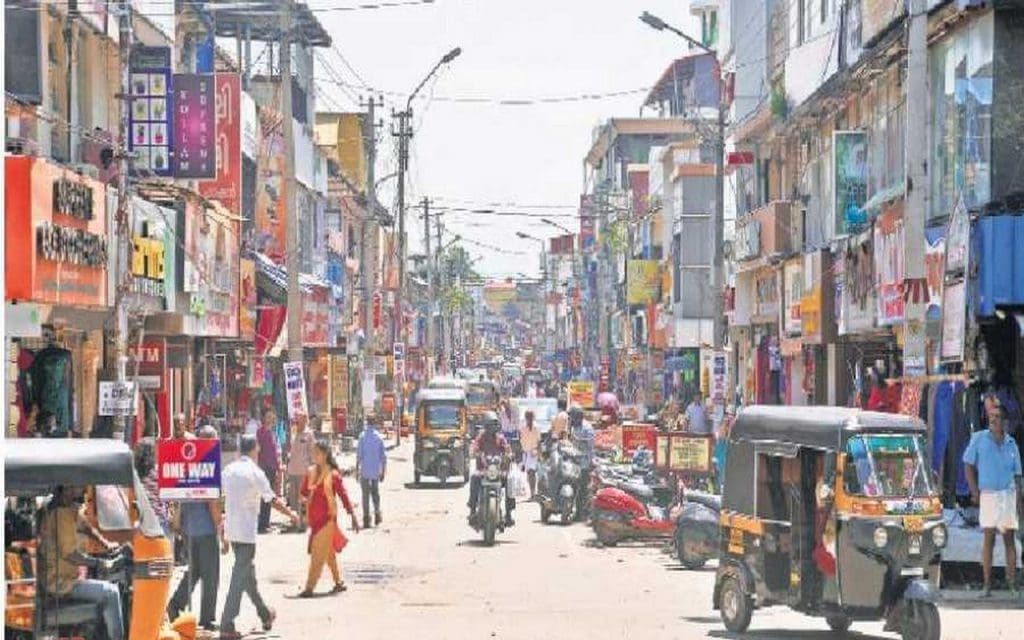 At this Bazaar, your search for delicious lip-smacking dishes comes to an end, thanks to the plentiful restaurants, food courts, and food vendors nestled in this market.
Offering reasonable prices and bargains of wholesales and retail, customers will be satisfied with quality yet pocket-friendly products and services.
Location; Chalai market road, Trivandrum.
Well known to provide; Though anything and everything can be found here, the market is mostly known to offer the best deals of handicrafts, delicious meals, garments, and household items.
Timings; Market is open from 9 am till 8 pm daily.
7. Anna's Arcade
Fashioned as a get all at a go complex, this arcade offers a lush green interior and comfy surroundings, making shopping an attractive activity.
Housing an ample number of coffee shops, restaurants, beauty parlours, boutiques, conference halls, mobile and electronics stores providing sales and services, textile stores, educational libraries, and jewellery stores, this arcade is a one-stop to help complete your shopping list at a go!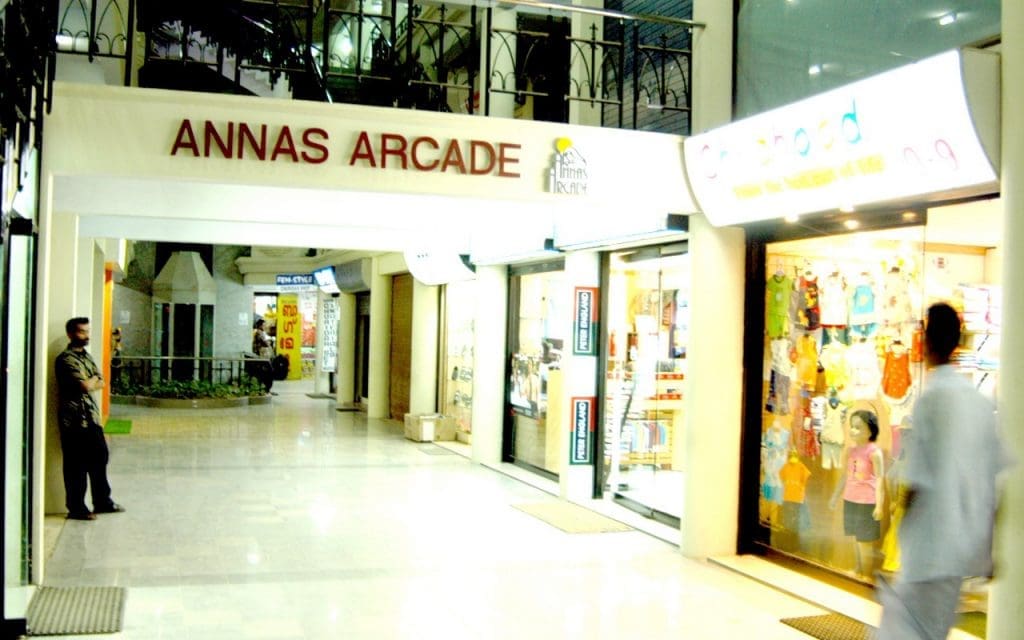 Adding to the glory of this delightful arcade is its coffee house. Claiming the heritage of being the first-ever functioning coffee-producing house in its environs, this complex provides tastily rich and creamy coffee to relax with during your shopping in Trivandrum.
Location; Spencer junction, M.G road, Palayam, Trivandrum
Well known to provide; Nice coffee, phone accessories, and well-stocked educational libraries
Timings; Arcade is open from 8 am till 9:30 pm daily.
8. Stacey International
As the name suggests, this lifestyle store in the heart of Trivandrum offers hundreds of items ranging from clocks and clothes to toys and shoes. Once it was one of the finest malls in Trivandrum which is now converted into a popular lifestyle department store.
Unlike regular local stores, this departmental store which was originally a shopping mall offers you a wide range of quality products from different parts of the world. From blue delft places to cuckoo clocks, potteries and porcelain, vintage home lightening and decoration, cutleries, clothes, shoes, toys, handicrafts, and even a food court of its own.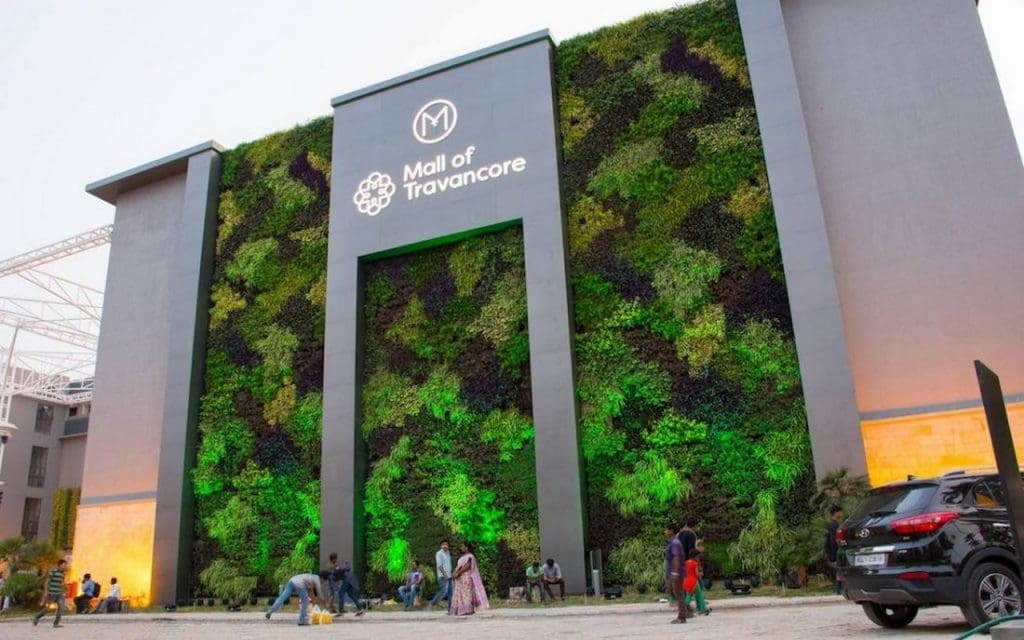 Though an international store, the affordable prices and negotiable bargains of products at the store are mind-blowing.
Location; Kowdiar Ambalamukku road, near Muthoot bank, Trivandrum.
Well known to provide; International and local handicrafts, vintage home decorations.
Timings; The Store is opened from 9:30an till 6:30 pm daily.
9. Saphalyam Complex
Standing right at the heart of Mahatma Gandhi Road, Saphalyam Complex is one of the best Trivandrum shopping malls for window shopping.
Close to the Connemara market, this famous and historic shopping centre has been attracting customers from all over the city for over 20 years.
With a plethora of stores and vendors willing to sell at agreeable and negotiable prices; Textiles, household items, men, women, and kiddies clothing, shoes, bags, electronics, handicrafts and so much more are made available at the shopping complex.
Thanks to the constant springing of cuisines, restaurants, and cafes at Saphalyam, getting delicious and tasty meals or coffee during your shopping in Trivandrum has also been made easy.
Location; Palayam market road, Trivandrum.
Well known to provide; Discounts and wholesale prices on handicrafts, delicious dishes, textiles, and antiques.
Timings; The complex is opened from 10 am till 9 pm daily.
10. Sarwar the concept store
Seeking a store to get utility gifts, handcrafted stationaries, souvenirs from different parts of India, bags, books, yoga mats, home decorations, furniture, jewellery, clothing, shawls, scarves, and an endless list of similar items? Then Sarwaa the concept is the one-stop shop for you.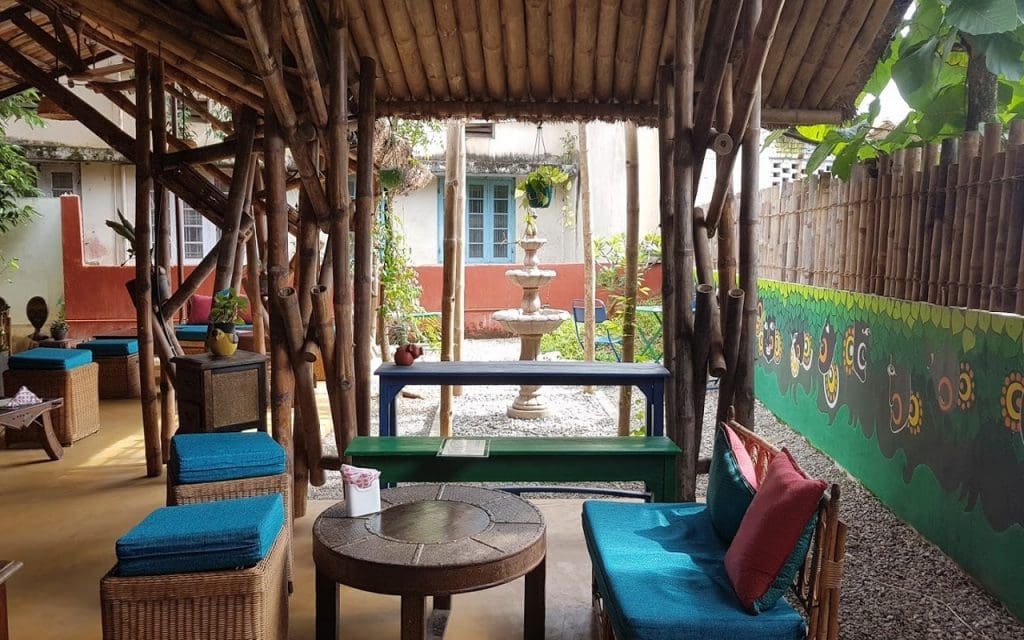 Seeking the best item to gift a friend? Then your shopping list is complete at the Sarwar's store as the store proffers an abundance of affordable and negotiable gift packages and souvenirs.
During your shopping, you need not be bothered about what to eat or drink, as cold drinks, cold and hot beverages, pancakes, light snacks, sandwiches, yoghurts, and milkshakes are readily available at the store Café at reasonable prices.
The store has in addition, an exotic and cool ambience, leaving customers relaxed and refreshed after their shopping.
Location; Balmahal, all India radio vazhutacaud DPI road, Trivandrum.
Well known to provide; Home decorations, handicrafts, furniture, gift packages, and souvenirs.
Timings; The store is opened from 10 am till 7:30 pm daily.
Plan your trip to Kerala with us and get ready for retail therapy with wide Trivandrum shopping options.