Ask a Malayali in Kerala to point you in the direction of a great restaurant & bar that serves traditional food, and we bet they'll lead you to a toddy shop. Why, you ask? It's because toddy shops are your best bet when it comes to tasting Kerala's finest culinary fare and its popular local alcoholic beverage – Toddy! That's right! If you really wish to get acquainted with the true culture and heritage of Kerala on your tour, visiting the most famous toddy shops ought to be on your list, like the great Mullapanthal Toddy Shop.
Renowned for serving fresh and delicious toddy with a range of Kerala's famous dishes, Mullapanthal Toddy Shop is a favorite of every local and traveler in Kochi, Kerala. Its soothingly rustic setting, colorful ambience, and age-old experience in serving quality South Indian fare with a refreshing glass (or two) or toddy has gained it tremendous respect and recognition over the years.
Want to know more about this wonderful outlet? You can scroll down and find out all about this delightful restaurant in Kochi that will turn you into a fan of traditional Keralan cuisine if you aren't already one! But before that, let us give you a clear idea about what a toddy shop really is.
What Are Toddy Shops?
Toddy shops or "shaaps" are restaurants or eateries where the local beverage toddy is the main highlight in the menu. These toddy drinking establishments are present in many parts of India, especially the southern states, where this beloved beverage is served with flavoursome cuisine.
ALSO SEE – 75 Best things to do in Kerala 
Toddy is essentially a local alcoholic drink that is made by fermenting the flowersap of coconut palm. This white and sweet coconut wine has about 4-6% alcohol and is prepared and served fresh in these establishments since it has a short shelf life. This delicious drink is best enjoyed with spicy food, especially red fish curry made with a lot of chilies. Mullapanthal Toddy Shop is among the best places in Kochi where you can enjoy this rich beverage along with the varied spicy dishes that Kerala is famous for.
More aboutMullapanthal Toddy Shop
Location: MLA Road, Udayamperoor, Thrippunithura, Kochi, Kerala 682307
Timings: 8 AM – 9 PM
Price for two: INR 500 (without alcohol)
Cuisine: Kerala, Seafood, Bar
Owned by: Aarisseril group
Google rating: 4.2/5
TripAdvisor rating: 4/5
Zomato rating: 4.5/5
Map Of Mullapanthal Toddy Shop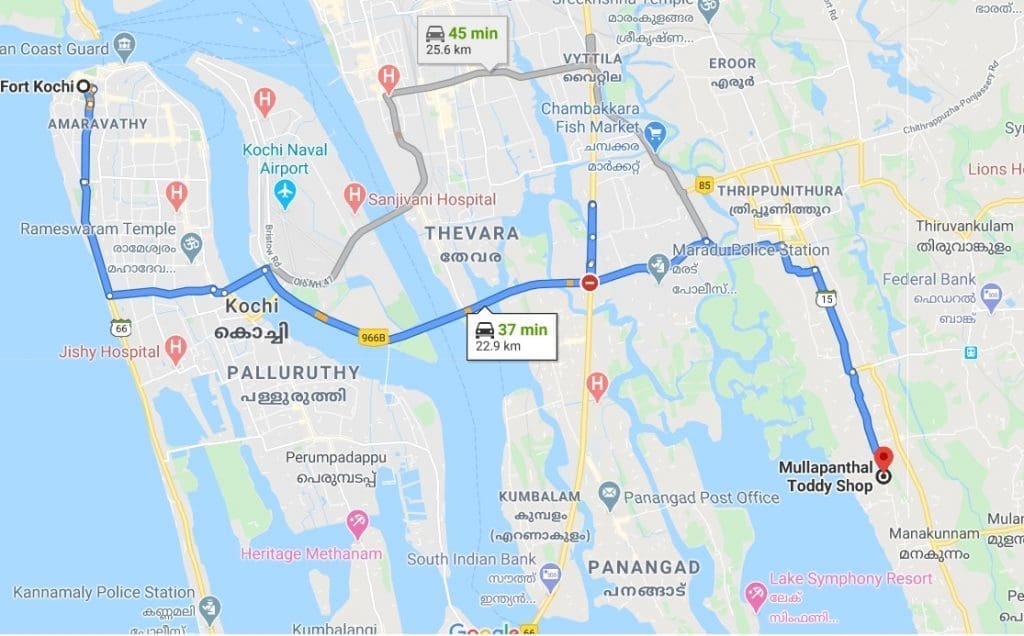 What is special about Mullapanthal Toddy Shop?
If you are looking for toddy shop Kerala? Find out the most promising features of Mullapanthal to know what sets it apart from other toddy shops in Kerala.
Excellent Traditional Kerala Food
Serving a vast range of non-vegetarian and vegetarian dishes with farm-fresh ingredients, Mullapanthal strives to provide quality food that tickles the taste buds and leaves visitors more than satisfied! Also, if you're a meat and seafood lover, then you won't find a better place to dine in! The Mullapanthal Toddy Shop food menu is packed with a number of delicious delicacies of chicken, beef, pork, duck, prawns, squid, lobster, and more in all shapes and sizes. It's an incomparable haven for foodies!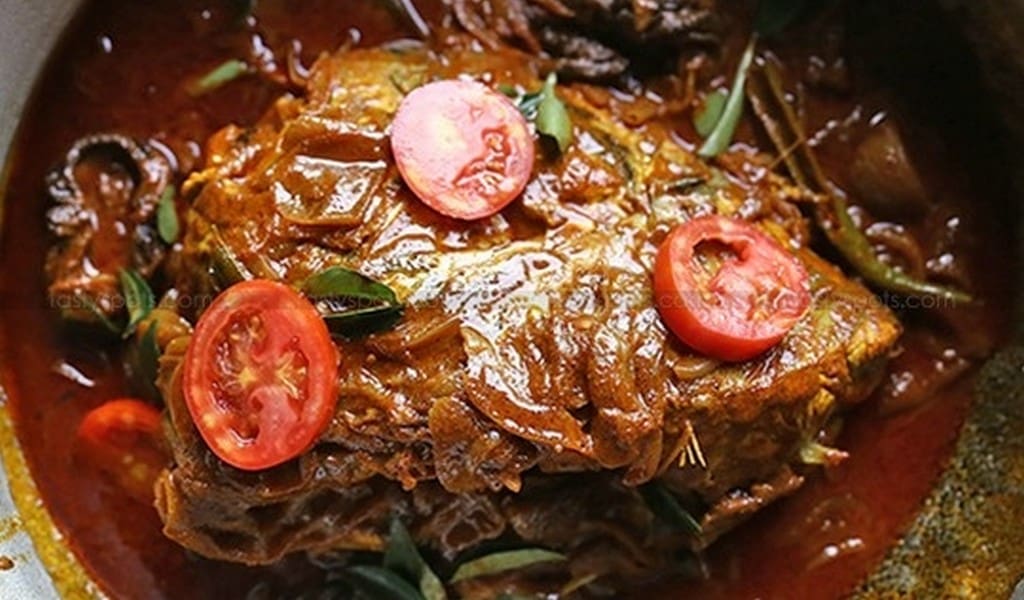 What's more, you won't have to wait long for your order to arrive. Other than delicious food, Mullapanthal is known for its quick service. Whatever you order will be obtained from the farm or the river that instant, cooked in a jiffy, and served to you hot and steaming in an instant!
Family-friendly
Just because it's a "toddy shop" doesn't mean you'll find rowdy drinking men. Mullapanthal Toddy Shop had turned into a full-fledged family restaurant a long time back without losing its cultural essence and the quality of its main item – Toddy. It has earned a name for itself in the food industry as an absolutely safe and welcoming place for families, female travelers, couples, colleagues, friends, and everybody else. Besides, you wouldn't want your family to miss out on food that is so damn good!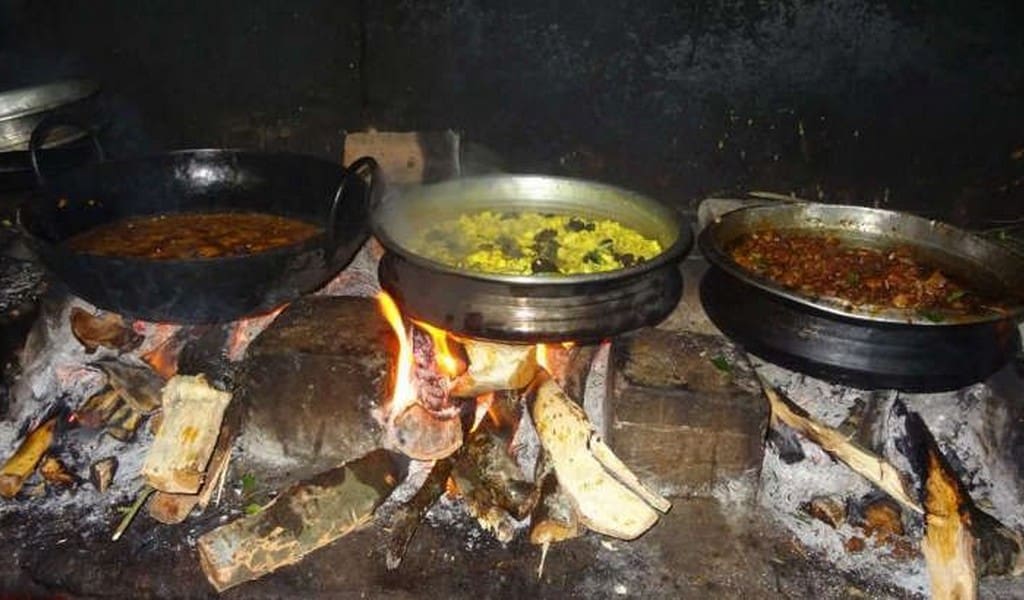 You can choose to sit in a family room or a fun room when you arrive at Mullapanthal as per your convenience and comfort. The only difficulty you'll face here will be finding a seat. Since this family-run restaurant is so popular now, it's always jam-packed with people trying to get a taste of Kerala's finger-licking cuisine and Toddy.
Comfortable Indoor Seating
The rustic outlook and ambience of this toddy shop might appear shabby at first glance, but your worries will vanish in thin air once you step inside and take a seat. Reflecting Kerala's earthy and low-key culture, this place has modest decor and furnishings, nothing like those fancy restaurants you see around. But the great hospitality, the excellent food, and the variety of hungry travelers that you'll find here will prove that it is better than those lavish eating joints you visit!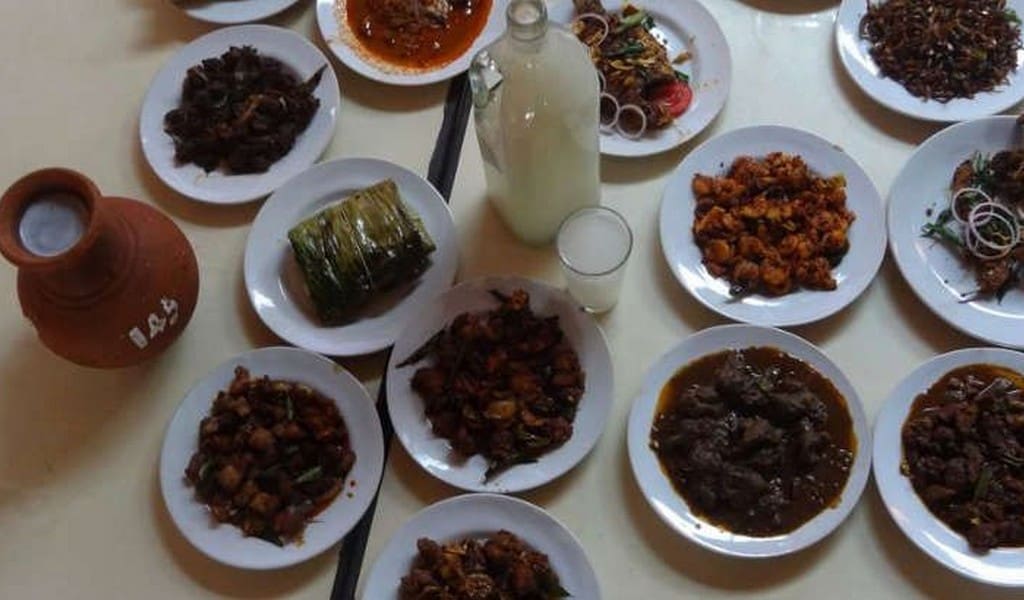 Comfortable chairs and tables, seperate rooms for families and heavy drinkers, proper ventilation, hygienic kitchen, attentive staff, and rustic walls bearing pictures of renowned celebrities dining in the same space are testament to the level of comfort Mullapanthal provides. The best part is that despite being a traditional bar, you won't find a single person causing a ruckus while drinking here.
Friendly Staff
Dressed in typical Kerala style veshtis, the waiters at Mullapanthal will always come up to take your order with a warm smile. You don't have to worry about the expenses here as everything on the Mullapanthal Toddy Shop price list is affordable since a lot of locals too come to eat and drink here. Other than being friendly, the staff at Mullapanthal is swift too! You also don't have to wait too long for the food. No matter how big or diverse your order is, it'll reach your table in no less than 15 minutes.
The owner(s) of the place make sure everyone who visits has a good time. The feedback they receive from diners, especially tourists, is crucial to them and helps them improve their services, if needed. So, if you get approached by someone for your feedback once you've had a fill of your delicious meal, don't hesitate to provide an honest opinion of the overall experience of dining here.
Clean And Well-maintained
Despite the somewhat sober and shabby look from outside, this eatery is exceptionally well-maintained and hygienic. The owners and staff take great care to keep the dining premises neat and tidy at all times. If you walk in here with the impression that it's exactly like any toddy shop shown in old Malayalam movies – dirty, dark, and filled with boozy men – then you'll be surprised to be proven wrong on your visit! Most toddy shops, or shaaps, are now modern and clean restaurants with a cultural touch.
In fact, if you Google "best family toddy shop near me" anywhere in Kochi, the first suggestion you'd get is Mullapanthal Toddy Shop. While Mullapanthal cannot provide a 5-star dining experience, it sure makes up for that with its welcoming surroundings, warm staff, great food, and a distinct peek into the authentic Kerala culture!
Best Toddy In Town
Needless to mention, Mullapanthal offers the best toddy in town, and no, we're not exaggerating when we say that. No matter which corner of Kerala you're in, if you ask local Malayalis to show you the way to the nearest toddy shop in Kerala for the best and affordable toddy, they'd just tell you to visit Mullapanthal. Other than producing its own coconut wine, or toddy, Mullapanthal also uses the best locally sourced food and meat to complement that wine.
Living up to its desired characteristics, Mullapanthal's toddy is thick, pungent, and strong, which makes it difficult to drink by itself. Thus, this place provides you the perfect spicy companion to enjoy with a glass or two of fresh and yum toddy-fried fish or prawns with red chiles or prawns sauteed with curry leaves and coconut!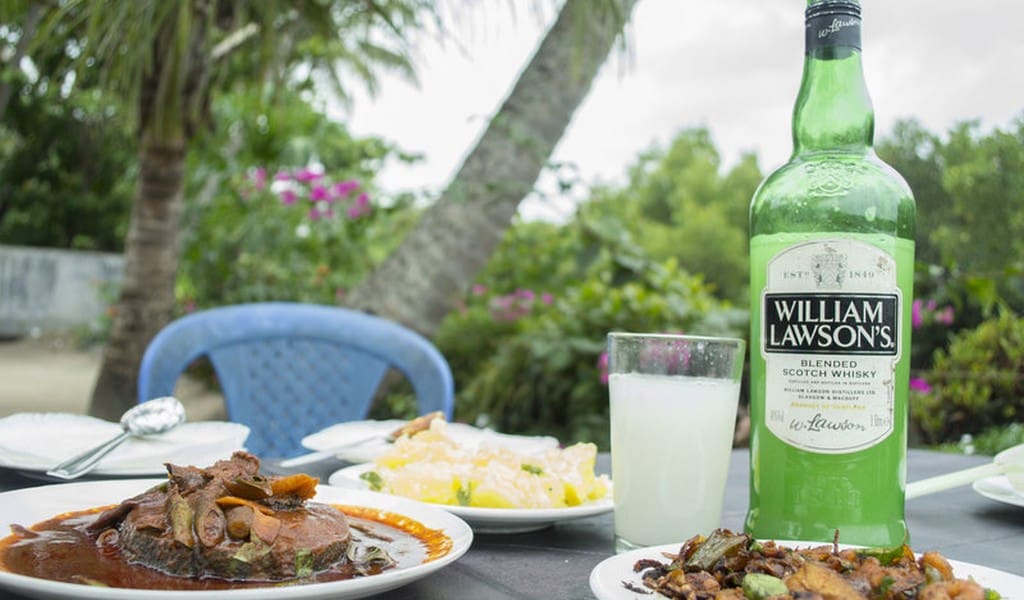 Top Dishes To Try At Mullapanthal Toddy Shop
Mullapanthal Toddy shop is one of the most famous toddy shops in Kerala. Looking for the perfect companion for your tall glass of sparkling coconut wine a.k.a toddy? Here are some of the most wonderful items on the Mullapanthal toddy shop restaurant menu that you must try when you're there:
Fish Curry (Mulakittathu)
Fried Prawns
Appam
Beef Curry
Mussel Fry
Karimeen Pollichathu
Kozhuva Fry
Meen Curry
Quail Fry
Duck Curry
Roasted Duck
Puttu
Kappa (Tapioca)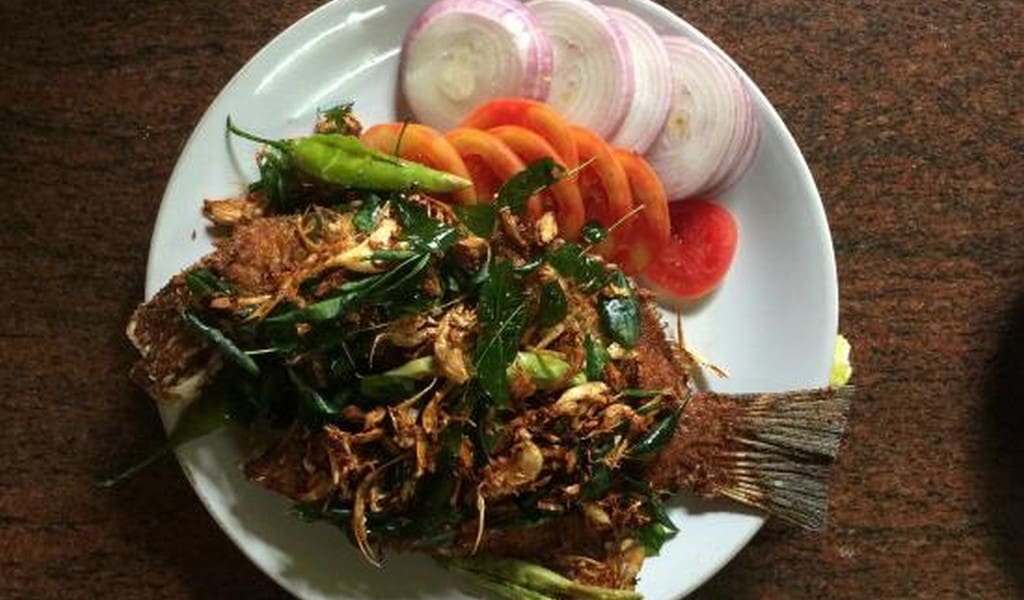 Best Time To Visit Kochi, Kerala
Winter is by far the best time to visit Kerala and its cities. The time from October to February is considered to be the most ideal to visit Kerala and indulge in a range of outdoor activities there like watersports, exploring beaches, sightseeing, safaris, and much more. The weather is dry, cool, and pleasant in winters here as compared to other seasons. The temperature in winter in Kerala ranges between 17 Celsius and 33 Celsius.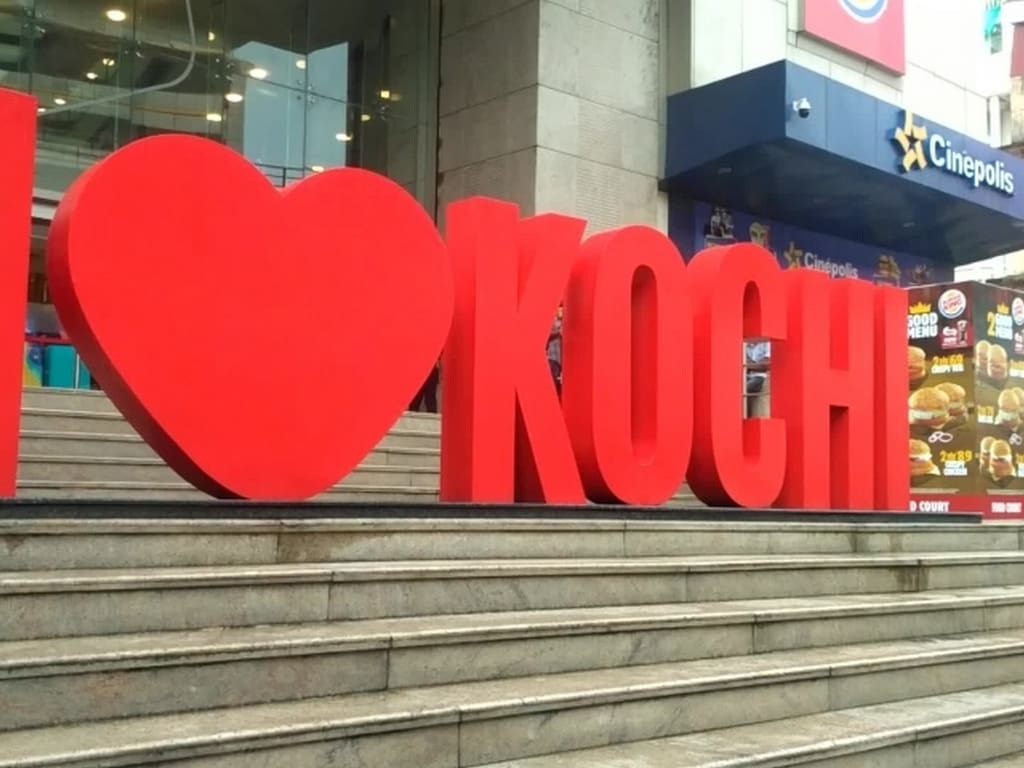 Monsoon is also considered a great time to visit Kochi for those who wish to relax amidst its natural splendor and fresh foliage. While there aren't many adventure and touristy activities operating during this time, it's still a great opportunity to see Kerala in its pristine form minus the crowd.
ALSO SEE – Is Kochi & Cochin the same?
However, as far as tasting its varied cuisine is concerned, there isn't a specific suitable time for that. Every season and month in Kochi (or Kerala altogether) is ideal to visit for those who wish to treat their tummies to delicious Kerala food!
How To Reach Kochi, Kerala
By Air: You can simply take a flight to Cochin International Airport which in turn is well connected to all major Indian cities like Delhi, Mumbai, Chennai, Kolkata, Bangalore, as well as the world. From the airport, you can take a taxi or the shuttle to get to the main city which is about 29 km away.
ALSO SEE – Airports in Kerala – A helpful Guide for Tourists 
By Train: You can take a train to the Ernakulam Town Station or Ernakulam Junction Station in Kochi. Both these stations are connected to almost all major Indian cities and towns. From the station, you can simply board a bus or take a taxi to reach your desired destination in Kochi.
By Road: You can hail a taxi from Kochi's airport or railway station, or hire a vehicle from any city in South India to get to Kochi. The smooth and well-maintained highway and local road network leading to Kochi are blessed with blissful weather and dramatic natural views that change every few hundred meters. Driving on these roads would be an absolute delight! If a taxi or hired vehicle is coming out to be an expensive option, you can board a state-run or private bus to Kochi.
Kochi has a reliable and efficient network of Kerala State Run Transport Corporation (KSRTC) bus services as well as many private AC volvo bus services that connects this charming city to all major cities in Kerala, and many major cities in Karnataka, Tamil Nadu, and Andhra Pradesh, the likes of which include Trivandrum, Munnar, Bangalore, Hyderabad, Mumbai, and Chennai.
By Water: You can also avail yacht or cruise services to reach Kochi if you are feeling more adventurous and budget isn't a worry. You'll be able to find regular yacht and cruise services from destinations like Goa, Lakshadweep, Mumbai, and even international destinations like Colombo (Sri Lanka) and Male (Maldives) that will take you to Kochi via absolutely scenic routes.
If you want a boat journey that's more economical, you can choose to ride a ferry to Kochi from cities and towns like Kottayam, Kumarakom, and Alleppey which will take you through stunning backwater routes!
How to get to Mullapanthal Toddy Shop In Kochi
Once you have reached the Kochi airport, railway station, bus stop, or port (if you're coming by water), the next step is to take a taxi or a local auto (tuk tuk) in order to reach Mullapanthal. The place isn't exactly accessible by bus, so taxi and tuk tuks are the only ways to get there.
Kochi has a frequent Uber service, and if you have the app in your phone, you can easily call an Uber and get there. The full address of Mullapanthal is available on Google (as well as in this blog at the top) and you can simply navigate your way to it.
Let us give you an idea about the distance between Mullapanthal and the main transport centers in Kochi:
Cochin Airport to Mullapanthal : 37.2 km (50 mins)
Ernakulam Town Station to Mullapanthal: 16 km (33 mins)
Ernakulam Junction Station to Mullapanthal : 15 km (27 mins)
Fort Kochi Ferry Terminal to Mullapanthal : 22 km (38 mins)
Reviews Of Mullapanthal Toddy Shop
Now, let's take a look at what other travelers and past customers of Mullapanthal have to say about it.
Zomato Reviews on Mullapanthal Toddy Shop
Bibin says "We were here for lunch. We were given a family room. We ordered fresh toddy, prawns dry, crab dry and karimeen pollichathu, kappa, and idiyappam. Everything was good, especially the prawns were amazing! Overall, it was a good experience.
TripAdvisor Reviews
George says "It's a must go place to experience the real taste of local brew called Toddy and the best of accomplishments from Kerala. A visit to Kerala would be totally incomplete without this and it is highly recommended. This place is not for the posh but for those who seek to experience the real run-down Toddy shop experience, and believe me, you will not be disappointed."
Google Reviews
Rahul says "Awesome traditional taste. The place has become so famous recently that nowadays one has to wait in a long line to get a spot in the peak times. Family rooms with ac available here. Large varieties to choose from a typical toddy shop menu. No compromise on taste. Reasonable rates."
Other Famous Toddy Shops In Kerala
Mullapanthal is just first in the long line of authentic toddy shops in Kerala that provide the divine taste of this state's rich culture and heritage on your platter. If you wish to gorge on more delectable Kerala cuisine and try a variety of toddy after dining at Mullapanthal, you can explore other toddy shops here. Other than Mullapanthal, some of the best toddy shops or "shaaps" in Kerala include:
Manthoppu Family Restaurant (Thrissur)
Thrippekulam Shappu (Thrissur)
Mapranam Shaap (Thrissur)
Pravinkoodu (Thrissur)
Vanarani (Kottayam)
Padippura (Kottayam)
Nettoor (Kochi)
Subhash Restaurant (Alleppey)
Out of these, Nettoor Toddy Shop in Kochi is simply amazing if you're in for some spicy and tangy fare as well as freshly brewed toddy. Kottayam is essentially the toddy capital of Kerala and has gems like Vanarani and Padippura toddy shops that you must visit.
Other than this, Subhash Restaurant in rural Alleppey isn't exactly famous, but it's an awesome place to dine at if you're looking for the noncommercialized version of toddy and an uncrowded place. Offering just the right taste with rich local ingredients and spices, Subash Restaurant is owned and run by a small family that invites you in with a warm smile and treats you with the best Kerala fare you'll ever have tasted!
We bet this made you drool, didn't it? Well then, what's stopping you? Browse our range of Kerala holiday packages and book an exciting getaway to God's Own Country to taste its rich and sumptuous cuisine that will melt your heart! Pay a visit to Mullapanthal Toddy Shop in Kochi while you're hopping about on your food tour and indulge in the finest flavors that Kerala has to offer to satiate your love for spicy cuisine and seafood.
Happy Tripping!
Frequently Asked Questions About Mullapanthal Toddy Shop
What is special about Mullapanthal Toddy Shop?
Mullapanthal toddy shop-cum-family restaurant is known to serve some of the best and most authentic Malayali food in all of Kerala, and at very reasonable rates. Mullapanthal Toddy Shop is hailed as one of the best family toddy shops in Kerala according to travelers as well as locals.
What are the top dishes to try at Mullapanthal Toddy Shop?
Highlights on the Mullapanthal toddy shop menu include items like Meen Karimeen Pollichathu (Fish), Thalakkarai (Fish Head), Njandu Curry (Crab), and the rare Turtle Roast. It's a heaven for traditional food lovers.
Is the Mullapanthal Toddy Shop well-maintained and hygienic?
Mullapanthal toddy shop is exceptionally well-maintained and hygienic. While Mullapanthal cannot provide a 5-star dining experience, it sure makes up for that with its welcoming surroundings, warm staff, great food, and a distinct peek into the authentic Kerala culture!
Mullapanthal Toddy Shop has separate rooms for families and heavy drinkers?
Yes, Comfortable chairs and tables, separate rooms for families and heavy drinkers, proper ventilation, a hygienic kitchen, attentive staff, and rustic walls bearing pictures of renowned celebrities dining in the same space are testaments to the level of comfort Mullapanthal toddy shop provides.