Kerala is not a dry state like some states in India. Liquor is not banned in Kerala. There are plenty of Kerala alcohol outlets where beer and wine are served.
However, consumption of alcohol and liquor in Kerala is controlled and few days every year are enforced dry days.
Dry days in Kerala are the days on which the selling of alcohol is prohibited.
Dry days in Kerala includes:
1) 1st Day of English Calendar Every month for administrative purposes.
2) Commemoration Day of Mahatma Gandhi
3) Samadhi day of Sree Narayana Guru – 5th day of Malayalam month Kanni as per calendar
4) Birth Day of Sree Narayana Guru – Chathayam Day in Kerala as per calendar
5) Birthday of Mahatma Gandhi – October 2
6) Dry days are observed on the day of polling and the previous day during elections as well.
The beginning of every month is observed as a dry day in Kerala on the grounds that it is the salary day.
The above days are dry days in Kerala enforcing the Abkari Act in Kerala.
Kerala has one of the highest per capita consumption of liquor in India and the Government of Kerala earns big money from its wholesale alcohol monopoly the sale of liquor is indirectly controlled by Kerala State Beverages Corporation Limited.
The people of Kerala are often labelled as heavy drinkers for understandable reasons. In 2015, the ban on liquor in Kerala was imposed and Keralites were shocked and opposed it.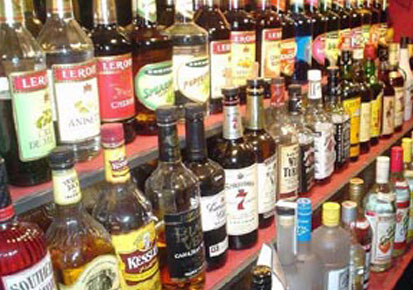 Liquor in Kerala
The government of Kerala has tried to control the consumption through laws and by reducing the maximum quantity of liquor that can be possessed by a person who is not a licenced manufacturer or vendor of liquor to 15 litres from 27.1 litres. The total number of beer bottles one can buy at a time has been reduced to 6 from the previous 12. The quantity of IMFL one can possess has been reduced to 3 litres from 4.5 litres. The quantity of toddy has also been reduced to 1.5 litres from 2.5 litres.
However, this order battered Kerala alcohol beverage and tourism industry. With alcohol only restricted to five-star hotels, it became difficult for tourists in Kerala to grab a drink. The Tourism and Labour Department, as well as the houseboat industry of Kerala, stated that the ban on liquor in Kerala leads to losses in the tourism sector.
The ban also leads to illicit alcohol production and consumption and bootlegging. As a result, in June 2017, the Government eased the ban on liquor in Kerala.
Keralites rejoiced at this news as it will be easier to rekindle their long-standing love affair with liquor in Kerala.
If you are a tourist travelling to Kerala you can buy liquor from Kerala State Beverages Corporation Limited Shops that exists in every nook and corner of the state or from any resort or hotel in Kerala with a valid liquor license. There are beer parlours in many places as well where you can try out beer including Indian beer as well.
It is perfectly legal to carry your own alcohol bottles for personal consumption inside Kerala Houseboat and you can also request your houseboat operator for a taste for fresh madhura kallu (sweet toddy extracted from the coconut palm) to have with exotic karimeen pollichathu which is a part of Menu in Kerala houseboats.
Toddy shops providing palm toddy, a mildly Kerala alcohol beverage made from the sap of palm trees can be found everywhere in Kerala.
The other preferred Kerala alcohol drinks are rum, brandy, and beer. An evening peg or beer is a significant part of Keralite's merriment.
Plan your trip to Kerala with us and try Kerala alcohol for a true taste of South India.