What are your plans for this summer after Covid?
If you have the travel bug, why not get a taste of a tropical paradise with sandy beaches and swaying palm trees and enjoy Kerala in summer?
Blessed with postcard-perfect scenery and replete with natural beauty unlike anywhere else, Kerala is an intoxicating destination to visit in summer. While it does get pretty hot here in the summer season, this charming state makes up for that with its refreshing backwaters and seas, lush green flora, and an exquisite culture. With so much to explore, no annoying crowds of tourists around, and the prices of hotels and homestays at an all time low, Kerala in summer is definitely an excellent choice for your summer holidays with.
ALSO SEE – Best time to Visit Kerala
It's perhaps the only chance you have in the whole year to have this place all to yourself! Whether you choose to embark on an adventurous hike with your friends, go boating with your family, sail the backwaters with your partner, or take a stroll on the beach all by yourself, you'd be able to enjoy complete and uninterrupted seclusion and privacy!
The Why- Kerala in Summer
There are a lot of reasons to go on a summer vacation in the beautiful region of Kerala, India. When you go traveling with your family you will be taking the opportunity to make wonderful memories that will last forever. Kerala is a fantastic experience for couples or solo travelers or families traveling with kids to Kerala. Summer is a time to relax and have fun, so take some time off and enjoy yourself on a laid back getaway.
Many have referred to Kerala as the most mesmerizing state in India. Here are a few of the reasons why it should be the ideal and best destination for your summer holiday in India:
Kerala is called "God's Own Country" and there is a reason for this nickname god-like beauty of these landscapes which is magical to say the minimum.
This is a great destination if you are interested in Ayurvedic healing – as there are many beautiful spas where you can treat yourself to an Ayurvedic massage and if you can mix a summer vacation with the onset of monsoons which is supposed to be the best season for Ayurveda treatments
There are excellent sun-kissed beaches in Kerala where you can swim in the clear waters or relax in a hammock all day long and you can stay in any of the luxurious beach resorts in Kerala
It's fascinating to visit a spice plantation and learn about how spices are grown and produced.
If you love outdoor sports, then you can enjoy wildlife treks, mountaineering, rock climbing and other adventure tourism activities in Kerala .
The backwaters of Kerala offer a complex system of inlets, lakes, channels and waterways. When you float along these waters on a houseboat this is a wonderful and relaxing way to enjoy the lush and green countryside.
Weather In Kerala In Summer
Winter is usually considered to be the best time to visit Kerala. Many even say it's a year-round destination that you can visit at any time of the year! This means whether you choose to visit it in summer, or monsoon, or winter, you'd end up having the time of your life!
The average temperature in Kerala during the summer season remains between 26°C to 38°C. It's usually the Western Ghats as well as the west coast that help stabilize the hot weather and add a zest of cool breezes and a refreshing foliage to the otherwise soaring temperatures. The Ghats contribute a great deal in trying to prevent the hot and balmy northerly winds from gaining entry into the terrain during summer. The Arabian Sea, on the other hand, offers enough cool breeze to this coastal destination to make sure the temperature does not rise beyond 38°C.
Kerala doesn't experience uniform weather at any given point of time in the year. For instance, while it may be hot in other cities of Kerala in summer, hilly areas like Munnar, Ponmudi, and Wayanad will have cooler and more refreshing weather. The varying terrain of this Indian state, like beaches and hills, has differing climatic conditions.
Thus, summer makes up for a great time to check this place out during your summer vacays between the months of May and July. And if you're looking for the coolest place in Kerala during summer for your trip, don't worry, you'd end up finding plenty!
10 Surreal Places To Visit In Kerala In Summer
Looking for the best tourist places to visit in Kerala during summer? Instead of staying at home during the summers, just start exploring Kerala in summer. There are a lot of gorgeous locations in Kerala you could visit. For example, you could relax on the shores of Vembanad Lake in Kumarakom, or in the peaceful verdant Tea Gardens of Munnar.
The hill station of Munnar is located 1600 m above sea level, which gives it a pleasant and cool climate which makes Munnar Tourism really popular in Summers. It is the summer resort of the British Government in Southern India and it offers lush green tea plantations, winding roads and welcoming small guesthouses. Another great destination in Kerala is Mattupetti, which is known for its unique dairy farm. Over 100 types of cattle are reared here and visitors can get a tour of the operations of the farm. This area also has several lovely picnic spots, as well as the nearby Kundala Lake.
ALSO SEE Hill Stations in Kerala- Ideal Summer Getaway
For those who are interested in history and culture there is the Kerala Folklore Theatre & Museum and the Palaces in Kochi. Why not visit Malabar, which is one of the most well-known historic regions in India? This area is famous for its delicious food, as well as the spice and textile industry. Also, in Central Travancore you will find Ashtamudi Lake – a peaceful and relaxing place to spend your holiday.
Northern Kerala is known for its hill stations and mountains in Wayanad and beaches in Bekal and Kannur . Up in these cool and refreshing highlands you will find many plantations where spices, tea and coffee are grown. In Southern Travancore you will find churches, sporting events and large temples, as well as the capital city of Thiruvananthapuram. The capital is a fun place to visit, with many parks, beaches and historical monuments.
ALSO SEE – Best Places to visit in Northern Kerala that no travel guide will tell you about
How can you choose between all of these great destinations in Kerala in summer? The key is to think about what you may enjoy doing. If you simply like to relax and take it easy, a laid back beach destination will be perfect for you. If you want to enjoy some hiking in the mountains, a hill station will be a better choice. Think about what you like in order to design a holiday that is perfect for you.
Take a look at the top ten tourist places in Kerala in the summer season that you can visit with your friends, family, partner, or just yourself for an amazing holiday experience. Make sure you read about every single one of them before you proceed to plan your itinerary!
1. Alleppey
Alleppey is characterized by its breathtaking network of amber-colored waterways and picture-perfect canals dotted with beautiful Kettuvallam-like houseboats. This city is home to some of the most stunning backwaters in Kerala. You'll be smitten by the refreshing and resplendent environment surrounding it, the dark coloured water shimmering like gold in the sunlight, the endless canopies of palm trees swaying right over you, and the delightful views of lush paddy fields playing peek-a-boo through the thick foliage while you lightly sail on your fancy little house on the water.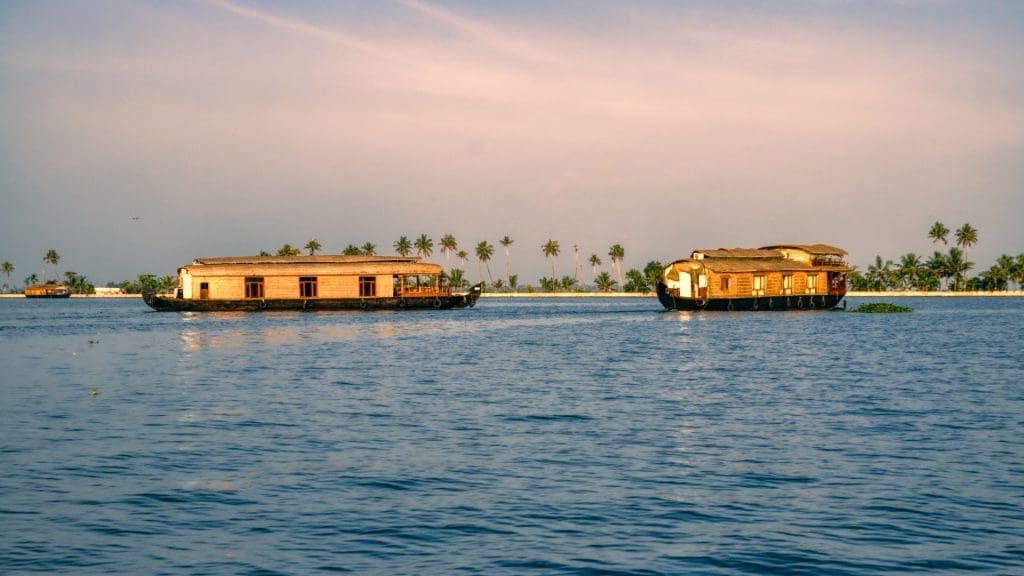 Other than the backwaters, the amazing culture and food of Kerala that will greet you here will also blow your mind at this 'Venice of the East'! With so much to offer, no wonder Alleppey is the most favourite destination for couples and honeymooners visiting Kerala! And while you're here, you must also experience the annual Nehru Trophy Boat Race held here annually which too makes Kerala in summer a great option.
Things to do in Alleppey: Houseboat rides, kayaking, birdwatching, village tours, Ayurvedic spa, shopping.
2. Munnar
Those who say Kashmir is a Heaven on Earth clearly haven't witnessed the mesmerizing beauty of Munnar. Famous as Southern India's largest tea-growing region, Munnar's eye-warming greenery and picture-perfect landscapes that stretch into the horizon are a sight for sore eyes. The rolling carpets of tea fields, the neat rows of trees dotting the pastures after every few hundred meters, the winding roads slicing through the hills, and low mist hanging on the whole scene makes one feel they've stepped into a fairy-tale!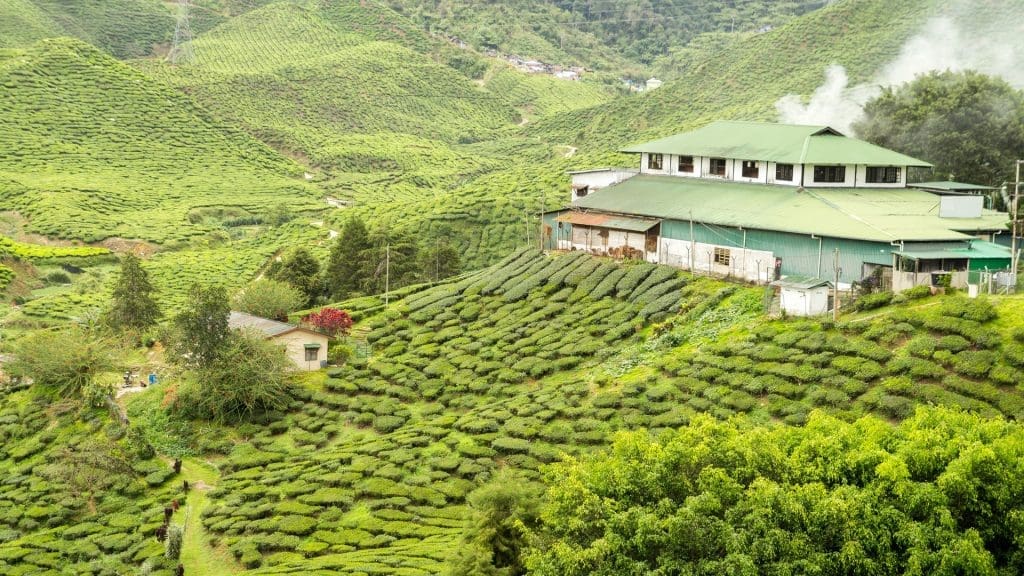 While there's a lot to do in Munnar, taking an exciting drive over the serpentine roads amidst the sounds of birds chirping, the sweet aroma of tea in the air, and the most soothing vistas of tea fields around you will surely be the best experience of all! And while you're at it, don't forget to stop by a tea shop and enjoy a cup of freshly brewed Munnar tea on your way!
Things to do in Munnar: Tea plantation tours, tea factory tours, camping, hiking, trekking, mountain biking, wildlife sighting
ALSO SEE – Top 20 Best places to visit in Munnar in 2021
3. Varkala
Looking for the most exotic destination in the country minus the overbearing crowds of tourists? You must visit Varkala in Kerala this summer! In addition to featuring a rather unique topography, Varkala is also known for its offbeat location, it's authentic Keralite culture, its delicious food, and its lovey-dovey avenues that makes it an excellent choice for newly-weds and hopeless romantics seeking secluded spots in the state.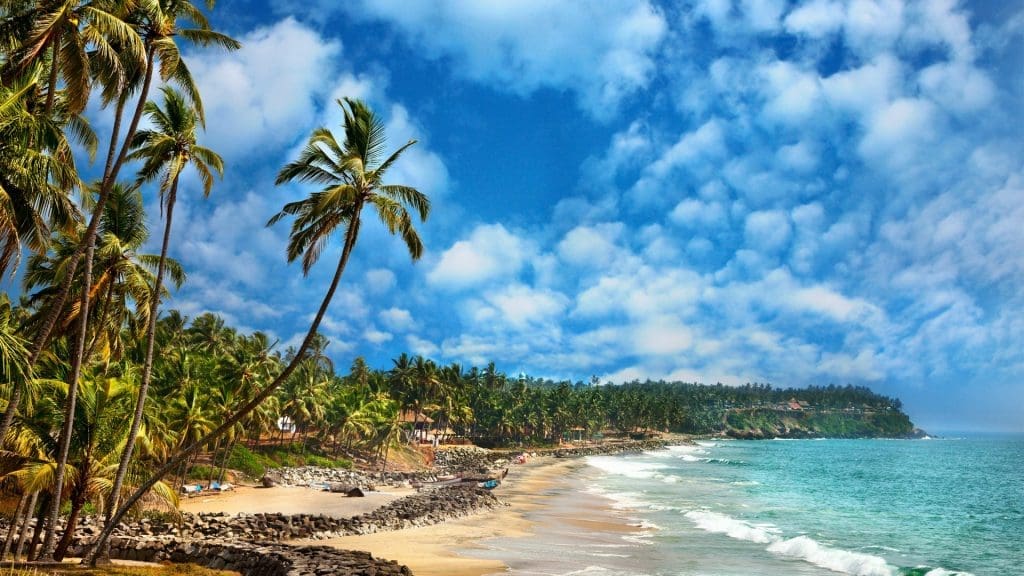 Tucked far away from the maddening urban chaos and clutter, Varkala is an ideal place to chill and unwind. It's the perfect beach destination boasting absolute tranquility and plenty of worthwhile attractions like ancient temples, waterfalls of religious significance, traditional mutts, and various certified Yoga centers for revitalizing your mind and body in the midst of nature's purest form.
Things to do in Varkala: Yoga, boating, paragliding, kayaking, parasailing, exploring beaches
4. Wayanad
Wayanad is the perfect destination for a refreshing holiday in Kerala in summer away from the scorching heat and blazing summer temperature. This gem of a place is replete with beautiful sub-tropical savannahs, cloud-kissed hills, verdant spice plantations, thick jungles, an exquisite variety of fauna, and a distinct cultural heritage that makes it a great choice for a refreshing summer vacation with friends and family.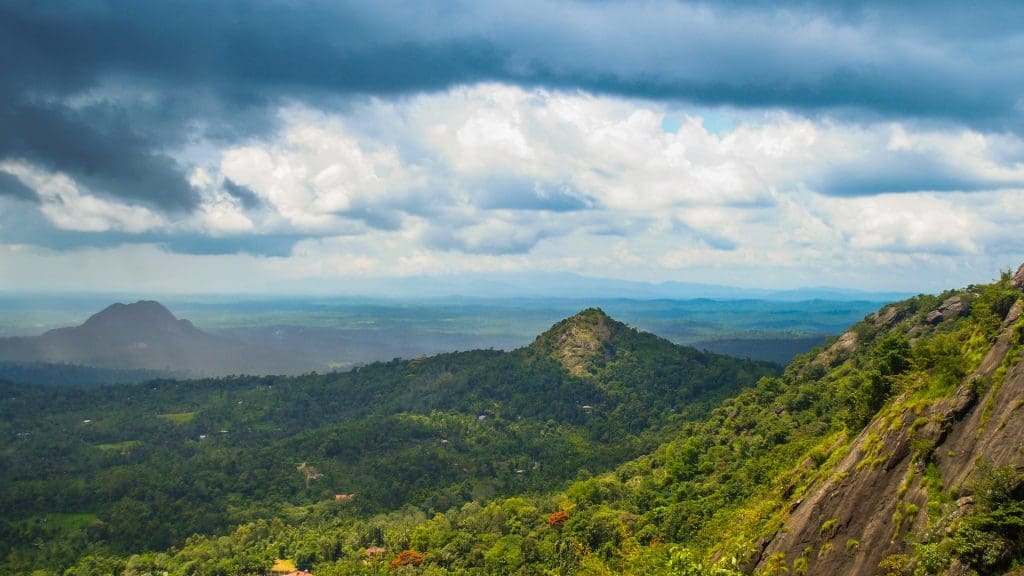 What truly makes it unique is the fact that it's one of the least populated regions in Kerala and an entirely pristine destination, making it an ideal choice for those looking for offbeat locations and untouched natural beauty for a leisurely vacation in Summer. Nestled snugly on the southern tip of the Deccan Plateau, Wayanad is the coolest place in Kerala in summer for those who simply wish to lose themselves in a hilly destination just as beautiful as Munnar minus the crowds, allowing themselves the luxury of waking up to gorgeous and undisturbed views of misty hills every morning!
Things to do in Wayanad: Exploring caves, boating, kayaking, island hopping, Chembra trek, wildlife sighting.
ALSO SEE – Top 15 Best Forest Places to visit in Kerala
5. Kumarakom
Those looking for the remarkably beautiful landscapes of Alleppey as well as a chance to sail in those gorgeous backwaters that Kerala is famous for, while not having to deal with an army of tourists at the same time should definitely stay for a day or two in Kumarakom. Packed with just as much excitement as its rather popular version of Alleppey, Kumarakom is nothing less than a jewel tucked in a peaceful and undisturbed part of Kerala. But are peace and seclusion its only winning points above Alleppey? No, there's more.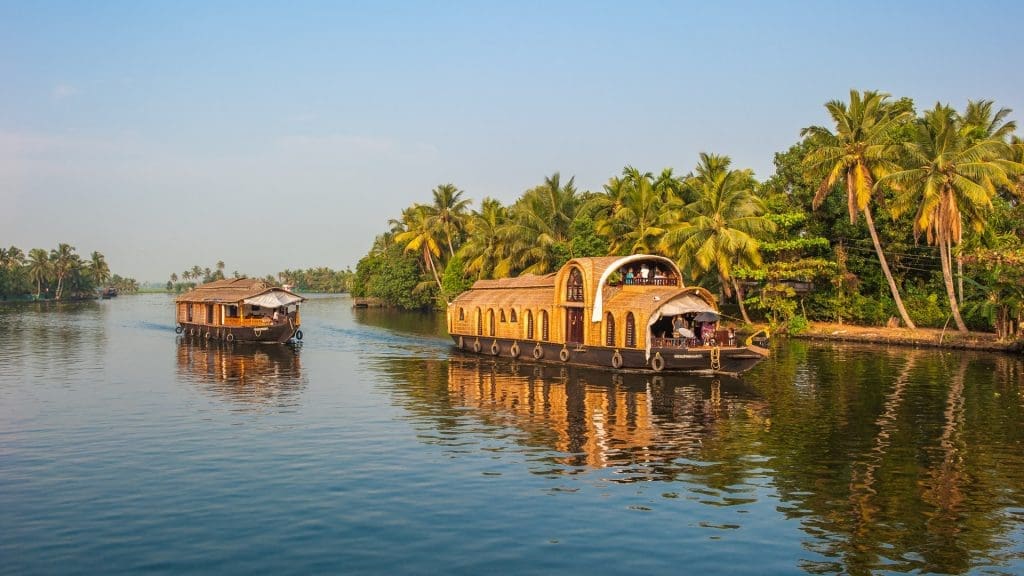 Situated in the Kottayam district of Kerala, Kumarakom happens to be a magnificent archipelago of tiny islets dotting the shimmering backwaters. The most saturated form of greenery you'll ever find and a diverse fauna magnifies the beauty of this exotic landscape. Thanks to Alfred Baker who had beautified this entire region with exquisite paddy fields and lush gardens during the colonial era, sailing on backwaters of the Vembanad Lake is an experience you won't find anywhere else!
Things to do in Kumarakom: Boating in mangrove forests, staying in a houseboat, birdwatching, watching Kathakali dance, waterfall trekking, hiking, Ayurvedic spa
6. Thekkady
Remember when we mentioned Kerala is home to the most diverse terrain?
Thekkady is yet another beautiful example of that! It's the home of one of the most famous nature reserves and wildlife sanctuaries in India – the Periyar Wildlife Sanctuary. Bestowed with unmatched natural beauty, the picturesque Periyar Lake and National Park is a humongous forest reserve surrounding an enormous lake and reservoir area that is part of the perennial Periyar River in Kerala. Offering a chance to witness the endless bounty of nature in Kerala as well as various exotic species of animals and birds, this lake is among the most incredible places to visit in Kerala in summer.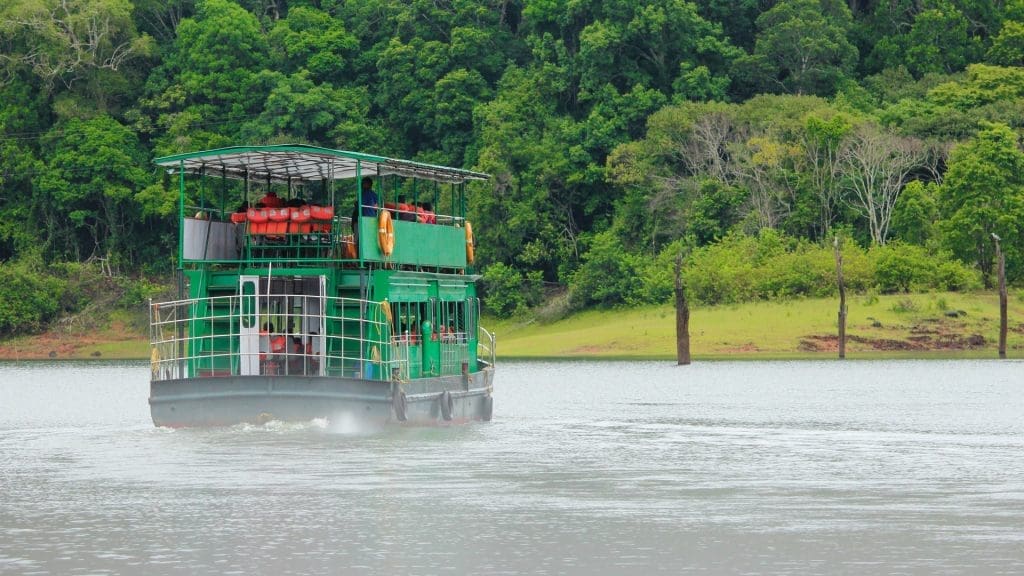 Every year, nature lovers, wildlife fanatics, trekkers, birdwatchers, couples, and families with kids visit this destination in large numbers to engage in the two most exciting activities that it has to offer – boating in Periyar Lake and sighting wild animals and birds in Periyar Wildlife Sanctuary. And when you've explored enough of its natural environs, you can go on a rejuvenating trek or watch a traditional dance performance in any of the theatres across Thekkady.
ALSO SEE – How to book boating in Thekkady in 2021 ?
Things to do in Thekkady
: Bamboo rafting, boating, wildlife sighting, nature walks
7. Bekal
Would you like to watch a dreamy sunset over the Arabian Sea from atop a huge historic fort located right on a marvelous yet empty beach? We bet you would, and no, we're not kidding. Bekal is home to quite a number of delightful tourist attractions, but it is this splendid keyhole-shaped Bekal Fort that draws people here from far and wide and leaves them speechless! Tucked right over the Bekal Beach, this 300-year-old fort was built to protect this city from invaders that came via the sea, and its dilapidated form now stands as an eminent reminder of our strong history. This is one of the best places to visit in Kerala in summer when planning your Kerala Holiday.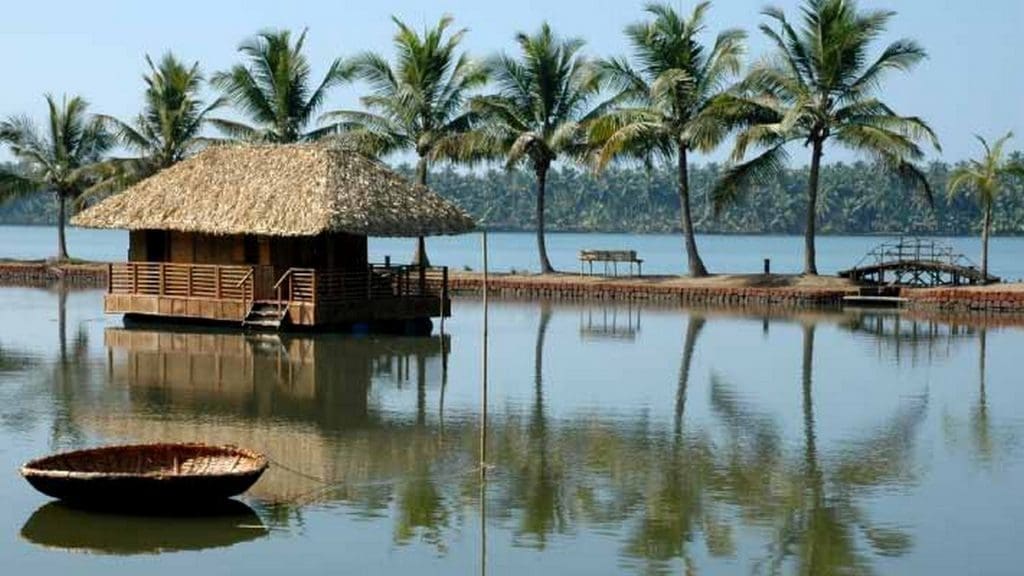 Located in the Kasargod district of north Kerala, Bekal is also popular for its pleasing backwaters, serene hills, traditional Keralan hospitality, stunning palaces and temples, and the exciting array of water sports that it offers. With so much waiting for you at this charming destination, would you be able to resist a trip?
Things to do in Bekal: Exploring beaches, Bekal Hole Aqua Park, backwater ride, cave explorations, and more
8. Thrissur
Thrissur is one of the 14 districts in Kerala and an excellent place to visit in the summer season. Boasting of soothing and pleasant weather year-round, Thrissur is power-packed with rich experiences and activities that will let you get up close and personal with the actual culture and heritage of Kerala. In fact, with all that it offers, Thrissur is often called the 'Cultural Capital of Kerala'.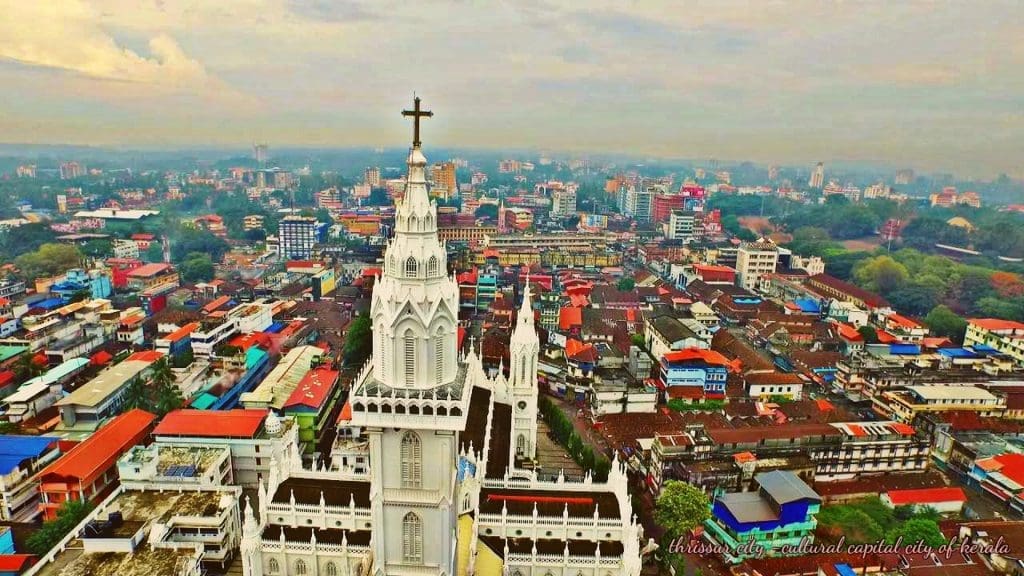 While you're here, you can visit the magnificent Athirappilly Falls, take a trek through the pristine jungles and meadows, be part of the colorful festivals like Thrissur Pooram, pay your respects at the revered shrine of Guruvayoor Sree Krishna Temple, and explore amazing tourist attractions like the Kerala Kalamandalam. No matter what you choose to do in this untampered corner of the Western Ghats, you'll surely end up wishing you could stay here forever!
Things to do in Thrissur: Picnics by waterfalls, trekking, temple tours, nature walks, festivals
9. Thiruvananthapuram
Thiruvananthapuram, or Trivandrum, is sandwiched between the Arabian Sea on one end and the lush mountains of the Western Ghats on the other, providing visitors the best of both worlds. In addition, Trivandrum is home to a number of world-renowned holy shrines, mutts, and temples that draw pilgrims as well as lovers of architecture and history from all over the country. The number of religious sanctums in this city has made it into an important pilgrimage site for people coming here from different corners of the country in search of inner peace and spiritual wisdom.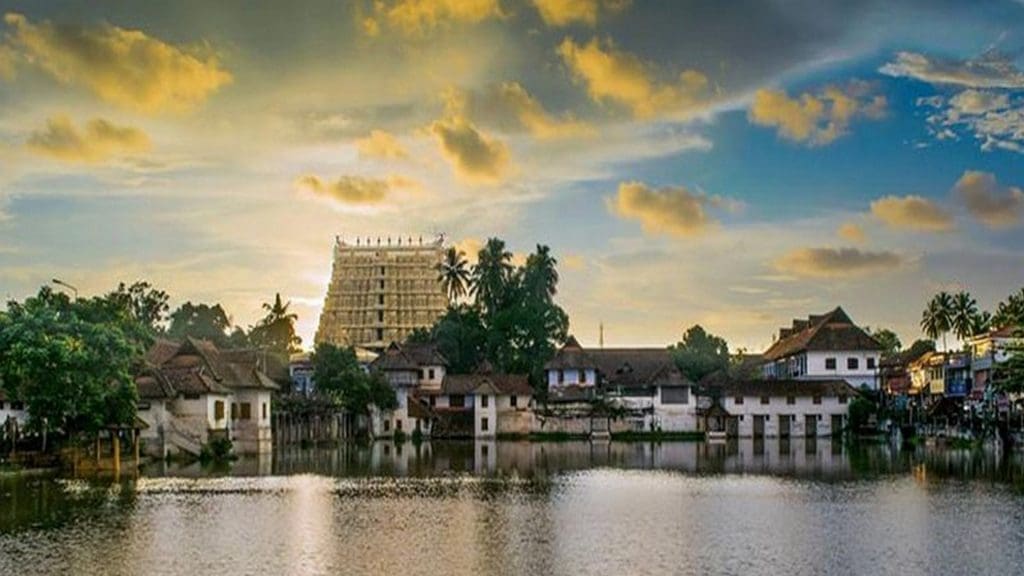 That's not all! While the gorgeous beaches, refreshing hills, and stunning temples are the dominant attractions of Thiruvananthapuram, there's more that hides under the layers of this charming city. You'll find here an exotic amalgamation of diverse topography, cultural wealth, historical monuments, and a wide array of adventure activities to make your vacation in Kerala in summer an unforgettable one!
Things to do in Thiruvananthapuram: Temple tours, skydiving (AMAS center), boating, Ayurvedic spa therapy, fishing, shopping
10. Lakkidi
Though this gem lies in the Wayanad district itself, it deserves a special mention in this list. Tiny yet stunning, Lakkidi is a rather unknown and offbeat hill station in Kerala that promises a nourishing respite from the scorching summer heat in the plains. While it's not famous, Lakkidi only uses that to its advantage and provides travelers, especially couples, the most exotic natural surroundings that are devoid of any interference and are completely secluded.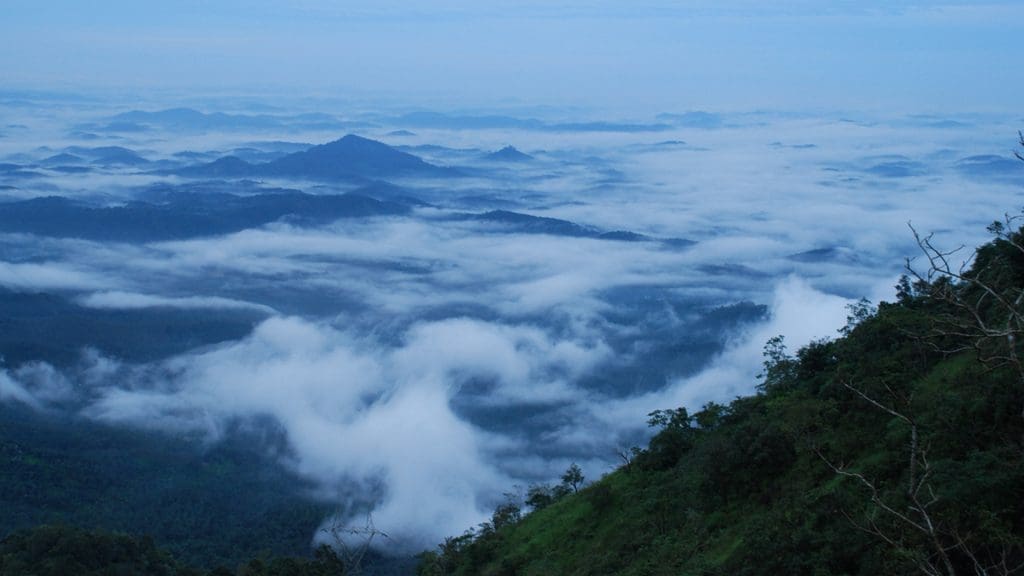 Boasting an incredible collection of luxury resorts and charming homestays in absolutely gorgeous and pristine settings, it is the perfect place for you to relax and unwind with your special someone or family. And while its luxury accommodations are no less attractions in themselves, Lakkidi does have plenty of other natural tourist avenues for visitors to explore. Some of these include lush green valleys, misty hills, picture-perfect rainforests, emerald lakes, and much more.
Things to do in Lakkidi: Trekking, witnessing Kathakali dance performances, boating, kayaking, wildlife sighting, bird watching, nature walks
The How- Summer Holidays in Kerala
Once you have decided where in Kerala you want to visit, the next step is to plan your trip. First of all, you will need to book your accommodation. Make sure that you book in advance, as you might find that the most popular tourist destinations and especially the hill stations get filled up during the summer and the resorts get booked in advance and Munnar is one of the popular summer holiday destinations in Kerala. It is best to book with a reputed tour operator after shortlisting your resorts and destinations so as to save on the budget and time.
The next step is to figure out how you will get to your destination. Is it possible to opt for a self-driven car or to take a bus journey considering that you are planning to escape from the summer heat, or will the distance be too long and arduous? Sometimes it might be worth taking a flight instead, but of course this will cost a little more.
Make sure that you have travel insurance when you are planning your visit to Kerala. You might not think you need it, but if anything goes wrong you will be glad you had it.
Booking your holiday in advance will make things a lot less stressful because you will have your transport and accommodation organized before you get there. However, make sure that you leave some time in your schedule for flexibility – you might arrive there and find out about something that you weren't aware of in the planning stage. It's important to have room in your schedule for these last minute spur of the moment adventures.
We bet you're having a hard time picking just a few options out of this list of the ten tourist places in Kerala in summer season. We don't blame you! With so many awesome places to pick from, where each option is just as good as the other, it'll definitely be hard giving either of them a miss! But whatever you decide, make sure to book your trip to Kerala in summer well in advance so that you do not miss out on any of the fabulous deals and experiences waiting for you at God's Own Country.
Once you have everything planned out for your summer holiday in Kerala, you can sit back and enjoy the adventure. Kerala offers so much to enjoy, so have a fantastic time!
Happy Tripping to Kerala in Summer!