Kerala Tree houses are wooden houses built on top the trees and are emerging as a new symbol in tourism in Kerala. In simple sense tree house is a house built on top of a tree or trees using eco-friendly materials such as coir mats, bamboo poles, hay- straws, live trees etc are the raw materials . Modern Tree houses in resorts are modified versions of "Erumadam", usually used by the tribals and hunter to escape from the attacks of wild animals. Treehouses in kerala are available in Thekkady, Munnar and Vythiri and is fastly emerging as a symbol of Kerala Tourism like Houesboats in Kerala.
The treehouse in most Kerala resorts is a true treehouse – not a stupid log cabin built on stilts. It is all made of boards and bamboo, without driving any nails at all into the tree. It's all tied together, and holds very well too. See the picture below to get a better idea of an actual Treehouse in Thekkady which is in the middle of worlds largest cardamom plantation.
Here is a list of some of the best Tree Houses in Kerala
Treehouse in Vythiri Resort, Wayanad
Treehouse in Vythiri Resort, Wayanad is among the most famous resort in Kerala and is preferred by guests who want to stay in solitude . This tree house is located deep into thick jungle. You are picked up by Jeep and take a few 100 feet up a twisting road. Their, totally secluded from any visible population and the staff in the resorts will be there to welcome you. As most of these resorts are located deep in the jungle you will have to opt for breakfast and dinner meal option from the resort and the food is typical Kerala, with both vegetarian and non vegetarian items. To get to the treehouse, there is a unique elevator working using a sack of water as a counterweight in Vythri. The treehouse in Vythiri is 90 feet high on a huge tree.
Here is a quote about getting into the Tree House in Vythiri Wayanad
"To get to the treehouse, there is a unique elevator working using a sack of water as a counterweight. It takes around 15 minutes for the water to fill up, and then you are escorted to a basket that will be your elevator, quite like in the old Phantom comics! The staff pull you up, and you gingerly step out of the lift on to your floor when you reach the top."
Nature Zone Tree House Resort in Munnar
In Munnar Treehouses are located in a world classs jungle resort protected by electric fences to save tourists from wild animals. The journey to treehouse is throgh verdant Tea gardens and you will be picked up from the top station by the vehicle from the resort for a jeep safari. Being way above mosquito-land, guests can roll up the blinds at night and fall asleep wrapped in nothing but a cotton blanket and the tropical night air. At night you can sit in the balcony and have a romantic talk in the beautiful moon light.
Some of the activities that can be done in the Treehouse in Munnar are birdwatching , Rock climbing , rappelling , soft trekking etc. The Shola-grassland eco-system typical of Munnar is a home of large numbers of birds, many of them enzootic. Commonly seen endemics are:-Nilgiri Wood Pigeon, Nilgir Pipit, grey headed Bulbul, black & orange flycatcher, broad tailed grass bird, crimson backed sunbird, grey breasted laughing hrush, Nigiri flycatcher, Indian rufous babbler, white bellied blue flycatcher, while bellied short wing, white bellied Treepie and the Wyanad laughing thrush.
Vanya Tree House in Thekkady
Vanya means "the beauty of the forest" in Malayalam and the experience in Vanya does justice to the name of this treehouse which is built on a single tree on the face of the hill.. Vanya experience starts with a journey in the Jeep from where you have to
trek to reach the treehouse in Thekkady. The trek is of moderate effort and involves a climb across the face of a hill in the forest with three different pit stops. The Treehouse is made of ecofriendly wooden materials and the stay in this tree house offers a panoramic view of surrounding Forests, Hills and Valleys. You can also view some wild animals if you are lucky enough.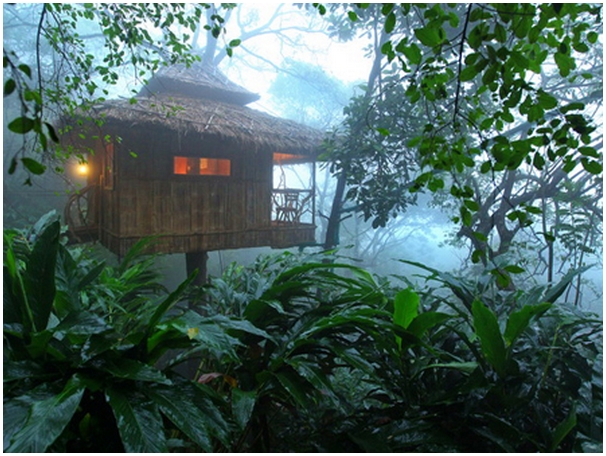 Athirapally Rainforest Treehouse
The tree house in Athirapally Rainforest boutique resort is nicely designed, comfortable and clean, with a stunning view of the waterfalls. The treehouse has been done up with great taste and making the view of the waterfalls the hero of the experience and is an exceptional example of the fusion of nature with modern architecture and this is the only Treehouse in Kerala where you can view scenic waterfalls while sitting in the balcony of the treehouse. Tree House is Non AC and only Two adults can be accommodated.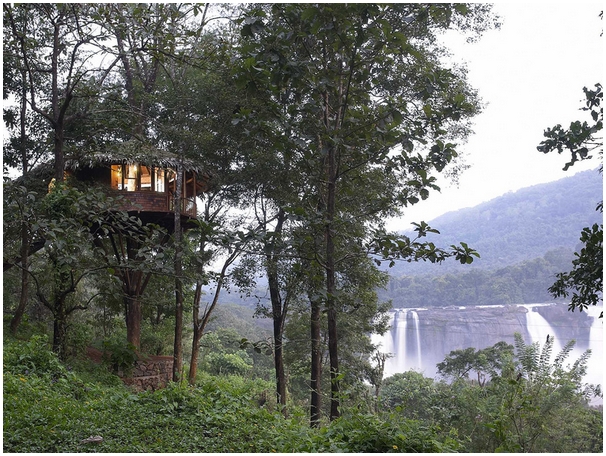 When you opt for a holiday in a Tree house you will be staying in one of the most picturesque spots in the entire South India and should compulsorily take your cameras and binoculars. For those who are passionate about bird watching, most of these resorts have more than 30 species of birds inside the jungle resort; including the Nilgiri Pippets (one of the endemic species).
You can also check out our Tree house Kerala Package or Dream Kerala Package specially designed for Honeymoon couples.