The Winter season in Kerala attracts tourists from all over India to visit. COVID 19 has made serious and long travelling restrictions all across the world. However, in recent weeks, the restrictions on Tourist Places including hotels and restaurants are being gradually lifted and it is believed that tourists are about to explore their favourite tourists' spots, particularly the local ones in the upcoming days. 
In India, people usually visit the Taj Mahal and such areas, while many a time the beauty and grandeur of South India are overlooked. But, being in India, planning a trip to a state like Kerala can be very rewarding and refreshing as well. The peak time to visit Kerala is winter when the green tea gardens, valleys and meadows take a festive look and indeed look very beautiful. 
Kerala as a tourist destination 
According to National Geographic Traveler magazine, Kerala is one of the "ten paradises of the world".  On the West, the Arabian Sea connects Kerala with other parts of the world.  Kerala is a favourite spot for its backwaters and sandy golden beaches. On the other hand, those who love mountains also visit Kerala to explore extraordinary hill stations. On the east, the hills of the high altitude of the Western Ghats exposes you to beauty and thrill at the same time. 
Kerala is located near the equator. As a result, the climate is tropical in nature.  The average maximum high can be between 29°C and 33°C and lows between 23°C and 25°C.
Kerala is close to the ocean and the position of the fort-like Western Ghats Mountain keeps the climate enjoyable throughout the year. Arabian Sea breeze will refresh you. You can do many outdoor activities in winter that are unimaginable in summer.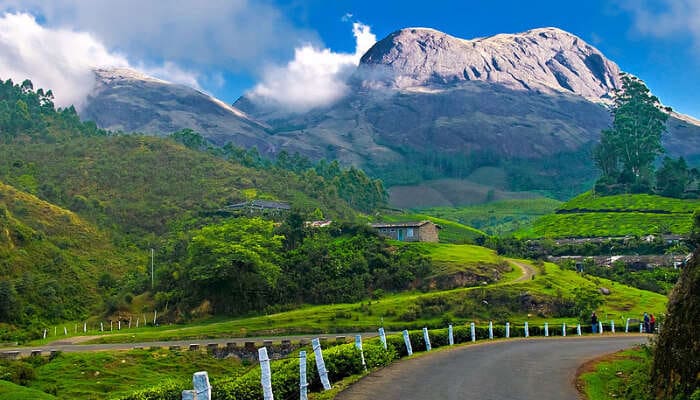 What are the seasons of Kerala? 
In Kerala, there are three seasons in total. They are summer, monsoon and winter. Summer is quite hot. But, in winter you cannot expect any freezing cold weather here either. However, here the temperature in winter is neither too hot nor too cold, which will make your stay at this place quite refreshing. In monsoon, heavy rainfall makes the roads slippery and risky. During planning your trip to Kerala, you must give due importance to the local weather condition.   
Summer: In Kerala, summer is from March to May. In many places in the world, the month of March is not very and humid. They call it spring. However, in Kerala, the summer days start from March.
Tourists find Kerala hot and humid during summer. Even at the night, the temperature remains high. The average temperature is around 35 degrees Celsius. However, the hilly areas that are covered with trees are relatively cool. 
Monsoon:  Kerala is in the tropical region. It is surprising that in Kerala Monsoon visits twice a year. First, from July to September. Then it is called the Southwest monsoon. Again monsoon comes in October and November.  It is known as the Northeast monsoon. 
Winter: In Kerala, winter is from November to February. In winter, the air is crispy and dry. The average maximum temperature is 28°C, and the minimum is around 18°C. You can also visit hill stations to enjoy the panoramic misty views of nature. For obvious reasons, strolling around the beaches in winter is more comfortable in winter than in summer. 
Why choose Winter to travel to Kerala? 
Winter in Kerala is short-lived. Whatever be its length, in this season the weather remains such that you can explore a variety of outdoor activities and some extraordinary places. There are some reasons why we are encouraging you to go during the winter season in Kerala. The top reasons are given below. 
Less rainfall in Winter:

In winter, the places around you are dry. In fact, from December the weather begins to turn dry. Compared to the heavy monsoon time, it is convenient to travel in winter. In January there is only 21mm of rainfall. On the other hand, in February, it only increases to 26mm.

Moreover, there is no trouble on the road because of heavy rainfall. 

Avoid exhaustion and strokes:

In summer it is common that people have heat strokes and exhaustion while travelling. In winter, there is less temperature and humidity. So, you have every chance to keep fit. 

Participate and Enjoy the Major Events:

Winter season in Kerala is for Christmas and New Year. At this time of the year, there are illuminations all around.  Colonial churches as well as the markets of Kerala get an enchanting look. The Christian community of Kerala celebrates Christmas with fun and merriment. 

Spend time in Houseboats:

In Kerala, you can spend time in a houseboat with all modern amenities. The backwaters of Kumarakom and Alleppey would be good choices. 

Get Ayurvedic treatment:

Kerala is renowned for Ayurvedic treatment. Yoga is also widely practised here. When you come, you can try both these activities and rejuvenate your spirit. When you go back to your regular routine you will certainly feel the difference. 

Explore the tea estates:

  It is possible to go sightseeing in and around the tea estates of Munnar in winter. 

Visit the Villages of Kerala:

You can explore the villages of Kerala as well. If you are someone who hasn't ever seen paddy fields very closely or paddy being harvested, a village in Kerala is going to offer you opportunities to enjoy them both.  You will find men and women working together in the fields. Other activities include coir manufacturing, coconut leaf weaving, and fish markets. Moreover, you can also go to a village market. 

Wildlife safari

: Kerala has a whopping number of wildlife sanctuaries and national parks. Can you guess? The number of wildlife sanctuaries in Kerala is 16! On the other hand, there are 5 national parks. All the places are safe homes for wildlife.

Wild boars, sambar deer, elephants are very commonly seen in all these places. On the other hand, you will be amazed to see the exotic birds.

Don't miss any opportunity for a wildlife safari. The top one is

Periyar Wildlife Sanctuary. It is situated in Idukki. Another one is Wayanad Wildlife Sanctuary. Finally, Gavi Wildlife Sanctuary is also an enthralling place.  It is located in Pathanamthitta.

 
What are the events in Kerala during Winter? 
Events of November    
Mid-November is the time when the winter sets in and people can feel the transition of the season. This is the time for Diwali, one of the greatest Hindu festivals. On this occasion, all educational institutions remain closed. 
Events of December    
December is the time when the tourist spots become busy. The crowd looks forward to different kinds of festivals along with Christmas and New Year. 
Kanathoor Nalvar Bhoothasthanam: Kanathoor Nalvar Bhoothasthanam is organized at the end of December. There are around 400 performances. This major attraction attracts tourists during the winter season in Kerala,
Cochin Carnival: Cochin Carnival is another grand festival organized at the end of December particularly during the winter season in Kerala. 
Perumthitta Tharavad Kottamkuzhy: Perumthitta Tharavad Kottamkuzhy is a theyyam festival. There are varied performances. It is a 10 daylong event.
Kochi- Muziris Biennale: Kochi- Muziris Biennale is an international Art Festival. It starts in December and continues till December. This 4-month long event is supported by the government of Kerala.  The Biennale includes film, installation, painting, sculpture, new media and performance art. There are also seminars and workshops on music and art. 
Events of January 
In January the weather remains favourable for travelling in Kerala. The temperature is around 28 degrees Celsius.  You will find most of the hotels full of guests during this time. So, you have to book your accommodation early. Check our packages to get the best deals for a trip to Kerala. You can attend different kinds of festivals at the start of the year in Kerala. 
Vasantholsavam Flower Festival: Vasantholsavam Flower Festival is a rare opportunity to see the vast array of flowers on exhibition with herbs and other agricultural produces. It takes place in Kanakakkunnu Palace in the district of Trivandrum.
Nishgandhi Classical and Dance Festival:  In the same venue Nishgandhi Classical and Dance Festival are arranged in January. It continues for seven days. 
Swathi Sangeetholsavam Music Festival:  On the other hand, visit Kuthiramalika Palace for Swathi  Sangeetholsavam Music Festival to enjoy classical music. The event is held from 4 to 13 January each year. 
Adoor Gajamela: It is a different kind of festival where the main attraction is the elephants. Visit Sree Parthasarathy Temple for Ador Gajamela.
Events of February   
The number of tourists begins to decline in February. Anyway, in this month too, the weather remains comfortable to explore the hills. Moreover, you can go to the beaches. 
Kerala Utsavam Folklore Festival: Kerala Utsavam Folklore Festival presents more than 200 folk art forms which are one of the best events during the winter season in Kerala.
Chittur Konganpada:  Chittur Konganpada is a kind of mock fight conducted during the winter season in Kerala that is participated by men wearing masks. It is held in the Palakkad district. 
Machattu Mamangam:   A procession of huge horse statues can be seen on your way to  Machattu Thiruvanikavu temple in Thrissur district which is also a major attraction during the winter season in Kerala. 
Pariyanampetta Pooram:   On the other hand, Pariyanampetta Pooram is a procession of decorated elephants and folk arts in the Palakkad district that attracts many tourists during the winter season in Kerala. 
Attukal Pongala: In Trivandrum, women cook for the goddess Attukalama for special offerings. 
Tips for Travelling in Winter  
It will be wise to make reservations for air tickets and also for hotels in advance. 

You can carry a hat, lip balms and moisturizers. 

At night temperature may fall.

Long pants, cardigans, s

weaters and scarves are essential items on your list.